Comfort cooking warms the soul. It's nurturing, humble and healthy. And, if it's being cooked by award-winning chef Colin Fassnidge, it's mouth-wateringly magnificent, too.
On the 20th of August, we were privileged to have Dublin-born Fassnidge – the acclaimed chef from Paddington's Four in Hand restaurant and Surry Hills' 4Fourteen restaurant – as the Gourmet Institute's guest chef for the evening where he worked his magic with some deceptively-simple dishes, introducing us to a whole new level of deliciousness.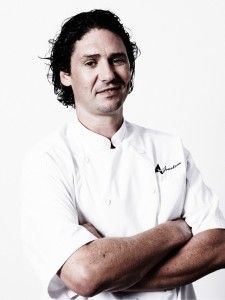 Flavour, he declared, was the central theme of the night. With charismatic confidence, he explained how you can extract incredible flavour from only a few ingredients. Less is more, as the old adage goes.
With careful and deliberate movements like a painter with a brush, Fassnidge sliced and diced and chopped and stirred using minimal ingredients. He explained how it's "simple to get flavour from a product if you take your time" with it.
And the proof was certainly in the pudding.
The ham hock broth with smoked eel, pancetta and chicken wings was rich and gloriously succulent. We devoured each mouthful with unapologetic excitement, clutching our empty bowls afterwards in the hope that they'd magically re-fill themselves. (They didn't).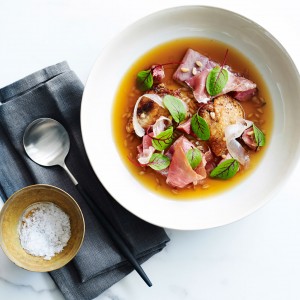 The next dish, slow-braised beef brisket with licorice stock, was truly warming and – yes, I'll say it – comforting. Unbelievably comforting, like a cosy hug on a cold night.
Each dish, in both flavour and appearance, was carefully designed with an elegant expertise. The depth of flavour was endless, surprising and unforgettable.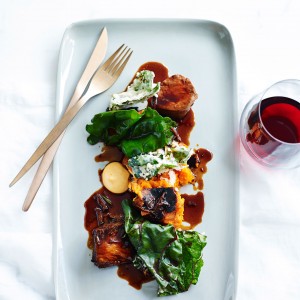 Intrigued, we asked Fassnidge a few questions:
Harvey Norman: Who originally sparked your passion for cooking?
Colin Fassnidge: My parents.
HN: Who are your biggest culinary influences?
CF: Marco Pierre White, Raymond Blanc and living with children – I've learnt a lot from all the above.
HN: What is your definition of "comfort cooking"?
CF: Cooking that makes you feel good and warms your heart, with locally-sourced ingredients.
HN: If you had 30 minutes to whip up a meal for friends, what would it be?
CF: Skirt steak, salsa verde and kale from the garden, sautéed with garlic and chilli.
HN: What's one thing we'd be surprised to find in your pantry at home?
CF: A lifetime supply of jelly snakes.
HN: Finish this sentence: "I love food because…"
CF: I work it, I live it and it's my hobby. Food makes people happy.
Ah, yes – an answer as humble and divine as the dishes he creates. Perfection in a nutshell, ladies and gentlemen.
For more information on upcoming Gourmet Institute 2014 events, click here.
Read about the amazing events that have already taken place so far this year: