From the romance of Paris to the beauty of Sydney Harbour, Chef Guillaume Brahimi is considered one of the luminaries of French cuisine. This was abundantly clear at 84 O'Riordan St, Alexandria on Wednesday 10th September where it was a full house for his master class.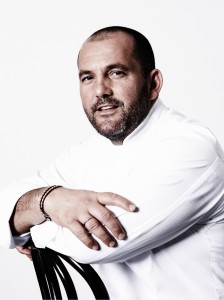 Employing equal parts Gallic charm and culinary skill, the charismatic Frenchman passionately expressed to his Gourmet Institute pupils to "think global, use local". With his "market-to-plate" cooking philosophy espousing the use of super-fresh produce, Guillaume shared his mouth-watering recipes for "Blue-eye trevalla with Jerusalem artichokes, broad beans and chicken jus" as well as "Royale of asparagus with speck dressing". Bon appétit!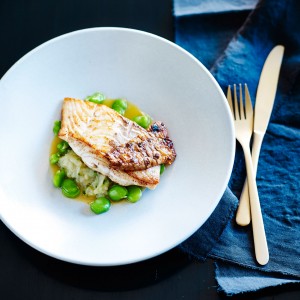 At the end of the night, when kitchen appliances were being cleaned and the excited crowd began to make its way home from Harvey Norman @ Domayne — minds stimulated, bellies satiated — we sat down with Chef Brahimi for a tete-a-tete:
Harvey Norman: What originally sparked your passion for cooking?
Guillaume Brahimi: My family certainly played a part in my starting to cook, but it was working in the kitchens of the great Joel Robuchon in Paris that made me so passionate about being a chef.
HN: What's the most exciting city you've worked in?
GB: I have spent most of my career working in Sydney (23 years now) and I think it has an incredibly exciting restaurant culture – we really do have world-class restaurants with access to amazing produce.
HN: Where did you have your most deliciously memorable meal?
GB: The French Laundry – the incredible chef's menu at my friend Thomas Keller's restaurant in California was just so memorable.
HN: What's one thing we'd be surprised to find in your pantry at home?
GB: Kit Kats. Sometimes I have them after service as a treat.
HN: If there's one tip everyone should know about cooking French food, what is it?
GB: You need to learn the basic techniques – it can be time-consuming, but the end result of the dish is worth it.
For more information on upcoming Gourmet Institute 2014 events, click here.
Read about the amazing events that have already taken place so far this year: