The flagship interior design centre at 84 O'Riordan Street, Alexandria was abuzz as the boys from Buzo Trattoria wowed the foodies in attendance with their "Spring Pasta" cooking demonstration. Exclusive to The Gourmet Institute — proudly presented by Harvey Norman and Australian Gourmet Traveller —the culinary master class put a new twist on fresh pasta, combining traditional Italian fare with contemporary flair. Talented Buzo chefs Todd Garratt and Mitchell Orr took some time out to talk to us about all things pasta.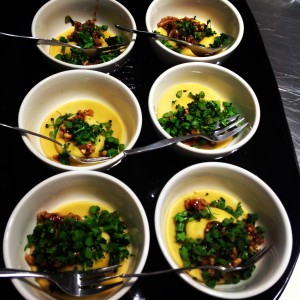 Harvey Norman: What is the one thing you absolutely love about pasta?
Todd Garratt: Pasta is one of the great dishes – it cross so many boundaries. The possibilities based on seasons, texture and taste are endless.
Mitchell Orr: I love pasta as it's so versatile. It works with so many flavours and is adaptable year round. It's comfort food but it can also be thought-provoking and progressive. It's also very complex and technical, while never appearing to be.
HN: Do you have a standout memory of the most delicious pasta you've ever had?
TG: It was at Marea in New York – wonderfully thoughtful and tasty handmade pasta in an iconic NYC setting. All of Michael White's pasta creations are delicious.
MO: One of my favourite pastas was a staff meal carbonara while I was staging at Osteria Francescana in Modena. Recently, the cuttlefish and walnut tonnarelli at Pilu (Freshwater, NSW) and the smoked fish and zucchini at Ormeggio At The Spit (Mosman, NSW) have been absolutely stunning.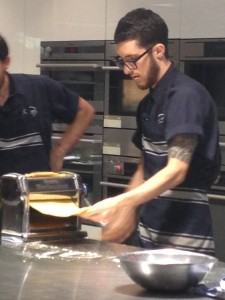 HN: Do you keep packaged pasta in your pantry?
TG: I definitely have packet pasta – a little bit of cupboard cookery can reveal some rough gems.
MO: I grew up on San Remo pasta but I tend not to buy pasta for home now as: (a) I'm too lazy to cook at home and (b) I'm gluten intolerant, so I shouldn't really eat pasta. Sometimes though, it's too good not to.
Todd and Mitchell whipped up some amazing dishes for the assembled throng at The Gourmet Institute to taste test… and we can tell you they were delicious. In fact, here are the Buzo Crew's recipes for smoked eel carbonara as well as for goat's cheese ravioli with broccolini and salsa di noci for you to try at home. Buon appetito!