"This is interesting!" was most certainly the understatement of the night at the Gourmet Institute "Prince of Pork" event with Colin Fassnidge. Thanks to the Australian Gourmet Traveller and Harvey Norman, this culinary experience is one I'll never forget…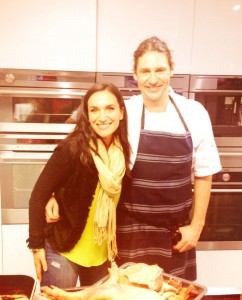 Hmm, I can't quite put my finger on it… Was it delicious? Of course. And insightful? Definitely. How about intimate? Yes, all of the above. But this event was so much more.
The "Prince of Pork" class was a wonderfully controversial awakening to "where pork comes from". After casually retrieving a whole pig — complete with trotters and all — out of the fridge in preparation for what he was going to cook, Colin played for the audience his documentary that was raw and unapologetically candid about how pigs are raised and consumed.
Although it initially left me a little squeamish, I am grateful to have experienced Colin and his cookery. Passionate and knowledgeable about pork, he brings a new perspective to something that we normally buy pre-cut and pre-packaged from the supermarket or butcher without a second thought.
After the event we stole a few minutes with the "Prince" to pick his brain about all things pork: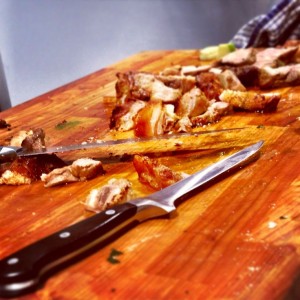 Harvey Norman: What is the key to making scrumptious, deliciously crunchy pork crackle?
Colin Fassnidge: Let the skin fridge-dry uncovered for two days and rub salt water on the skin each day for three days before cooking.
HN: Would you say pork is your favourite meat to sink your teeth into? And do you serve it at home?
CF: Yes and yes! Like a drunken uncle, it makes an appearance in some form or other.
HN: If you have pork at a restaurant or family event, do you secretly judge it?
CF: Yes, but I keep it to myself…
For more on our amazing Gourmet Institute evenings, read here:
Check out the Gourmet Institute pinboard on our Harvey Norman Pinterest page. And make sure to follow Harvey Norman on Instagram.