Gary Wheelhouse, Head of Digital at Harvey Norman, said it was an honour for Harvey Norman to pick up such a prestigious award in a very competitive category. "We've flown under the radar but we're clearly at the point where the industry recognises that Harvey Norman is delivering a true multichannel experience and this is testament to the hard work of Gordon Nugent, Head of Online, Harvey Norman senior management, and our entire Digital team. We have a lot of respect for the other great finalists in the Multichannel category. As a retailer we've always been a student of other retailers – we've learned a lot from our peers. This award is a great starting point and will drive us to bigger and better things. Being named the Best Multichannel Retailer for 2013 further validates the commitment we have to our Omni-Channel strategy – the customer experience is central to the decisions we make, and winning the ORIA gives us great confidence we are heading in the right direction".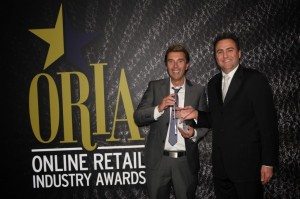 For media enquiries, contact:
Gary Wheelhouse: gary.wheelhouse@au.harveynorman.com
Gordon Nugent: gordon.nugent@au.harveynorman.com
About Harvey Norman:  
The Harvey Norman brand name is a retail icon throughout Australia with 190 franchised complexes throughout the local market. Our brands are market leaders in the core audiovisual and technology segments. Harvey Norman has become a household name and everyone is familiar with the slogan 'Go Harvey, Go Harvey, Go Harvey Norman'. This company motto, much like the supporting anthem for a favourite sporting team, conveys the enthusiasm and entrepreneurial spirit embedded in the Franchise operators and the Harvey Norman culture.