For ten years The Layne Beachley Aim For The Stars Foundation has been helping girls and young women follow their passions and achieve their dreams.
For the first eight years of Layne Beachley's career, no one paid her to surf. Now, she's a seven time world surfing champion! The 41-year-old Australian sporting icon, from Sydney's beautiful Northern Beaches, has lived and experienced the amazing feelings that come from pursuing your passions and achieving your dreams. She's also experienced the hard work and financial obstacles that are so often faced on the road of great aspirations.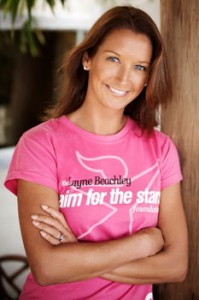 Layne had to rely on herself to financially support her surfing dreams, which she did through 60-hour work weeks spread across multiple jobs. Unfortunately, this left very little time for surfing itself – a fact that can undoubtedly be related to by all those who've had to navigate their aspirations through financial pressures.
Layne's passion, dedication and perseverance shone through in the end, though, and in the face of financial challenges, she made her dreams come true. However, the tough times left an imprint on her. Having gone through the experience herself, she has since desired to ease the financial burdens for other girls and young women going about setting and achieving their own dreams.
To do this she established The Layne Beachley Aim For The Stars Foundation, which has for ten years been offering financial grants and a belief in the passions of girls and young women. From aspiring sportswomen to artists, surgeons to educators, Aim For The Stars has formed relationships with many incredible females. A visit to the Aim For The Stars website reveals the remarkable and often poignant stories of girls with big dreams, who for one reason or another just need that little bit of financial assistance to help them on their way to the extraordinary.
Harvey Norman strongly believes in the work that The Layne Beachley Aim For The Stars Foundation does. The importance of helping and encouraging young women, and people in general, to set goals and follow their passions cannot be overstated. It is for this reason that Harvey Norman has proudly entered into a partnership with the foundation.
With Aim For The Stars around, the future is bright, and young ladies' dreams are even brighter. One of them might even be dreaming about becoming an eigh- time world surfing champion – watch out, Layne!
If you're a female, aged 12 – 26 years, with a passion and big dreams, you may be eligible for an Aim For The Stars grant. Visit the Aim For The Stars website for details.