When it comes to luxury, Italian goods are always at the forefront of conversation. Names like Gucci, Prada and Versace have long sat atop the world of high fashion. And who among us hasn't dreamed of owning a Ferrari, Lamborghini or Maserati? Well, now you can add one more innovation to this elite list: the De'Longhi Maestosa Coffee Machine.
With their new flagship Maestosa coffee machine now available exclusively at Harvey Norman, De'Longhi has created another fine piece of Italian engineering. Drawing on decades of expertise from the birthplace of espresso, the Maestosa is packed with features that set a lofty new standard for automatic coffee machines. If you're a true coffee enthusiast, this is a machine designed from the outset to easily answer that age-old question – which coffee maker should I buy?
Recently, I was treated to a morning with this amazing machine, including a full demonstration of it by a De'Longhi Exclusive In-Home Barista Service expert.
If you're thinking it might be time for a coffee machine upgrade, read on for my full De'Longhi Maestosa review!
The Italian Aesthetic of the De'Longhi Maestosa
Just like a Ferrari or Lamborghini, the De'Longhi Maestosa Coffee Machine is hand-crafted in Italy. Remarkably, a small team builds the entire machine from start to finish, in contrast to a standard production-line process.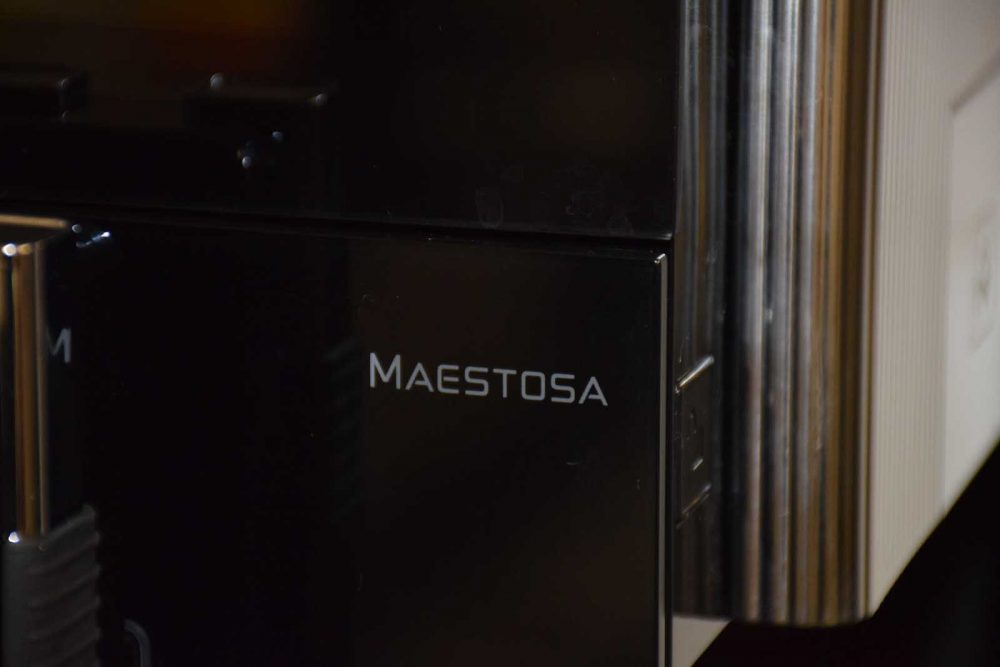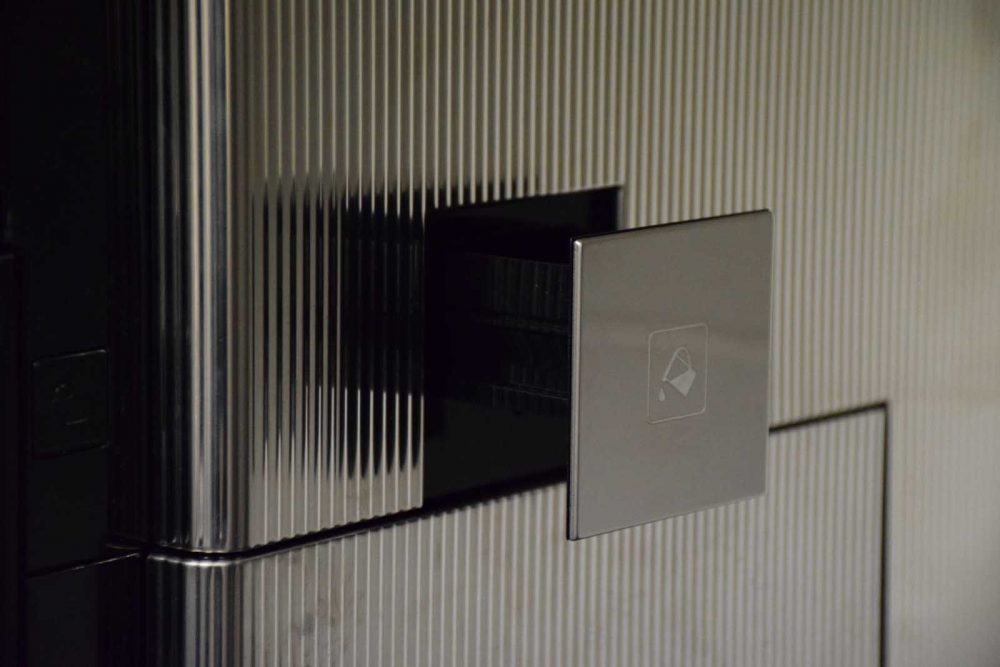 The resulting workmanship is spectacular. The Maestosa is simply stunning from every angle, with the striped stainless steel complementing the mirrored black glass for a finish that leaves no doubt that the latest De'Longhi machine is ready to deliver seriously good coffee. Topping off the styling is a 5" colour touchscreen that even tilts to accommodate your height. Given the number of comments from impressed passers-by in the office, it's the type of design that will garner plenty of compliments from your guests at home.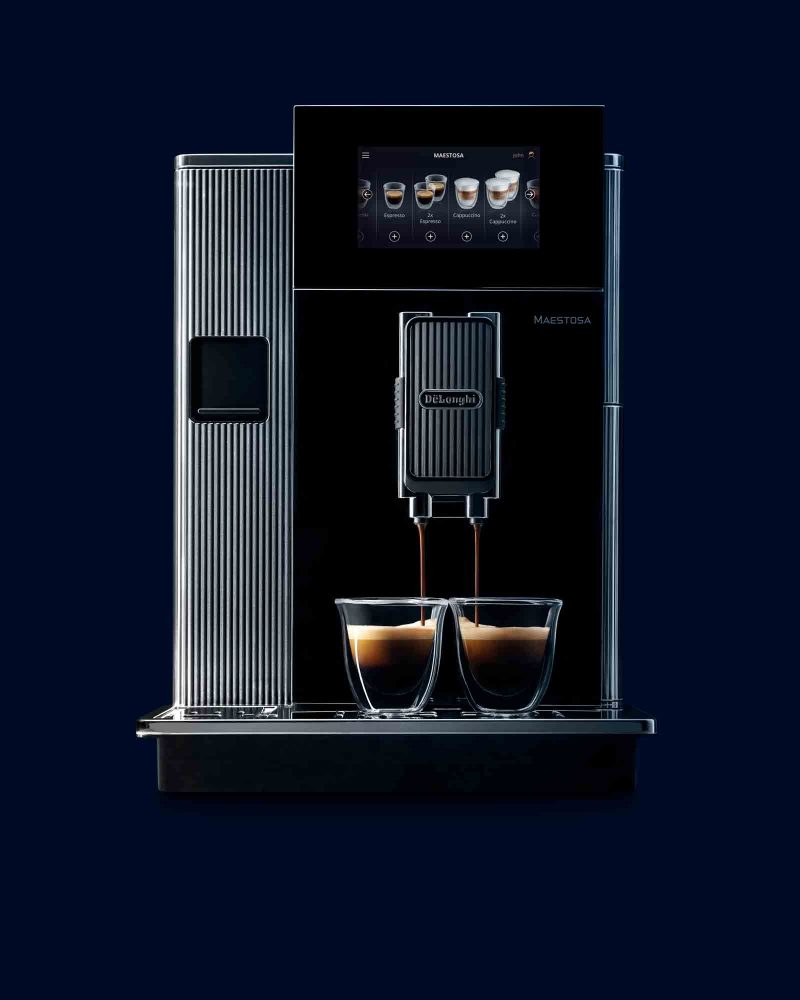 The De'Longhi Maestosa Exclusive In-Home Barista Service
When using the Maestosa, what's clear is that almost every element of your coffee is configurable. Aroma, length, milk volume, grind…it's all up to you and about the way you like your coffee. With this staggering array of options and settings on offer, a walkthrough from an expert could be a great way to get the most from your coffee machine. Depending on your location, you may in fact be entitled to a complimentary professional demonstration of the De'Longhi  Maestosa Coffee Machine from a De'Longhi expert. Known as the Exclusive In-Home Barista Service, a De'Longhi expert will come to your home and show you all the best De'Longhi Maestosa tips and tricks.
We certainly were presented with plenty of the best De'Longhi tips and tricks when a De'Longhi Exclusive In-Home Barista Service demonstrator paid us a visit. Not only were we shown how to create a coffee that was just superb, even by the Maestosa's lofty standard, but we were also treated to a full run-down of how to really exploit the De'Longhi Maestosa's advanced features, including how you can make a coffee from your phone without even getting up from your chair.
Via a Bluetooth link, all you have to do is select your profile and the type of coffee you want, and you're good to go. Just make sure there's a cup under the spout!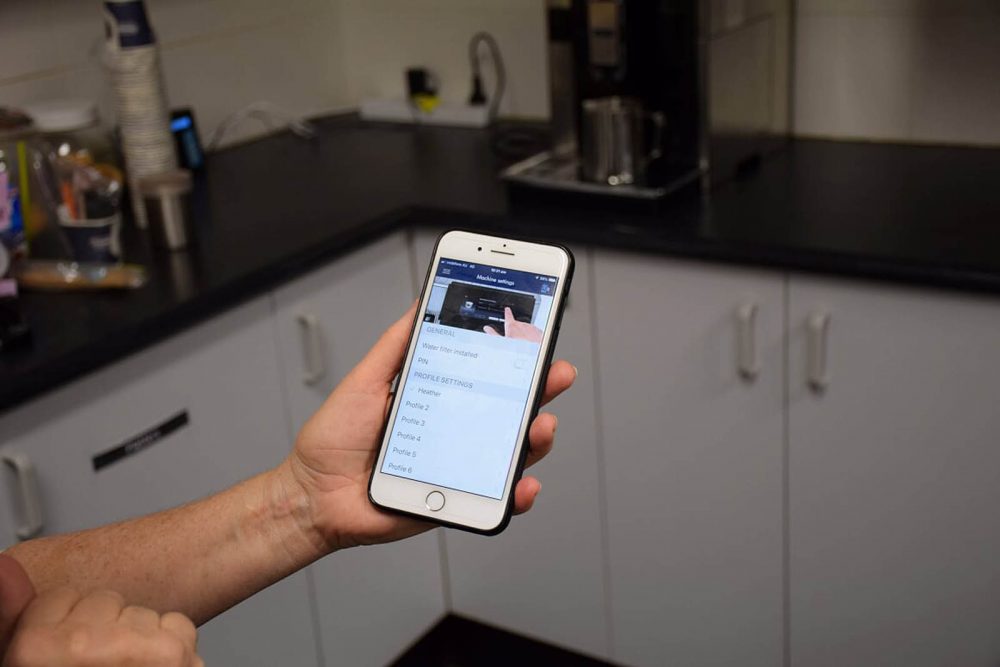 The Exclusive In-Home Barista Service also includes a very generous welcome pack, as well as a support hotline for any further questions you might have in the future.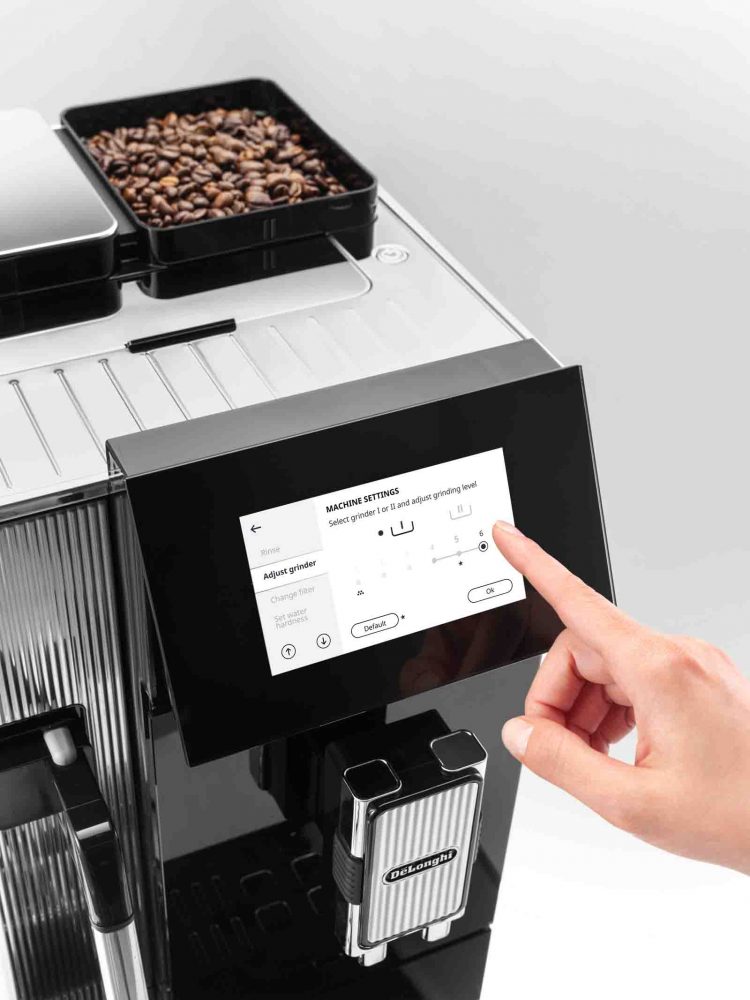 How good is De'Longhi Maestosa Coffee?
Clearly the De'Longhi Maestosa Coffee Machine is as stylish and clever as can be, but what ultimately matters is the quality of the coffee it produces. The machine boasts a number of features designed for one clear goal – to be the best coffee maker of them all.
There's two bean hoppers, ideal if you like more than one variety, or perfect if you or your partner prefers decaffeinated beans.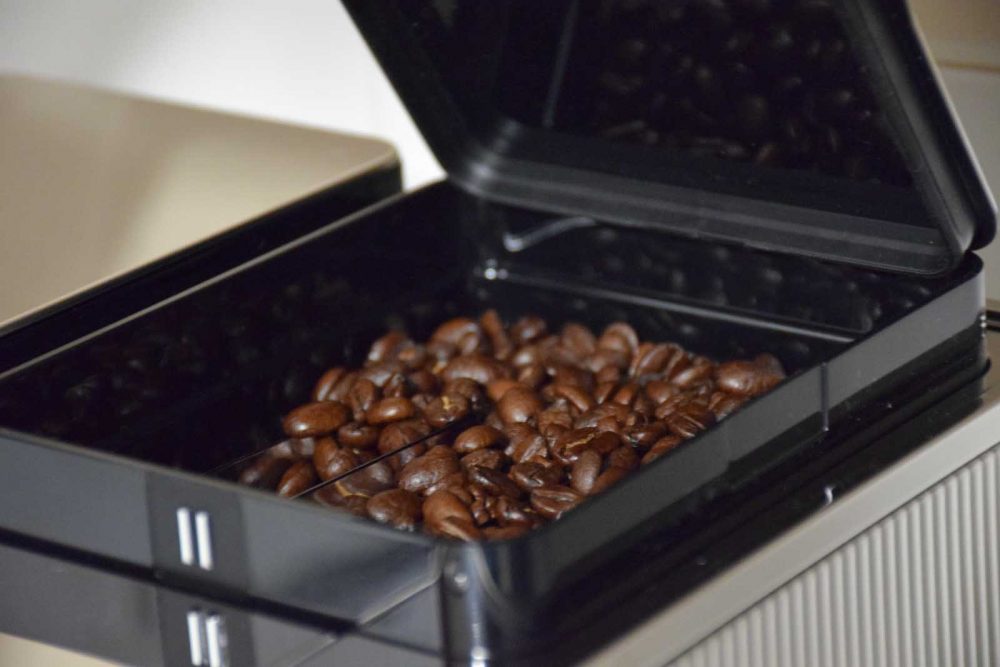 The standard 15 bars of pressure used by most automatic machines has been upgraded to 19 bars in the Maestosa, which helps to extract the absolute most from each shot. Once the beans have been ground, up to 20 kilograms of force is used to perfectly tamp the grounds within the brewing unit to ensure you get an even, full extraction.
Another new feature is adaptive grinding technology, which uses a flat burr grinder instead of the conical style used by other machines. This is not only there to enhance flavour. It was actually necessary given the De'Longhi Maestosa's two bean hoppers, and helps to stop the flavours of each bean type mixing with one another.
Also interesting is that the volume of coffee in each shot (on the standard settings) is actually less than your average automatic machine. Our De'Longhi demonstrator informed us that there has been a trend amongst some manufacturers and cafes to pack more and more coffee into their espresso shots as a relatively easy way of boosting flavour, which can lead to overly strong, bitter coffee. The better cafes are now pulling back on their grind volume, which De'Longhi has taken a cue from with this machine. Via the 'Aroma' setting, you can dial it right back up if you want – it's up to you.
Personally, I was very impressed with this as it shows that the De'Longhi Maestosa Coffee Machine has benefited from honest, back-to-basics thinking about what makes a good coffee.
As automatic and hands-off as the Maestosa is, one element is still up to you – the grind settings.
To show just how critical this is, our demonstrator prepared two shots using different grind settings. The first was prepared with the standard setting.
We both remarked that this still looked pretty good, even if not totally optimised for the beans.
With years of experience under her belt, our demonstrator knew this meant that the grind was too coarse. With the grind settings handily present on the display whenever you're using the De'Longhi coffee maker, it's easy to dial back to a finer setting.
Once this was done, the Maestosa produced a lovely, silky shot that would not have looked out of place in a Milanese espresso bar. A strong, rich, multi-layered body and perfect golden crema are the hallmarks of any good espresso and as the photo shows, the De'Longhi Maestosa has been built to deliver. The difference made from finely adjusting this oft-overlooked setting highlighted how useful the Exclusive In-Home Barista Service is for extracting the true potential from your De'Longhi coffee machine.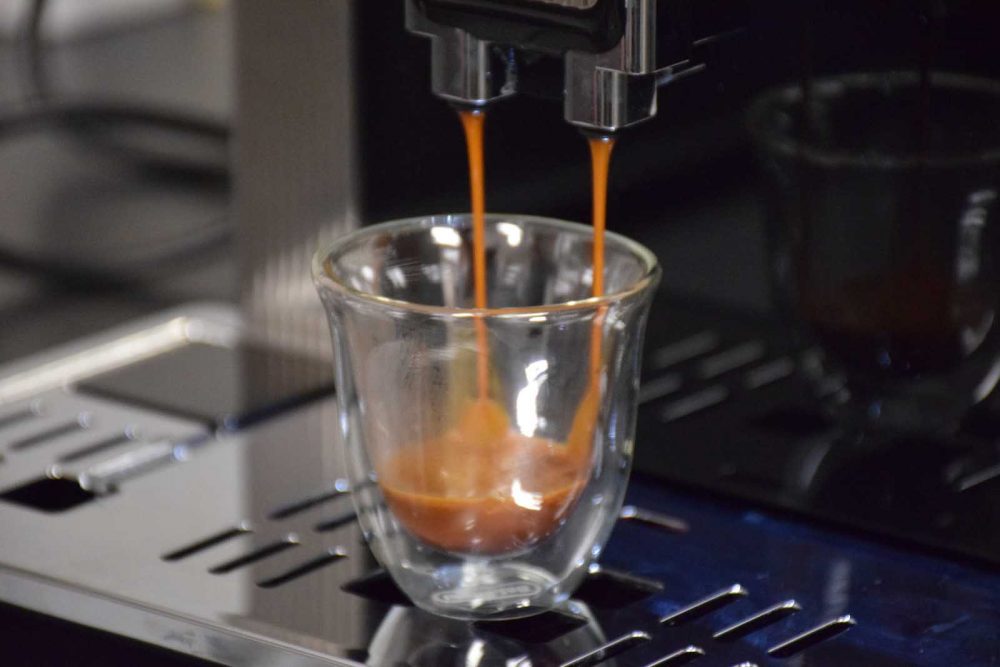 Once you've found your preferred combination of grind, aroma (strength) extraction length and milk volume, the machine will make it the same way, every time by saving those exact settings for up to six coffees for six users. That's a significant amount of different combinations that it can commit to memory!
What type of coffee does the De'Longhi Maestosa make?
Coffee is consumed in a huge variety of ways around the world, and with the De'Longhi Maestosa's depth and breadth of settings, it's got most of them covered.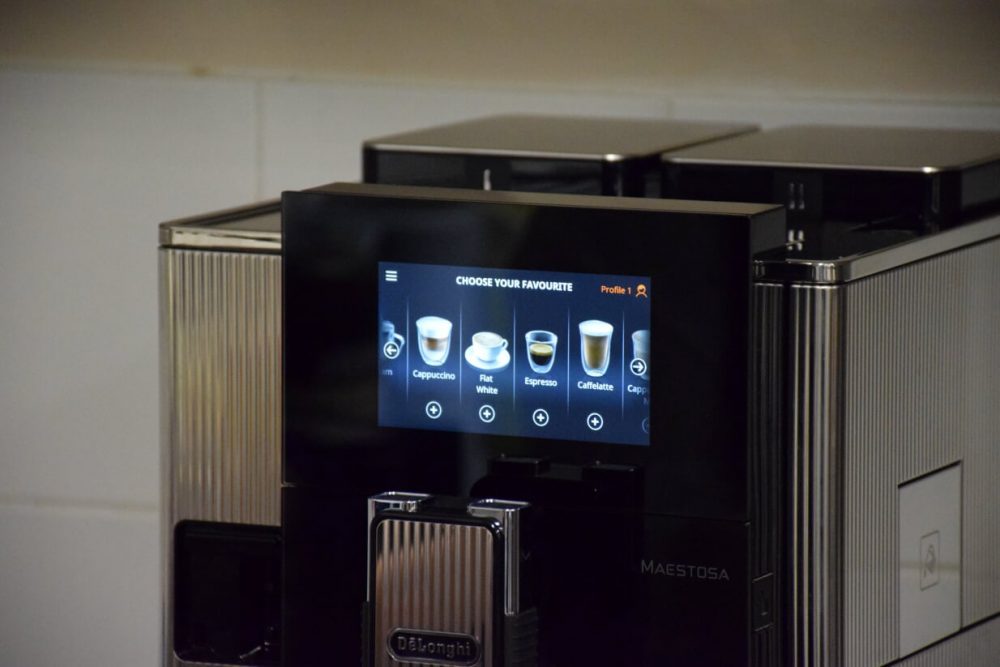 In Australia, we like our coffee with milk and the automatic LatteCrema system means you're spoiled for choice. Pleasingly, Australia's own flat white is included, plus latte macchiato, cappuccino, and the interestingly-named CappucinoMix.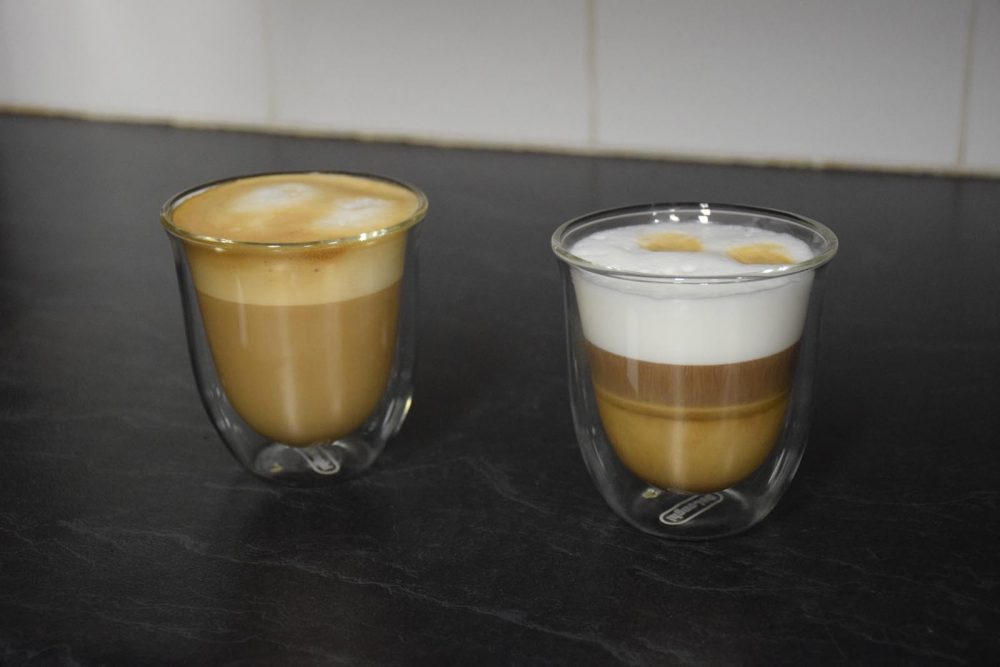 As our host explained, the CappucinoMix (left) is the way cappuccino is made outside of Europe, by preparing espresso first, then adding milk. Traditionally, in Europe, the milk actually goes first, followed by the espresso (right). I can assure you, either way is delicious. With two milk outlets, the De'Longhi Maestosa is even capable of making two milk coffees at the same time.
The spout is easily adjustable and is able to accommodate a large travel mug.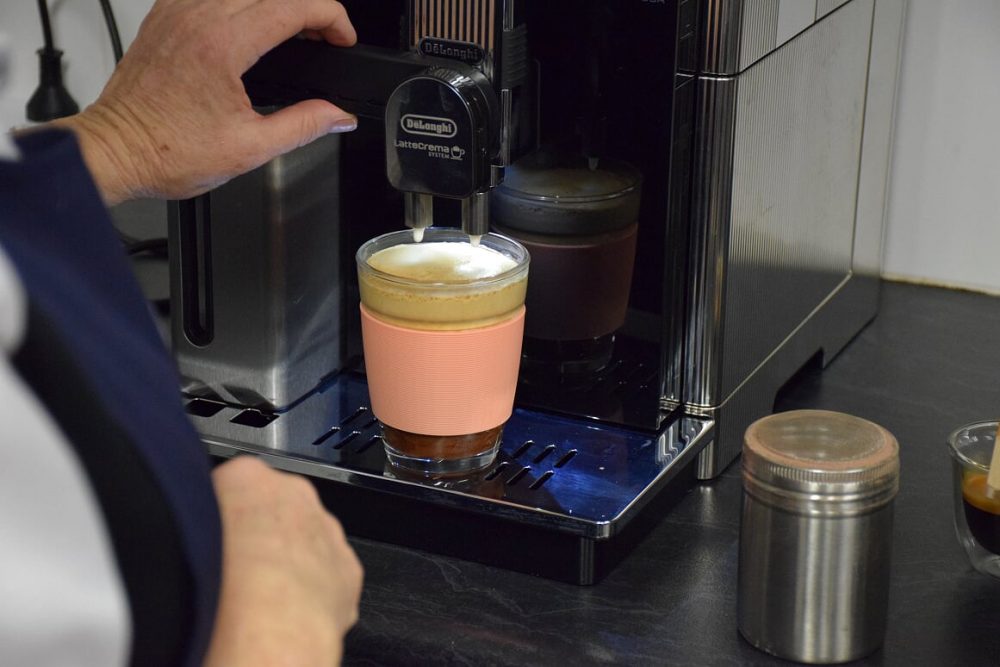 If you're feeling adventurous, you can steam the milk yourself using the steam wand and included jug.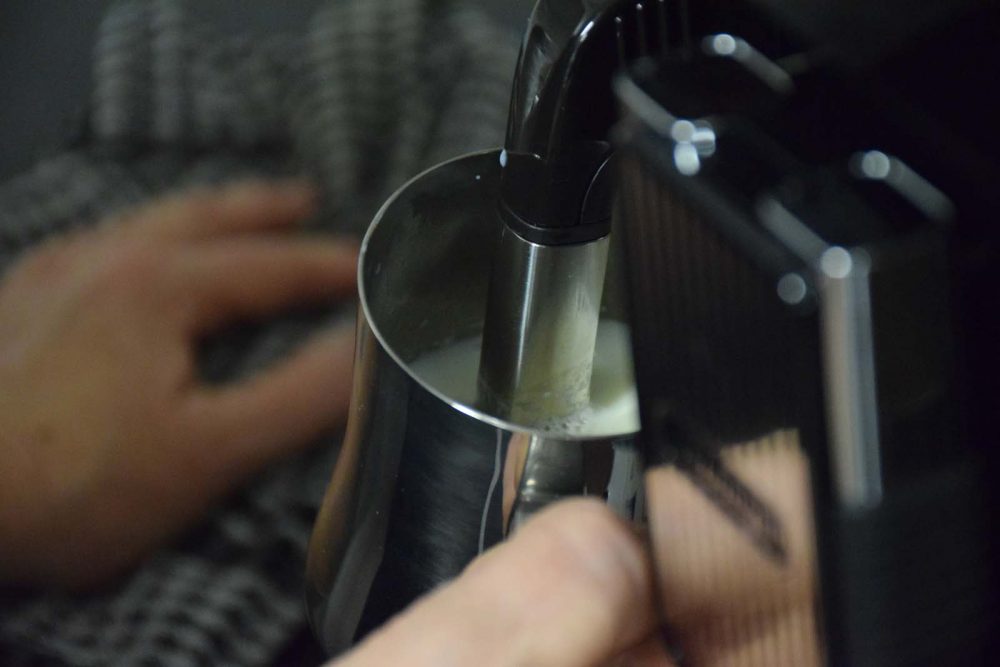 The De'Longhi Maestosa coffee machine even makes the distinction between a German-style 'Kaffee' and the 'Americano' style popular in the United States. On the surface they're both long blacks, but with some behind the scenes magic, the two drinks came out quite dissimilar from one another.
If you're not in a coffee mood, there are also options for hot chocolate. One way to do this, as demonstrated, is to use the MixCarafe to blend milk with a specialty Italian hot chocolate powder. The carafe automatically heats and blends the mix, which comes out as a deeply satisfying, almost custard-like blend.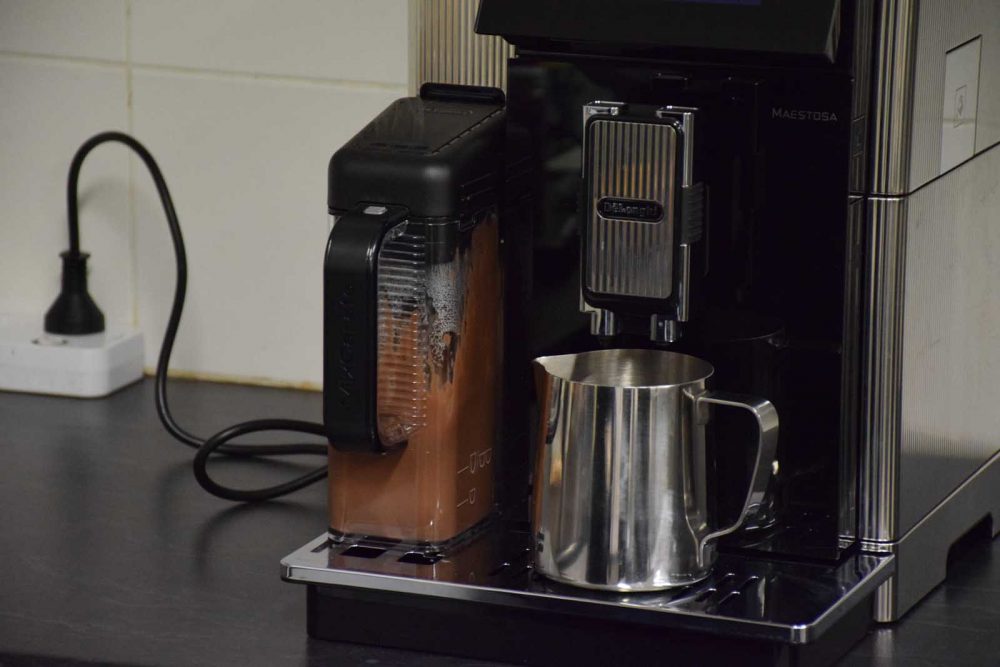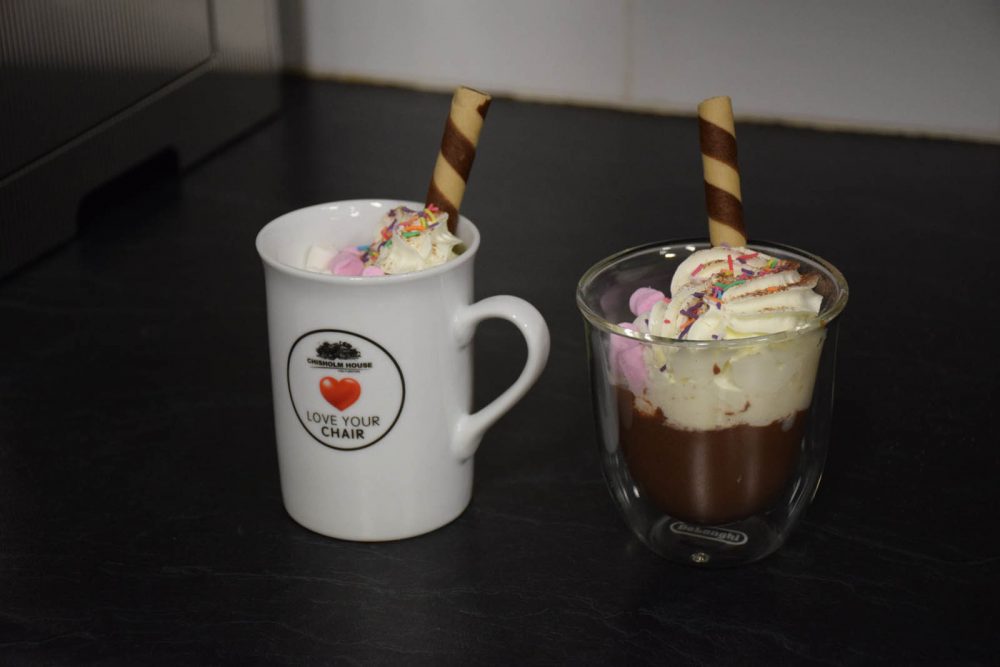 Iced coffee is also easy. By simply adding ice and a shot of espresso to the carafe (which easily slots underneath the coffee spout), it is automatically blended to produce an ideal base for adding liqueur, or to simply enjoy on its own. The creamy colour and foam is impressive, given there's no milk involved.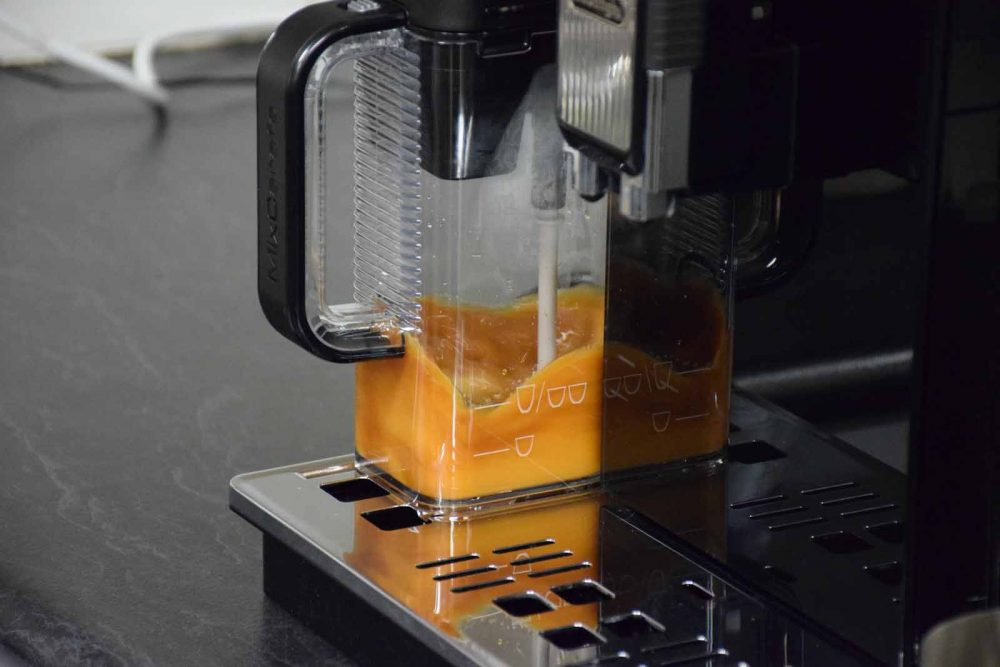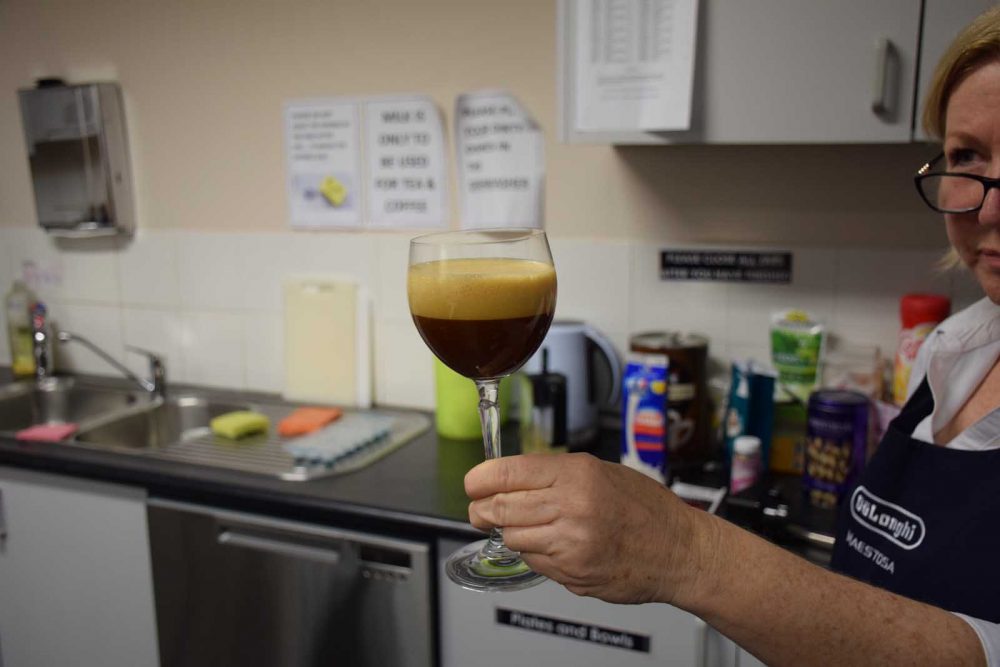 Cleaning the De'Longhi Maestosa Coffee Machine
With a more advanced machine comes a more intensive and laborious cleaning cycle…right?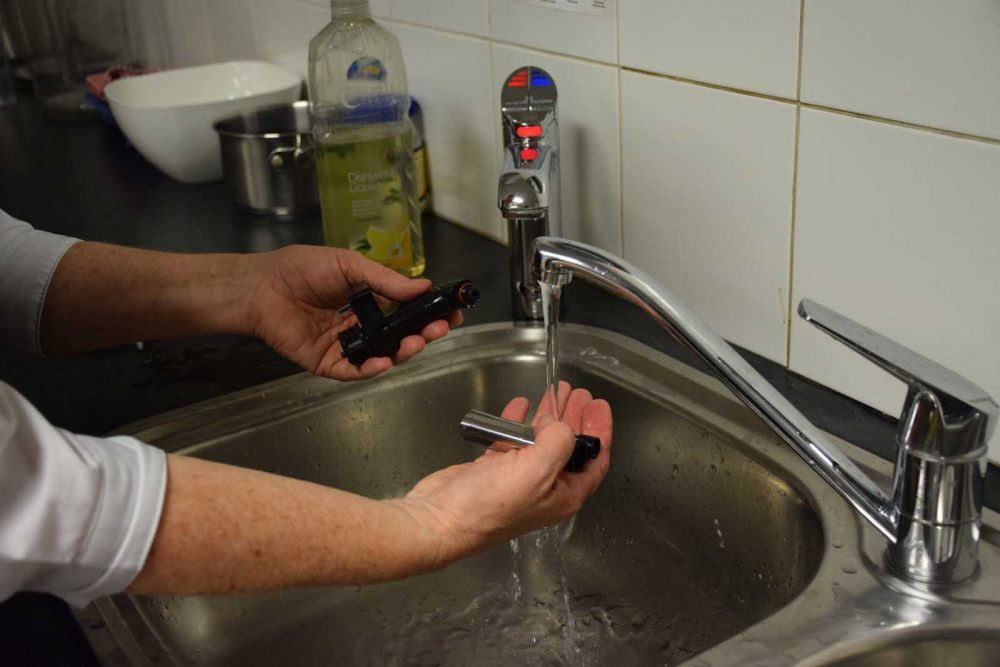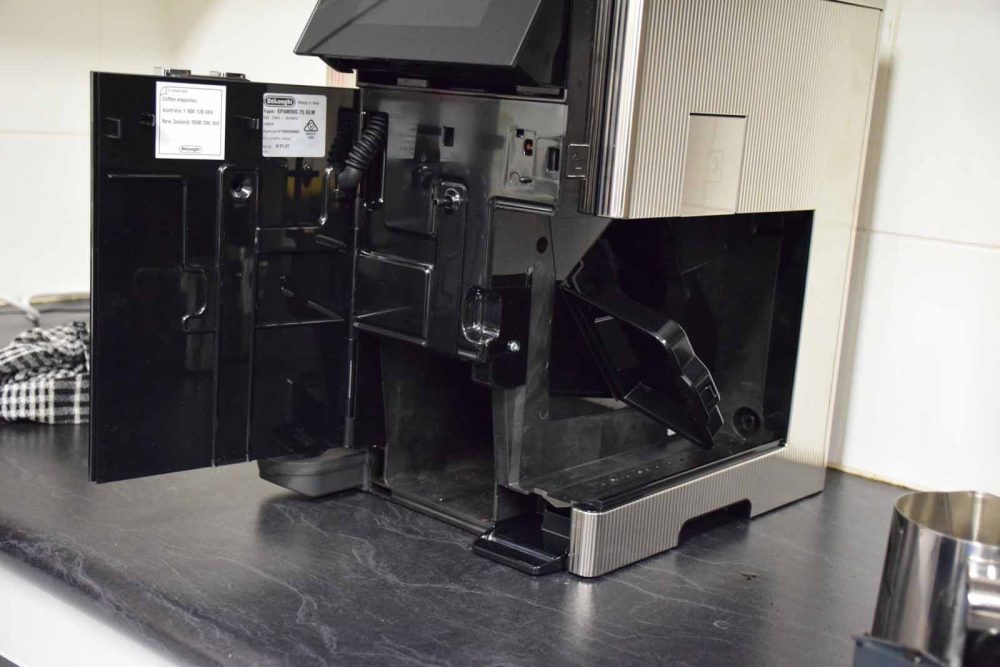 Not in this case! This De'Longhi coffee machine cleverly rinses itself when turned on or off, and those parts needing a manual clean can simply be put under the tap for a rinse. The plastic components, such as the MixCarafe, are dishwasher-safe. The machine even opens up for easy access to each component for cleaning, or in the rare event of troubleshooting.
Where to buy the De'Longhi Maestosa Coffee Machine
If you really appreciate good coffee, the De'Longhi Maestosa could be the best coffee maker for you. Both kitchen statement piece and the ultimate in coffee indulgence, this one is for every coffee enthusiast. Plus, with a De'Longhi  Exclusive In-Home Barista Service expert demonstration in your home free of charge with every purchase, you'll know you're always getting the absolute best out of your De'Longhi Maestosa Coffee Machine.
If you're ready to experience the ultimate in Italian coffee luxury, shop online or visit your local Harvey Norman store, where our own friendly experts can show you even more reason why the De'Longhi Maestosa will change your life as a coffee lover.
Discover More Product Reviews
If there's one thing we love, it's trying out new products! For more of our recent product reviews, click here.