It's the little things in life that bring us the most delight. A dash of colour, for instance, is often all it takes to brighten the mood and to give your interior space a new lease of life. This certainly holds true in the kitchen, where a super-easy way to add personality is with a colourful matching toaster and kettle set.
Brilliantly, with a huge range of colourful small appliances available at Harvey Norman, it's never been so simple to make your kitchen truly yours.
For those wondering 'what colour small appliances will go with my kitchen?', read on as we show you some of our favourite coloured small appliance collections. You're sure to find that colourful spark of inspiration you're after!
Breville 'Luxe' Coloured Toaster & Kettle Collection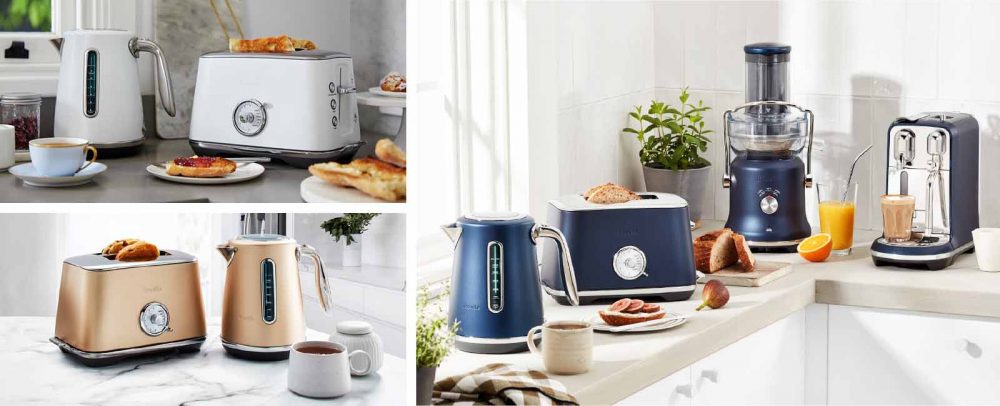 The Breville 'Luxe' Coloured Toaster & Kettle Collection brings a sense of class to breakfast time and afternoon tea with a choice of charming matte-finish colours, chrome detailing and controls, and rounded, retro-inspired styling.
For a look that fits right in with standard white cabinetry and benchtops, the clean, crisp white of the Breville 'Luxe' Sea Salt shade is just ideal. If you want to make a statement with a coloured toaster and kettle set that really stands out, two great options are the refined Damson Blue toaster and kettle – with matching juicer and coffee machine also available – and the light and refreshing Regal Prosecco. Available exclusively at Harvey Norman, these designer toasters and kettles make for an ultra-dramatic contrast piece next to dark stainless steel appliances.
There's also a rainbow of other matching toaster and kettle options to choose from, all with names as fancy as their colour, including Guava Spritz, Oyster Shell, Pistachio Sorbet and Black Truffle.
The 'Luxe' Collection is about more than style, though. The kettle and toaster are packed full of thoughtful features including a soft-open kettle lid to help prevent hot-water splashback and 'Lift & Look' to let you see if your toast is perfectly done.
Morphy Richards 'Scandi' Coloured Toaster & Kettle Collection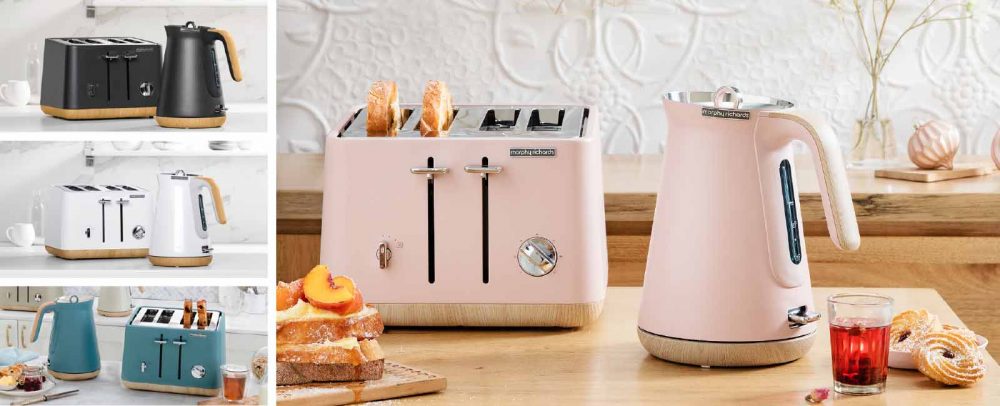 In Scandinavia, interior styling is all about light colours, blonde woods and airy, open settings – a function of those short Northern European winter days. Designed to make the most of the fleeting sunlight, Scandi-style interiors tend to keep the use of light-absorbing shades to a minimum.
Despite our longer days, this tasteful aesthetic works just as beautifully in Australia – and you have the ability to embrace it with a matching toaster and kettle from the Morphy Richards 'Scandi' Coloured Toaster & Kettle Collection.
Select a designer kettle and toaster in Teal, Pink or White, each of which will bring the delightful simplicity of Nordic design to your kitchen. However, for more drama, you can always choose the striking Morphy Richards 'Scandi' Titanium version. Providing an authentically Nordic look, the 'Scandi' Collection contrasts the feature colour of each small appliance with a light wood-effect trim on the base.
The Morphy Richards 'Scandi' Coloured Toaster and Kettle Collection also comes with a variety of excellent practical features. The kettle features a 360° cordless base and removable limescale filter, while the toaster features deep, self-centring toast slots and a pause-and-check function to help make those weekend brunches easy.
Sunbeam 'New York' Coloured Toaster & Kettle Collection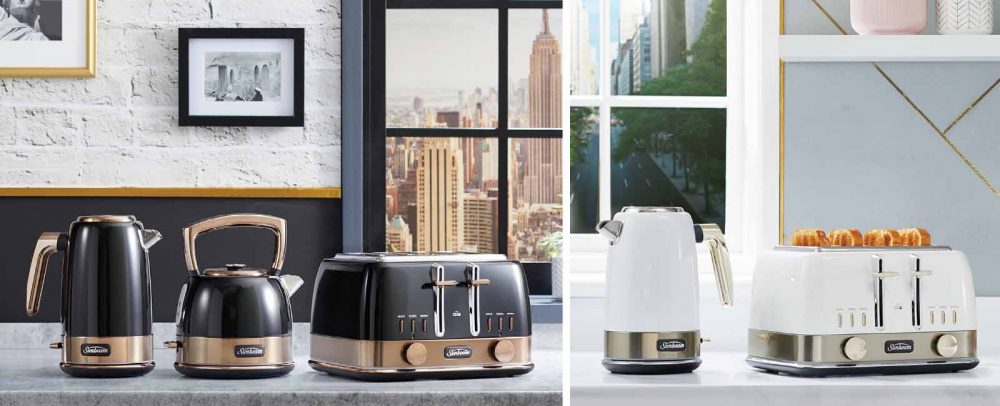 Ever wanted to visit the Big Apple?
Thanks to the 'New York' Coloured Toaster & Kettle Collection from Sunbeam, you can get a taste of the City That Never Sleeps without having to endure more than 20 hours in economy class! Almost every design detail of the Sunbeam 'New York' Collection has been inspired by the world-famous city, including the gorgeous gold and bronze finishes reflecting all the city's glitz and glamour. Both the White Gold toaster and kettle and the Black Bronze toaster and kettle feature ultra-modern illumination when toasting or boiling water, bringing the lights of Broadway to the front of mind.
The kettle lid in particular has been styled to resemble the iconic circular manhole covers that dot the city's streets, while also featuring SmoothFlex™ technology for safe, easy opening. Alongside the choice of a retro-themed pot-style kettle or a more traditional 1.7L jug-style kettle, is a 4-Slice toaster.
For more variety, Copper Penny, Central Park Green, Cerulean Blue and Empire Grey kettle and toaster options are also available.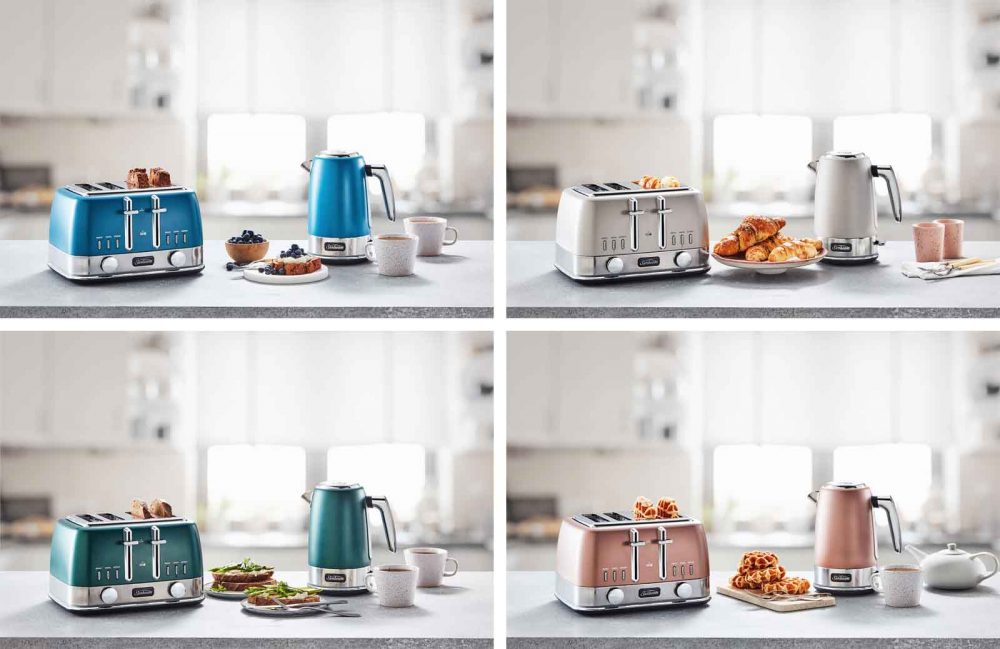 If you want to add the incredible energy and glamour of NYC to your kitchen, the Sunbeam 'New York' Coloured Toaster & Kettle Collection is one seriously exciting option to consider.
Aarke Sparkling Water Makers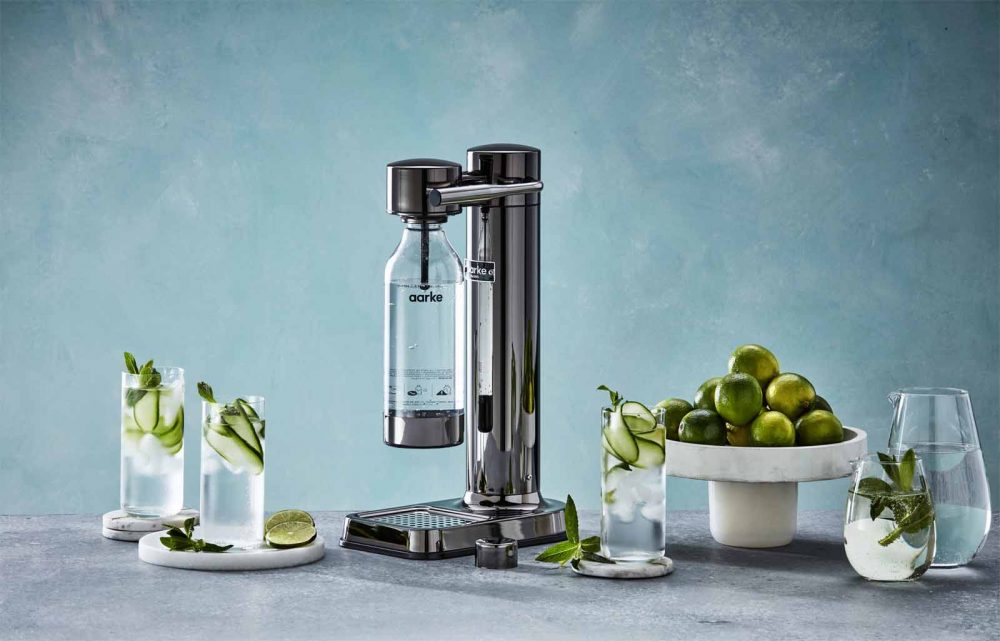 The great thing about the Aarke Sparkling Water Maker coloured small appliance collection is that it's a product unique in both form and function. Available in five sleek metallic colours, the Aarke Sparkling Water Maker turns everyday drinking water into carbonated drinks with just the press of a lever. Made from stylish stainless steel, the Aarke carbonator is a dream come true for those who want to make soft drinks or healthy fizzy infusions at home. It's small and compact, meaning it's unlikely to create any clutter in your kitchen.
If your kitchen features modern black stainless steel appliances, the limited edition Black Chrome version of the Aarke is a perfect match, exuding a luxurious and classy aesthetic.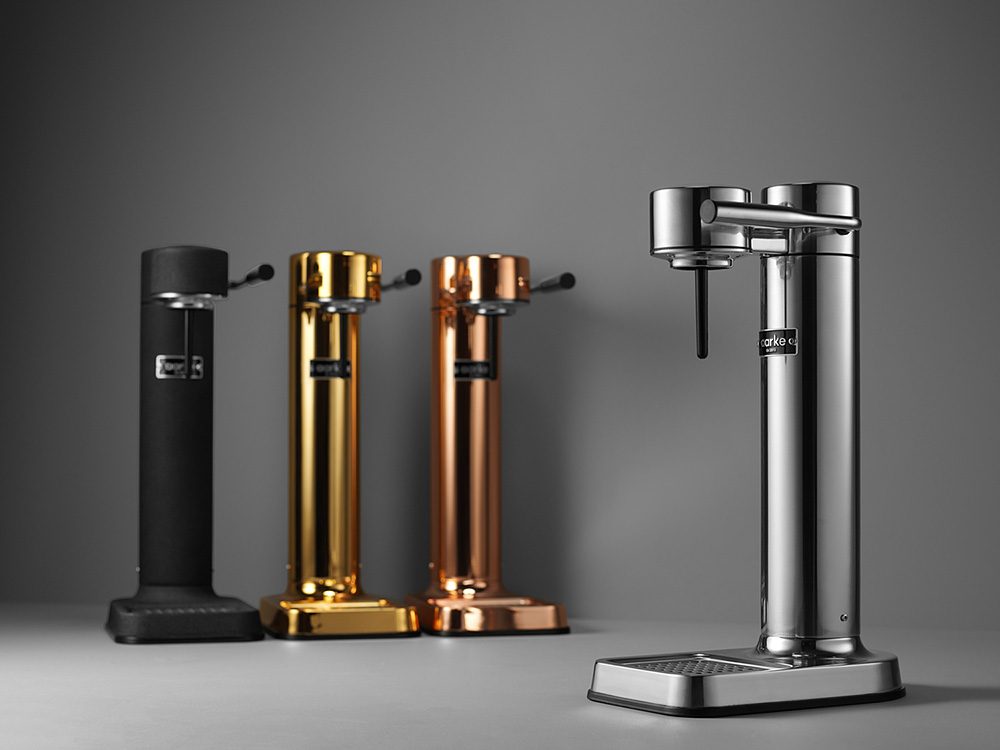 The Aarke Stainless Steel design works equally well in both white and dark kitchens, while the bronze tones of Copper and Brass will really bring flare to a basic white kitchen bench space.
Always timeless options, White and Black Aarke Sparkling Water Makers are also available for a more minimalist look.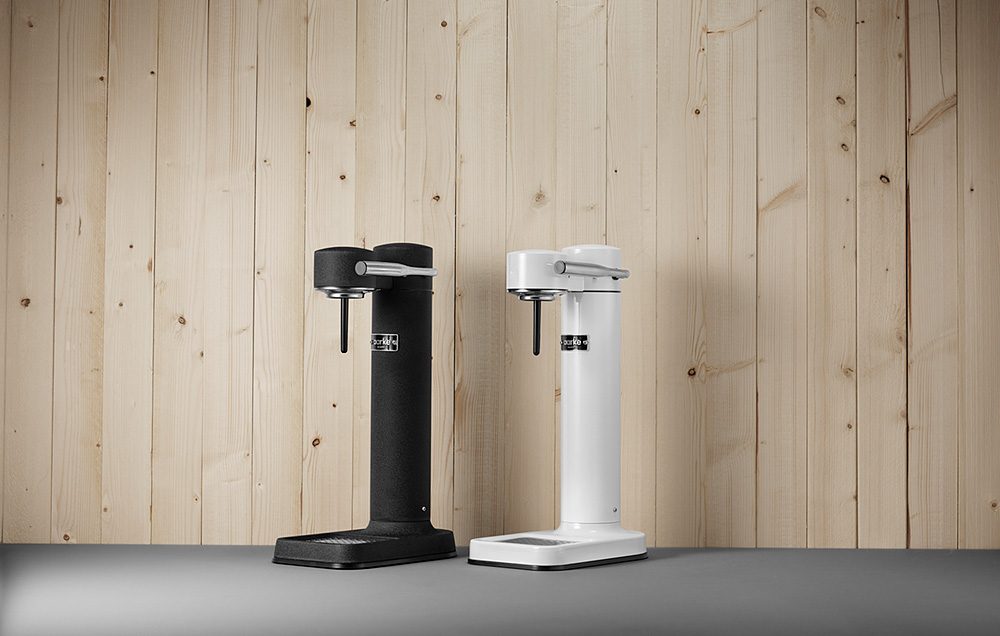 To learn more about what makes the Aarke Sparkling Water Maker such a great small appliance, check out this Harvey's HQ article.
Smeg '50s Style' Coloured Small Appliances Collection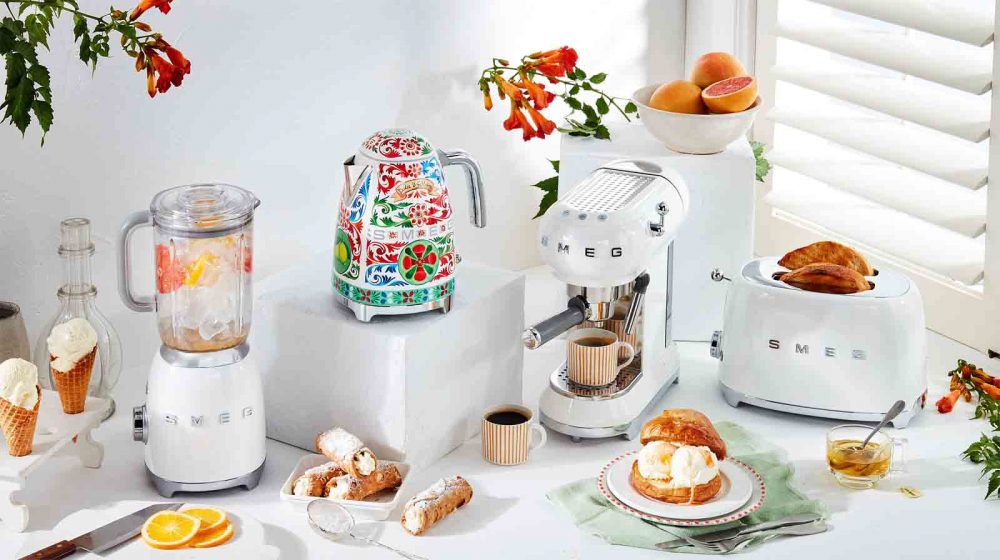 Smeg's '50s Style' Coloured Small Appliances Collection combines the enormous character of mid-century Italian design with the efficiency and user-friendliness of modern small appliances.
Combining the classic curves and pastel shades that dominated the 1950's industrial design period, the Smeg '50s Style' coloured kettle and toaster will bring a touch of post-war optimism to your kitchen. The combination of retro-style design and futuristic features give the Smeg '50s Style' coloured small appliances a truly unique feel – and if you're like me and love a throwback to a bygone era, this collection could be your favourite so far.
Available in a range of stylish colour options, the Smeg '50s Style' Collection includes White and Cream (ideal if you're wondering what colour kettle goes with black worktops) along with the stunning 'Sicily is My Love' range featuring art from Dolce & Gabbana. Inspired by the food, history, tradition and landscapes of Sicily, these coloured small appliances really stand out in all kitchens – from older variants to modern designer spaces.
For a more low-key look, Smeg's '50s Style' small appliance range is also available in Red, Black, Silver, Blue, Green and Pink options.
De'Longhi 'Icona Capitals' Coloured Kettle & Toaster Collection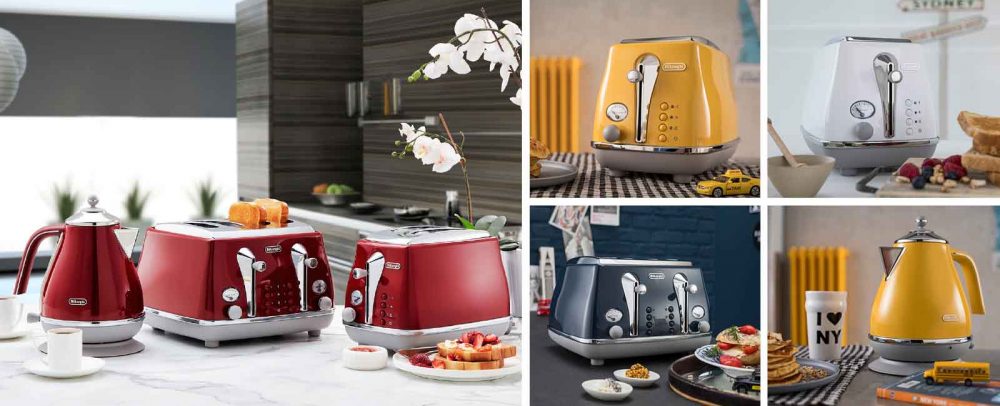 Combining sharp European styling with colour options capturing four of the world's most iconic cities, the De'Longhi 'Icona Capitals' Coloured Kettle & Toaster Collection combines the sleekness of chrome with bold, punchy colours to make a real design statement.
If the land of the Rising Sun is your dream destination, then the glossy Tokyo Red kettle and toaster could be for you. If you're more into the calming power of tea and biscuits, then it might be the London Blue toaster and kettle that's calling. Those of a New York state of mind have another option – alongside the Sunbeam 'New York'  collection above – with the New York Yellow kettle and toaster styled to match the city's iconic taxis. And, finally, those that can't get enough of Australia's very own harbour city will love De'Longhi's 'Icona Capital' Sydney White toaster and kettle.
So, if you're looking for a toaster and kettle that goes with a grey kitchen, for example, you're going to adore the sheer brightness and impact these four glossy finishes will have on your cooking space. However, no matter the predominant colour of your bench space and cabinetry, these De'Longhi coloured small appliances will catch the eye wherever they're placed and are sure to make tea time a bright and happy experience.
Beneath the surface, the De'Longhi 'Icona Captials' Coloured Kettle & Toaster collection boasts plenty of great features including a 360° detachable kettle base and 6-position electronic browning control with bagel setting for a gourmet European breakfast.
Where To Buy Coloured Small Appliances For Your Kitchen
The best way to find a match for your kitchen is to head to your local Harvey Norman store, where you can see our beautiful range of coloured small appliances, toasters and kettles for yourself and get advice from our friendly, expert staff. Why not take a picture of your kitchen along with you to get a sense of which coloured small appliance collection suits your space best. Of course, if you've already seen something you like or would like to browse our full range straightaway, then head to our online store – it's always open!
Coloured Small Appliances Are Always Popular
Over the years, some of the most popular blog posts we've done here at Harvey's HQ have looked at coloured small appliances, toasters and kettles. Of course, that shouldn't come as a surprise, because everyone loves colour in the kitchen!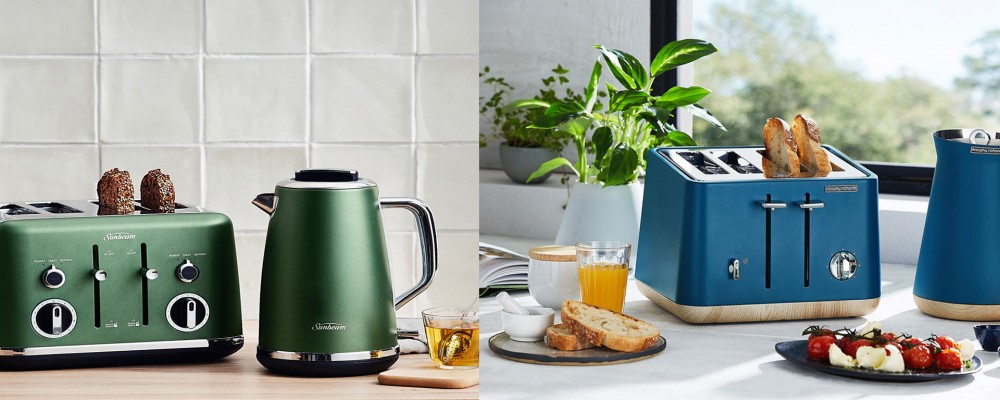 So, if you're on the lookout for further colour inspiration, here's the links to three of our earlier coloured small appliances articles:
4 Small Appliance Colour Trends to Brighten Up Your Kitchen
Stylish Toasters And Kettles: 3 Colour Trends For Your Kitchen
Colour Your Kitchen With Small Appliances