Football fans are cheering – two of the world's most iconic sporting teams, Manchester United and Liverpool FC, are coming to Australia.  
Channel 7 will be telecasting the biggest club football matches to ever be played on Australian soil: Man Utd versus the Foxtel A-League All-Stars and Liverpool against Melbourne Victory. Now, you can bring these blockbuster games into your home and get close to the action with the amazing LG 100-inch laser display pack. It incorporates short-throw laser display technology from its DLP Device onto a giant 100-inch screen. Bundled with an LG 1TB twin HD tuner recorder/Blu-ray player, it's a completely immersive, full HD experience.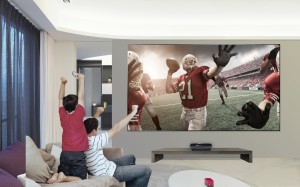 On Saturday 20th July 2013 at Sydney's ANZ Stadium, Manchester United — the English Premier League champions of 2012/13 — will showcase their skills against our very own soccer wizards of Oz, the Foxtel A-League All-Stars. And then, on Wednesday 24th July, world football giants Liverpool take to the hallowed turf of the Melbourne Cricket Ground against the pride of Victoria, Melbourne Victory. 
Marvel at the fancy footwork of soccer superstars like Robin van Persie and Steven Gerrard from the best seat in the house – YOUR living room. The game-changing LG 100-inch laser display pack sells for $8,999 RRP with bonus Delivery and Installation. To see the magic for yourself, run in to Harvey Norman, your number one destination for Technology and Home Theatre.