If I have a weakness for anything, it's fizzy drinks. Iced lemon lime bitters, frothy raspberry creaming soda, bubbling passionfruit mineral water – you name it!
Although I do my best to drink plenty of water, sometimes I just want something with a bit more flavour. Unfortunately for my teeth, artificial fizzy drinks are my go to.
Imagine then, my joy when the kind people at Harvey Norman gave me the opportunity to test-drive the one thing I'd need to create my very own delicious and healthy carbonated drinks – a SodaStream Power Sparkling Water Maker.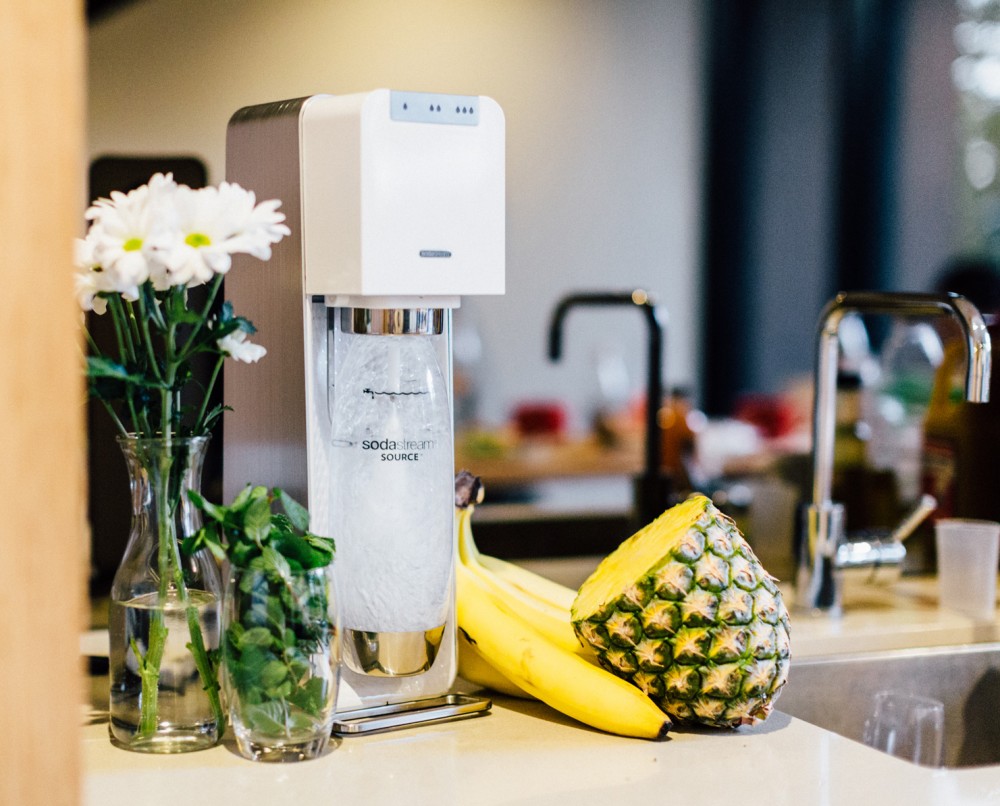 Even though I was tempted to grab every SodaStream flavour off the shelf and create fizzy flavours one-by-one, I knew the SodaStream was built for bigger and better things. By creating mouth-watering beverages out of fresh and natural ingredients, I'd be drinking way more water and consuming important nutrients without even thinking about it! With that in mind, I set about putting SodaStream to the test.
Unboxing and Assembly
Assembling the SodaStream sparkling water maker was very simple – I mean, even I managed to do it, and that's saying something!
First, I removed the machine's back cover, using the hole to gently pull it off.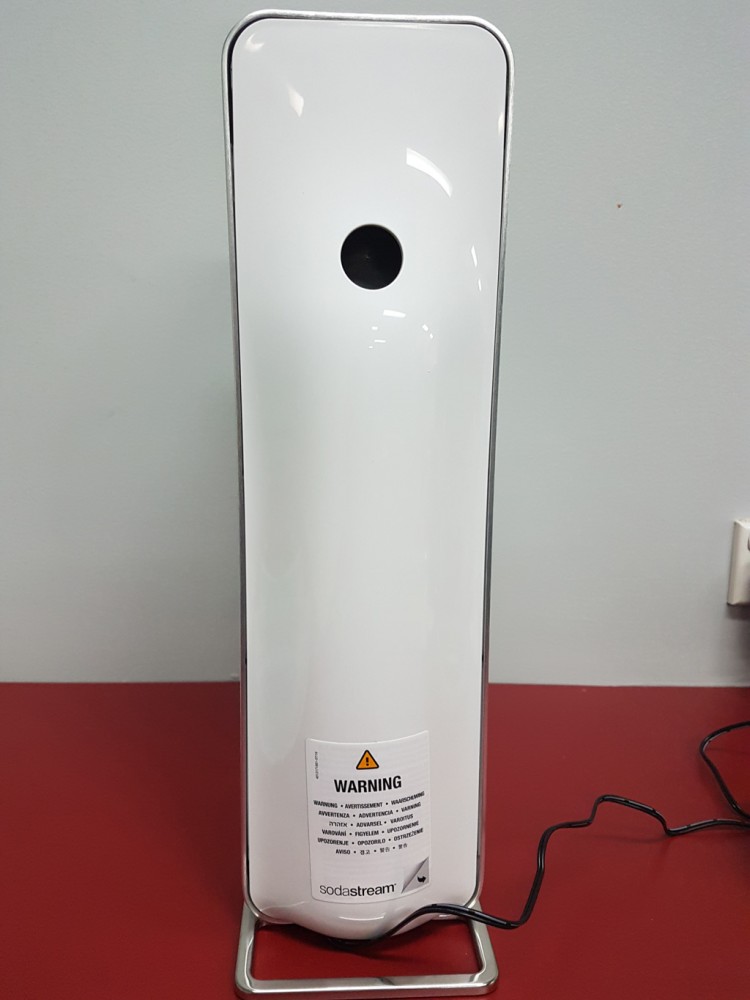 After removing its seal and cap, I placed the CO² cylinder inside the machine, screwed it tightly into the holder, plugged in the cord and replaced the cover.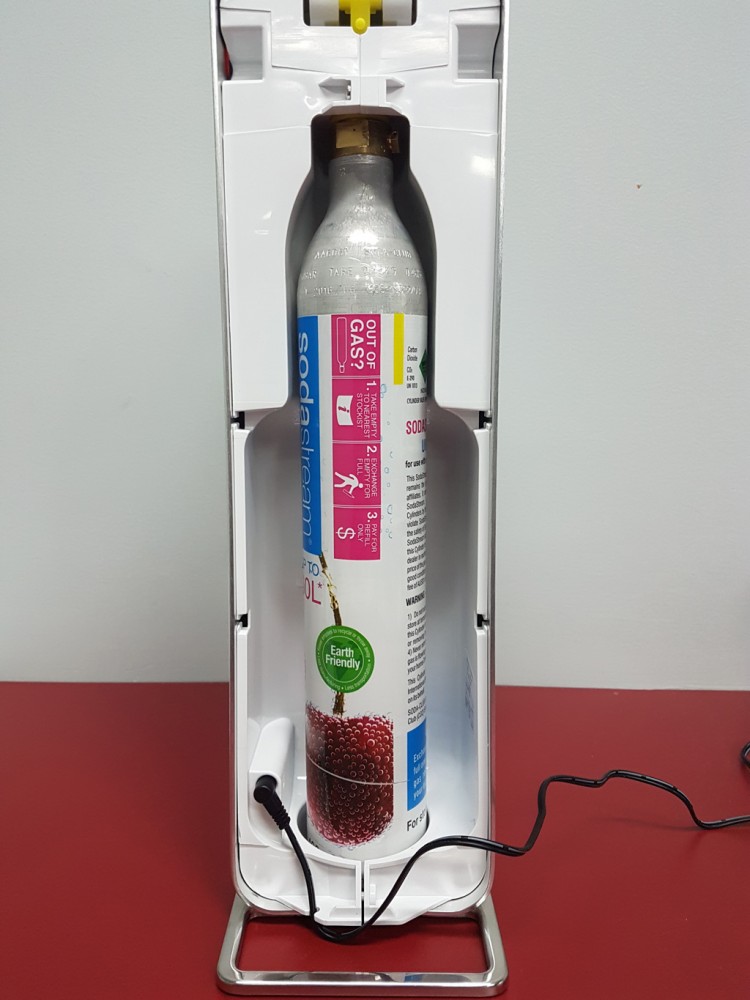 Now, before I continue, I should mention that the CO² cylinder that comes with every SodaStream can make up to 60L of sparkling water. I repeat, 60 litres! That's the equivalent of around 180 cans or 40 bottles of soda water.
As it turns out, SodaStream's motto – 'Smart. Simple. Bubbles.' – represents a commitment to providing lovers of sparkling water an eco-friendly alternative to buying bottles and cans off the shelf.
When you finally run out of gas, you can take your CO² cylinder back to your local store and Harvey Norman will exchange it for a full cylinder for just $21.95. Another 60 litres of fresh sparkling water coming right up!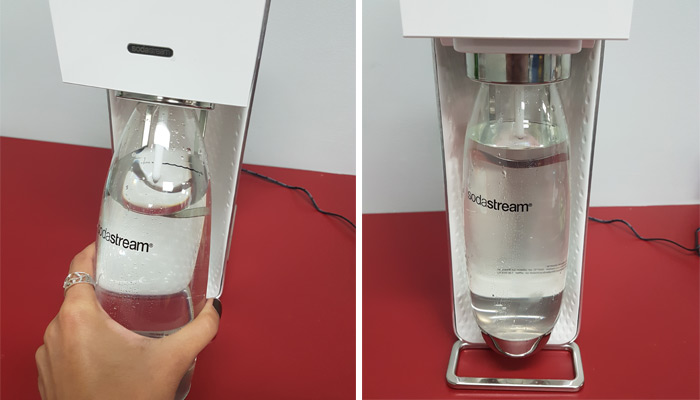 Now that my SodaStream Sparkling Water Maker was locked and loaded, it was time for the next step: fill the BPA-free carbonating bottle with cold water up to the marked fill line, and push it up and back for the convenient snap-lock mechanism to catch.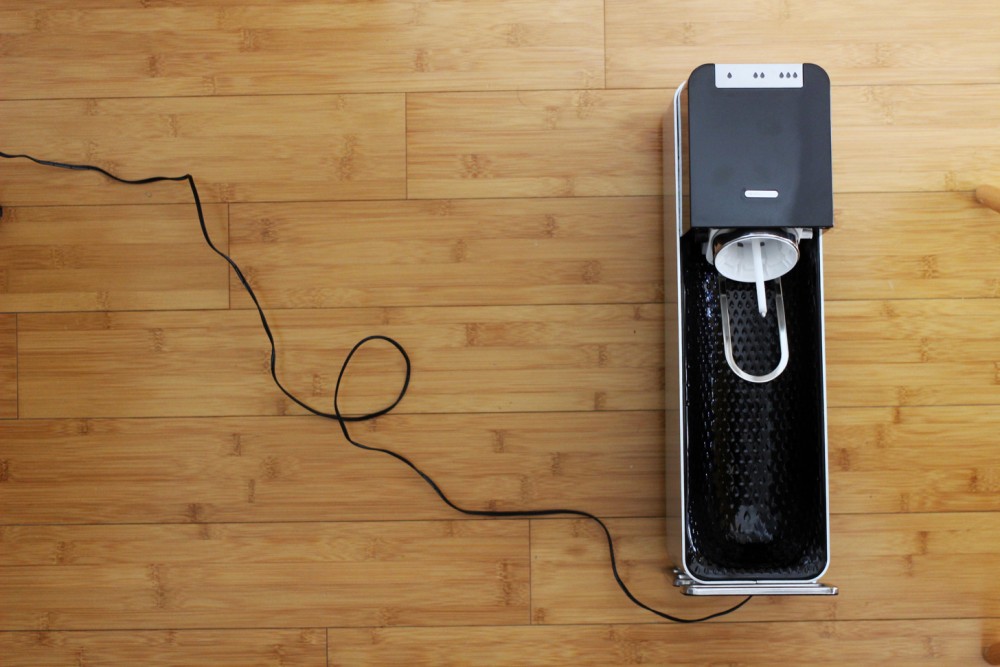 The 1L-capacity carbonating bottle is yet another eco-friendly feature of the SodaStream system. Just as the CO² cylinder can be refilled and reused, the carbonating bottle has a lifespan of up to three years! That means you'll no longer have to lug heavy bottles home from the supermarket that you then have to find room to store, and then later waste time disposing. It also means that you can enjoy a sparkling moment whenever you want!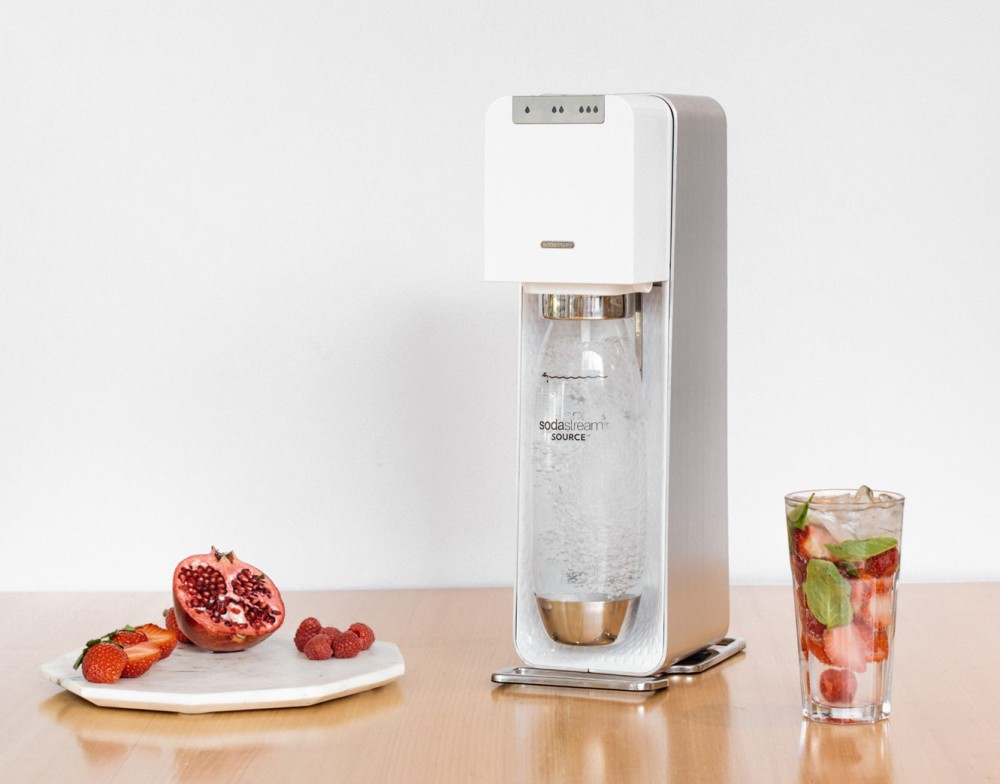 The Moment of Truth
It was time to fizz up and drink up. I decided to try out the highest level of fizz (the more bubbles the better in my opinion!) but you can also choose a light or medium level of carbonation if you please.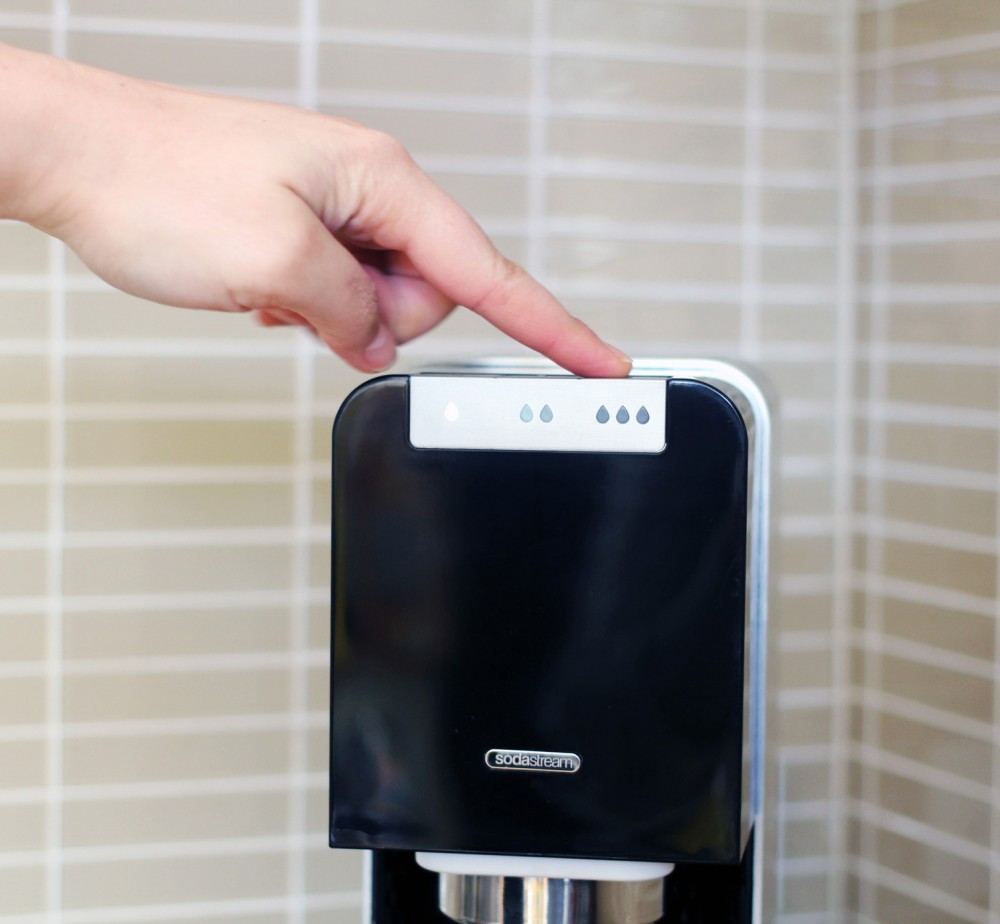 The SodaStream Power shot a few quick bursts of CO² into the bottle, and when the highest level of carbonation had been reached, it automatically released the excess gas, sending a wave of effervescent bubbles to the top. What had started off as still water from the tap had become fresh sparkling water within seconds!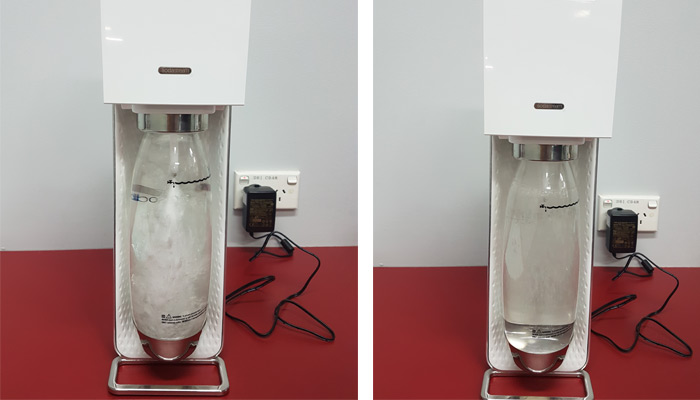 With the help of a friend, I used my freshly carbonated water to put together one of SodaStream's recipes – the super easy 'Summer Cool Down' (minus the vodka). It was as simple as muddling fresh ingredients together in cups and adding the sparkling water. There was enough in the 1L bottle to fill several cups and I shared them with a lucky few who were all very impressed with the results – as was I!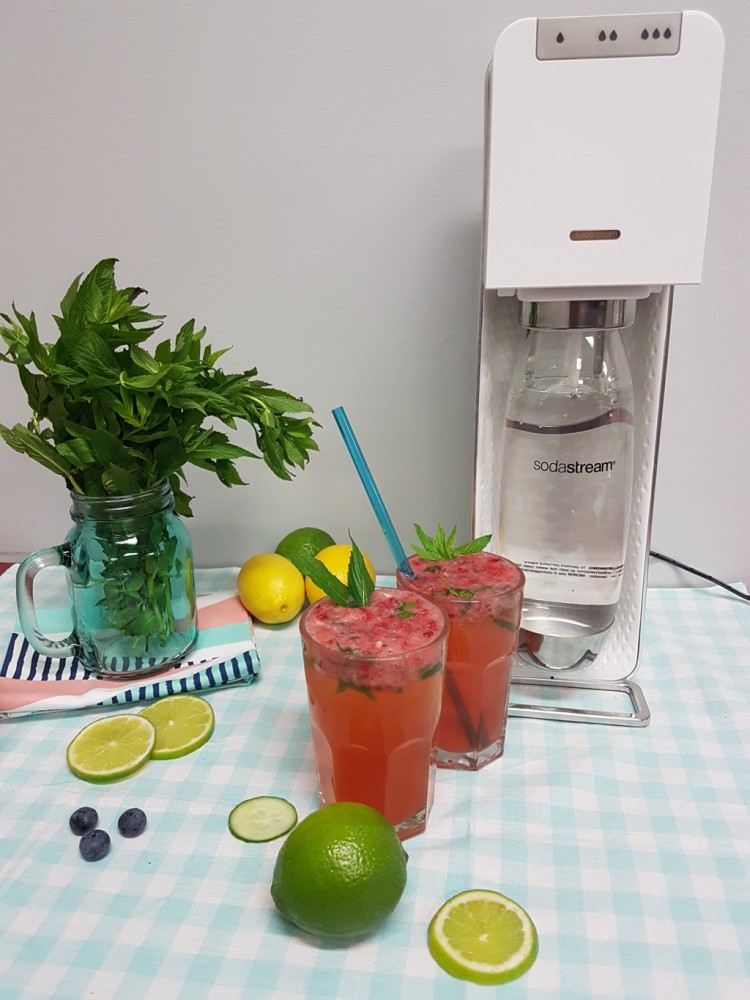 The sparkling water was cold and crisp, just the way I like it. It had taken no time at all to create, and the only trip I'd had to make was to the kitchen sink! Plus, SodaStream sparkling water contains much lower salt content than the pre-packaged carbonated stuff, and you could actually taste the difference in the water.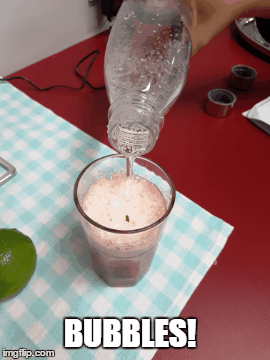 After the success of the 'Summer Cool Downs', I went in for round two. In under a minute, a friend and I had turned another litre of tap water into fresh sparkling water and produced two more concoctions: homemade lemonade and a berry blast, both featuring sprigs of fresh mint. It was so easy to whip up healthy drinks on the spot, and they were so delicious I forgot I was drinking water! I could easily see how SodaStream would fit in my life and change my relationship with water for the better. I could also see how it could step up my entertaining game – 'What will it be Mary? A glass of Diet Cola or a watermelon pineapple fusion with a hint of cranberry, courtesy of my SodaStream?'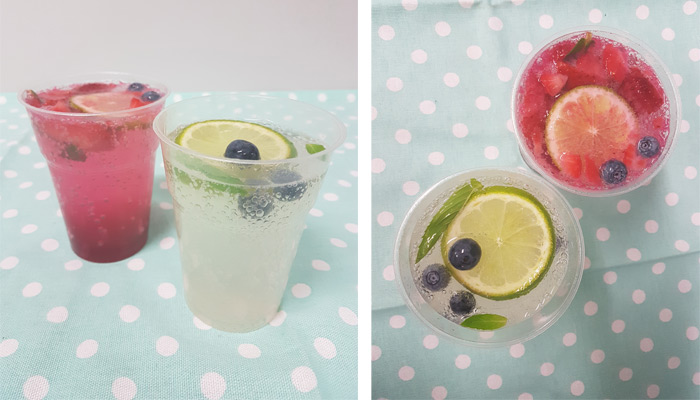 Having experienced a taste of life with SodaStream by my side, it's hard to go back to my old ways. Making healthy carbonated drinks with the SodaStream Power Sparkling Water Maker was so easy and convenient, and it encouraged me to drink more water than I normally do because it made it fun and interesting. Good thing my birthday is coming up… *cough get me a SodaStream cough*
Are you keen to enjoy your own sparkling moment? Head in to your local Harvey Norman store or visit the Harvey Norman website to shop SodaStream and find out more about this game-changing home carbonation system.