Every Saturday morning I visit my local farmer's market for the freshest fruits and veggies. Then I visit my local butcher for quality meat and finally, the supermarket for everything else.
I try to avoid grocery shopping after work during the week, as my local supermarket is always packed and a 'quick stop at the shops' doesn't always work out the way I plan.
But as much as I try to get everything done on Saturday mornings, sometimes it's not possible. Fresh meat, herbs, veggies and fruit bought on Saturday morning may not be at their best by the middle or the end of the week. You can always try freezing things, of course, but frozen things don't necessarily taste the same as the fresh alternative.
Recently I've found a solution to my dilemma. Enter Sunbeam FoodSaver.
Available at Harvey Norman, these ingenious kitchen appliances are a great way to save time and money and to keep food fresher for longer.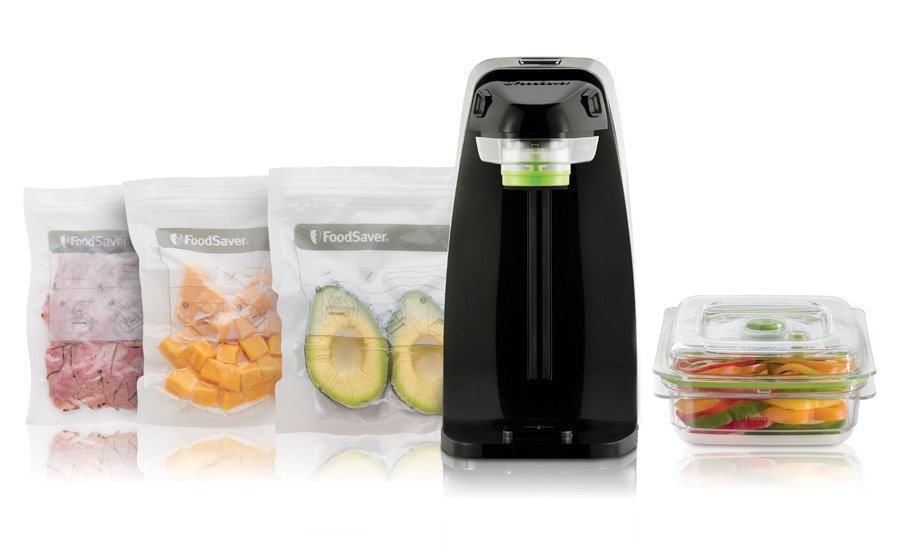 The Facts
According to 'Love Food Hate Waste'* – Australians waste an incredible amount of food each year – over $3000 per household per year! This equates to about 20% of all food purchased, or 1 in 5 shopping bags.
But don't worry  – a solution is at hand. The Sunbeam FoodSaver Fresh Vacuum Sealer can help to keep food fresh for up to 2 time longer, while the Sunbeam FoodSaver Controlled Seal can keep food fresh for up to 5 times longer, meaning less spoilage and less money wasted.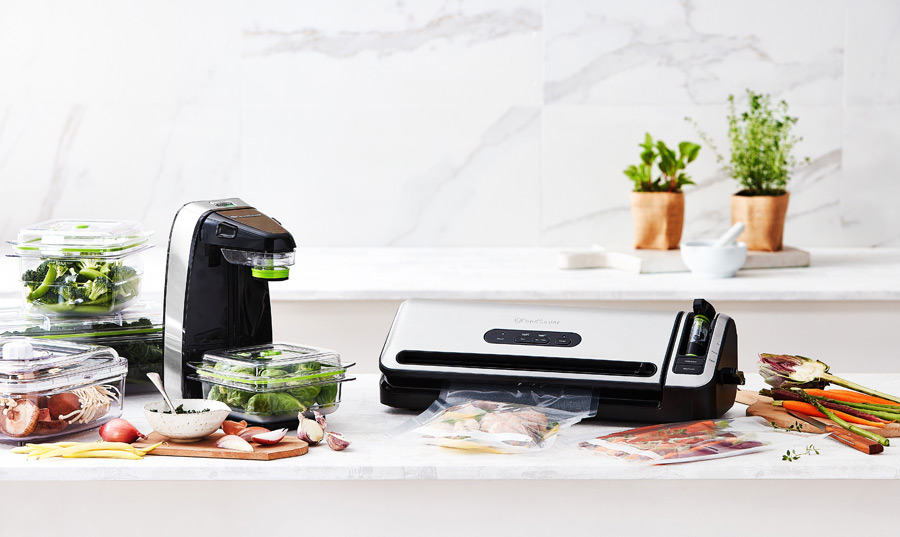 With a range of accessories now available, from bags and rolls to different sized containers, Sunbeam FoodSaver allows you to vacuum seal salads, vegetables, fruits, meat, soup and virtually any other ingredient in your kitchen. You can also use it to sous vide a delicious meal for your next dinner party!
And if you really want to start thinking outside the box, you can even use the FoodSaver for non-food related items as well. Vacuum seal your car keys and wallet while out fishing, protecting them from water damage; kids' Lego (that parents are always stubbing their toes on) for easy storage; clothes for when you're trying to save space in your luggage; or important documents such as passports and birth certificates; and even jewellery!
The Products
This compact device is designed for quickly and efficiently sealing containers and specialised vacuum sealed ziplock bags. You can seal just about anything in the Sunbeam FoodSaver Fresh Vacuum Sealer, from coffee beans to salads to soups. You can also use the special FoodSaver airtight ziplock bags to seal single servings of things like fresh fruit for the kids' lunches.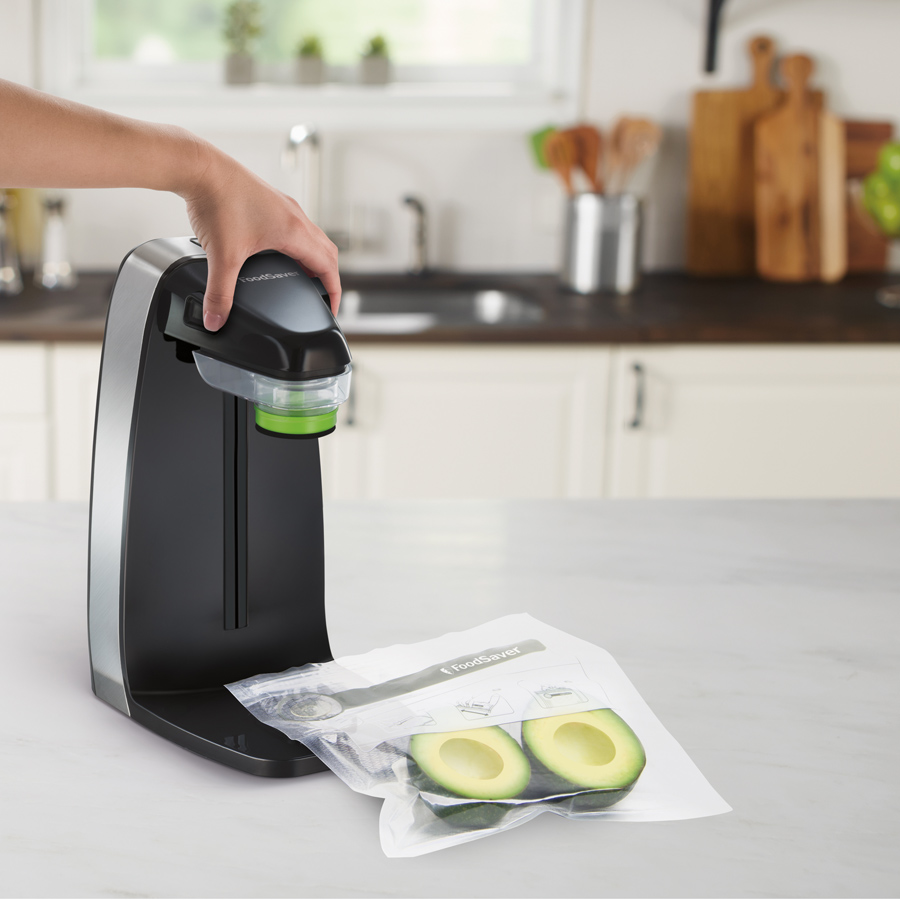 This machine offers you total convenience and versatility. You can vacuum seal using cut bags to suit the size of your portions whether large or small, or you can vacuum seal using the special FoodSaver containers with a handy accessory attached to the side. Using this accessory, you can also easily vacuum seal ziplock bags and containers of any size.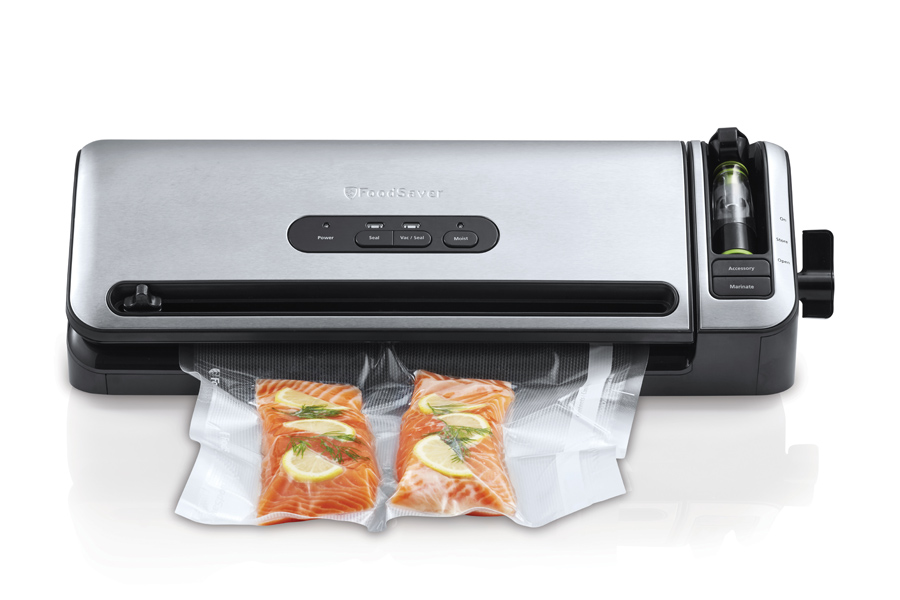 Also available is the Sunbeam FoodSaver GameSaver Food Vacuum Sealer, perfect for adventurous cooks who like the outdoor life. Available to order, this sturdy vacuum sealing machine is designed for outdoor use, so it's ideal for freshly caught fish or game.  Now, that's smart food storage.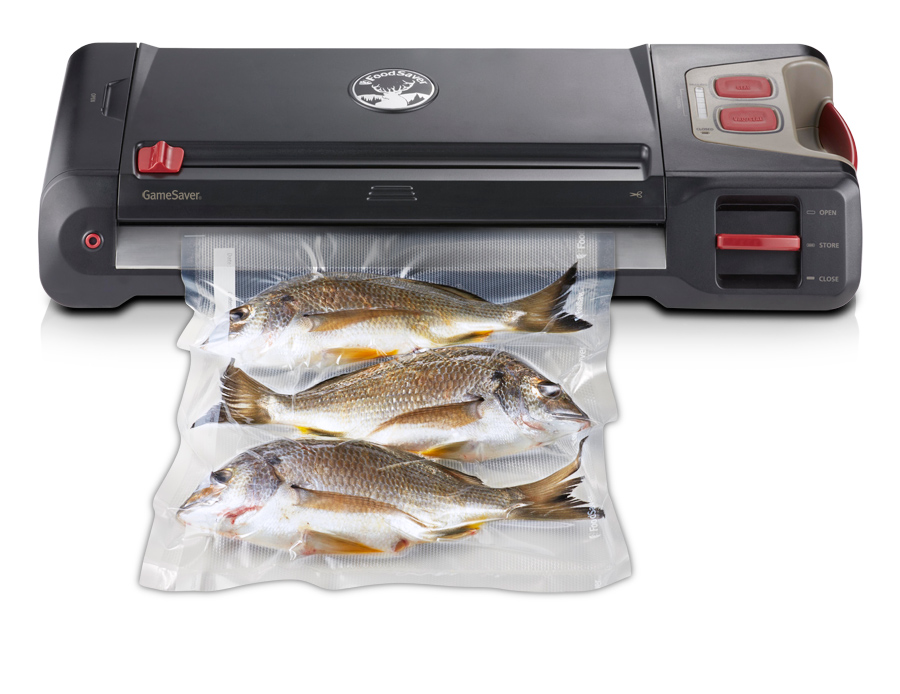 The Meal Plan
I like to plan my weekly meals in advance, and always cook a little extra so I have leftovers for lunch and dinner. I find that doing this saves me time and money, as I spend less on takeaway food and don't waste time frantically zipping around the supermarket after work.
This week, I planned on cooking marinated pork with fresh in-season vegetables and okonomiyaki (Japanese pancakes with seafood or meat) for dinner. I'd also planned a spinach and walnut salad for my lunch.
But planning so far in advance has its downfalls. Sometimes food goes bad before you even have a chance to use it, or something will come up last minute to disrupt your plans.
Not so, with Sunbeam FoodSaver.
Cooking for One or for a Family
Sunbeam FoodSaver is a great meal prep tool that professionals and parents will be thankful for. We all know what it's like – once you get home after a long day at work, you don't usually jump straight into the kitchen to start preparing a nutritious and delicious dinner that would make any TV chef weep with joy, do you?
Usually, we have a lot of other things going on; whether that's making sure the kids have done their homework, popping into the gym for a quick sesh, finishing up those chores you've been avoiding or simply trying to get things ready for the next day.
So if you want to be sitting down to dinner sometime before midnight, you need to make sure you've done the right amount of prep.
With vacuum sealing technology, you can seal what you need in advance, so that it's ready to go whenever you need it.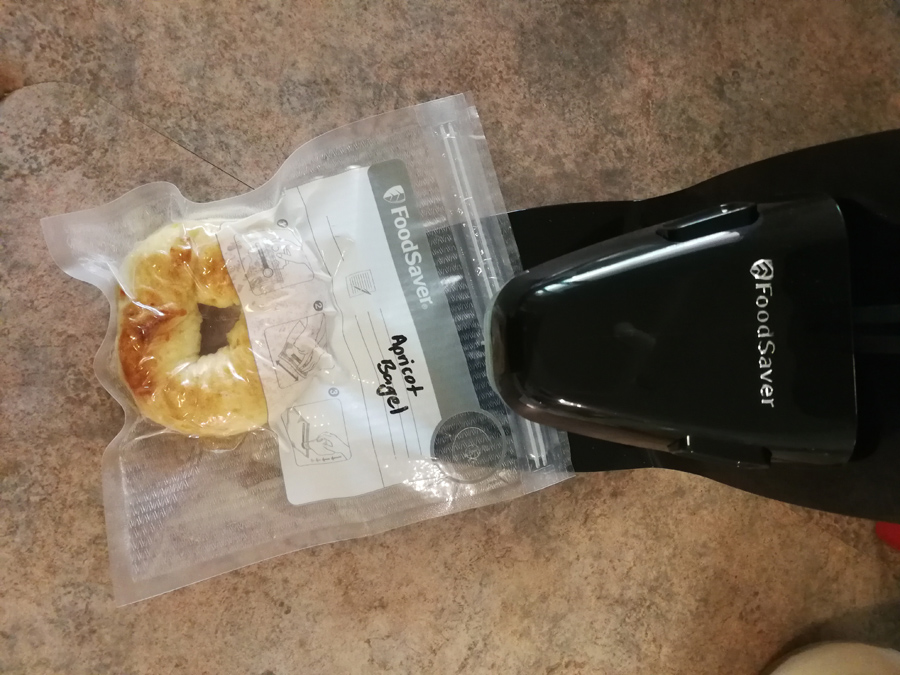 But these nifty kitchen appliance aren't just designed with busy families in mind. They're also a handy way for people to prepare and cook small meals for one.
Cooking for one can be difficult (I should know, as my partner works night shift for the second half of the week), and you often find yourself with too many ingredients or too many leftovers. The alternative is eating out every night, which isn't always an economical or healthy option.
With Sunbeam FoodSaver, you can buy ingredients in bulk and divvy up smaller portions that can be labelled, dated and neatly stacked in freezers for later. You can also vacuum seal any leftovers you're unable to eat and voila, you've got instant meals ready to go for days when cooking is not an option.
The Real-Life Test
Saturday and Sunday – Weekend Meal Prep
After I'd finished my grocery shopping on Saturday, I set about preparing and sealing the meat, seafood and vegetables I'd bought.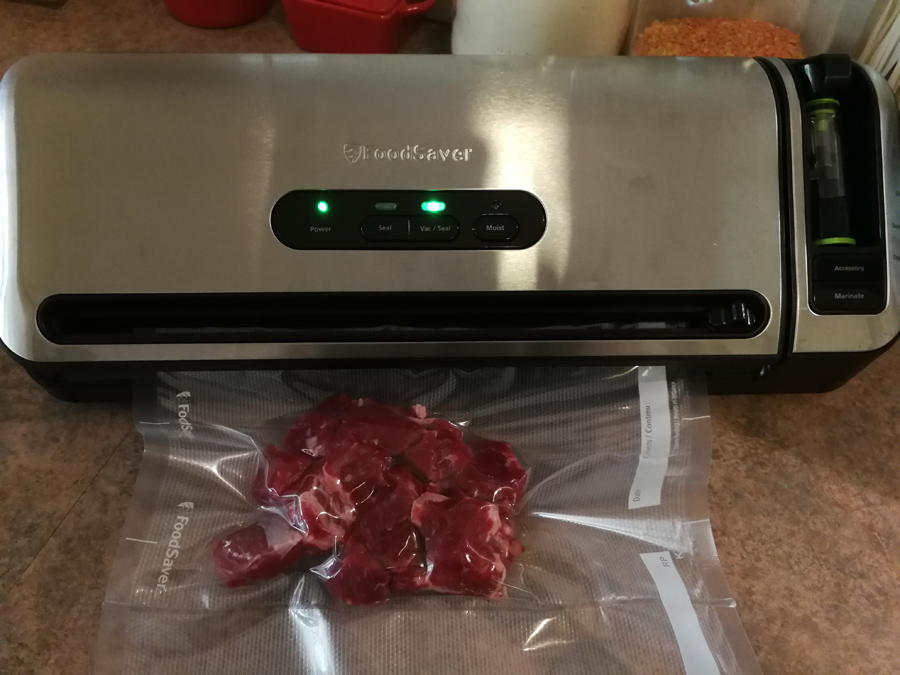 I had also decided to treat myself and bought fresh figs – something I rarely do. I find that figs, no matter how fresh they are, go bad too quickly and I never get to enjoy them. But I was hoping that, with the help of this clever vacuum sealing technology, I'd be able to extend their life.
In addition, I also used the Sunbeam FoodSaver marinating container to marinate Monday night's pork. While the Sunbeam FoodSaver does allow you to vacuum seal and marinate food in minutes instead of hours, I decided to use it to prepare Monday night's dinner in advance and save myself some time later on.
The VS7850 Sunbeam FoodSaver Controlled Seal allows you to cut the size of your own bags, depending on what you're sealing. However, with a special attachment, it also allows you to vacuum seal specially designed containers. This is how I vacuum sealed the marinating pork.
On Sunday night, I prepared and vacuum sealed a fresh salad for my week's lunch: fresh baby spinach, red onion, avocado, baby tomatoes, fetta and walnuts with a zesty lemon dressing.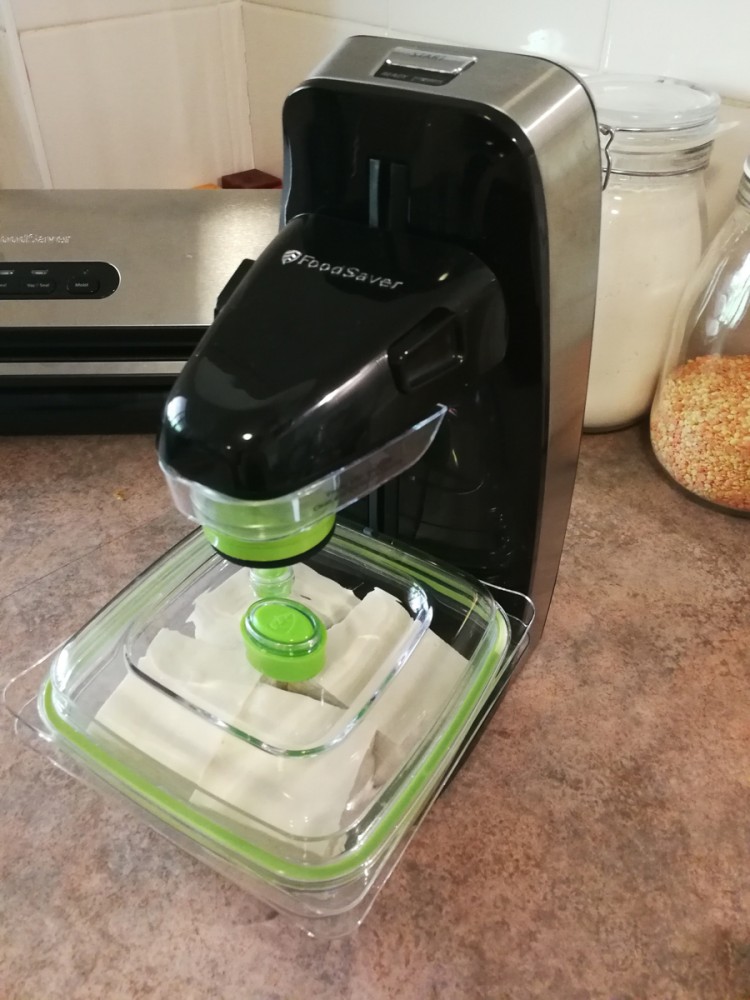 Monday – Marinated Pork and Leftover Salad
When I opened my container of salad at work on Monday, I was amazed to find that the salad looked exactly as it had the night before. No wilted spinach, no brown avocado, and no soggy fetta. It was just as fresh as it had been on Sunday night, almost 24 hours ago.
Monday night's dinner consisted of marinated pork in a homemade sauce with fresh vegetables and rice. I had marinated the pork on Saturday in order to save time on Monday night. This turned out to be a smart choice, as I got stuck in traffic coming home on so had even less time than usual to prepare dinner.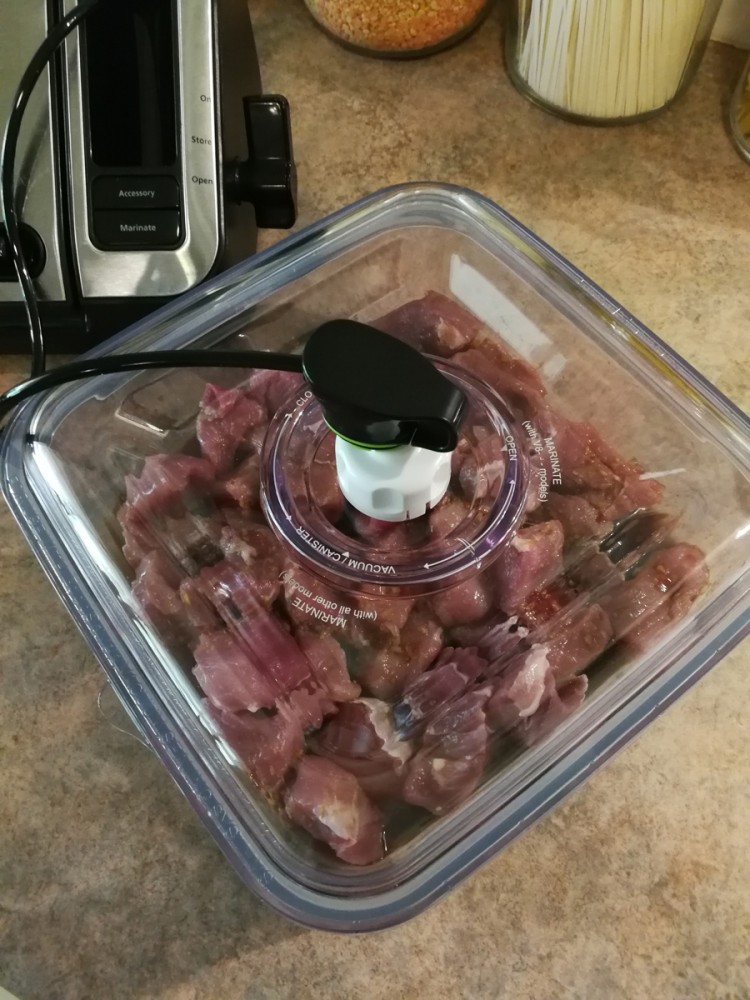 Thanks to the FoodSaver Marinating Container, the pork I'd prepared two days earlier was still as fresh as the day I'd bought it, and the meat had well and truly soaked up the garlic, ginger, soy sauce and vinegar marinade.
Tuesday – Fresh Figs
On Tuesday night, I decided to treat myself to a really decadent dessert – figs caramelised in brown sugar with ice-cream.
I love figs, but I rarely ever buy them as I'm worried about wasting them if I don't use them in time. However, as I'd sealed them nice and tight, they were still deliciously fresh!
As a bit of an experiment, I sealed one group of figs in one of the special zip lock bags that came with the Sunbeam FoodSaver Fresh Vacuum Sealer. I then sealed another bunch of figs with the Sunbeam FoodSaver Controlled Seal to see if there was a marked difference in quality. It's worth noting that even though I didn't have time during the week to eat the second group of figs, they were still healthy looking by Friday.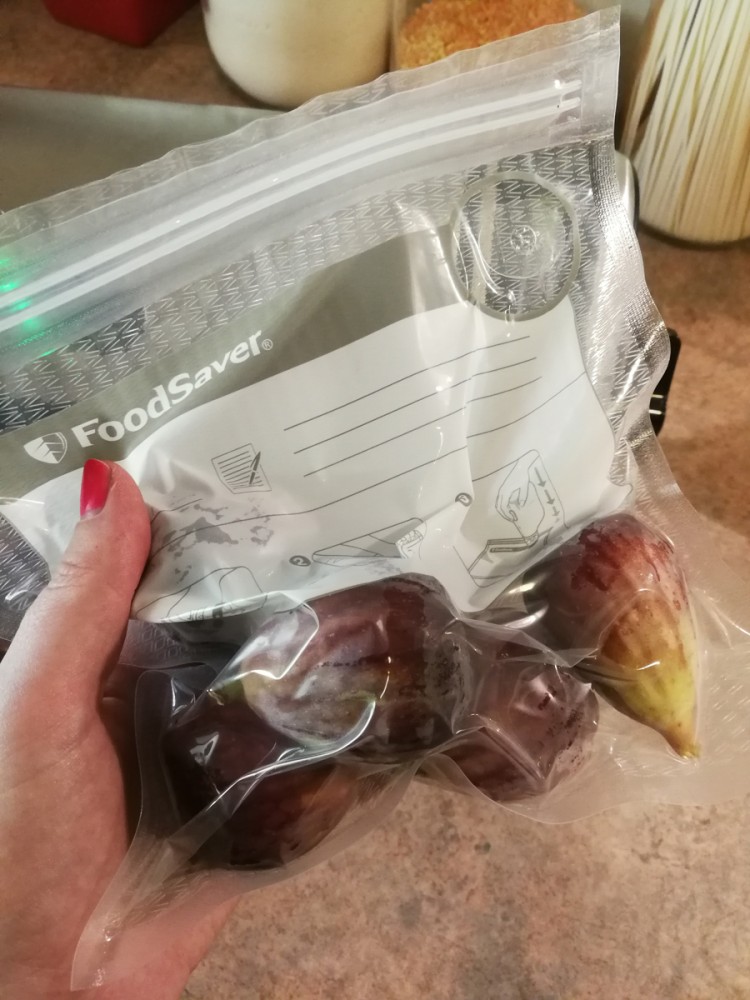 Wednesday – Okonomiyaki (Japanese Pancakes)
Tonight was the night I cooked (Westernised) Japanese pancakes using the meat and seafood I'd vacuum sealed on Saturday.
That morning, I Ieft both packages in the fridge to defrost, and began cooking when I got home.
With the meat and seafood already chopped and defrosted, all I had to do was prepare the batter and vegetables.
With frozen foods, the quality of the food is often diminished after it's been defrosted. But I noticed no such drop in quality with the meat or the seafood that I'd sealed on Saturday. The VS7850 Sunbeam FoodSaver Controlled Seal had really done its job.
Thursday – Sealed Leftovers
For Thursday's lunch I had leftover okonomiyaki and leftover salad.
You'll remember that I vacuum sealed the salad waaay back on Sunday night and that I'd also had it for lunch on Monday, so I was surprised to find that by Thursday it still looked super fresh! The avocado slices had turned just the teeniest bit brown, but that was to be expected considering I'd chopped the avocado on Sunday night. All in all, I was incredibly impressed that my salad still looked and tasted so fresh.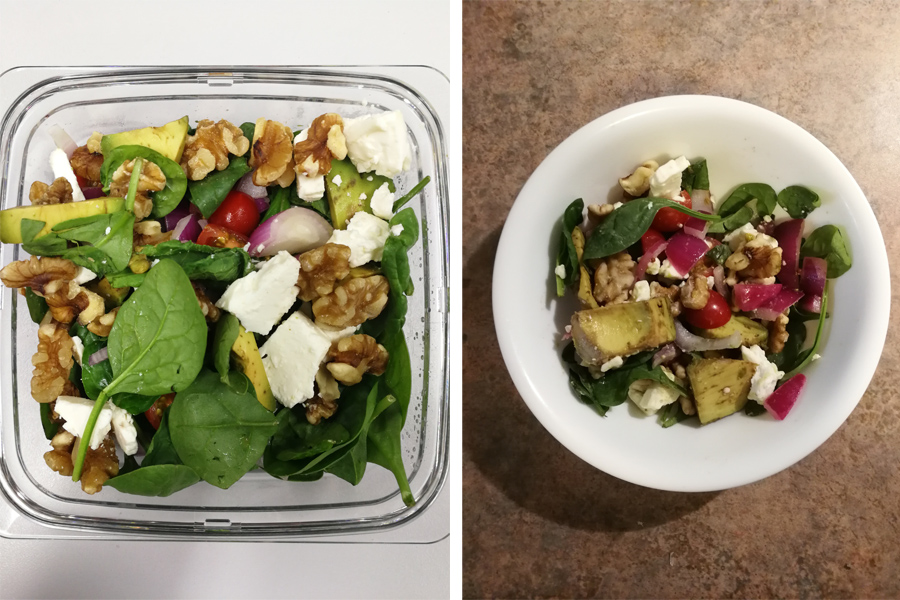 In comparison, I had also left some salad at home in the fridge in a bowl, covered with cling wrap. This salad had not fared so well… As you can see in the photos, the spinach and the avocado both look pretty sad, and the tomatoes look less than appetising. Whereas the vacuum sealed salad still retains its freshness.
Make the Most of your Meals with FoodSaver
Sick and tired of letting money and food go to waste? Invest in a Sunbeam FoodSaver today and stop throwing away good food and start planning your meals in advance.
Whether you're after the compact and efficient Sunbeam FoodSaver Fresh Food Vacuum Sealer, the versatile Sunbeam FoodSaver Controlled Seal or the portable and durable Sunbeam FoodSaver GameSaver Food Vacuum Sealer, we've got something to suit your lifestyle.
*Love Food Hate Waste, Food Waste Facts and Stats (2016) NSW Environment Protection Authority
There's a huge range of Sunbeam FoodSaver products you can shop online, but if you're not sure about which product will suit your needs best, you can always drop into your local store and chat to our expert staff.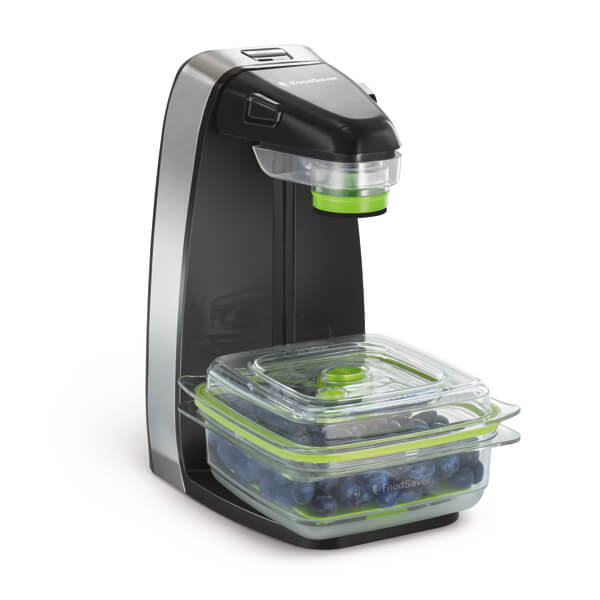 Sunbeam FoodSaver Fresh Food Vacuum Sealer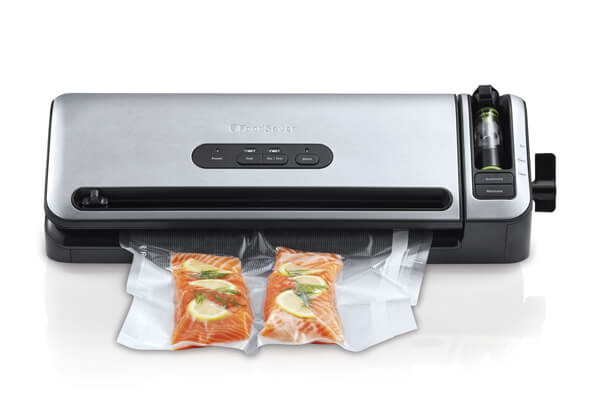 Sunbeam VS7850 FoodSaver Controlled Seal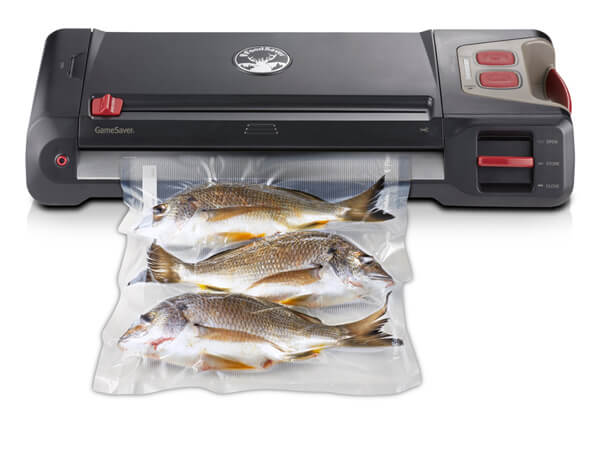 Sunbeam FoodSaver GameSaver Food Vacuum Sealer