We would all like to think we are eating as well as we could be. But with lives only ever getting more hectic – in amongst work, school, sport, friends and everything else – it can be a really hard thing to achieve. The time to prepare something fresh, healthy, and tasty is just so rarely available. The Ninja Foodi, now available at Harvey Norman, could just be the answer. Combining multiple cooking functions and ultra-fast cook times in one convenient package, this was an appliance that I couldn't wait to test out!
Join me on my mouth-watering Ninja Foodi review to find out how this kitchen warrior performed.
Ninja Foodi: First Impressions
The first thing that struck me about the Ninja Foodi was its size. This device is so many things in one. Alongside being the only pressure cooker that also has an air fryer, the Foodi is also a slow cooker, steamer, roasting and baking pot, as well as a searing/sauté pan – so it was quite amazing to see how little space it took up. Considering the range of functions, the digital touch control panel seemed very straightforward as well, ideal for someone like me who really wants to be able to cook delicious meals in the absence of any significant culinary skill.
If you live in a smaller home or apartment where benchtop space in the kitchen is at a premium, then this might just be the one cooking appliance that rules them all.
By the way, if you're wondering just how does the Ninja Foodi work, it's actually very simple. There are two lids – the permanently-attached air frying/grilling/baking lid containing a heating element and fan mechanism, shown below: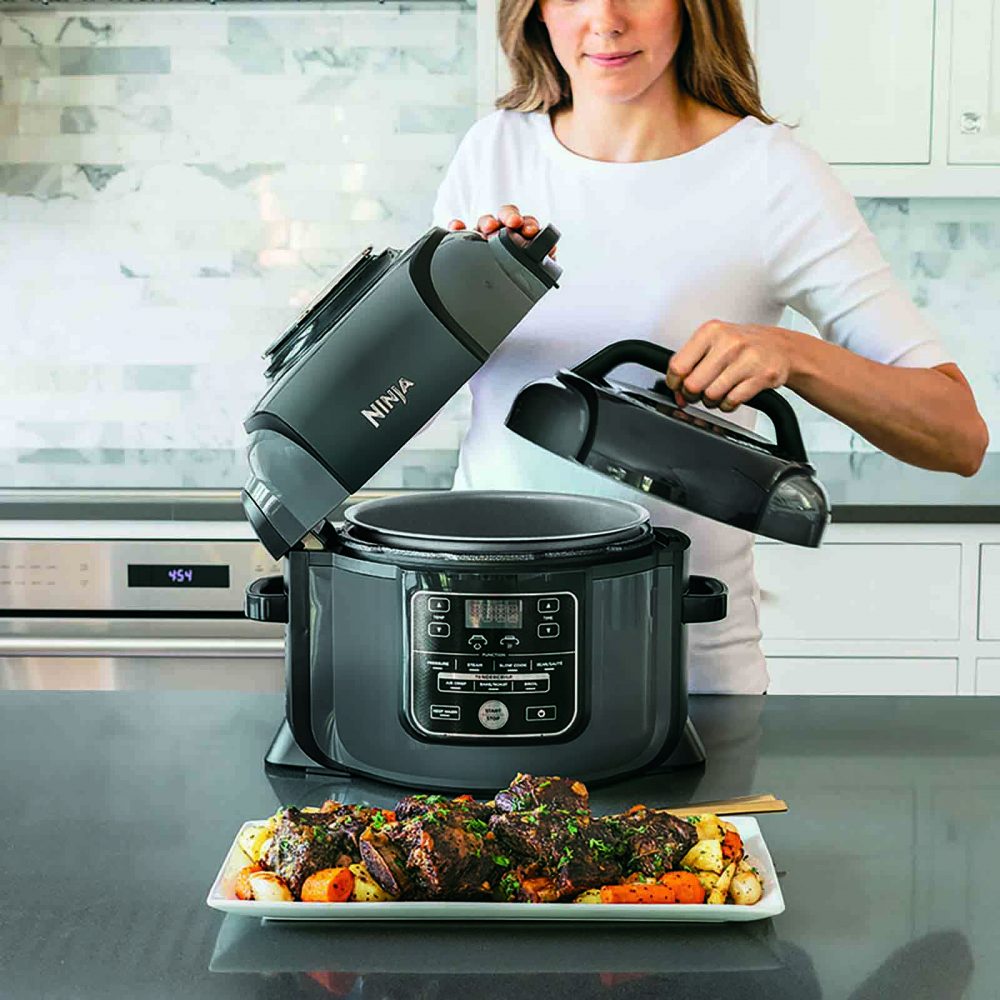 For pressure cooking, steaming, and slow cooking, the pressure lid comes into play. It simply slides and locks into place, shown here: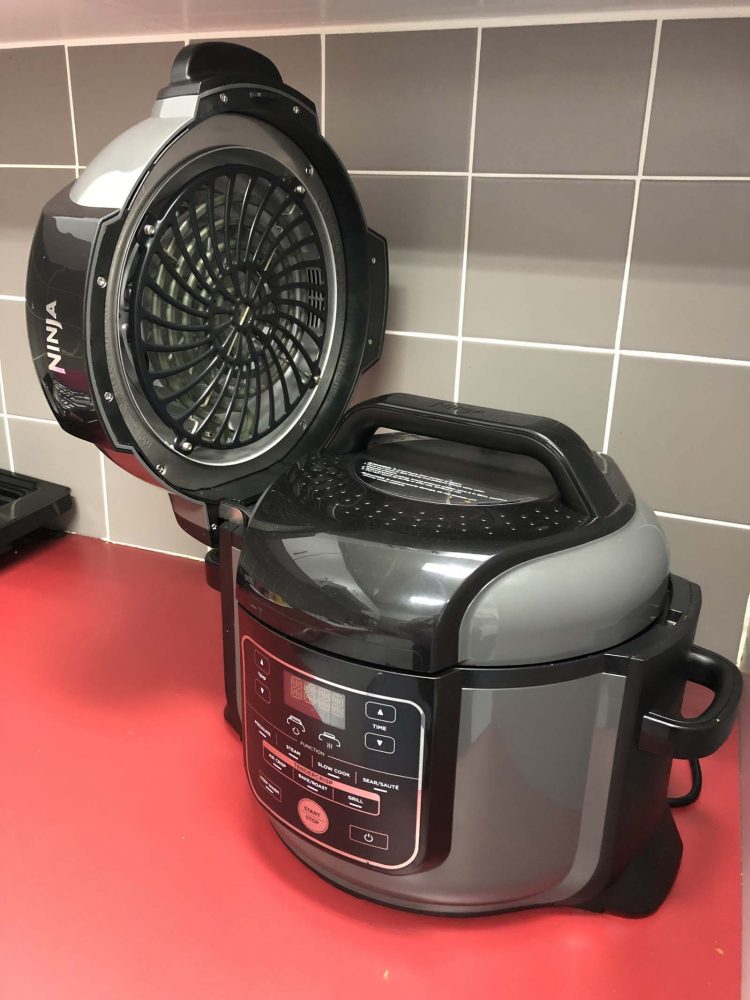 Ninja Foodi Test #1: The Entree
Looks are one thing, but testing is the only way to see if the Ninja delivers on its promise of being the only kitchen appliance you'll ever need.
I decided to start off simple. A relatively straightforward Indian entree platter consisting of samosa, pakora and bhaji that would normally be oven-cooked or deep-fried seemed like the ideal way to test out the Ninja Foodi's air frying capabilities. Just how much time, oil and effort could it save?
Most air fryers claim to dramatically reduce the oil or fat you need and claim to reduce this down to mere millilitres in most cases. But, this type of packaged food is usually already cooked to some degree, so I elected to take this a step further and forego adding any oil at all. Talk about living on the edge!
The packaging called for at least ten minutes in a 180°C fan-forced oven, so I thought that approximately seven minutes in the Foodi's air fryer would do the trick.
The air fryer function really couldn't have been simpler to use. Step one is ensuring the TenderCrisp air-frying basket is in the Foodi within the main cooking pot. Step two is to place your food into said basket, and step three is to set your temperature and time using the digital touch display, close the lid, then press Start. Easy and so fast – great for those busy weekdays.
A peek inside with about four minutes gone revealed the pieces frying nicely. Passers-by in the kitchen commented on the pleasant smell wafting from the Ninja Foodi, which was a great sign! After the seven minutes was up, the Foodi gave a happy little beep to let me know it was finished. The pieces certainly looked delicious and were cooked all the way through – frozen to done in just seven minutes was a great result.
While not a huge saving in absolute terms versus the 10 minutes the platter would have required in the oven, it certainly felt a lot more convenient than the raw numbers would suggest. The Foodi seemed to heat up much faster than a conventional oven and clean-up is as simple as lifting out the pot and basket and washing them in the sink or dishwasher. Put it this way – I was able to complete this whole process within my lunch break at work, with plenty of time to spare in order to enjoy the platter. I imagine it would be a real time-saver for busy parents during your average weeknight, even if just to prepare a side dish such as potato wedges.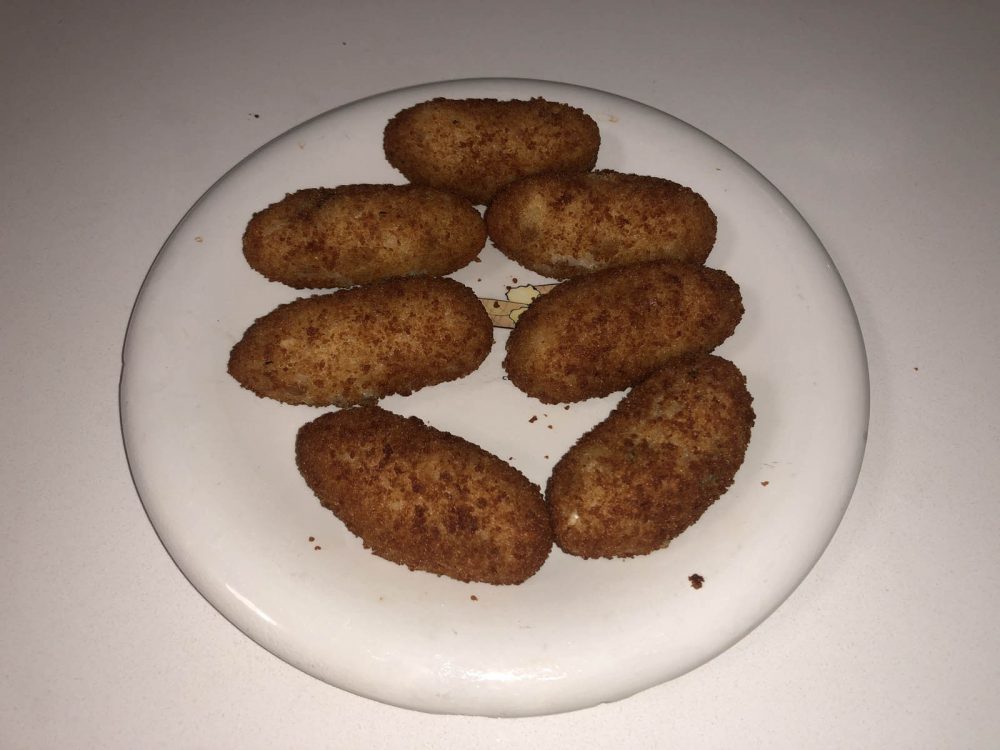 Ninja Foodi Test #2 – The Main Course
I was very pleased to discover that the Ninja Foodi's air fryer function works incredibly well. But the Foodi's main party trick is, of course, its unique combination of air frying and pressure cooking.
Could this be the machine that delivers on the promise of all the benefits of both methods, with none of the downsides, in one sleek package? Imagine it – fully-cooked, juicy meals with a lovely crisp crunch, ready in just a fraction of the time of other methods like roasting or baking.
There was, of course, only one way to find out. And what better way than to see if we could put on a feed for our lovely writing team here at Harvey's HQ. A Friday lunch of roast chicken, vegetables and coleslaw sounded like a nice way to round out the week.
The first part of the meal preparation seemed easy. The Ninja Foodi is, in fact, also a steamer and slow cooker in addition to a pressure cooker and air fryer. The steamer functionality seemed like the perfect way to get our vegetables cooking.
Having really never steamed anything before, I was pleasantly surprised by how easy it seemed. Just as I was about to get steaming, however, a flick through the Ninja Foodi recipe book revealed an even more convenient way to steam the veggies.
See, the Ninja Foodi actually allows you to steam the vegetables at the same time as pressure-cooking your meat!
Armed with this tip, I placed the cut up vegetables and our lovely chicken in the Ninja Foodi for approximately 20 minutes.
If you're anything like me, the average pressure cooker is probably more anxiety-inducing than anything else. Tales of lids in the ceiling and boiling liquid spraying everywhere abound. However, the Ninja Foodi makes the process so seamless and easy that you wouldn't even know it was happening.
We first added water (approximately 100mL, based on the size of your dish), which is how the Foodi builds pressure. Slide the valve to 'seal', select your cooking time and temperature ('High' will do the trick for the majority of meals) and away you go! The display will switch to a rotating line to indicate that pressure is building, which reminded me somewhat of the classic Snake game you might remember from early mobile phones.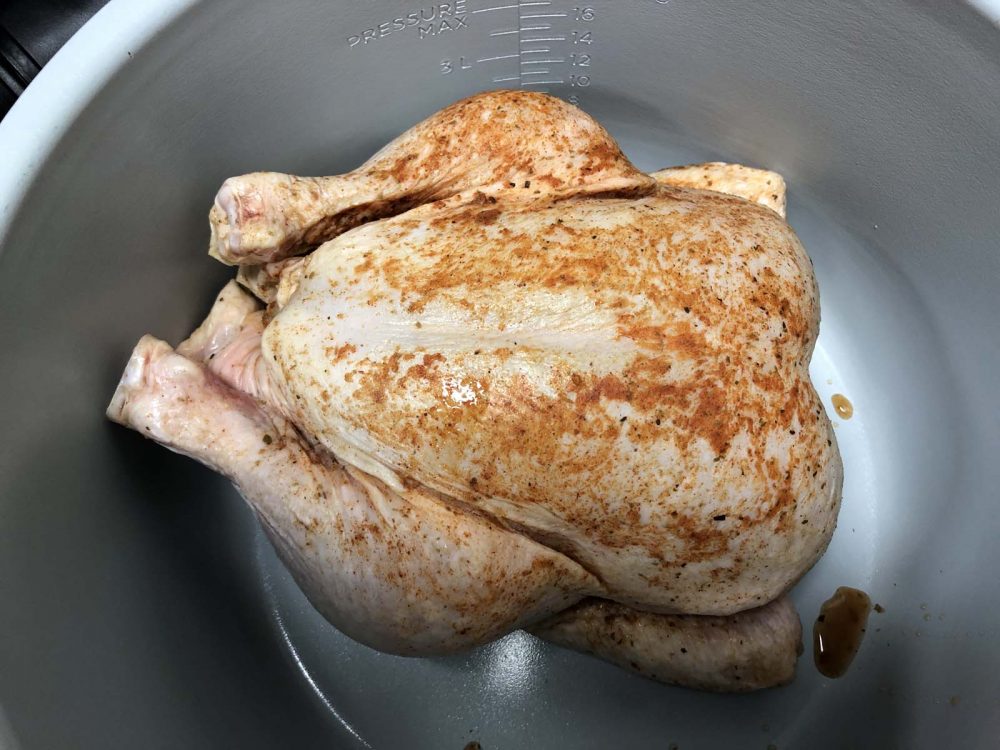 Once enough heat has built up, the stylish coloured vent valve will lock into place, which is a nice visual indication that the wheels are in motion within the cooker.
Another pleasant beep sounds when the pressure has built, and the timer starts to count down. We were on our way!
After the time was up, the display had a message for us – 'COOL'. The rational among us might see this as something to do with the unit cooling down; we chose to take it as a good sign that our Friday feast was juicy, succulent and ready for us to feast on.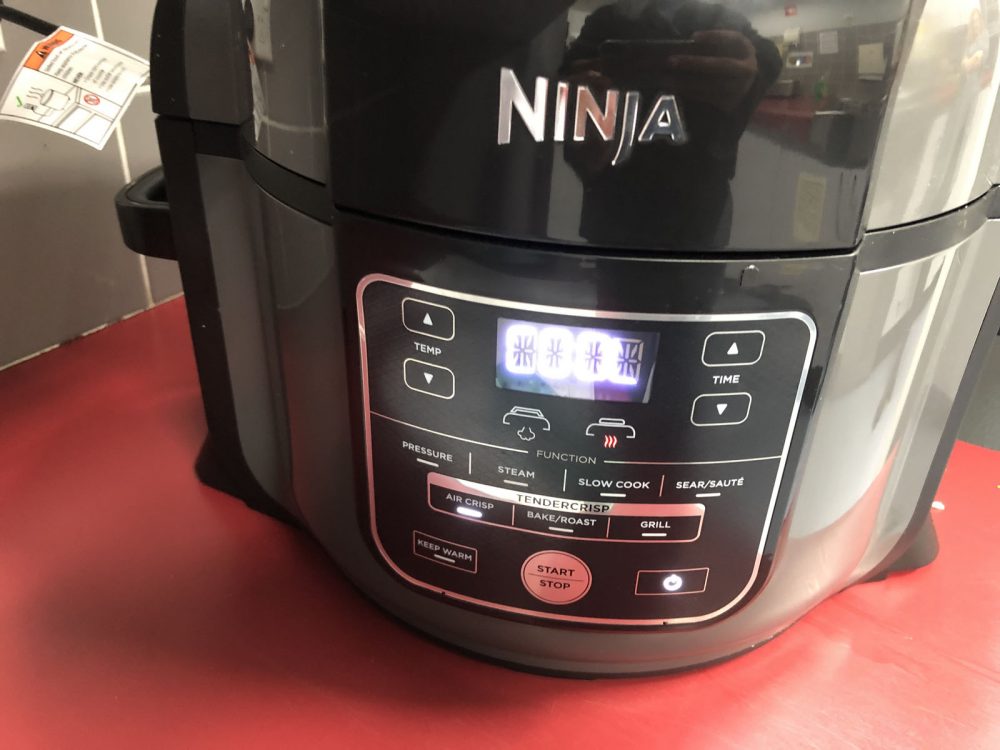 The truly great products always have a neat hidden feature and I was pleased to discover the Foodi was no exception. Once it had finished cooking the unit began to count up. A quick check of the manual revealed this meant the Foodi had automatically switched over to 'Keep Warm'. I thought this was a fantastic little touch. Imagine it – you're trying to prepare dinner, something comes up before you're able to set a timer and you forget about the food. Instead of coming back to a burnt lump of charcoal or a stone-cold meal, the Foodi simply keeps it warm until you're ready.
Releasing the pressure proved to be just as easy as the cooking process had been so far. All it takes is to just flick the valve to 'vent' and watch the impressive column of steam as it releases. (I would also recommend taking a step or two back.)
As the steam cleared, the suspense was immeasurable. Could this little one-pot wonder really have cooked a whole, nearly two-kilogram chicken in just 20 minutes? It looked that way, but cutting into the chicken is always the ultimate test. Thankfully, we had timed it just right. Juicy, tender and cooked through – an unbelievable result for just 20 minutes of cooking.
Crisp It Up
To finish things off, we used the TenderCrisp airfryer to create a lovely crisp skin on our chicken and steamed vegetables, similar to what you might get when roasting or char-grilling. This was such an easy step. All it involved was removing the pressure lid and lowering the airfrying lid, setting the Ninja Foodi to 180°C for approximately 15 minutes and waiting for it to do its magic.
One final, cheerful beep (and another exclamation of 'cool' on the display) and our magnificent end-of-week celebratory lunch was complete. I was thrilled to see that the chicken had developed a fantastic, crisp golden-brown finish, yet remained juicy and succulent. The Ninja Foodi had outdone itself!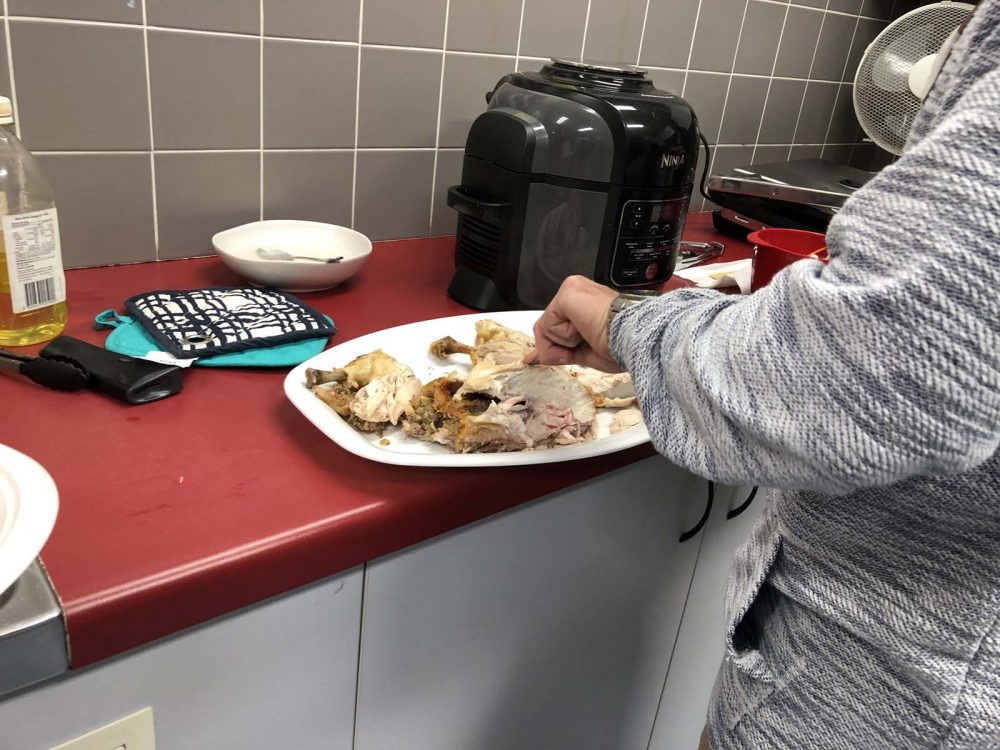 An important thing to remember is that this result required absolutely no fat, oil, or the like to achieve. Amazing, considering just how fast and easy the experience was.
Where to buy Ninja Foodi
These two experiences are just a snapshot of what can be achieved in the Ninja Foodi. A brief thumb through the Foodi's official cookbook just demonstrates what this machine is capable of. From a large pressure-cooked cookie to various stews, curries, and soups, the Ninja Foodi is absolutely ideal for any foodie looking to prepare a great meal in a hurry, and/or within a limited kitchen space. It's astounding how easy it is to use as well, considering the sheer number of functions – three button presses is generally all it takes to get cooking.
To get your hands on the Ninja Foodi, shop online or visit your local Harvey Norman store and chat with our friendly appliance experts about this and more ways to create a convenient kitchen.
Ninja Foodi
Product Review Blogs
Want to see what other products we've been trying out? You can read more of our Tried & Tested product review blogs right here!