Security software protects against viruses and online threats, online identity theft, dangerous downloads, unsafe websites and loss or theft of your device. That's when Norton 360 Multi-Device comes into the picture.
Norton by Symantec debunks five cybersecurity myths:
Myth: Viruses and other malicious software only affect computers and laptops.
Reality: Mobile "malware", which affects smartphones, tablets and other mobile devices, increased by 58% last year. It can steal information such as phone numbers and email addresses (32% of the time), or use the phone's GPS to track the user (19% of the time).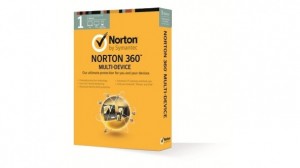 Myth: I can't get a virus or be attacked on popular social networking sites.
Reality: Many well-known social networks are prime targets for scammers, with 56% of social media attacks involving fake gift cards and survey scams.
Myth: Apple products aren't susceptible to viruses and online attacks.
Reality: While hackers still primarily target PCs, more than 600,000 Mac computers were infected by one attack last April – no operating system is safe from online threats.
Myth: It's easy to tell if a site is fake – "typos" or foreign characters are key indications.
Reality: Many spoofed sites today look exactly like the websites of legitimate brands, down to the smallest details. Adding to that, the number of fake sites that imitated legitimate social networks more than doubled in 2012.*  
Myth: My computer won't get infected since I don't visit risky sites.
Reality: Sixty-one percent of malicious sites are actually legitimate websites that have been compromised and infected with malicious code. Business, technology and shopping websites were among the top five types of sites hosting infections.* 
*Source: Internet Security Threat Report vol. 18 by Symantec. For more information go to: http://www.symantec.com/threatreport
Norton by Symantec offers three cyber-security tips:
1)      Always follow security best practices, like using complex and unique passwords for each site and sticking to trusted websites, no matter which type of device you're using.
2)      Never click on links or open attachments from people you don't know. Also, if you receive a strange message from a friend, take a moment to verify it – it's possible their email or social networking account was hacked.
3)      Make sure you protect all your devices with a comprehensive security solution, like Norton 360 Multi-Device.
Norton 360 Multi-Device delivers powerful protection for your PC, Mac, smartphone and tablet in a single, easy to use solution for any combination of devices (Windows, Mac, Android and iOS). Now, it also includes protection for iPhones and iPads, with remote locate and contacts back-up. Visit Harvey Norman today for your copy. And if you buy a copy of Norton 360 Multi-Device 5, you'll receive a bonus $40 Harvey Norman gift card (offer ends 23rd September 2013).