I wanted healthier choices in my diet – an alternative to relying on packaged meals. I craved natural foods and I knew the kids needed them too – which is what lead me to purchase the NutriBullet Blender Combo 1200W Nutrition Extractor from Harvey Norman. Hoping to infuse fun with nutrition – and brighten our lives with natural goodness – I couldn't wait to try it!
Read on for my NutriBullet 1200 Blender Combo review and find out if it's right for you and your family.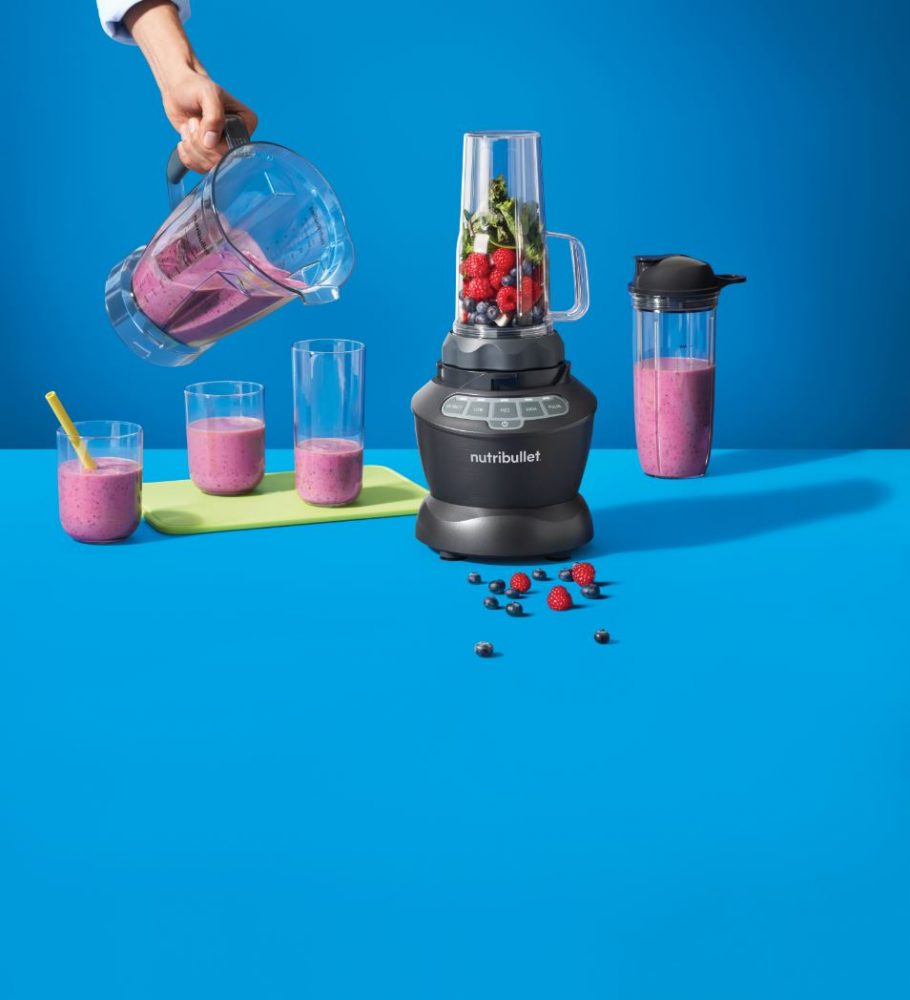 Why I wanted to buy the NutriBullet Blender Combo 1200
The older you get, the more health conscious you become. Personally, I enjoy the odd soft drink, biscuit with a cuppa, and I'm a sucker for ice cream (who isn't!). All of that is okay if you don't over-indulge, but there has to be a balancing of the scales.
My personal trainer tells me to always be mindful of what I put in my body; be sure to balance the bad stuff with double the good stuff. That's a nice, simple way of looking at things. Take it a step further and you start to analyse protein and fat content, sugar levels, and the nutritional values of all the foods you consume. In some ways it can be quite stressful.
When you add having kids into the mix, you start to worry about their nutritional intake too. Our kids, like most, want to provoke their palate. Convincing them to eat fruit and veg, in a world where convenient fast food dominates, can be a task in itself. That's why the NutriBullet Blender Combo 1200's ability to transform healthy foods into mouth-watering beverages and meals made it feel like a natural choice.
NutriBullet Blender Combo 1200: The Features
Being a bit of a gadget guy, I was immediately impressed with the appearance and functionality of the NutriBullet Blender Combo 1200. The sleek base-unit features three speed settings and two program settings for optimal control of your blending and nutrition extraction. Each setting and program is designed to process, blend, or mix to the operator's needs, handy for creating healthy drinks that will satisfy even the fussiest members of the family.
Take the "Extract" program for example. This beauty breaks down whole fruits, vegetables and ice into nutrient-rich smoothies, with Precision Nutrient Extraction™ (check out the Nutribullet recipe below for a delicious Blueberry Smoothie to tantalise your taste buds). Meanwhile the "Pulse" program allows for controlled chopping and processing.
The three speed settings suit all levels of blending. "Low" can mix thin batter, gravies, marinades and more. "Medium" is used for creaming soups, mixing dips, grinding nuts, and blending your own sauces from scratch. I can tell you, making your own sauce in no time at all is fantastic! Finally, "High" will liquefy thick mixtures and blend frozen fruits and veggies, the ultimate when you lead a busy lifestyle.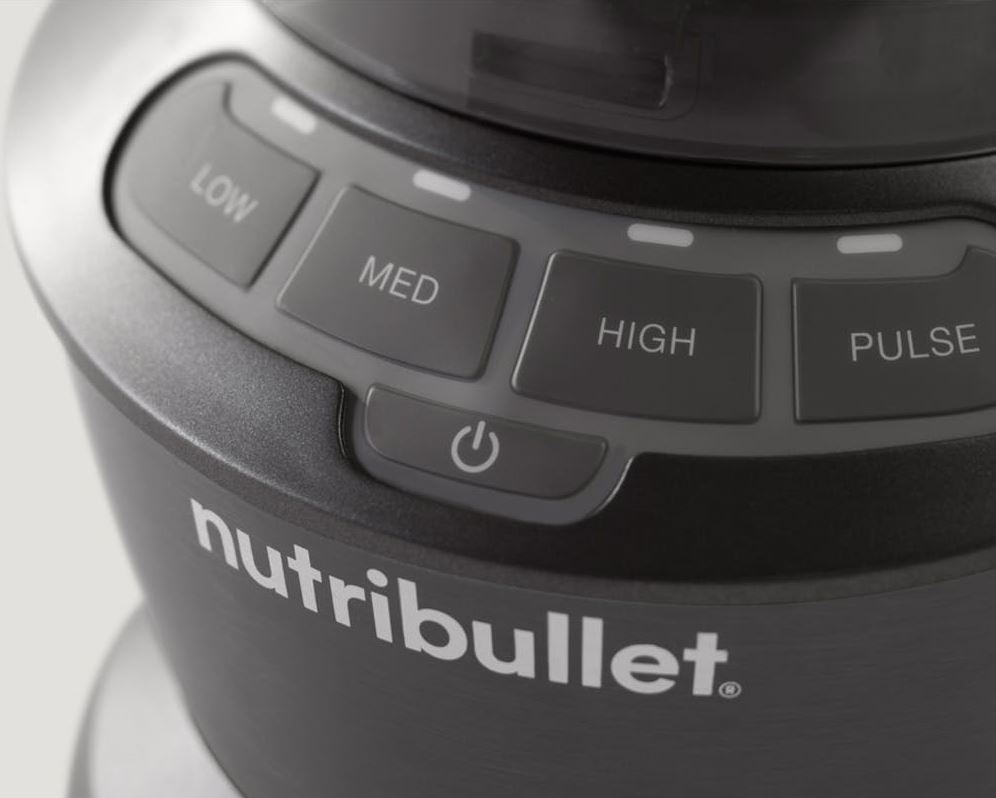 The NutiBullet Blender Combo 1200 comes equipped with 500ml, 700ml and 900ml single serve cups. Also included is a vented 1.8L pitcher which is perfect for family-size blending – even when the food's hot!
Delectable Blueberry Smoothie NutriBullet Recipe
1 x Chopped Banana: – provides carbs and adds a sweet & creamy texture.
1 x Avocado: – for healthy fats to fill you up and provide good carbs for energy.
1 x Cup of Frozen Blueberries (or mixed berries): – get your vitamins, antioxidants and flavour right here.
1/2 x Cup of Water: – to smooth the blend.
1 x pinch of Cinnamon (optional): – flavour enhancer.
1 x pinch of Ground Vanilla Powder (optional): – more flavour.
3 or 4 x Ice Cubes: – for added chill and refreshment.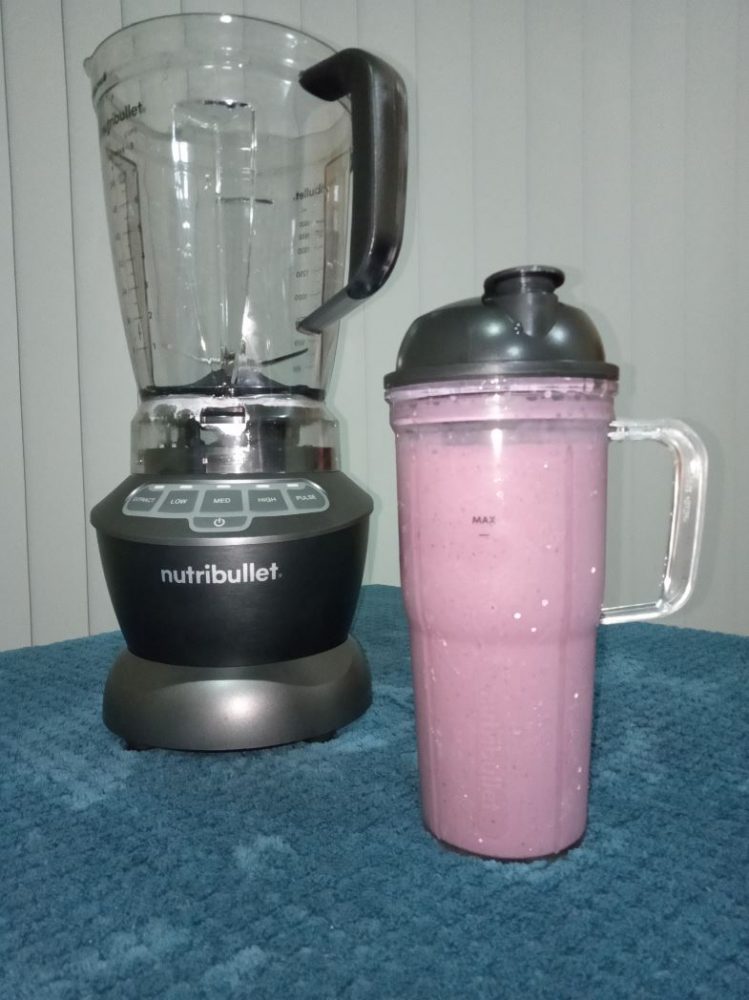 So, how did the kids go with the NutiBullet Blender Combo 1200?
When I purchased the NutriBullet Blender Combo 1200 I already knew I was taking a positive step toward healthier choices. However, I must admit that I wasn't entirely sure if I'd be able to convert the kids to our new way of living.
Amazingly, they have both fallen in love with the new offerings. With each use of the blender, their palates are broadening on the back of colourful creations and the idea they are being healthy. They both adore the blueberry smoothie NutriBullet recipe (above), a staple at breakfast and on hot afternoons when it replaces the old treat: the infamous slushy.
After seeing how well it has worked for my family, I really do foresee all parent's getting tremendous use out of the NutriBullet Blender Combo 1200. If you're a new parent, you'll take great joy in how easy it is to use your NutriBullet blender for baby food, hot or cold. And, if you're a parent of slightly older kids, you'll be truly excited to use your NutriBullet blender for juices, smoothies and more, that are at once both tasty and nutritious. I don't want to get too 'testimonial' here, but the energy you get from freshly extracted fruit cannot be matched. There's purity to it, you know?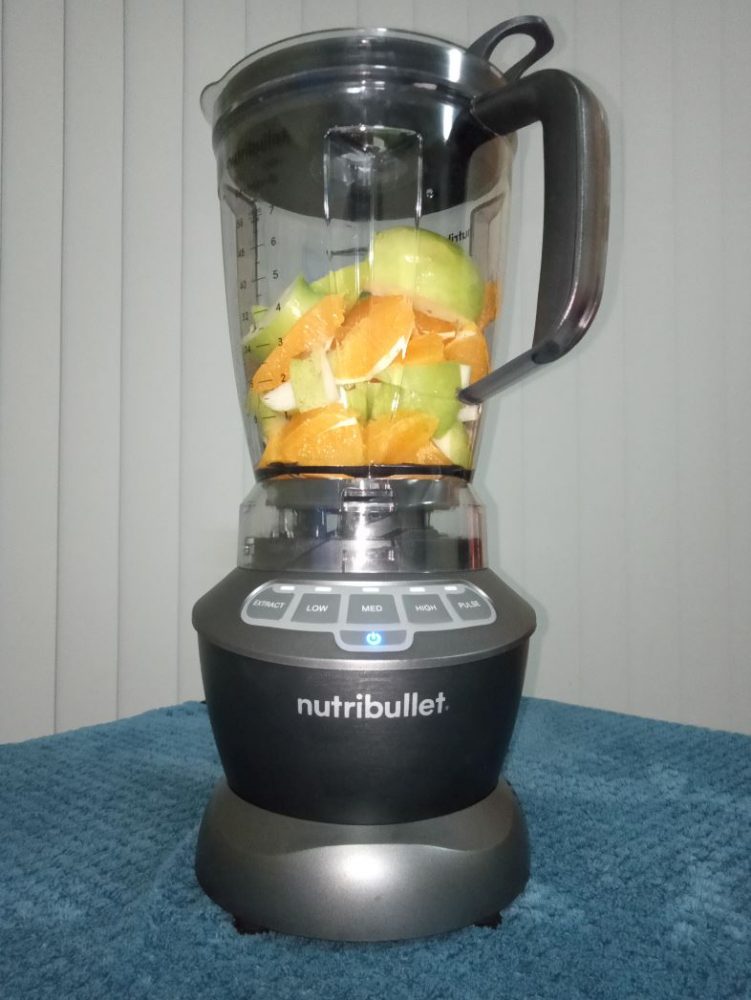 The NutriBullet Blender Combo 1200, available at Harvey Norman, has changed everything. Of course, it's not just the nutrition extracting from fruit and veg that sets it apart. By mixing batter from scratch with it, our Sunday morning pancakes have become the lightest, fluffiest pancakes we've ever had. Overall, I have to say that it's the control you have during prep that is the true genius. You decide what goes in and the NutriBullet Blender Combo 1200 breaks it down, mixes it, and extracts. It's simple, convenient, and above all – healthy! All the cups and the pitcher are dishwasher safe. The cups even come with flip-top lids for on-the-go convenience. Once you have one, you won't want to make excuses for not having a healthy dietary plan, you'll just want to indulge on natural goodness.
Where to buy the NutriBullet Blender Combo 1200
To introduce the NutriBullet Blender Combo 1200 to your family, and start you and your kids on a healthier lifestyle, you can shop online or at your local Harvey Norman store, where our friendly, expert staff can help with any NutriBullet questions you have.
Discover More Product Reviews
To see what other products we've been having fun with lately, check out our recent product reviews.
NutriBullet Blender Combo 1200