I recently came into possession of something so awesome that I knew I had to share it with my friends.
I didn't want to – I wanted it all to myself. But I knew that I should.
You see, the good folks at Harvey Norman had given me the amazing JURA E6 Platinum Auto Coffee Machine featuring wi-fi capability. That's right, wi-fi capability!
By connecting a JURA Smart Connect dongle to the E6, I had the power to make barista quality coffee from an app on my smartphone. On top of that, the JURA Coffee app could save and remember my specific preferences (such as type of drink, coffee strength, amount of water, amount of milk and milk foam, temperature and grinder ratio), making it so quick and simple to produce the exact beverage I want every single time.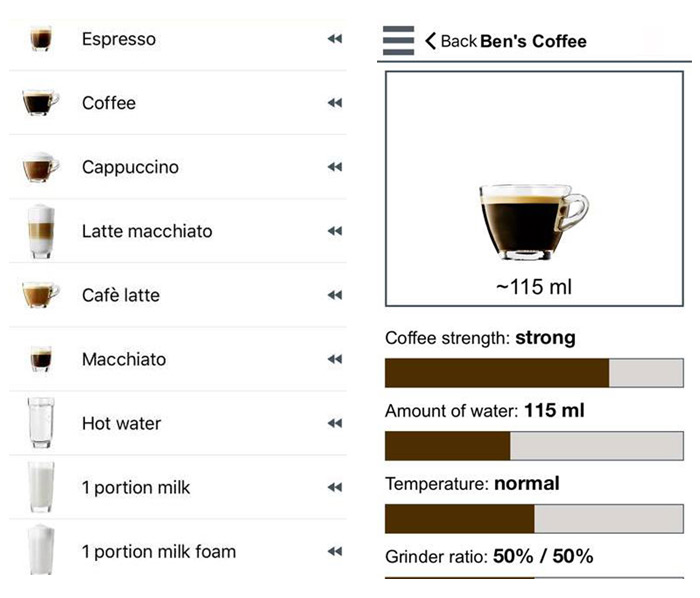 You can probably understand then why I wanted the E6 all to myself. However, the thing is my friends work with me on the nightshift and they don't just love coffee, they need coffee! Come 9pm, their senses definitely require a little bit of invigorating.
Being such coffee devotees, I knew that this outstanding appliance was going to make their lives so much more enjoyable – and what sort of friend would I be if I deprived them of that?
So, with the goal of giving my mates a coffee break to remember, I presented them with not only the JURA E6 Platinum Auto Coffee Machine and Smart Connect, but also the JURA Cup Warmer – a brilliant appliance that pre-heats your coffee cups, ensuring your coffee stays at the perfect temperature for a premium amount of time, allowing its aroma and flavour to fully develop. Yep, this was definitely going to be our best coffee break ever!
Coffee Time On The Nightshift
Allow me to introduce you to my coffee-loving, nightshift-working friends; Winny, Grant and Rita.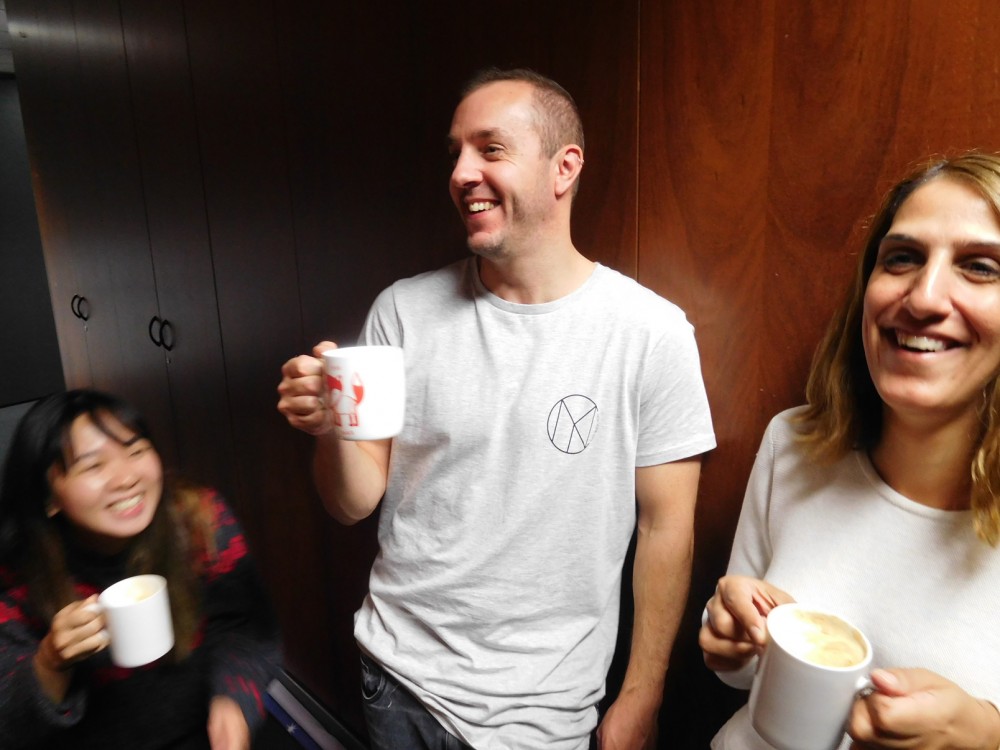 You can already tell from this photo that this was definitely our best coffee break ever. Wonderfully fresh coffee, superb company, great times! But how did we get to this point? Let's start by having a deeper look the stars of the evening – the JURA E6 Platinum Auto Coffee Machine and the JURA Cup Warmer.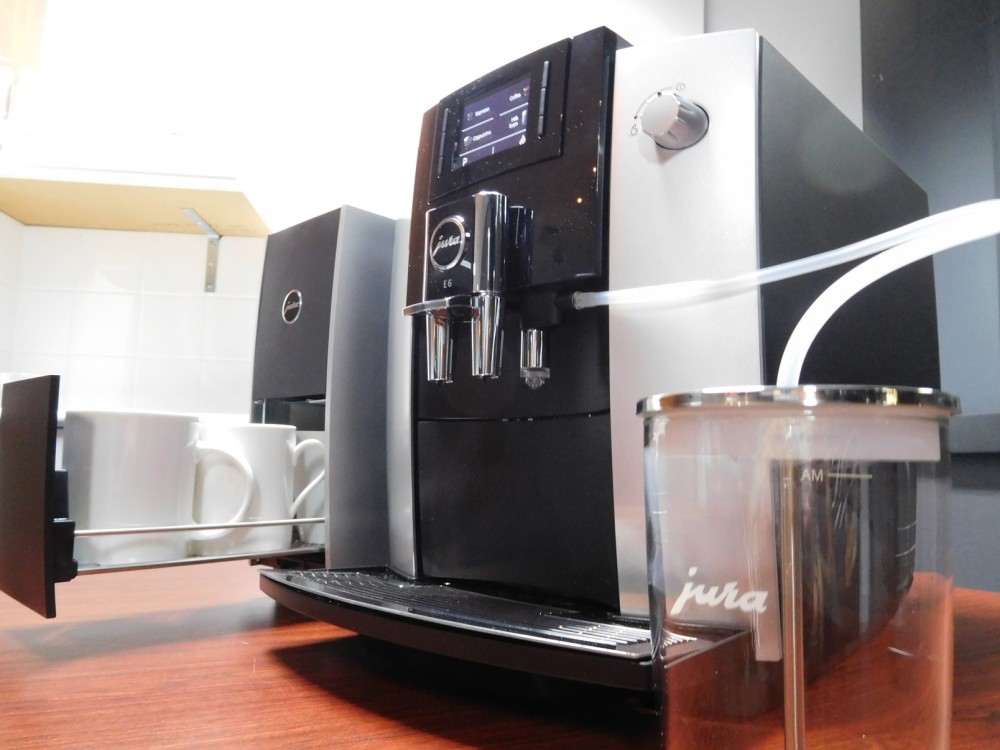 Jura E6 Platinum Auto Coffee Machine
• As mentioned, the E6 can work in conjunction with the JURA Smart Connect; a Bluetooth dongle that allows you to access your E6 via the JURA Coffee app on your smartphone or tablet. Once you've created your perfect beverage on the JURA Coffee app, it'll flow from the E6 right into your cup. You can use the app to save your favourite drink creations under customised names, so that anytime you feel like, you can open it up and get it flowing again!
• One of the standout features of the JURA E6 automatic coffee machine is the world first Pulse Extraction Process (P.E.P.). JURA's P.E.P. system optimises the extraction time, allowing the E6 to create special freshly ground coffees to an outstanding barista standard. For example, when making a short espresso, the P.E.P. system forces hot water through the ground coffee at short intervals. Through this process, the aromas and flavours of the coffee are allowed to fully develop.
• The JURA E6 features eight different intensity levels, meaning that whether it's an espresso, coffee or cappuccino, you can make sure your beverage is exactly to your liking. You can also create two espressi or coffees at the same time!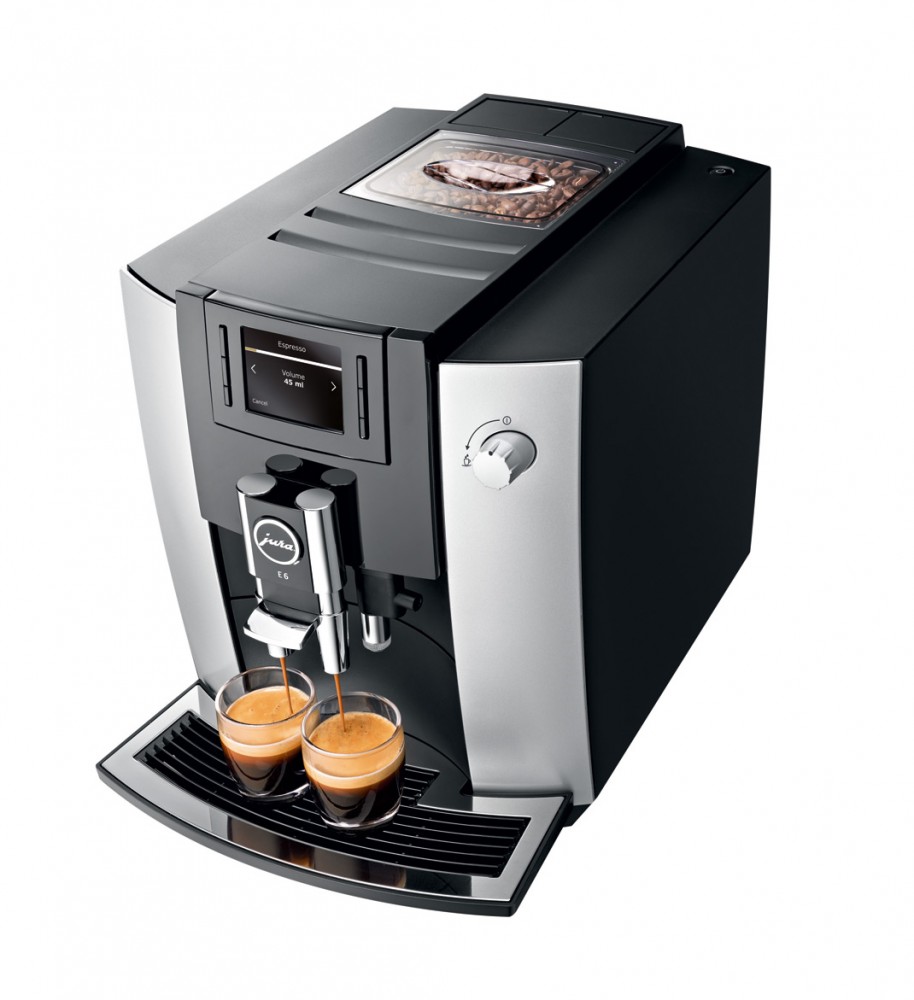 • It sports an elegantly sophisticated and functional design, with easy access to the water tank, bean container and control elements.
• Even if you're not using the app, the E6 is still so very easy to use! With a colour display and espresso, coffee, cappuccino and milk foam function buttons all positioned on the front of the machine, making delicious drinks is a straightforward process.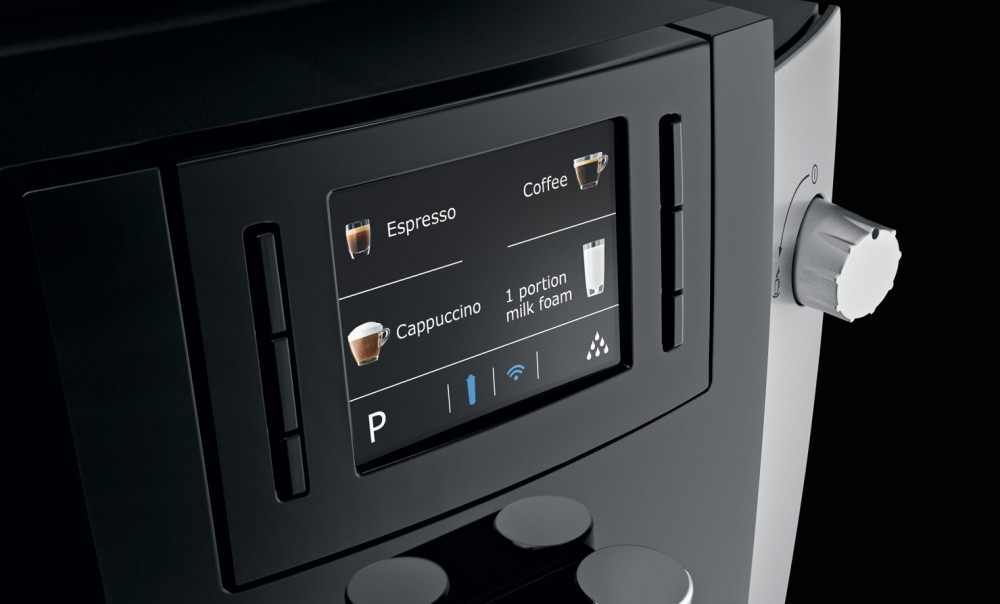 • The E6 does a superb job of allowing you to add milk to your beverage just as you desire. It includes a milk pipe that allows for automatically frothed milk foam to flow into the cup, which again makes it easier than ever to create specialty drinks.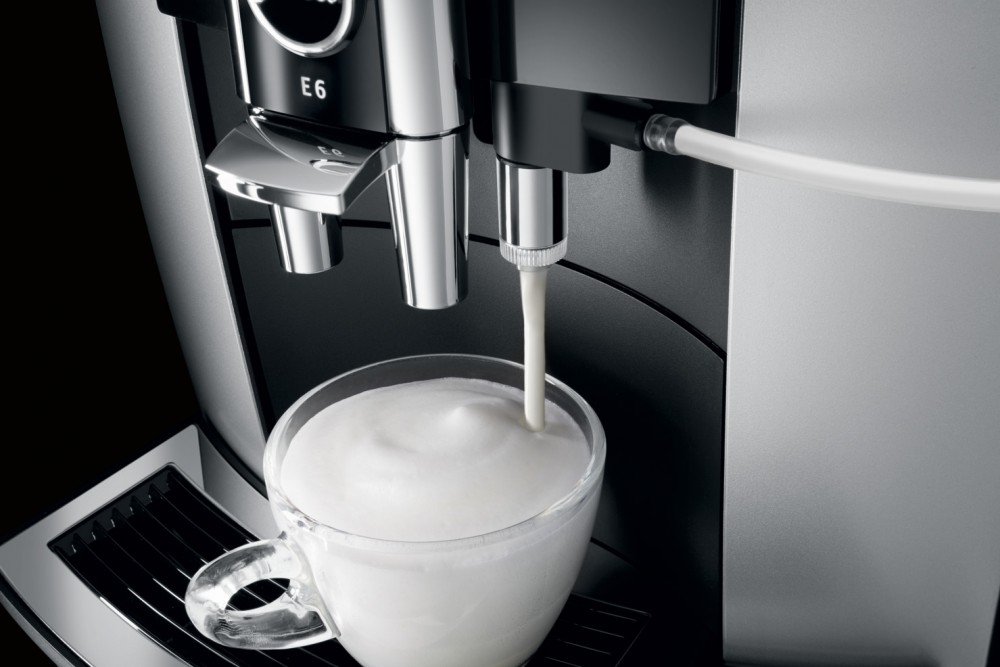 • The Intelligent Water System (I.W.S.®) will automatically detect the filter, while the included CLARIS Smart Filter ensures perfect water quality, preventing the water from interfering with the coffee's top-notch flavour and taste.
• The E6 is simple to clean, as the integrated rinsing and cleaning programmes can be started at the touch of a button – keeping your machine's hygiene impeccable. The dishwasher-safe milk spout can also be replaced whenever you want, thus always ensuring clean and perfect milk foam.
JURA Cup Warmer
• The stylish JURA Cup Warmer is the perfect partner to your JURA Coffee Machine. Matching all JURA models, the super stylish Cup Warmer will complement and heighten the elegance of your coffee machine.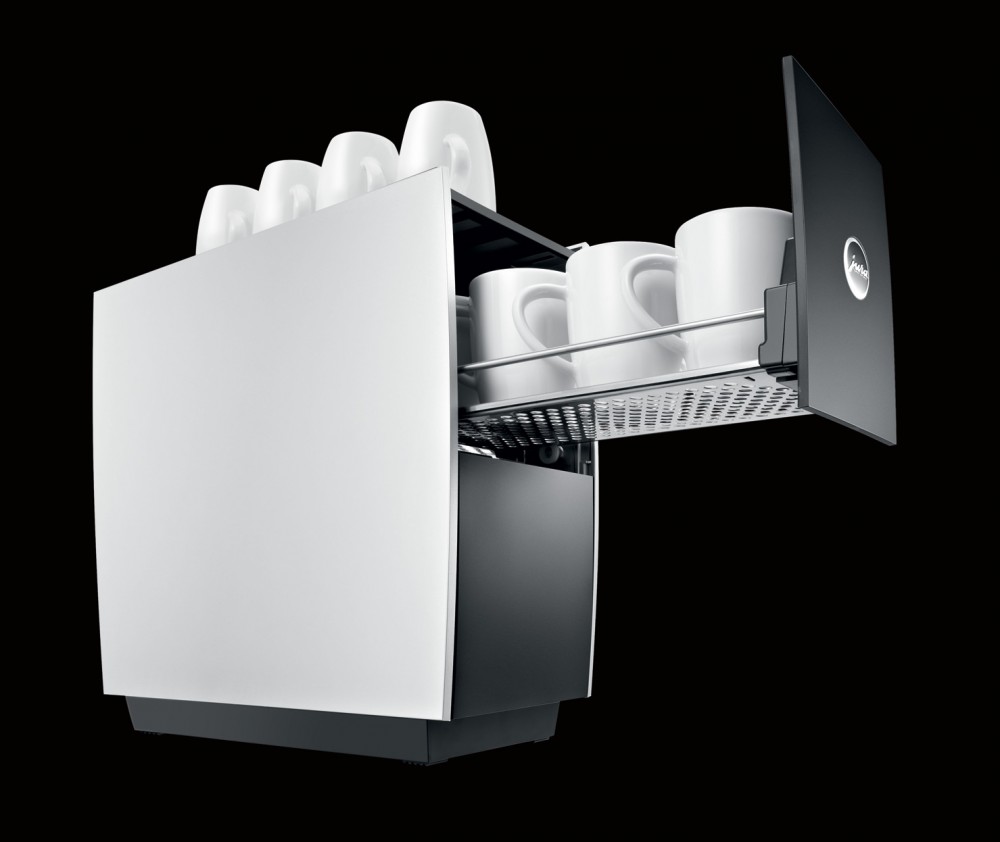 • When coffee is served in cold porcelain cups, heat is inevitably lost, affecting the experience. However, the Cup Warmer pre-heats coffee cups to the ideal temperature of 55°C, allowing the taste of your espresso, coffee and cappuccinos to fully develop.
• You can program the Cup Warmer to switch on and off when you require. That means your Cup Warmer can turn on at just the right time so that when you wake up in the morning, arrive home after work or go on your coffee break, your cup is warmed and ready to go.
• If you haven't turned your machine off or programmed in a switch-off time, then this intelligent machine will automatically turn itself off after 12 hours.
• It features two levels of trays, with each level able to store up to five espresso cups (diameter 57mm), four coffee cups (66mm) or six cappuccino cups (90mm).
Café Jura
One of the beautiful things about working nightshift is that you're free to turn your workplace into your own personal playground. With none of the upper brass lurking around the corridors, we'll often turn a manager's desk into a table tennis table or… well, I'd better not say! Tonight though, we transformed the company boardroom into our very own Café JURA – thanks to the E6 and Cup Warmer.
Now, despite the fact the awesome JURA E6 can produce two café quality coffees or espressi at the same time, our three coffee lovers were all so excited that they each wanted an individual turn with the so very easy-to-use machine. Completely understandable!
Winny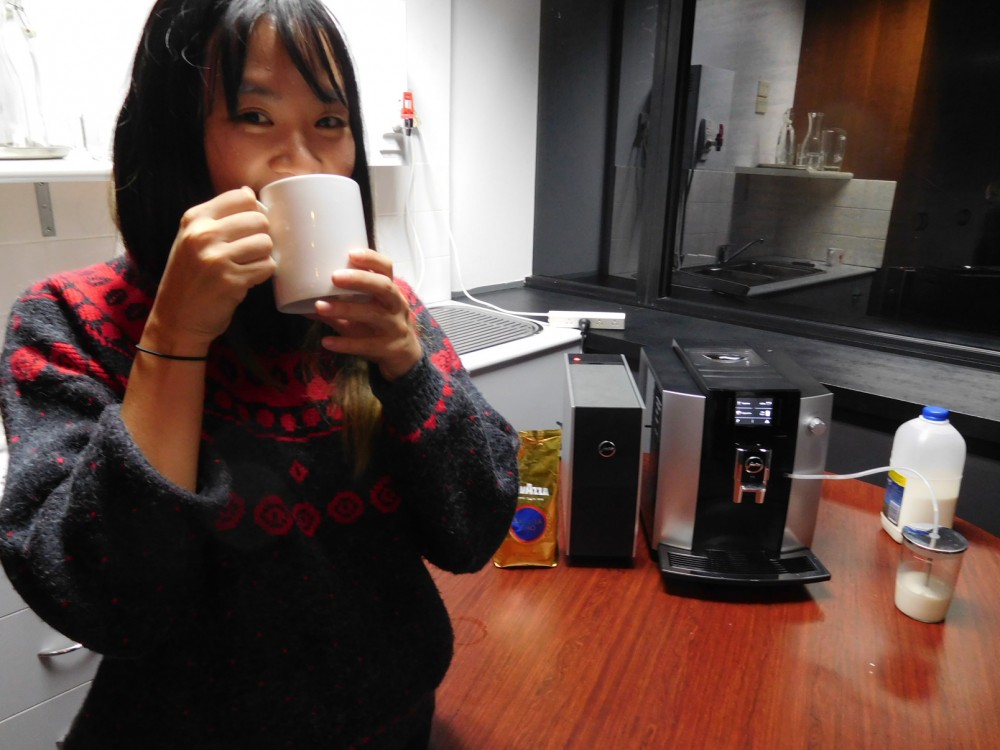 A brilliant travel blogger by day, Winny loves working nights and getting up to shenanigans with the crew after the sun goes down. Tonight Winny found herself as the first participant in our best coffee break ever!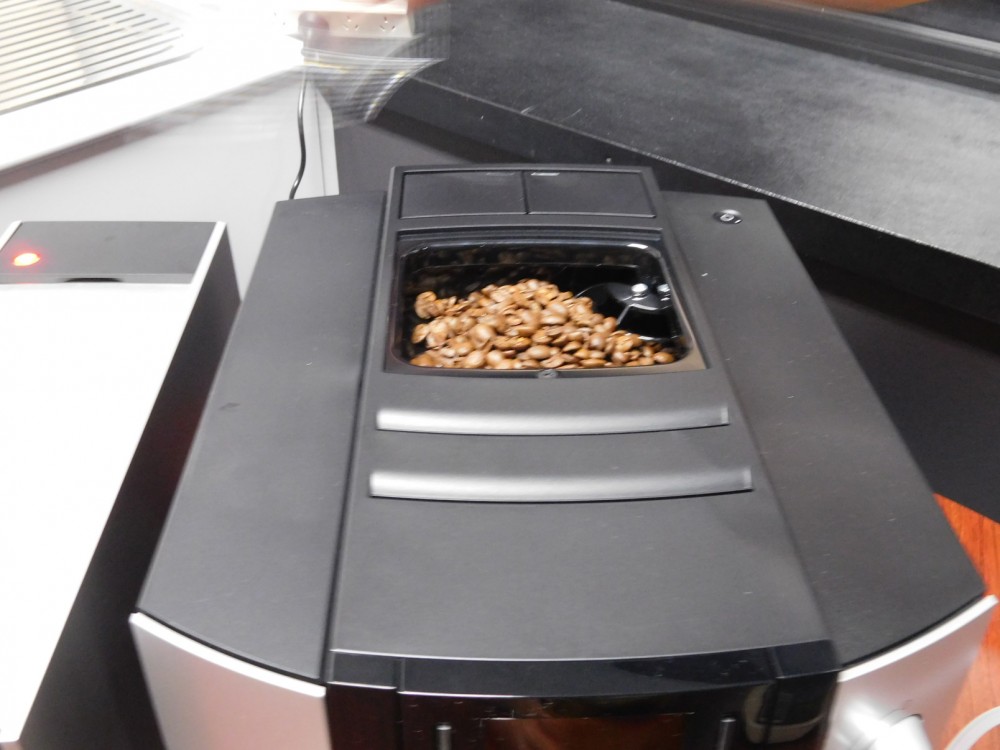 Winny took her fabulously warm cup from the JURA Cup Warmer and placed it under the E6's spout. She then opened the JURA Coffee app she had downloaded earlier and selected the cappuccino button. She selected her preferences, including setting the cappa's strength at a normal level. All she had to do now was sit back and wait for the cappuccino maker magic to happen!
She didn't have to wait long either – within no time, the JURA E6 and its built-in coffee grinder had crafted a glorious looking cappa with an absolutely stunning aroma. And the best news of all for Winny? With her drink preferences saved in her phone, she's now able to recreate this mouth-watering beverage every night with just a couple taps on her phone!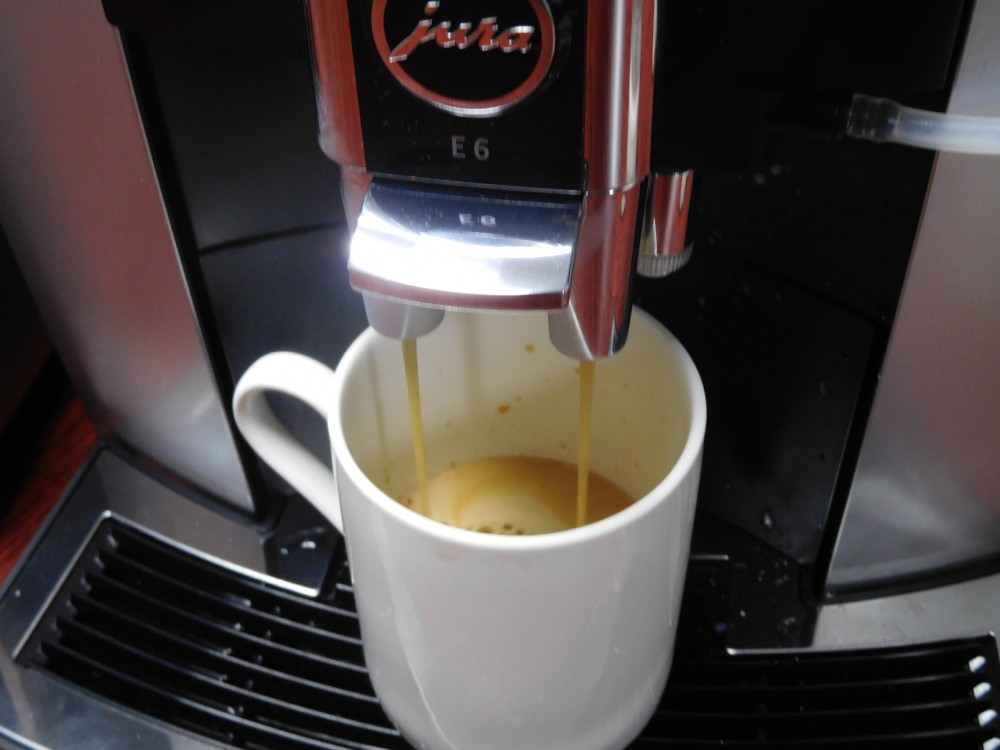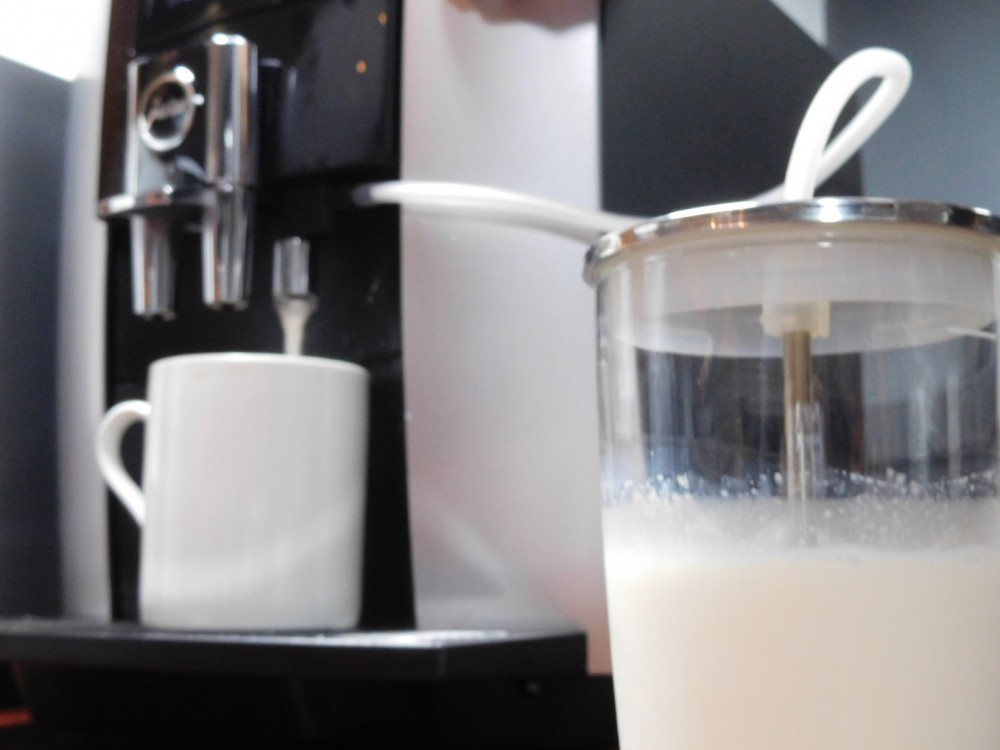 Rita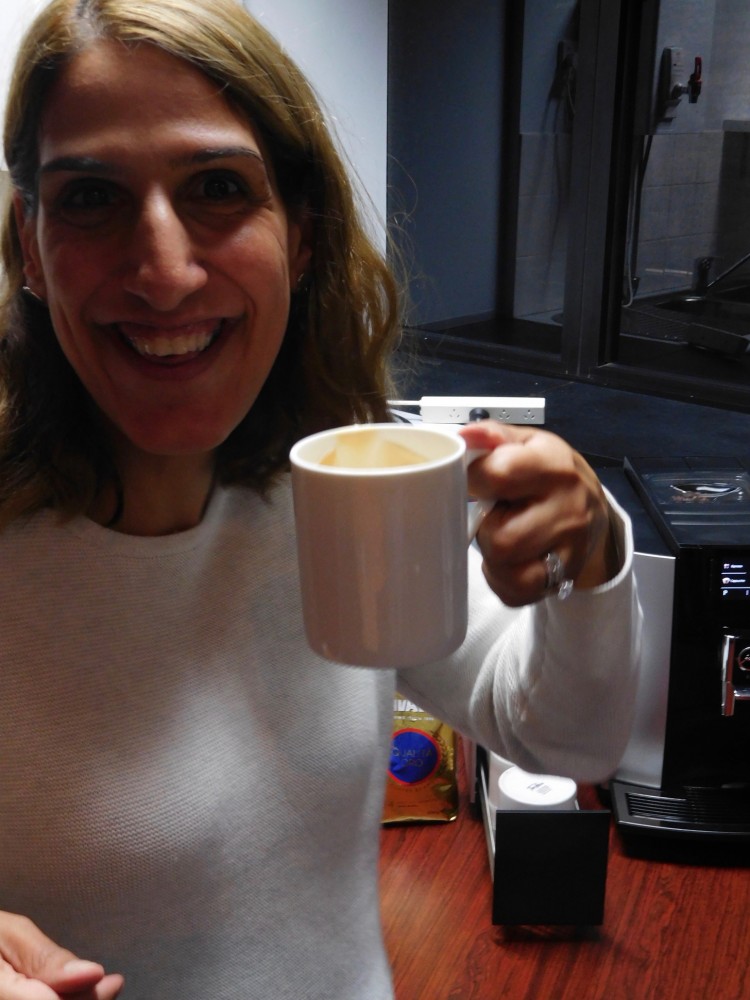 Next up was Rita. Winny excitedly showed Rita how the JURA Coffee app gives you the option to customise all aspects of your drink. Without hesitation, Rita decided to take advantage of this. Like Winny, she went with the cappuccino – but she decided to make hers strong. When you consider that Rita wakes up to greet her energetic kids at 6am every morning before coming in for a big night of work, I'm surprised she didn't make it even more powerful!
Rita loved just how easy the machine and app were to use. In next to no time, Rita had the drink she'd be craving all day, with its charismatic aroma and taste coming to full fruition in her heated cup.
Grant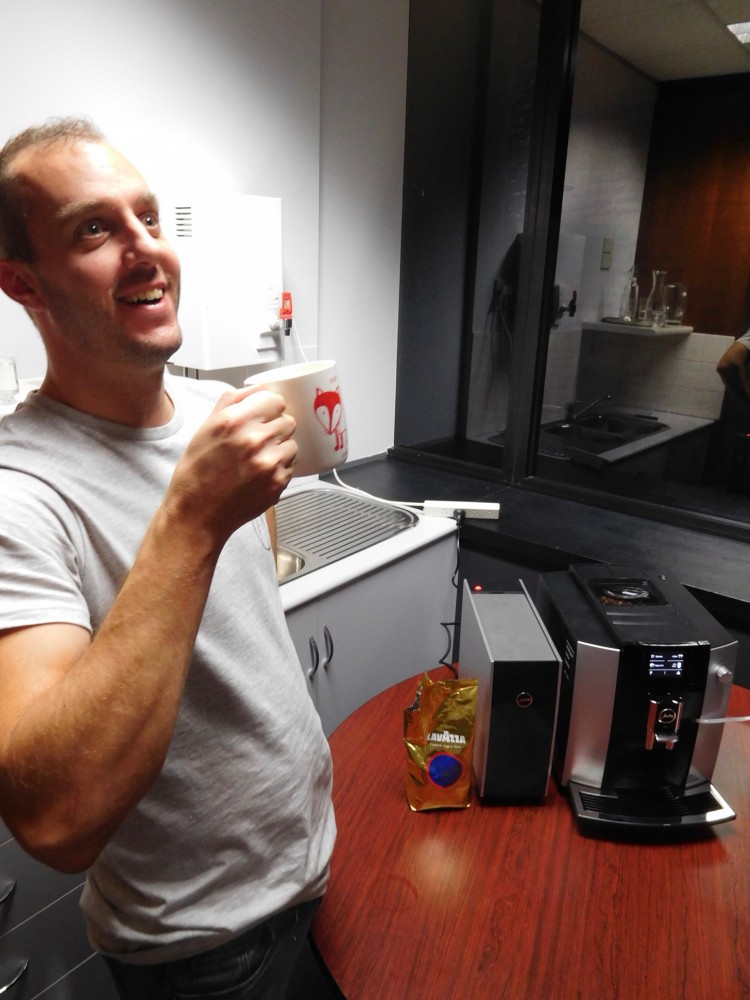 With the ladies having both selected a cappuccino, Grant saw it as his personal responsibility to use his phone as both an espresso maker and coffee maker. While the others were making their drinks, Grant had already saved the preferences for his two beverages on his app and now simply just had to reopen them to get the E6 pumping them out. Firstly, Grant selected the drink he'd labelled 'Grant's Super Espresso' – he then followed it up with the one he'd saved as 'Grant's Super Coffee'. The photo taken above was after his second super beverage!
Like Winny and Rita, Grant was a huge fan of the entire experience. The aroma, the taste and the stylish design of the JURA products. And just like Winny and Rita, Grant agreed that this was definitely our best coffee break ever – well, at least until the next night when we opened our apps, reselected our favourite beverages and did it all over again.
Wouldn't it be amazing having these brilliant JURA products to create your own moments to remember – both at work and at home? The good news is that you can! Shop online or head into your local Harvey Norman store for top advice and to see these brilliant products for yourself. Have a great coffee break!