I have a confession: I've never done one of those authentically Italian pasta-making courses, complete with an instructor who talks with her hands. I've never used a dough roller or a drying rack. For that matter, I've never even bought fresh pasta before—ever (I'm a fiend for the dried, packet stuff from the supermarket).
But, thanks to Harvey Norman, I was recently lucky enough to review the Philips Pasta & Noodle Maker, and now my view on pasta has changed entirely. I'm not exaggerating. I was only able to test it for a short period of time, but now I'm about to buy a Philips Pasta & Noodle Maker for keeps. The fresh, wholesome pasta it produces is delightful and the fact that it makes it so quickly is an absolute gift for anyone who is time-poor like me.
Read on for the three Philips Pasta & Noodle Maker recipes that have seen me fall in love with this wonderful machine.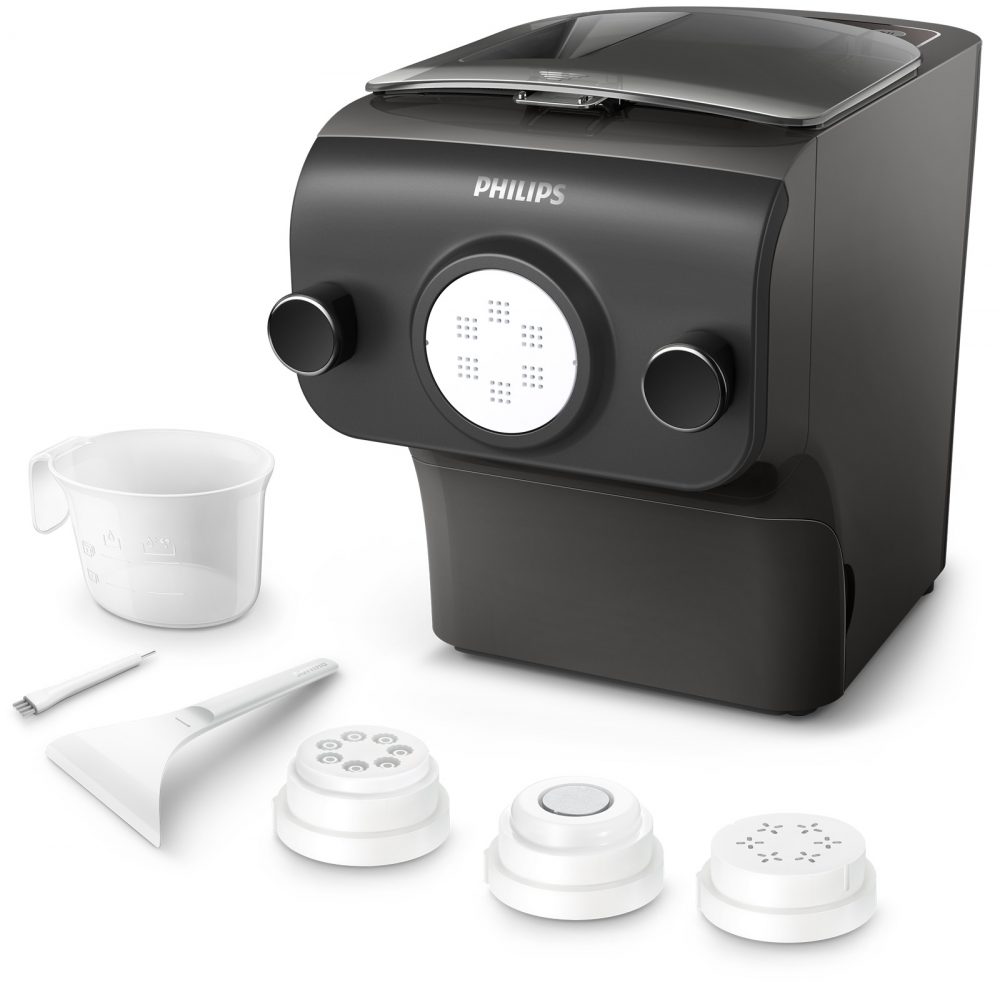 Philips Pasta & Noodle Maker Recipe #1: Spaghetti
The Philips Pasta & Noodle Maker comes with a variety of attachments and shaping discs to create different kinds of pasta or noodles. As I was just working out how to use the Philips Pasta & Noodle Maker, for my first attempt I thought I should go simple and classic, so I selected the spaghetti attachment; fitting it into the machine was straightforward. Following the directions given in the instruction booklet, I added 250g pasta flour (otherwise known as "00" flour) into the machine's mixing compartment. On a whim, I added some salt, pepper, basil and garlic to flavour the pasta (because why not?); I then closed the lid and pressed the start button to begin the automatic pasta making process.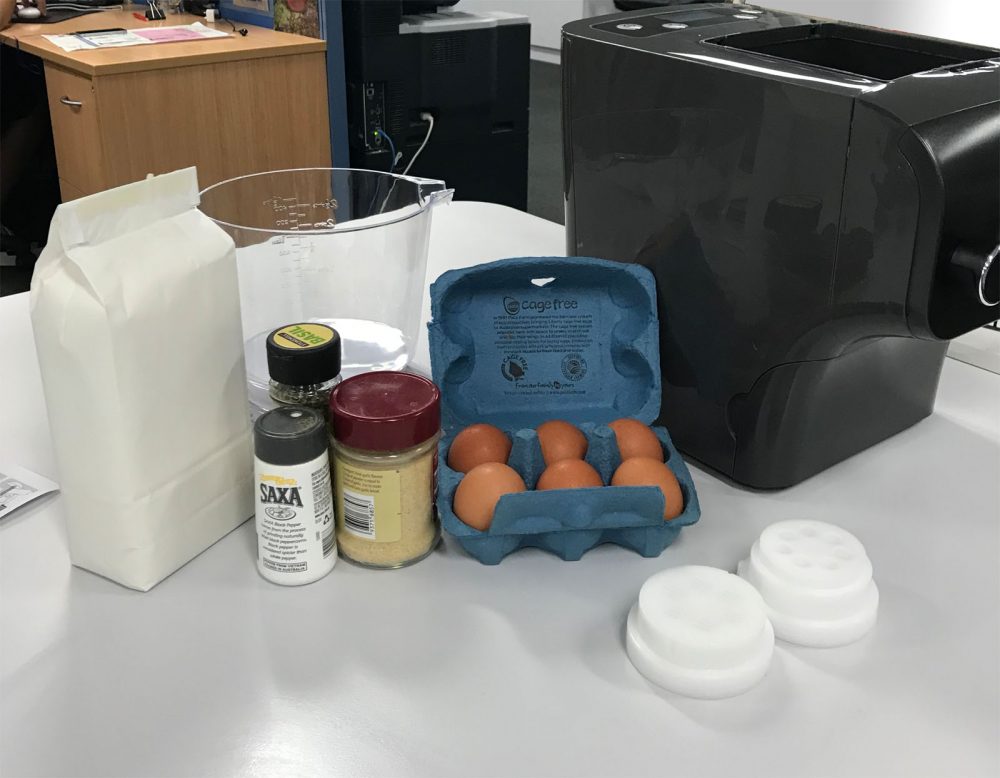 Immediately, the machine began to mix the flour while I poured a whisked egg and water mixture into the lid's slot. Sure enough, once the three minutes of kneading were up, the pasta machine automatically began to extrude the dough through its spaghetti attachment.
Amazingly, perfect strands of spaghetti formed and were pushed through the fitting. I used the scraping tool to cleanly cut the pasta at the desired lengths. After the machine had finished extruding the dough, all that was left to do was to cook it. No drying or flouring necessary!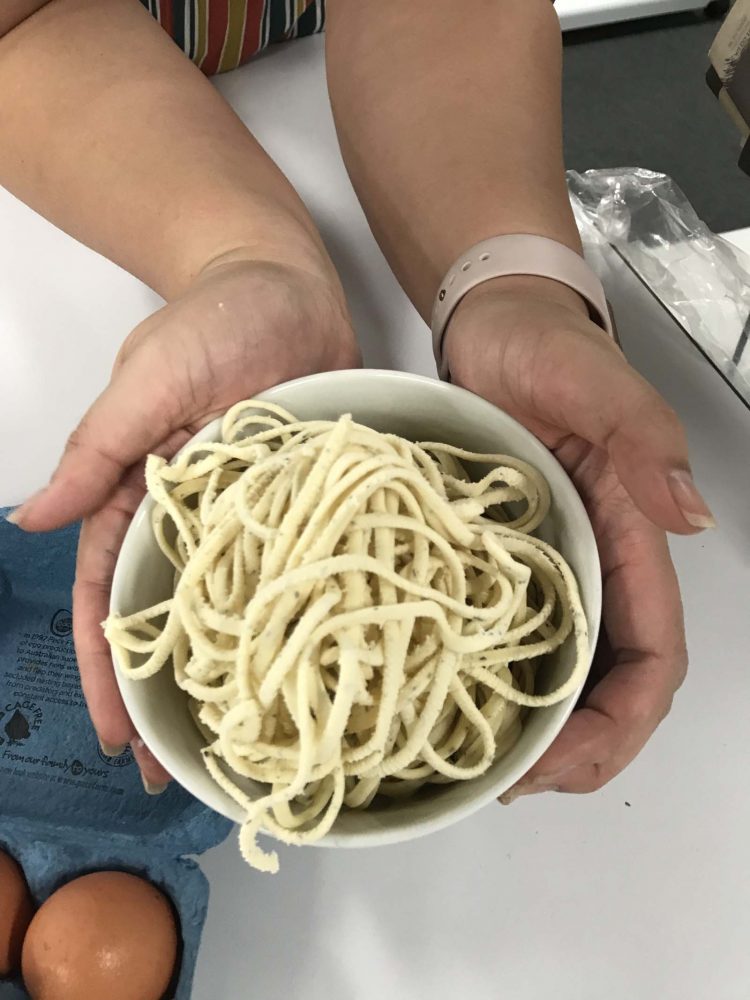 Once it had been boiled to perfection, I added some pesto, slivered almonds, parmesan cheese and a wedge of lemon for a delicious and super easy meal.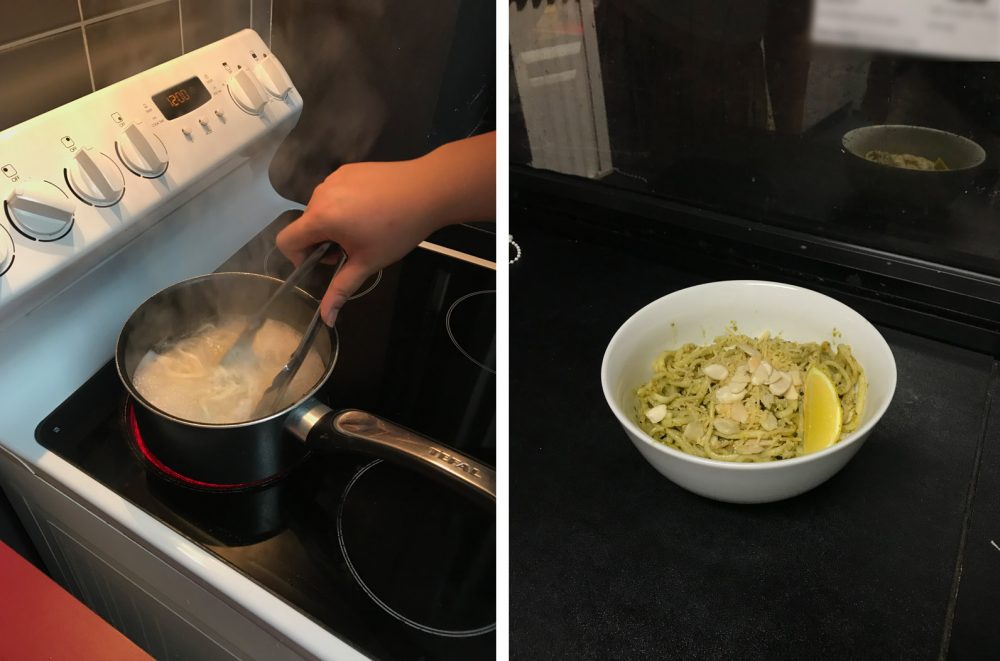 Even cleaning the machine was a breeze! As per the instructions, I took apart the components, removed as much of the excess dough as I could, and then let the pieces air dry for a couple of hours. By the time I came back to them, it was only a matter of using the included cleaning instrument to scrape away the hardened dough!
I gave the separate pieces a quick soak in warm, soapy water and then let them drain and dry. In short order, the machine was ready to be reassembled. It even features a little drawer to tidily store the cleaning utensil, cutting tool and shape discs.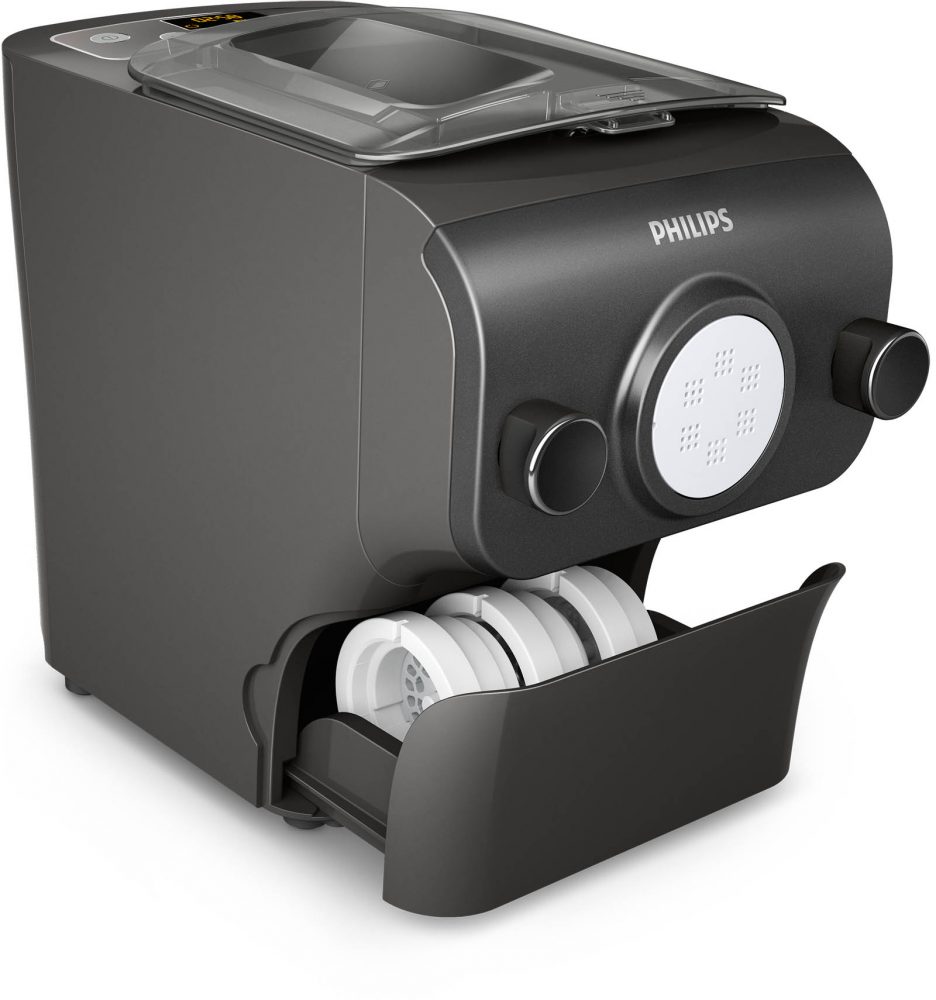 Philips Pasta & Noodle Maker Recipe #2: Lasagne
Thinking about pasta made me think of lasagne, so naturally that was the second meal I made using the Philips Pasta & Noodle Maker. To do that, I created the same wheat pasta mix as I had done for the spaghetti, except I left it unseasoned. Of course, this time I used the lasagne sheet attachment. It was as easy as expected: after adding the flour, pressing start, adding the egg/water mixture and waiting three minutes while the dough was kneaded, the machine began to automatically extrude the pasta into beautiful sheets, perfect for creating the layers in the lasagne.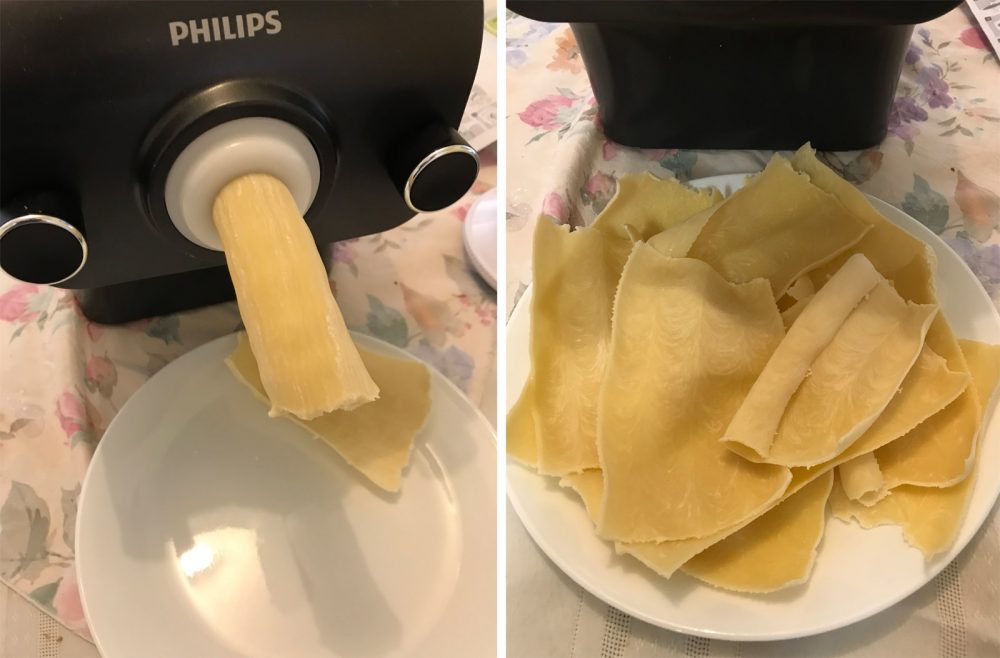 I already had a rich, meaty sauce that I'd been simmering for a few hours, so all that was left to do was whip up a quick béchamel sauce. After layering the lasagne, I simply had to wait for it to cook—that was the hardest part of the whole process! Soon enough, I had a deliciously cheesy lasagne, ready to be devoured.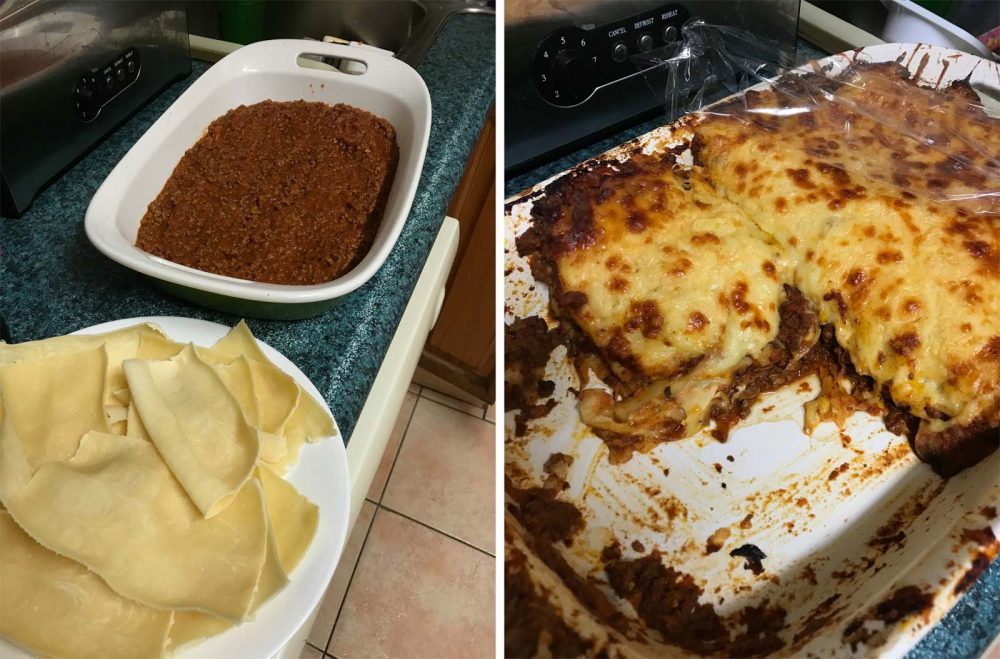 Philips Pasta & Noodle Maker Recipe #3: Gluten-Free Pasta
The third meal I made was a little different. My sister has Coeliac disease, which means she can't eat any food that contains gluten. So my challenge was to use the pasta maker to create gluten-free pasta that would not only be great for her, but would also be appetising to the rest of my family. I decided to use chickpea flour, which would mean adding a teaspoon of xanthan gum to increase the dough's binding ability.
Despite my mother's misapprehensions of the pasta coming out and sticking together, it quickly separated into individual strands once added into the boiling water, and tasted beautiful with a bolognaise sauce and a sprinkling of cheese. Needless to say, it was a hit with not just my sister, but the whole family!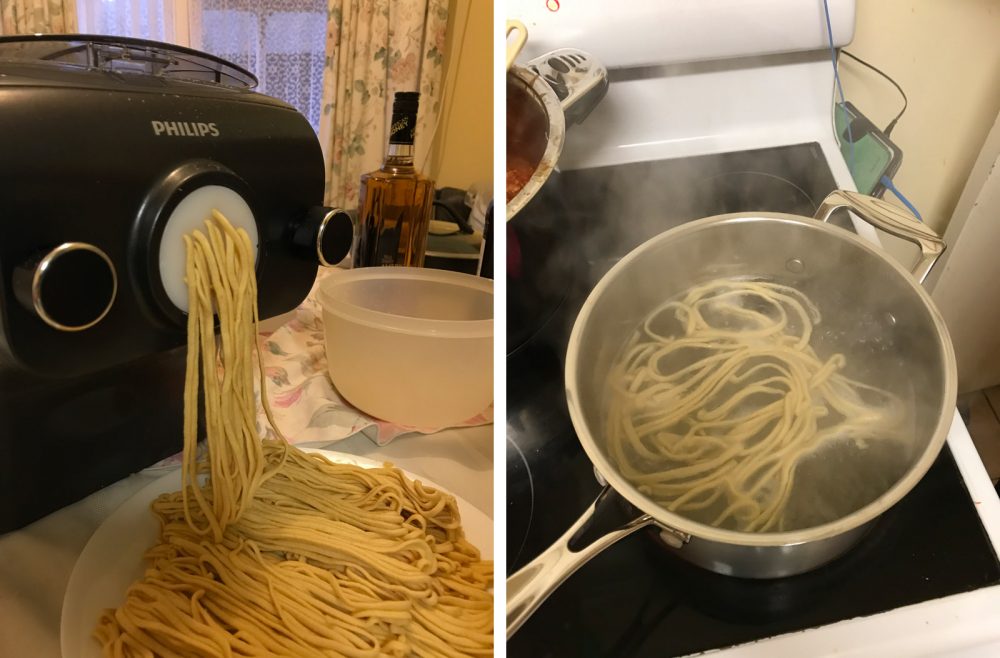 Colourful Pasta Recipes
Now that my trial period is over, I can't wait to buy the Philips Pasta and Noodle Maker for keeps so I can test out more recipes – especially the colourful ones! By adding ingredients like carrot juice, spinach juice, beetroot juice or even squid ink, you can change the colour of the pasta for some interesting results—perfect for impressing friends and family at a dinner party. And to say you made it yourself…well, it's sure to gain you a lot of accolades around the table.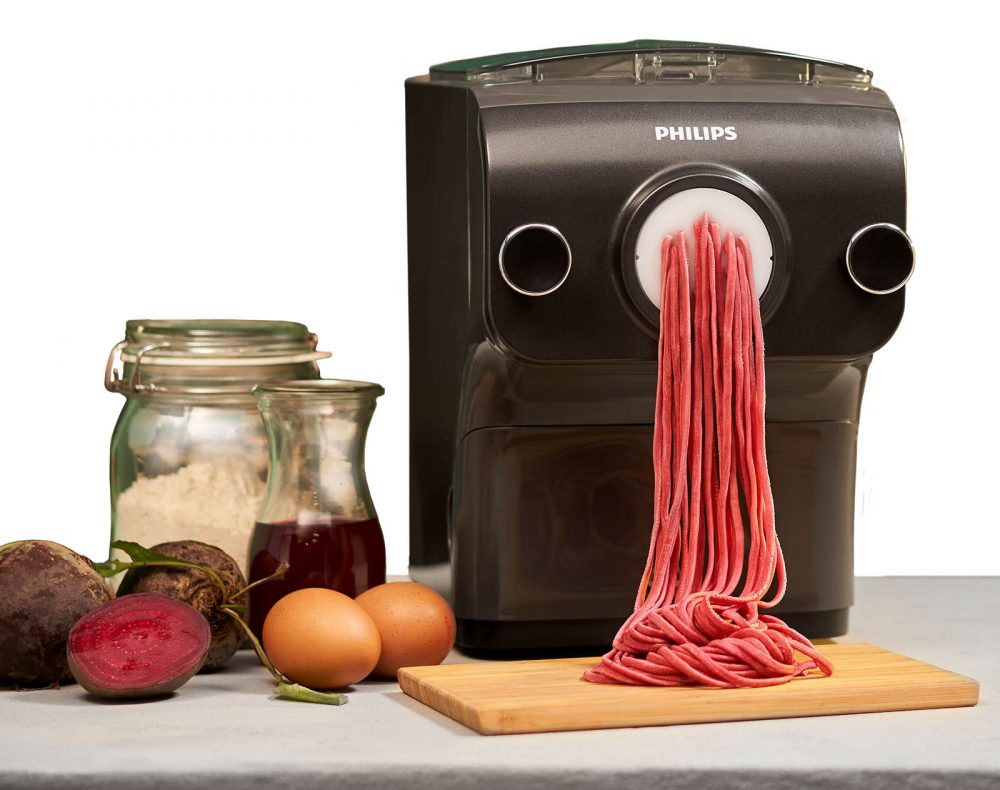 Philips Pasta & Noodle Maker Attachments
There are a variety of attachments that are also available to purchase, so you don't have to stick with the included spaghetti, lasagne, capelli d'angelo or penne shapes. Plus, if noodles are more your flavour, then simply adjust the recipes accordingly! The attachments can easily accommodate for thick udon noodles, dumpling skins and more.
Where Can I Buy the Philips Pasta & Noodle Maker?
All in all, my time with the Philips Pasta & Noodle Maker was a definite success, and it is a product I can heartily recommend. It created fresh pasta in a matter of minutes—and all automatically! It doesn't get any better than that. To buy your own, head online or to your local Harvey Norman to speak to our friendly, expert staff. Get started on your pasta-making journey today!