Airfryers have been soaring in popularity in recent times – and those who have used them to cook healthy and delicious meals at rapid speed know the reasons why!
Excitingly, the next step in the airfryer revolution has now arrived in the form of the Philips Smart XXL Airfryer. This extremely impressive kitchen appliance takes the concept of what an airfryer can do and raises the bar in terms of both design and function. Available at Harvey Norman, the Philips Smart XXL Airfryer is simply must-try – which, mother-of-two Janine did when she took one home last month.
Our guest reviewer, Janine, not only tested out the Philips Smart XXL Airfryer, but she also shared with us 10 easy airfryer recipes that are perfect for anyone looking for airfryer meal ideas. Read on for her Philips Smart XXL Airfryer review and airfryer recipes – we think you'll love them as much as Janine did!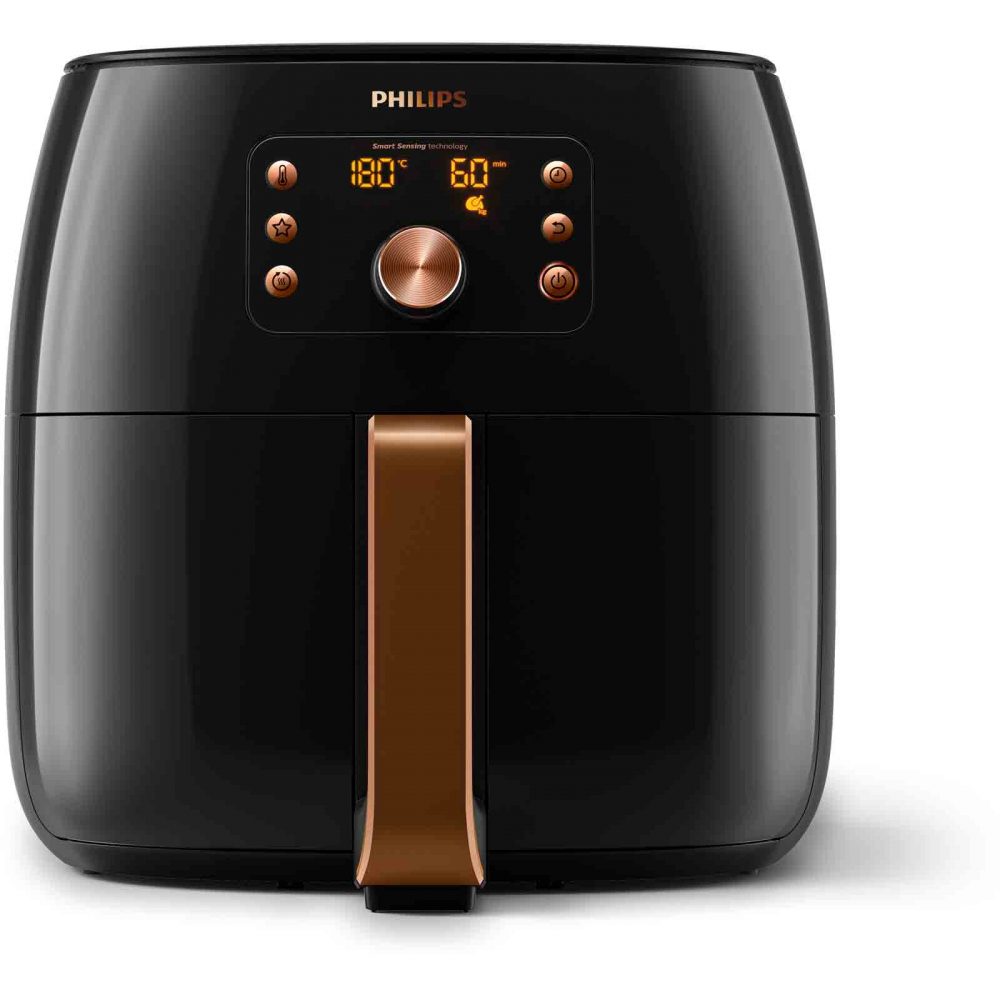 Janine's Philips Smart XXL Airfryer Review
Janine is a mother to two hungry teenagers – so it goes without saying that she's used a lot of kitchen appliances over the last 15 years. Therefore, the fact that she was so impressed with how well the Philips Smart XXL Airfryer handled creating meals for her and her family is a testament to its family-size 1.4kg capacity and its ability to fry, bake, grill, roast and, let's not forget, reheat!
"I've been wanting to try out a good airfryer for so long – and I'm so glad I got to take home the Philips Smart XXL. My family have been absolutely loving the airfryer meals I've been creating with it."
Her first impression was that it was very easy and intuitive to use.
"Using it was really self-explanatory. However, just to make sure that I couldn't put a foot wrong, it comes with an instruction/recipe book that gives clear photographic instructions on how to use the Philips Smart XXL Airfryer."
Philips Smart XXL Airfryer vs Oven
Janine was also impressed with how quick cooking times were, especially from an airfryer vs oven perspective. With instant heat and Rapid Airflow technology, the Philips Smart XXL Airfryer can cook foods such as French Fries (oh yes, this is a great airfryer for chips!) and chicken drumsticks up to 1.5 times faster compared with a conventional oven. Plus, the fact that there's no need to pre-heat it meant that Janine was able to save time and get cooking straight away.
"When I air fried pork belly slices, it took less than 30 minutes – whereas in the oven, all up it usually takes 45 minutes to an hour. Same with the sausages. They took less than 20 minutes to turn deliciously crispy on the outside and juicy on the inside – a far cry from my usual low and slow cook on the BBQ, which often turns the sausages dry if I leave them too long.
"Because cooking times were so much faster with the Philips Smart XXL Airfryer, I was able to relax with my family after work instead of spending all my evening trying to create meals. I also found the fast cooking time great for reheating cooked food. For example, I popped cooked chicken legs from the night before straight into the airfryer from the fridge – and within 10 minutes they were hot and juicy and ready to eat as if they had just been freshly cooked!"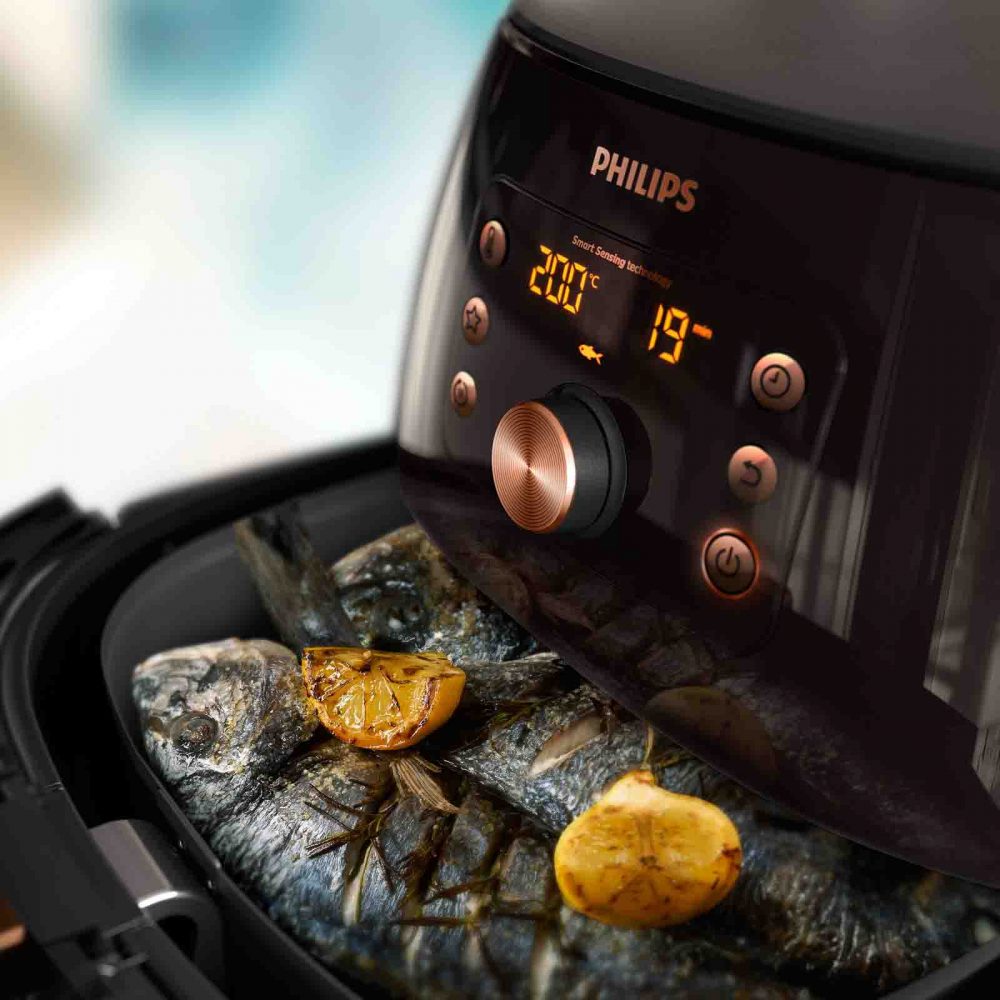 Philips Smart XXL Airfryer vs Deep Fryer
One of the biggest drawcards of the Philips Smart XXL Airfryer is the fact that it will cook with little to no added oil. It instead air fries food with the hot air produced by Philips Rapid Air Technology, which creates tantalisingly crispy results by increasing the airflow speed in the basket by 7 times compared to the airflow speed in a Philips Viva Airfryer with a flat pan.
What this means is that when it comes to the Philips Smart XXL Airfryer vs deep fryers, it's not even a close contest. While deep fryers will drench your food in oil, the Philips Smart XXL Airfryer is far and away a healthier option.
On top of forgoing added oil, the Philips Smart XXL Airfryer is also the only airfryer with Fat Removal technology. Perfect for creating healthy dishes, the technology separates and captures excess fat at the base of the pan – but don't think for a second that means flavour is sacrificed. On the contrary!
"It's amazing how the Philips Smart XXL Airfryer extracts the food's own fat. That means the meal is literally cooking in its own juices, which makes for unbelievably delicious results."
What is a Smart Airfryer?
Now, a question you may have asked yourself is "What is a smart airfryer?" Well, it's all got to do with the Philips Smart XXL Airfryer's smart sensors which automatically adjust the cooking time and temperature, giving you the best airfryer results. All you have to do is select the food-type and press a button.
The Philips Smart XXL Airfryer also comes with Smart Chef cooking programmes and can also save settings that you've previously used for your favourite dishes. Again, what both of these things mean is, that with just the touch of a button, the Philips Smart XXL Airfryer will cook your meal at the ideal temperature for the perfect length of time.
"After having used the Philips XXL Smart Airfryer countless times over the last few weeks, I can say wholeheartedly that I instinctively trust it to give me amazing results."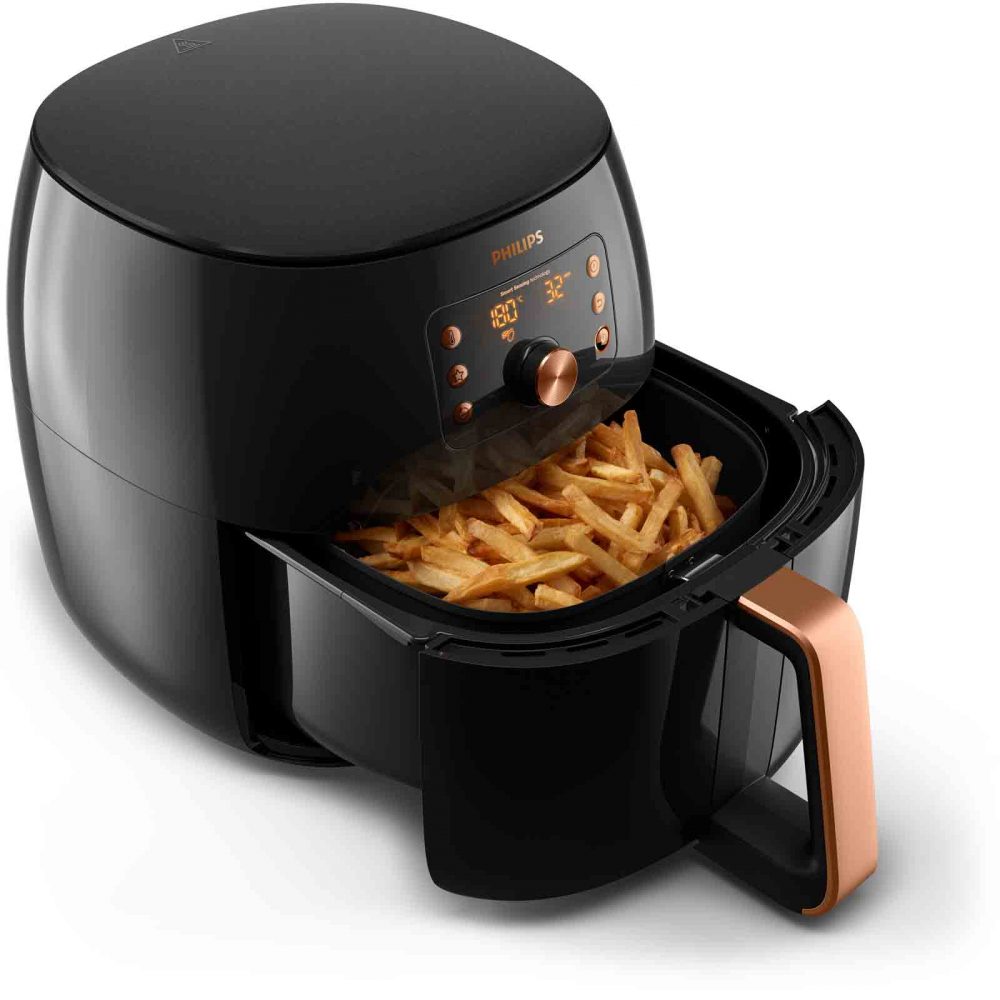 Hello Airfryer, Goodbye Toaster!
In terms of design, the Philips Smart XXL Airfryer also scored big in both looks and practicality.
"I just adore the aesthetics of it. The gold dial and buttons on the glossy black finish look very premium and stunning on my kitchen bench top. And, what's really cool is that I can keep it on the bench top permanently because it doesn't take up that much space – which I found surprising given how much food you can fit in there. The thing is that its footprint is not all that much bigger than the average 4-slice toaster – and given the Philips Smart XXL Airfryer cooks toast, it means I could probably just get rid of my toaster to free up more space!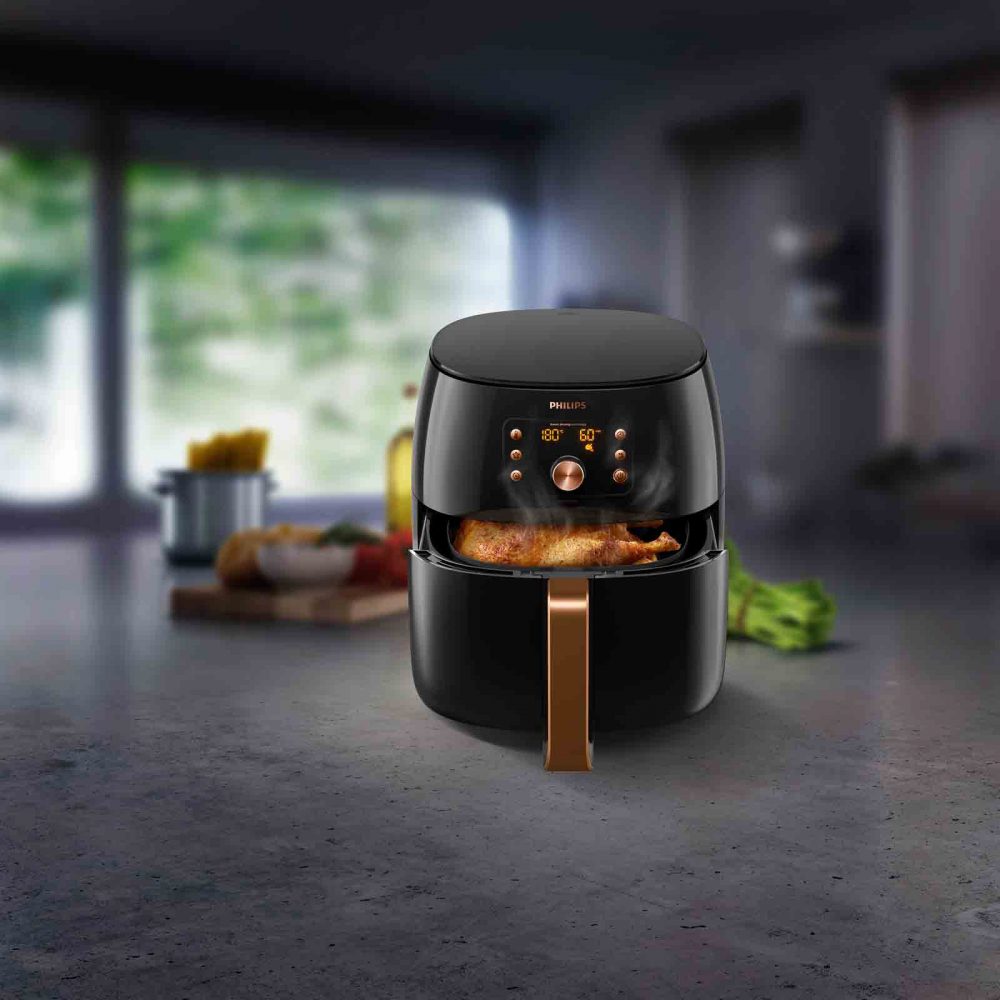 "Personally, I think another great function of the design is that once all the cooking is done, cleaning everything up is a cinch. The removable parts glide in and out so easily and are all dishwasher safe – and all it takes for me to clean the basket's removable insert (which is non-stick!) is a little bit of soapy water."
10 Easy Philips Smart XXL Airfryer Recipes
So, just what did Janine cook with the Philips Smart XXL Airfryer? Well, for a little sample, here are 10 easy airfryer recipes Janine made – and every single one of them looks delicious!
To kick things off, the first airfryer recipe comes courtesy of the Philips Smart XXL Airfryer's complimentary Philips Airfryer Recipe Book – a great place to get started on your airfryer culinary adventure. It's a chicken drumstick airfryer recipe, which is perfect, because the Philips Smart XXL is a great airfryer for chicken.
1) Spicy Chicken Drumsticks Airfryer Recipe
(Serves up to 6)
Recipe courtesy of the Philips Airfryer Recipe Book which is included with the Philips Smart XXL Airfryer.
Ingredients:
1½ cloves garlic
½ teaspoon mustard
1½ teaspoons chilli powder
A pinch of salt
A pinch of pepper
1 tablespoon olive oil
Up to 16 chicken drumsticks (up to 2kg)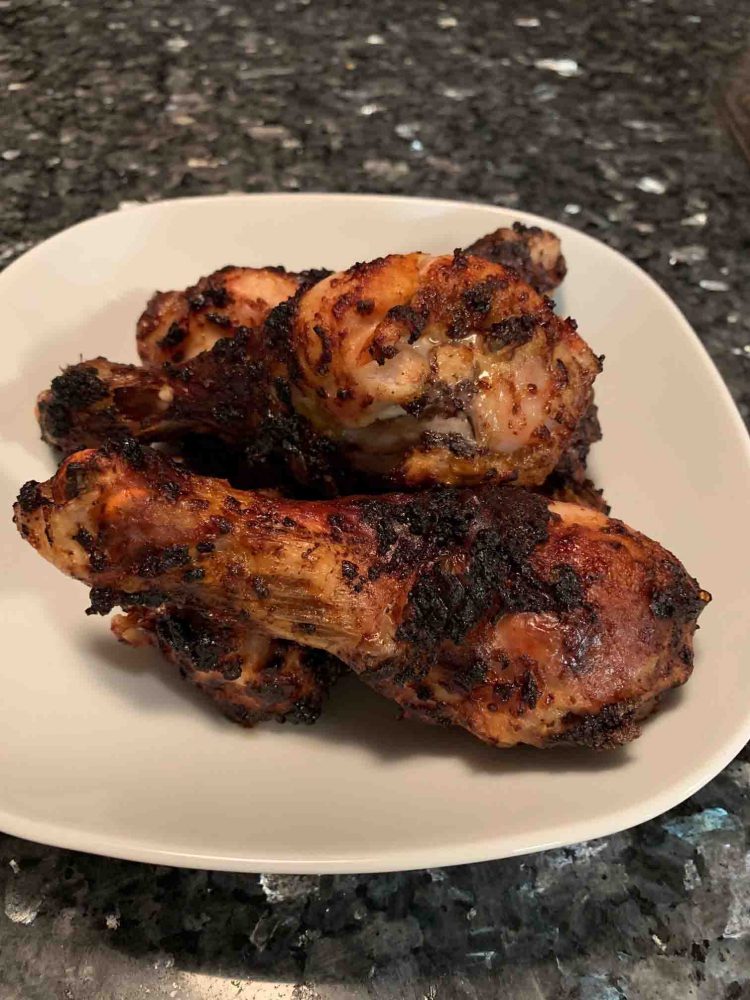 Method: Mince the garlic and mix with the mustard, chilli powder, salt and pepper to taste. Stir in the olive oil. Rub this over the drumsticks and let them marinate for 20 minutes. Put the drumsticks in the Philips Smart XXL Airfryer, switch on and select the Smart Chef programme for chicken drumsticks. Confirm your choice by pressing the QuickControl dial, and sit back and relax. The appliance will notify you in case you need to come back and turn or shake your chicken drumsticks!
2) Balsamic Honey Roast Vegetables Airfryer Recipe
(4 servings)
Ingredients:
3 cups Brussels sprouts, tough end removed, sliced in half
2 large carrots, sliced
3 cups cauliflower florets
¼ cup avocado oil
¼ cup balsamic vinegar
1 tablespoon Dijon mustard
2 tablespoons maple syrup
¾ teaspoon coarse sea salt
¼ teaspoon freshly ground black pepper
1 teaspoon dried thyme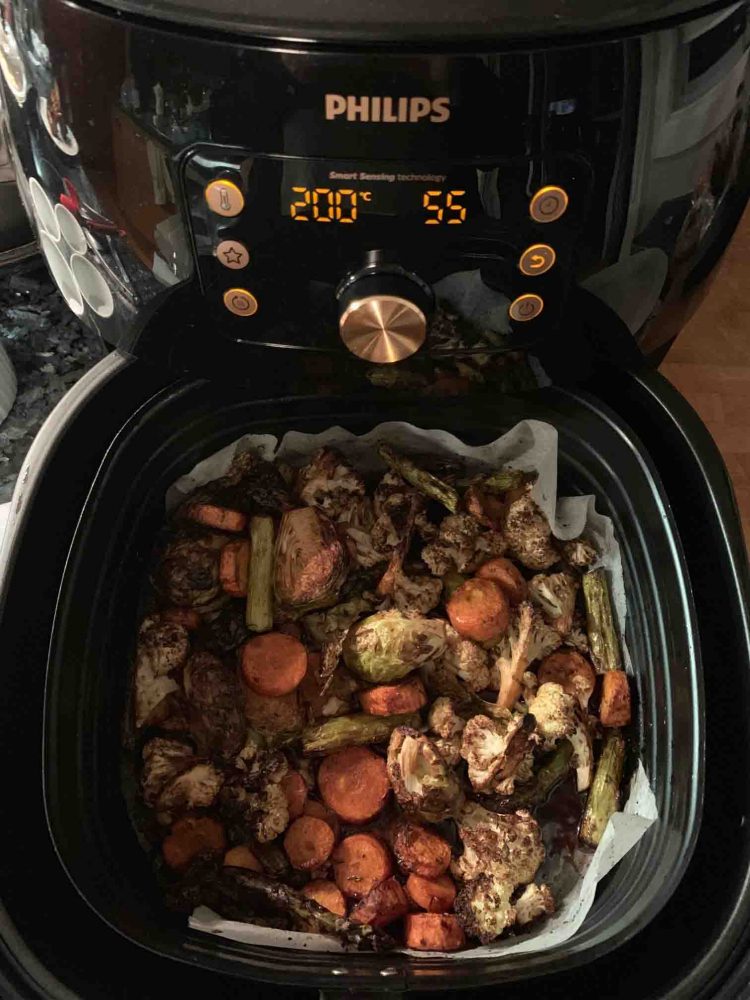 Method: Visit Happy Healthy Mama for instructions on how to put together this recipe. However, instead of cooking it in the oven, airfry it at 200° for 15 to 20 minutes as recommended by Mum Central.
3) Lasagne Stuffed Capsicum Airfryer Recipe
(4 – 6 servings)
Ingredients:
4 – 6 capsicums
1 1/2 lb Ground beef
4 cloves minced Garlic
2 cup Marinara sauce
1 tbsp Italian seasoning
1 cup Ricotta cheese
1 cup shredded Mozzarella cheese
Sea salt and black pepper (to taste)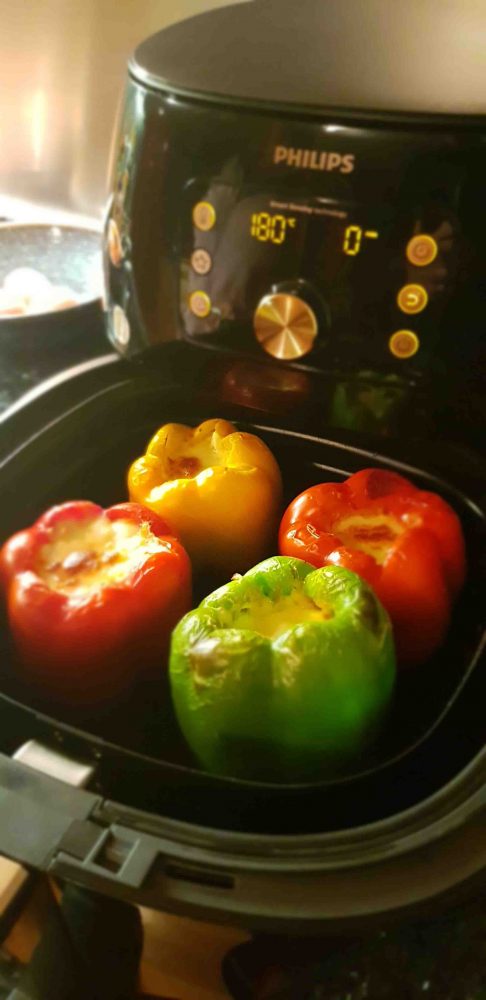 Method: Visit Wholesome Yum for instructions on how to put together this recipe. However, when it comes time for cooking the stuffed capsicums, simply airfry them at 180˚ for 15 minutes instead of placing them in the oven.
4) Frittata Airfryer Recipe
(Simply adjust servings to suit)
This recipe was inspired by Recipes From A Pantry's Air Fryer Breakfast Frittata.
Ingredients:
Diced bacon
Mushrooms
Cherry tomatoes
Chopped spinach
Spanish onion
Eggs
Cheese
Double cream
Tabasco sauce (optional)
Seasonings to taste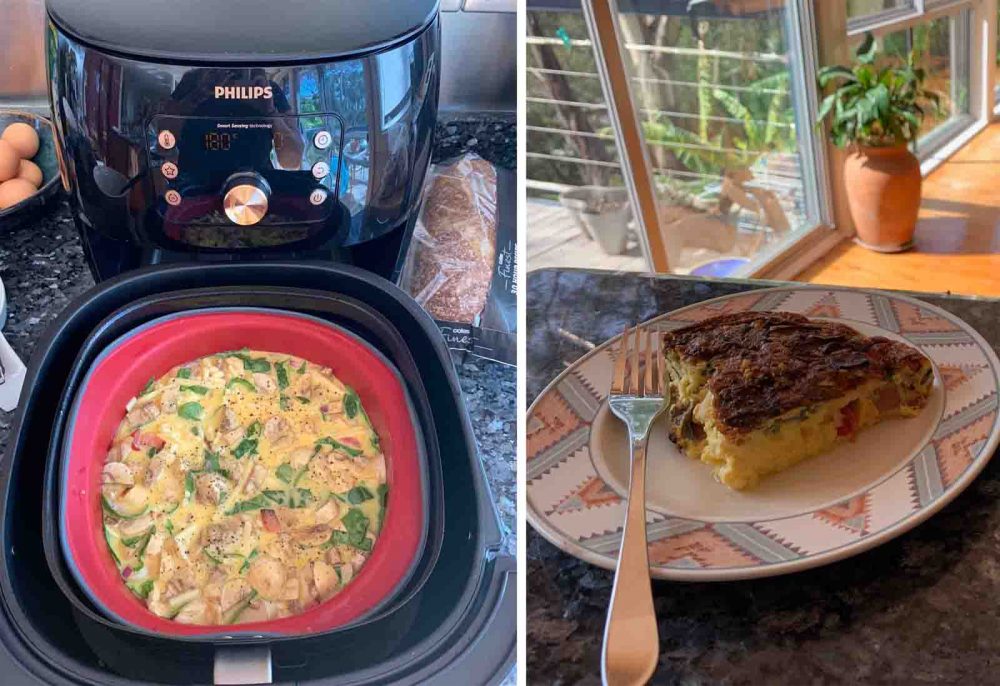 Method: Airfry bacon at 180°C for 7 minutes. Then, place a heatproof silicone baking bowl inside the airfryer. Combine dry ingredients into this. In a separate bowl, whisk eggs, cheese and double cream together, adding sauce and/or seasoning as you like. Don't forget to add the bacon into the dry ingredients, then drizzle the egg mixture over. Cook on 180˚ for 12 – 16 minutes, until eggs are set.
5) Airfryer Chicken Breast Recipe
(4 servings)
Ingredients:
2 tablespoons butter, melted
½ teaspoon salt
¼ teaspoon garlic powder
¼ teaspoon smoked paprika
¼ teaspoon black pepper
4 boneless and skinless chicken breasts
Method: Visit Tablespoon for instructions on how to create this Airfryer Chicken Breast recipe.
6) Rack of Lamb Airfryer Recipe
Ingredients:
1 rack of lamb
2 tablespoons dried rosemary
1 tablespoon dried thyme
2 teaspoons minced garlic
Salt
Pepper
4 tablespoons olive oil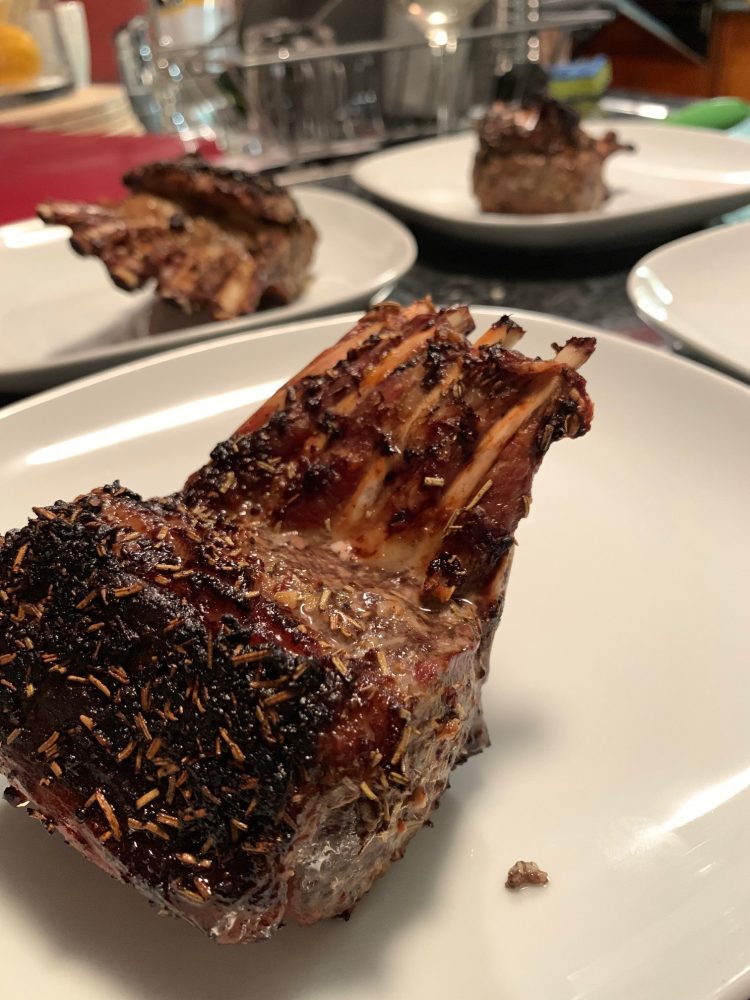 Method: Visit Fork To Spoon for instructions on how to create this Rack of Lamb Airfryer recipe.
7) Choc Lava Cake Airfryer Recipe
(4-6 servings)
Ingredients:
60g dark chocolate with a minimum of 70% cocoa solids
60g butter
¼ teaspoon vanilla extract (optional)
3 eggs
1 tablespoon butter, for greasing the ramekins
Handful of dark chocolate chips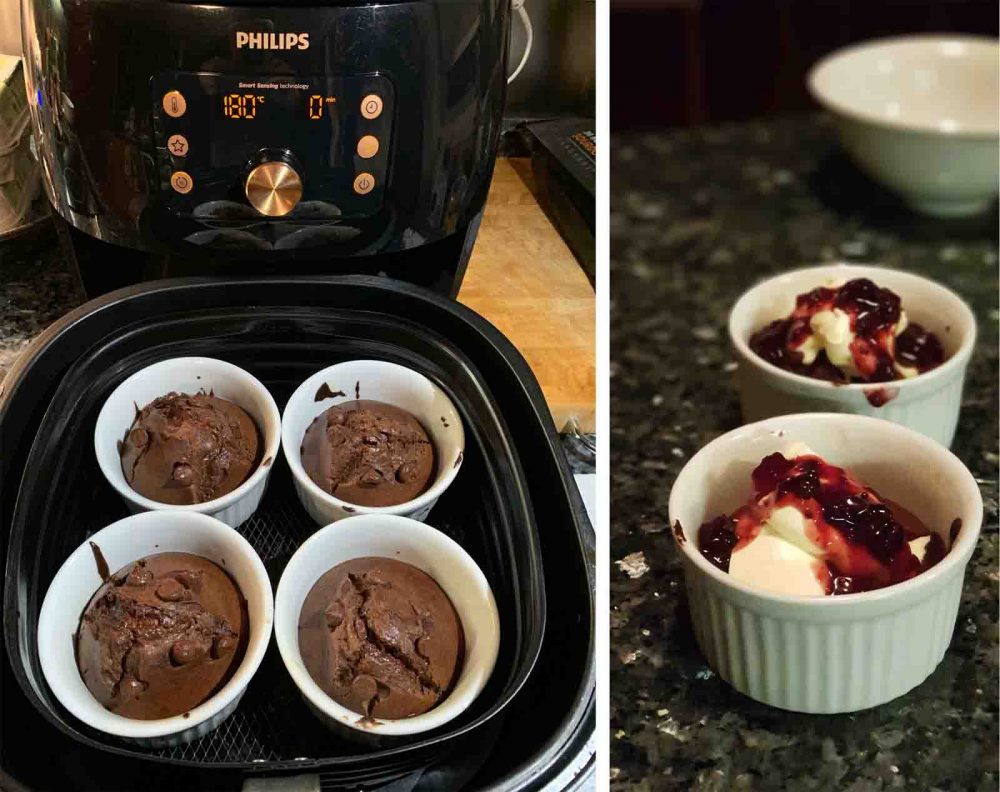 Method: Visit Diet Doctor for instructions on how to put together this recipe. However, instead of cooking it in the oven, airfry it at 180˚C for 6-8 minutes – depending on how gooey you want the centre to be!
8) Pork Belly Bites Airfryer Recipe
This one was created by Janine herself – and, she'll happily tell you, it's possibly the easiest airfryer recipe going around!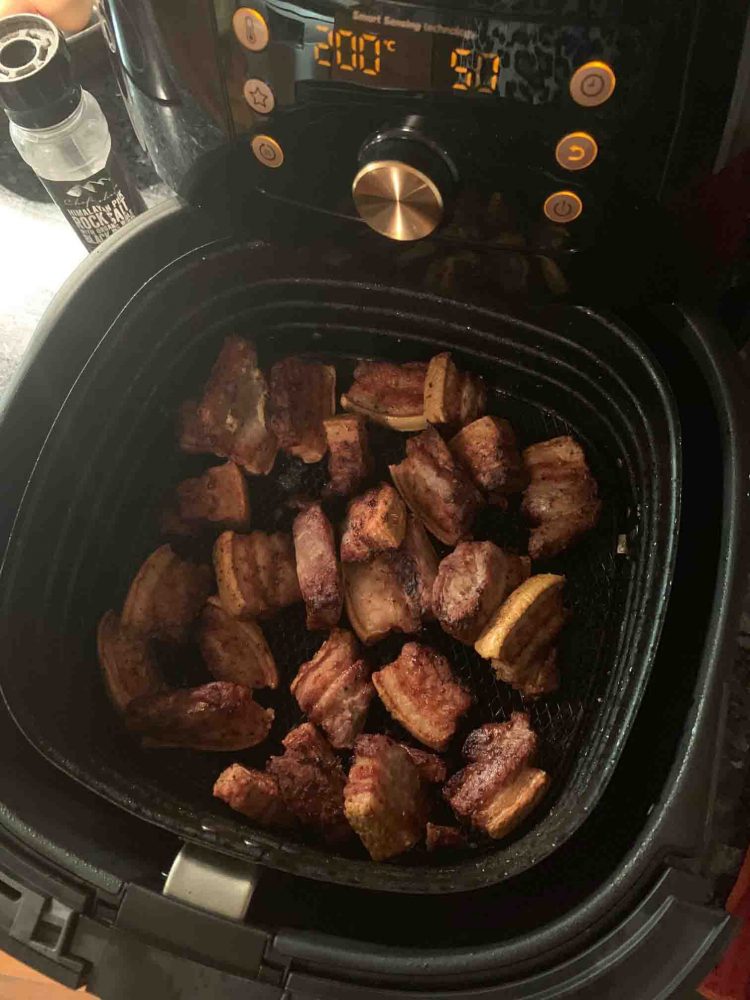 So, what's the method to Janine's Pork Belly Airfryer recipe?
Well, you cut strips of pork belly into small portions and then cook them in the Philips Smart XXL Airfryer for 30 minutes at 200˚. That's all – and the result is pure crunchy delight!
9) Air Fried Sausages with no oil!
With the Philips Smart XXL Airfryer having done such a brilliant job on the pork belly, Janine thought she'd airfry sausages – and, once again, this is one super easy airfryer recipe! Janine suggests simply arranging the sausages in a single layer on baking paper inside the Philips Smart XXL Airfryer, cooking on 200˚ for about 7 minutes, before turning them over and cooking for another 5 to 7 minutes until done. No oil, no spatters on the cooktop – just delicious air fried sausages!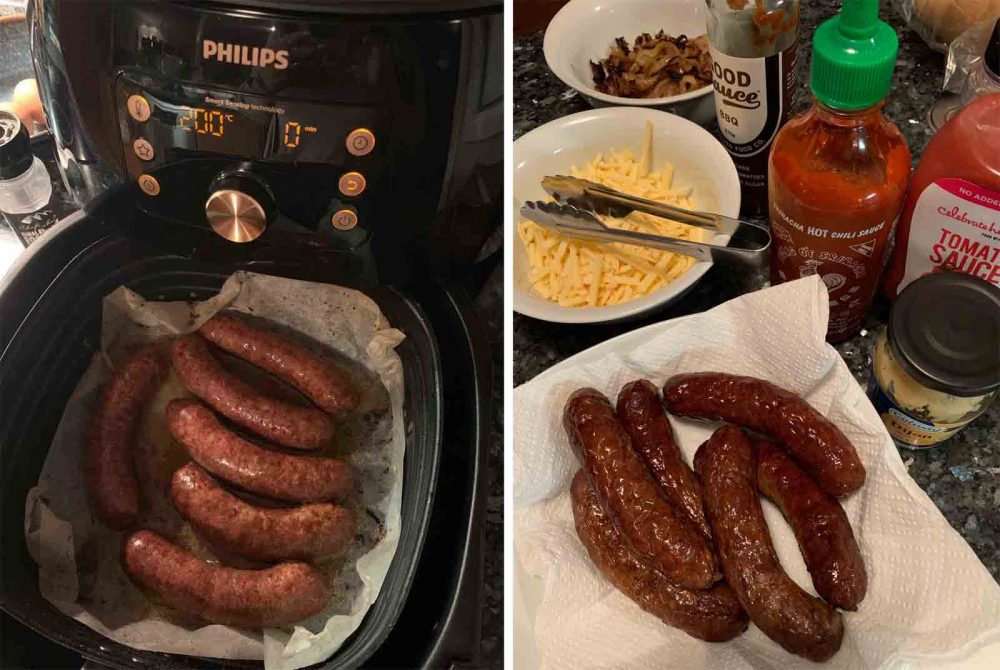 10) Air Fried Meatballs Cheesy Bake
Janine's clearly got her easy airfryer recipes down pat – and, just to prove it, she's created one more! This time, however, the easy airfryer food – meatballs – forms part of a larger cheesy oven-bake recipe. As Janine says, it shows that the Philips Smart XXL Airfryer is not only perfect as a standalone appliance, but also as part of a larger kitchen setup.
"I think it's great that you can cook certain things in the Philips Smart XXL Airfryer while using the stove or oven for other things. When I need it to be, it's a fantastic companion to my oven and cooktop – and makes multitasking in the kitchen straightforward."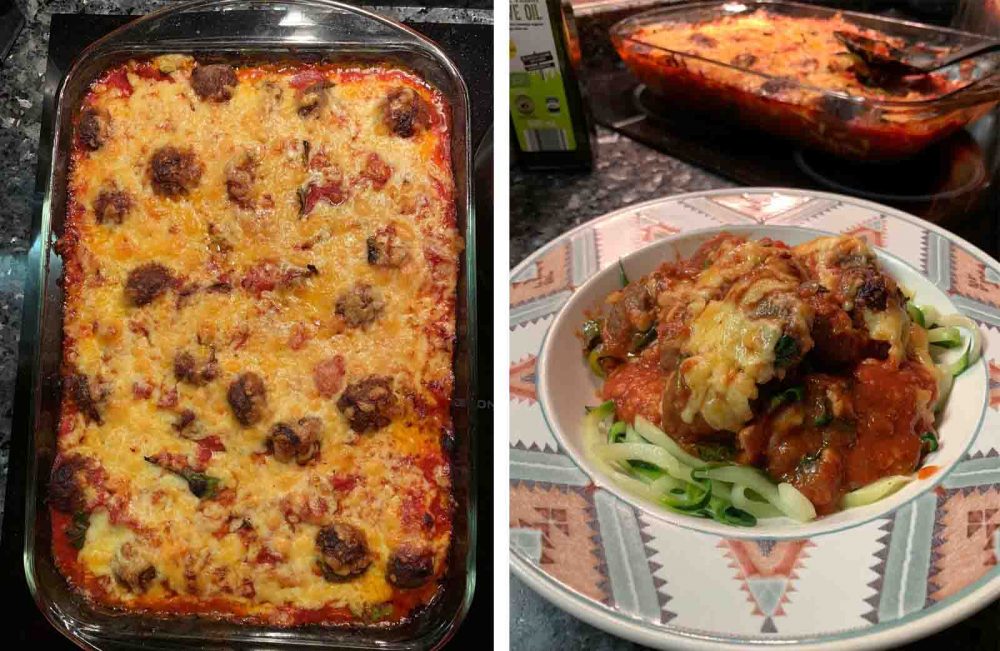 Method: To get started, cook meatballs in the Philips Smart XXL Airfryer for 15 minutes at 200˚C. Meanwhile, simultaneously pan fry diced onion, diced garlic and crushed red chilli. Toss all into an oven dish with spinach leaves, passata sauce, a few dashes of Worcestershire sauce and a generous helping of grated cheese. Bake in the oven for 20-30 minutes at 200˚C.
Serve with pasta (or zucchini noodles for a healthy, low-carb option).
Exclusive Access to More Airfryer Recipes
If you're looking for more easy airfryer recipes, the great news is that the Philips XXL Smart Airfryer not only comes with the Philips Airfryer Recipe Book, but also comes with exclusive access to the Philips NutriU recipe app, which lets you browse hundreds of mouth-watering airfryer recipes. From mains and desert airfryer recipes, to everything in between, this is the app every home cook needs. Try out the recipes and discover why the Philips Smart XXL is a brilliant airfryer for fish, an outstanding airfryer for Indian food, and the best airfryer for so much more!
Where To Buy The Philips Smart XXL Airfryer
If you want to join Janine in this next stage of the airfryer revolution, then you've simply got to try one of the best airfryers on the market! The Philips Smart XXL Airfryer is stylish, functional, and makes it easy to lead a healthier lifestyle without sacrificing on taste. You can buy the Philips Smart XXL Airfryer by shopping online or by heading in store to your local Harvey Norman, where our friendly, expert staff are always happy to assist with all your queries.