Melbourne-based head chef Jake Kellie, from renowned restaurant Estelle Bistro, demonstrated his outstanding culinary aptitude at our recent Pride & Produce event at Harvey Norman Chadstone, creating a truly special dish that illustrated exactly why this talented young chef has risen up the ranks.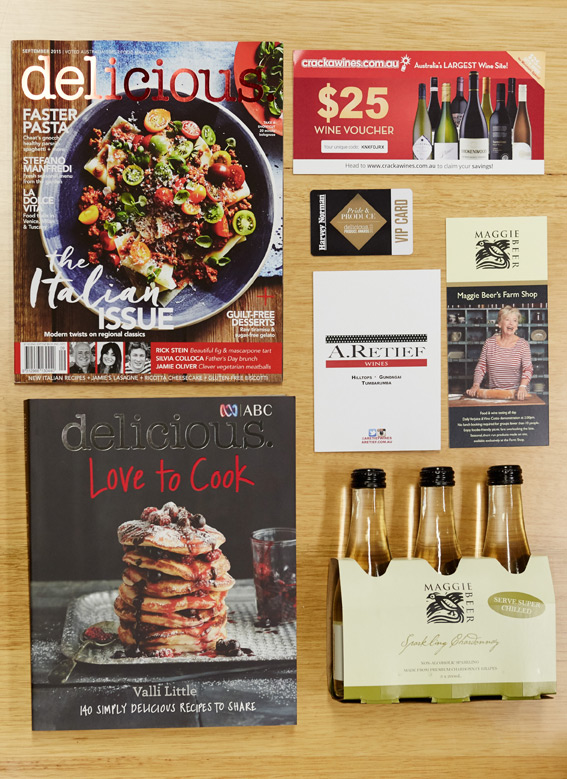 Held in association with Delicious magazine and the Delicious Produce Awards 2015, the event saw Chef Jake's passion for fresh, locally grown produce combine with his impressive gastronomic intuition to make it truly an evening to remember. Food critic, MasterChef Judge and all-round bon vivant Matt Preston was in fine form as co-host on the night, and in-between his knowledgeable and witty repartee with Jake he chatted with the audience and joined in on sampling the tasty dishes.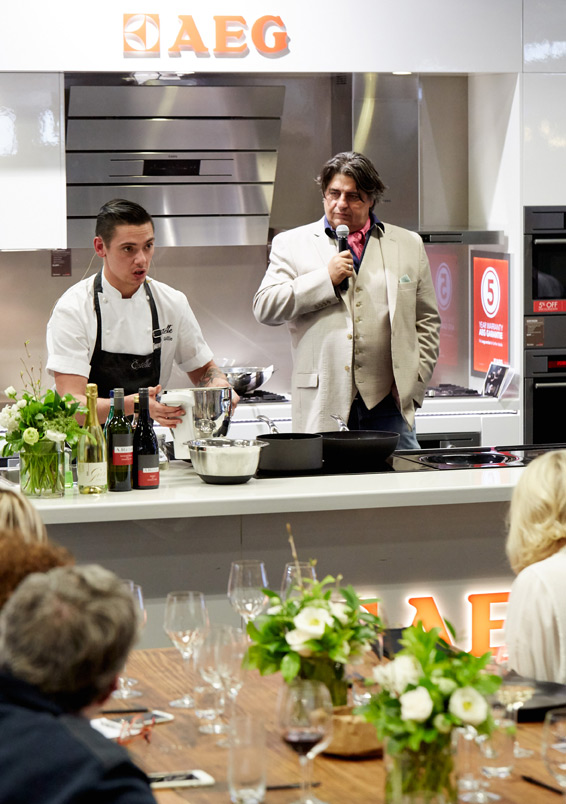 Jake's Beef Rib-Eye on the Bone with Burnt Butter and Horseradish Cream had us all revelling with a glorious gourmet 'wow' factor that lasted long after the last fork rested on a plate.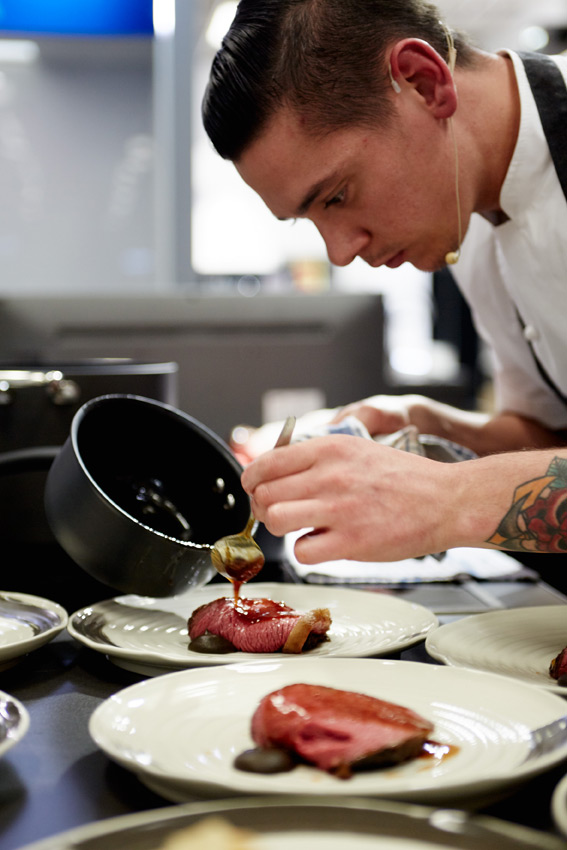 While the buzz of Chef Kellie's inspirational creation was still very much in the air, we sat down with the 24-year-old for an intimate Q & A:
The Pride & Produce event is all about cooking with fresh, local produce. How important is this to your cooking philosophy and why?
Using great local Victorian produce is a major part of my philosophy. Finding out where it comes from, what it's eating, how the produce has been treated. All of these small questions determine the outcome of the product and in Victoria we do have the best farmers doing everything right and I like to showcase that as a chef.
Which two or three ingredients are you currently enjoying working with?
At this point in time it's coming into spring so lovely new season broad beans are delicious and I'd have to say artichokes are a beautiful vegetable to use at the moment.
What can diners expect when visiting Estelle Bistro?
You can expect to feel a real buzz when you walk into the restaurant. It's such a busy little restaurant in Northcote, pumping out some tasty food. We offer a 3 course menu for $70 or you can go all out and get 5 courses for $90. For the rest of the menu, we have an extensive list of beautiful moonlight oysters and great small bites to share.
From where do you get your ideas and inspiration when developing a new dish?
I get my inspiration from going to the markets and seeing the fresh produce. I definitely get inspired by reading and chatting to other chefs to see where their frame of mind is at in cooking.
What's your signature dish when cook at home?
I love cooking a whole cut of meat. I'm very lucky to have a small rotisserie at home and I'm always cooking on it when we have friends over.
Do you have any memorable cooking experiences that you can share with our readers?
My most memorable experience I'd have to say would be being a head chef at 23 years old and having a really inspiring kitchen and front-of-house team. We are a small, busy restaurant and every day we all thrive off each other. That's memorable.
Tools of The Trade
Combining fresh, seasonal produce and putting to good use the innovative AEG appliances from Harvey Norman, Chef Jake Kellie set about creating tantalising taste sensations for his eager audience.
Using the AEG 90cm 'Pure 3 OptiZone' Induction Cooktop's superior cooking efficiency, Jake effortlessly sealed the mouth-watering flavours of the beef rib eye roast. Next, our sense of smell was heightened as we took in the glorious aroma of garlic, thyme and butter being cooked to a perfect golden brown thanks to the precision heating of the AEG 'Pure 3 OptiZone' Induction Cooktop.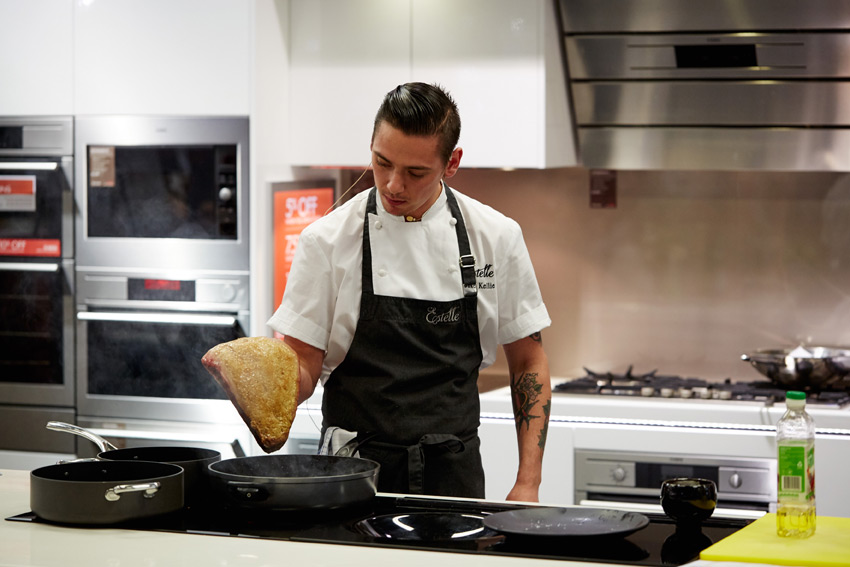 The thyme, garlic and beef were then perfectly slow cooked using the AEG 600mm ProCombi Steam Oven's innovative core temperature sensor, which monitored the cooking process ensuring optimum flavour and texture.
Finally the panko jamon crumb was browned right before our eyes using the complete temperature control and precision heating of the DirekTouch controls on the AEG 90cm 'Pure 3 OptiZone' Induction Cooktop.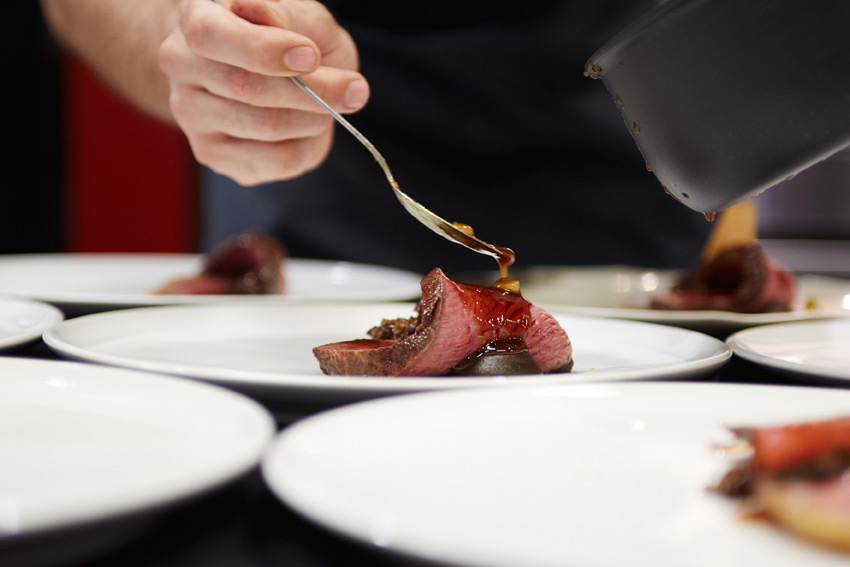 To browse our huge range of cooking appliances, shop online or head down to your local Harvey Norman store to chat to our friendly staff.