Working in an office with over 100 people, I quickly gained an appreciation for how much we like to drink coffee. Whether it's the catering-sized tins of instant coffee in the kitchen cupboards, the capsule coffee makers lining the kitchen benchtop or the fact that a coffee van comes to our door twice a day, it's fair to say that coffee really has become our 'work juice'. And I'm not talking about a short black or an espresso – every desk seems to have a mug or two on it, and some of those mugs are monsters! My neighbour has a mug as tall as a high-ball glass, while another one I've seen is basically a bowl with a handle on it.
Statistics show that 47% of us are having our coffee in mugs that are 230ml or larger*, and that most Australians – 75% in fact* – are regular instant coffee drinkers. What does that tell us? Well, it seems us Aussies love a big cup of coffee that's quick and easy to make.
It's a good thing, then, that the latest coffee machine from Nespresso, which is available from Harvey Norman, has been designed with us in mind.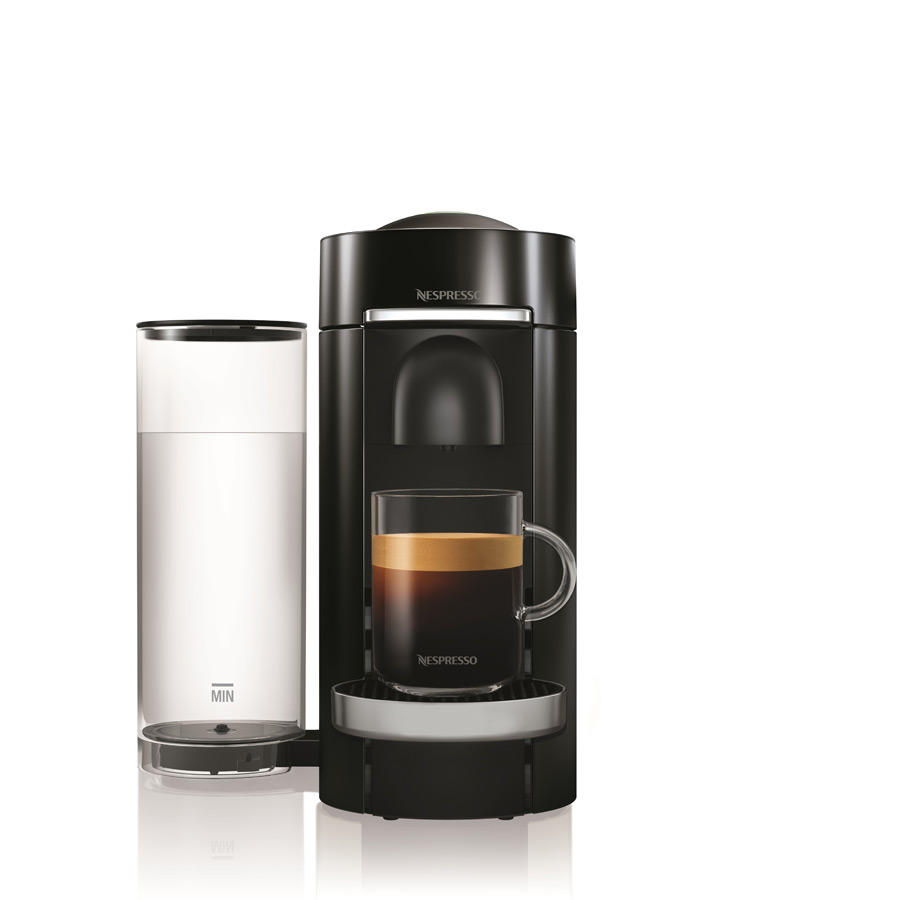 Unlike the current espresso capsule coffee machines on the market, the Nespresso VertuoPlus is a small kitchen appliance that has been designed to cater to coffee drinkers who prefer to drink a larger cup – which is perfect for a workplace type situation where everyone has their own mugs of different sizes and shapes.
With work well and truly getting into the pre-Christmas rush, it was good timing then that the innovative Breville Nespresso VertuoPlus coffee machine became available for testing. I put my hand up straight away – knowing that it couldn't hurt to have a coffee machine at my disposal for a couple of weeks.
Features & Benefits
Here's all the techy stuff you need to know that will give you an idea of how the VertuoPlus stands out from the crowd.
First of all, it has a really fast heat up time. It takes only 20-25 seconds to reach the target temperature, which means you can enjoy a hot coffee almost immediately. No more waiting around for a kettle to boil, the VertuoPlus only heats the exact amount of water required for the particular coffee you're making. And it's quiet too. The first time I used the VertuoPlus I was pleasantly surprised by how quick and quiet it was, I thought it was only just warming up when it started to pour my coffee. Compared to some of the noisy coffee machines I've seen, this one only whispers – a definite selling point!
Whether you like a nice little shot of espresso or prefer a huge mug of frothy coffee, the VertuoPlus will look after you. With four positions for the adjustable cup support, it can easily accommodate four different cup sizes: Alto 414ml, Mug 230ml, Lungo 150ml and Espresso 40ml.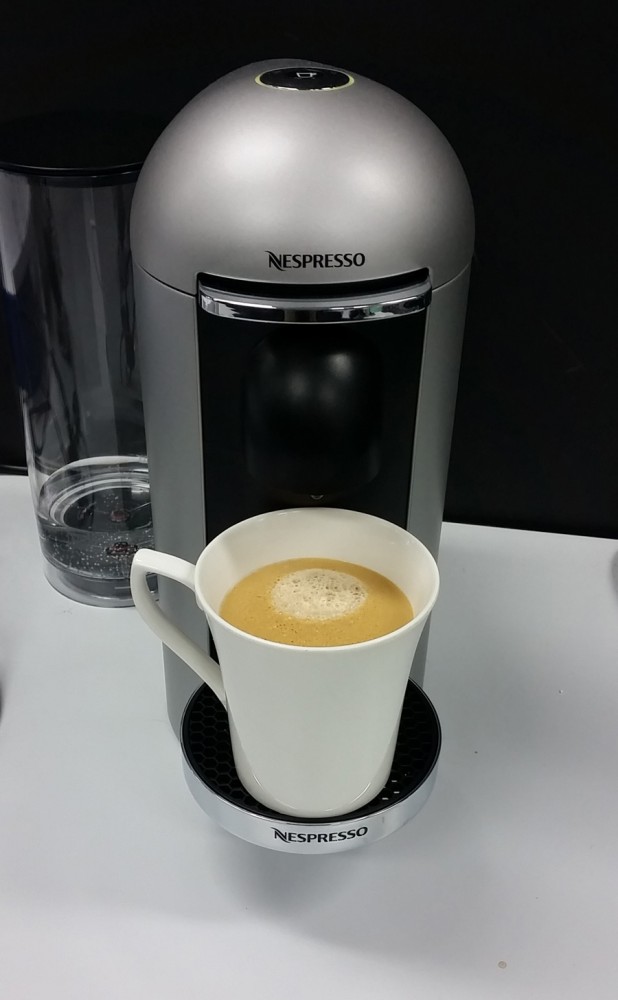 The VertuoPlus is also super easy to use, with only a single button needed. There is an automated lever for opening the lid to put in your coffee capsule, and after that it's just one press of the finger to make coffee magic. How is this possible? The patented CENTRIFUSION™ extraction system uses barcode technology to recognise each of the 20 Vertuo coffees, adjusting the extraction parameters to make each blend precisely how the coffee is meant to be enjoyed. This means the size of cup and amount of water are worked out automatically based on the capsule. Want a bit more water? Just hold the button down until it's right for you. You can even adjust the programming of the water volume by holding the button down until you're happy with the amount – the VertuoPlus will remember for the next time.
Another benefit of this CENTRIFUSION™ technology? It extracts every drop of flavour from the coffee and gives a naturally-formed crema – that special little froth that sits on top of a freshly extracted espresso shot. That's definitely something you won't be able to get from that big tin of instant coffee in the office.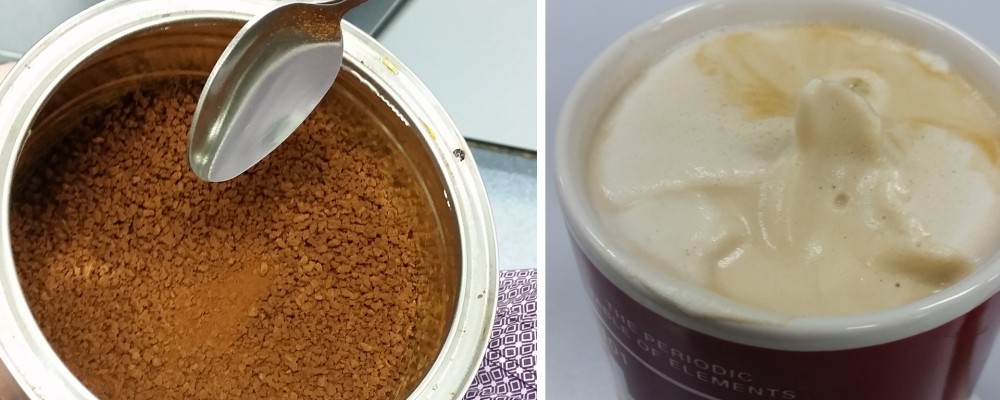 The water tank on the VertuoPlus can be positioned on either side of the machine, or just at the rear, giving it a flexible layout so it can suit a range of surfaces – from a desktop setup to a kitchen counter arrangement.
The VertuoPlus also has an Auto Shut-off mode that kicks in after 9 minutes for safety and to save power, plus there's an automated descaling alert to let you know when it's time to clean the machine.
The Vertuo Coffee Range
Because the Nespresso Vertuo is a whole new ballgame, a new range of quality coffee capsules have been created. There are 20 different coffees to enjoy, covering 4 different cup sizes. These range from the Diavolitto – a highly intense and powerful blend that's designed for a 40ml espresso shot, it rates an 11 out of 11 on the intensity scale, so it's for those who love their coffee super strong – to the Solelio – a fruity and light-bodied blend that's rated a 2 on the intensity scale and is designed for a 230ml mug. There are also flavoured coffee options, including hazelnut, caramel and vanilla, as well as a range of decaffeinated capsules covering all sizes.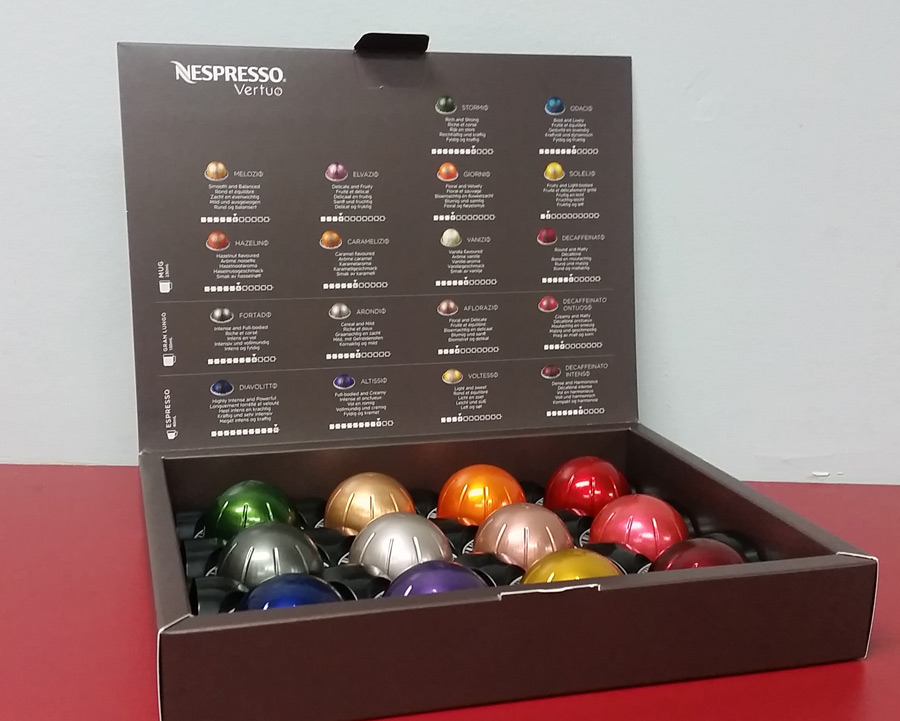 Nespresso are committed to supporting sustainability, both in the way their coffee is sourced and in terms of waste.
Nespresso launched its AAA Sustainable Quality Program in 2003, in collaboration with the Rainforest Alliance. Since then, over 70,000 coffee farmers have joined, and as of 2015 over 80% of their green coffee was sourced through this program.
I was also happy to learn that all of the Vertuo coffee capsules are made from aluminium, which not only guarantees the freshness of the coffee but also makes them recyclable after you've brewed your beverage. Nespresso Club members have access to a recycling service for their used capsules, which involves either posting back to Nespresso using a special Australia Post satchel, returning used capsules to a Nespresso Boutique, visiting a participating collection point or participating in a bulk recycling initiative. You can find a recycling location using this handy tool.
Introducing The Reverso
Unique to the Nespresso Vertuo, the Reverso is a new way of enjoying your coffee with milk. Pour a dash of milk first, extract the coffee on top, then stir to ensure a smooth and luxurious coffee with crema.
What makes it unique? Because the coffee is extracted over the milk, the crema in the espresso is preserved. Then, when the coffee falls on the milk, the crema is infused with a milky taste. Using the Reverso method there is no need to use a large quantity of milk to ensure a creamy and luxurious result.
PREPARATION:
• Pour a dash of milk into cup or mug
• Extract the coffee on top
• Stir to ensure a smooth and luxurious coffee with crema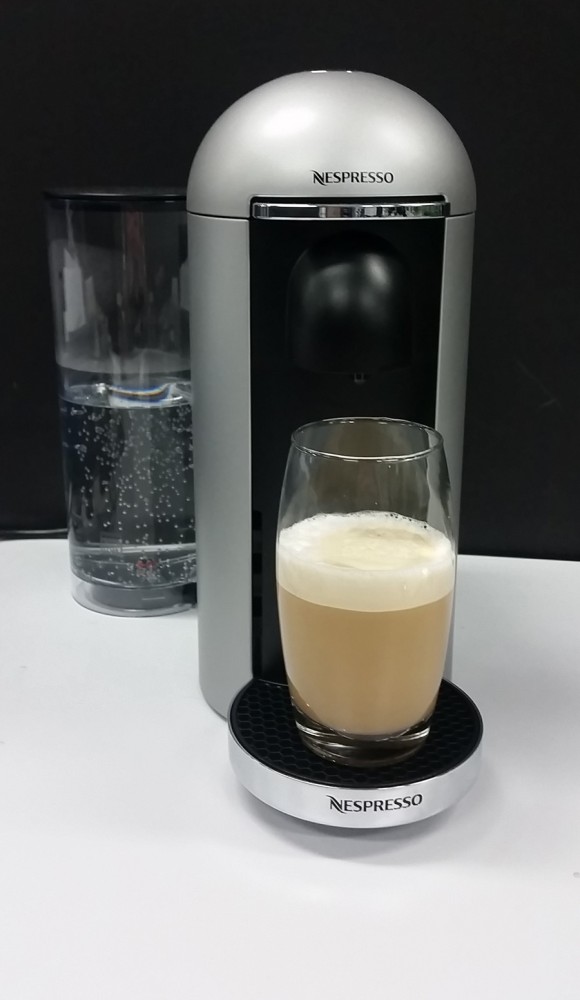 I had a few goes at the Reverso at work, and found that heating a little bit of milk in the microwave for around 30 seconds worked well. What you see in the image above is a Reverso created using a Decaffeinato Ontuoso capsule, which has a creamy and malty blend. The taste? Nice and smooth, just the way I like it, and a perfect treat on a Friday afternoon after a hectic week.
The Team Taste Test
I wasn't going to drink all that coffee myself, so I thought I'd get a few coffee lovers and co-workers to make a selection from the capsule collection and see how they liked it.
My first volunteer was Lisa, who since I've known her has a cappuccino religiously every morning at 9:15.
When I explained how the barcode system works, Lisa was impressed. "That's really cool." Lisa selected a Fortado capsule, which is a Gran Lungo size (150ml) and sits at an 8 on the intensity scale. Described by Nespresso as being an intense and full-bodied blend, the Fortado is made of Indian Robusta and South and Central American Arabica beans.
Lisa's first reaction was surprise at how hot the coffee was, considering how little time it took to prepare.
"It poured out really, really hot – which is how I like my coffee. I wasn't expecting it to be this hot out of the machine, honestly."
But how was the taste? It was a thumbs up from Lisa.  "It's all about the 'coffee taste' itself, really. It has to be smooth."
And smooth it was indeed.
My next volunteer was Olivia, who usually has three coffees a day.
"One in the morning, one in the afternoon, and one after dinner. I've been having three a day since I started working full time, so about four years," she said.
Olivia normally drinks instant coffee, and has used a capsule coffee machine from time to time so was familiar with the technology. Olivia chose a Melozio capsule, a 230ml mug size that has a level-6 intensity with a smooth and balanced taste produced by its blend of quality Brazilian Bourbon and Central American Arabica beans.
The verdict? "It's got that great coffee smell. It's nice, it's creamy and it's hot – I'm very impressed," said Olivia. "I love the crema froth – I can never get that in an instant coffee. It's awesome, so easy and convenient. I'd definitely buy one."
My next willing participant was Mervat, who starts work at 6am and likes a nice cuppa to hit the ground running.
"For now, it's one a day, although some days I'll have two."
Mervat uses a pod machine at home, so she'd be able to give me a good comparison against the Vertuo Plus. Selecting a Voltesso coffee, which is a 40ml espresso sized capsule that's rated a 4 for intensity and is described as light with a distinctly sweet aroma thanks to its South American Arabicas.
Mervat was a fan. "I love it. It's got something in it that makes it creamy, not milk – but something."
Ah, that's the mysterious crema at work.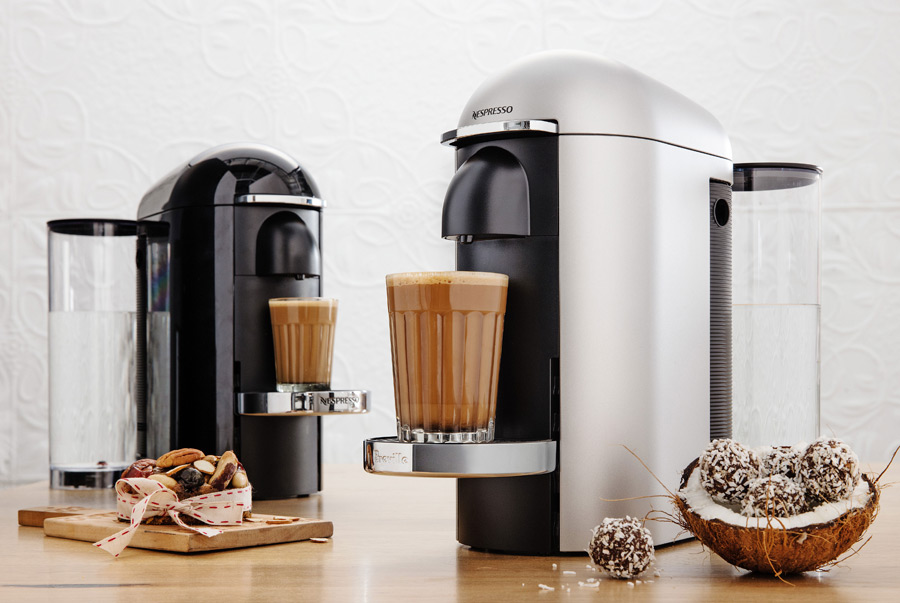 By now you've probably had enough of me extolling the virtues of the VertuoPlus (pun always fully intended), so if you'd like get yourself a Nespresso VertuoPlus you can shop online or call in to your local Harvey Norman store and check it out in person.
*Sources: Nielsen GTC July 2016 – June 2017 MAT, Nespresso July 2016 – June 2017 MAT and Nespresso Omnibus Research November 2015.