Country produce is ripe for the picking at farmers' markets around the country, just like Kurrawong Organics at Eveleigh Farmers' Market. Have a field day with the freshest ingredients and the latest kitchen appliances from Harvey Norman.
Danielle Oppermann, Editor of ABC delicious. Magazine
"More and more Australians are discovering that a visit to their local farmers'  market is not only a fun activity for the family, but a way to support Australian-grown, connect with passionate producers and discover top-quality produce you won't find at the mall. The number of farmers' markets in Australia has doubled over the past eight years, and 25% of food shoppers now say they like to visit a market weekly for their fresh produce. As sponsors of the Outstanding Farmers' Market category in the ABC delicious. Produce Awards, we'd like to thank Harvey Norman for helping us to unearth the best around the country", said Danielle Oppermann, editor of ABC delicious. Magazine.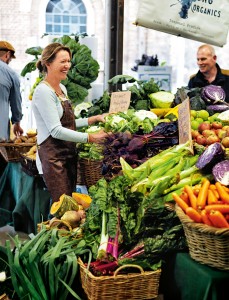 Getting Fresh – Kurrawong Organics @ Eveleigh Farmers' Market
The old Blacksmith's Workshop at Eveleigh in Redfern bursts into life every Saturday morning as more than 70 regional producers come to Sydney, bringing with them a bounty of fresh seasonal produce for the Eveleigh Farmers' Market. Among those working the market in the heritage building is Lesley Bland, whose Kurrawong Organics stall does a roaring trade. It brims over with leafy produce harvested from the fields outside Lithgow – land farmed by three generations of the Bland family. Certified organic, Kurrawong Organics specialises in brassica vegetables — such as broccoli, brussel sprouts, cabbage and cauliflower — and introduces urbane Sydneysiders to the joys of healthy organic produce.
Kitchen Classics – True Colours
Natural, earthy hues reflect your favourite produce, bought fresh from the market – "food colouring" takes on a subtle new meaning. A chic array of retro-style appliances in understated colours — like the DeLonghi Vintage Icona 4 Slice Toaster and DeLonghi Vintage Icona Kettle — makes for classic kitchen style. Complement these earthy tones with other vintage-style kitchen tools. Grow your kitchen with Harvey Norman.