Country produce is ripe for the picking at farmers' markets around the country, just like Byron Bay Pork at Byron Farmers' Market. Have a field day with the freshest ingredients and the latest kitchen appliances from Harvey Norman.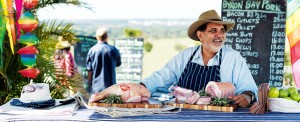 Happy And Healthy – Byron Bay Pork @ Byron Farmers' Market
Markets don't get much more vibrant than at Byron Bay, and with his colourful personality, John Singh fits right in. Singh's family have been farming pigs in the Byron hills for nearly 40 years and he's passionate about his produce, selling to such prestigious customers as The Byron at Byron Resort & Spa. A browse of his stand at the weekly Thursday markets reveals free-range plus hormone- and antibiotic-free goat, lamb, bacon, ham and pork goods, pas well as another speciality – meat and vegetable curries.
Danielle Oppermann, Editor of ABC delicious. Magazine
"More and more Australians are discovering that a visit to their local farmers'  market is not only a fun activity for the family, but a way to support Australian-grown, connect with passionate producers and discover top-quality produce you won't find at the mall. The number of farmers' markets in Australia has doubled over the past eight years, and 25% of food shoppers now say they like to visit a market weekly for their fresh produce. As sponsors of the Outstanding Farmers' Market category in the ABC delicious. Produce Awards, we'd like to thank Harvey Norman for helping us to unearth the best around the country".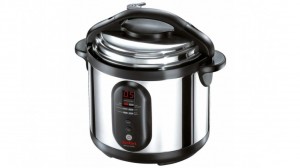 Benchmark Performers
Take it fast, make it slow. Whether you're looking to whip up a flash stew in 15 minutes or leave a soup simmering away for hours, there's a perfect cooking pot — just like the Tefal 6L 'Minut' Electric Pressure Cooker — for your kitchen bench. Can't decide between a fast or slow cooker? Some of the latest twin-speed cookers give you the option for both. Grow your kitchen with Harvey Norman.