Country produce is ripe for the picking at farmers' markets around the country, just like Highland Gourmet Potatoes at Eveleigh Farmers' Market. Have a field day with the freshest ingredients and the latest kitchen appliances from Harvey Norman.
Earthy Character – Highland Gourmet Potatoes @ Eveleigh Farmers' Market
When the alarm goes off at 3am every Saturday, Norman Gair and Robyn Jackson have their work cut out – 750kg of gourmet potatoes to be loaded up at their farm at Wildes Meadow in the NSW Southern Highlands and trucked to the morning market at Eveleigh in Sydney. But for the pair, who supply top Sydney restaurants and last season grew 39 different varieties of potatoes – all for sale at farmers' markets, not supermarkets – there's a great reward for this rude awakening: "It's the enthusiastic customers," says Jackson. "They're wonderful. They come back and give us feedback about the different varieties, tell us how they cook them, even do a little dance to welcome us back… it's so gratifying."
Danielle Oppermann, Editor of ABC delicious. Magazine
"More and more Australians are discovering that a visit to their local farmers'  market is not only a fun activity for the family, but a way to support Australian-grown, connect with passionate producers and discover top-quality produce you won't find at the mall. The number of farmers' markets in Australia has doubled over the past eight years, and 25% of food shoppers now say they like to visit a market weekly for their fresh produce. As sponsors of the Outstanding Farmers' Market category in the ABC delicious. Produce Awards, we'd like to thank Harvey Norman for helping us to unearth the best around the country".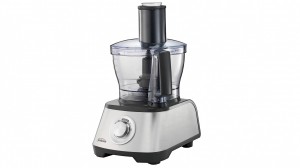 All Part Of The Process
While many hands make light work, many attachments make it even easier. Time-consuming slicing and dicing can be a thing of the past with a food processor — like the Sunbeam MultiProcessor Compact Food Processor — from Harvey Norman. Cooking for one or one hundred, these processors get the prep work done in a fraction of the time. Grow your kitchen with appliances from Harvey Norman.