I had arrived at Samsung Headquarters on a mission. I'd been sent by Harvey Norman to find out all I could about a revolutionary new fridge; the Samsung Family Hub.
About to be exclusively available in Australia at Harvey Norman, I'd been hearing rumours for months about this fridge that could do things that no other fridge could do. Now here I was, moments away from finally experiencing it. I was excited. I just had to find the Samsung tech guru who was going to tell me all about it.
I left the resplendent lobby and its Super Ultra High Definition screens that lined the walls and headed into the belly of the building. Hallway after hallway I walked, with each passageway seemingly becoming a bit more narrow than the last. Finally I stumbled upon a non-descript door. I opened the door and entered a room. There it was in all its glory; the Samsung Family Hub.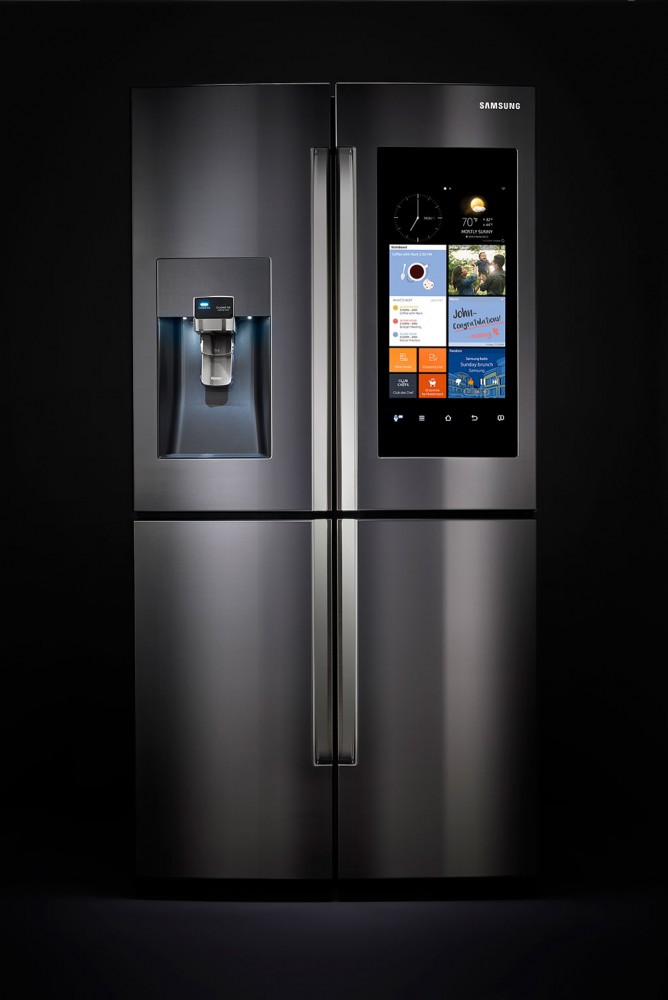 Greetings From the Samsung Family Hub
I looked at the four-door Family Hub and felt compelled to walk towards it. This was a fridge with an immediate charisma. Its sleek layered black steel design exuded style, while the huge 21.5" LCD touchscreen on the right-hand side promised excitement. It wasn't like any fridge I'd seen before.
As I approached it, the Family Hub sensed my presence and the touchscreen came to life. Accompanying the screen was a voice emanating from the Family Hub's built-in speakers. The fridge was talking to me and it was telling me about the current weather outside!
As I later found out, the Family Hub has a Morning Brief feature that can either be set to come on at a certain time or when it senses your presence for the first time in the morning, providing you with information such as the weather to get you prepared for the day ahead.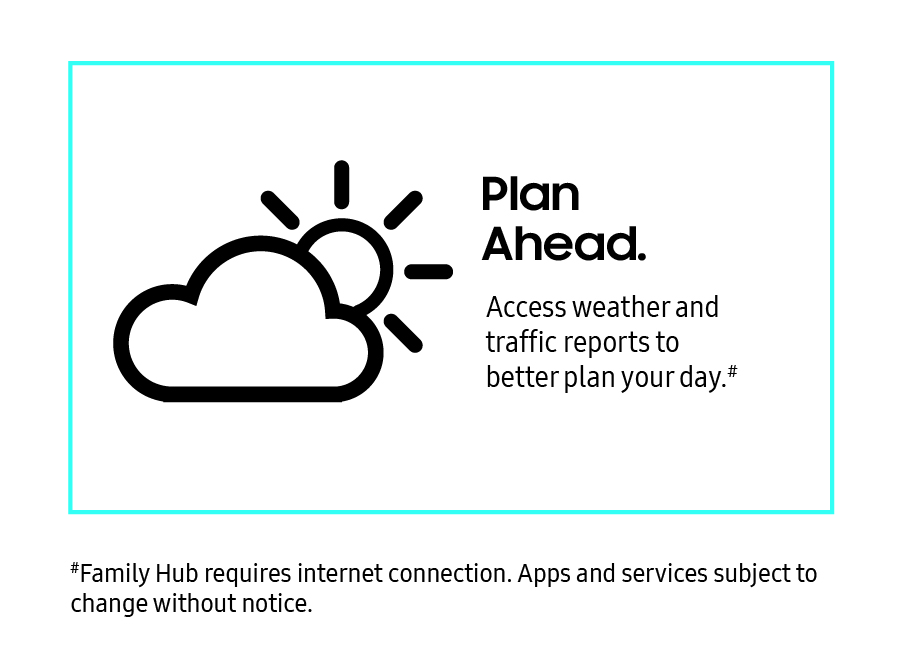 As the Family Hub's Morning Brief finished, another voice piped up. This time it wasn't coming from the fridge.
"I see the Hub's already introduced itself to you."
The voice belonged to a gentleman who had entered the room behind me. This wasn't any regular gentleman though; this was the Samsung technology guru who was here to show me everything I needed to know about the Family Hub.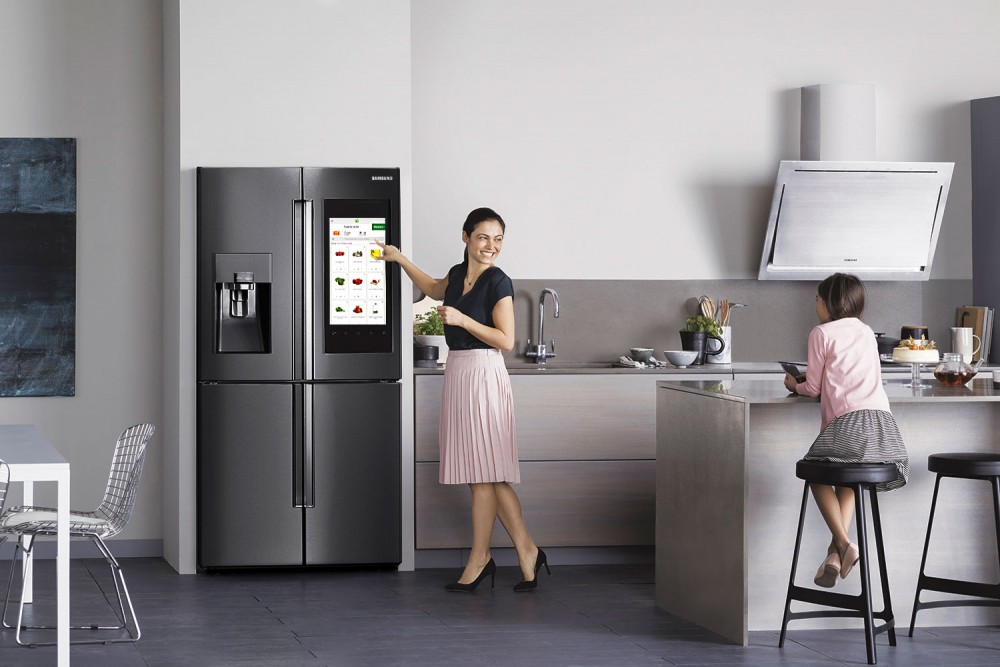 The Songs of the Fridge
"If we're going to explore this fridge then let's do it right. Let's do it with music!", smiled the guru. "Whatever song you want, the Family Hub will play."
Indeed, my music choices were limitless. Featuring built-in Wi-Fi and a built-in web browser, I could easily head to a video streaming site to scope out my favourite tunes. Alternatively, and perhaps even more conveniently, I could also access the Pandora music app, a proud staple of the Hub that allows you to create personalised radio stations.
With the history of music available to me, I began feeling the pressure. I didn't want to let the guru down by DJing a song he didn't like. "You choose", I told him.
The guru didn't hesitate. He opened up yet another app; Tune-In Radio. Live streaming 100,000+ radio stations from around the world and featuring on demand content, the guru had opened up Tune-In Radio with one purpose; to stream a station called Chilltrax.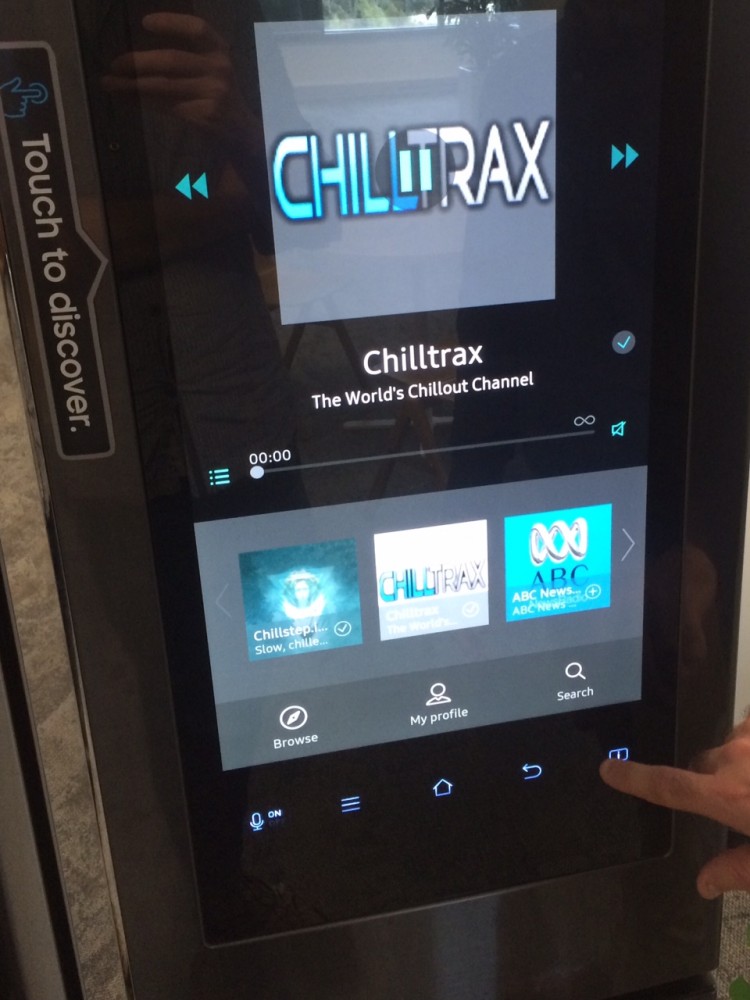 Trust a Zen guru to choose chillout music! Well, at least I think he chose it because he was Zen, and not because he was trying to make a musical pun about the chilly conditions inside the Samsung Family Hub.
Whatever the reason for his choice, I was digging the clarity of the chillout vibes pumping out of the fridge's 4W speaker. The guru then decided to take things to the next level. He pressed a couple of buttons on the Family Hub's 21.5" touchscreen and suddenly the music was now blasting out of a set of compatible Samsung Bluetooth speakers located on the other side of the room.
I loved this! If I was at home listening to Chilltrax, a podcast or anything else, I wouldn't have to pause it to step outside the kitchen. I'd just have to use the Bluetooth function with my compatible speakers and suddenly the audio would be following me around the house.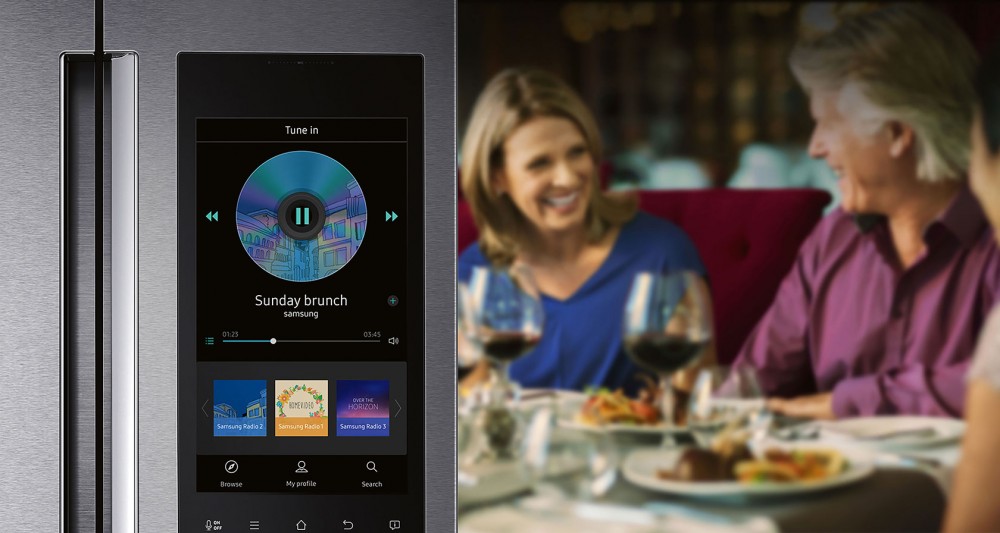 A Fridge That Teaches You How to Cook
As the music played, the guru explained to me that the Hub would not only hold my food, it would also tell me how to cook it with multiple built-in recipe apps such as Club Des Chef. With each app featuring an utterly enormous array of recipes, the guru promised I'd find something to suit any occasion no matter what ingredients I had in the fridge. Being the epitome of someone that desperately needs to expand my gastronomic horizons beyond the two dishes in my repertoire, I guarantee you that with the Hub's large easy-to-use touchscreen I'd be taking complete advantage of the innumerable recipes on offer. Culinary boredom would never be a problem!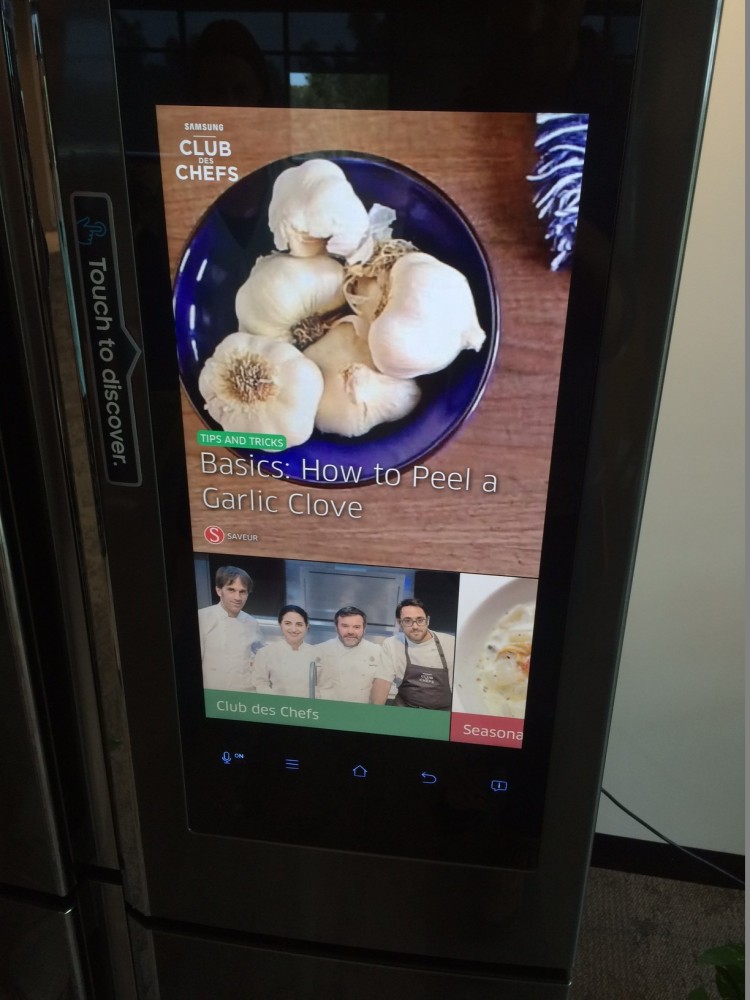 The guru urged me to choose one of the recipe apps for him to open up. Hmm, which one? Call me a sucker for a good old fashioned advertising jingle, but I couldn't go past the Woolworths App – "Woolworth's The Fresh Food People" gets me every time!
The guru opened it up and I began scrolling through the categories. Breakfast, dinner, Asian, Italian, Mexican – and that's just a tiny sample. Though, of course, despite there being over 30 categories in total, I ended up selecting Dessert. Apple & Spice Pudding, Berry Cannoli, Choc Mousse Pavlova – my brain couldn't comprehend how many easy-to-follow, drool-worthy recipes there were. I just wanted to get cooking right there and then.
With my stomach taking control of the rest of my body, I opened up the Family Hub's doors. A look of horror appeared on my face – there was no food inside! It was so luxurious and roomy inside the 671L fridge, so why hadn't the guru stocked up?!
The guru laughed. "I didn't think you'd have time to eat today! But if you want we can easily just order food from Woolworths."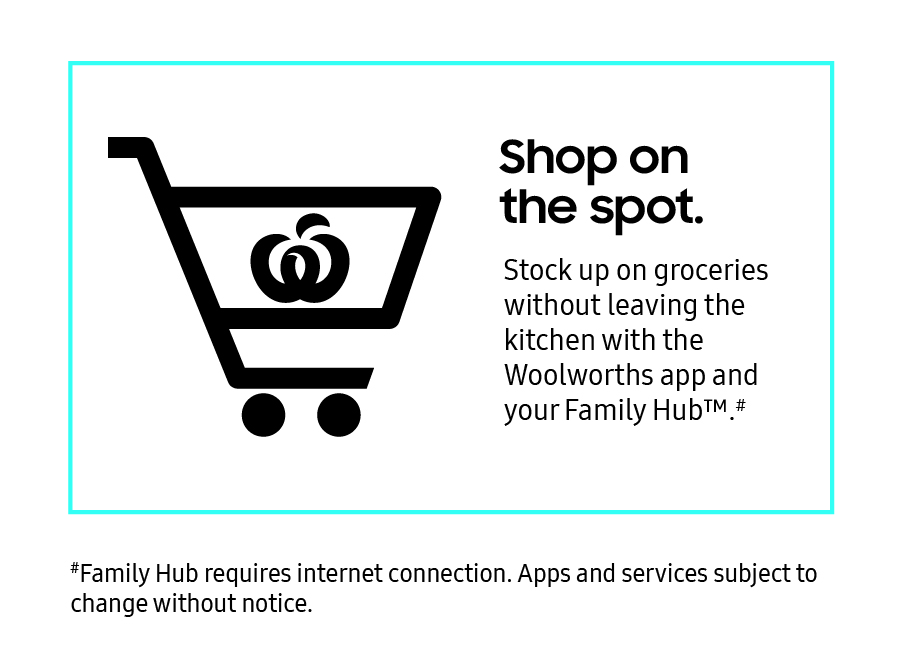 Shop From the Comfort of Your Fridge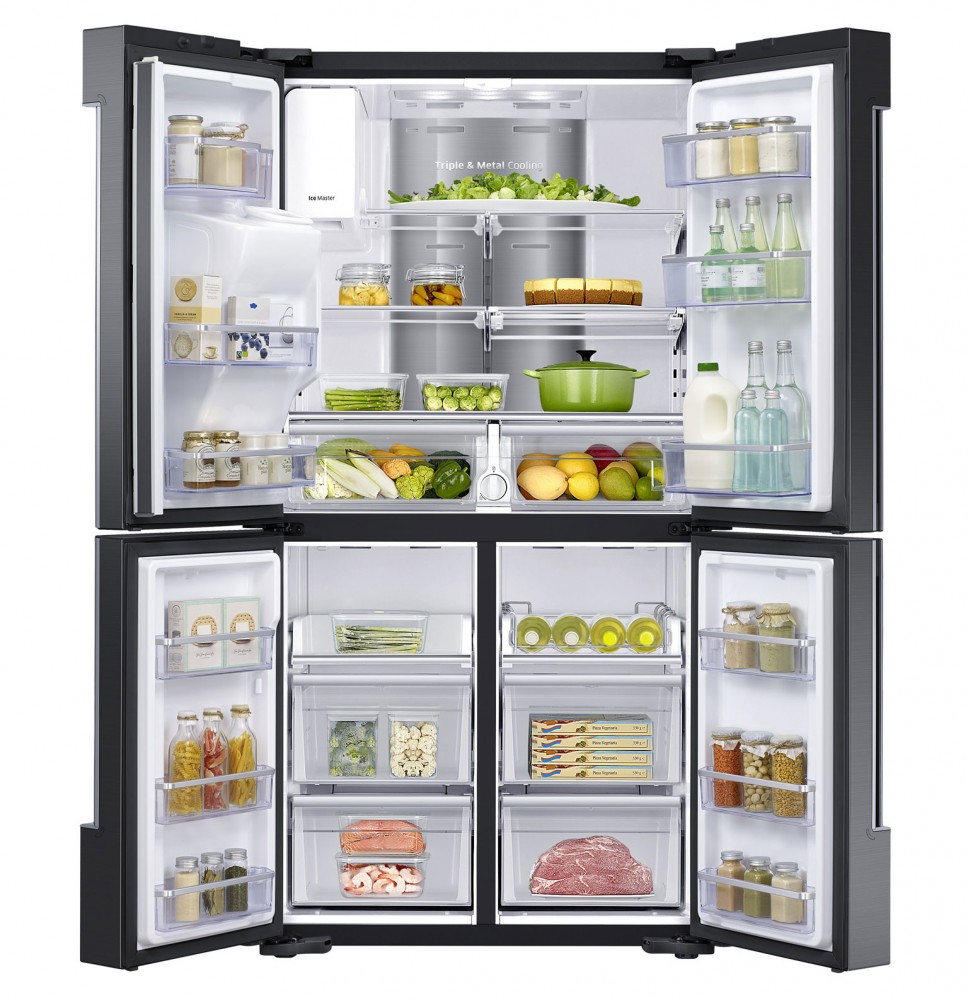 See, the amazing thing about the Woolworths App is that not only does it have bazillions of recipes, but it also lets you do your grocery shopping right from your fridge. Whatever you and your family want, just select it on the touchscreen, chuck in your details and wait for it to arrive at your front door. Life doesn't get more simple than that.
In fact, if you don't have a particular item on hand while viewing a recipe, you can just select the item from the recipe itself and add it to the cart. And considering we didn't have any of the ingredients on hand for Honey & Vanilla Poached Pears, I selected them all.
See What's in Your Fridge From Anywhere in the World
"It's actually a bit silly of me not to have anything in there at the moment, because this next thing I want to show you is all about what's inside the Hub."
I was intrigued.
The guru opened a door and placed in the fridge the only two items at his disposal: a bottle of water and a stapler. Probably the ingredients he saw for a recipe on Masterchef, I thought.
"Check this out," said the Samsung guru as he handed me his phone.
Whoa! On his phone was an image of the current internal contents of the fridge: the bottle of water and, of course, the stapler.
To me, there's nothing more awesome than the idea of being able to see exactly what's in my fridge wherever I am in the world! The Samsung Family Hub features three cameras built in to the top left door, so every time the door shuts a photo is taken of the contents of the fridge. This photo is then uploaded to the Samsung Smart Home App which you can access on your phone.
"This would change my life!" I exclaimed to the guru.
By that I meant that any time I was out and about I could just check my phone to make sure there was enough milk, eggs or staplers in the fridge. No longer would I ever arrive home hungry to an empty fridge – that's definitely life changing!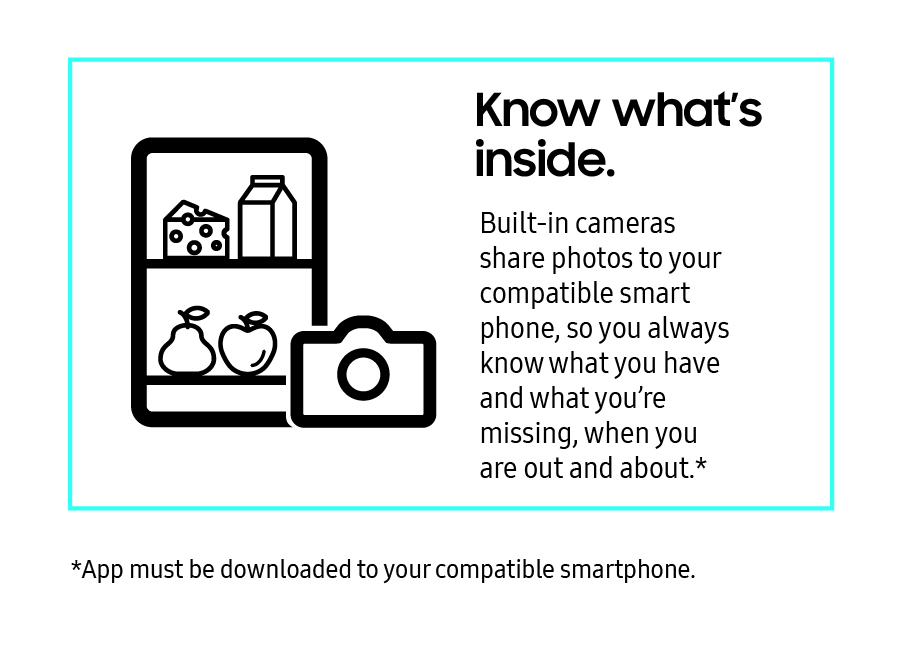 Another cool trick that the internal cameras allow you to do is in regards to the Food Reminder app. With the photo of the Family Hub's contents, you can label each item's expiration date so that you'll always know when it's time to discard and replace an item.
Family Hub – Calendar, Photos, Notes
It was time for the guru to get philosophical. "How do you think this fridge got its name?" he asked.
"Uh, because it's a hub for the family?"
The guru chuckled, "Exactly!"
Fridges have traditionally been a space to share important info amongst the family; whether it's a wedding invite stuck on with a tacky Big Pineapple magnet or a reminder written in magnetic Scrabble letters about Fluffy the cat's upcoming veterinary check-up.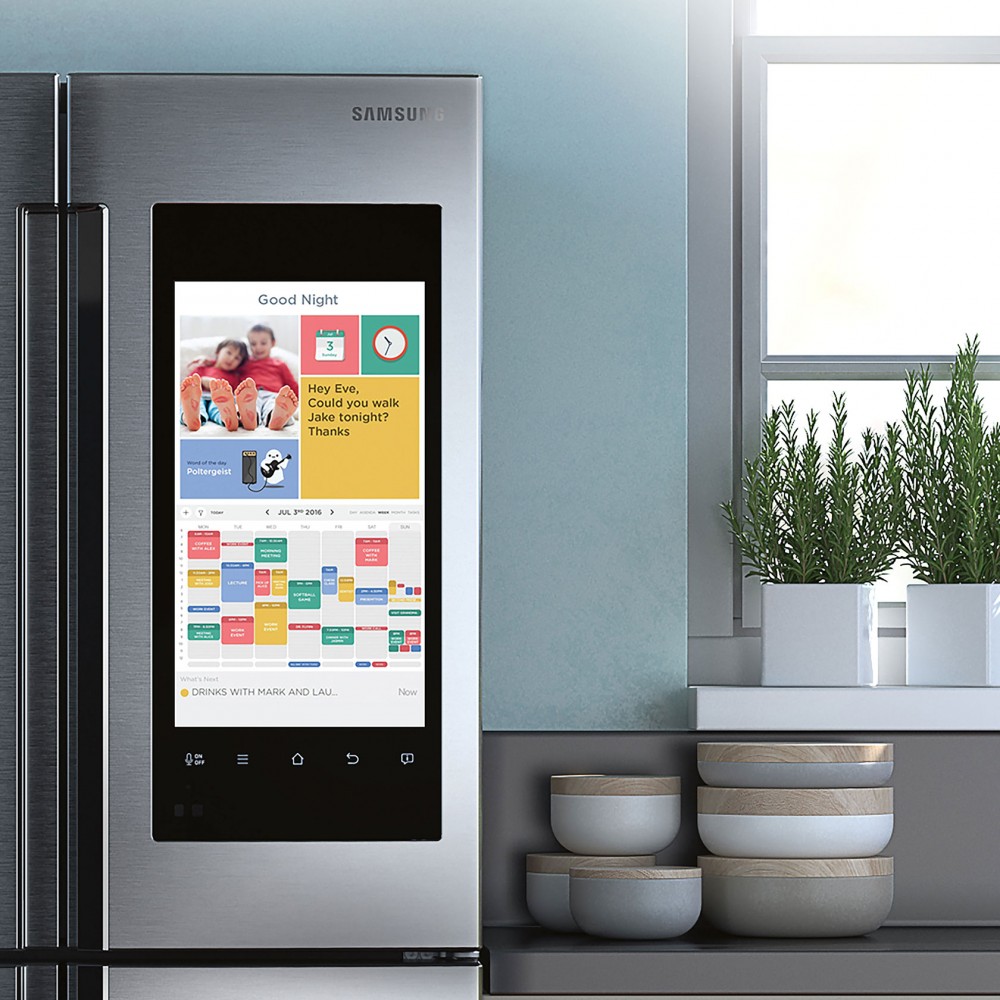 The Samsung Family Hub has taken this notion and brought it into the digital age. Instead of flooding the fridge door with illegible post-it notes, the Family Hub wirelessly syncs up the entire family's individual Google and Outlook calendars onto StickiBoard, an easy-to-view cohesive family calendar that makes sure that everyone knows exactly what's going on. Never again will you accidently book Fluffy's vet appointment on your wedding anniversary!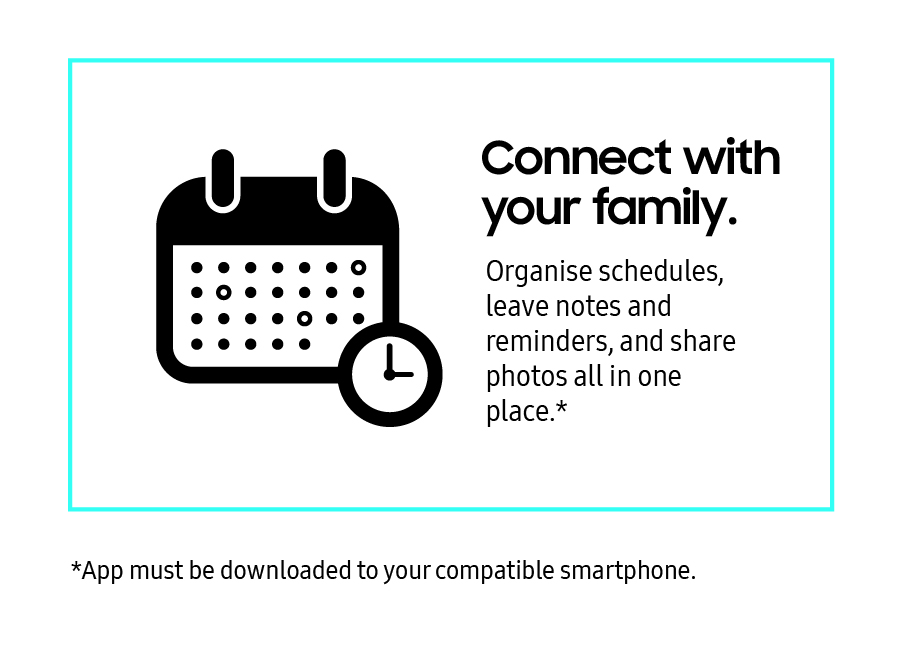 Another cool family feature that the guru showed me was the Hub's photo album. You can upload photos onto the Hub via USB or wirelessly from your phone or tablet with the Samsung Smart Home App. This means the whole family can share and enjoy each other's snaps. There's even the ability to set photos as the Hub's screensaver.
However, if you can't be bothered uploading a photo, you can always just use the Hub's White Board app. The White Board app lets you create your own drawings, use clip art or write notes that you can also set as a screensaver for the whole family to see.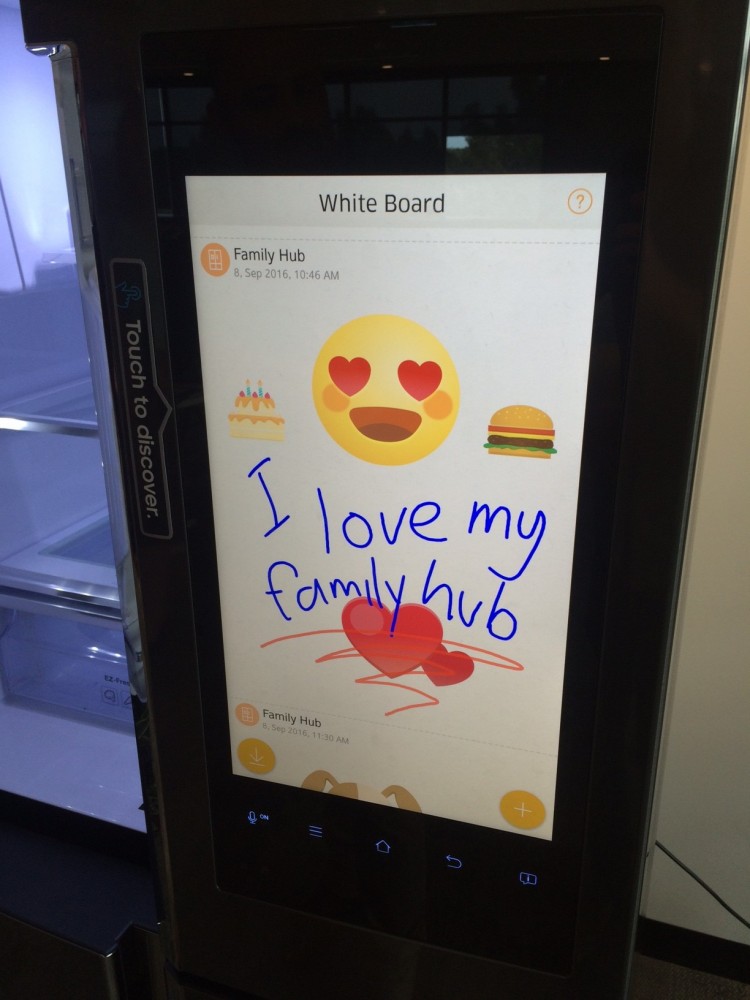 On top of all this, if you feel you need to add further emphasis to a reminder you've made on the White Board app or just want to have a bit more fun with an imaginative creation, you can add a voice message. Sing, yell, laugh, be romantic or try out a new accent – I did all of the above. It's the most fun you'll ever have talking to a fridge.
Samsung Family Hub – A Top-Notch Fridge
"Sorry," apologised the guru. "I've spent all this time showing you all these extra features, but we haven't even had a look at the core fridge functions yet!"
To be honest, the extra features and apps had all been so much fun that I hadn't even given much thought to the Family Hub's core functions – beyond wanting food! The guru was right though, if you're going to invest in a fridge you want to make sure it's at the top of its game when it comes to the basics. And, from what the guru showed me, the Family Hub is indeed an industry leader.
The Samsung Family Hub uses a Triple Cooling System that features three evaporators, allowing for precise temperature and humidity control, making sure food is able to stay fresher for a longer period of time.
You can adjust the fridge and freezer temperatures by using the Fridge Manager app on the LCD screen. In fact, while the top two doors are dedicated fridge spaces and the bottom left is a dedicated freezer, you can actually choose whether you want the bottom right door to be a fridge or freezer with the touch of a button. Known as the FlexZone, this versatile space offers five customisable temperatures. This means you can set it as your dedicated wine cooler, deli section, fresh produce compartment or simply use it as a freezer or fridge.
The Ice and Water dispensers are also wonderful features, ensuring that beyond all the high tech wizardry, when it comes down to it this is a top-notch fridge.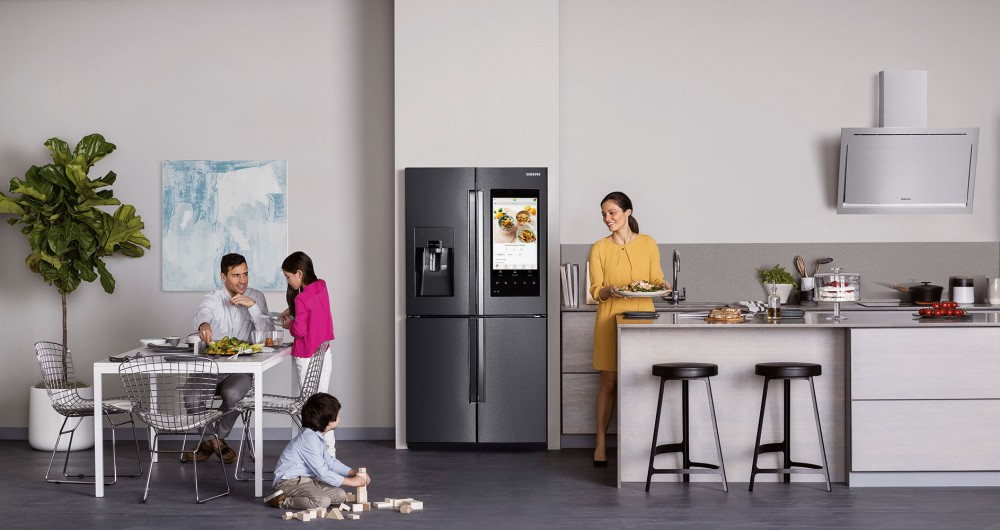 How Much Entertainment Can One Fridge Provide?
I've tried my best to recount everything the guru showed me in a short, concise manner – however, I've failed! It's just simply been impossible to fit everything in given how many amazing features the Samsung Family Hub contains. So, here's just three of the other awesome things on offer:
You can stream TV content to your Hub from a compatible Samsung Smart television using the TV mirroring feature. If your favourite show's just started but you need to get dinner ready or the football's kicked off just as the kids are demanding a bite to eat, then fear not. Simply sync up your compatible Samsung Smart TV to the Hub and, voila, you can watch it all as you get cracking in the kitchen.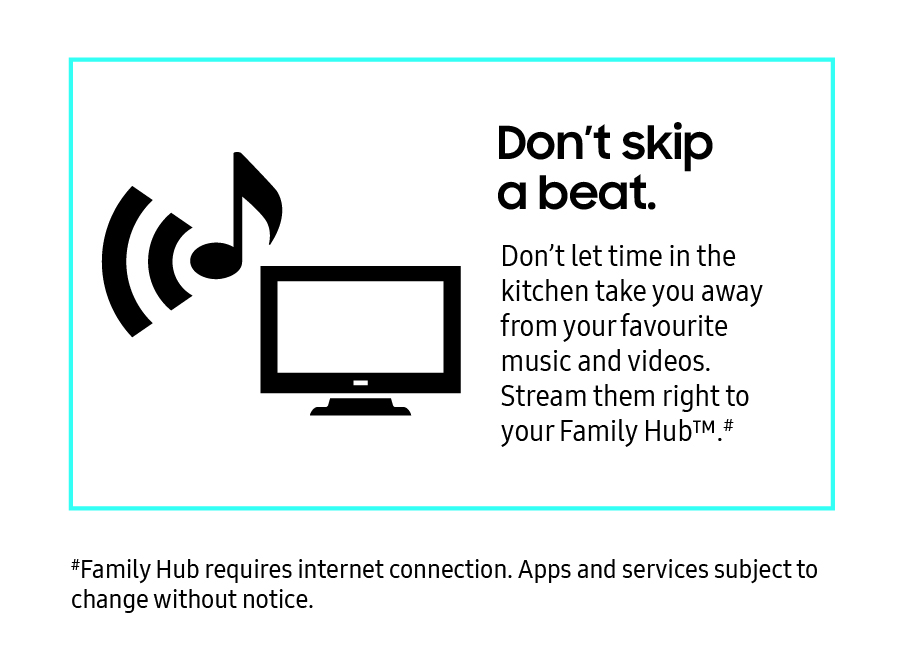 I know the internet browsing abilities of the Hub have already been alluded to, but I need to reiterate it. You can read news and look at traffic reports while you get breakfast, making sure you know exactly which routes to avoid on your way to work. You'll also want to check your email and get on social media – nothing beats having easy access to your fridge when looking at the latest foodie photos. Feel free to also entertain yourself by watching video streaming sites – you can watch some cooking demonstration videos for culinary inspiration!
Set a timer on the Hub that will beep to alert you when the countdown is complete. This is a terrific little feature for when you have a busy day planned in the kitchen and have all four burners running at once, all which require different cooking times.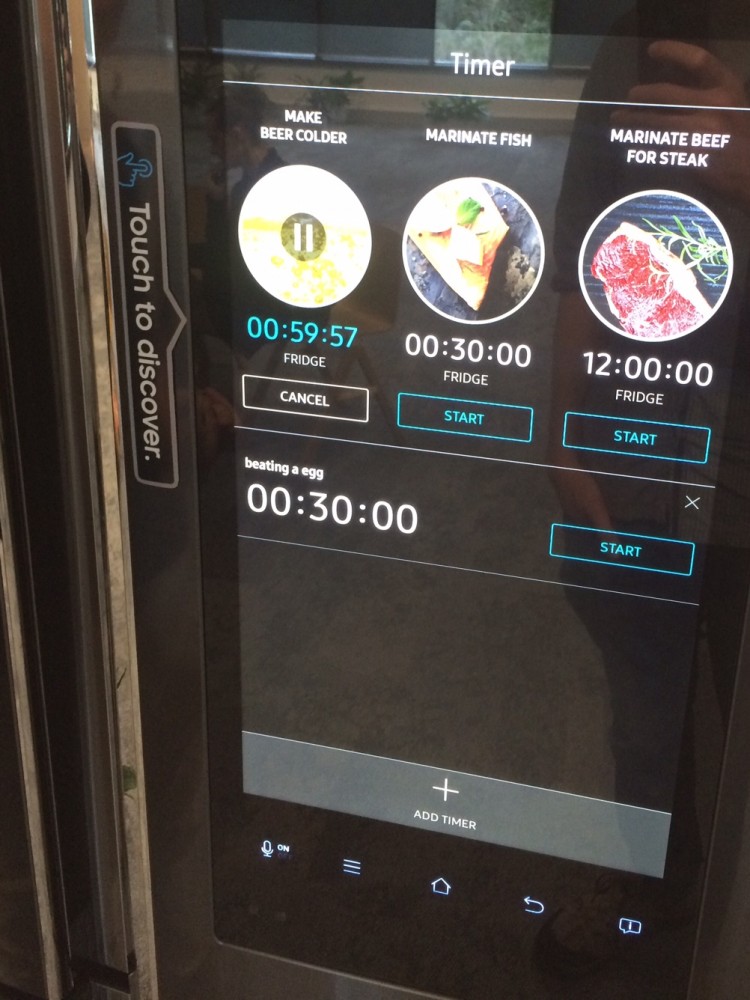 Harvey Norman: Proud to be Australia's Exclusive Retailer of the Family Hub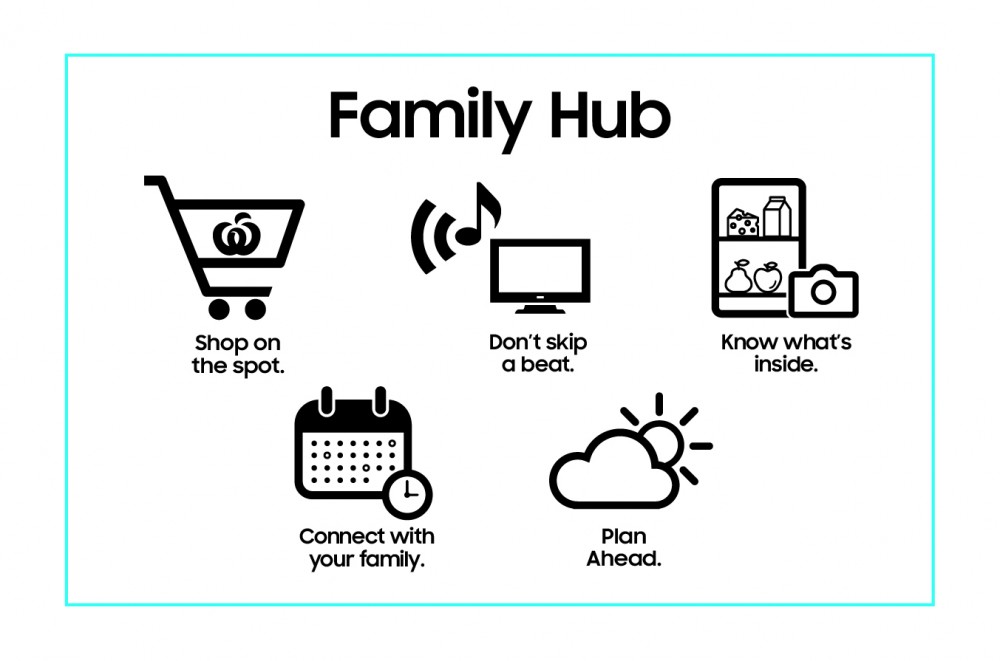 To say I enjoyed my time playing with the Samsung Family Hub at Samsung Headquarters would be a severe understatement. Thanks to the guru, I felt my mission was a resounding success.  This was without a doubt the most fun I've ever had with a fridge! I had nothing but positive things to report back to everyone at Harvey Norman.
The great news is that you can share my experience. While I had to go to Samsung's Headquarters, you just have to pop in to Harvey Norman, the proud exclusive Australian retailers of the Family Hub. Call ahead to make sure your local store has the Family Hub in store or to find out which other stores near you have it in stock. Harvey Norman's very own tech gurus will show you the ins and outs of this revolutionary appliance so you can discover how it can change your life too.
Of course you can also speak to Harvey Norman's gurus online or you can purchase and read more about the Family Hub here.