"I'm obsessed with my NutriBullet. That's one invention they're never going to be able to improve on!"
My friends and I were in total agreement for possibly the first time ever. On this particular sunny afternoon, we stood united in our love for the NutriBullet; that wonderful little nutrition extractor.
Looking back though, it seems I may have been a little too quick off the mark about one thing. See, it turns out that the geniuses at NutriBullet HQ have not only found a way to improve on their original invention, but they've done so by completely re-thinking what a small appliance is capable of. Enter the NutriBullet Balance.
This past week Harvey Norman gave me the chance to road test this amazing gadget – much to the envy of my green-eyed friends – and as I found out, the term 'smart appliance' is an understatement. Throw your recipe books and measuring cups out the window, because the NutriBullet Balance and its app are all you need.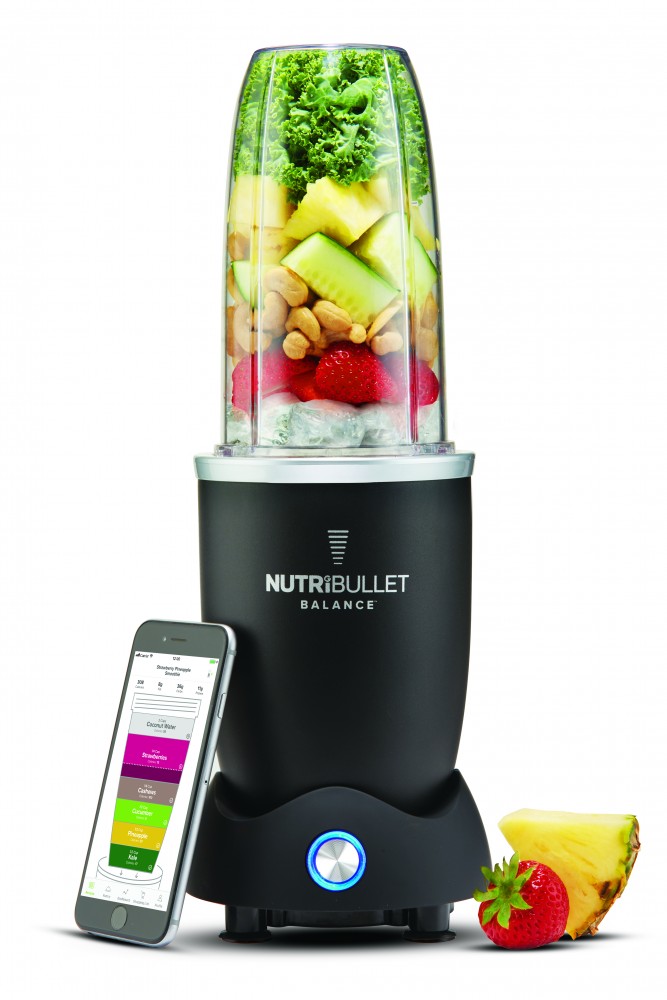 What We Love About NutriBullet
Yes, the NutriBullet Balance is very smart indeed. But before we look at the way it's revolutionising the game, it's worth asking exactly what it is that we all love about the NutriBullet in the first place:
Personally, I think it's the following:
> It's such an easy way to create a delicious juice, smoothie, dip or even soup that incorporates your daily fruit and veggie needs. All you've got to do is pop in the ingredients, press a button and you're ready to rock.
> It's perfect for life on the go. Not only is it so quick and easy to use, but the NutriBullet's famous flip-top lid means you can take your beverage anywhere with you, be it the gym, work or the kids' school concert!
> It's really easy to clean. A quick rinse with soap and water does the trick on the blade. As for the cup, you can just chuck it in the dishwasher if you want.
> It's not a regular blender – it's a nutrient extractor. What exactly does that mean? Well, the exclusive Bullet cyclonic action, specialised blades and powerful motor all work to break down the cell walls of fibrous plants, which releases the all-important vitamins and minerals within them.
> What's more with the Bullet cyclonic action is that everything comes out super smooth. I mean really, really super smooth. And of course that means there's a smooth smoothie pun hidden in there somewhere.
NutriBullet Balance – Blending Just Got Smarter
By retaining those features alone the NutriBullet Balance was already destined to be a winner. By combining those cornerstones with some cutting-edge smart technology, well it puts the NutriBullet Balance into a whole new league.
Let's have a look what the NutriBullet Balance can do:
> Lying at the heart of this brilliant gadget is the Balance app. With the app set up on your phone or tablet, you can sync it to your NutriBullet Balance via Bluetooth. And that's where the real fun begins.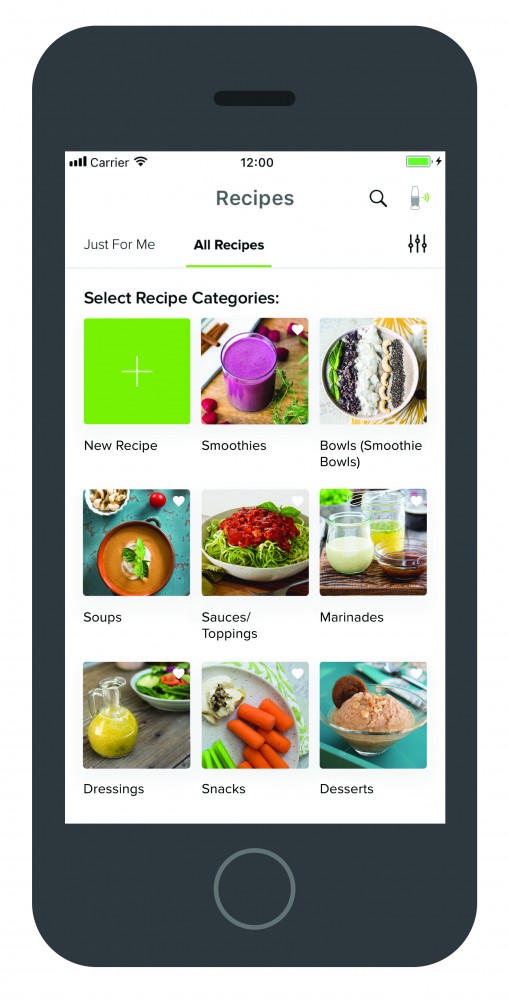 > Firstly, the app lets you browse hundreds of NutriBullet recipes designed by dieticians, focusing on health and flavour.  Be it beverages, dips or soups, the recipes can be sorted by category or health needs. If you're a vegetarian, lactose-intolerant, gluten-free or have other ingredients you need to avoid, recipes can be filtered to your specific requirements.
> The app also allows you to browse recipes based solely on the ingredients you have in your cupboard at the present moment. By updating your panty feature, the Balance app can tell you exactly what you can make without having to run down to the shops.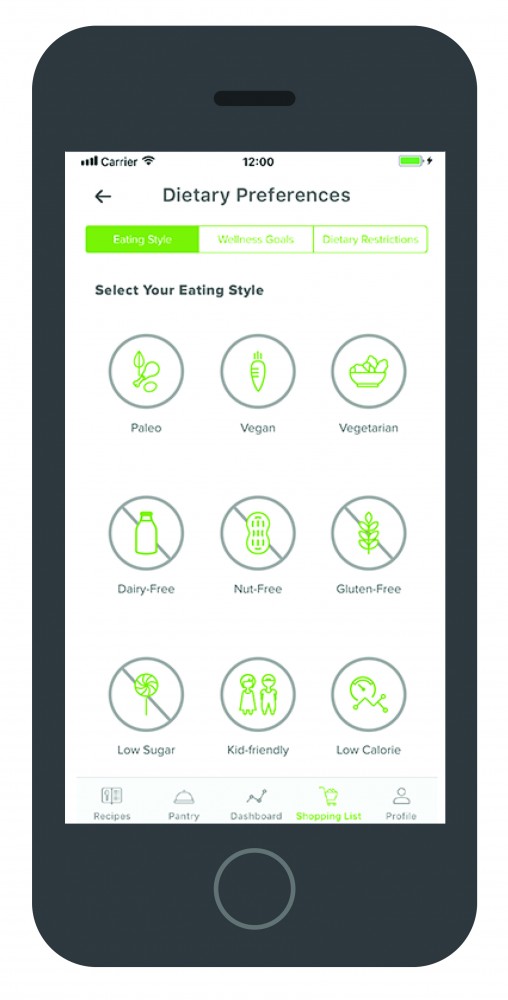 > After choosing your recipe, your app will tell you in real-time what ingredients to put in your NutriBullet Balance. In fact, it will tell you exactly how much more of a particular ingredient you need to put in (or if you've thrown in too much) before moving on to the next one. That means your recipe will always turn out just as it should. But how does it know, you ask. It's all got to do with the NutriBullet Balance's smart scales. The smart scales measure precisely what is being added to the cup, and then instantaneously sends that info to your app to let you know what still needs to be done.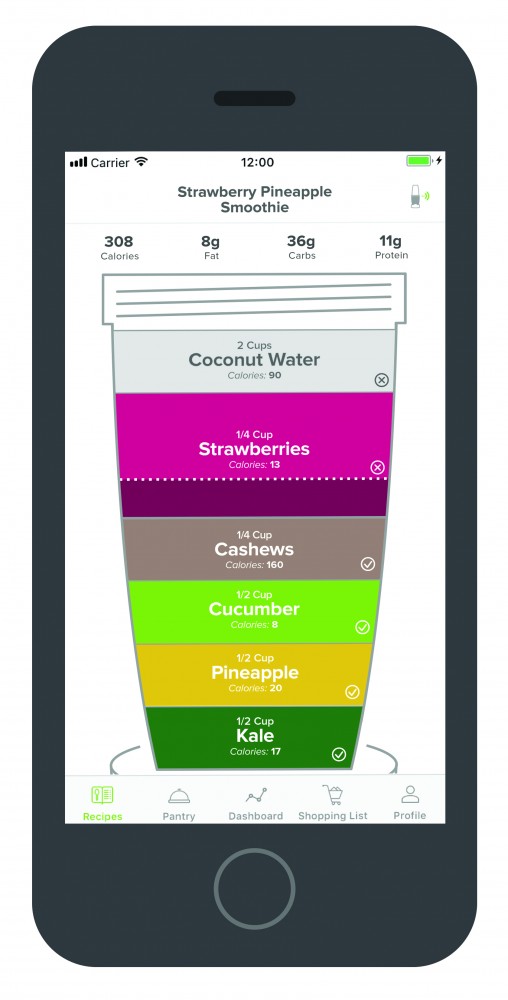 > Another cool thing about the NutriBullet Balance's ability to track ingredients as they're being added is that it can give you live nutritional data as you add ingredients. This means you can track important info, including:
Calories • Fat • Carbs • Protein • Sugar
This is perfect for keeping things healthy, especially when you're straying from a recipe or even creating your own (you can design and save your own recipe in the app!). Having the ability to see exactly what you're adding is enormously beneficial.
Usually when I make smoothies I go free-wheeling on ingredients such as milk, but with the app's ability to show me the fats and sugars shooting-up in real-time, I'm able to pull back just as I've reached what I think is an acceptable amount.
> The 9-piece NutriBullet Balance features  the smart and powerful  1200 watt base as well as a range of essential Nutribullet accessories, including: 2 colossal cups (the most popular NutriBullet cup!), 2 comfort lip rings, 2-flip-top lids, 1 stainless steel precision extractor blade capable of 'Cyclonic Action Nutrient Extraction', and a user guide full of helpful tips. Did I mention I reckon this is the best NutriBullet?!
In my mind, I think this totally redefines what's possible in the kitchen. Just the sheer thought of not having to flip through recipe books or manually measure out every ingredient energises me. Having everything at the ready with just my phone and an appliance that now sits in a prominent place on my bench (I should say stuck on my bench thanks to its awesome suction caps!), has seriously made spending time in the kitchen an absolute joy. And I'm not exaggerating when I say that – since getting the NutriBullet Balance I've been using it literally a minimum of three times a day. I've been making everything from 2-ingredient pancake batter to delicious cauliflower soup. Oh, and of course I've been making a ton of NutriBullet smoothies, which brings me to:
My First NutriBullet Balance Creation: Kiwi Coconut Detox
I think a natural question to ask yourself when you get your hands on the NutriBullet Balance is what's the first thing you should make?
As I scrolled through the recipes on my Balance app, so many delicious options stood out.
There was the delightful looking 'Blueberry Spinach Oat Power' smoothie. The undoubtedly invigorating 'Cold Brew Energy Boost'. And the oh-so-intriguing 'Almond Butter Broccoli Alliance'.
But in the end I decided to go with the option that made the most sense: asking my Balance app to show me recipes based on what was currently in my pantry! And that's how I came across the Kiwi Coconut Detox.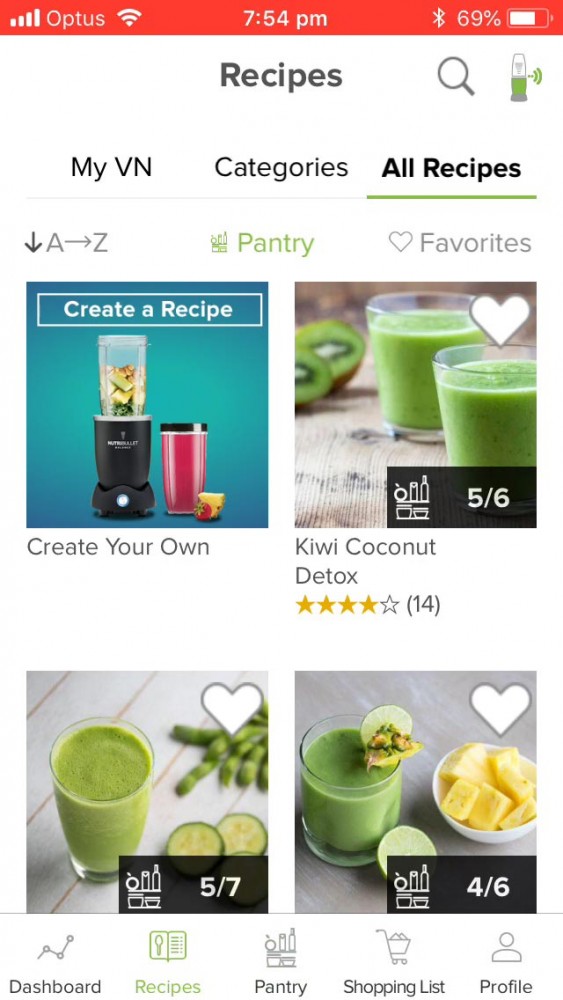 Upon clicking on the recipe, I was provided a list of ingredients as well as nutritional information – as you are with all recipes on the app.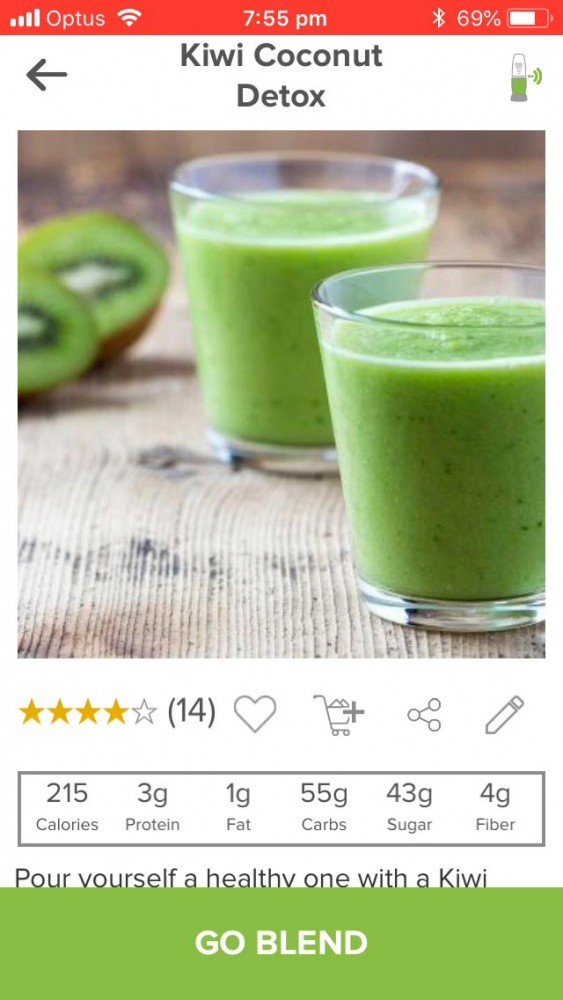 After having a quick read through and deciding that this was most definitely for me, I pressed 'GO BLEND'. The app then prompted me to place the Balance Cup on the appliance's base – that's where the smart scales are located.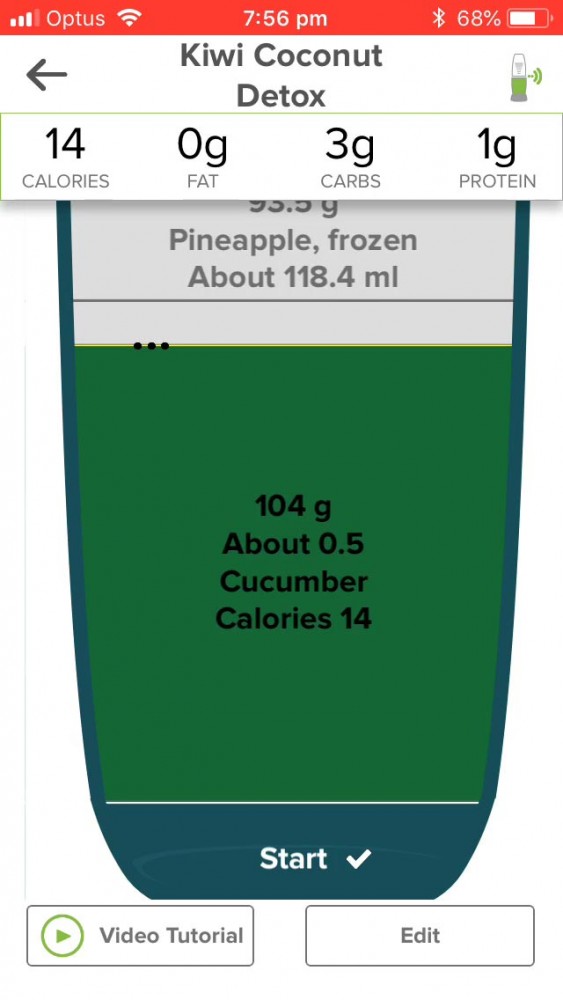 I was then informed to place 104g of cucumber in the NutriBullet cup. As I put in the pieces, my app showed me in real-time exactly how close I was getting to the 104g mark. After hitting it, it moved on to the next ingredient; 93.5g of frozen pineapple.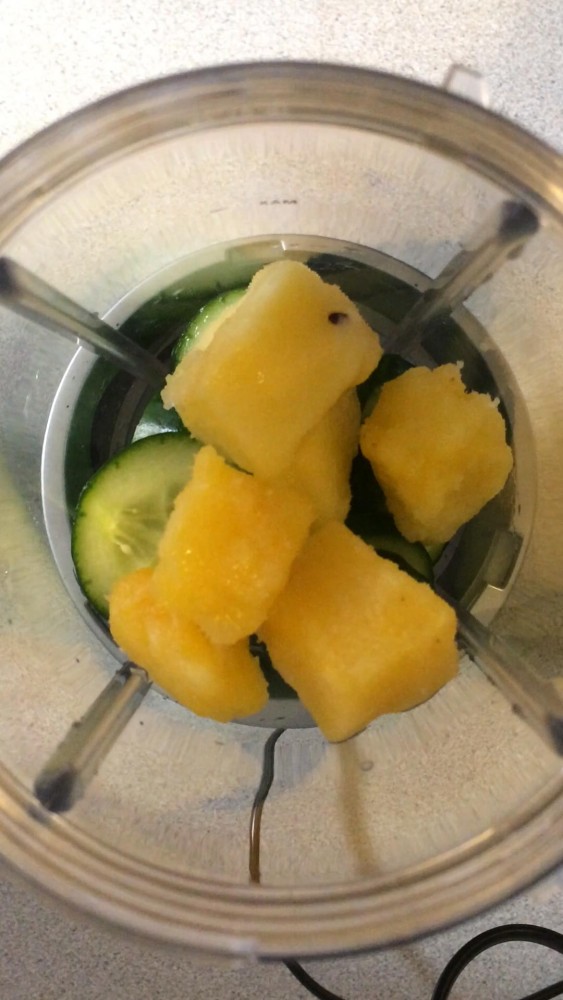 Again, I watched as the measurement of pineapple grew, before hitting the exact mark.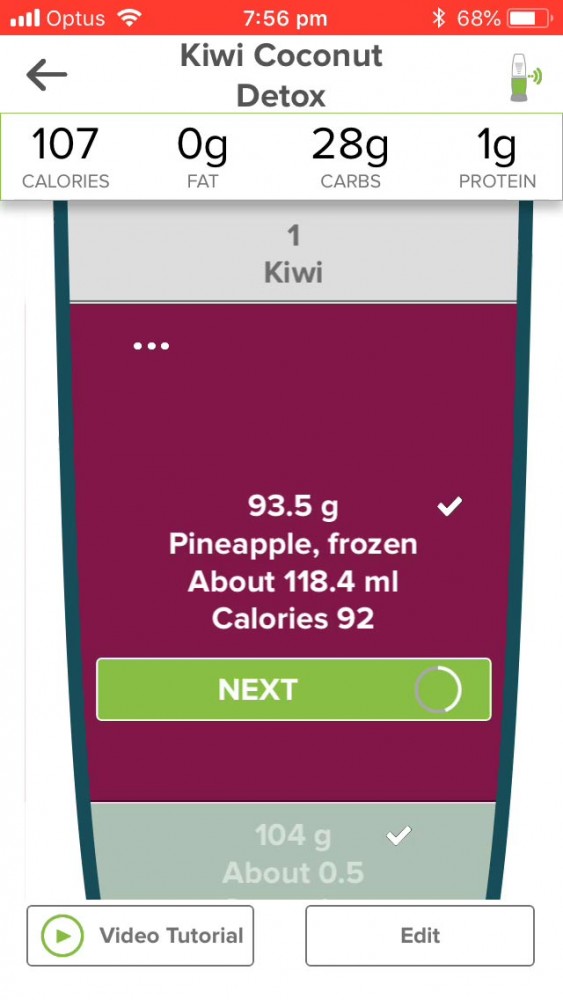 It was then time to put in a kiwi fruit. Tick.
30.3g of lime juice. Done.
60g of ice. Simple.
And finally, 368g of coconut water. Yep, it seriously doesn't get easier than this. I'd put the exact ingredients right down to the milligram. I couldn't stuff this up if I tried!
I was then prompted to twist the blade onto the cup and blend. And what was cool about this was that I didn't even have to try to work out when to switch the NutriBullet blender off and on. The recipe called for 45 seconds, so my app made sure that was exactly how long the NutriBullet Balance blended for. Yep, 'smart appliance' is most definitely an understatement!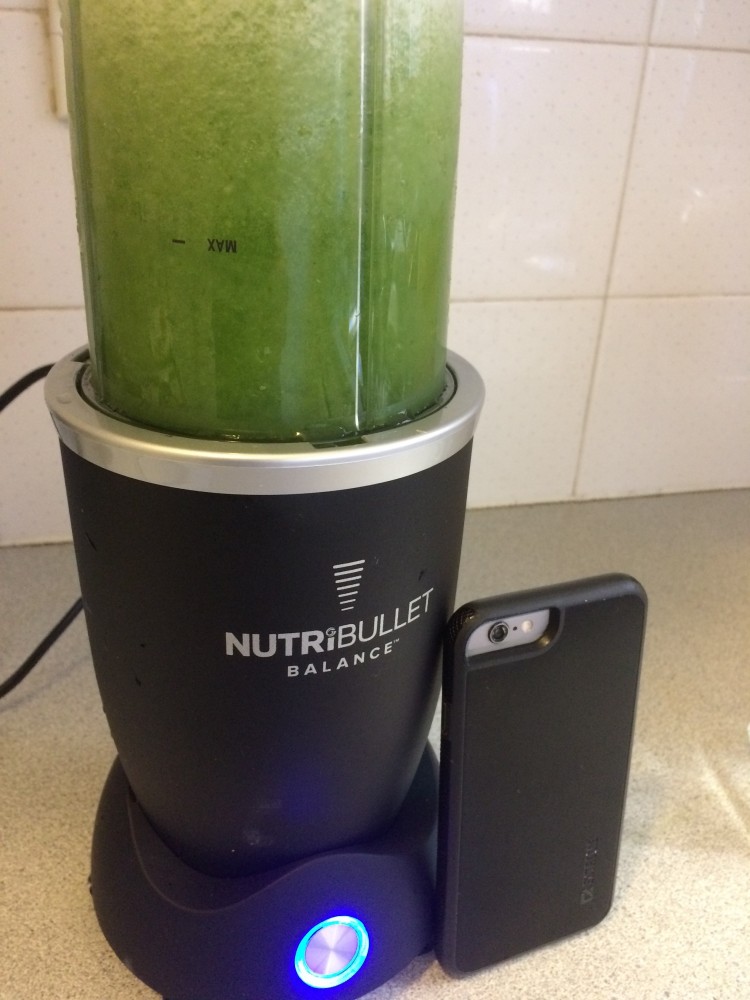 So, with it all said and done, how was my Kiwi Coconut Detox? So amazing that I made another one just 3 minutes later!
Want to try out the game-changing NutriBullet Balance for yourself? Smart move! Head into your local Harvey Norman store today and talk to our friendly, expert staff or shop online. You're in for a treat!