Samsung joins forces with SodaStream to give this fridge a bubbly personality. 
Fizzy drink maker SodaStream — voted one of the world's top 50 most innovative businesses last March — and electronics giant Samsung have teamed up to release this ridgey didge fridge that dispenses sparkling water.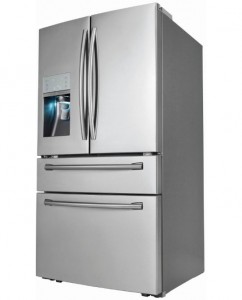 A standard 60-litre SodaStream gas cylinder is concealed inside the fridge door. Using the same control panel that distributes water and ice, now there's also the option of soda water, with three different levels of carbonation.  
On top of this sparkling innovation, the Samsung four-door refrigerator boasts Twin Cooling Plus technology, LED lighting and a counter-height Flex Zone drawer.
Currently available in the US, the Samsung RF31FMESBSR fridge is scheduled for release in Australia later in the year.
Now, who's in the mood for a vodka, soda and lime?