I've got a bit of a confession to make: I love soft drinks!
With summer just around the corner and the days heating up, I find nothing hits the spot quite like a chilled fizzy beverage – and I'm not alone, as us Aussies are amongst the biggest consumers of sugary soft drinks in the world. While it might feel good on a hot day, it's undeniably bad for our health.
The great news is that there's an option that's waaaaaayyy better for you: SodaStream Spirit OneTouch Sparkling Water Maker.
SodaStream, Health & the Environment
With a growing range of organic and sugar-free Soda Press Co flavours crafted for SodaStream now available, you can use the SodaStream Spirit One Touch Sparkling Water maker to experience the glorious sweet taste of a fizzy drink without the usual guilt – which also holds true in regards to SodaStream and the environment.
With millions of tons of plastic sitting in landfills and floating in our oceans, reusable SodaStream bottles are a clear eco alternative to single-use plastic bottles. Positively, SodaStream's C02 cylinders are also reusable and can be returned to SodaStream who will inspect, clean and refill them for you.
So, with health and environmental advantages, you can imagine my delight when Harvey Norman offered me the chance to test out a brand new SodaStream Spirit One Touch Sparkling Water Maker for this SodaStream review. With the mercury rising, I couldn't wait to get carbonating!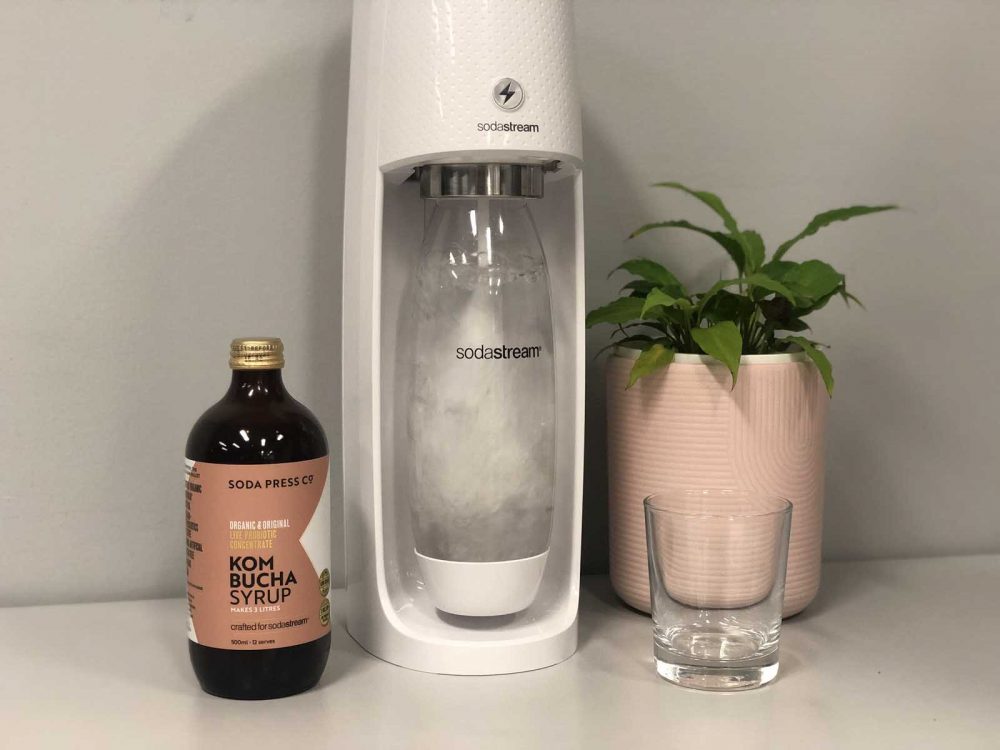 Keep reading for my SodaStream Spirit One Touch review and for a variety of SodaStream recipes, where I'll show you how to use SodaStream syrup flavours and how to use SodaStream sparkling water to give an invigorating kick to fresh fruit juices (or, in this case, paloma and a mojito!). I'll also show you how SodaStream sparkling water adds an amazing new dynamic to pancakes.
SodaStream Spirit One Touch Sparkling Water Maker: First Thoughts
The first thing that struck me as I unpacked the SodaStream Spirit One Touch Sparkling Water Maker was its simplicity and sleek design. The package includes the actual SodaStream sparkling water maker, 60L C02 cylinder and 1L FUSE reusable carbonating bottle with a special fizz-preserving cap.
After installing the gas cylinder, which is actually really easy, it's just a matter of snapping the carbonating bottle into place. Fresh sparkling water is then just the push of a button away – seriously! Simply select the light, medium or high fizz setting on the three-button one touch system and you're good to. It's that easy.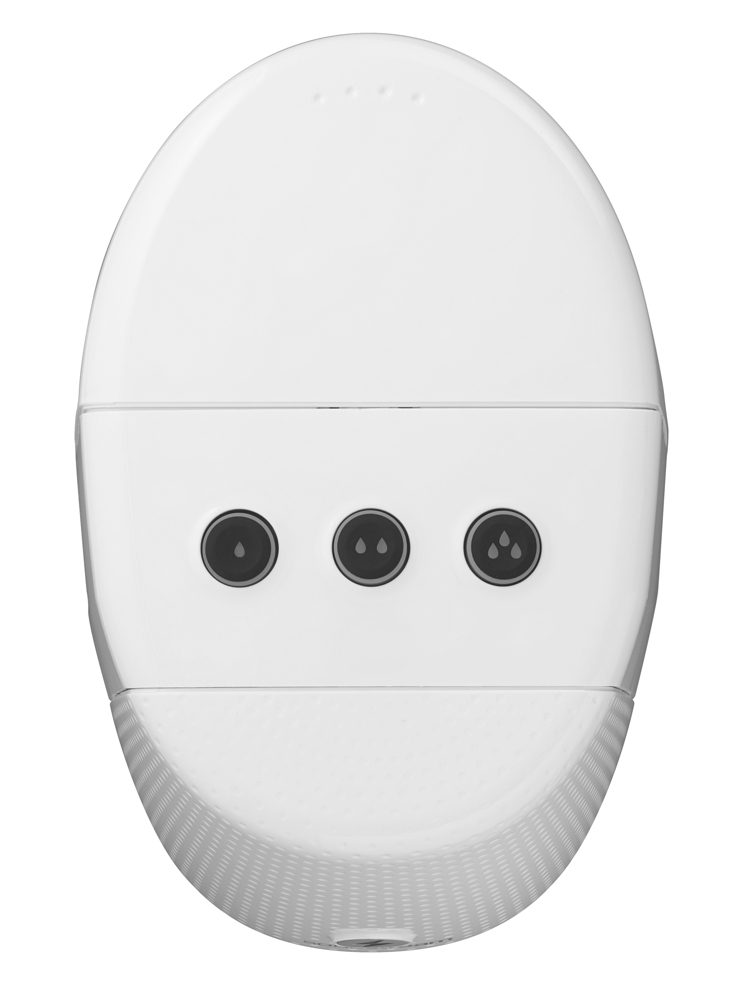 Once together, the unit is compact, so it won't overtake the space you place it on. It is, however, very stylish, so you definitely won't want to hide it away either!
Will SodaStream Save Me Money?
Wanting to embrace a healthier lifestyle, I purchased the SodaStream Classics Sugar Free Cola flavour and the Soda Press Co Kombucha Organic concentrate  – just a couple of the many SodaStream options available at Harvey Norman.
Before embarking on my SodaStream adventure, a question that I had pondered was 'will SodaStream save me money?' Upon buying the SodaStream flavours, it became clear that moving from shop-bought soft drinks to SodaStream could indeed do wonders for my budget. For example, one very affordable 440ml bottle of naturally flavoured SodaStream syrup can make up to 9 litres of flavoured sparkling water – far better value than what can usually be found at a supermarket.
I was definitely starting to see how shifting to SodaStream could be a wise investment, not only for my health and the environment, but for my bank balance as well.
Soda Press Co Kombucha – crafted for SodaStream
I decided to start by trying out the Soda Press Co Kombucha Organic Soda Syrup. As you might have guessed from my soft drink confessions, I'm still a bit of a novice when it comes to this super-healthy fermented black tea, and I was curious to see how it would shape up with the SodaStream Spirit One Touch Sparkling Water Maker.
The first step was to carbonate my water. Naturally, I went straight for the highest fizz setting, eager to achieve what a colleague (un)reliably informs me is known in scientific literature as "fizz max".

As you can see above, arriving at the maximum fizz potential for a given quantity of water is a pretty spectacular process, visually.

All that was left to do was pour a small amount of syrup into my carbonating bottle and gently shake it to mix. The resulting drink was very fizzy. Even more impressive to me was how it maintained its fizz in the fridge over the next few days.
I thoroughly enjoyed the flavour, but more importantly, a veteran kombucha drinker in the office loved it and told me it tasted just like real kombucha. I guess this is not surprising, since the syrup is crafted in a live organic process, with over 1 billion probiotics.
SodaStream Sugar Free Cola
Next, I wanted to see how the SodaStream Spirit One Touch Sparkling Water Maker would fare in matching the taste of fizzy drinks I'm more accustomed to drinking, with the Sugar Free Cola SodaStream flavour. Once again, I couldn't resist the bubbly lure of C02 max.


Knowing how often generic store-brand colas can fall short of that classic taste we're all chasing, I was a little shocked by the great and familiar  flavour of this drink. Everyone at Harvey's HQ who tried it agreed this one was a winner.
Getting the classic cola experience in a form that was not just healthier but also eco-friendly was honestly something of a revelation. Being such great value and so convenient, this is absolutely an option I'll be returning to in the future.
Passionfruit Mezcal Paloma SodaStream Recipe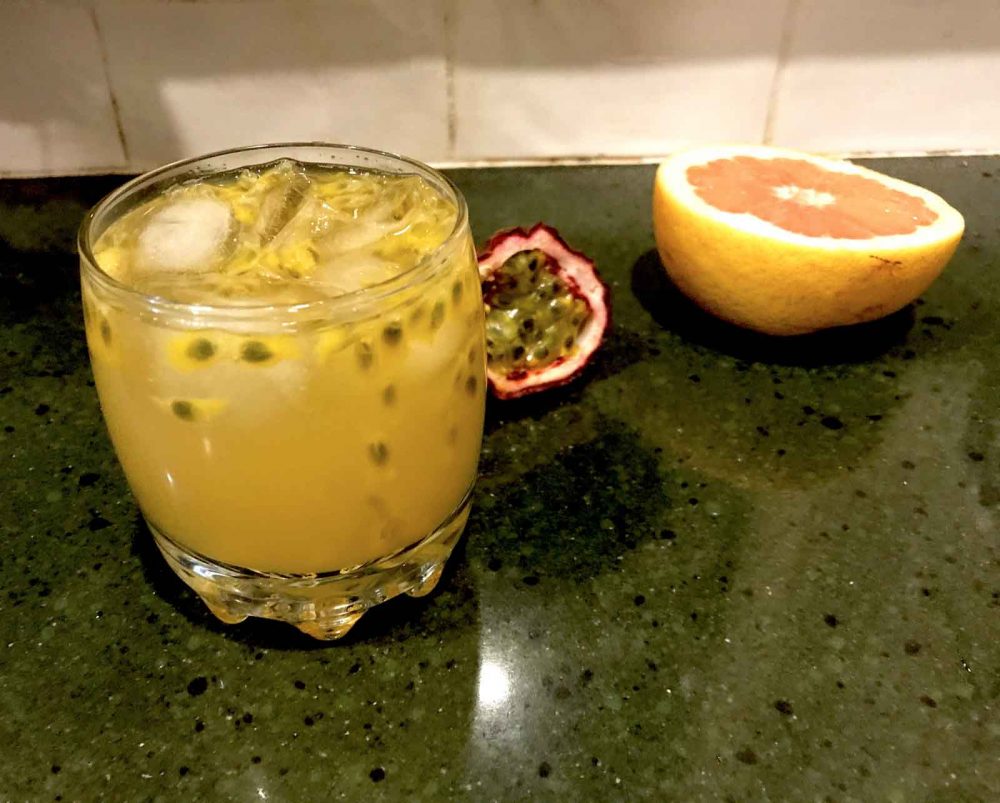 Recipe by SodaStream
After taking my new SodaStream Spirit One Touch Sparkling Water Maker home, I decided to get a bit more adventurous. Handily, SodaStream Australia provide a range of inventive SodaStream recipes online – including this sparkling fruity cocktail.
This oh-so-tasty recipe calls for white mezcal, but most other clear liquors would go fine too – and even without liquor, these flavours would stand on their own for a fun non-alcoholic SodaStream drink.
Ingredients:
• 1 litre SodaStream sparkling water
• 1/2 tsp grated pink grapefruit zest
• 70ml fresh pink grapefruit juice
• 20ml fresh lime juice
• Pulp from 1/2 passionfruit
• 1 tsp sugar
• 45ml white mezcal
• Caster sugar, to rim
• Ice
Method:
• Fill SodaStream 1 Litre Bottle with cold water, then carbonate.
• Put passionfruit pulp, lime juice, pink grapefruit zest and juice, sugar and mezcal into a cocktail shaker. Shake until sugar is dissolved.
• Rim a serving glass with caster sugar.
• Add ice to serving glass then gently pour in mixture.
• Top with SodaStream sparkling water to fill.
Fresh Blueberry Mojito SodaStream Recipe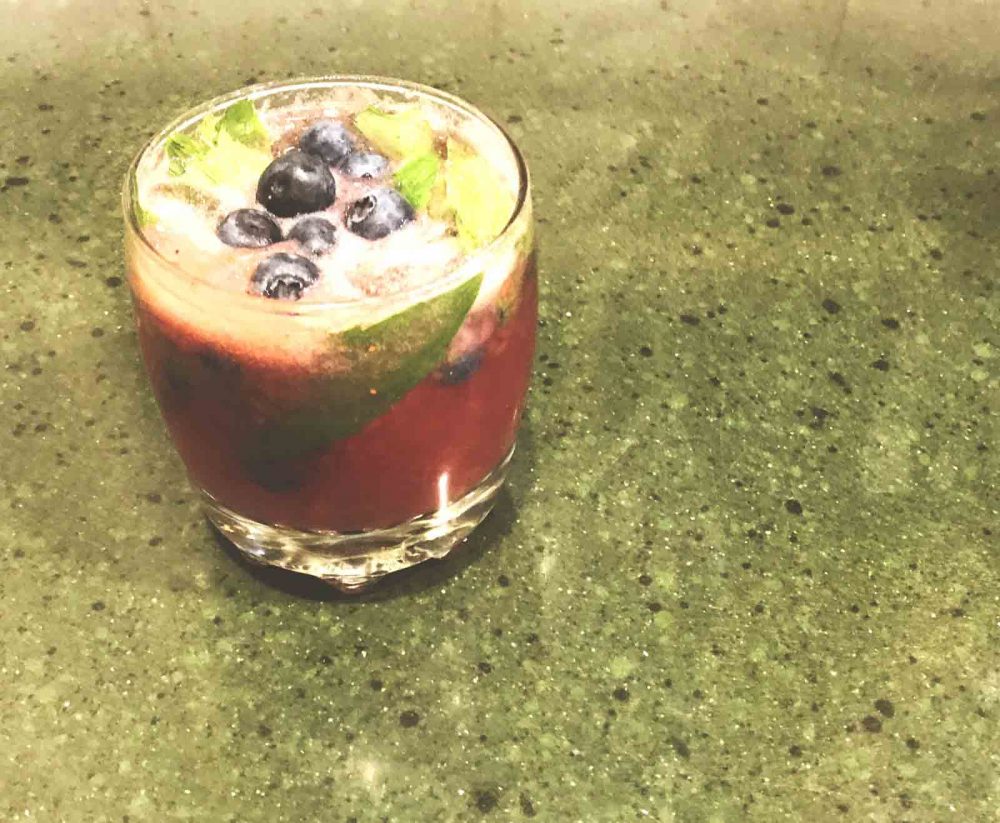 Recipe inspired by Joanne's Blueberry Mojito Cocktail Recipe at Inspired Taste
Next I decided to experiment with some sparkling water recipes using ingredients I had around the house. Peak season for Australian blueberries is from October to February, so there were plenty of them in the fridge to play around with. This refreshing blueberry mojito went perfectly with sparkling water from my SodaStream.
Ingredients:
• 1 litre SodaStream sparkling water
• 10 fresh blueberries (plus extra to garnish as you prefer)
• 8 fresh mint leaves (plus extra to garnish as you prefer)
• 20ml fresh lime juice
• 50ml white rum
• 1 tsp sugar
• Ice
Method:
• Fill a SodaStream 1 Litre Bottle with cold water and carbonate.
• Place blueberries, lime juice, mint leaves and sugar into a cocktail shaker.
• Smash contents of the cocktail shaker with wooden spoon or cocktail muddler until mint leaves and blueberries are broken and partially blended and sugar has dissolved.
• Add rum and stir well.
• Add ice to serving glass and gently pour in mixture.
• Top with SodaStream sparkling water to fill.
• Add extra blueberries and mint leaves to garnish.
Extra Fluffy Pancakes with SodaStream Sparkling Water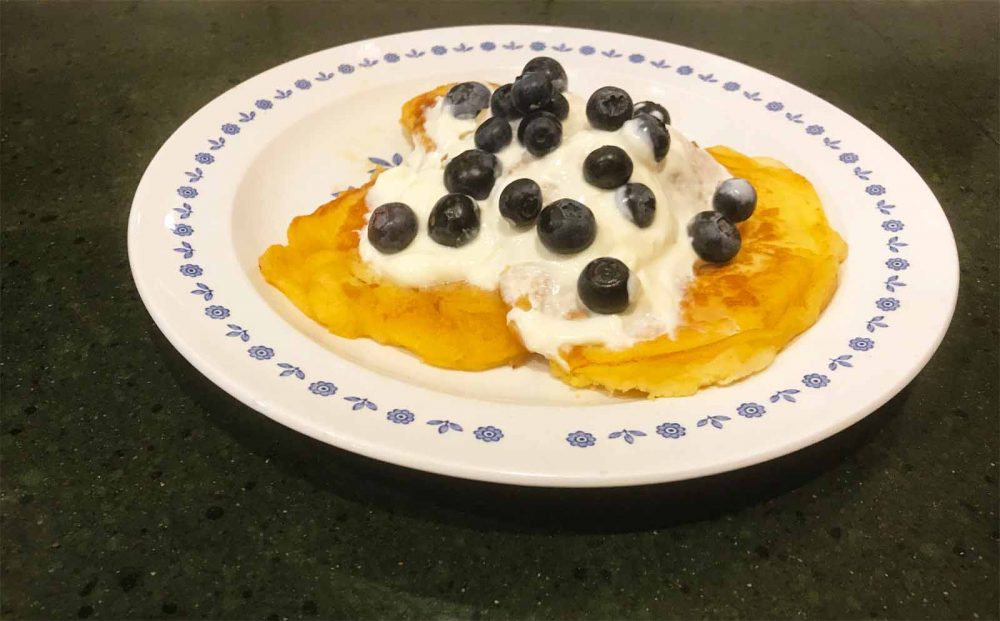 Did you know that adding a little carbonated water to the mixture can help make your pancakes, cakes and muffins extra fluffy? When I heard about this I had to try it.
For these pancakes I just used a store-bought pancake mix, whisking with greek yoghurt instead of milk, and added a couple of tablespoons of SodaStream sparkling water during the whisking process. I was surprised what a difference this made. I topped mine with a dollop of greek yoghurt and more of those fresh blueberries to keep to the theme. Try it with any baking recipe that could do with a little extra air and bounce.
Where to buy SodaStream Spirit One Touch Sparkling Water Maker
I started this SodaStream review by telling you that I love soft drinks. And that's still true. But, you know what? After a week with the Spirit One Touch, I can honestly say that I love my SodaStream beverages more! I've even found myself drinking way more water than I usually would, as the taste of SodaStream sparkling water by itself is actually really invigorating.
If you want to get your hands on your own SodaStream Spirit One Touch Sparkling Water Maker, you can shop it online along with Harvey Norman's full range of SodaStream bottles, syrups and devices – or you can head into your local Harvey Norman store where our friendly, expert staff will be happy to help with all your SodaStream questions.
Product Reviews
To discover more of our recent product reviews, simply go here!
SodaStream Spirit One Touch Sparkling Water Maker