Has preparing breakfast become a dull and dreary chore? Is your kitchen looking deflated like a badly fried egg? Sometimes, all it takes is a sprinkle of colour and a dash of style to brighten up your morning routine. And the easiest way to introduce colour to your kitchen is with new toasters and kettles.
Whether you prefer the elegant look of a Scandi-inspired kettle, the modern sheen of a metallic coloured toaster, or the muted tone of pastel kitchen appliances, Harvey Norman's range of stylish toasters and kettles are available in an array of colours so you can style your kitchen to your taste.
Check out a few of our favourite picks and bring the fun and flair back into breakfast time.
1.    Trending: Metallics
Metallic painted finishes are trending in the world of small kitchen appliances, so consider a matching kettle and toaster constructed from stainless steel in a retro, classic or modern colour. Choose neutral shades to complement timber cabinetry, or opt for bolder colours to give your kitchen an eye-catching edge.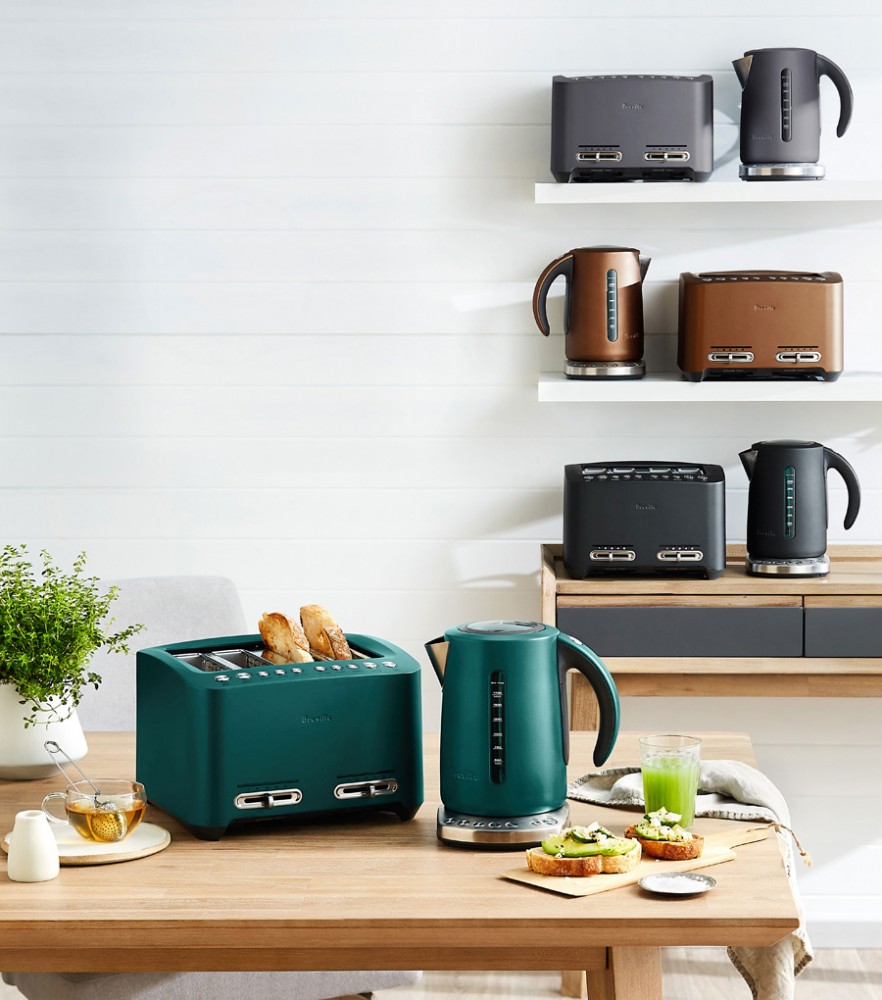 Whether you have an all-white ultra-modern kitchen or a classic wooden look, 'The Smart' collection by Breville will complement your décor with its soft edges, polished accents and crisp metallic finish. Take home the toaster or kettle in Ice or Charcoal to create a smooth contrast against glossy white cabinetry and marble benchtops, or add a hint of brightness against timber cupboards and polished steel appliances with the Emerald or Coffee model.
'The Smart' Kettle features 5 pre-programmed settings – Green Tea, White Tea, Oolong Tea, Black Tea and Coffee – so you can enjoy the most delicate flavours at their ideal temperature. And if you need to separate from your cuppa for a little while, there's even a 20-minute keep warm function!
Ever wondered what it would be like to achieve the perfect toast? 'The Smart' Toaster offers three settings – 'Fruit Bread', 'Lift & Look' and 'A Bit More' – to take the guesswork out of toasting for a job well done, every time.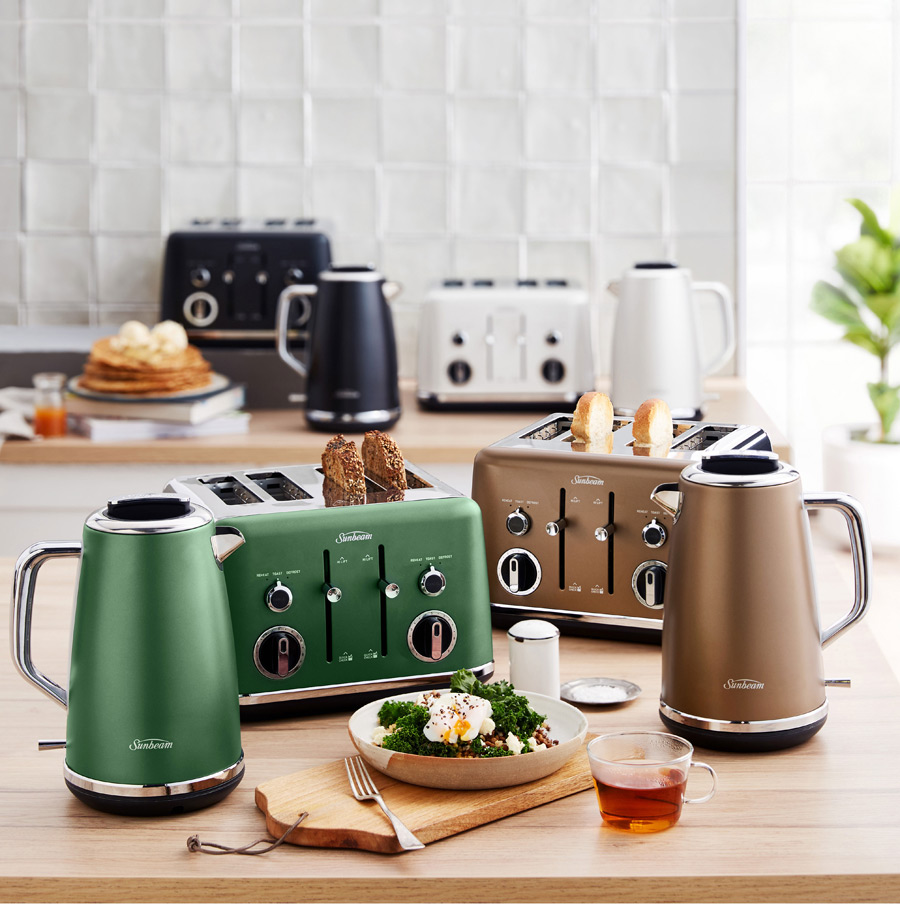 Fancy a taste of modern English style? Designed in the UK, the Sunbeam 'Gallerie' collection flaunts a satin metallic finish in three exquisite shades exclusive to Harvey Norman – Sunset, Brass and Green Forest. You'll fall in love with the sophisticated design and timeless style of this collection that will take your morning coffee routine and brunch gatherings to a whole other level of luxury and class.
The 'Gallerie' Kettle will have your morning coffee ready in no time thanks to a fast-boil 2200W concealed element. Gather the brunch squad for afternoon tea – this kettle can prepare 7 standard cups of tea in one boil. The more, the merrier!
With dual controls, you can toast 2 or 4 slices in the 'Gallerie' toaster at different browning levels (there are 9 to choose from!) so you can cater for different tastes and preferences. Don't worry about burning your bread – the QuickCheck™ lever allows you to check your toasting progress without interrupting the toasting cycle.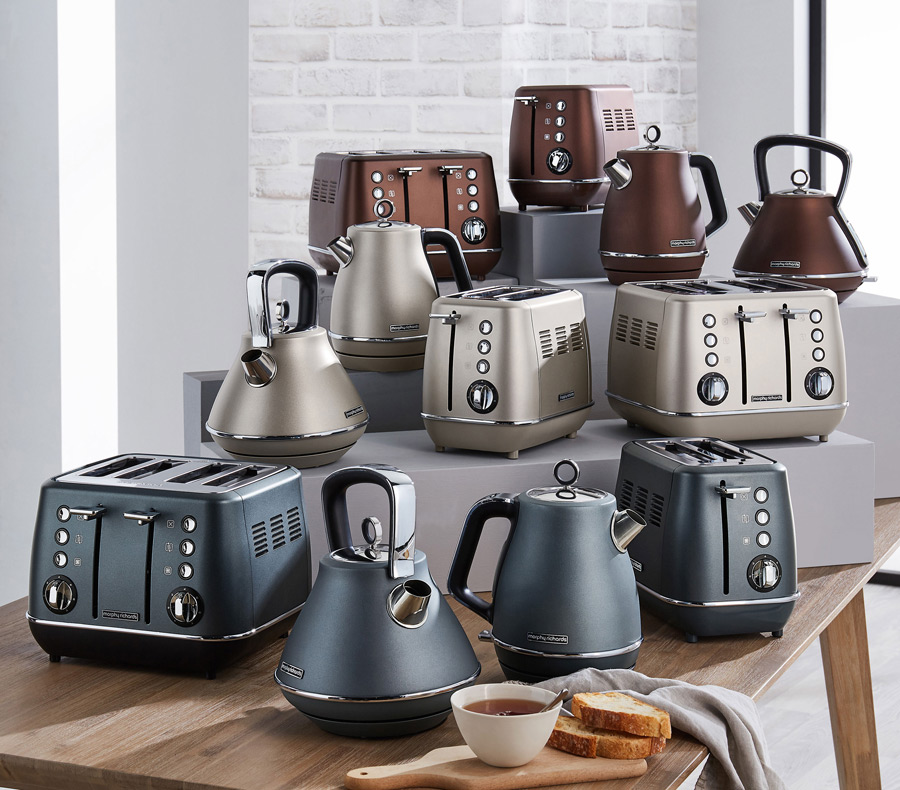 If your kitchen has lost its aesthetic appeal so you no longer enjoy using that space, consider investing in a collection that will reignite the flame and seduce the senses, like the Morphy Richards 'Evoke' collection. This chic collection is designed to impress. Choose your kettle design – the modern jug shape or traditional pyramid kettle – in Blue Steel, Platinum or Bronze with chrome accents – and pair with a matching 2 or 4-slice toaster to instantly revamp your kitchen.
The 'Evoke' Kettles feature a 1.5L capacity, cord storage and wide handles for comfortable use, while the 'Evoke' Toasters have deep, self-centering slots with variable width, and 7 browning settings to prepare your toast just the way you like it.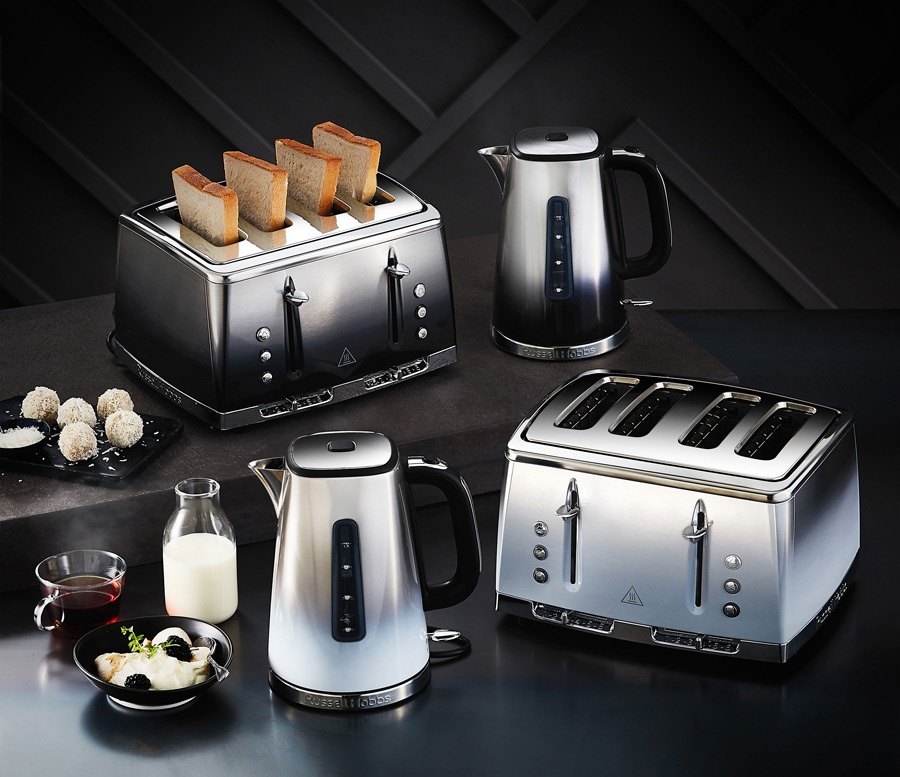 Nothing says luxury like this premium breakfast collection by Russell Hobbs. The 'Lunar Ombre' range will bring an ethereal dimension to your kitchen with its unique two-toned design. Choose your metallic gradient – the mesmerising White and Silver colour to give your kitchen a luminous glow, or the beautiful Black and Silver reminiscent of a crescent moon.
The 'Lunar Ombre' Kettle is designed for your morning convenience, equipped with a perfect pour spout to prevent water drips, an illuminated blue water window and quiet boil technology. The 4-Slice Toaster features Faster Toasting Technology* and 6 browning settings.
*When tested against Russell Hobbs model RHT24.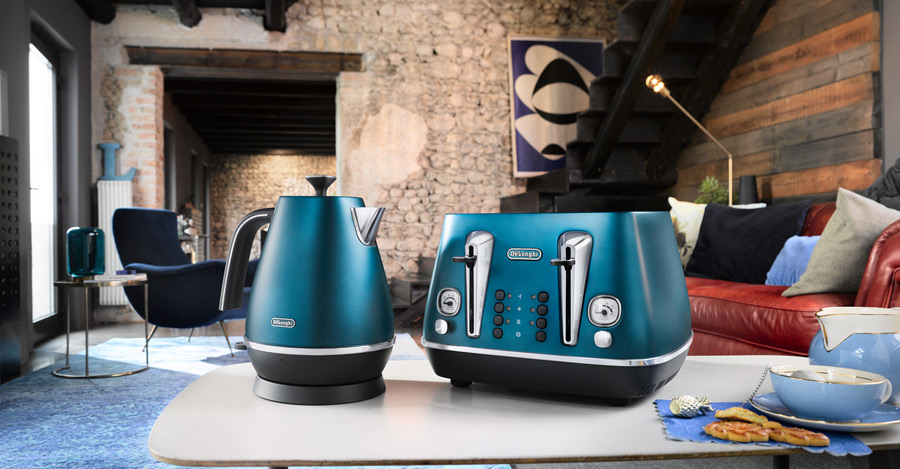 Add a winning combination of style and technology to your kitchen with the DeLonghi 'Distinta Flair' collection. Available in a range of vibrant colours – Allure Green, Prestige Blue, Finesse Silver and Glamour Red – this range features a classic curved design, soft edges and a matte metallic finish with chrome details for a modern finish.
With an ample water capacity of 1.7 litres, the 'Distinta Flair' Kettle can cater for all your brunch guests. Seal the deal using the matching 'Distinta Flair' 4-Slice Toaster with metal wrapped touch points, a neon indicator and pre-set browning functions including one-side bagel.
2.    Trending: Scandi
S is for sleek Scandinavian style. These collections take their inspiration from the clean and unfussed aesthetic that is at the heart of Scandinavian design to bring elegance to your kitchen.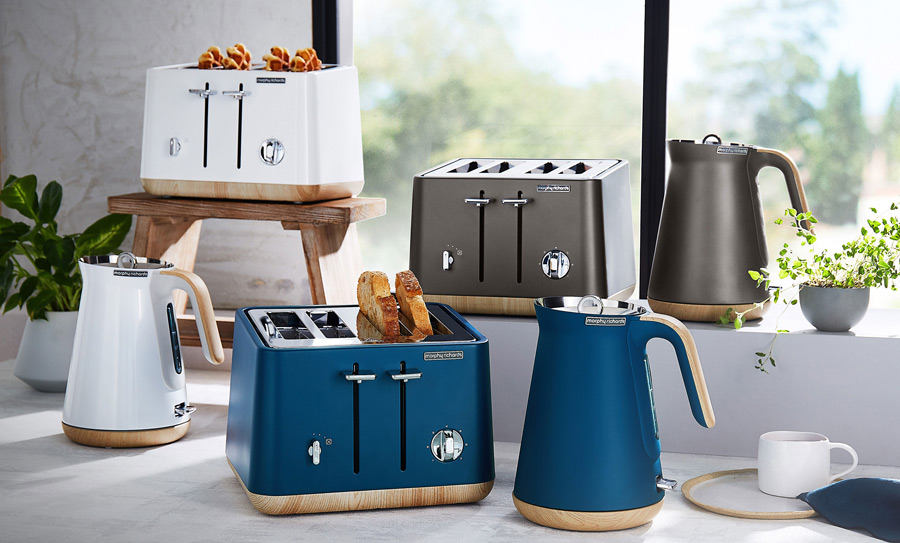 Breathe new life into your tired kitchen with the Scandi-inspired design of the Morphy Richards 'Scandi' collection. Available in a striking Deep Blue, a perfect White or a smooth Titanium shade, you'll create a seamless, contemporary look with a pop of colour at breakfast time. True to Scandinavian style, the kettle and toaster feature a wooden trim base to add a natural accent to your kitchen appliances.
The 'Scandi' Kettle boasts a 1.5L capacity to cater for more people at the breakfast table, convenient cord storage to keep your kitchen bench clutter-free, and a polished, ring-pull lid which contrasts nicely against the painted stainless steel body. The 'Scandi' Toaster offers 2 or 4-slice operation, with deep, self-centering slots and a Pause and Check function for the perfect morning toast. Enjoy another splash of colour whenever you empty the crumb tray.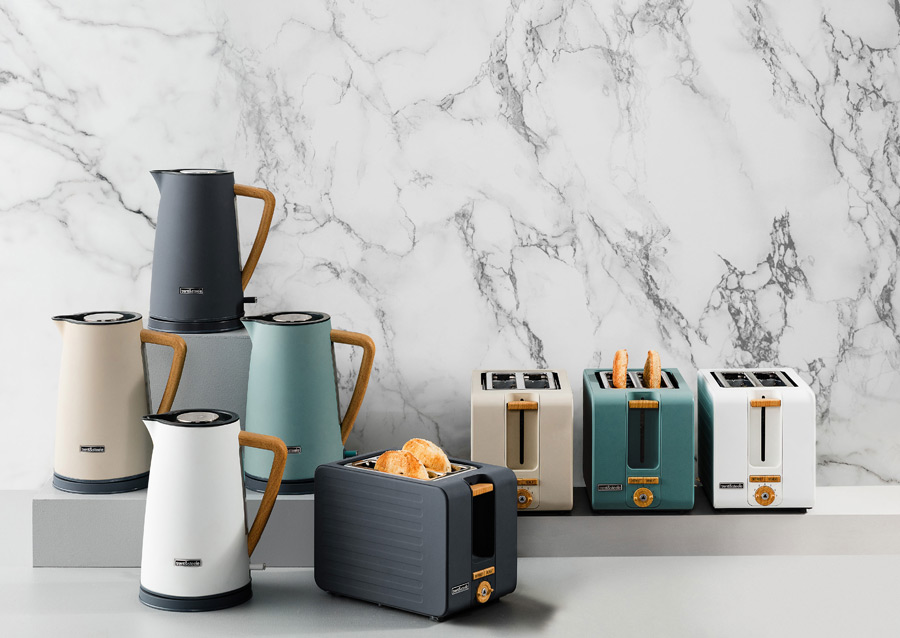 Embrace Nordic style with the Trent & Steele 'Lagom' Collection. Lagom means 'just the right amount' in Swedish, and with this classic collection, you can easily achieve a perfect balance of form and function in your kitchen. With a choice of Teal, Stone, White and Charcoal colours, the neutral hues and natural materials of this Scandi-inspired range will complement any kitchen décor.
The 'Lagom' Kettle has a large capacity of 1.7 litres, so everyone gets a cuppa. It also features a built-in water filter, a water level indicator and boil-dry protection for long-lasting quality. Pair with the 'Lagom' 2 or 4-Slice Toaster to complete your collection, and with 38mm wide slots, you can even toast scrumptious, thick-cut raisin toast (café style) at home.
3.    Trending: Pastels
Are bolds and neutrals not your cup of tea? Do you prefer something softer? Try a pastel palette. Popular for their muted matte tones, small appliances in subtle pastel shades are great for creating a warm and inviting atmosphere.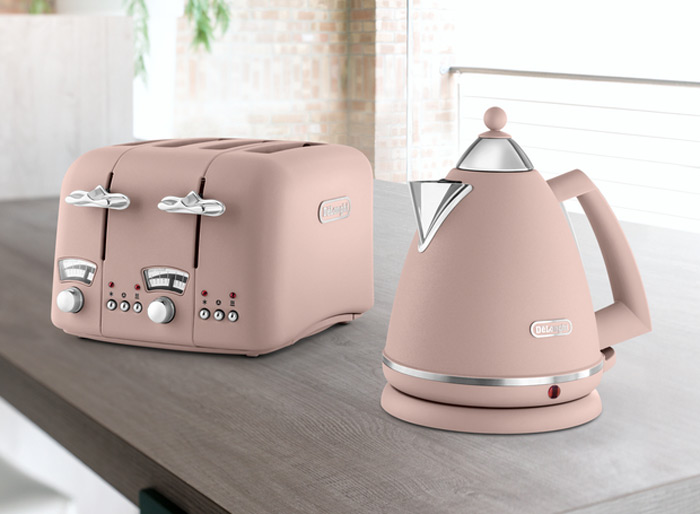 Put a fresh twist on breakfast time with the beautiful DeLonghi 'Argento Flora' collection. Inspired by the colours of an autumn garden, this range is a great choice for lovers of retro design and al fresco dining. Gentle curves, chrome accents and a unique, high tactile finish achieve an understated, vintage look that will transform the look and feel of your kitchen. With a beautiful selection of colours to choose from – Jasmine Beige, Peony Rose, Peppermint Green or Agave Blue – these appliances are sure to brighten your morning.
The 'Argento Flora' Kettle features a 360° swivel base, 1.7L capacity and twin neon power-on lights, while the 'Argento Flora' Toasters offer an extra-lift position for easy removal of small slices and browning controls.
Change the way you breakfast and bring fun and flair back into your kitchen. Head in to your local store or jump online to view our full range of toasters and kettles, and choose the perfect colours for your kitchen.