Even after a mouth-watering meal, there's always room for dessert, especially this delicious Passionfruit Semifreddo, its recipe courtesy of Australian Gourmet Traveller.  
Ingredients:
8 egg yolks
250gm caster sugar
250ml (1 cup) passionfruit juice (see note below)
Scraped seeds of 1 vanilla bean
Juice of 1 lime
300gm double cream
150ml pouring cream, lightly whipped
Pulp of 2 passionfruit, plus extra to serve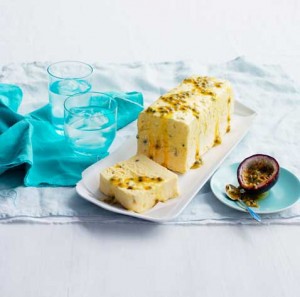 Method:
1. Whisk egg yolks in an electric mixer until pale and fluffy (5-7 minutes). Meanwhile, stir sugar, passionfruit juice and vanilla seeds in a small saucepan over medium-high heat until sugar dissolves, then simmer until syrupy (4-5 minutes) and add to egg yolks with lime juice, whisking continuously until mixture is cold (5-6 minutes).
2. Combine creams in a bowl, whisk until soft peaks form. Fold into passionfruit mixture, fold in pulp, spoon into an 8cm x 22cm plastic-lined rectangular cake tin, smoothing top (there may be mixture left over), freeze overnight until firm. Slice thickly and serve with extra pulp spooned over.
Note: To extract passionfruit juice, process pulp in a food processor, then strain through a sieve (discard solids). Eighteen passionfruit yield about 250ml of juice.
Kit out your kitchen with the latest cooking technology from the best brands, so you can whip up your own culinary masterpieces. Just like this delicious Passionfruit Semifreddo, whose recipe is made all the more easy with quality kitchen appliances, like the Kenwood Patissier Food Mixer. Harvey Norman is the leader in innovation and technology, with everything you need — mixers and processors, cookware, bakeware, fridges, freezers and more kitchen accessories — to guarantee you're cooking with confidence.