If you ever needed proof about how popular pie makers are in Australia, look no further than Facebook. A huge pie maker community has formed on the social media platform, with plenty of groups for users to join. And when you think about it, it's really no surprise. After all, pie makers are a fun, convenient, and quick way to make dinners, utilise leftovers, and craft clever desserts.
Of course, the question is, what is the best pie maker? In my humble opinion, it's got to be the Sunbeam Pie Magic® Traditional 4 Up Pie Maker – available from Harvey Norman. Larger than other popular pie makers, the Sunbeam Pie Magic® is a sure-fire way to create a delicious meal – as my colleague Honey previously proved when she created a week's worth of amazing pie maker recipes with it.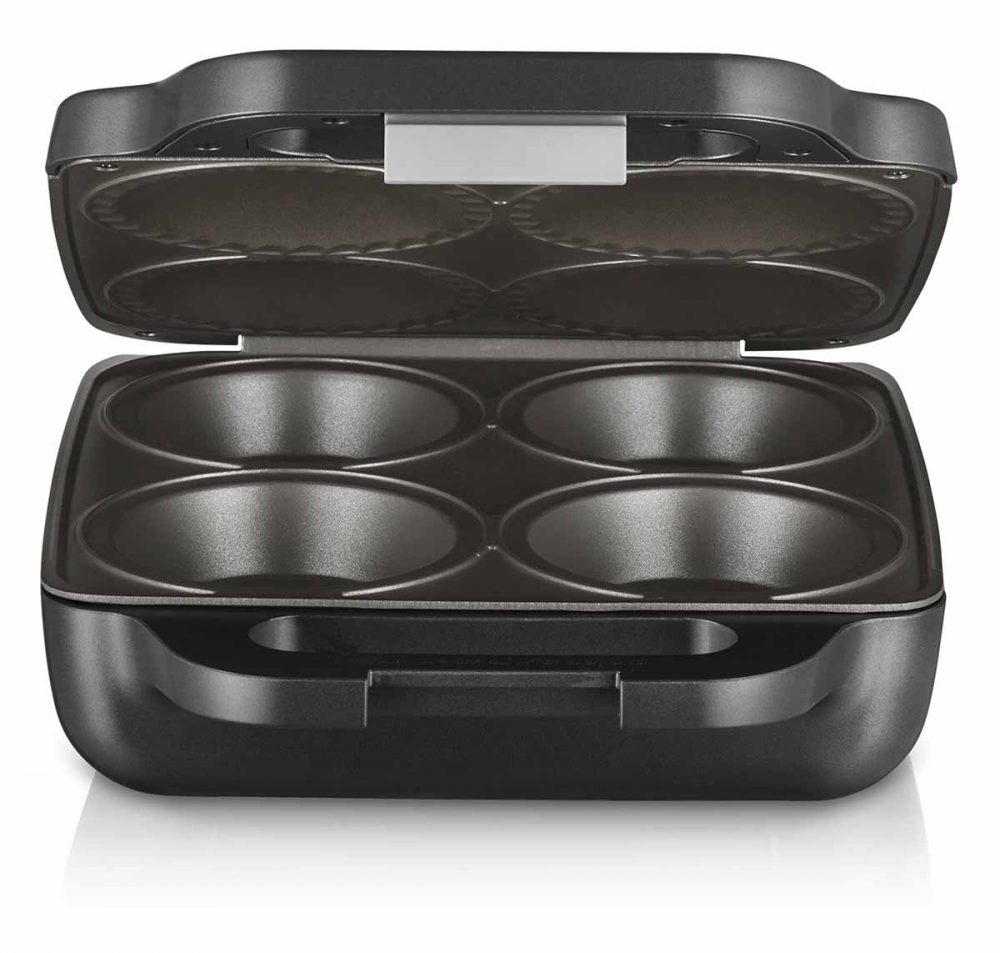 Excitingly, the Sunbeam Pie Magic® Pie Maker recipe e-book now has new recipes exclusive to Harvey Norman, Domayne and Joyce Mayne. You can download your copy of it here.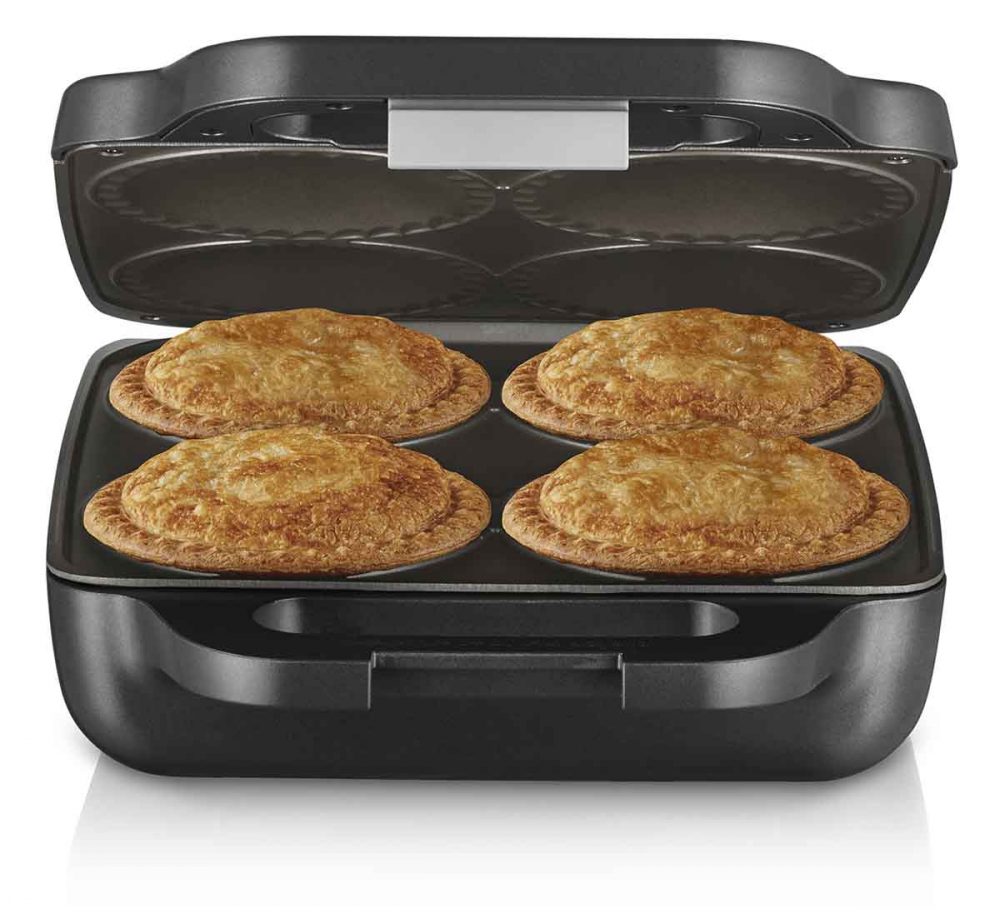 Utilising three of these exclusive recipes, I decided to use the Sunbeam Pie Magic® to create a three course dinner-party (plus a couple extra fan-favourite pie maker recipes). How did it go? Keep reading my Sunbeam pie maker review to find out!
Sunbeam Pie Magic® Test Recipe: Spinach and Ricotta Pie
I am not a whiz in the kitchen by any means. The last time I followed a proper recipe was probably in Food Technology class in high school, which is more years ago than I care to count.
Given that fact, it seemed like a good idea to brush up on my rusty cooking skills before tackling the three exclusive pie maker recipes. Wanting to make sure I was well versed on how to use the Sunbeam Pie Magic®, I decided to take it on a little test drive the day before and attempt my all-time favourite: a spinach and ricotta pie.
Initially, I thought it would be pretty difficult to truly replicate the creamy, buttery delight of a fresh pie from the bakery, but it turned out that the Sunbeam Pie Magic® pie maker made things really easy.
After mixing together the filling consisting of ricotta, spinach, eggs and seasoning, I created the pastry. Although, to be honest, the word 'created' is a bit of an exaggeration. While the purist baker may have their own from-scratch pastry recipe, I prefer to do things the lazy way. Pre-made sheets from the supermarket it was!
Cutting the pastry sheets into the precise size and shape required for a great pie was not the fiddly exercise in measurement and cutting I had imagined. Sunbeam includes a very handy cutting tool with each Pie Magic® that you simply press down into your pastry sheet. And just like magic, it cuts out the exact amount of pastry needed for both the casing and top of your pie.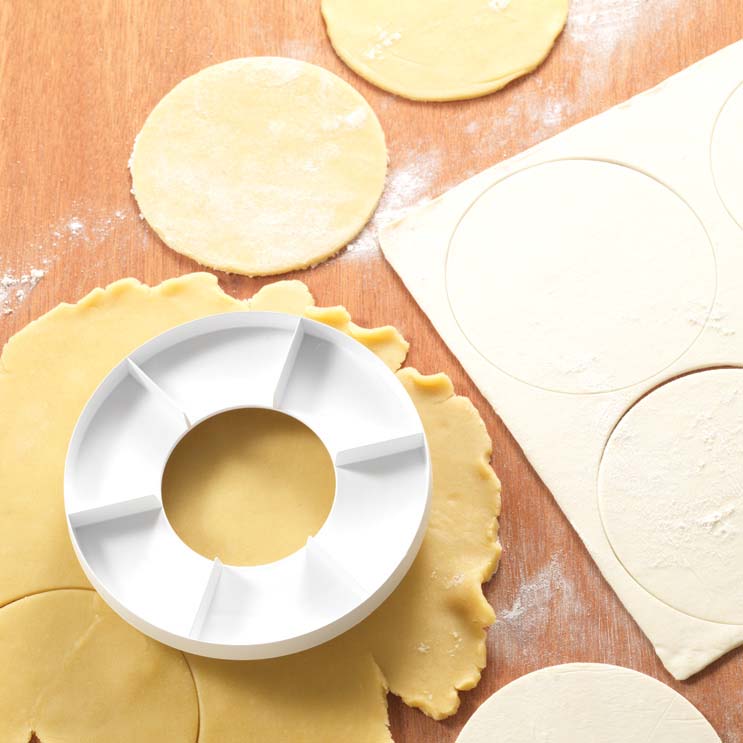 With the filling and pastry ready, it was as simple as pre-heating the Sunbeam Pie Magic® pie maker, placing the casing into the cavity, followed by half a cup of the filling, and then putting on the top. After closing the Sunbeam Pie Magic® lid, the pie was ready in 15 minutes. Easy as!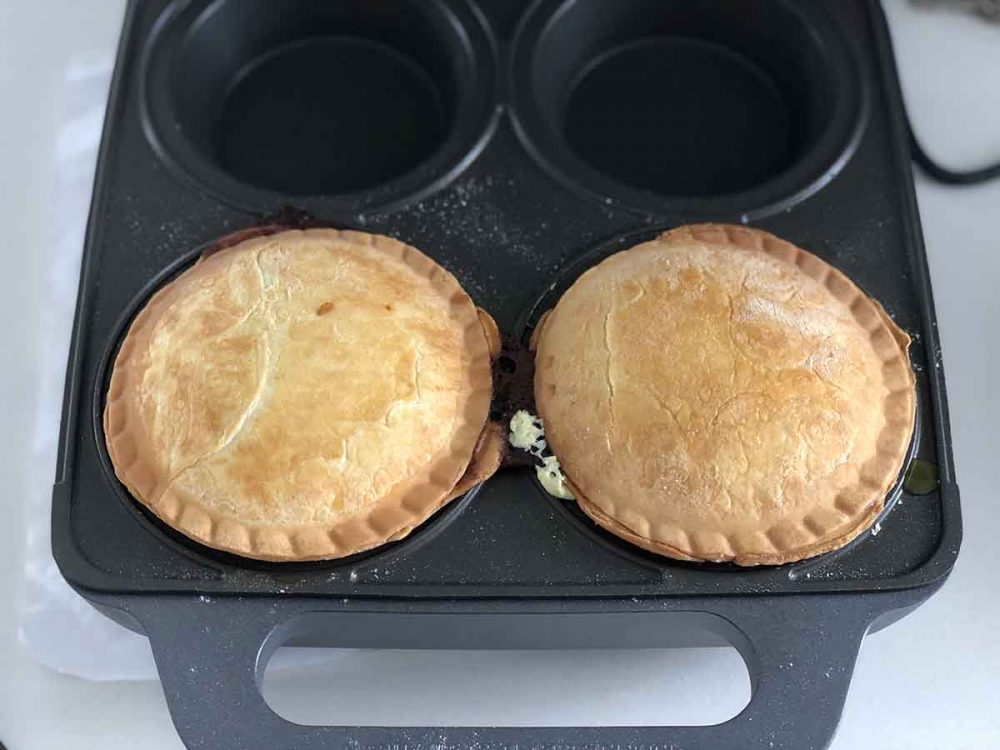 Given my decidedly average track record in the kitchen, I was surprised by how good the end result looked. Golden brown pastry with a nice little decorative trim around the edge, and the filling looked and tasted just like the many professionally-made ones I've enjoyed over the years.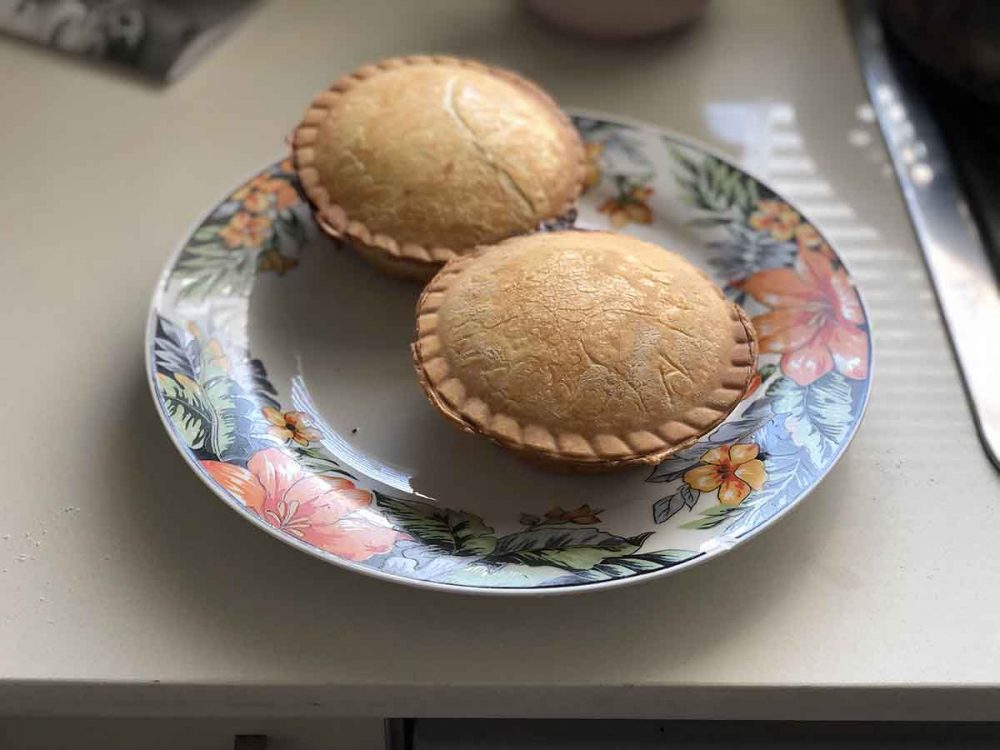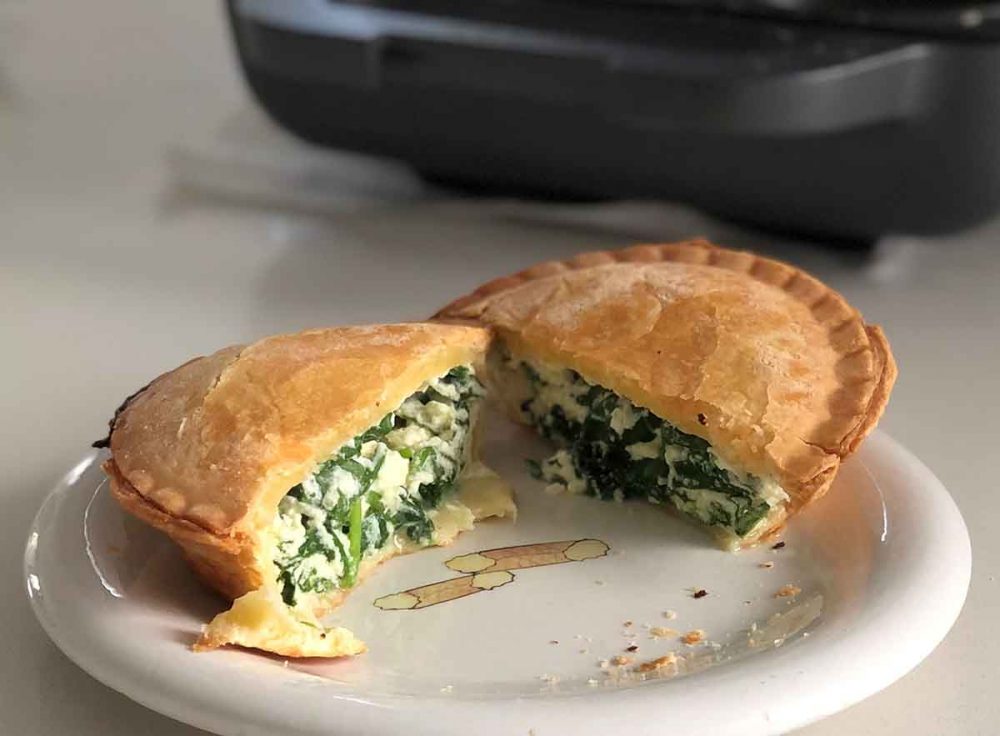 High reward for such little effort; that's a tick from me!
Sunbeam Pie Magic® Entrée Recipe: Sweet Corn Fritters with Spinach and Feta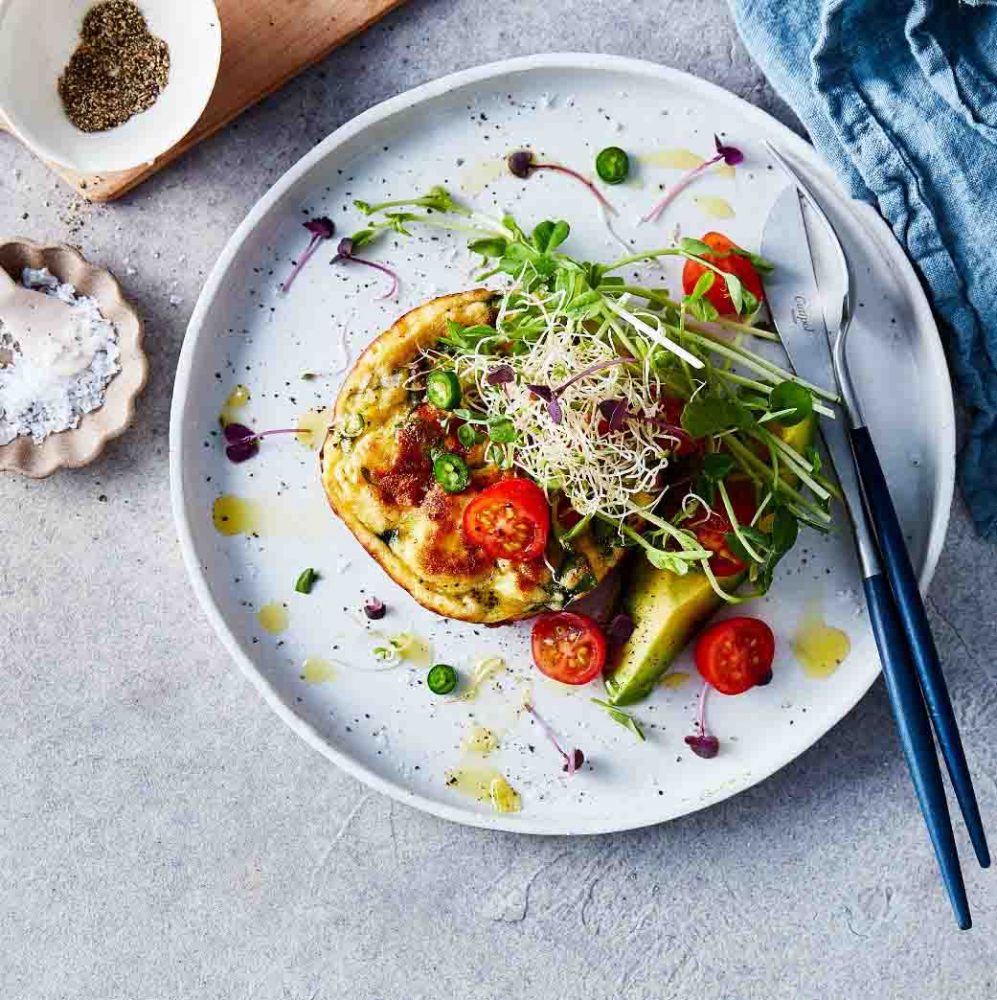 With the test run successful, the next day it was time to open up the Sunbeam Pie Magic® pie maker recipe e-book and use the new and exclusive recipes to kick off our pie maker dinner party!
Any meal to remember starts with a great entrée – and the exclusive Sunbeam Pie Magic® recipe e-book's Sweet Corn Fritters with Spinach and Feta were the perfect candidate. Airy, light and just enough to satisfy until the main course arrives.
Preparing this one was about as simple as it gets. After combining whisked egg whites, creamed corn, spinach, feta cheese, self-raising flour, milk and seasoning in a bowl, all I had to do was spoon half a cup of the mix into each of the Sunbeam Pie Magic's cavities.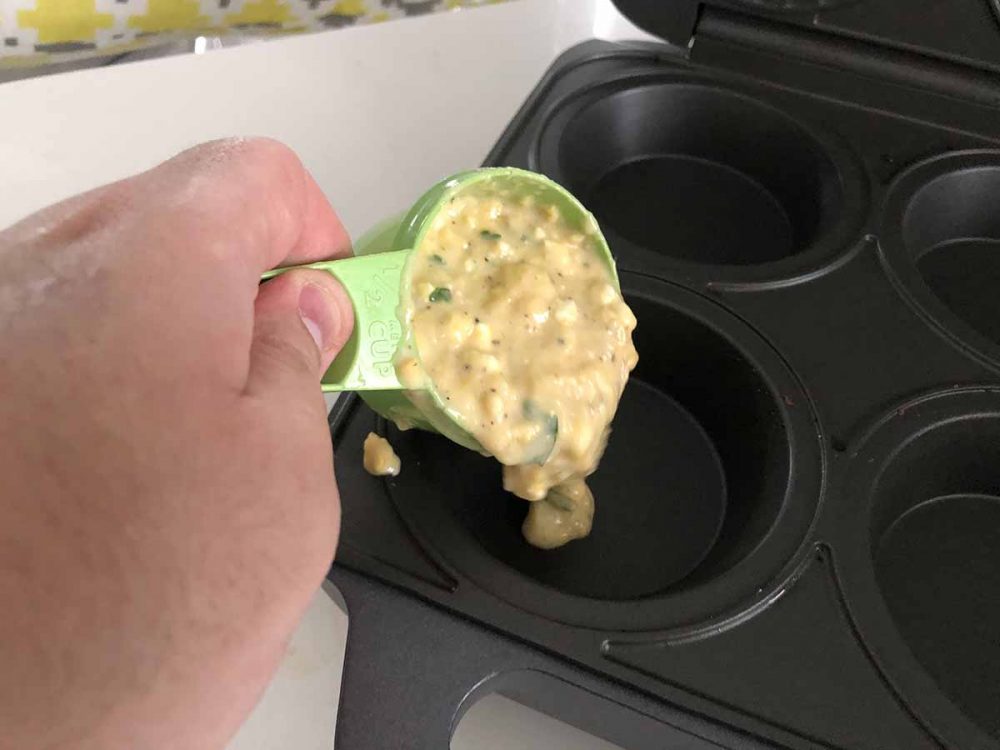 After just 13 minutes in the Sunbeam Pie Magic®, I had delicious light fritters for the perfect entrée to our pie maker dinner party.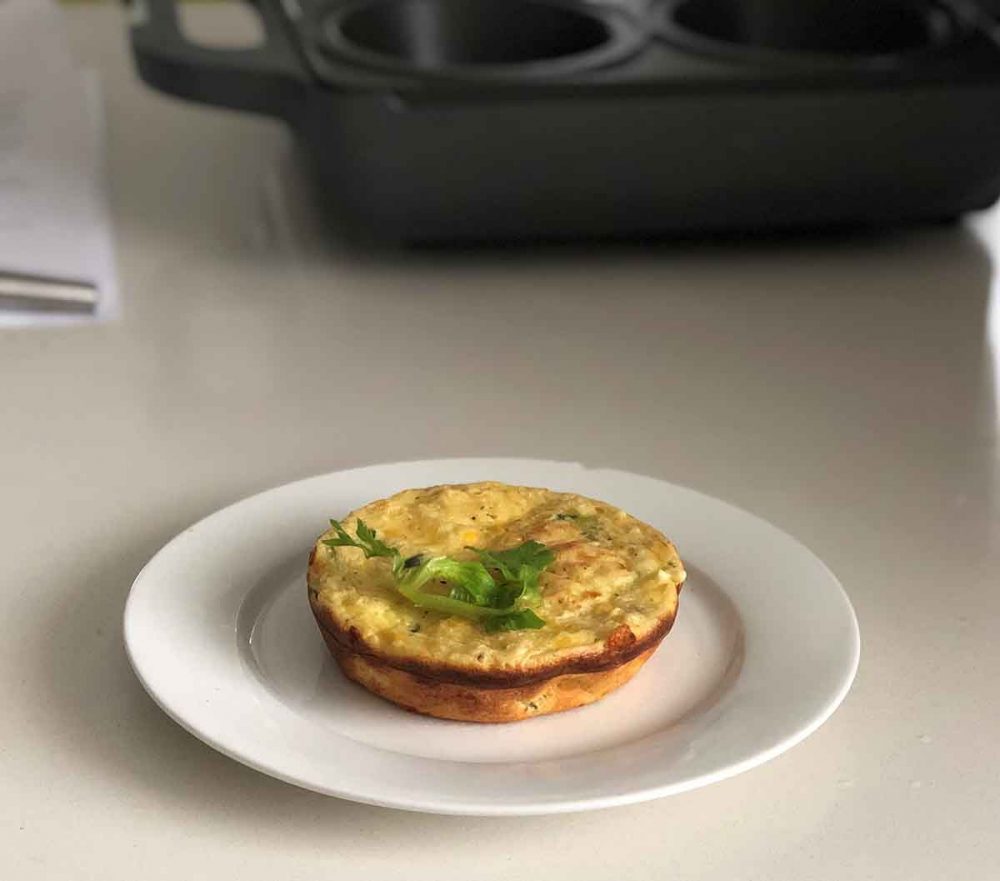 I loved these so much, that I ended up making another batch which I popped into a container for lunch at work the next day.

Sunbeam Pie Magic® Main Course Recipe: Smashed Peas & Spuds Pie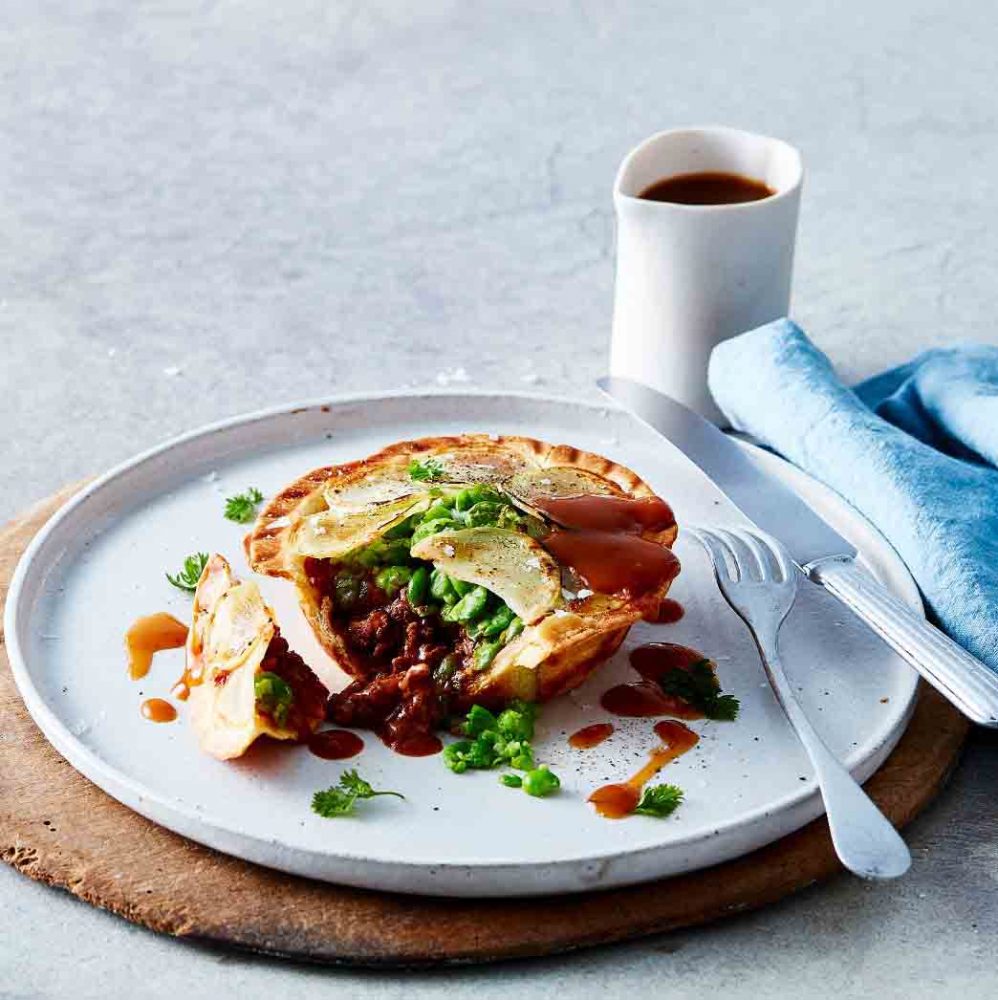 For our main course, it's a classic meat pie, but with a cosmopolitan twist. This exclusive Sunbeam Pie Magic® pie maker recipe features good old beef mince, onion, and gravy – as well as some unique additions!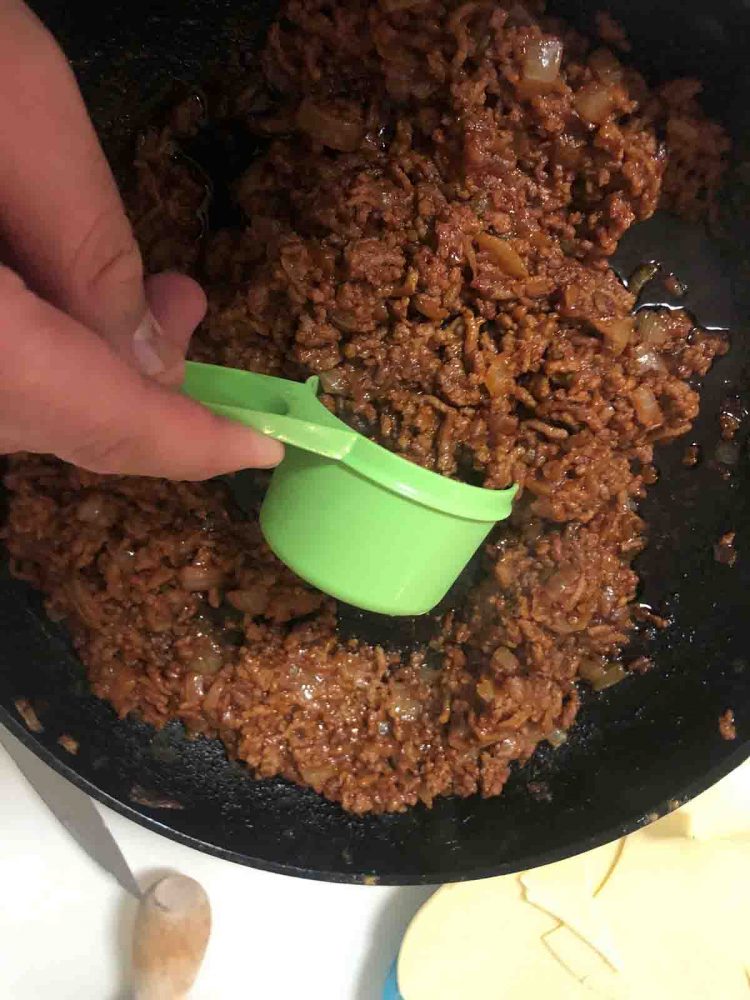 Passata sauce is a beautiful touch, while the standard pastry top is swapped out for mashed peas and an arrangement of potato slices.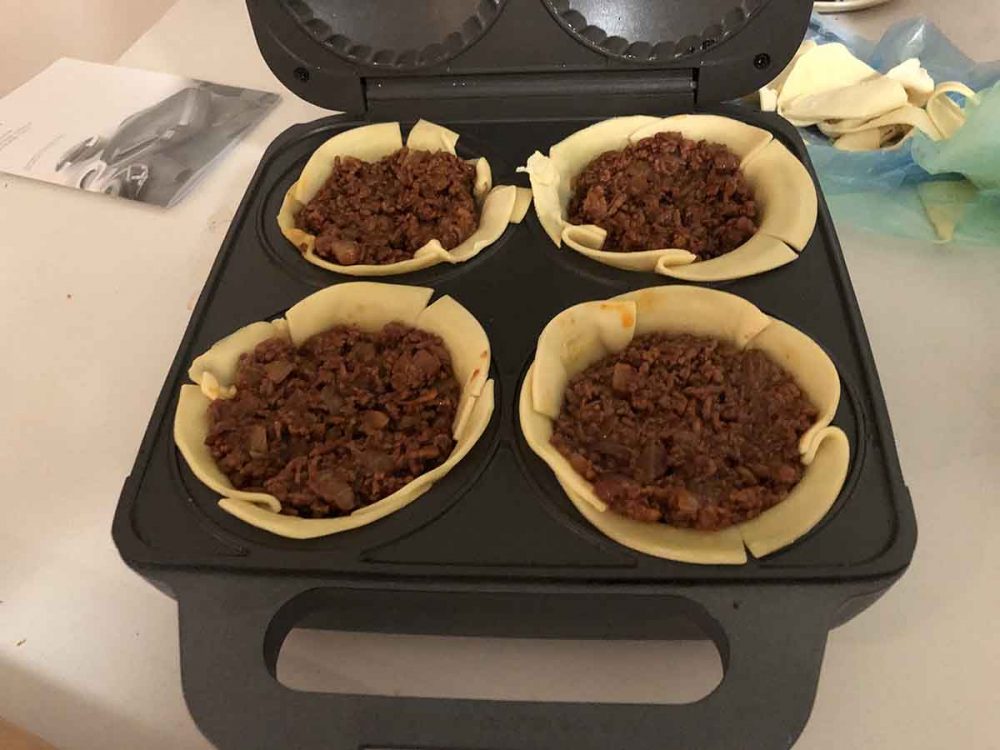 After pre-cooking the filling, only a further six minutes were required for these pies to cook in the pie maker.
Loaded on top and with a rich filling, these pies were not only extremely tasty but very satisfying too.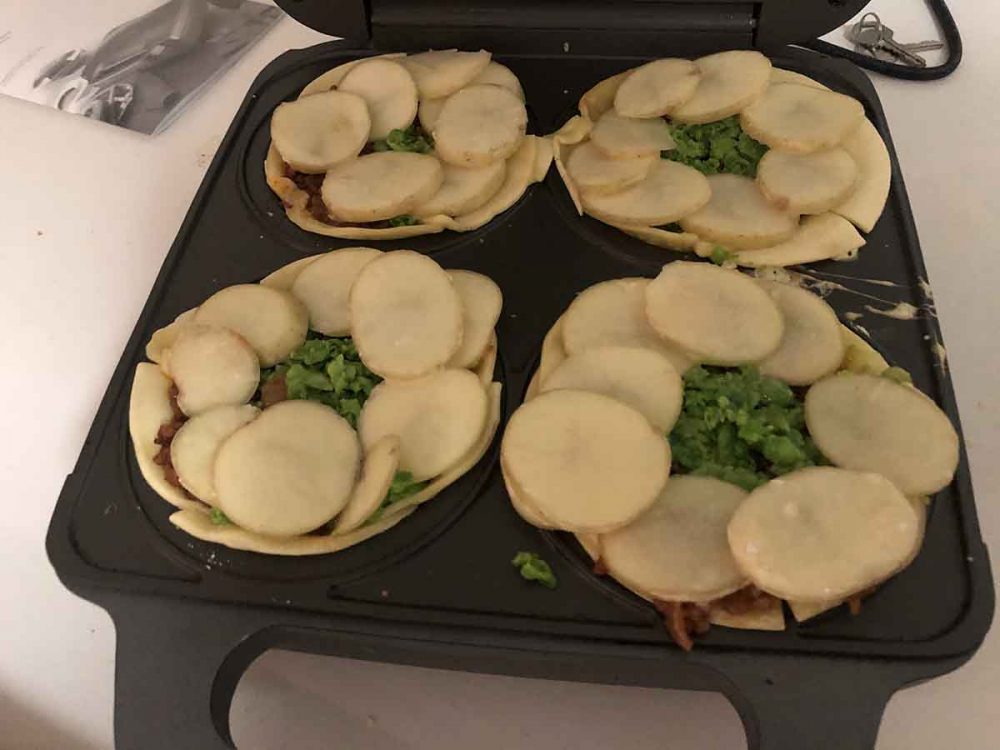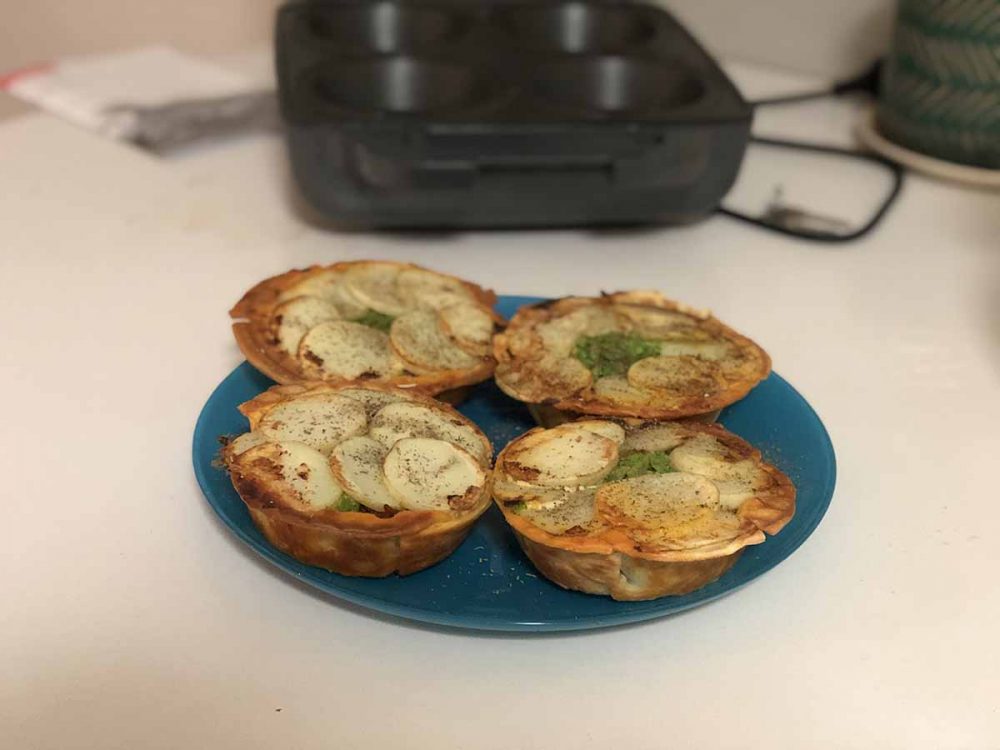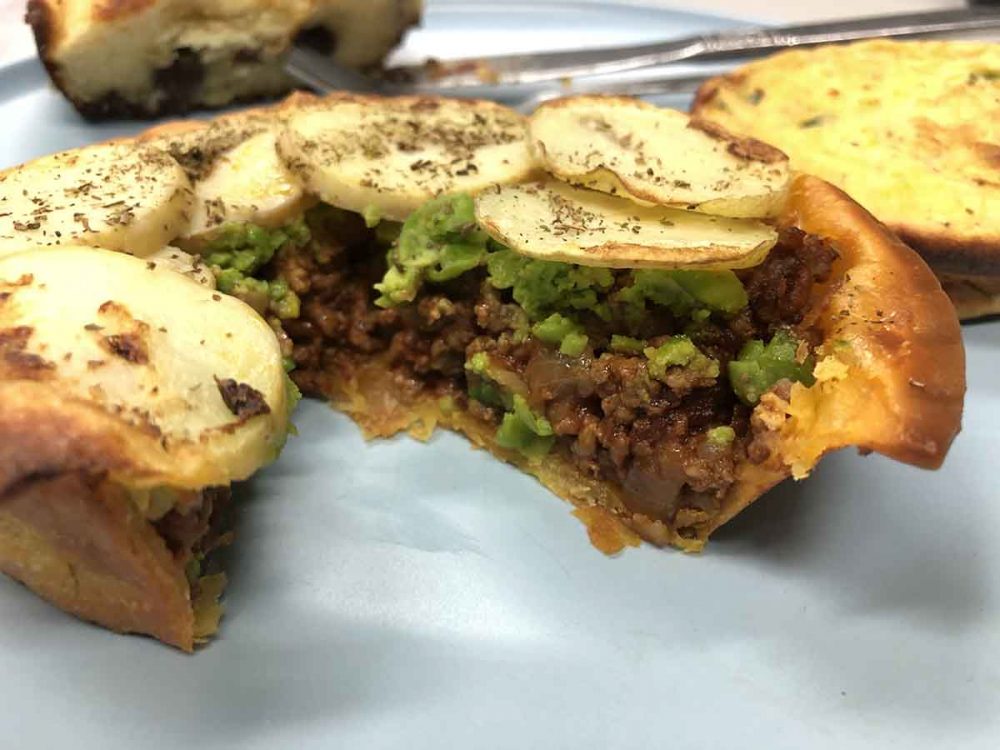 Sunbeam Pie Magic® Dessert Recipe: Sweet Overload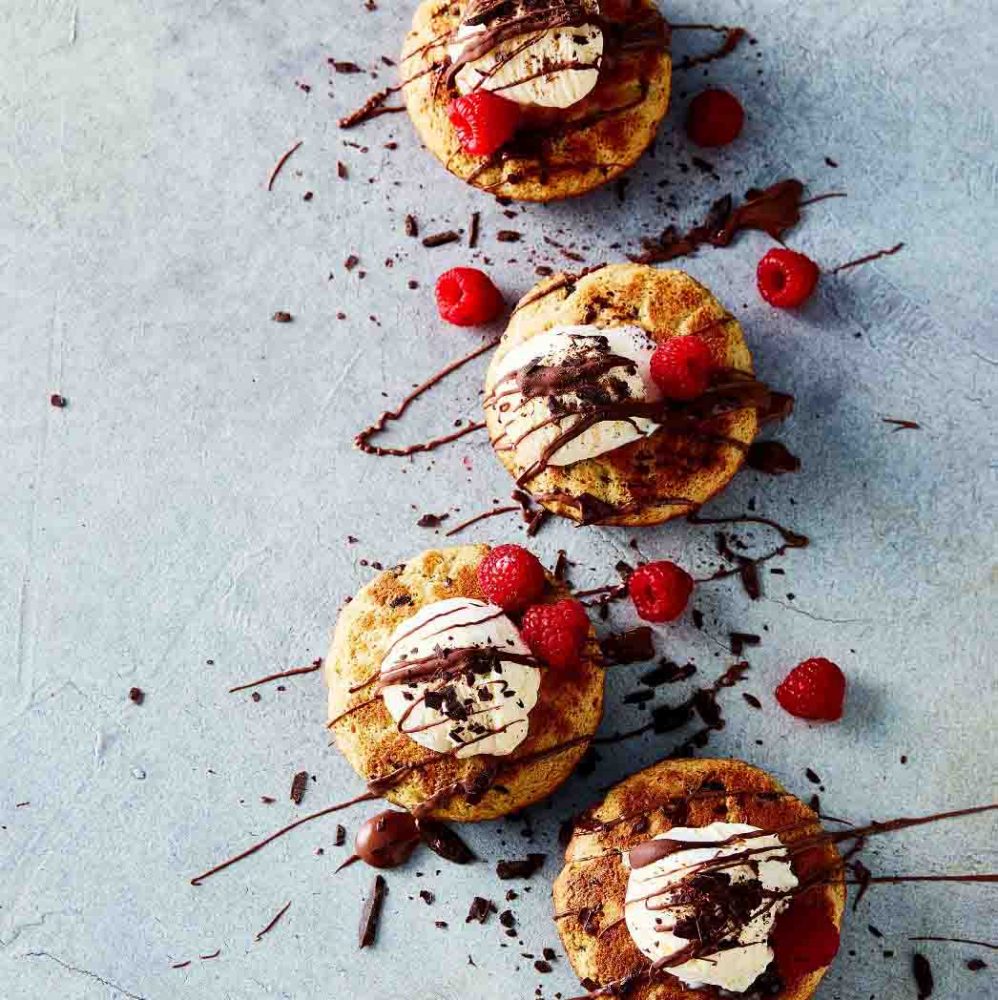 Having proven itself a whiz at the savoury courses, the Sunbeam Pie Magic® pie maker turned out to be just as good at crafting a delightful treat. In this instance, that treat was the exclusive, lovely and fluffy Sweet Overload.
While the name might imply a rich, heavy dessert, this couldn't be further from the truth. The Sweet Overloads turned out to be fresh, light muffin-like cakes with just the right combo of sweetness and moisture to leave you wanting just one more.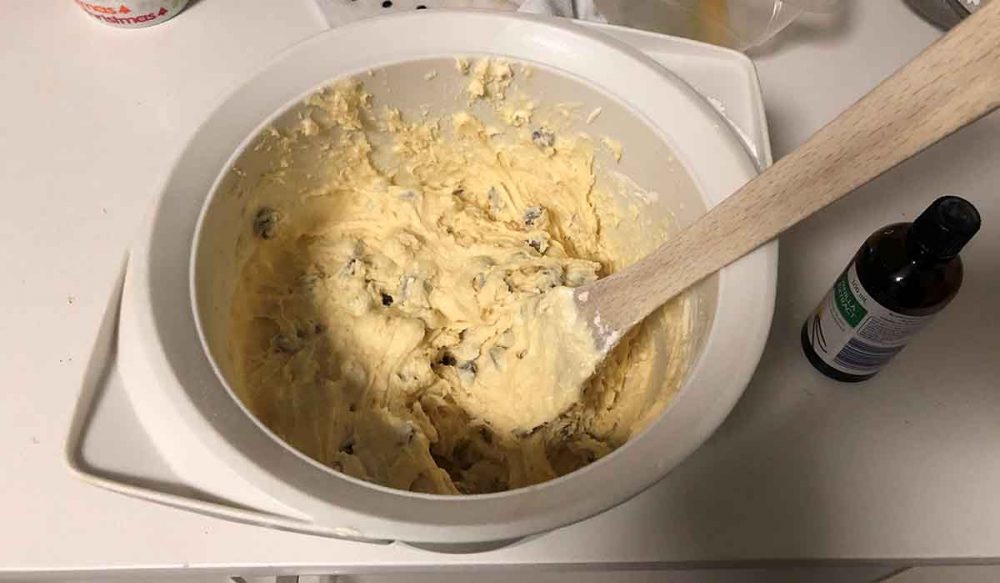 The Sunbeam Pie Magic® pie maker cooked the dessert to perfection in just 12 minutes. Half a cup of the decadent mixture, containing butter, condensed milk, vanilla extract, chocolate chips and flour, was all it took to create a wonderfully sized cake.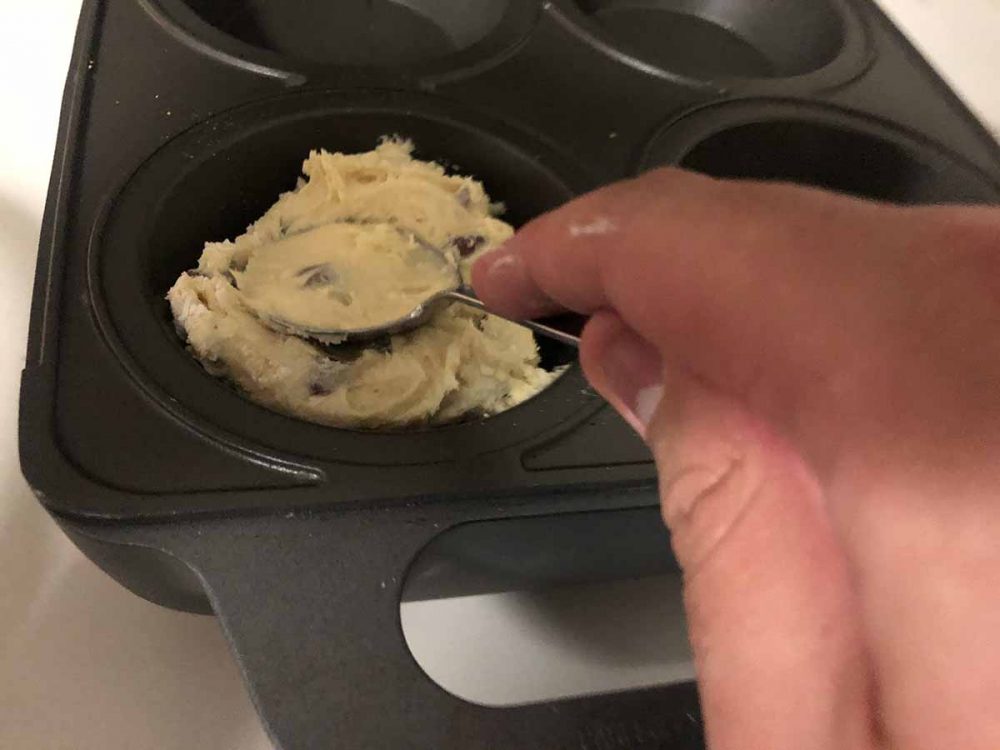 It's large enough to satisfy, but not so big that you'll feel guilty going back for seconds.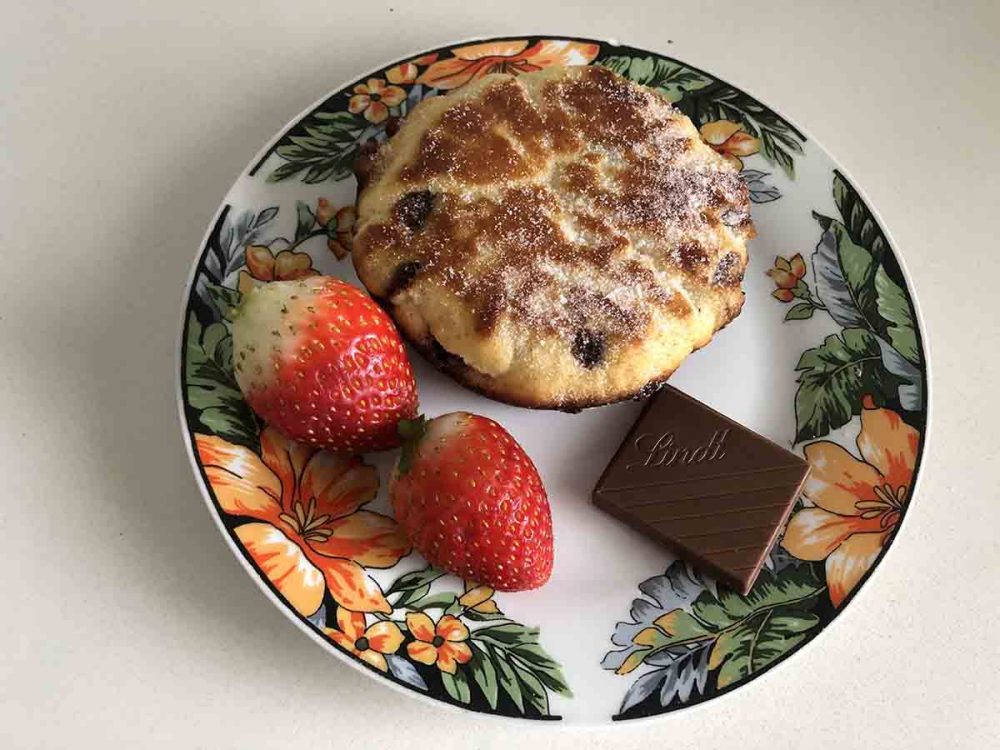 Bonus Afternoon Tea Sunbeam Pie Magic® Recipe: Chocolate Doughnuts with Custard Filling
The three course pie maker dinner party was a huge success, if I do say so myself. The exclusive recipes from the pie maker recipe e-book were amazing.
Energised by my cooking triumph, the next day I was emboldened to venture out from the exclusive recipe e-book and try something new. And given how much I loved the Sweet Overload, I decided to make another pie maker dessert recipe.
As I said earlier, there's a huge community of pie maker fans on Facebook. And on this particular day, a chocolate doughnut pie maker recipe was quickly spreading around the community. I couldn't resist giving it a go!
Soon enough, I had a hot chocolate doughnut oozing with custard.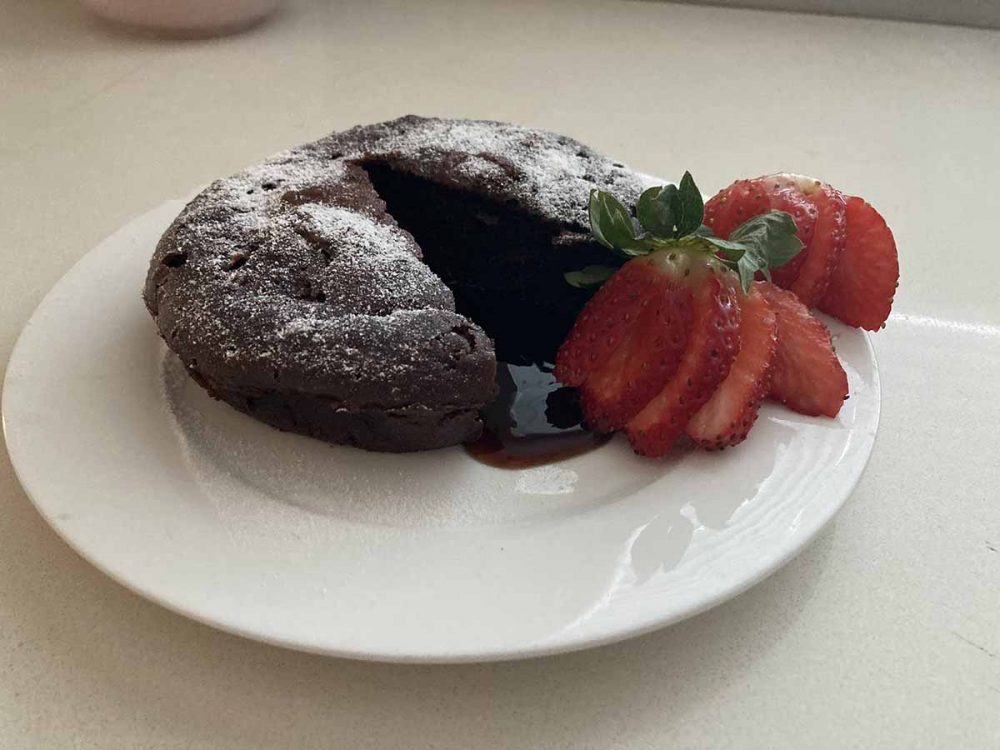 The fact that it's so easy to get amazing results like these, is why I consider the Sunbeam Pie Magic® the top pie maker in Australia!
Where to buy the Sunbeam Pie Magic® Pie Maker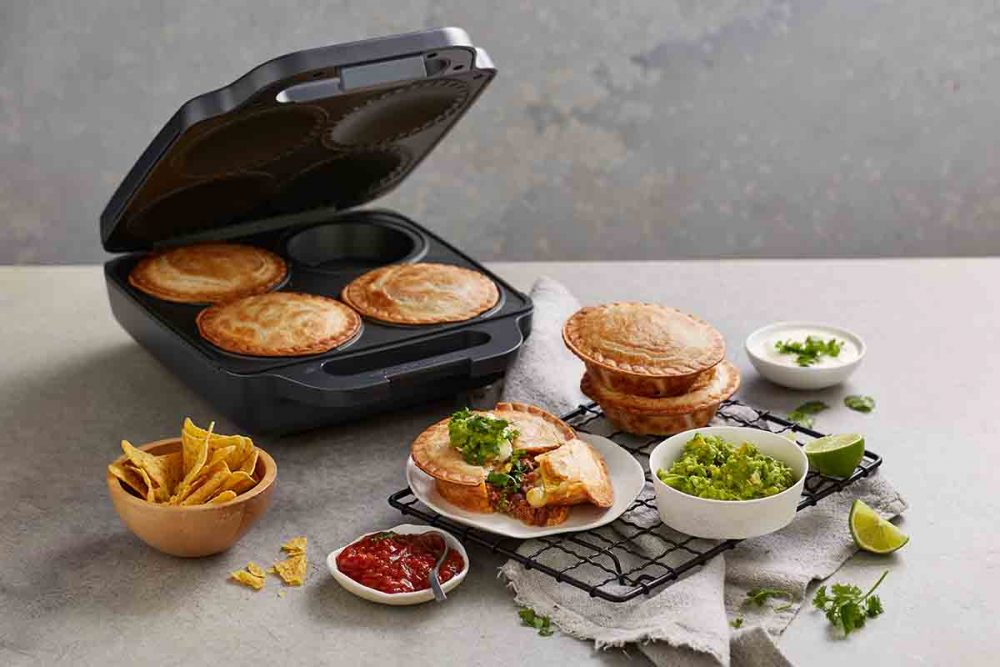 The Sunbeam Pie Magic® is the ideal way to start creating pies, desserts and everything in between. And, if after seeing this Sunbeam pie maker review you're keen to get cooking yourself, you can shop online today or at your local Harvey Norman store, where our friendly, expert staff will help with any queries you have. And, of course, after you've got your pie maker, open up the exclusive pie maker recipes in the Sunbeam Pie Magic® e-book and get cooking!
More Pie Making Inspiration
For even more great Sunbeam Pie Magic® Pie Maker ideas, check out our previous blog, showcasing six pie maker recipes for the week!