Watch my adventure with the George Foreman Veggie Spiralizer:
To find out how it all began, read on below:



"I've done it again! Another three-hat meal coming up!"
It was Friday night and I had just whipped up a batch of my famous Pasta Al Dente for my fiancé. It seemed only fair that I indulge in a bit of ego-inflating bragging before I let her eat it.
"I've been ridiculously impressed with my culinary variety lately – you'll never get bored with my cooking!"          
Sitting on our well-worn lounge, my better half's blank face made me think she didn't entirely agree with my little brag. This was confirmed by her breaking into hysterical laughter a few seconds later.
"The only variety in your cooking is whether it features carbs or extra carbs", she chuckled.
"What?!" I protested.
"Well, let's see," she laughed, "tonight was undercooked pasta covered in an outrageous amount of cheese. Carbs."
"That's my famous Pasta Al Dente" I replied.
"Last time you cooked it was potato wedges on bread. Double carbs."
"That's my famous Chip Sanger Al Dente."
"And the time before that it was potato wedges on bread with undercooked pasta as a side. Triple carbs."
"That's my famous… alright, maybe you've got a point!"
Ok, I think I need a George Foreman Veggie Spiralizer!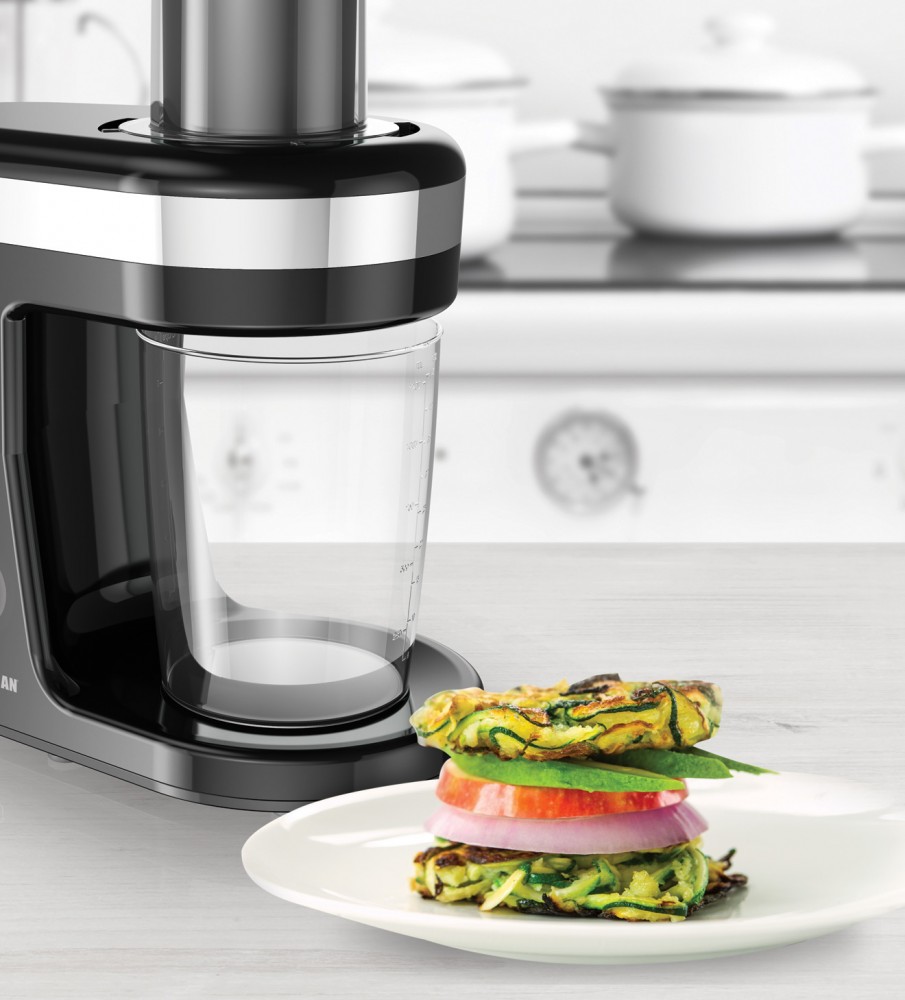 It was time to prove to my loved one that I could cook a meal catering for someone other than a carb-loading Steve Moneghetti the night before an Olympic marathon. It was time to use my connections at Harvey Norman to get my hands on the George Foreman Veggie Spiralizer.
So many tasty, spiraly possibilities
The awesome George Foreman Veggie Spiralizer takes vegetables and fruits and, with its 300W motor, quickly turns them into spiralized goodness! From trendy zucchini noodles (zoodles) to pasta carrot (which I'm officially recommending be called parrot), the Veggie Spiralizer lets you create deliciously nutritious recipes without having to rely on traditional staples such as refined pasta and bread. Even if you want to keep up your carb intake but just want a new and fun way of eating, this fantastically useful kitchen tool is perfect for creating dishes such as squash pizza crusts or sweet potato chips.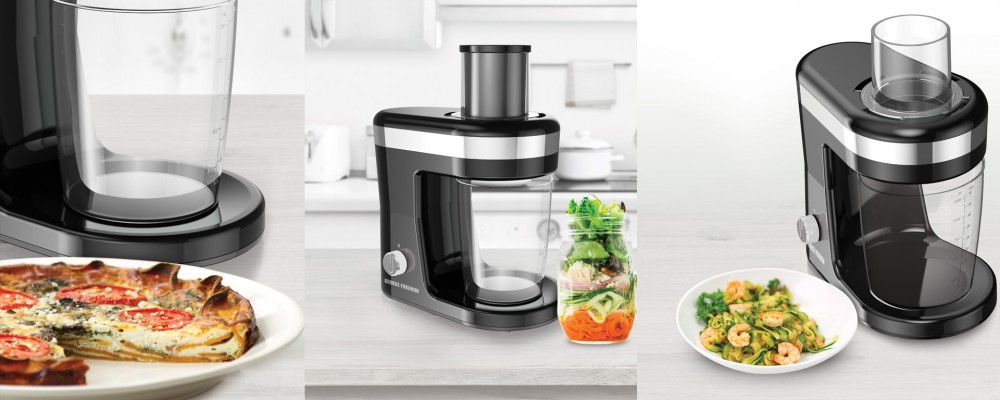 In fact, the Veggie Spiralizer comes with a recipe book featuring all sorts of wonderful meals including dinner delicacies like Zucchini Quinoa "Meatballs", breakfast delights such as Sweet Potato Crust Quiche (as seen above) and lunchtime gems such as Apple, Watermelon and Blueberry Salad. View all these fantastic, healthy living recipes for yourself below.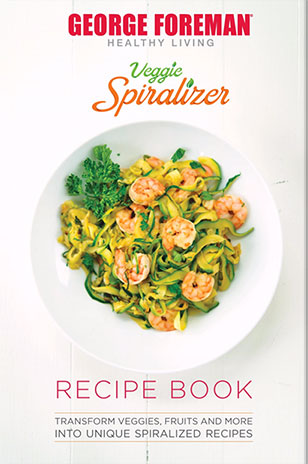 Time to step in the ring with George Foreman
So, after having sweet-talked my Harvey Norman contacts into gifting me a Veggie Spiralizer, my night to cook had come around again. With my plus-one still at work, it was time to bust out the Spiralizer and surprise her with some yummy, not-so carb reliant, healthy eating.
The healthy recipes I had decided on for my entry into the ring with George Foreman were the Zucchini Burger Buns – a unique and tasty take on burgers where you create zoodles and transform them into buns – and the flavoursome  Beetroot and Carrot Salad.
To get things under way, I had to set up the Spiralizer – an exceptionally simple process!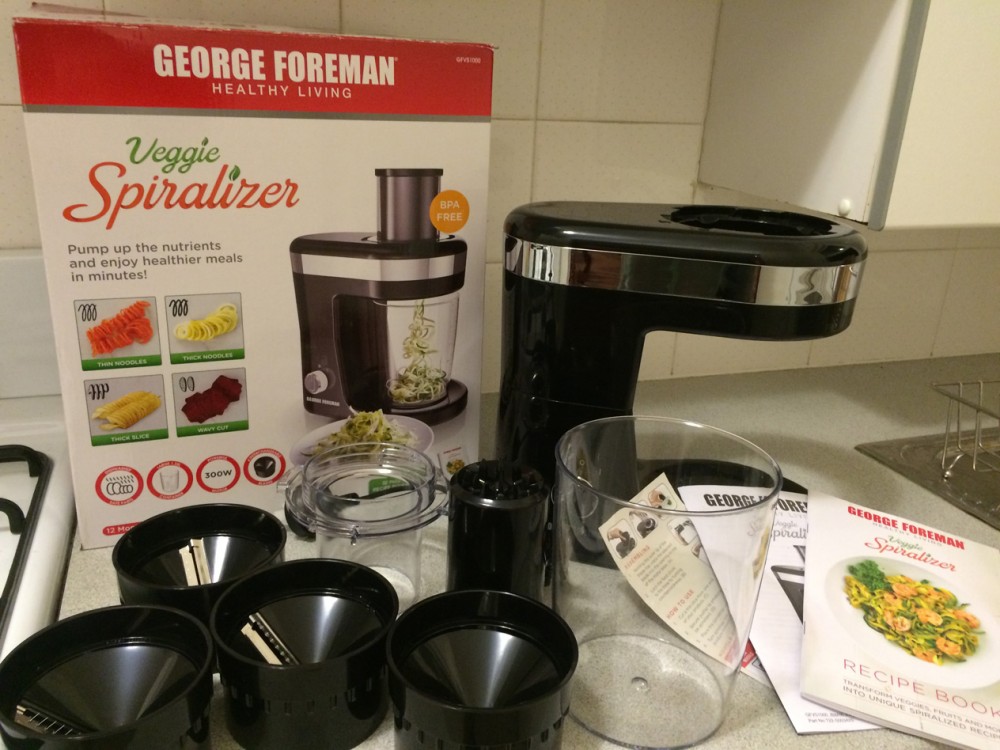 Beetroot and Carrot Salad
The George Foreman Veggie Spiralizer comes with four blades for different spiral cuts: thin noodle, thick noodle, thick slice and wavy cut. With the Beetroot and Carrot Salad calling for the wavy blade to be used on three carrots and three beetroots, it was simply a matter of pushing the wavy blade into its position on this clever kitchen appliance and twisting the 65mm feed chute in over top of it (65mm means it can handle all sorts of veggies and fruit!) With the 1.35L container placed under the blade to catch the spirals, I plugged my handy kitchen helper in and turned it on.
Firstly, I sent the carrots into the chute with the food pusher accessory and let my George Foreman get to work. Within no time it had turned those carrots into a bunch of eye-catching, ready-to-be-eaten spirals. This fight didn't even last one round!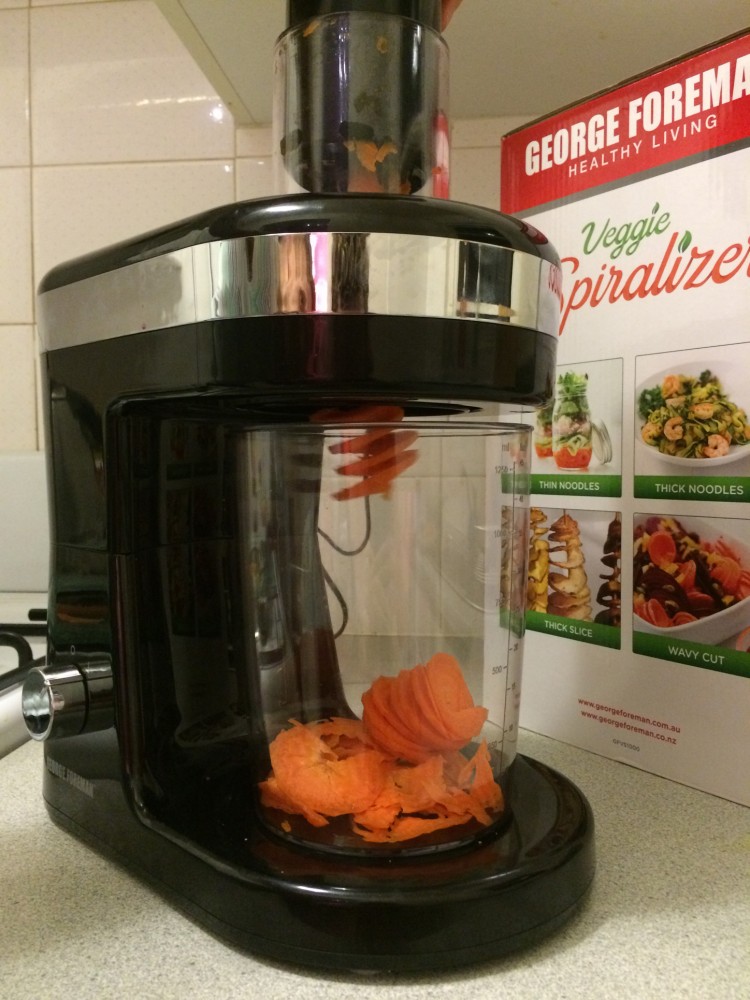 I couldn't help but to bounce my carrot spirals up and down – these things were amazing! Luckily I had enough self-restraint to not try sending them down a staircase slinky-style.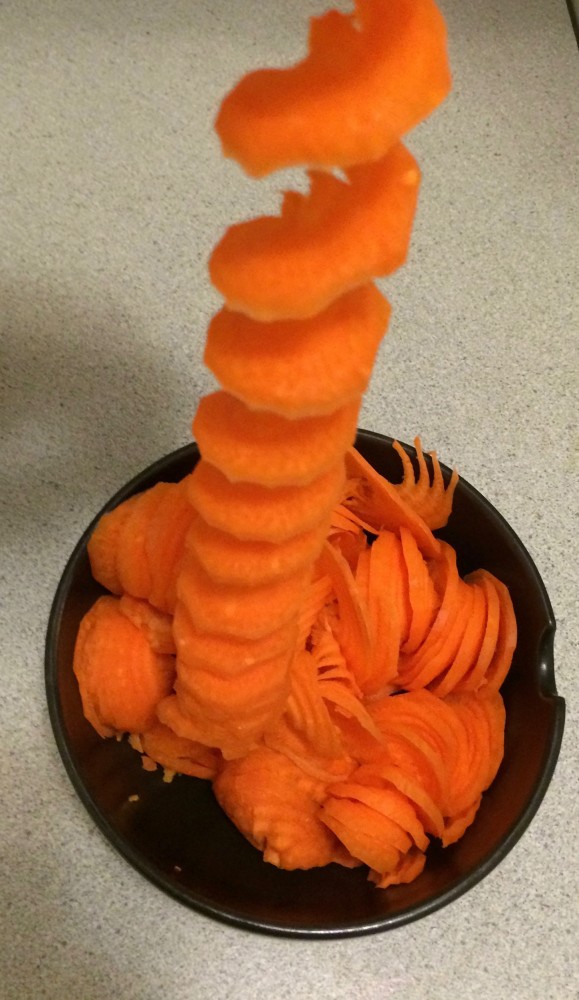 Up next were the beetroots, which the Veggie Spiralizer also made quick work of. Once again, I couldn't help but to play with my spiralized food. Unfortunately, I'd forgotten that beetroots probably shouldn't be bounced up and down with your fingers if you don't want blood-like stains on your hands and clothes! Before continuing my culinary extravaganza, it was time to quickly scrub my hands and throw on an apron to avoid my bae coming home and fearing that she'd encountered the opening scene of a Law & Order episode.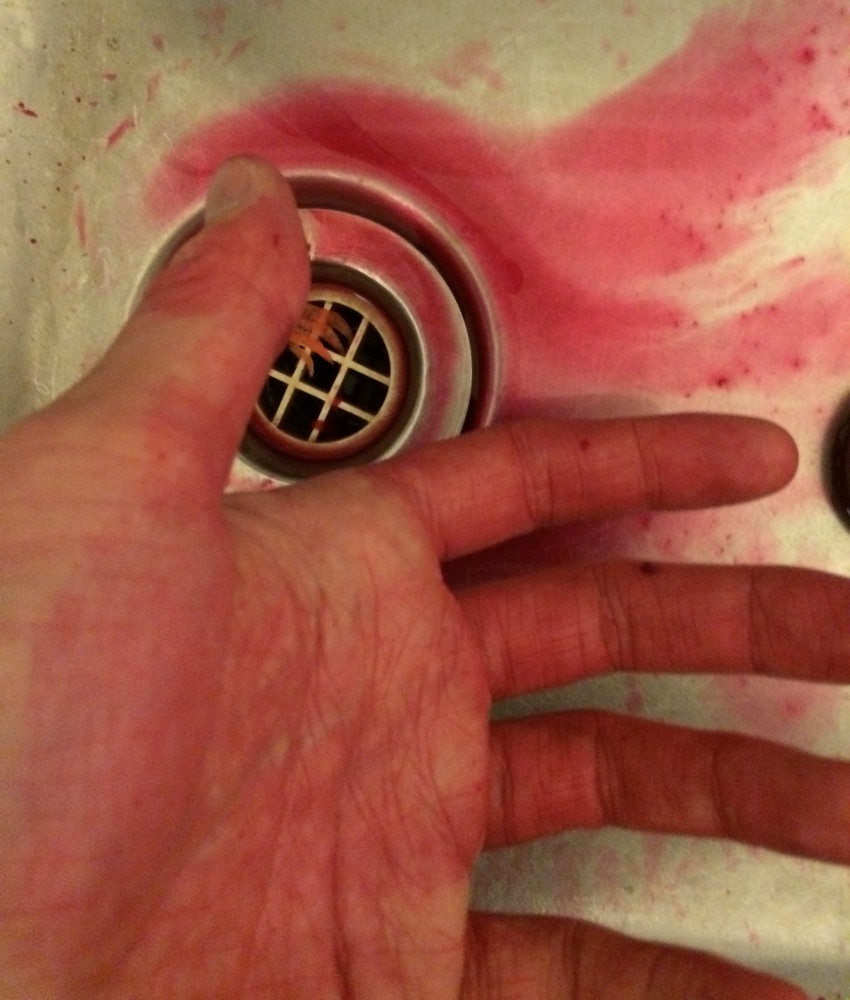 With my beetroot mishap out of the way, the next step was dicing a ¼ cup of dried mangoes and a ¼ cup of dried cherries, as well as measuring out a ¼ cup of shelled pistachios.
With my ingredients now all at the ready, I threw them into a salad bowl. To give the salad its full sense of flavour, I set forth creating the salad dressing – mixing two tablespoons of red wine vinegar, two tablespoons of cherry jam and one tablespoon of extra virgin olive oil.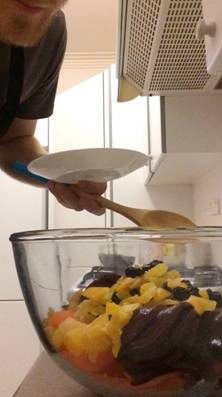 With the dressing done, I drizzled it over the salad and tossed it all together. Wow! I couldn't wait to eat it – but first however, I had to make the Zucchini Burger Buns.
Zucchini Burger Buns
To kick off the Zucchini Burger Buns process, I had to make zoodles! I turned to my friend George Foreman again, and replaced the wavy blade with the thin noodle blade.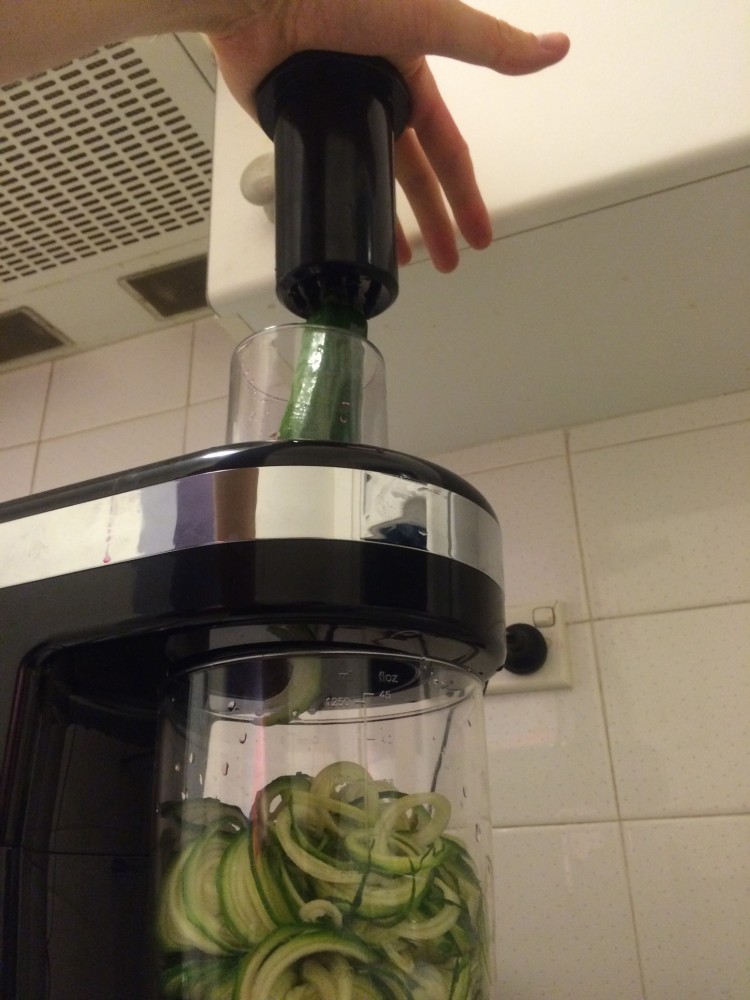 I pushed two zucchinis into the oh-so-modern small appliance and out popped a never-ending string of zucchini noodles! If you thought I was impressed with the spiralized carrot and beetroot, I was lost for words at how cool these zoodles were. Despite my beetroot nightmare, I just had to play with the zoodles. Up and down I sprang them, their look and texture just like real spaghetti – well, except for the colour!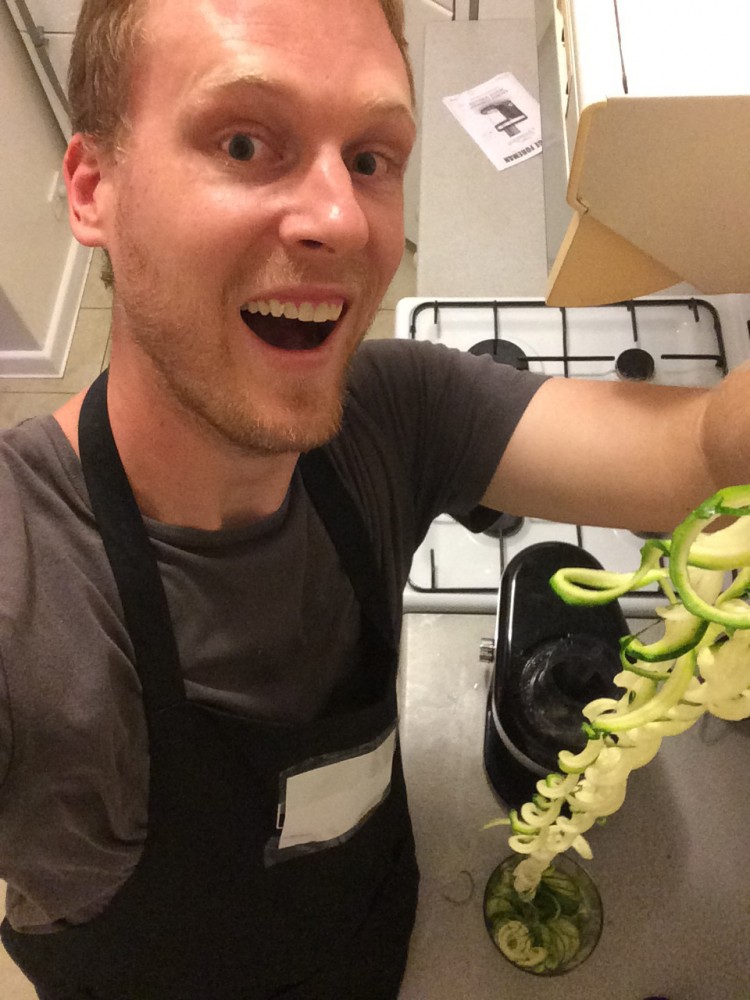 Although I could have happily played with my food all day, I had to focus my attention on turning my zoodles into burger buns as my significant other was on her way home soon.
I strained the zoodles in a colander before squeezing them in a tea towel in order to get out the excess water. After that, I placed them into a bowl and mixed in three tablespoons of dried bread crumbs, ½ a teaspoon of salt and an egg white
I mixed everything in the bowl together, before pulling out the coated zoodles and sculpting them into bun shapes inside a regular bowl (you can use a ramekin if you happen to own one). I then placed the buns in the fridge for half an hour to firm them up (it took about half an hour to find some room in the fridge to place them).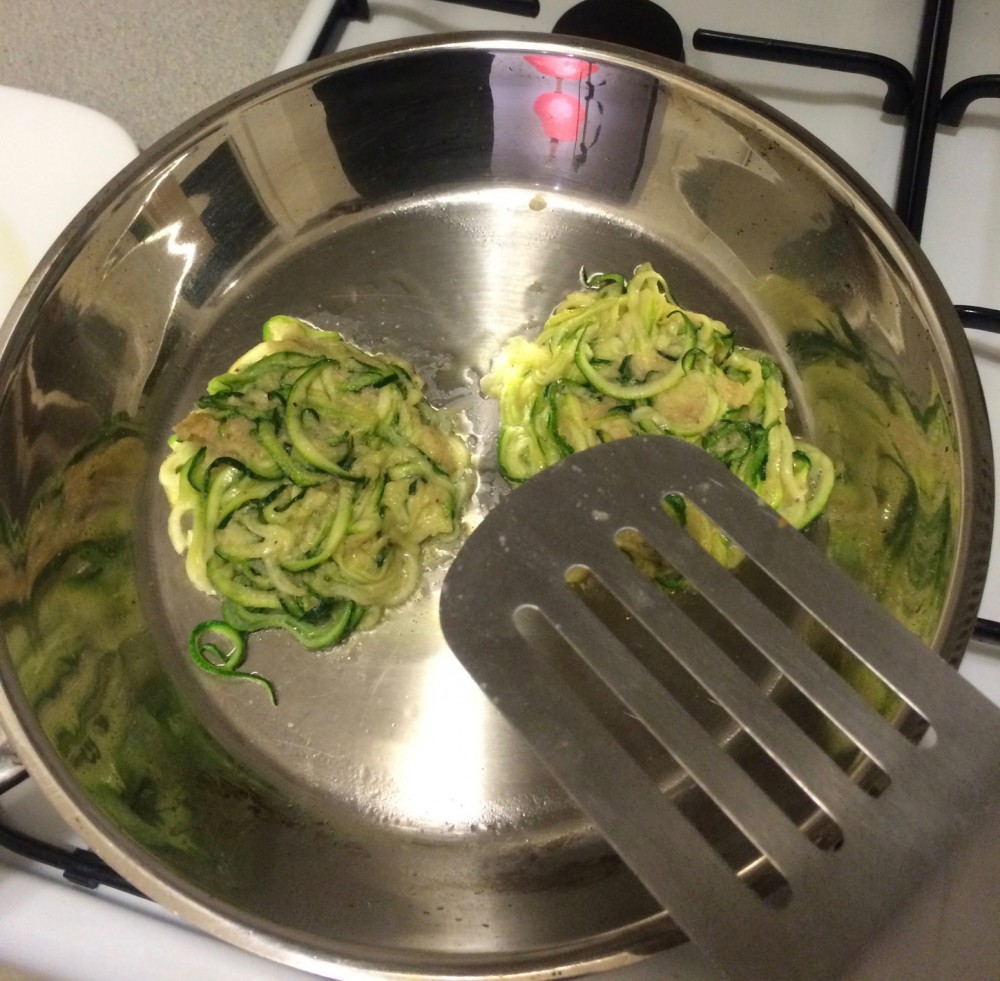 With the buns firmed, I got to cooking. I placed the buns in a pan coated in extra virgin olive oil and turned on the hob. Making sure to flip my zucchini buns over halfway through, within a few minutes they were golden brown.
A couple slices of tomato, onion and cheese later, my zucchini burgers were ready to serve – and I was ready to eat them.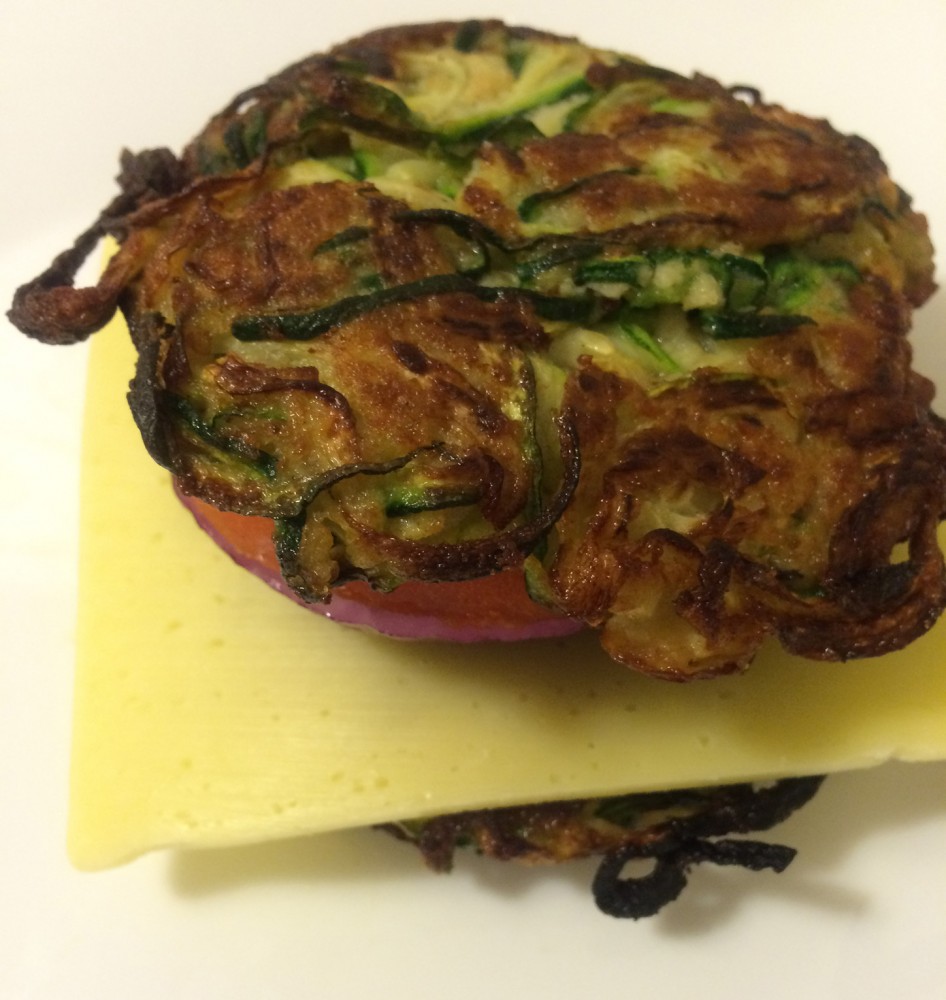 Ready to eat the spirals!
In preparation of my surprise, low-carb fiesta, I chucked a tie over top of my cooking apron, sat back and waited for my one-and-only to arrive home.
As I waited, a message came through on my phone. Who could it be? George Foreman himself congratulating me on a tremendously well-cooked dinner? Nope! It was my betrothed sending a message letting me know that she was staying back at work a while longer and was planning to order some takeaway for dinner!
Was I upset that the George Foreman Veggie Spiralizer's awesome work wasn't even going to get enjoyed by its intended recipient? Of course not! It just meant more fun, healthy, delicious food for myself!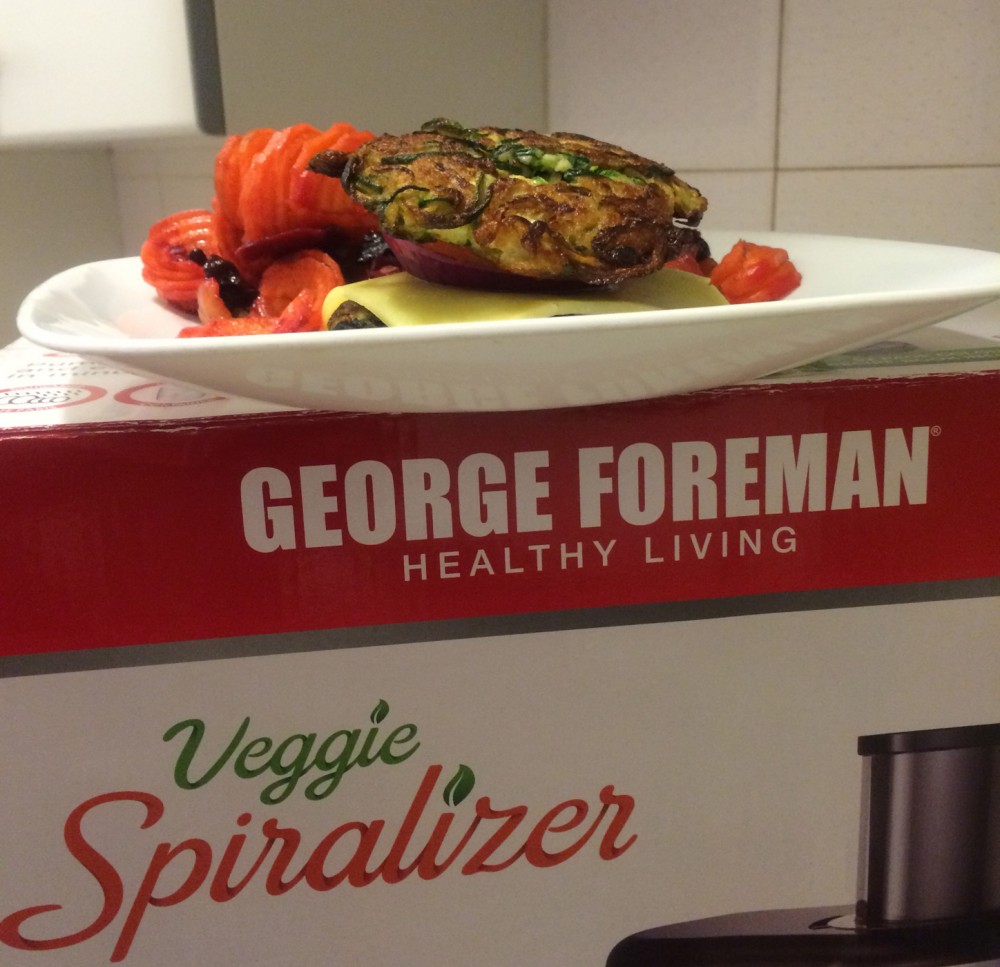 If you want to join in on the fun and healthy spiral revolution, head into your local Harvey Norman store and check out the Veggie Spiralizer for yourself. Speak to the friendly and knowledgeable home appliance team and have all your questions answered. You can also find out more information and shop online on the Harvey Norman website. Happy spiralizing!