The Gourmet Institute features Australia's most exciting chefs conducting a series of exclusive master classes in Sydney and Melbourne.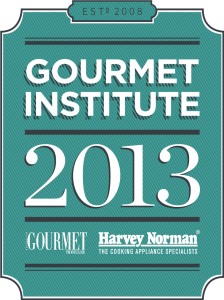 Harvey Norman, in conjunction with Australian Gourmet Traveller, is proud to present the Gourmet Institute. Established in 2008, this culinary event is back for 2013, featuring cookery demonstrations by some of your favourite chefs.
In Sydney, the "trend-setters" will be cooking up a storm at the Harvey Norman @ Domayne Alexandria store:
Dan Hong – "Spice and Heat" takes you through the full spectrum of spices, from subtle complexity to feeling the burn. Flame on! (Wednesday 1st May 7pm-9pm).
Christine Manfield – "Essential Chocolate" is compulsory viewing for chocolate fans (Wednesday 12th June 7pm-9pm).
Colin Fassnidge – "The Prince Of Pork" shows how to produce culinary gold from almost every part of the pig (Wednesday 24th July 7pm-9pm).
The Buzo Crew – "Spring Pasta" combines Italian tradition with a flair for the contemporary in a twist on fresh pasta (Wednesday 18th September 7pm-9pm).
Martin Benn – "Seafood Made Special" is a rare chance to learn from one of the very best exponents of seafood (Wednesday 9th October 7pm-9pm).
The chefs of Melbourne's multicultural melting pot will whip up their delicious dishes at the Harvey Norman Chadstone store:
Philippa Sibley – "Pies and Tarts" is entertaining and educational, taking your appreciation of pastry to the next level (Wednesday 3rd July 7pm-9pm).
Ben Shewry – "Tacos" exhibits the magic of Mexican food as you prepare to compare tortilla techniques with one of the best (Tuesday 13th August 7pm-9pm).
Matt Wilkinson – "Party Down" is all about fun food that'll get your parties rocking like never before (Wednesday 13th November 7pm-9pm).
Places at the Gourmet Institute are limited and sessions sell out quickly, so book early to secure your spot. To book your tickets ($60 each), email: gourmetinstitute@bauer-media.com.au or phone (02) 8114 6012. Don't miss out!