Have you ever woken to face the workday with a great sense of anticipation? I recently had that pleasure, for you see this wasn't just any ordinary day at the office for me. I was on my way to a state-of-the-art showroom to experience for myself a range of innovative kitchen appliances designed by one of Australia's most influential chefs – the one and only Neil Perry.
Neil Perry Kitchen by Omega: Innovation in Design
The industry grapevine has been buzzing about the Neil Perry Kitchen range, so my interest was well and truly piqued. As an Order of Australia recipient and the founder of Australia's famous and award winning Rockpool Restaurant Group, Neil Perry had taken a very hands-on approach with the range, adamant about what he wanted to achieve.
"Our starting point was a workshop on all the things I found comforting when cooking in my commercial kitchen and all the things I found frustrating at home. I wanted strength in design, easy maintenance and powerful output to cook quickly and thoroughly, while bringing new levels of control to the ovens," Neil said.
Knowing how invested Neil was in the endeavour, I could that this range was going to be something special. Neil's intent was to take the quality, power and performance of the cooking equipment found in his restaurants, imbue them with a gorgeous design, and then transfuse these elements to a domestic
environment to create the ultimate home cooking range.
Neil knew that turning this dream into a reality would be "the culmination of three years hard work on testing and design to bring a new strength, performance and beauty to domestic cooking equipment."
Neil and Omega have worked tirelessly since 2012, liaising with some of the world's best manufacturers to ensure the end result was up to Neil's impeccable standards. "I couldn't be prouder of this collaboration, and bringing the ability to cook like a chef into the home," Neil said. "I now have in my home equipment that can deliver the type of energy that allows me to cook quickly, in control and without fuss."
A Trip to the Omega Showroom: Excitement & Nerves
Knowing that I was about to experience such innovation, it was only natural that I ventured out to the Omega showroom with a great sense of excitement. However, I couldn't help also feeling a little nervous.
You see, not only was I going to be viewing the new range, but I would also be cooking with the appliances. And not tucked away in some quiet corner either; I was going to be whipping up a couple of Neil Perry recipes in the company of their fabulous in-house chefs.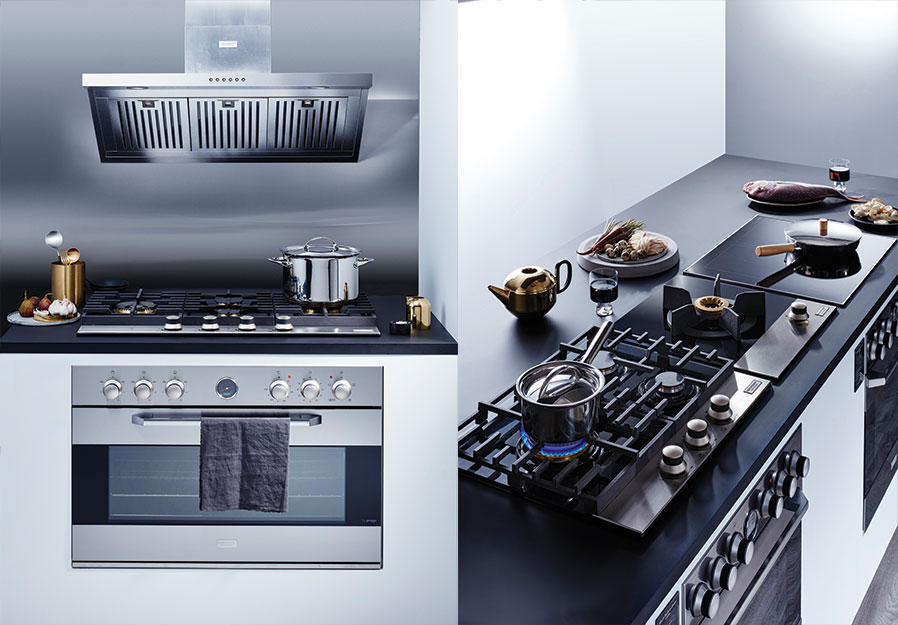 It was with a storm of nerves that I entered the showroom. Upon entering, my attention was immediately drawn to the sleek appliances that stood in front of me. Completely captivated, I knew that the stunning ovens, gas and induction cooktops, wok burner, rangehoods and wine cooler formed the Neil Perry Kitchen range. These brilliant appliances truly looked like they would have been at home in the commercial kitchens of top eateries from around the world.
The super-friendly crew introduced themselves and were more than happy to tell me all about these amazing appliances.
Ovens
It turns out that the stylish looking built-in wall ovens – available in three sizes; 60cm (66L), 75cm (84L) and 90cm (108L) – are all capable of producing great power, resulting in immense radiated heat. With the 60cm model capable of 5,700W and the 75cm and 90cm capable of 6,400W, these are market leading products that can truly bring commercial cooking power into the domestic home. This high power allows for pronounced, professional cooking results as well as reduced cooking and pre-heating times, with the ovens able to reach high temperatures extremely quickly. The 60cm model, for example, can reach 180°C in less than five minutes.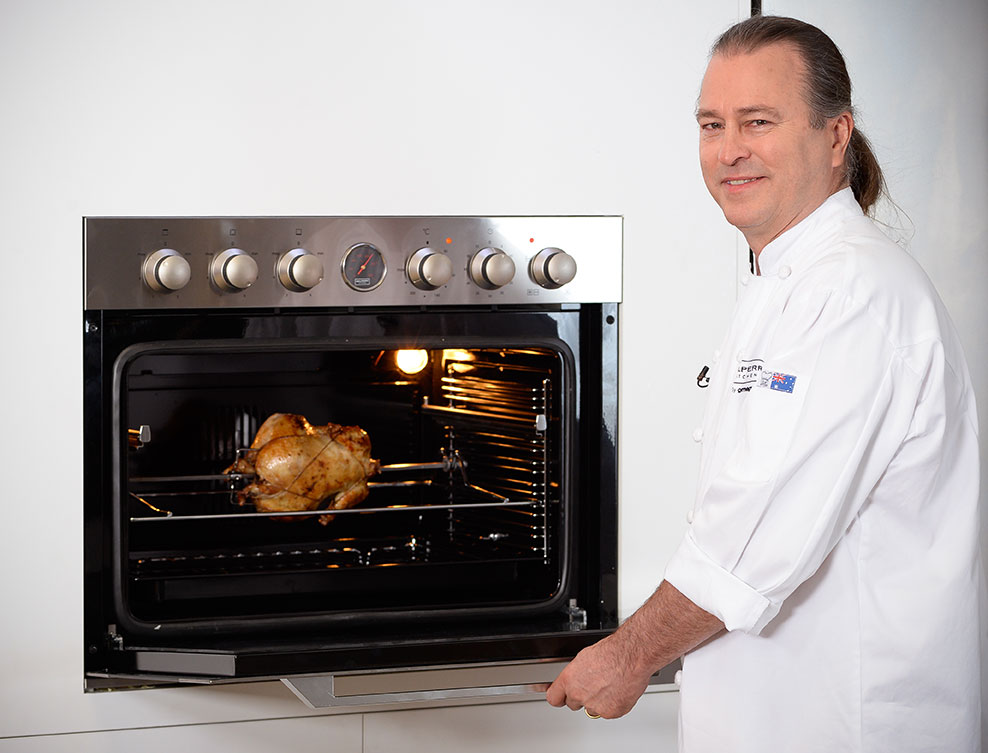 Beyond the high power output of these Italian-made ovens, they also boast the following features:
• A precise temperature gauge combined with accurate temperature setting, allowing for greater control of the cooking process
• A removable slow turn rotisserie for extended cooking flexibility
• Nine shelf positions inside the oven cavity, allowing for flexibility when it comes to maximising the usable space
• Triple-glazed doors to ensure safe external temperature
• Anti-fingerprint stainless steel surfaces, including a robust stainless steel handle
• Large anti-slip rubber controls
In addition to all of these they also have what would turn out to be my absolute favourite feature – Individual Element Control.
Individual Element Control offers exactly what it states – it gives the user complete control over the high power and heat output from each element in the oven – top, bottom and rear. With a dedicated control knob for each of the three elements, you'll be able to choose exactly how much heat is coming from each part of the oven, allowing for endless cooking combinations and precise results, no matter whether the recipe calls for a high or medium heat output.
Extreme Heat Wok Burner
When talking with the crew, it quickly became clear that the high power concept isn't restricted solely to the ovens. Rather, the philosophy of high power is a core principal running throughout the entire range. Never was that more obvious than with the Neil Perry Kitchen 45cm Individual Gas Wok Burner. This unique wok burner is indeed something to behold. One look at it tells you that it means serious business!
One of the things that frustrated Neil Perry about typical domestic cooking appliances was their lack of the sort of power required for professional results. This issue has now been well and truly rectified. With a commercial cast-iron trivet and a vitroceramic glass base, this Italian-made wok burner provides a huge 23.5Mj of power, making it the most powerful cooktop on the domestic market. This extreme power gives you the freedom to cook what you want, how you want.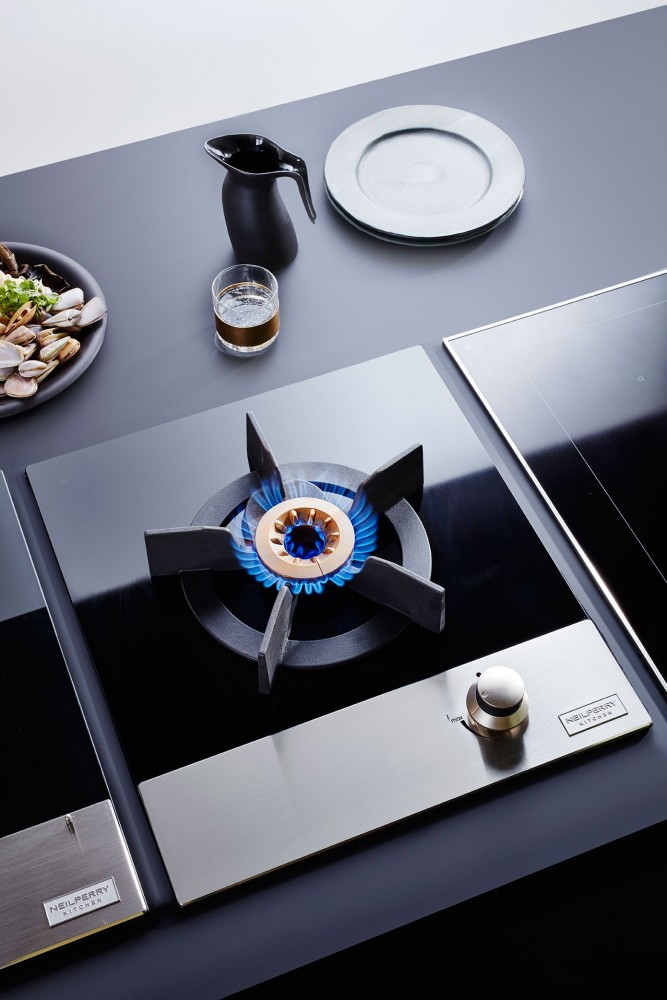 Gas and Induction Cooktops
Working in tandem with the Extreme Heat Wok Burner, the Italian-made Neil Perry Kitchen cooktops provide tremendous flexibility in regards to your cooking options.
The 60cm and 90cm Combination Gas Cooktops pack a serious punch. The 3-burner 60cm model features an 18Mj wok burner, while the 4-burner 90cm model features dual 18Mj wok burners. The burners also have accurate low heat settings that are perfect for simmering.
Both gas cooktop models feature brass burners for longevity and sturdy flat cast-iron trivets that allow you to slide your pot or pan on and off the heat or between different burners, just like a professional chef. Large antislip rubber knobs allow for accurate control, while you're offered the choice of tempered or ceramic glass bases, both of which will handle the high heat.
Meanwhile, the 60cm Dual Flex Zone Induction Cooktop is certainly no stranger to power either. With an epic 7,400W of power at its disposal, this cooktop features large twin flexible zones. By utilising the precise slide control temperature settings, you can accurately vary temperatures within the zones, enabling you to mix and match large and small pots simultaneously. The induction technology means that only your pots and pans will get hot, so spills won't burn and the easy-clean vitroceramic surface will remain as stylish as ever.
Rangehoods
The sheer power and heat on offer from the cooktops and wok burner was incredible. I'd never before seen such serious domestic appliances, but as amazing as they are, it did bring to mind an important question – can the rangehoods keep up with and manage the cooktops output?
The Omega crew nodded and laughed. Without a doubt, the rangehoods have exactly what is required to manage extreme heat!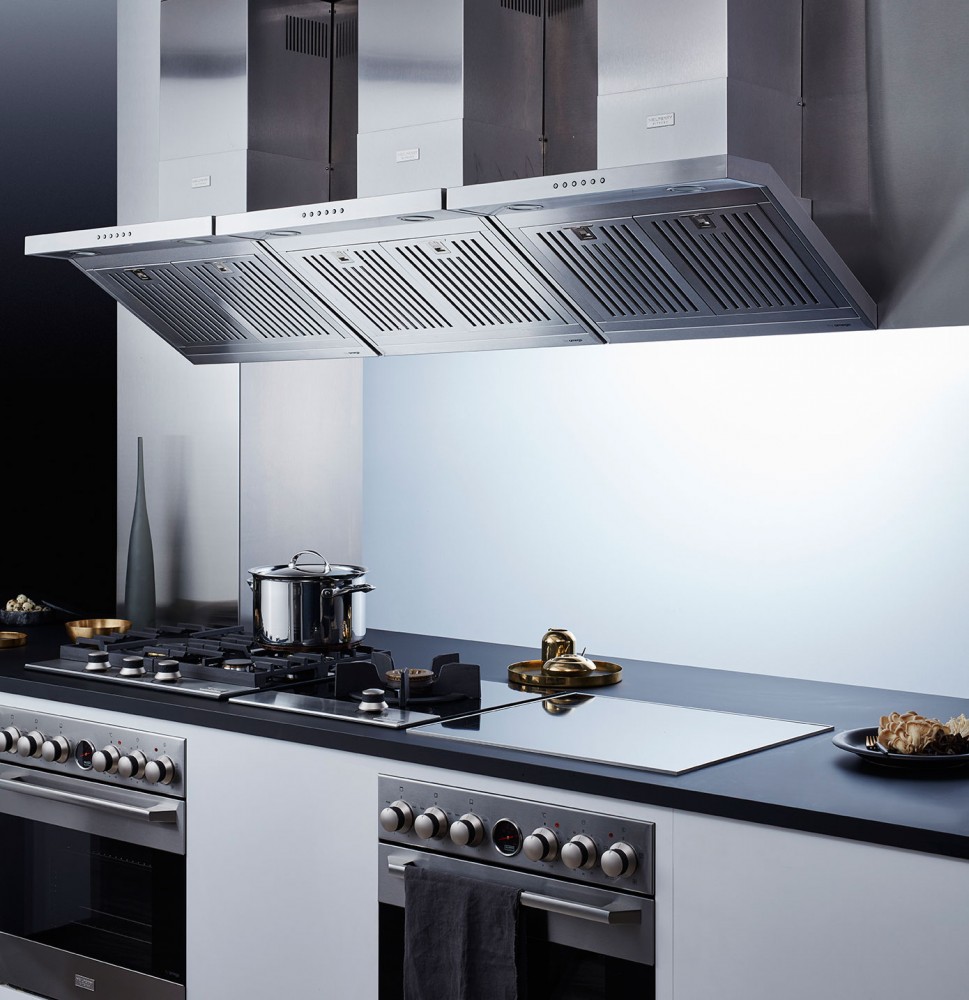 The Italian-made Reverse Sheer Rangehoods – available in 60cm and 90cm models – each offer up to 1000m³ of airflow. And as vast as that is, if you wish to stack them together side-by-side, you can garner up to 2700m³ of extraction. With these rangehoods you can ensure a smoke-free kitchen no matter what you're cooking.
The reverse sheer design provides maximum headroom, which is so important in any kitchen where space is always at a premium. You'll be cooking with flair with the freedom to move about as you please.
These commercially designed, ducted or recirculating rangehoods also feature:
• Strong LED lighting
• Backlit three-speed control
• Removable dishwasher-safe baffle filters (60cm feature two, 90cm features three)
• Carbon filters
Public Displays of Cooking
After viewing this tremendously impressive range I was left with three thoughts. The first was that I wanted to take everything home to my own kitchen ASAP. Secondly, that with all this amazing technology I needn't be so nervous about the cooking I was about to attempt. My third thought was that, despite my second thought, I was still a little nervous!
Before I knew it, the hour was upon me. It was time to get cooking.
Potato Gratin
With a smile on her face, the marvellous in-house chef presented me with the recipe for my first challenge, Neil Perry's Potato Gratin.
"Don't worry", she laughed, "I prepared one earlier just in case you mess this up!"
Looking at the recipe, to get things rolling I needed 500g of peeled bintje potatoes. Peeling's not my specialty, but luckily for me the hard yards had already been done in this regard. The smiling chef presented me with my required peeled potatoes and the other ingredients I needed:
• 200ml of pure cream
• 30g of freshly grated gruyere cheese
• 30g of melted unsalted butter
• Sea salt and freshly ground pepper
So, with all the ingredients already taken care of, the only preparation I had to do was to place everything in a tray. I couldn't mess this up, could I?
With a nervous lump in my throat and a slight tremble in my hand, I brushed the tray with the melted butter and began to place the potato slices on the tray in a circle formation. After the first layer, I poured some cream and sprinkled some gruyere. Was it too much, was it too little? I wasn't sure – I could only hope! Another layer of potatoes, more cream, more gruyere. Repeat again, then sprinkle on salt and pepper for good measure.
Now came the true test – the real reason that I was here – using the appliance!
If I had cooked this at home I would have been in trouble for the following reasons:
• I'd have been waiting an eternity for my oven to heat up
• I'd have been unable to work out where to place the tray, as an inconsistent level of heat seems to irregularly gather in different spots of the cavity
• I'd never know how long it would take to cook, if at all
Luckily for me, this wasn't my house or my oven! Instead I was using the Neil Perry Kitchen 75cm Built-in Oven.
Like I said earlier, my favourite feature turned out to be the Individual Element Controls. The reason? Well, by being able to select exactly where the heat was coming from, I knew that I had the power to cook these exactly as they should be – nothing was left to chance.
After setting the controls as the recipe called for, I opened up the quickly pre-heated oven and placed the potato gratin tray inside…
Ocean Trout with a Herb Crust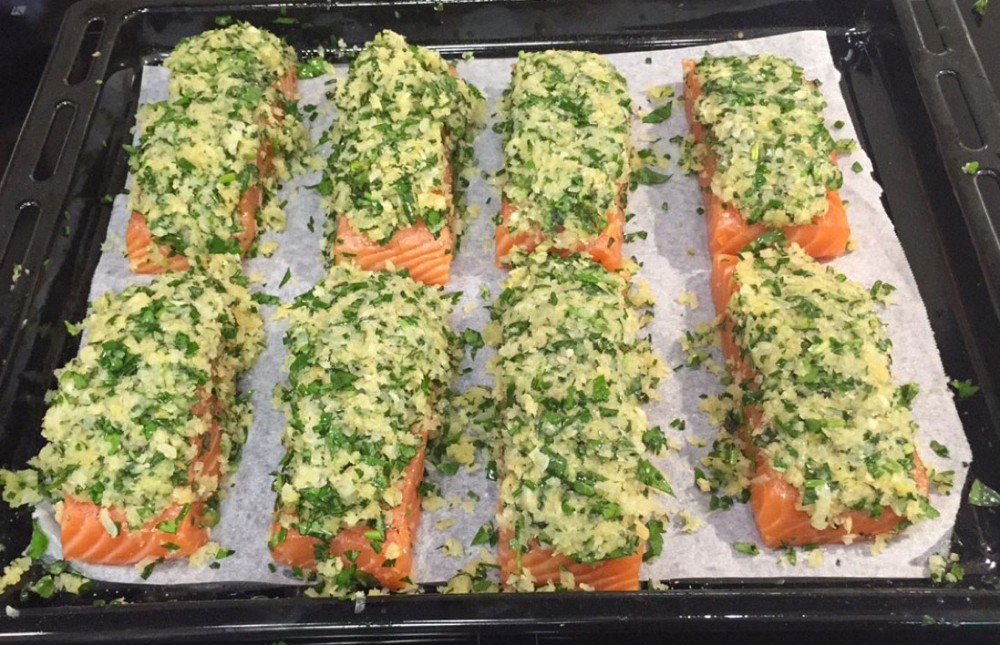 There was no time to rest. As the potato gratin cooked, my next recipe to get stuck into was Neil Perry's Roast Ocean Trout with a Herb Crust. For this I was going to need the help of three appliances from the range; the 60cm Built-in Oven, the 60cm Dual Flex Zone Induction Cooktop and the 60cm Reverse Sheer Rangehood.
Once again, the chef provided me with pre-prepared ingredients, including onion, garlic, breadcrumbs, fresh ginger, coriander seeds and leaves, parsley, chives, lemon zest and, of course, the ocean trout.
My job was to take the onion and garlic and to heat them in a pan on the induction cooktop. On my cooktop at home, this would inevitably involve guessing where to place the temperature setting. With the Neil Perry Kitchen Induction Cooktop's precise slide control, I was able to accurately sweat the onion and garlic at the exact temperature required. While the onion and garlic cooked, the Reverse Sheer Rangehood kept the cooking space fresh and clean.
After a few minutes, I took the perfectly soft onion and garlic off the cooktop and threw them into a bowl along with all the other ingredients (minus the ocean trout) and mixed everything together. This mix formed the herb crust which I proceeded to place on the ocean trout.
With the crust on, the fish was ready to go in the oven. Again, when I cook fish in my oven at home, I have absolutely no idea when it's ready or if it's even cooking. Annoyingly I have to go back and forth, constantly checking. Here though, with the high power of the Neil Perry Kitchen oven and its exact temperature gauge, I knew that my ocean trout was definitely cooking and I also knew when it would be done.
Apple Tarte Tartin
Potato Gratin. Check.
Ocean Trout. Check.
Now it was time for the sweet stuff. Apple Tarte Tartin.
My attention turned to the 3-burner 60cm Combination Gas Cooktop. Melting an unsalted butter cube was the name of the game, and with a burner placed on a medium temperature, this task was efficiently taken care of.
After melting the butter, I added some sugar and salt to the heated cast-iron pan, mixing everything together until it turned a light brown colour. After this, I was called upon to slide the pan off the heat, which was easy to do thanks to those sturdy flat cast-iron trivets. I then continued stirring for a minute before adding a teaspoon of vanilla paste, creating a rich golden caramel colour.
Next, I tightly fanned a kilogram of Granny Smith apple pieces around the pan. The apple pieces had been tossed with lemon juice and three tablespoons of sugar and left to sit for fifteen minutes, making them primed for deliciousness!
After adding a bit more melted butter, the 90cm built-in oven was now ready to be put to the test. Once again, the oven had been quickly pre-heated to 200°C with the Individual Element Controls placing the back element on mark 5, the bottom element on mark 4 and the top element on mark 9.
The oven's power came to the fore, and after five minutes I was able to place puff pastry on top of the pan. Back in it then went, ready to let the Neil Perry Kitchen oven finish off the job.
Stir-Fried Asparagus Spears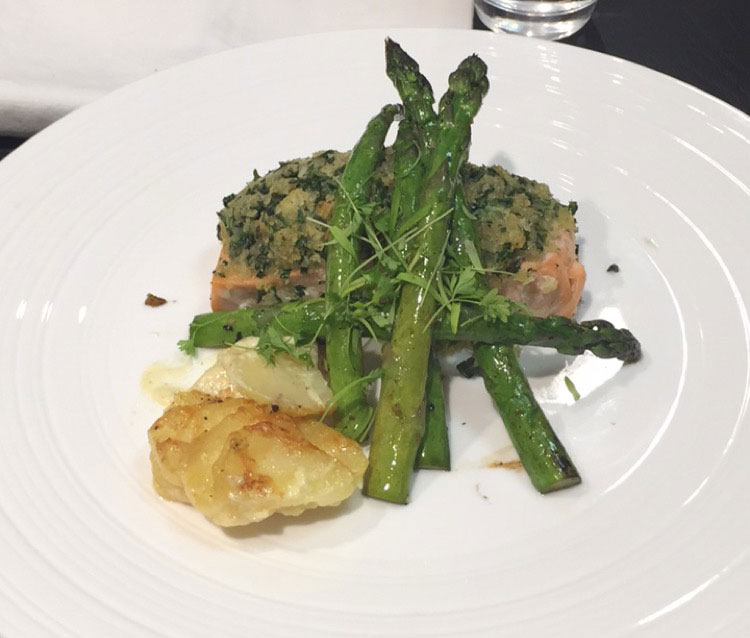 There was just one thing left for me to do, and trust me, I couldn't wait to do this! I was going to use the 45cm Extreme Heat Individual Gas Wok Burner, the most striking and powerful domestic appliance that I have ever seen.
What vegetable was about to suffer the wrath of 23.5Mj of power? Asparagus spears of course! After a quick pre-heat, the asparagus spears were tossed into the wok for a good old fashion stir-fry.
When I add food to a pan on my cooktop at home, inevitably any heat that's been pre-heated all but disappears and it feels like the heat build-up has to start from scratch. Frustrating is an understatement.
With the Neil Perry Kitchen 45cm Wok, there were no such problems! I knew that with the Reverse Sheer Rangehood in action, dispelling heat from the air, the wok burner was free to do its thing and powerfully create one mouth-watering stir-fry.
All in a Day's Work
My day as a chef was almost at its end. Everyone else's day as a food critic was about to begin. Not only had I just cooked in front of the Omega crew, but now they were about to try my dishes! It was time to plate up.
First I pulled out the potato gratin. I couldn't believe my eyes when I saw it. I'd never cooked a potato dish this good looking ever before. The oven had certainly gone above and beyond! Then out came the ocean trout with a herb crust, accompanied by a stunning aroma. Finally, the mouth-watering asparagus spears were placed onto the plates.
As everyone sat down to eat, I nervously awaited with bated breath. It didn't matter how good everything looked, or how wonderful it all smelled. Taste buds were going to be the real critics.
The verdict? Delicious!
As much as I want to believe otherwise, I think we all know that the meal's success had absolutely nothing to do with me. It was all a result of the awe-inspiring range of innovative Neil Perry Kitchen appliances. Well, that and the in-house chef who pre-prepared all those ingredients for me!
Oh, and don't think we forgot to eat the Apple Tarte Tartin. Let's just say that some things are just too tasty to put into words.