In terms of its value to today's home and lifestyle, the modern kitchen is more than simply a functional space. It's the hub of the home, a place where family and friends gather to enjoy good food and company; to share and revel in the experiences of life. A zone where inspiration, design and the latest innovations come together, making it truly the heart of the home.
Appliances: The Cornerstone of the Modern Kitchen
Innovative, beautifully designed appliances from trusted, premium brands add a sense of style to the contemporary kitchen, creating a functional and inviting space that is as valued for entertaining and celebrating as it is for cooking. Through choosing the right appliances, you will create a working space that fires your imagination while offering the everyday convenience of the latest technology.
The latest trend towards a bank of wall ovens and complementary appliances not only provides additional working capacity when preparing multiple courses, but also adds versatility for working on new culinary creations. By accentuating your space with a range of quality kitchen appliances, you will be adding value to your home for years to come.
Harvey Norman's Premium Selection Kitchen Appliances
Harvey Norman's Premium Selection of kitchen appliances offer the very best in style, design and innovation from the leading brands: Miele, Smeg, Bosch, Fisher & Paykel and AEG.
These trusted brands each feature a matching suite of appliances, designed to complement your kitchen. With each brand featuring a variety of product types, you can easily personalise your kitchen to match your lifestyle and the way you cook. For example, you can choose a freestanding oven or go for a built-in oven which can be installed into a wall of cabinetry or under an island bench if preferred. You can also select from a range of oven types depending on the cooking results that you favour, including electric, steam or combi ovens (electric and steam or electric, steam and microwave). From there, choose the induction, gas or ceramic cooktop that is right for you. Here is just a 'taste' of the outstanding range available at Harvey Norman:
Miele
Designed for life with a keen sense of style, the cutting-edge technology featured in Miele's range of appliances provides both supreme convenience and exceptional results.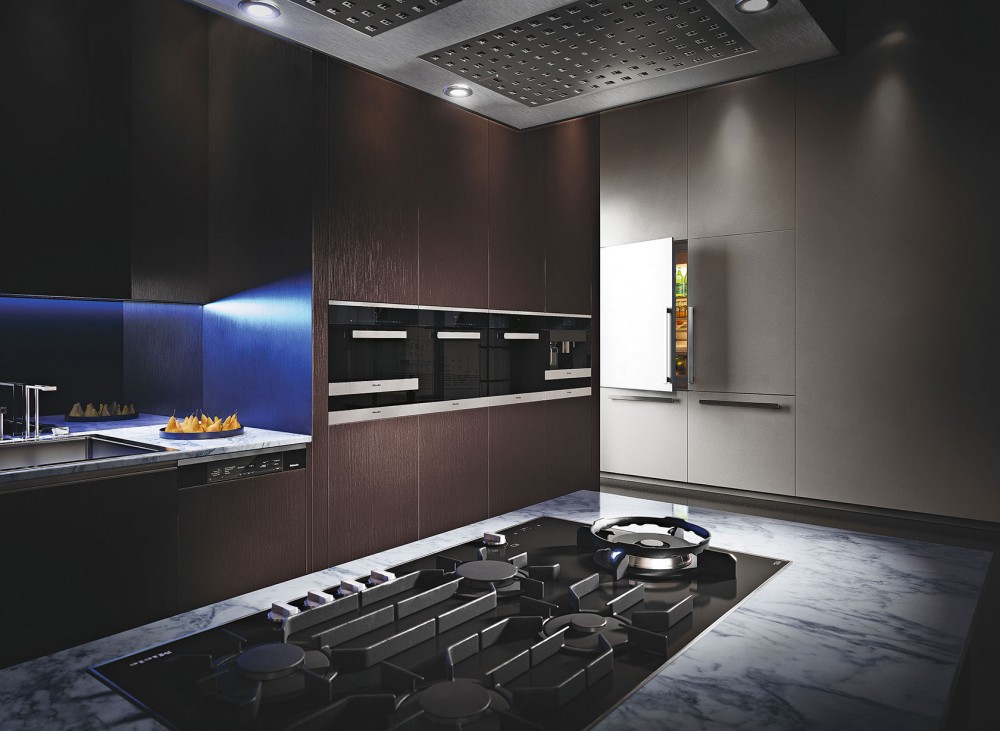 Miele Semi-Integrated 15-Place Setting Dishwasher
Big enough to handle all of your bulky utensils thank to the versatility of adjustable trays, this semi-integrated Miele dishwasher will seamlessly fit into your premium kitchen. Four automatically-controlled LEDs light up the entire dishwasher interior so you can see everything, while the latest washing technology ensures that your glasses and stemware are cleaned gently. Let the automatic load sensor adjust the water and power usage to match the size of the load.
Miele 600mm Built-In Coffee Machine
The intelligent technology in the brew chamber of this built-in machine mixes coffee and water perfectly – every time. With a 500g coffee bean capacity as well as a pre-ground coffee facility, large water tank and glass milk flask, you've got all the elements you need to create a delicious beverage. Cold morning? Preset the machine to warm your cups half an hour before your automatic switch-on time. This machine is so smart it also senses the rim of your cup and alters the position of the central spout accordingly.
Miele Gourmet Warming Drawer
More versatile than you might think, you can use this drawer to cook at low temperatures to enhance the natural flavours as well as using it to warm cups and plates and keep your dishes at serving temperature. The fully-telescopic runners allow the drawer to be easily pulled out for loading, and the 4-hour timer will automatically switch off when finished – making banquet prep much easier. Simply use the flush touch panel to select the programme you desire.
Miele 942mm Gas-on-Glass Cooktop
Enjoy the convenience of electronic switch-on technology with this Miele cooktop. The enamelled cast-iron pot rests and burners have been designed with easy cleaning and longevity in mind, and are easily removed from their position for cleaning in your dishwasher. Automatically reignites any extinguished gas flames.
Smeg
The range of appliances from Smeg feature timeless design infused with the latest technology, providing you with first-class performance every time.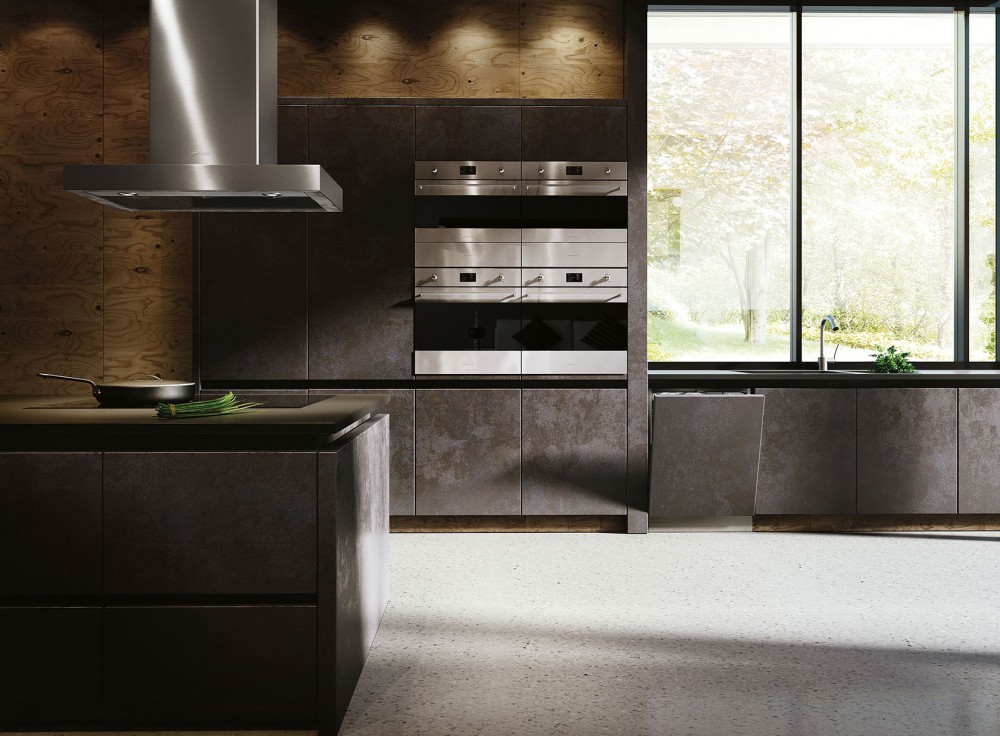 Smeg 600mm Compact Speed Oven
Compact and perfectly efficient, this Smeg oven is a little master that takes the power of a multi-function oven and supplements it with innovative microwave technology for faster cooking times. You'll enjoy the superior quality of the Ever Clean enamel, which is designed to be both highly durable and easy to clean. The SmartSense Plus features fifty guided cooking programmes to make preparing meals simpler.
Smeg 600mm Pyrolytic Oven
Durability and easy cleaning combine in an aesthetically pleasing design that brings simplicity to the modern kitchen. The simple controls give you access to Smeg's SmartSense Plus programmes without the need for complex navigation, while the 79L capacity with five usable cooking levels offers the flexibility you desire to prepare your next feast. Pyrolytic cleaning is a true self-cleaning system that adds the ultimate in convenience by removing the need for scrubbing or abrasive chemicals to keep the oven spotless, even after cooking a big roast banquet.
Smeg 15-Place Setting Diamond Series Fully-Integrated Dishwasher
Designed to match perfectly with your kitchen cabinetry, a magnetic locking system lets you open this dishwasher with a simple push on the door. The internal LED lighting makes it easy to see how sparklingly clean your dishes are, while the quick wash options and Aqua Stop function add great versatility to your cleaning routine.
Fisher & Paykel
With sleek, minimalistic design, the versatile appliances in Fisher & Paykel's kitchen appliance range will make meal creation a pleasure. Make the heart of your home a showpiece of style and innovation.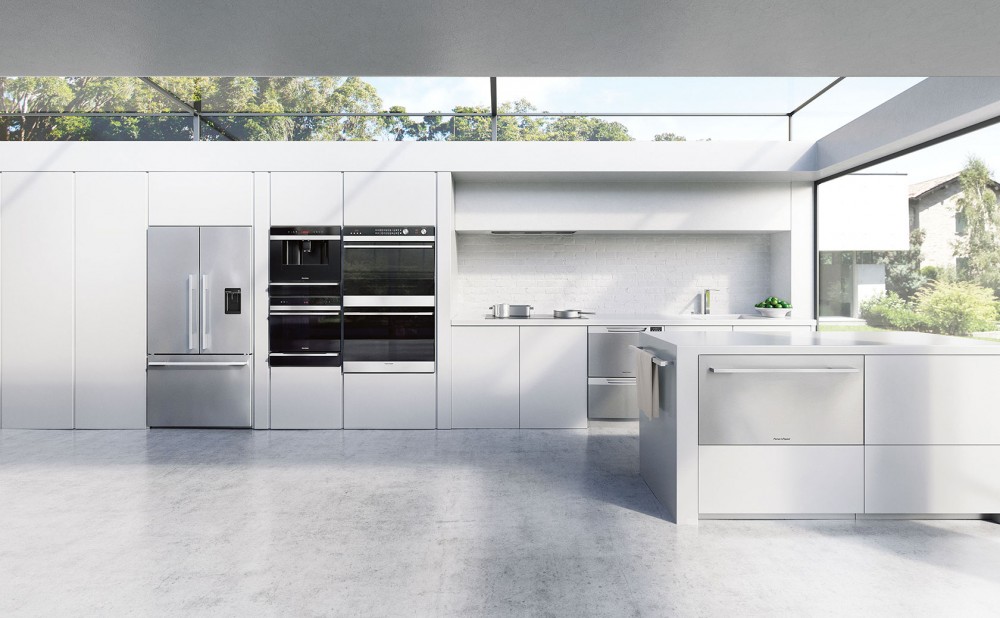 Fisher & Paykel 519L French-Door Fridge
Incorporate a sense of the theatrical into your food prep with unobstructed access to the wide-open shelf spaces and full-extension storage drawer – perfect for entertaining. The ActiveSmart™ technology will adjust how the fridge operates based on the way you use it, saving energy and keeping your food fresh at the same time. The high quality stainless steel finish provides the premium look you desire, while the spill-safe glass shelves are easy to remove and keep clean.
Fisher & Paykel 760mm Double Oven
Perfectly designed for catering for big events and Sunday dinners, the eleven cooking modes and AeroTech cooking system in this double oven give you total control of everything from baking to warming. The self-cleaning Pyrolytic technology means this oven is a dream to keep clean, delivering outstanding performance time after time.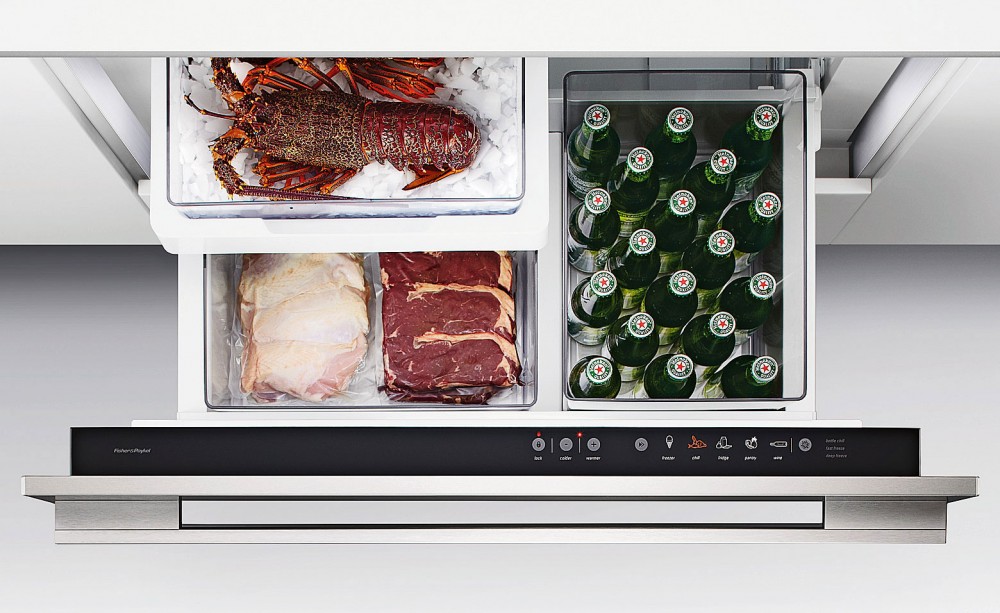 Fisher & Paykel 123L CoolDrawer™ Multi-Temperature Fridge/Freezer
The revolutionary intelligent CoolDrawer™ offers a flexible zone that can convert from fridge to freezer at the touch of a button so you can enjoy the versatility of five temperature settings — freezer, chill, fridge, pantry and wine cooler. Perfect for entertaining, the ActiveSmart™ technology and open-door alarm will ensure you enjoy superior temperature control.
Bosch
With a focus on quality and reliability, this range of premium Bosch appliances will deliver the very best in performance, convenience and value.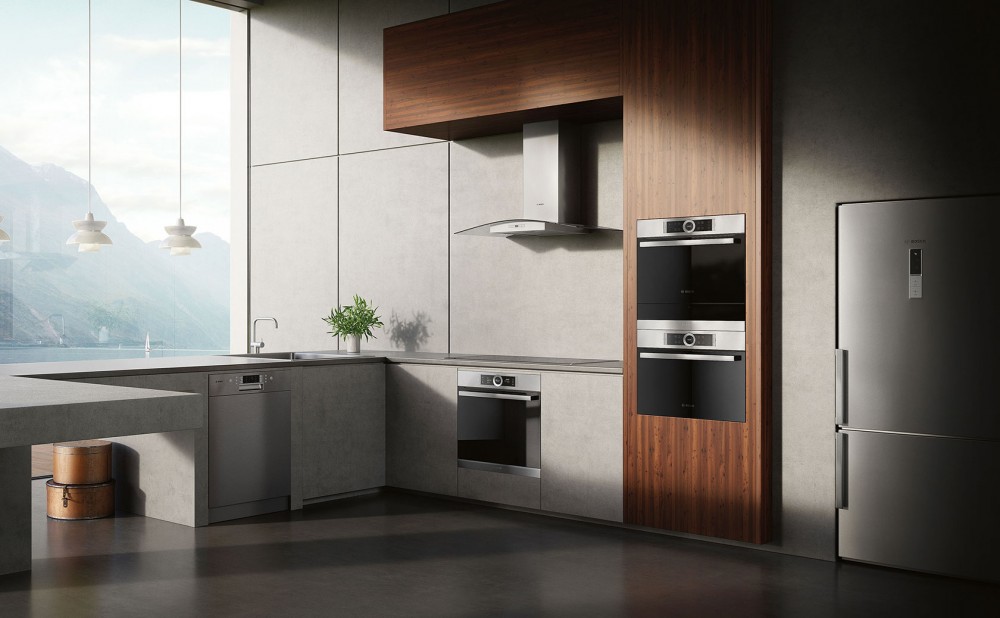 Bosch 47L Combi Steam Oven
When you want to create healthy meal options for your family, the Combi Steam Oven with PerfectBake and PerfectRoast is the ideal choice for excellent results. This quality compact steam oven features 14 versatile heating functions, LED lighting, Bosch Assist for automatic setting of time and temperature, simple-to-use TFT touchscreen control and EcoClean Direct.
Bosch 600mm Pyrolytic Oven
The Bosch oven that automatically prepares your dishes, Bosch Assist automatically sets the optimal heat, temperature and time for countless meal options. The PerfectBake sensor and PerfectRoast thermometer eliminate the guess work, while the 4D HotAir function ensures even heat distribution for perfect results on any level. Enjoy the ease of pyrolytic cleaning – eliminating the need to time-consuming cleaning. Elegantly designed with touchscreen controls, control ring and colour images for easy use.
Bosch 900mm Induction Cooktop
Featuring five induction cooking zones with PowerBoost function, there's plenty of room and power to cook all your favourite meals on this Bosch cooktop. The 17-stage power setting for each zone increases precision and accuracy, while the easy-to-clean surface with spill protection will keep things looking just so for years to come. Enjoy peace of mind with the child lock function and automatic safety switch.
AEG
AEG appliances showcase the latest innovations to ensure your kitchen will be best in class with the premium quality and performance you desire, and the endurance to stand the test of time.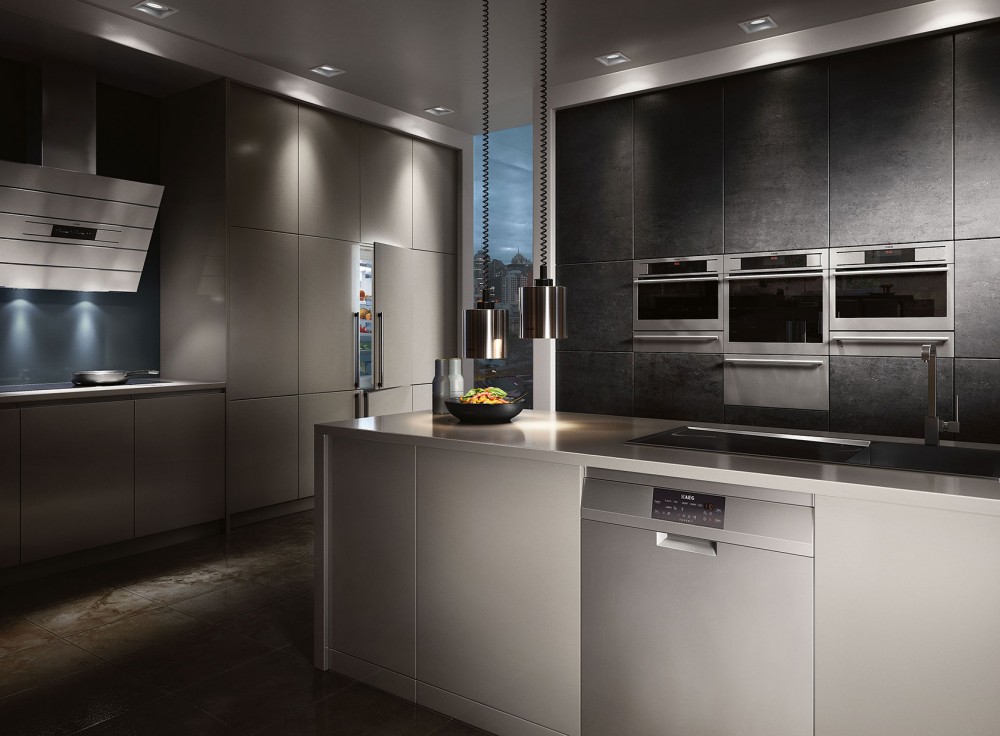 AEG 600mm MaxiKlasse™ Pro Combi® Plus Steam Oven
Achieve optimal cooking results with this self-cleaning steam oven, offering 25 functions plus 220 automatic programmes. Features also include ExSight® enlarged touchscreen display with recommended cooking temperatures and times as well as SousVide function for sealed food preparation. The advanced humidity sensor produces perfect flavours and textures when roasting meat, steaming vegies or baking soufflés.
AEG Built-in Vacuum Sealer Drawer
Apply professional SousVide cooking methods at home. Encased in a sleek stainless steel design, vacuum seal and store ingredients to preserve the nutrients, freshness and flavour of any dish – from fruit and vegies to marinades and more. Get organised in the kitchen by preparing and portioning your dishes in advance. This revolutionary vacuum sealer drawer features adjustable vacuum control and three innovative functions including vacuum, sealing and air return.
AEG 900mm 'Street' Canopy Rangehood
Cutting-edge design truly comes to the fore in this AEG rangehood. The ActiveHeat™ sensor provides progressive power adjustment, so the hood always works precisely hard enough to clear cooking vapours at any given time. With the DirekTouch™ control display, instant control is always at your fingertips to precisely control the extraction level. Dimmer-controlled LED lighting means you can adjust the effect with a touch to suit the mood you want to create, while the intensive extraction setting clears cooking vapours quickly and efficiently leaving the kitchen air clean.
AEG 276L Integrated Bottom Mount Fridge
Keep your perishables fresh with this AEG Fridge featuring DynamicAir Technology which keeps the cool interior temperature even throughout the entire refrigerator. It can quickly reach that optimum storage temperature for your fresh food with the Coolmatic function lowering the fridge temperature for a short period after it has been re-stocked, before switching off automatically. Meanwhile, the Frostmatic function activates the maximum freezing power to speed up the fresh food freezing process and lock in freshness and quality. This brilliant fridge also features SoftClose door hinges and LCD touch controls.
Is it time to make your kitchen dreams a reality? If you're curious about the possibilities then check out our full Premium Selection range in store or online. For any questions or advice, please have a chat with our friendly, expert staff either at your local store or online via Live Chat. Isn't it about time your kitchen started working for you?