In terms of its value to today's home and lifestyle, the modern kitchen is more than simply a functional space. It's the hub of the home. A place where family and friends gather to enjoy good food and company; to share and revel in the experiences of life. A zone where inspiration, design and the latest innovations come together.
Appliances: The Cornerstone of the Modern Kitchen
Innovative, beautifully designed appliances from trusted, premium brands add a sense of style to today's kitchens, creating a functional and inviting space that is as valued for entertaining and celebrating as it is for cooking. Through choosing the right appliances, you will create a working space that fires your imagination while offering the everyday convenience of the latest technology.
The latest trend towards a bank of wall ovens and complementary appliances not only provides additional working capacity when preparing multiple courses, but also adds versatility for working on new culinary creations. By accentuating your space with a range of quality kitchen appliances, you will be adding value to your home.
Harvey Norman's Premium Selection Kitchen Appliances
Harvey Norman's Premium Selection of kitchen appliances offers the very best in style, design and innovation from the leading brands: Miele, Smeg, Bosch, Fisher & Paykel and AEG.
These trusted brands each feature a matching suite of appliances, designed to complement your kitchen. With each brand featuring a variety of product types, you can easily personalise your kitchen to match your lifestyle and the way you cook. For example, you can choose a freestanding oven or go for a built-in oven which can be installed into a wall of cabinetry or under an island bench if preferred. You can also select from a range of oven types depending on the cooking results that you favour, including electric, steam or combi ovens (electric and steam or electric, steam and microwave). From there, choose the induction, gas or ceramic cooktop that is right for you. Here is just a 'taste' of the outstanding range available at Harvey Norman:
Miele
Designed for life with a keen sense of style, the cutting-edge technology featured in Miele's range of appliances provides both supreme convenience and exceptional results.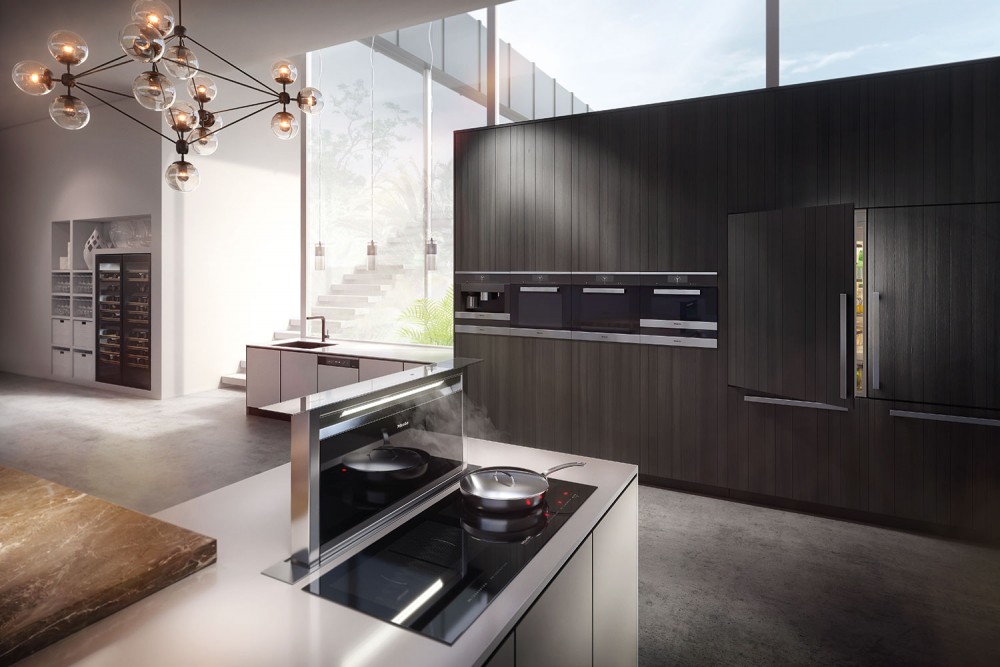 Miele Semi-Integrated 15-Place Setting Dishwasher
Big enough to handle all of your bulky utensils thanks to the versatility of adjustable trays, this semi-integrated Miele dishwasher will seamlessly fit into your premium kitchen. Four automatically-controlled LEDs light up the entire dishwasher interior so you can see everything, while the latest washing technology ensures that your glasses and stemware are cleaned gently. Let the automatic load sensor adjust the water and power usage to match the size of the load.
Miele Gourmet Combi Steam & Electric Oven
This oven will take pride of place in your kitchen, with a spacious 48L capacity that provides ample room for cooking poultry or whole fish, amongst many other delicious dishes. Enjoy the versatility of ten cooking functions, including conventional heat, intensive baking, grilling and a steam-only mode with fast and even steam distribution for superb cooking results. This oven comes with a humidity sensor, a wireless food probe and a range of additional features that will help expand your culinary repertoire.
Miele Gourmet Warming Drawer
Not only can you warm cups and plates and keep your dishes at serving temperature, you can also use this clever warming drawer to cook at low temperatures to enhance natural flavours. The fully-telescopic runners allow the drawer to be easily pulled out for loading, and the 4-hour timer will automatically switch off when finished, making banquet prep much easier. Simply use the flush touch panel to select the programme you desire.
Miele Levantar Downdraught Extractor
Enjoy powerful, efficient air extraction in a thoroughly modern and inconspicuous design thanks to the Levantar. When not in use, this downdraught extractor simply slides down beneath your kitchen bench space so it's completely out of view. The Levantar has options to recycle the air extracted or have it ducted out, and an automatic safety switch-off that ensures you don't leave it running by accident.
Smeg
The range of appliances from Smeg feature timeless design infused with the latest technology, providing you with first-class performance every time.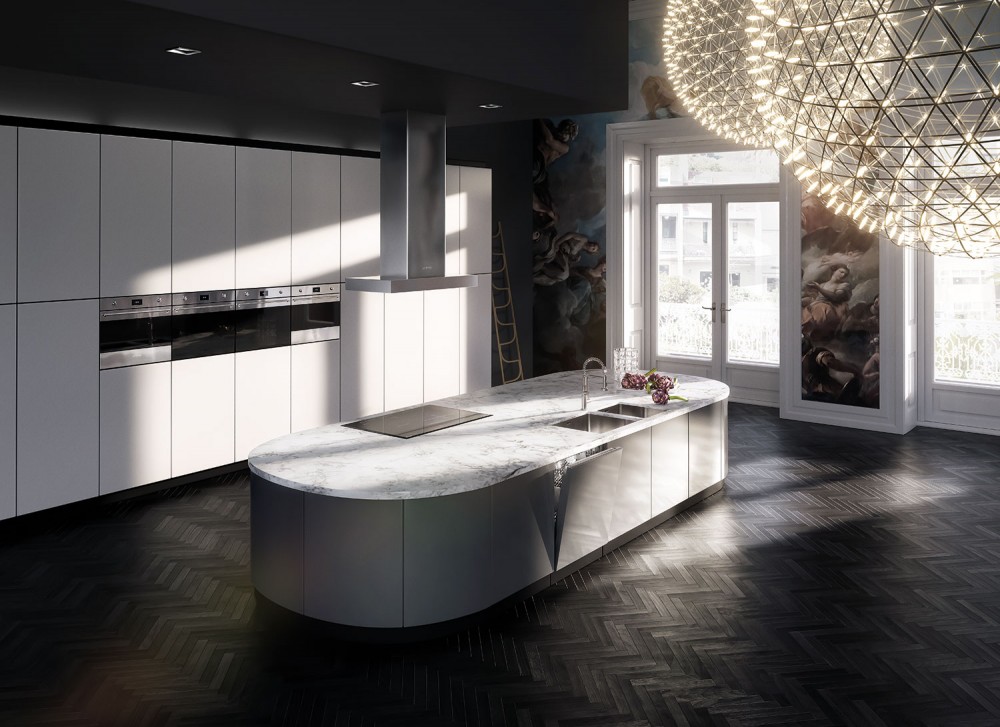 Smeg 600mm Compact Speed Oven
Compact and perfectly efficient, this Smeg oven is a little master that takes the power of a multi-function oven and supplements it with innovative microwave technology for faster cooking times. You'll enjoy the superior quality of the Ever Clean enamel, which is designed to be both highly durable and easy to clean. The SmartSense Plus features fifty guided cooking programmes to make preparing meals simpler.
Smeg 600mm Pyrolytic Oven
Durability and easy cleaning combine in an aesthetically pleasing design that brings simplicity to the modern kitchen. The simple controls give you access to Smeg's SmartSense Plus programmes without the need for complex navigation, while the 79L capacity with five usable cooking levels offers the flexibility you desire to prepare your next feast. Pyrolytic cleaning is a true self-cleaning system that adds the ultimate in convenience by removing the need for scrubbing or abrasive chemicals to keep the oven spotless, even after cooking a big roast banquet.
Smeg 15-Place Setting Push-to-Open Fully-Integrated Dishwasher
Designed to match perfectly with your kitchen cabinetry, a magnetic locking system lets you open this dishwasher with a simple push on the door. You can even set the door to open slightly at the completion of the wash, enabling steam and condensation to escape. The planetary wash system uses a single wash arm to give an energy efficient wash, with angled jets that increase the intensity of the wash and result in cleaner dishes.
Fisher & Paykel
With sleek, minimalistic design, the versatile appliances in Fisher & Paykel's kitchen appliance range will make meal creation a pleasure. Make the heart of your home a showpiece of style and innovation.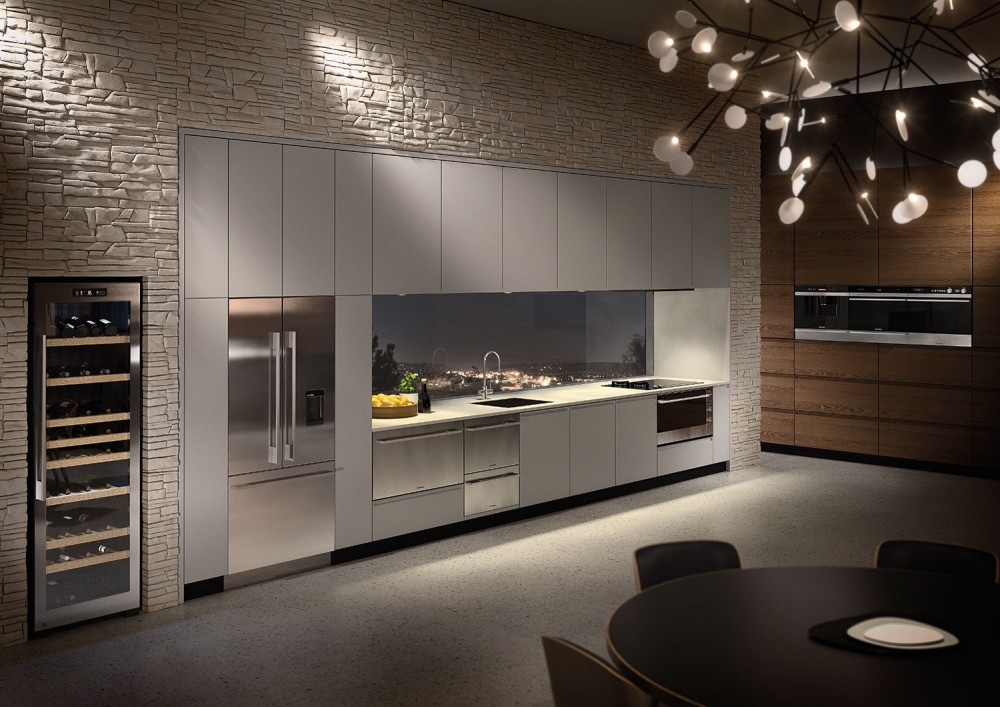 Fisher & Paykel 565L ActiveSmart™ Slide-In Fridge with Stainless Steel Panel Kit
Specially designed for simple slide-in installation, this fridge will sit flush with your cabinetry, providing the sophistication and consistent lines of an integrated fridge without the all the fuss. The ActiveSmart™ technology adapts to your daily usage to be more energy efficient, only cooling and defrosting when needed. Adaptable to your lifestyle, this fridge features SmartTouch controls, flexible shelving and storage options, and slide-out bins and trays so you can streamline food prep and organisation to your liking.
Fisher & Paykel 144-Bottle Dual-Zone Freestanding Wine Cabinet
Get the best from your wine collection by ensuring that your reds are perfectly stored and your whites are perfectly chilled with this premium wine cabinet. Combining sophisticated, practical design with optimal storage and display, this cabinet features two separate zones that can be set between 5°C and 20°C. Fan-assisted ventilation controls provide even air circulation throughout the cabinet to minimise any musty odours, while the solid oak slide-out shelves allow easy access without scratching your bottles or their labels.
Fisher & Paykel 600mm 4-Zone Touch Induction Cooktop
This stylish induction cooktop produces electromagnetic vibrations that induce your pots and pans to generate their own heat – providing you with shorter heat-up times, more precision and a safer cooking surface. The Touch & Slide controls are the icing on the cake. Love cooking with gas? Partner a 300mm 2-Burner Gas-on-Glass Cooktop with the induction cooktop for a perfect pair. The frameless, black glass design makes them both of a piece, and the two burners are capable of an extremely low simmer for that delicate touch.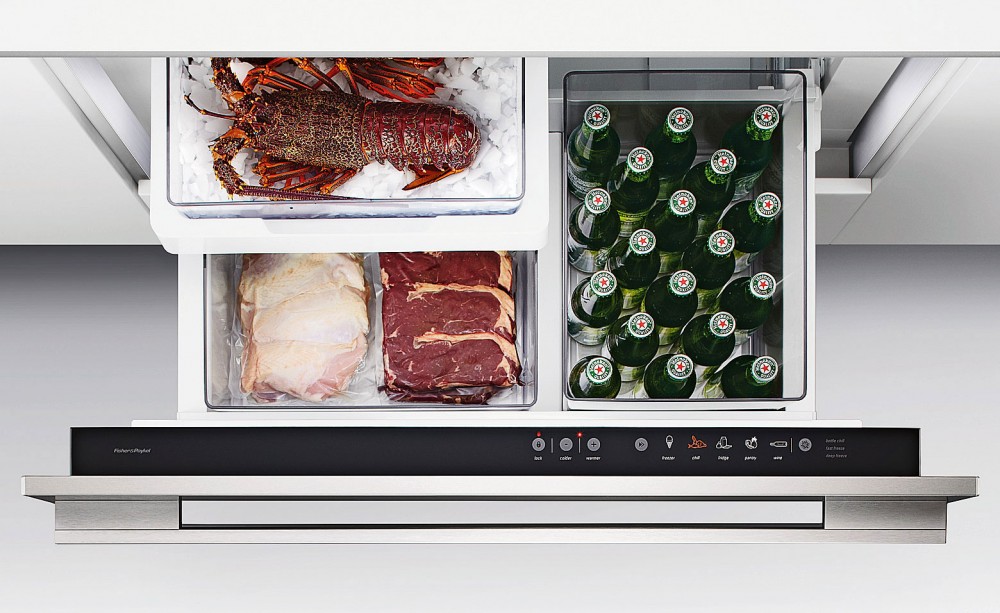 Fisher & Paykel 123L CoolDrawer™ Multi-Temperature Fridge/Freezer
The revolutionary, intelligent CoolDrawer™ offers a flexible zone that can convert from fridge to freezer at the touch of a button so you can enjoy the versatility of five temperature settings — freezer, chill, fridge, pantry and wine cooler. Perfect for entertaining, the ActiveSmart™ technology and open-door alarm will ensure you enjoy superior temperature control.
Bosch
With a focus on quality and reliability, this range of premium Bosch appliances deliver the very best in performance, convenience and value.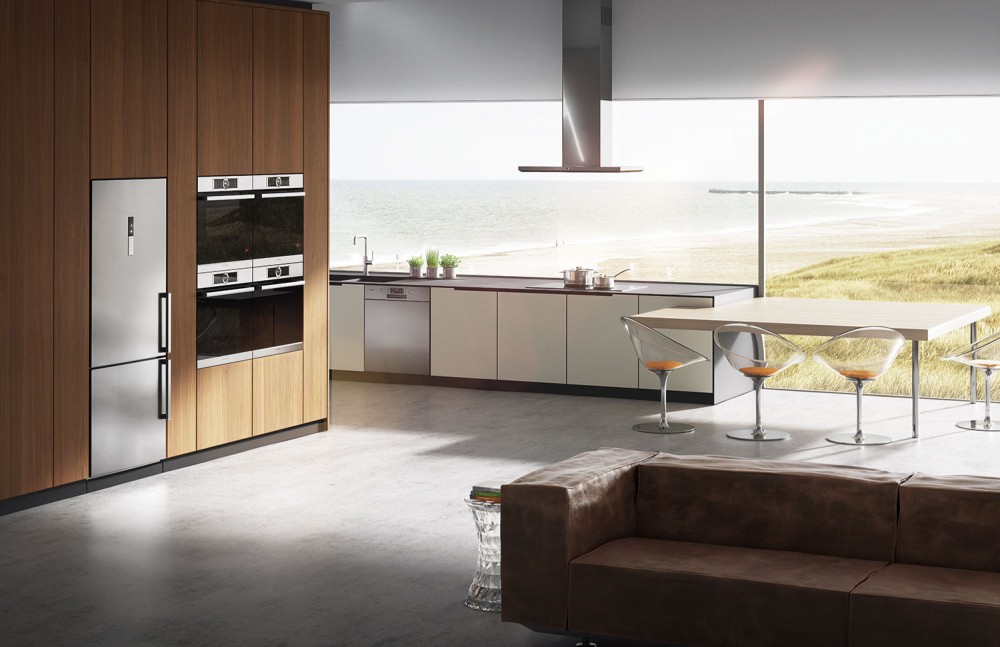 Bosch 47L Combi Steam Oven
When you want to create healthy and tasty meals for your family, the Combi Steam Oven with PerfectBake and PerfectRoast is the ideal choice for achieving excellent results. This quality compact steam oven features 14 versatile heating functions, LED lighting, Bosch Assist for automatic setting of time and temperature, simple-to-use TFT touchscreen control and EcoClean Direct.
Bosch 600mm Pyrolytic Oven with Added Steam
Clever, powerful and remarkably versatile, this Bosch oven is a great all-rounder that makes cooking a more rewarding experience. Use the Bosch Assist function to have your dishes cooked automatically, where the optimal heat, temperature and cooking times for countless meal options are already set for you. The PerfectBake sensor and PerfectRoast thermometer eliminate the guess work, while the 4D HotAir function ensures even heat distribution for perfect results. With the added ability to cook with steam, you can prepare mouth-watering meals with ease.
Bosch 900mm FlexInduction Cooktop
Featuring a built-in case design with bevelled front and sleek stainless steel strips on the side for a premium look, this cooktop is crafted from stunning black glass ceramic. The FlexInduction zone provides more flexibility when cooking by letting you combine the cooking zones into one big zone – meaning you can have multiple small pots going at the one temperature or use one large piece of cookware. Plus, with automatic temperature control, you can achieve perfect frying results every time.
AEG
AEG appliances showcase the latest innovations to ensure your kitchen will be best in class with the premium quality and performance you desire, and the endurance to stand the test of time.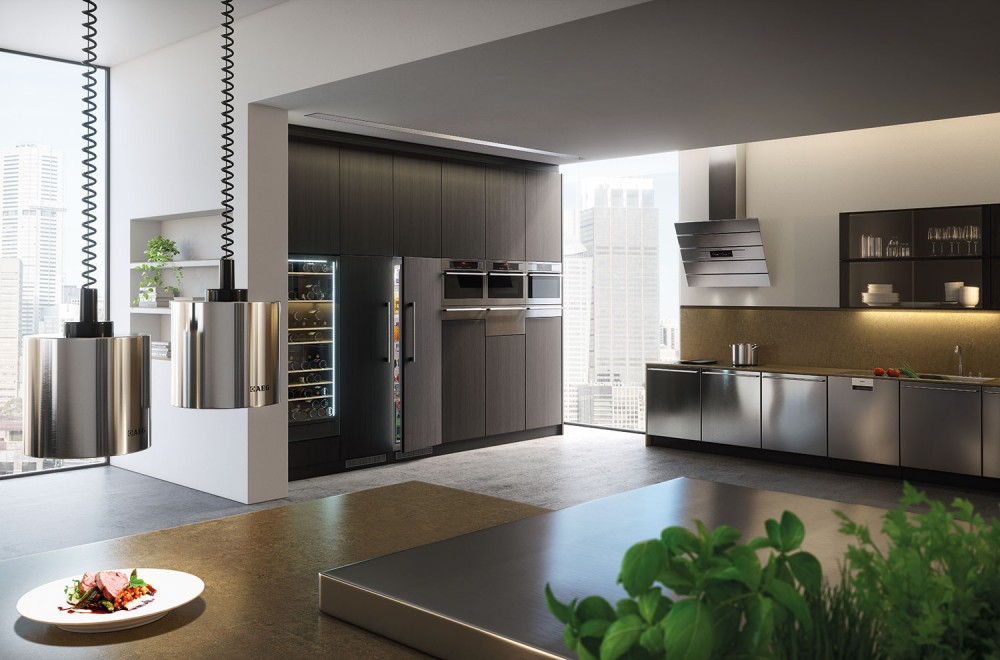 AEG Retractable Heat Lamp
Never let another meal go cold thanks to this handy heat lamp and its 250W infrared heating system. Designed to maintain the right temperature in foods after they have been cooked so that even if you are behind schedule, your gastronomic masterpieces will still be at their best when you're ready to plate them up. Simply lower the ceiling-mounted heat lamp to the height you need when heating, then push it back up when done. You can also use the lamp for gently thawing frozen food, making it a handy tool to have in your kitchen.
AEG Compact 18-Function Combination Microwave Oven
Combining a convection oven with a microwave oven, this appliance may be small but it doesn't sacrifice functionality for size. Experience more control than ever before with the precise temperature control. An automatic weight defrost system calculates the time and power needed to properly defrost your frozen goods, while the ProSight display and LCD touchscreen make it easy to have precise control over the cooking process.
AEG 900mm 'Wall' Canopy Rangehood
Extract odours from your kitchen easily with this chic canopy rangehood. This wall-mounted extraction system uses ActiveHeat sensor technology to provide progressive power adjustment so it uses the precise amount of power needed to remove cooking vapours efficiently and effectively, instead of a constant blast. The dimmer-controlled LED lights can be adjusted easily using DirekTouch controls, which are also highly energy-efficient.
For other great innovations from AEG, such as the PrecisionVac™ SousVide Vacuum-Sealer Drawer and the MaxiKlasse™ ProCombiPlus™ Steam Oven, check out our blog on Best In Class Innovations.
Make your kitchen dreams a reality. Discover the possibilities and check out our full Premium Selection range in store or online. For any questions or advice, please have a chat with our friendly, expert staff either at your local store or online via Live Chat.