Easy to make and yummy to eat, this Vietnamese pork salad — thanks to Australian Gourmet Traveller — is perfect as a summery side dish or even a meal in itself.
Prep time: 10 minutes
Cooking time: 10 minutes
Serves: 4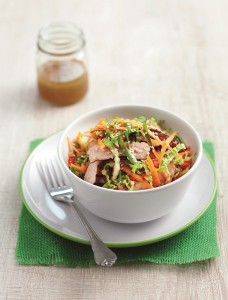 Ingredients
400g pork steaks
1⁄3 cup hoisin sauce
300g Chinese cabbage (wombok), shredded
1 carrot, peeled, grated
1 red capsicum, finely chopped
2 green onions, chopped
1⁄4 cup lemon juice
1 tablespoon fish sauce
1 teaspoon caster sugar
1 teaspoon sesame oil
1 tablespoon toasted sesame seeds
Method
1. Combine pork and hoisin sauce in a bowl. Preheat a char-grill pan over moderately high heat. Cook pork for three (3) minutes each side or until cooked. Transfer to a heatproof plate. Cover with foil; rest for five (5) minutes. Thinly slice.
2. Place cabbage, carrot, capsicum and onion in a large bowl. Add pork; toss to combine.
3. Whisk juice, fish sauce, sugar and oil in a jug. Drizzle salad with dressing. Serve sprinkled with sesame seeds.
As the leader in innovation and technology, Harvey Norman has everything you need to ensure you're cooking with confidence. Update your kitchen with the latest cooking technology from the leading brands, so you can create your own culinary masterpiece.