The beautiful month of March is almost upon us. The evenings remain long, sun sets are glorious, and the temperature? Close to perfect! It's one of our favourite times of the year – and it's absolutely prime time for barbecuing.
Of course, we know that selecting the perfect BBQ is not always an easy task – especially if you're buying your very first one. There are so many brands, styles, materials, cooking types and accessories to choose from, that we understand you may need some help narrowing your selection down.
That's why we at Harvey Norman have put together this BBQ buying guide where we ask 'Which BBQ is best for you?' So sit back and let your mouth water as we show you the best of the best BBQs, just in time for another Australian BBQ season!
Portable BBQs
Perhaps you don't have much space for outdoor cooking or you like taking your BBQ on-the-go. Either way there are plenty of portable options to get excited about!
Waterproof and incredibly mobile in design, Sunbeam's Kettle King Electric BBQ boasts an easy to use, resilient construction. The Kettle King is made from a non-stick cooking surface meaning it is easy to clean and protected against metal utensils. The kettle-style lid is perfect for fast convection cooking on the surprisingly roomy combined BBQ grill and hot plate area. This Portable BBQ is ideal for smaller living spaces and features 2400W of power and 15 heat settings including Defrost and SuperSear.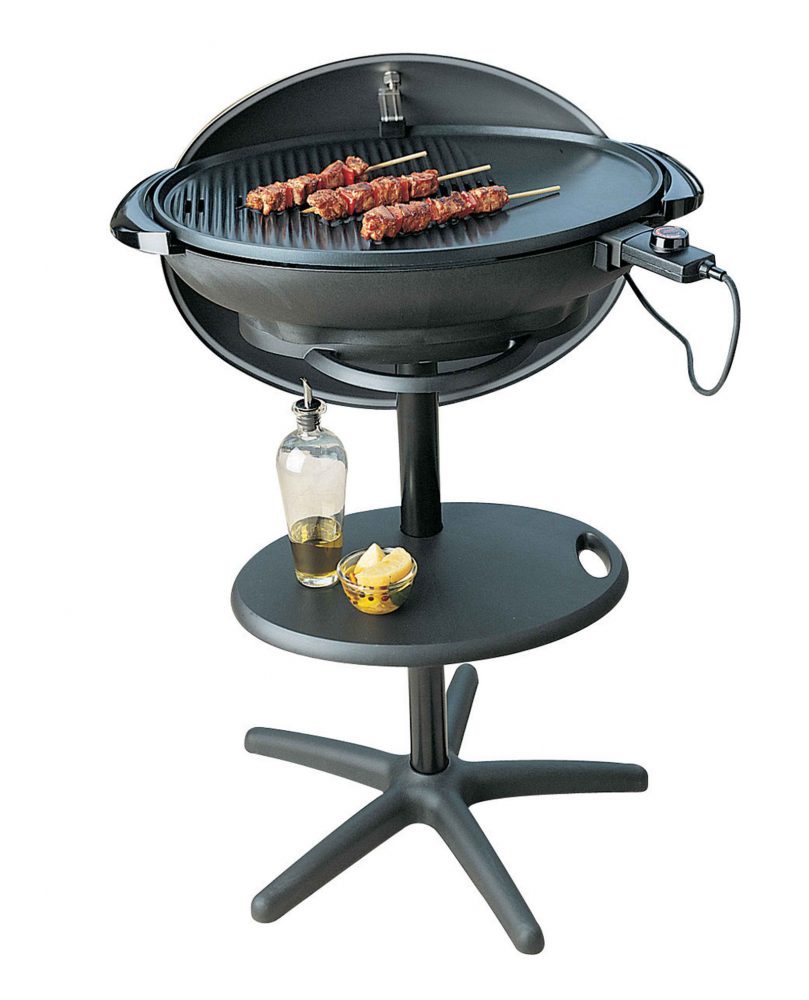 The BeefEater Bugg is a classic Australian made option ideal for someone who's living in a small home or apartment and loves to barbecue but doesn't want to sacrifice power. Cook with the enamel hood up for crispier grilling or down for roasts with the two 10MJ stainless steel burners and Quartz Start ignition. The Bugg can be converted to natural gas and features a handy temperature gauge and practical side shelves for extra prep space. It even comes with a protective full length cover and is available in Amber, Graphite or Grey.
Featuring a stunning award-winning design from the mad scientist himself, Heston Blumenthal's Everdure BBQ tops the portable BBQ category with its large range of colour options and its rustproof die cast aluminium construction built to withstand even the harshest Aussie conditions.
Its high hood design and built-in temperature gauge are ideal for convection cooking and protects the large matte vitreous cast iron flat and BBQ grill plate cooking area, which is very easy to clean. The Everdure uses 2 gas burners and fast start-up for super-quick searing and yet remains conveniently portable thanks to its built-in wheels and removable stand. And if you need to keep it in place it's as simple as securing the added wheel locks. A natural gas option is also available for this portable BBQ.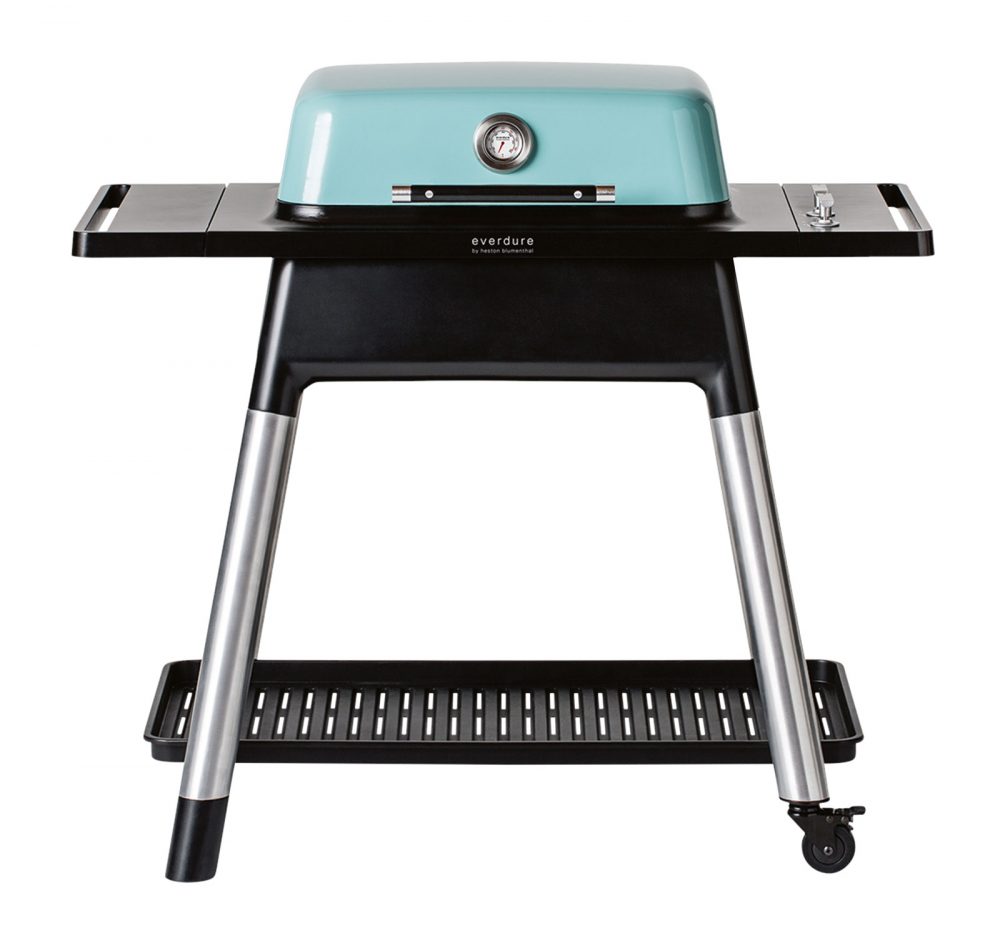 Trolley BBQs
Trolley BBQs are as much of a centrepiece in an Aussie backyard as an outdoor setting – and while the design hasn't evolved too much over the years, the tech under the lid certainly has. A popular choice among households, the Trolley BBQ provides a spacious cooking area with the added benefit of mobility.
For a sturdy BBQ that will stand the test of time, the Masport Lifestyle 4 is an excellent selection. The 4 stainless steel burners and side burner are easily fired-up with a reliable integrated ignition system and will allow you to cook multiple dishes in the one spot at the same time. This BBQ features a durable 50/50 vitreous enamel cast-iron grill and hotplate making it a versatile cooking space. Cook a roast with maximum heat retention thanks to the double-lined vitreous enamel rollback hood and temperature gauge. For added convenience, the Lifestyle 4 BBQ comes with a BBQ Cover, a built-in bottle opener and a powder-coated twin-door enclosed cabinet for internal storage.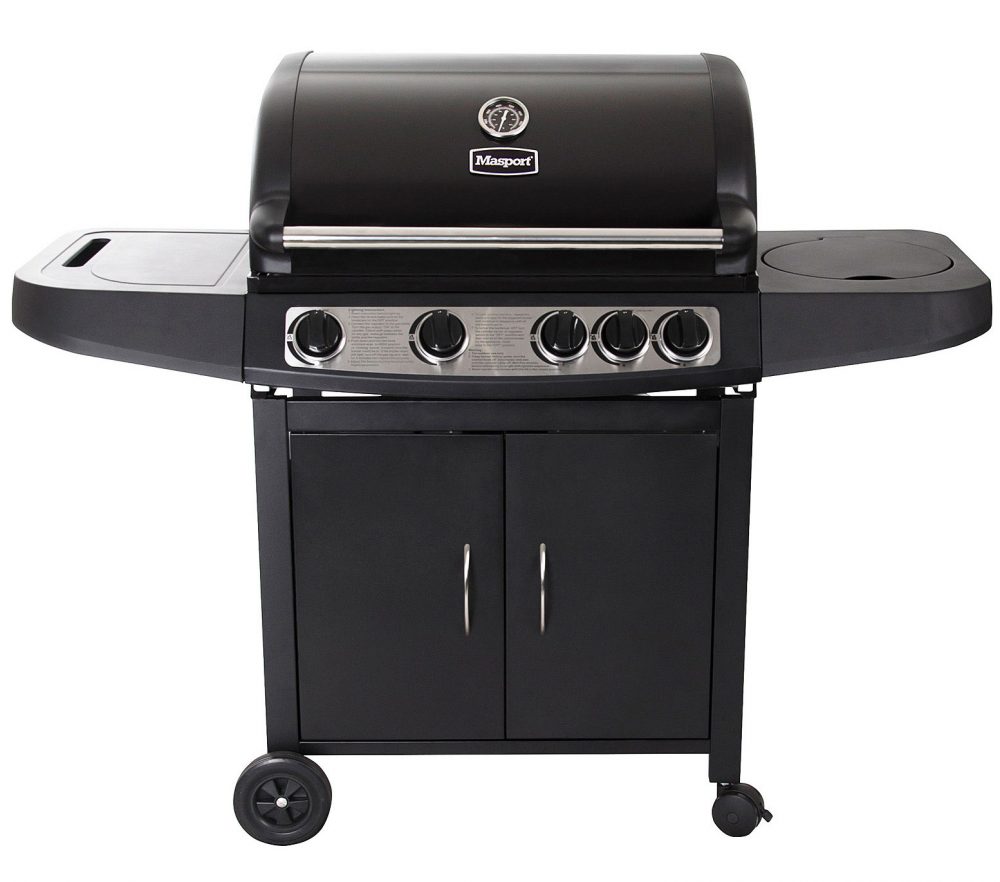 If style and design are more important, then the trendy Masport Maestro is right up your alley! Available in a range of vibrant colours, the Maestro includes 4 powerful 11.5MJ main burners, a side burner and a rear burner to accommodate for all your cooking needs. This BBQ is definitely built to simplify the barbequing process with an integrated ignition for a hassle-free start, as well as a built-in temperature gauge for maintaining the optimum temperature – allowing you to monitor the progress all whilst continuing to entertain. No more constantly lifting the lid only to let all the heat escape. Plus, you'll keep it all neat and tidy with its sleek double-door storage and cover.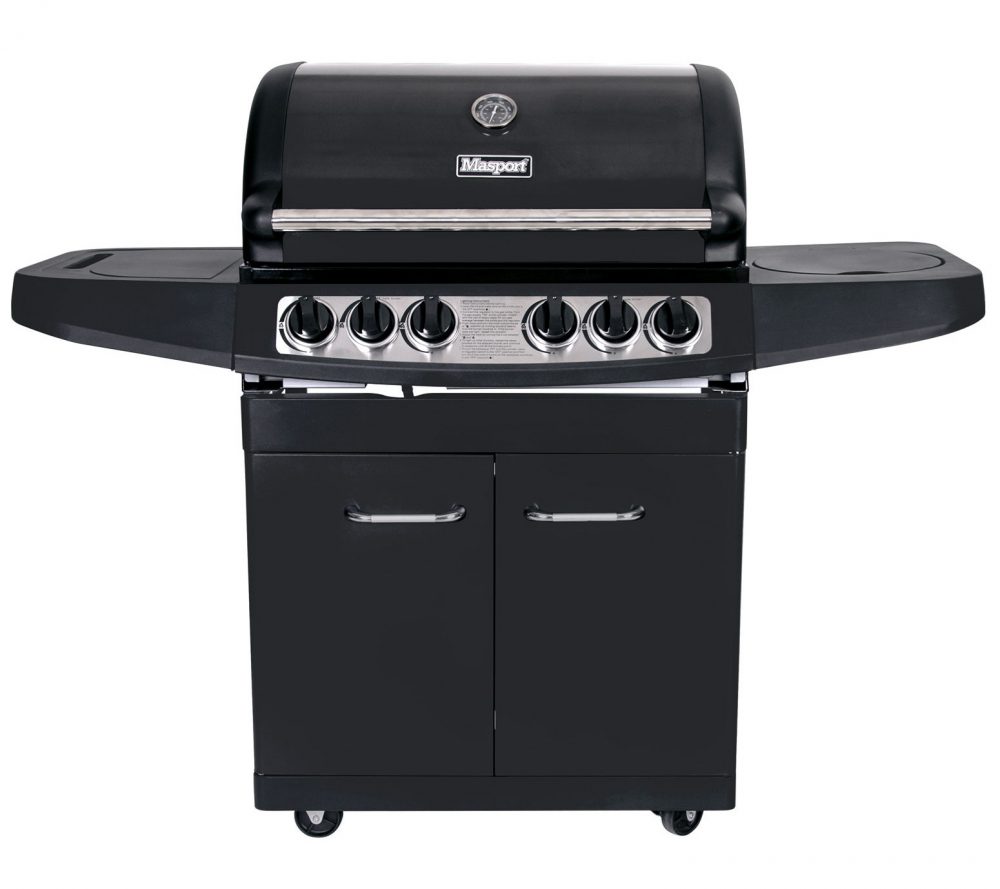 For Trolley BBQs, the 'BeefEater' Discovery tops the category for its versatility, durability and hassle-free design.
Made from grade 443 stainless steel and a porcelain enamel cast iron cooking surface, this BBQ features a rust-resistant cooktop for added longevity. The roasting hood comes with an onboard temperature gauge, window in hood and a warming rack, so you can easily keep an eye on the cooking progress and regulate the temperature.
With an all-in-one design, the BeefEater Discovery also includes side shelves to store BBQ utensils, quartz start ignition technology for a quick fire up plus a handy 15MJ side burner, ideal for cooking sauces, stir-fries, and side dishes. Comes equipped with a cover, rotisserie and an accessories pack.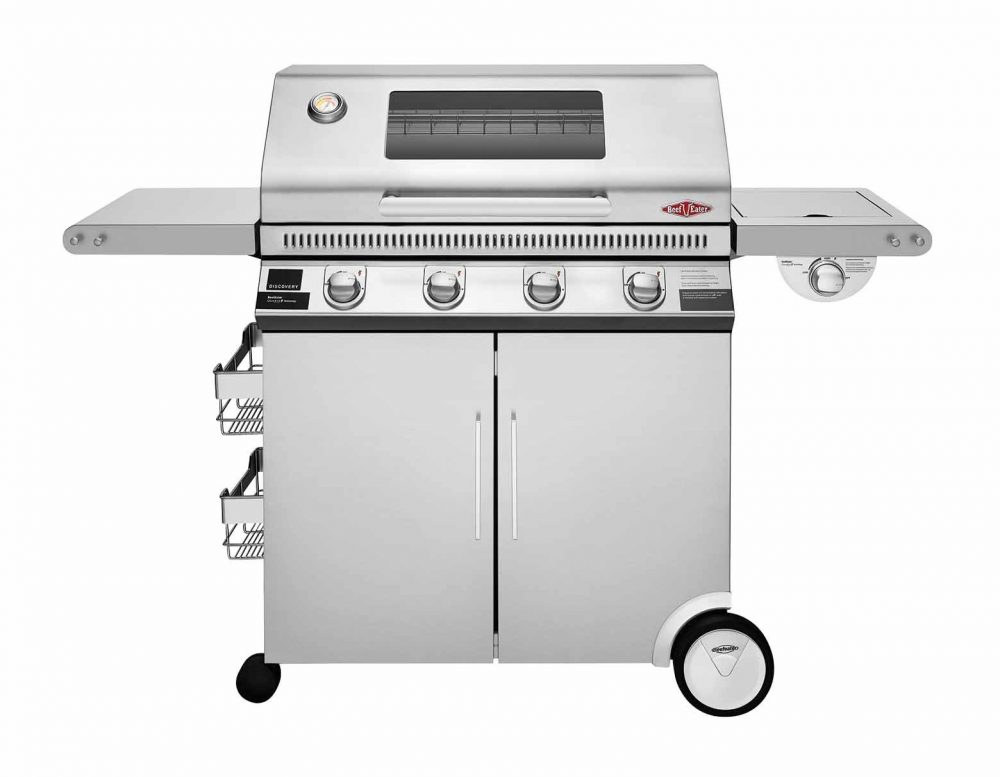 Outdoor Kitchens
Outdoor Kitchens are the top dogs when it comes to grilling up a feast for the entire family. Customisable in design and packed with features to simplify the cooking process, you will be left wondering how you managed to entertain your guests and cook simultaneously before you owned one.
The Neo Kitchen is a modern outdoor BBQ with all the needs and wants of a kitchen. Constructed from 304-grade stainless steel, the Neo features 6 powerful LPG 15MJ burners spread across a total cooking surface of 109.5 x 47.5cm, complete with a 50/50 flat and grill plate area. Its handy built-in sink means you can clean up as you go while the underneath storage space and 208L 2-door beverage cooler keeps all your tools and drinks within reach at all times. Get back to enjoying outdoor cooking with the convenient roll back roasting hood with viewing window and hood lighting – it makes barbequing a breeze.
The Neo also comes with a warming rack and a BBQ set and is also available in a natural gas option.
Exclusive to Harvey Norman, the Kakadu 2 Outdoor Kitchen has revolutionised the humble family BBQ. The Kakadu 2 comes with 6 burners, a hooded lid with a large viewing window, a built-in rotisserie, a separate 18MJ wok burner (so you don't have to rush back inside to check the vegies), a single bowl sink and a 208L double-door beverage cooler.
After a different colour stone top? You can customise that. Not sure whether you need to purchase a natural or LPG BBQ? This BBQ kitchen accommodates for both! The Kakadu 2 can be tailor-made to suit your preferences, including colour selections, personalised cabinetry, appliances and accessories.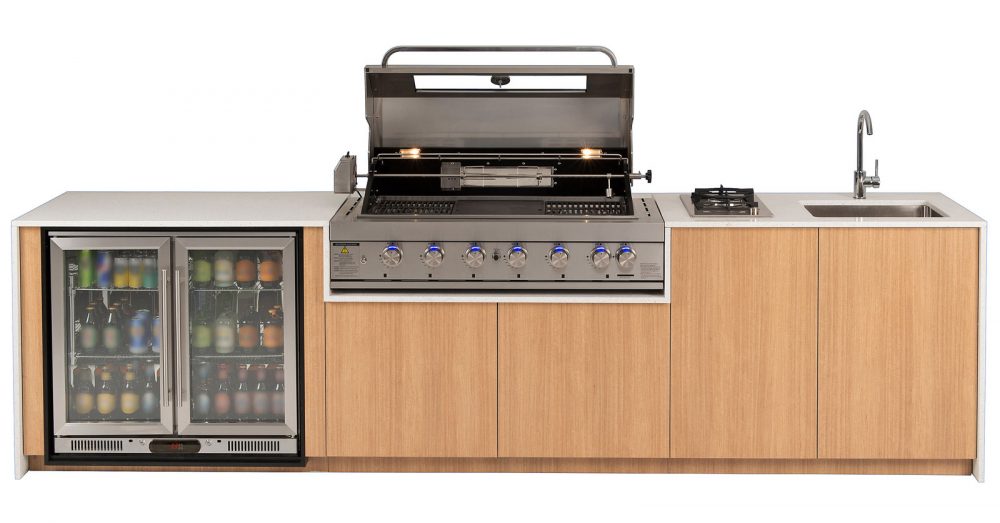 So, which BBQ is best for you?
Sometimes, choosing the ideal BBQ can be as tough as an overcooked steak. However, we hope by breaking down their functions and features, we've helped you pinpoint exactly what you need and want. For more information, browse our BBQs online, or head into your local Harvey Norman store and talk to our friendly, expert staff.
Plus, if you're on the lookout for delicious BBQ recipe ideas – and more great BBQ tips – check out this blog.