Vacuuming is surely near the top—if not number one—on the list of chores you've been putting off. It's laborious and time consuming, and whether you empty the barrel at the end of the task or leave it for future-you to do next time, it's still a job that often leaves you feeling dusty, wheezy and sweaty (three of Snow White's dwarves that don't get a mention in the fairytale).
With all that said, there is a device that looks to change the way we think about vacuuming: the new Electrolux Pure F9. A powerful, portable cordless vacuum cleaner, the Pure F9 combines the high performance of a traditional corded vacuum with the freedom of a stick vacuum. Quick, easy and thorough, this is vacuuming how it should be.
In celebration of its arrival at Harvey Norman, join us as we look at four ways the Electrolux Pure F9 will change how you feel about vacuuming.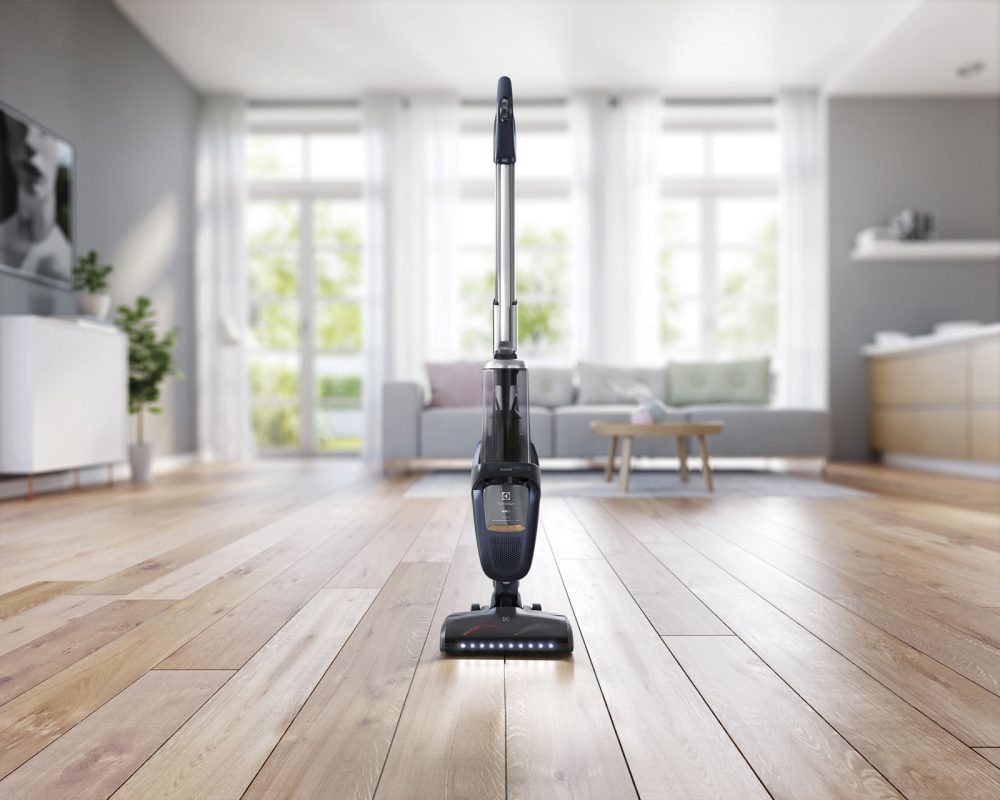 What You'll Love About the Electrolux Pure F9:
1. Portable Power
It can be a difficult slog lugging a wieldy corded vacuum cleaner around the house. And it's simply painful when you've only got one or two rooms left to do and your old cordless vacuum's battery dies. So close, but so far—by the time the battery's recharged, you might as well do the whole house again…
With an incredibly durable battery life, the Electrolux Pure F9 is one stick vacuum that you're going to love—no wasting your time or energy. Cordless yet long-lasting, it's ideal for doing the whole house, top to bottom, without losing power.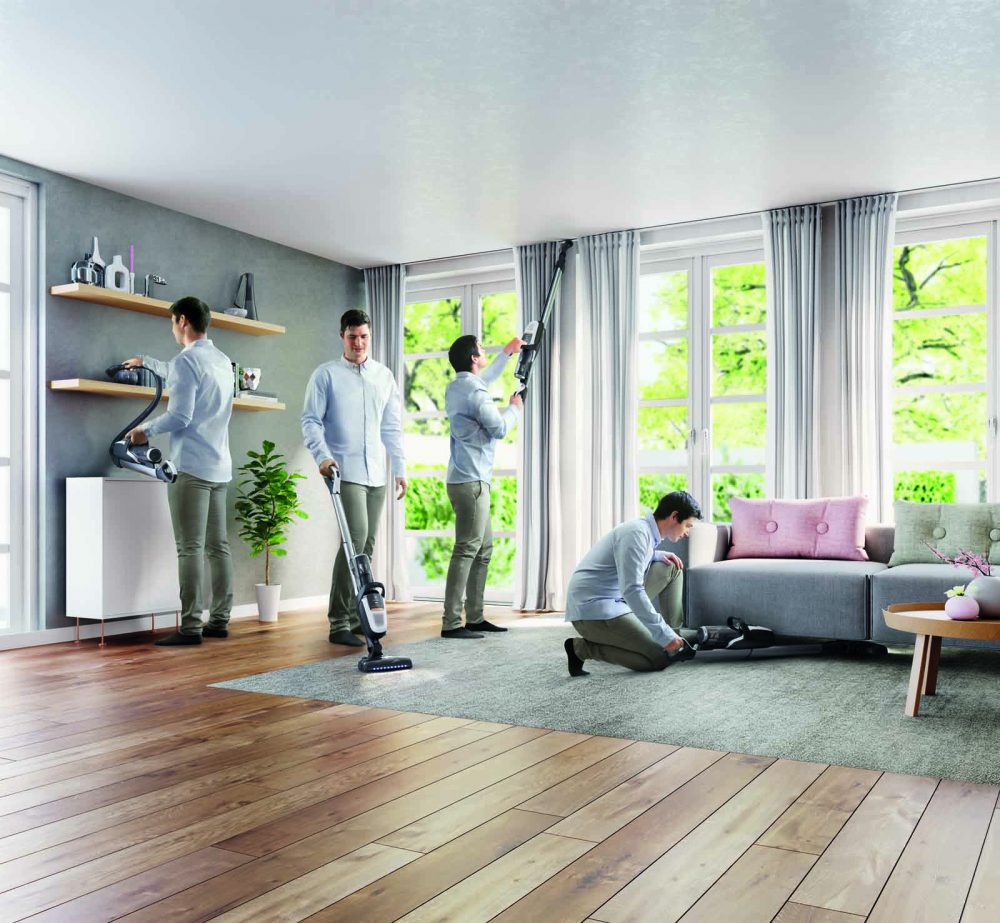 The intelligent Electrolux Pure F9 also has the ability to automatically adjust suction power based on the surface you are vacuuming. This allows you to move seamlessly with less motion resistance from hard floors and carpets, or even soft furnishings like curtains and lamp shades! It does the difficult work so you don't have to: no fiddling with buttons or switches, no changing functions, just vacuuming.
2. Complete Comfort
So, while the actual vacuum works wonderfully, you're no doubt wondering how it handles. In my opinion, the Electrolux Pure F9 vacuum is incredibly ergonomic and practical. It's lightweight (while still packing a punch) which alleviates a huge amount of strain and it's also height adjustable, making it perfect for anyone who wants to use it. No more hunching over just so you can vacuum!
The Electrolux Pure F9 also features the FlexiLift mechanism, so you can easily reach under lounges, beds and more. Simply press the button and shift the main unit up and voilà, you'll have temporarily shape-shifted the Electrolux Pure F9 to make vacuuming a whole lot easier.
The pull-out hose function is rather unique for a stick vacuum, operating more like a traditional corded vacuum three or four times its size. Reach into crevices, shelves or the car using the hose, and add a variety of attachments to tackle all facets with ease.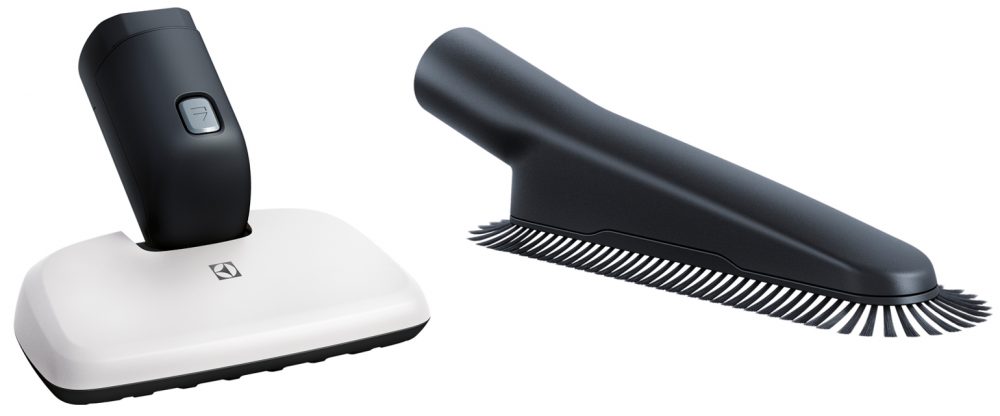 An added little bonus: the cleaner head features built-in LEDs to illuminate what you're vacuuming. This makes it super simple to see what you're sucking up, even in those dark corners and hidden spaces, truly cementing the Electrolux Pure F9 as one of the best stick vacuums on the market.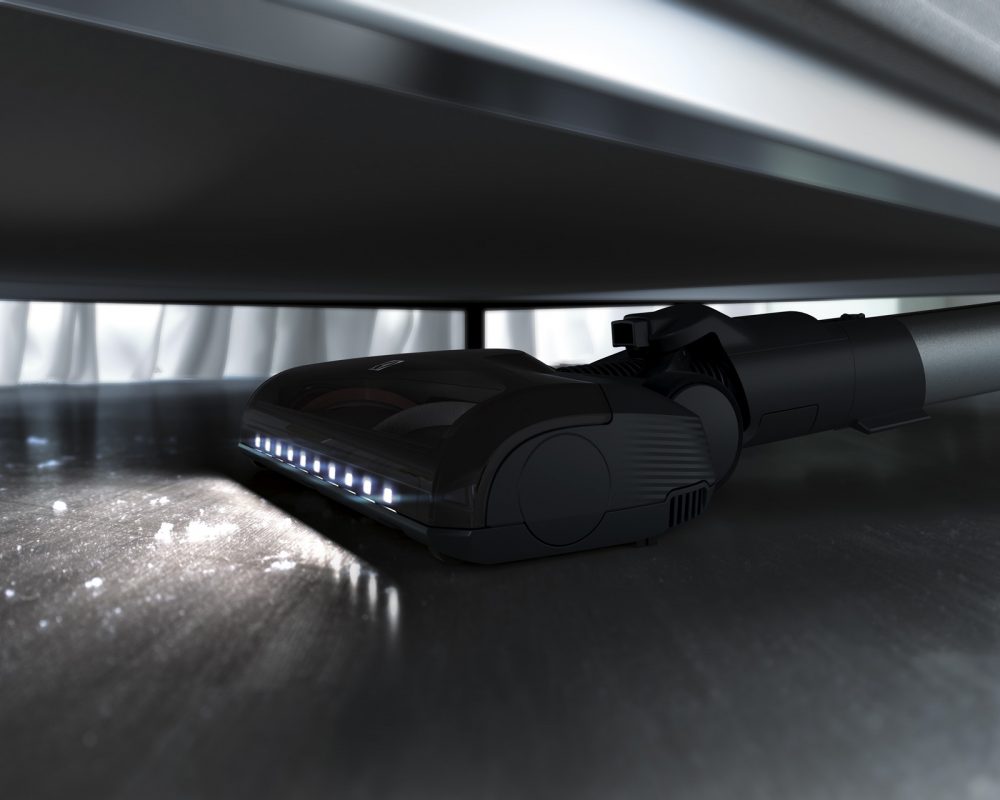 3. Home Hygiene
It cleans the dirt and dust you can see, but what about all the contaminants you can't see? Rest assured that the Electrolux Pure F9 is a powerful stick vacuum that contributes significantly to the hygiene and air purity of your place. With its premium micro-dust filtration system, it seals dust and purifies exhaust air in five steps, helping to remove irritants from your environment and cleanse your home. Win win!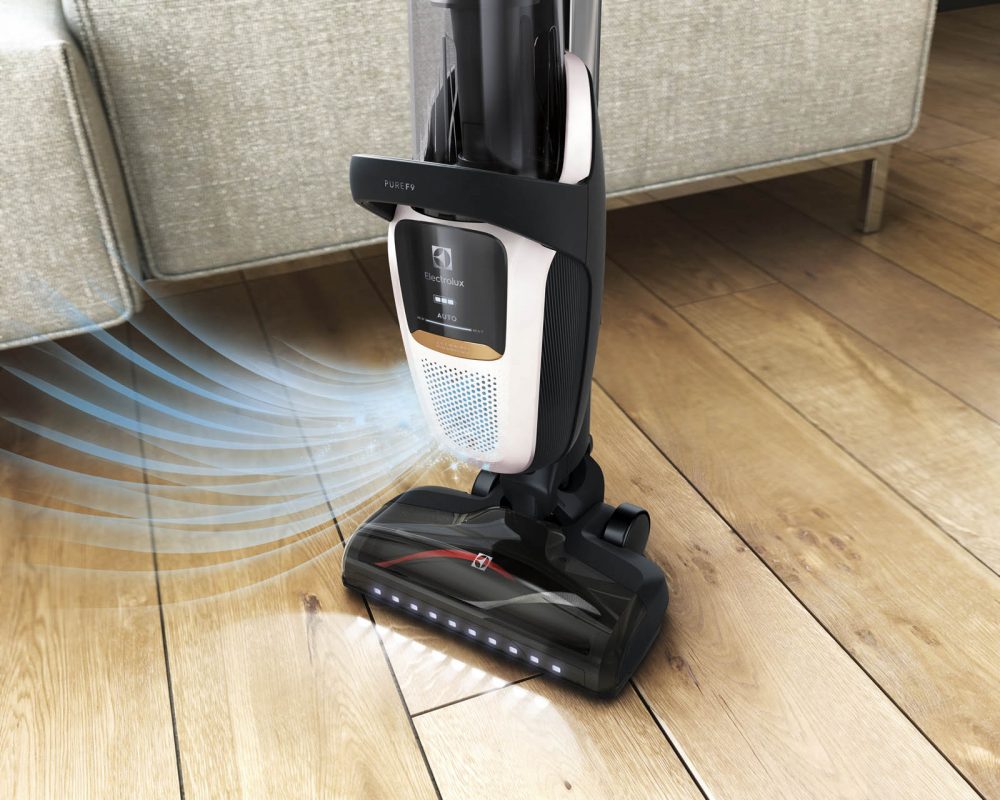 Another big positive is that disposing of all the dust and dirt is straightforward and doesn't leave you with any muck on your hands. Simply direct the barrel over the bin, press the button, and the rubbish is ejected without a trace of mess. No clouds of dust that force you to use the smelly outside bin, and no fiddly catches to wrestle with. Best of all, your hands are out of the way, so you don't feel gross after you've finished vacuuming!
4. Stand-up Storage
When the job's done and dusted (pun only kind of intended), the last thing you want to do is battle with the vacuum cleaner to put it away. Luckily, it's incredibly easy to store the Electrolux Pure F9. This cordless stick vacuum doesn't need a dock installed on the wall or need to be dismantled to fit into the cupboard. It doesn't even need to be laid down awkwardly on the bottom shelf of the linen press. The beauty of this beast is that it can either be stored compactly thanks to its telescopic tube or it can stand upright with or without its charging dock, anywhere.
This means it's great for pausing in the middle of vacuuming to answer the door or let the cat out: simply click it into its upright position. Seriously, that's it! It also makes it the perfect vacuum for homes where space is at a premium because whether it's in the gap between the washing machine and the wall, or in the cupboard beneath the stairs, it's easy to tidily tuck away the Electrolux Pure F9 vacuum until you next need it.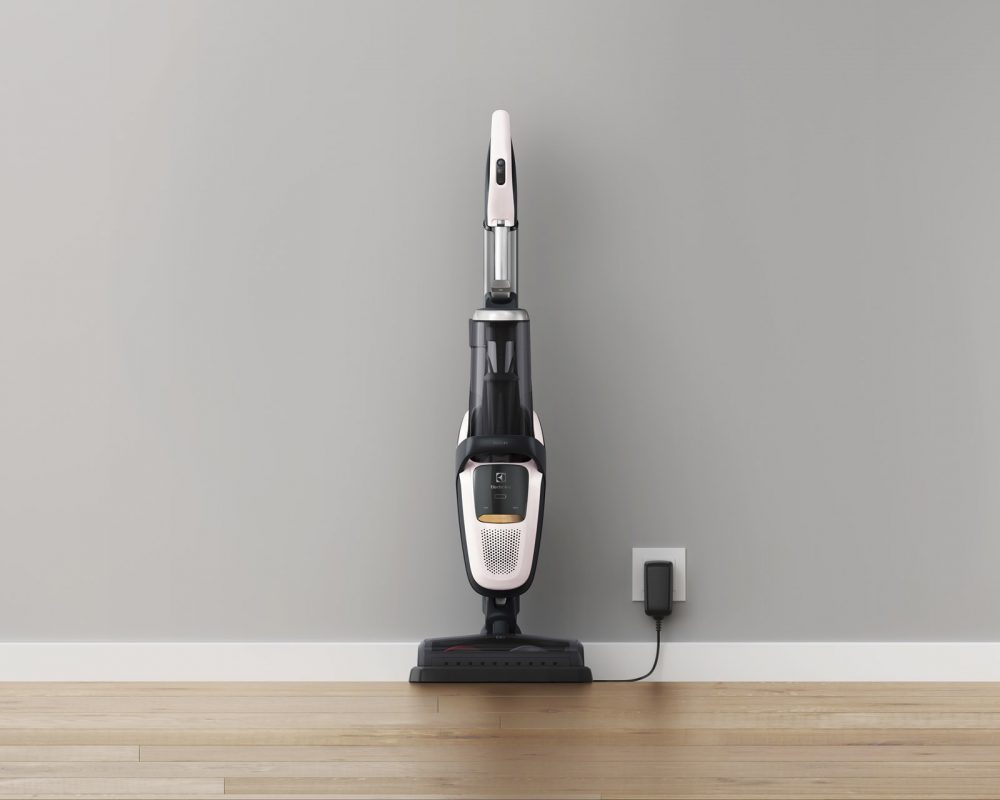 Electrolux Pure F9: A Vacuum Cleaner That Truly Sucks Up The Competition
You've seen just how easy vacuuming can be – so, what are you waiting for? You'll love having the Electrolux Pure F9 in your home. It really is one of the best cordless stick vacuums around, and it's available in two sleek colours – Satin White and Indigo Blue – turning vacuuming into the most stylish chore around!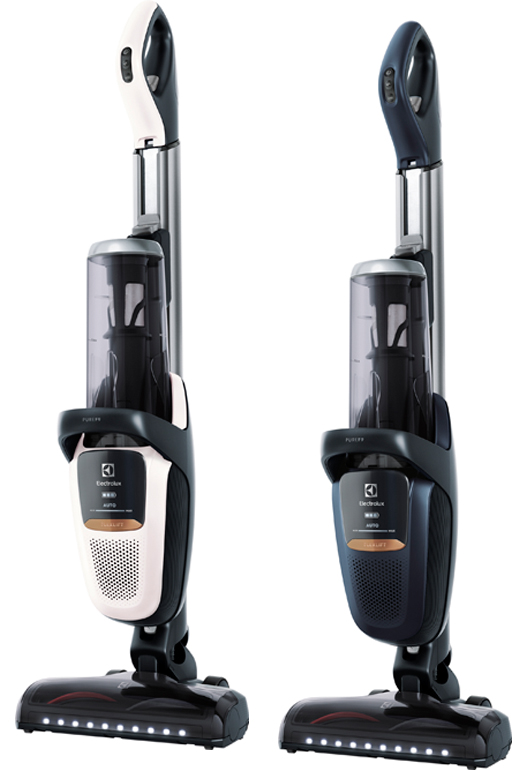 Get yours online today or head into your local Harvey Norman store and speak to our friendly and knowledgeable staff. You'll never think about vacuuming the same way again!
Electrolux Pure F9