Do you adore twiddling your thumbs, waiting for your washing machine to clean your clothes at a tediously-slow speed?
Neither do we!
That's why we're in love with the innovative Samsung QuickDrive Front Load Washing Machine. You see, it's really fast.
At Harvey Norman, we've seen up close just how dramatically this powerful washer can cut down on the time spent doing laundry – and we can't stop raving about it.
In fact, so highly do we recommend it, we're listing our top 7 reasons why we think you should consider upgrading to the Samsung QuickDrive Washing Machine!
1. It'll cut your laundry time by up to half
That's right! Intertek testing comparisons done between the Samsung QuickDrive Washing Machine and the Samsung WW6500K Washing Machine, both on Cotton setting at 40℃ at Half Load wash, have shown Samsung's QuickDrive's washing time to be up to an unbelievable 50% quicker. So, what's the secret?
It's all got to do with the QuickDrive's Q-Drum™. You see, the Q-Drum™ features both a 'main drum' and a 'backplate' that rotate independently of each other. The double forces at work ensure the items in this high performance washing machine move in a dynamic motion, resulting in a powerfully speedy wash.
So, if you and the family are constantly churning through mounds of clothes – whether it's clothes getting dirty and sweaty on the sporting field or getting stained on the cooking battlefield – then this revolutionary machine is your swift solution.
2. You can add items in the middle of a wash
Who hasn't put on a wash only to realise halfway through that you'd forgotten to put in that sauce-stained t-shirt that's been stinking the whole house up?
Kick yourself no more – Samsung's QuickDrive Washing Machines come fully equipped with the brilliant AddWash™ door – a feature that will save you oh-so-much stress.
As long as the drum water temperature is below 50℃ and the machine isn't mid-spin, then you can freely open the door up and throw in any item you'd like after the wash has already started – whether that's the kids muddy shorts or perhaps some more fabric softener.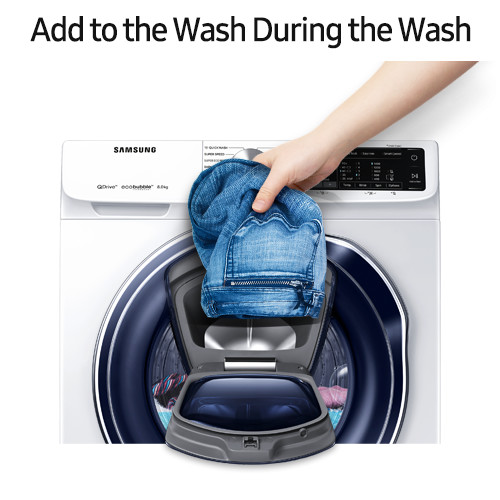 3. A dedicated app helps you select the most ideal wash settings and lets you control the machine remotely
Q-rator is about to become your new best friend! This smart app has been designed to allow you to get the most out of this innovative washing machine.
The Q-rator app's Laundry Recipe feature will take on board information such as garment types, colours and levels of soiling – as well as user preferences and usage patterns – and then recommend what it believes to be the ideal wash cycle for that particular load.
On top of this, the Q-rator's Laundry Planner feature allows you to remotely set the start and finish time for your load, while also recommending what wash cycle would suit that particular timeframe. So, when you've quickly thrown some items into the machine and rushed out for the day, you can simply set the wash to begin from wherever you are and time it to finish the moment you step in the door on your return home.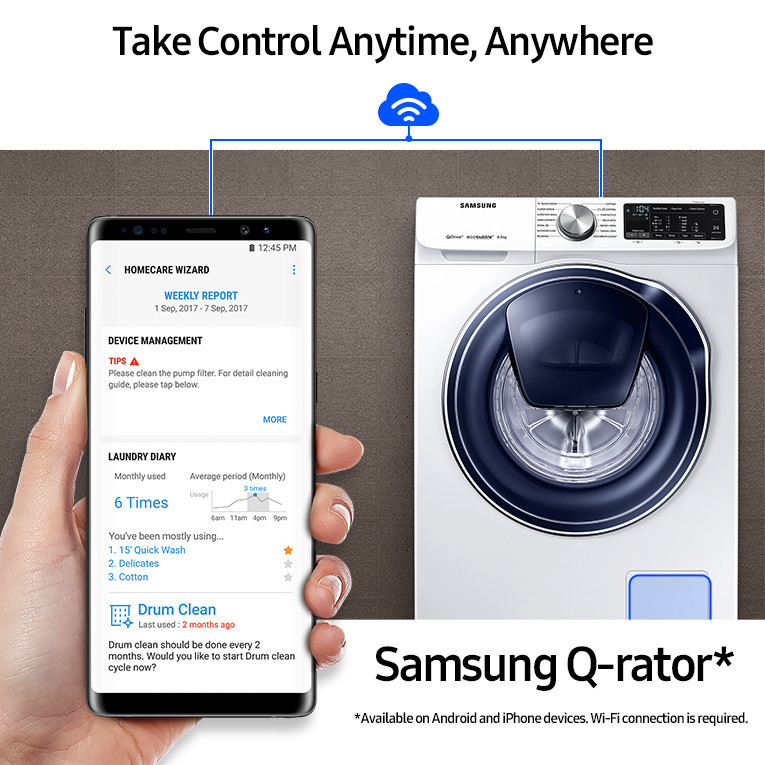 4. Your clothes will be super clean
Immaculately hygienic? Yes, please!
One of the true gems of Samsung's QuickDrive Washing Machine is the special Hygiene Steam Cycle – which leaves all items coming out in an impeccably hygienic condition.
The Hygiene Steam Cycle works by releasing steam from the bottom of the drum, allowing for the complete saturation of every item in the load. This process effectively removes engrained dirt and up to 99.9% of certain common bacteria, as found by Intertek testing on Staphylococcus aureus and E coli, which was completed this past January.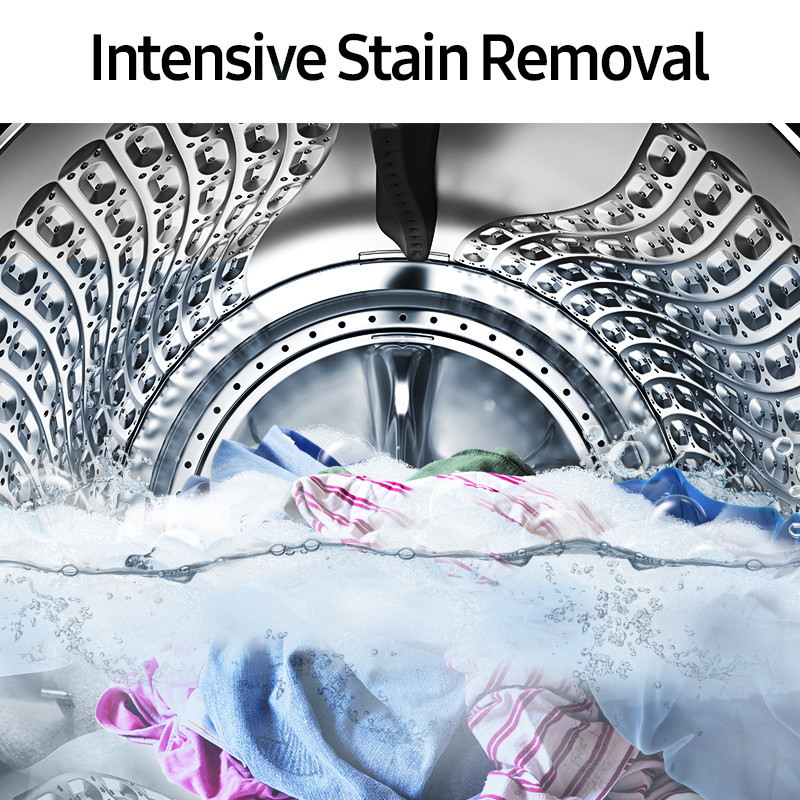 5. It's gentle on your clothes
OK, so we know Samsung's QuickDrive Washing Machine is ridiculously quick and powerful. But you know what?  It's also really gentle!
And it's all thanks to Samsung's BubbleWash™ technology.
BubbleWash™ mixes detergent with water and air in a separate bubble-generator resulting in a gentle washing mixture that provides the utmost protection for every piece of fabric cleaned in the machine. You're going to love the feel of those freshly washed clothes, towels and bed linen!
6. It even cleans itself!
Have you ever been faced with that classic conundrum of a washer that looks grottier than the clothes it's expected to clean?
Well, you'll never ever face that situation with the Samsung QuickDrive Washing Machine!
This is a machine that cleans itself. The Eco Drum Clean eliminates odour-causing bacteria inside the washer, without the use of harsh chemicals. Dirt is also removed from the rubber door gasket by using the frictional force of a powerful water jet in conjunction with the Samsung QuickDrive Washing Machine's famous fast spin speed.
Oh, and how's this for a thoughtful washing machine? It will even notify you when it needs a clean!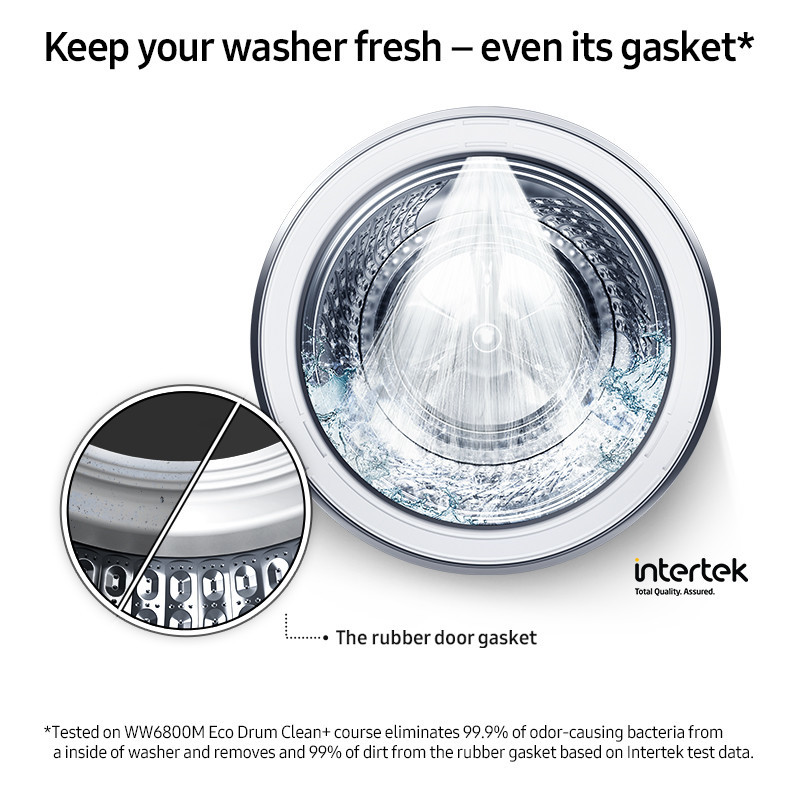 7.  Uh, did we mention it washes your clothes really fast?
It bears repeating, because it's seriously amazing! In fact, a 5kg wash can be done in just 39 minutes.
Not only are the rapid twin forces of the Q-Drum™ at work, but rinsing time is also shortened using a Speed Spray and by the acceleration of the spin speed.
This is how washing should be!
8. It has an awesome matching dryer!
OK, OK, we know we said we'd only list 7 reasons why you should upgrade to the Samsung QuickDrive Washing Machine – but it was so tough to limit ourselves to that, so we had to add an extra one!
We know having a dryer that matches your washing machine isn't the be-all and end-all for everybody, but if it's important to you, then the Samsung 9kg Heat Pump Dryer is one amazing complementary machine. With a 7 star energy rating, it uses OptimalDry™ smart technology to detect exactly when your clothes are dry. This is done through the use of moisture and temperature sensors, and helps to save energy and protect your clothes from damage.
In conjunction with the Samsung QuickDrive washing machine, this is the ultimate one-two combination.
Ready To Upgrade To The Samsung QuickDrive Washing Machine?
Check out and learn more about this amazing washer online (also available with crystal gloss door) or head into your local store and talk to our friendly staff for expert advice.