Smart and innovative, the newest iRobot vacuum provides powerful cleaning from start to finish. It won't stop until the job is done – and done thoroughly. Set it to clean the whole house or only certain rooms – you're the boss. And the iRobot Roomba® i7+ Robotic Vacuum – available at Harvey Norman – takes virtually all the effort out of vacuuming.
Unpacking the box revealed that this cleaning kit contains:
► The Roomba® i7+ Robot Vacuum;
► The Clean Base™ Charging Station + Automatic Dirt Disposal;
► Two dirt disposal bags;
► A Dual Mode Virtual Wall® Barrier (with two AA batteries included);
► An additional high-efficiency filter;
► And an additional Edge-Sweeping Brush.
How does iRobot Roomba® i7+ work?
The iRobot Roomba® i7+ vacuum cleaner unit itself measures 33.9cm in diameter and 9.2cm in height. These compact dimensions let it smoothly navigate through different spaces and on different surfaces. I was impressed with the way in which the Roomba® i7+ went effortlessly from the tiles onto the rug and back again in my home's living area, all without missing a beat. This is multi-surface cleaning, indeed.
Using Imprint™ Smart Mapping technology, Roomba® i7+ learns, maps and adapts to your home's layout, working out the quickest, most efficient way to clean each room. It does so by creating visual landmarks to keep track of where it's been and where it's going. It even remembers multiple floor plans. This lets you assign and control which rooms are to be cleaned. And you can do so from your smartphone via the iRobot HOME App.
This iRobot Roomba® with docking station and automatic dirt disposal is easy to set up and equally easy to operate – it's just a push of a button. Powered by a Lithium Ion battery, it has a standard run-time of 75 minutes – although, it can go longer depending on the floor surface and how much dirt there is. When the battery requires a charge, the iRobot Roomba® i7+ will automatically find its way back to its dock to recharge – or will down tools when the job is completed.

iRobot Roomba® i7+ Robotic Vacuum – The Undercover Super Cleaner!
It's quite a sight watching Roomba® i7+'s robotic cleaner zip around, vacuuming as it goes. I must admit, I had a chuckle to myself when it completely disappeared beneath the sofa, going undercover to take care of business, before re-emerging to continue cleaning the rest of the living area in full view again.
Importantly, dirt and dust doesn't stand a chance against the premium 3-Stage Cleaning System. This triple threat attacks everything, from small particles to large debris, on carpet and hard floors. The three-pronged set-up comprises of the:
► Edge-Sweeping Brush that's specially designed at a 27-degree angle to sweep debris away from edges and corners, and into the cleaning path to be suctioned off floors;
► Dual Multi-Surface Rubber Brushes that loosen and lift dirt. Instead of bristles that bend, these hug different floor surfaces to stay in close contact and clean hair without getting tangled;
► Power-Lifting Suction which pulls in dirt and helps capture up to 99% of pet allergens.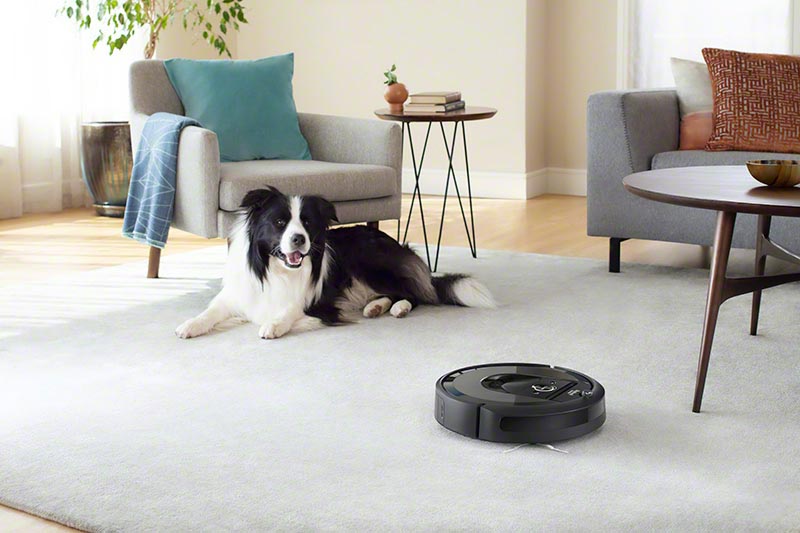 iRobot Roomba® i7+ vs. iRobot Roomba® 600 Series
Compared to the Roomba® 600 Series AeroVac™ System, the Roomba® i7+ boasts 10x the air power as it lifts, suctions and filters. Moreover, the High-Efficiency Filter captures 99% of mould, pollen, dust-mite, dog and cat allergens.
Essentially, the iRobot Roomba®® i7+ cleans what you see and filters what you don't.
The Clean Base™ Automatic Dirt Disposal system empties on its own – the Roomba® i7+ robot vacuum automatically dumps into a disposable bag that holds 30 bins of dirt and dust, taking the hassle out of having to regularly remove the bin's contents, then reinstall it.
When the time does come to refill, the enclosed bag design – which traps debris – makes for hassle-free dirt disposal without annoying clouds of dust escaping into the air. And of course, Harvey Norman is your place to restock with the iRobot Roomba® i7+ Vacuum Bag 3-Pack when you eventually run out.
What else you need to know about the iRobot Roomba® i7+
Small in stature, but big in performance, this iRobot boasts a few more clever features, such as:
► Dual Mode Virtual Wall® Barriers to give you better control over where the robot cleans;
► Virtual Wall® Mode that ensures the Roomba® i7+ cleans the rooms you want and stays out of the ones you don't;
► Halo Mode, which keeps it clear of items you want it to avoid.
Residing in a two-story townhouse, my most pressing concern was how the Roomba® i7+ would navigate between levels. I needn't have worried, however. Cliff Detect sensors prevent it from falling down stairs or tumbling over drop-offs.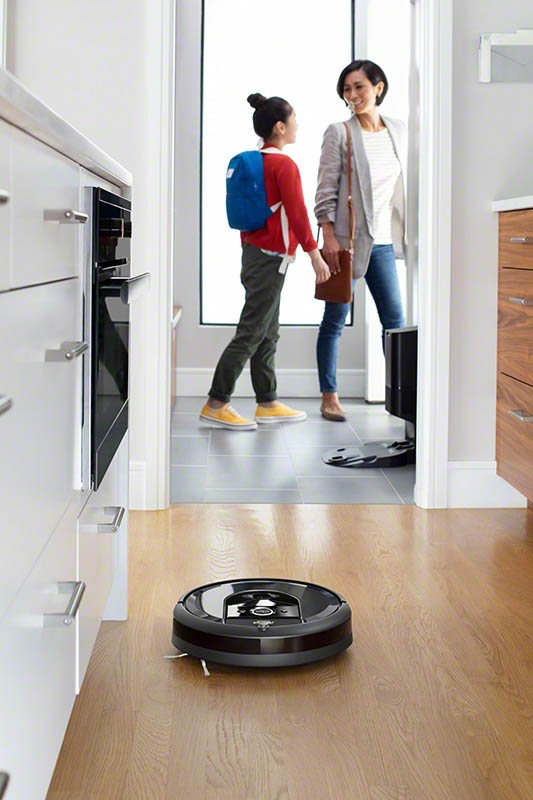 After years of conventional vacuum cleaning, the "hands-off" experience of this iRobot is quite the revelation. And something you could get very used to – very quickly. My home's tiled and carpeted floors never looked cleaner after a vacuum. That's a fact.
Where To Buy iRobot Roomba® i7+ Robotic Vacuum
Now that you've read our iRobot Roomba® i7+ robotic vacuum cleaner review, see it – and even try it – for yourself. Shop online or visit your local Harvey Norman store and speak to our friendly, expert staff about the best robot vacuum for your home.
iRobot Roomba® i7+ Robotic Vacuum
More Product Reviews
Keen to see some more of our recent product reviews? You can do so by clicking here.