With so many home appliances on the market, sometimes it's hard to know which ones to buy. To the untrained eye the differences between new models and older ones may not be immediately obvious, with new and improved features often being overlooked.
With that in mind, it's a pleasure to be able to shine a spotlight on the latest in home appliances from AEG and Electrolux, featuring industry-leading innovations in SousVide cooking, flexible bridging cooktops, advanced dishwasher glass care, heat pump dryer technology and stylish built-in designer fridges. Now available at Harvey Norman, these evolutionary appliances represent the future of your home.
Achieve optimal results with this self-cleaning steam oven with its 25 functions and 220 automatic programmes. Whether you're steaming vegetables for your week-night dinner or baking a soufflé for your dinner party, this oven will provide perfect results with minimum effort. The ThermiCAir™ function circulates the hot air evenly around the oven cavity so you can be sure that the correct temperature is maintained at all times. With an ExSight® enlarged touchscreen display that can recommend optimum cooking temperatures and times, as well as a SousVide function for sealed food preparation, this oven is great for those who love entertaining.
With the ability to be integrated beneath your ProCombiPlus™ Steam Oven, the PrecisionVac™ Drawer lets you apply professional SousVide cooking methods at home with precision heat and humidity so you can retain the nutrients, freshness and flavour of any dish, even when steam-cooking the most delicate ingredients. Encased in a sleek stainless steel design, this vacuum sealer can be used for more than just cooking. It's also perfect for storing your food and ingredients oxygen-free, and a great way to preserve everything from meats to stock, sauces, spices, herbs, coffee and vegetables. Simply set the percentage of oxygen you want taken out of the bag depending on the type of food that you are sealing. With more delicate items such as salmon you can leave a small amount of oxygen in the bag so the integrity of the fish is not compromised. Really make the most of the drawer and get organised in the kitchen by preparing and portioning your dishes in advance.
Manage mix loads easily with the ProZone feature of this premium AEG dishwasher. ProZone ensures your delicate glasses and stemware get the gentle care they require with SoftGrip tines ensuring there's no movement or shaking when the water pressure hits. The Sensorlogic function measures both the size of your dishes and the level of messin order to fine-tune the wash programmes to maximise both water and energy efficiency. Beyond that, this dishwasher is extra silent to ensure your family isn't unduly disturbed.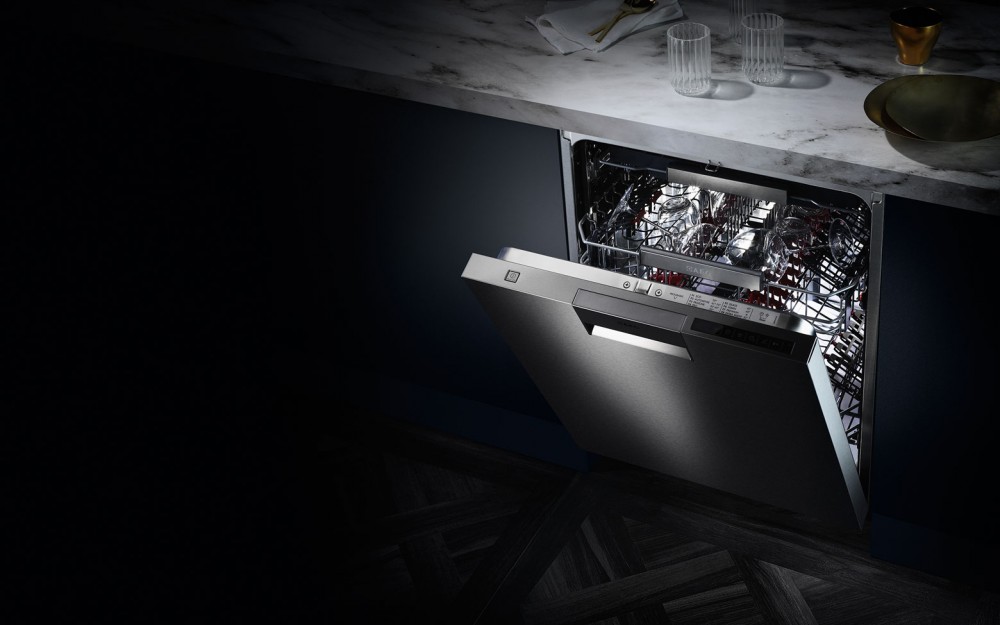 The first washer/dryer with heat pump technology available in Australia, the AEG ProTex Series 9 OkoKombi takes both the guesswork and the hard work out of doing laundry by making it easy to switch from washing to drying in one go. Clever sensor technology will even measure your load, advise how much detergent is needed and automatically adjust the time of cycle for perfect results. Among the 16 wash and dry programmes is a steam refresh option that can be used to revive outfits after a day's wear or freshen up a favourite before going out. The combination of a delicates programme and a Woolmark Blue-certified cycle will ensure that your delicate and woollen garments can be washed and dried safely, so that they can be enjoyed for years to come. The heat pump drying system recycles the heat produced by the machine while drying and recycles it back into the process, significantly cutting down on the running costs and making it super energy efficient with a six-star energy rating.
Cook like a chef with the professional-standard functionality of this induction cooktop. Showing superb versatility, the four cooking zones can be set for different temperatures or combined together into one large zone, with all options giving you instant control and precise heat distribution. Choose a gradient heat between zones so you can sear meat and bring dished to the boil at the front of the cooktop before sliding to the back to cook through or simmer – the power is at your fingertips. In addition, the innovative Hob2Hood technology allows a compatible rangehood – such as the ERC930SA canopy model – to work in tandem with the cooktop. This means that when you increase the heat, the temperature sensors automatically adjust the power of the rangehood to match your cooking intensity and instantly get rid of cooking odours.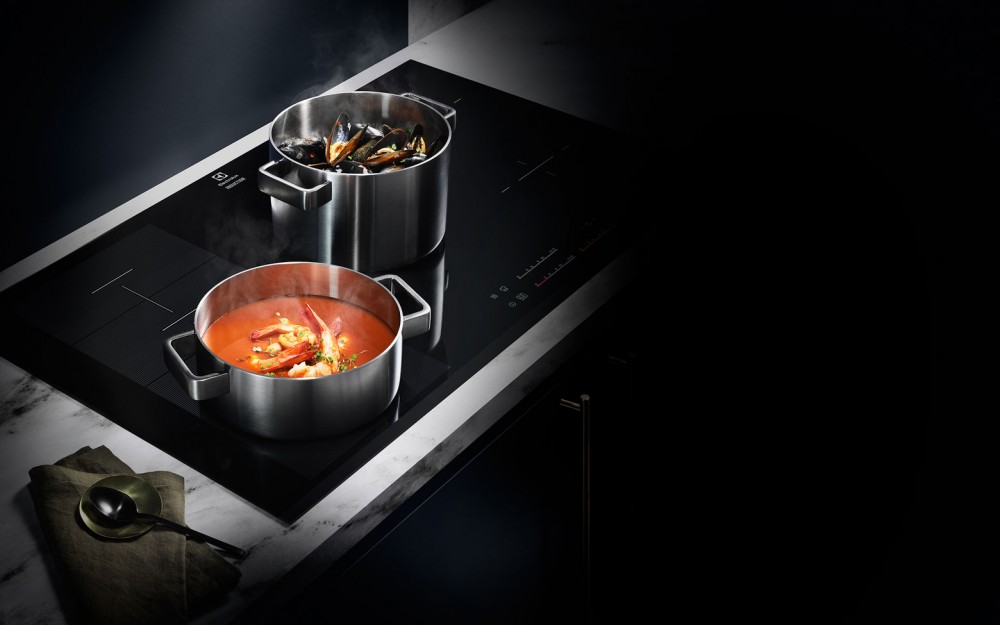 Offering the finest in fridge technology and flexibility, the Electrolux FreshPlus™ range is best-in-class in terms of energy efficiency. With 36 possible configurations – selecting from top mount, bottom mount and full-door fridge sections – you'll find the perfect combination to best meet the needs of your kitchen and your family. Electrolux has delivered an on-trend and affordable alternative to integrated fridges with a range of built-in trim kits so you can customise your appliance to your décor. FreshPlus™ technology maintains the perfect temperature throughout the fridge, detecting when the door has been opened and immediately re-cooling for fresher results and ensuring your crispers actually keep your fruits and vegetables crisp.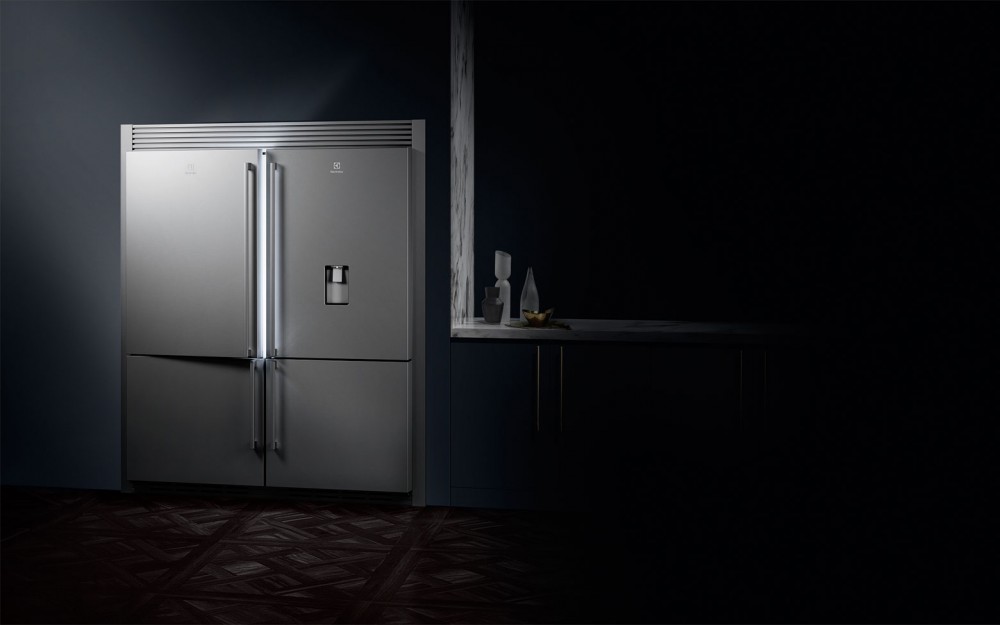 If you'd like to learn more about these best in class, innovative kitchen solutions from AEG and Electrolux then check out our website where you can find more information, Live Chat with our kitchen appliance experts or head down to your local Harvey Norman store where you can view the products in person and even try them out yourself.