I'll have to admit upfront that before taking on this assignment I'd never used an air purifier. I'm fortunate enough to not suffer from asthma or have any allergies (that I'm aware of, fingers crossed), so an air purifier wasn't something I'd spent a lot of time thinking about. But being offered the chance by Harvey Norman to try out a brand new Dyson air purifier certainly got me thinking about the quality of the air I'm breathing.
Dyson is known as a true home appliance  industry leader, and the Pure Hot+Cool Link has been billed as a real leap forward in air purifier technology. I've always been impressed by the bladeless fan design of the Dyson fans. My inner child constantly wants to stick his arm through the middle just to make sure there are no invisible fan blades hiding in there.
The more I looked into this air purifier online, the more impressive I found it to be. A high-powered fan to cool me down, a heater to keep cosy and stay warm, and a built-in HEPA air purifier! Essentially it's three machines in one streamlined and compact appliance. Furthermore, since I live in a two-storey townhouse that is only air conditioned on the ground floor, I could certainly use a convenient heating and cooling solution that wasn't going to take up a lot of space.
Decision made, it was time to take this Dyson home for a test drive.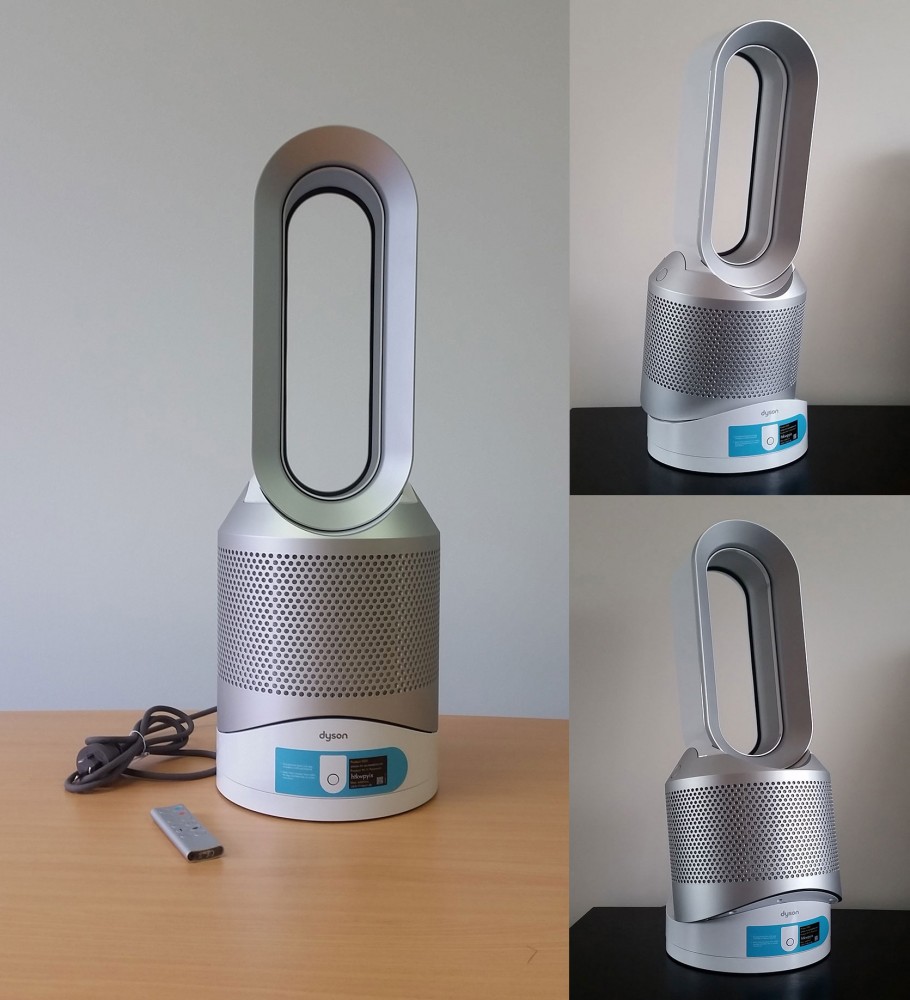 For Freshening Things Up
With everything from cars, treated carpets, air fresheners, pets and everyday cooking impacting the air quality in our homes, having an air purification system has become more important than ever to our health – especially if you're an asthma or allergy sufferer.
To look after the air in your home year-round, the Pure Hot+Cool Link features a 360° glass HEPA filter that is capable of removing up to 99.95% of domestic allergens and pollutants, including things like pollen, bacteria and pet dander. It will also capture any odours or fumes in the air, so it's handy to have near the kitchen or in other areas where these might become an issue. And so you know the Dyson Pure can both talk the talk and walk the walk; it's been certified to be asthma and allergy friendly by Allergy Standards Ltd.
The Pure Hot+Cool Link can also be paired with the DysonLink app, meaning I could control and monitor the air quality in my home from just about anywhere. I found it to be a really simple process, and step-by-step instructions are included to ensure you won't have any issues.
When first connected, the app prompted me to select what I wanted my Air Quality Target to be. If, like myself, you just want to ensure your house has that nice fresh feeling, you can select the "I just want to maintain good air quality" option – but if you're an asthma or allergy sufferer you can choose either the "sensitive" or "very sensitive" options (as seen in the screenshot below).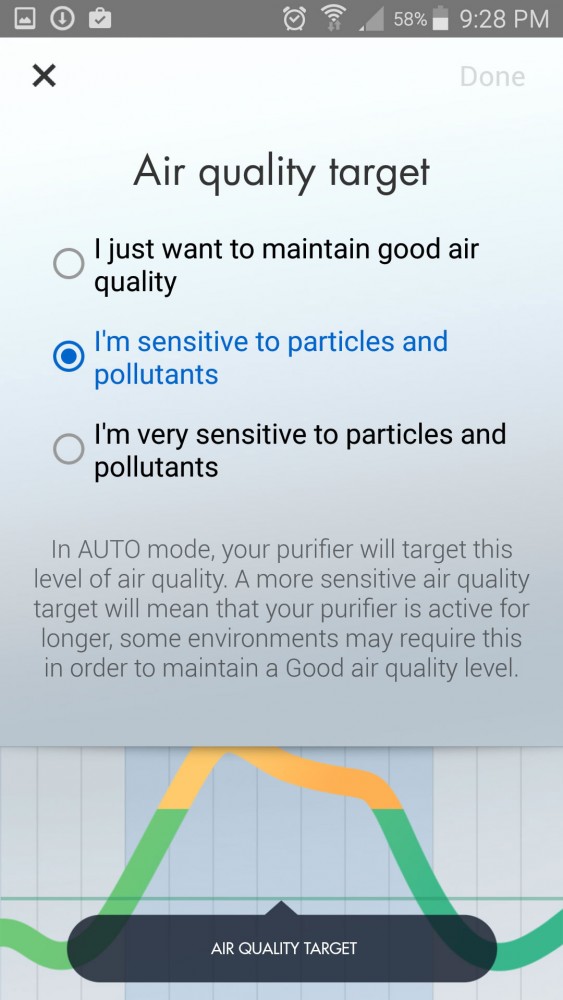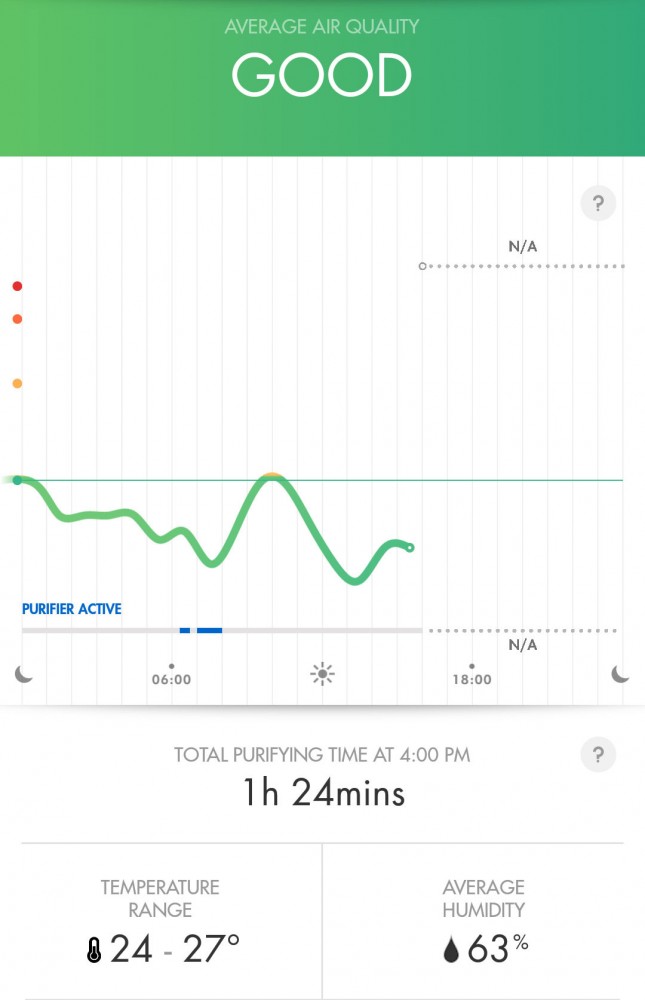 For Keeping Cool
As mentioned earlier, I live in a two-storey townhouse with air conditioning only in the bottom floor, so you might easily guess that it can get quite hot upstairs during summer. For most of the day this isn't too much of an issue, as I'm usually downstairs or out and about; but come evening as I make my way upstairs to go to bed, it can often feel like walking from a supermarket coolroom into a sauna. I've been using an el-cheapo pedestal fan in my bedroom to keep the air circulating, but it doesn't really have the oomph to cool things down much.
With the Dyson Pure Hot+Cool Link, I've got 10 different airflow speeds, a wide angle of oscillation, and a choice of Jet Focus controls –a focused personal mode that directs a long-range stream of air directly at me, plus a diffused mode where two jets of air meet and are guided over a 45° airflow projector that releases a wide stream of powerful airflow to cool the room in a more ambient style. Now I have the power that I've been looking for to help effectively cool the room down.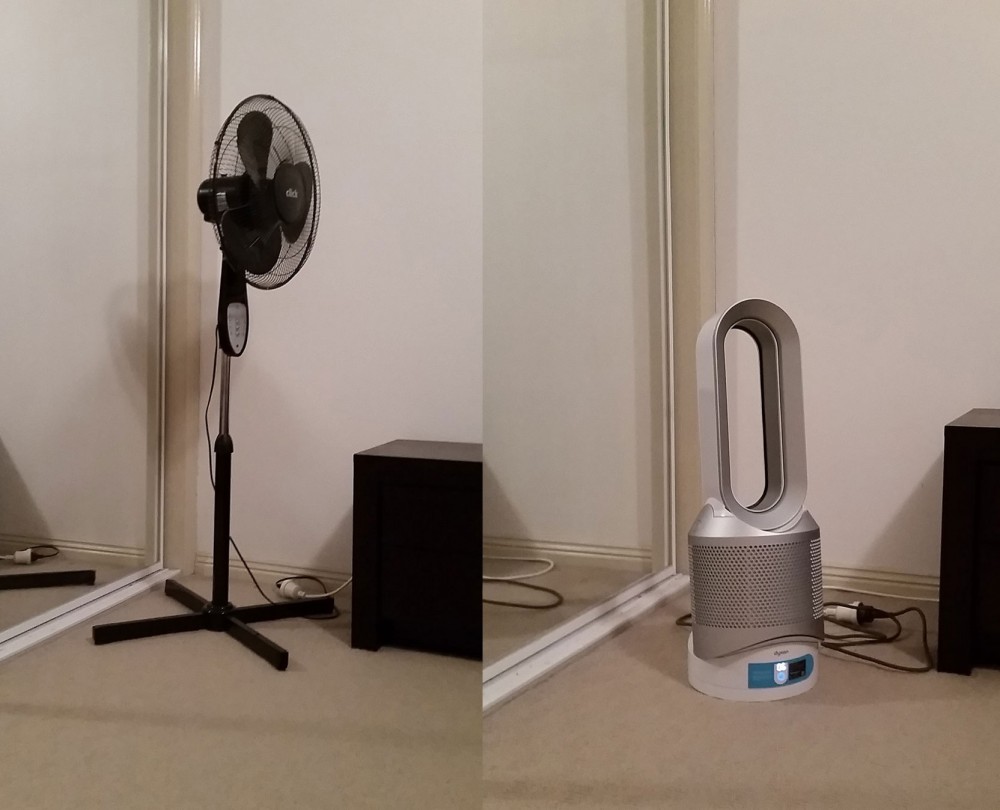 Since the Dyson Pure Hot+Cool Link would be in my bedroom, my level of comfort at night would be a paramount consideration. The Sleep Timer came in handy,as it allows me to set a countdown for how long I want the Dyson Pure to remain on. I usually opt for 45 minutes after I expect to fall asleep so I can drift off to snoozetown as comfortably as possible.
My old fan is quite noisy, which makes it difficult to fall asleep, but the Dyson Pure features a Night Mode and has been awarded with QuietMark certification from the Noise Abatement Society. When I activated the Night Mode, the Dyson just faded into the background, automatically reducing the airflow speed down to level 4 (which is whisper quiet but still significantly powerful). The display on the Dyson dimmed after five seconds, then faded to off – leaving only a faint half moon symbol so my sleep was undisturbed by any bright lights in the room.
For Warming Up
So it looks like the Dyson Pure Hot+Cool Link air purifier has got my summer nights covered. What about those cold winter nights, you might ask? Well, here's where I got to see even more of the versatility that this smart appliance can provide.
By simply changing the settings on the appliance I now had a Dyson fan heater at my disposal to keep me toasty warm in winter. With thermostat-controlled heating I could modify the temperature settings from as low as 1°C all the way up to 37°C. That provides more than enough range to ensure I find a comfort level to suit my needs. The Focused mode is great for warming myself up quickly, while the Diffused mode is ideal for when I want to heat an entire room evenly. Once the target room temperature that I've chosen has been reached, the on-board sensors tell the Dyson Pure to stop heating the air. If it starts to get chilly again, the appliance starts heating again until my chosen room temperature is obtained. In this sense, this Dyson dynamo works just like an air conditioner in auto mode.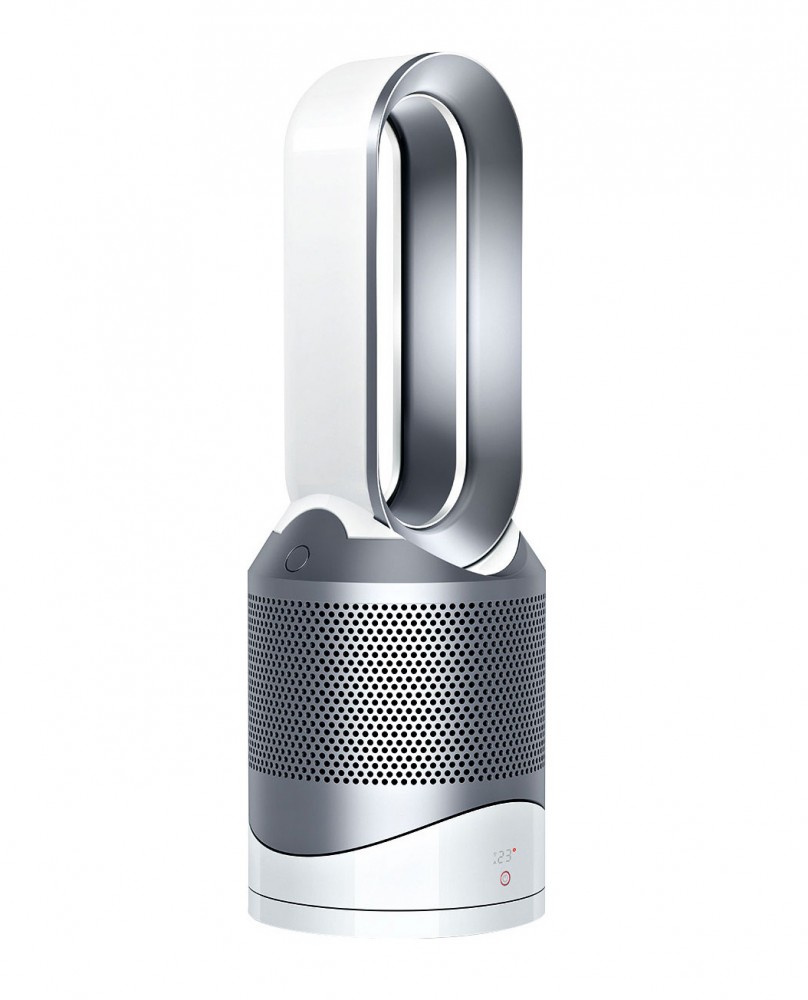 The timer function really comes in handy when using the heating mode of the Pure Hot+Cool Link. For the last few years I've used an old-fashioned column heater to fight the winter chill, and in hindsight it wasn't the safest way to heat the room. It didn't have any automatic modes with temperature cut-offs or even a timer, so there was always the fear of falling asleep with the heater still on. This high-performing appliance takes care of that for me, and I can even schedule in advance when I want the heater to turn back on. This way I never have to wake up to a cold room ever again.
I know I was impressed with the performance of the Dyson Pure Hot+Cool Link, and found it to be a welcome addition to my home. The air feels fresher, and I'm feeling cooler during summer. If you'd like to add one of these Dyson air purifiers to your home, simply head down to your local Harvey Norman store where the friendly staff can show you how it can improve the air quality in your home, or you can pick one up online. Too easy!