Based on the lunar calendar, Friday the 16th of February will mark the first day of the Lunar New Year. In 2018, it's the Year of the Dog.
Also known as the "Spring Festival", Lunar New Year is ushered in with street markets showcasing cultural arts and crafts, delicious food stalls and vibrant entertainment displays, including colourful costumes, dragon dances, lanterns and fireworks.
In the days immediately before the celebration, Chinese families traditionally give their homes a thorough cleaning. It's believed this customary clean-up is cathartic both literally and metaphorically – "sweeping the dust" symbolises a farewell to the old year and any bad luck it brought with it, and a warm welcome to good fortune for the coming year. Cleaning during the first few days of Lunar New Year is avoided as it's believed this might cause new luck to be swept away!
After a few days of merriment, however, it's inevitable you'll have to give your place a bit of a spruce up.
A few of us at Harvey Norman HQ had the opportunity to take home and test some quality floor and surface cleaning products currently on the market. In comparison to our regular housework regimes, we considered each cleaner and its ease of use, key features as well as performance.
In the spirit of Lunar New Year, here's each account, straight from the horse's mouth… as well as a rabbit, rat and snake respectively, according to the 12-year animal zodiac cycle.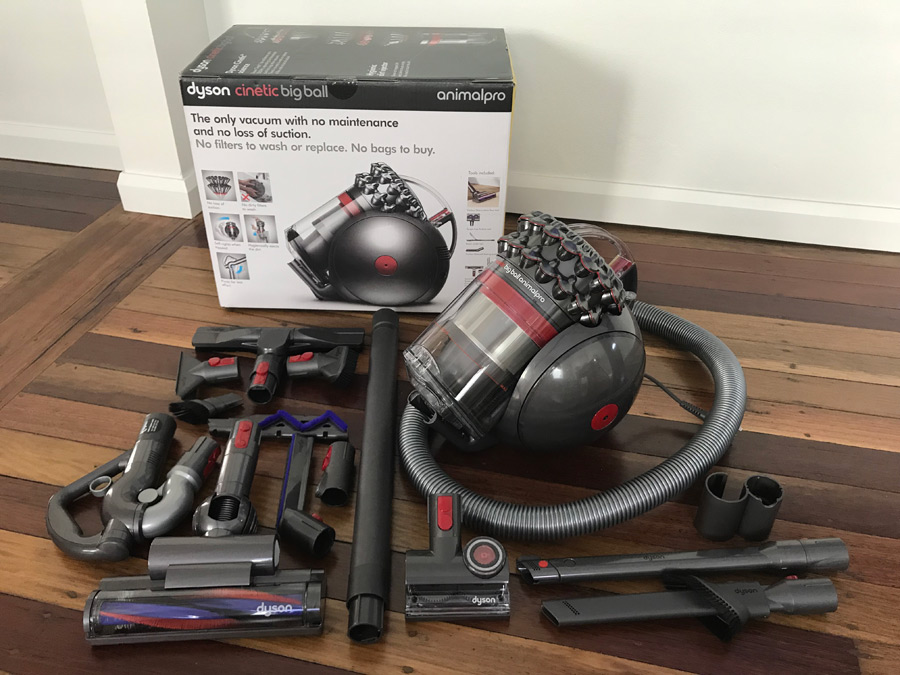 "I try to vacuum at least once a week, but with busy weekends it's very difficult to be consistent. In reality, it ends up being every two weeks.
With mainly timber floors in our home, all dust and hair seems to move around a lot and collect in places we can't reach, like under the bed. Our biggest problem area would be the bathroom though. White tiles and black hair are not a good combination.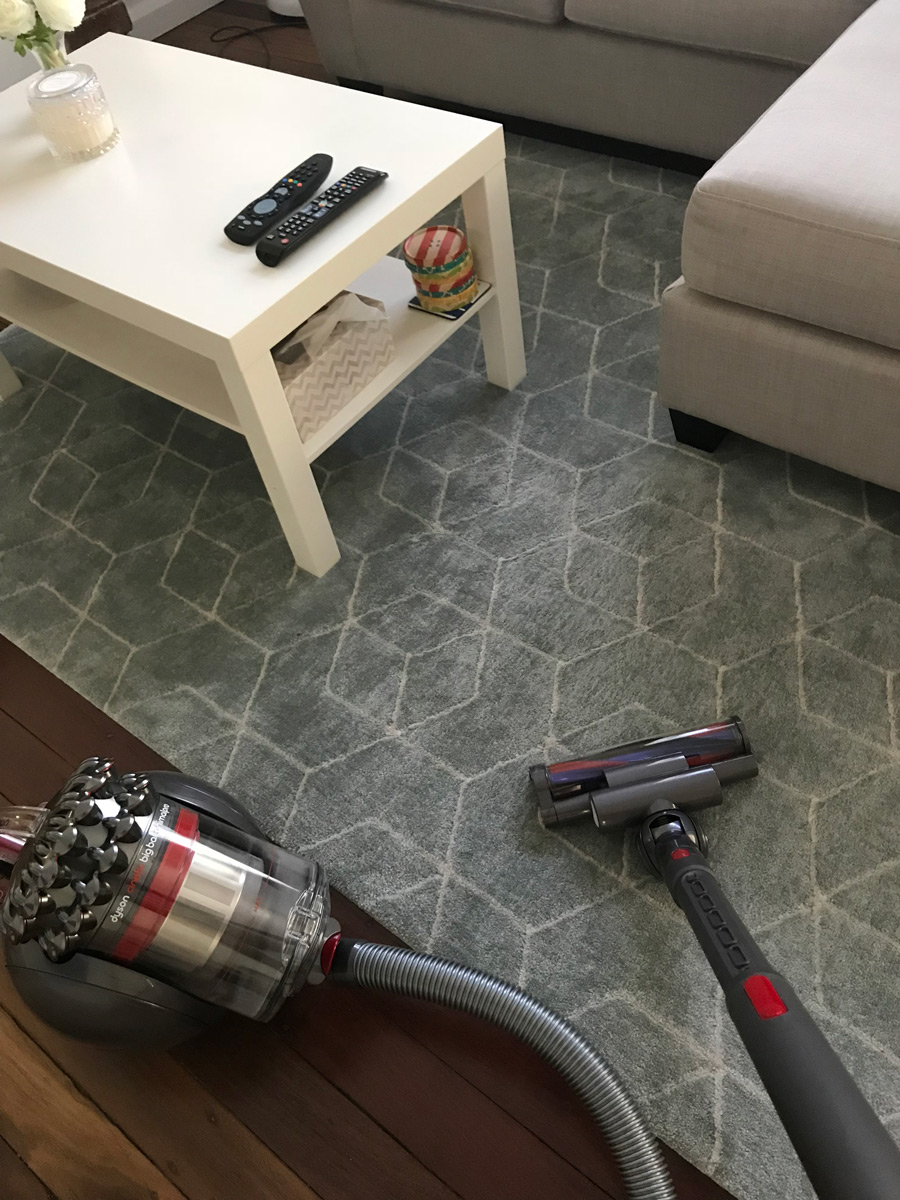 I chose the Dyson Big Ball Animal Pro as it comes with so many tools to  clean almost every surface of my home – from floors, to the couch and even the venetian blinds. As I unboxed the machine I was surprised as to how many tools I pulled out as well compared to other vacuum cleaners I've used in the past. My favourite was the reach-under tool. I used it to get all the dust bunnies from under the couch and bed.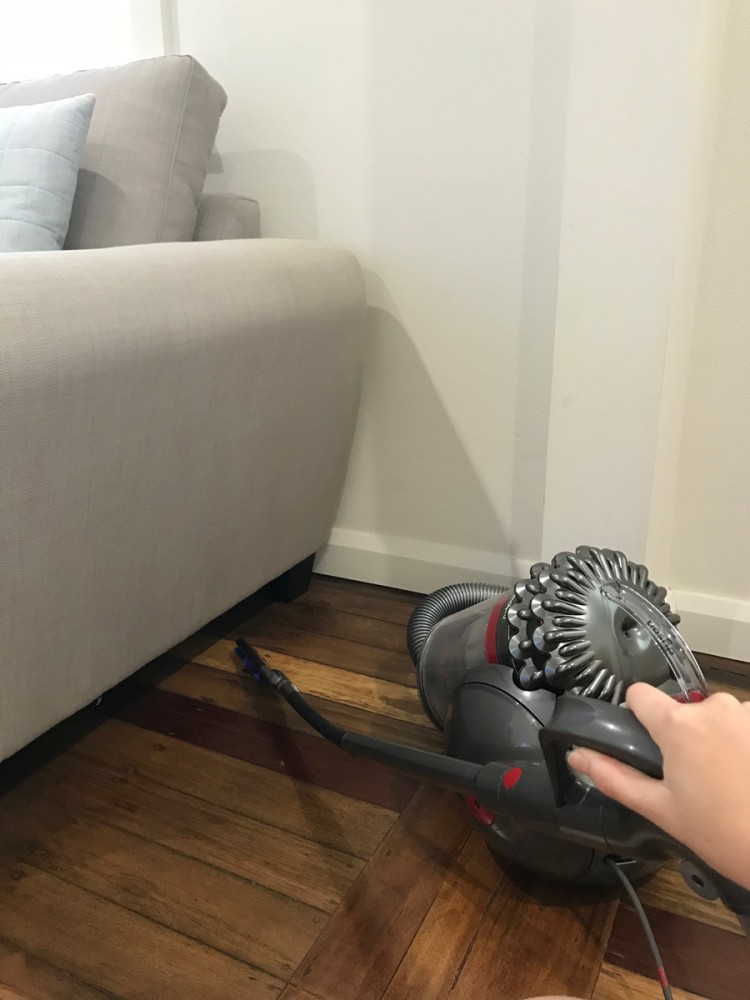 This machine is a great all-rounder. It even has a tool especially formulated to pick up pet hair (the tangle-free turbine tool).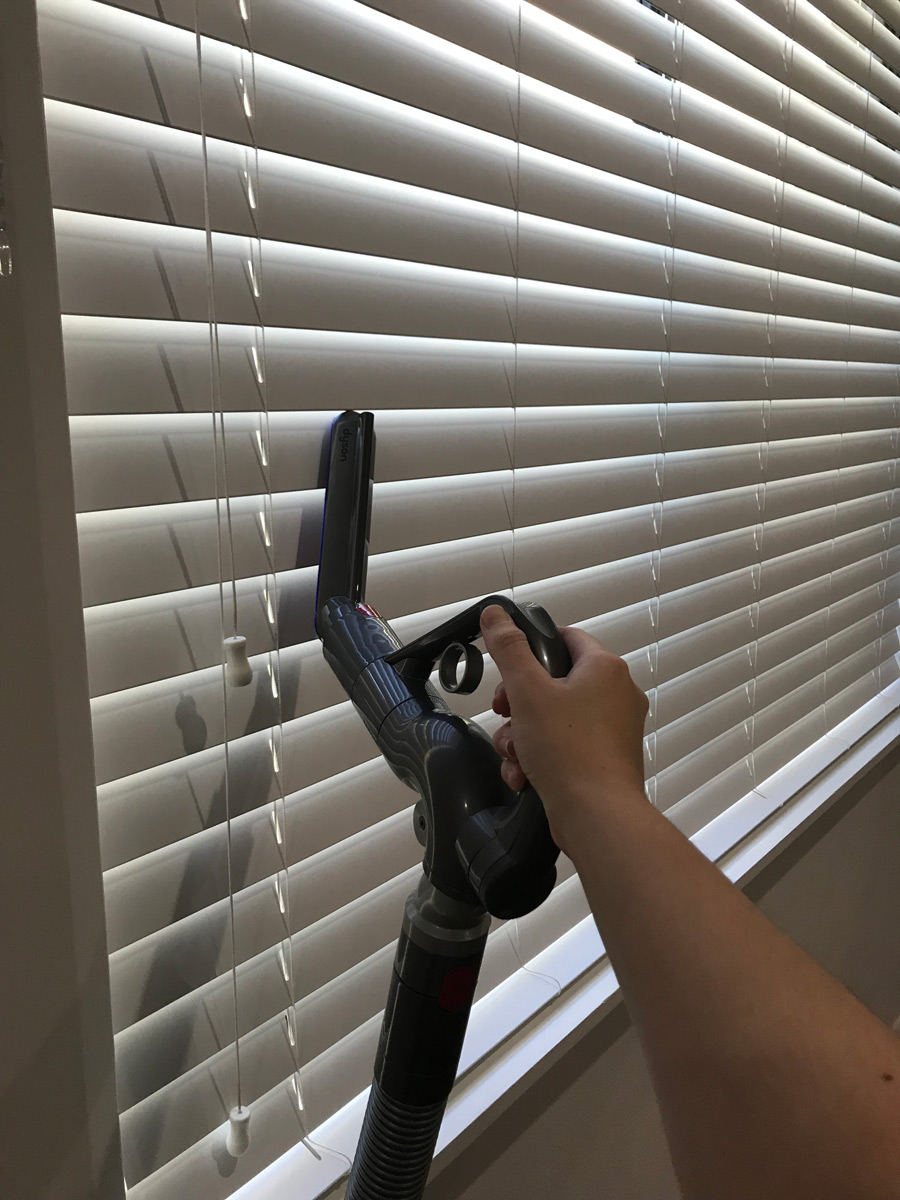 It was amazing! The suction of this powerful vacuum cleaner picked up things I didn't even know were there. My home has probably never been cleaner.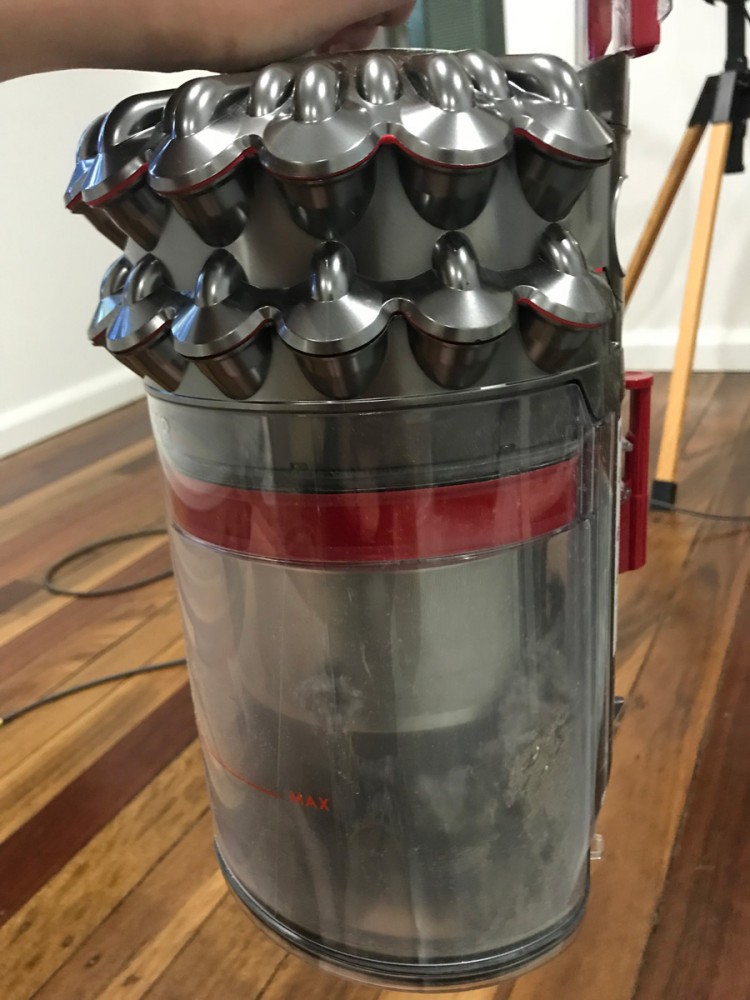 I'm getting married in March, so would love to sweep away all the stress and worries I can. I vow to clean my home more often, and with the Dyson Cinetic Big Ball Animal Pro Barrel Vacuum Cleaner on my side, that won't be hard to keep."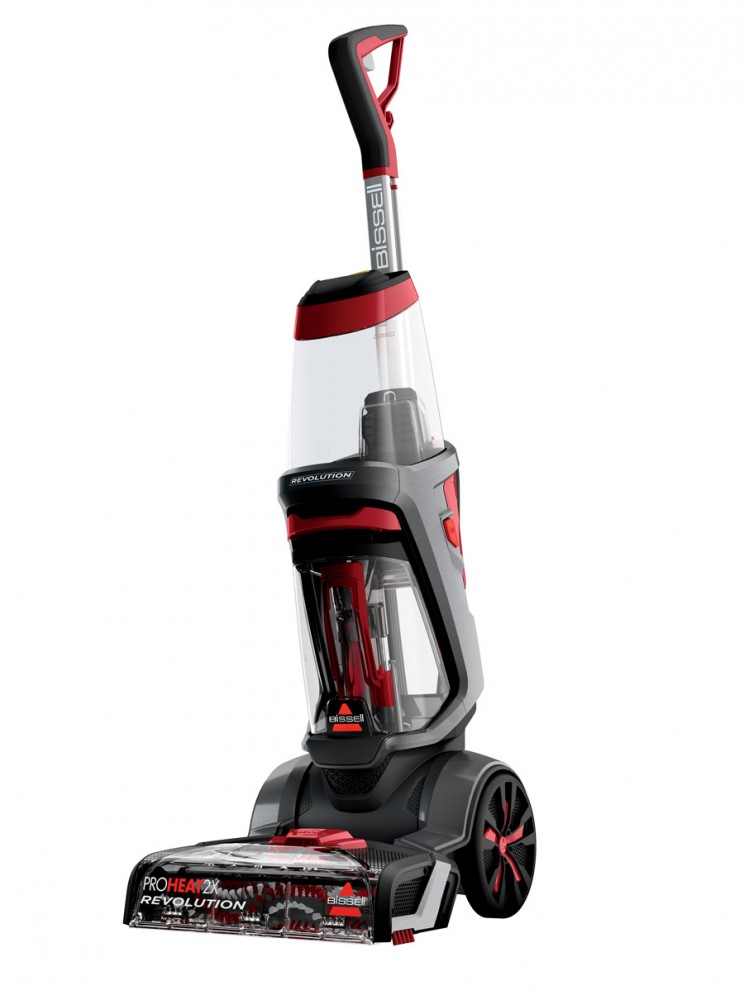 "My partner and I have cream carpets throughout our apartment, and keeping them looking fresh and clean can sometimes be a real pain! I have a strict "no shoes" policy, and we try to vacuum at least once a fortnight, but dirt and stains are inevitable with light-coloured flooring. After living in this apartment for just over one year, I had begun to think about getting the carpets properly cleaned. As I also suffer from hay fever, I know it's a good idea to get carpets cleaned when you can to kill dust mites and other nasties that may cause allergies.
For the most part, our carpets are relatively clean. It's just the two of us – no kids or pets. However, there are a few very noticeable spots near the front door that have been driving me crazy over the last few months. High traffic areas, such as the hallway and the dining room, are also a little worse for wear.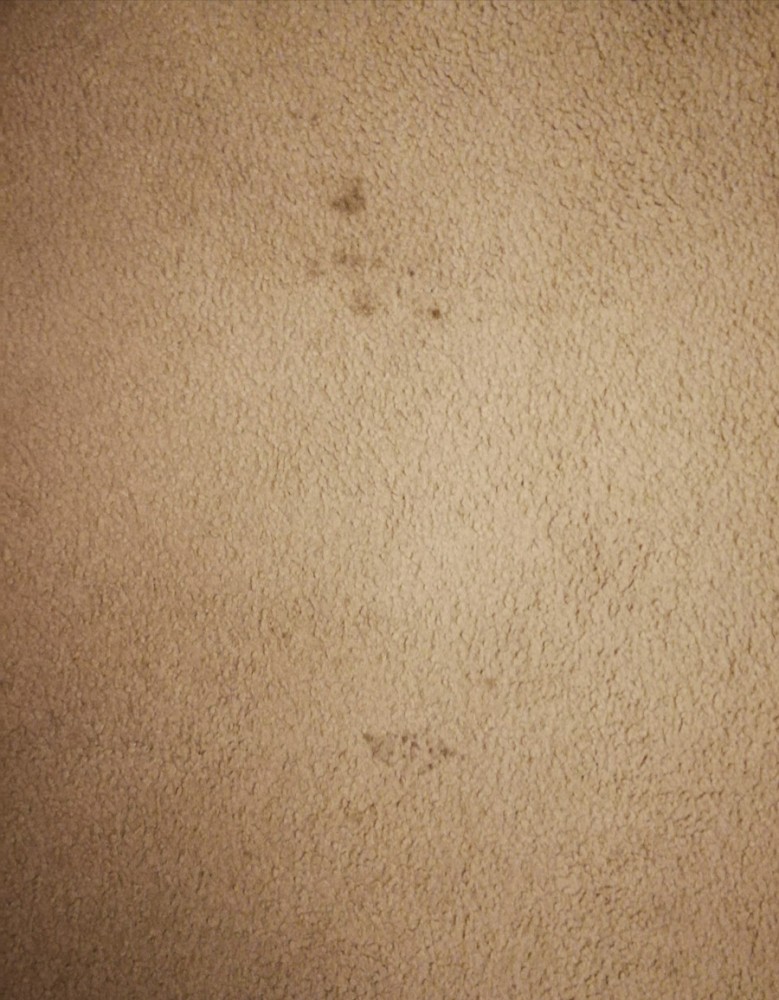 Living in a rental, it's important that anything I use to try and clean the carpets doesn't make them worse. For this reason, I wanted to test out a high-powered, professional-grade carpet cleaner from a reputable and trustworthy brand.
I was absolutely astounded at how quickly and efficiently the Bissell Pro Heat 2x Revolution Carpet Cleaner managed to tackle those nasty stains. After cleaning the area near our front entrance, I decided to give the rest of our carpets a clean, too.
Setting it up took time, but once it was ready to go, cleaning the carpets was a breeze. I followed the instructions and went over the stains twice with a 'wet' clean, then followed that up with a few 'dry' passes.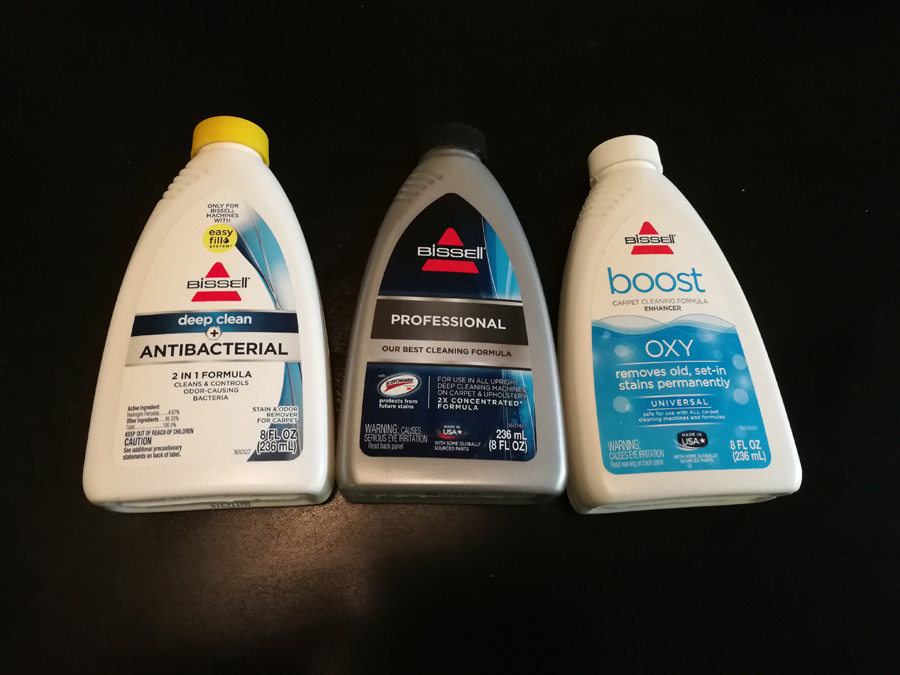 First, I pulled the trigger on the machine's handle, which released water and solution from the clean water tank and soaks into the carpet. Then, I released the trigger and simply rolled over the same spot with a dry pass. The powerful suction of the Bissell carpet cleaner sucked up water, stains, dirt and anything else trapped deep inside the carpet's fibres. For this reason, it's a good idea to vacuum before carpet cleaning. The super powerful Bissell sucked up anything from dirt and grit to hair and more. If I had vacuumed less beforehand, I'd be cleaning more fluff out of the Bissell's brushes. There is a flexible tool included with the Bissell that aids in this process.
I chose a hot day on which to clean my carpets, and my carpets were dry in no time. I think this process was also helped by the powerful suction of the Bissell.

I was incredibly impressed with the Bissell's cleaning power. I thought those stains would be much harder to tackle. Getting the machine set up, and then cleaning it out afterwards, was the longest part of the process. Cleaning the actual carpets was the easy part.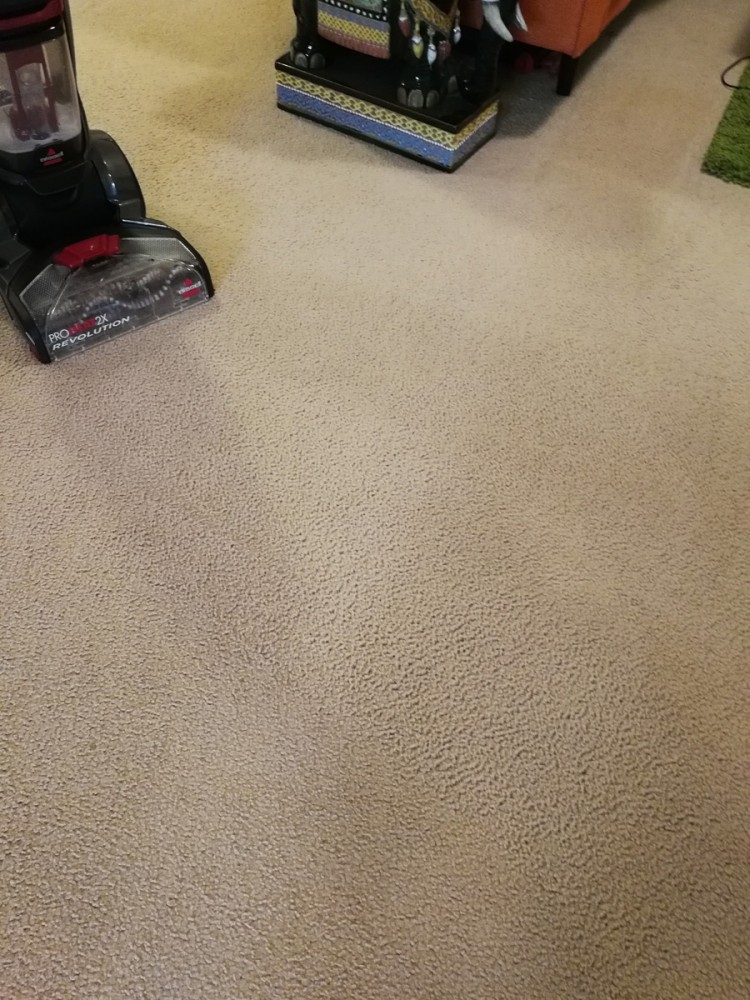 I had planned on only cleaning the bad stains near my front door, but after seeing how quickly and easily this carpet cleaner lifted those, I used it on a few spots in the lounge room, dining room and the bedroom. It's lightweight, efficient and a total breeze to use.
After seeing how easy it was to lift those nasty stains out of my carpets, I have definitely resolved to make this a regular part of my cleaning routine! My carpets are fresher, cleaner and brighter. There is a real sense of overall 'rightness' when your home is clean and tidy. It does also help to know that the Bissell is capable of tackling even the most glaring of stains when those accidents do happen. This gives you a real peace of mind."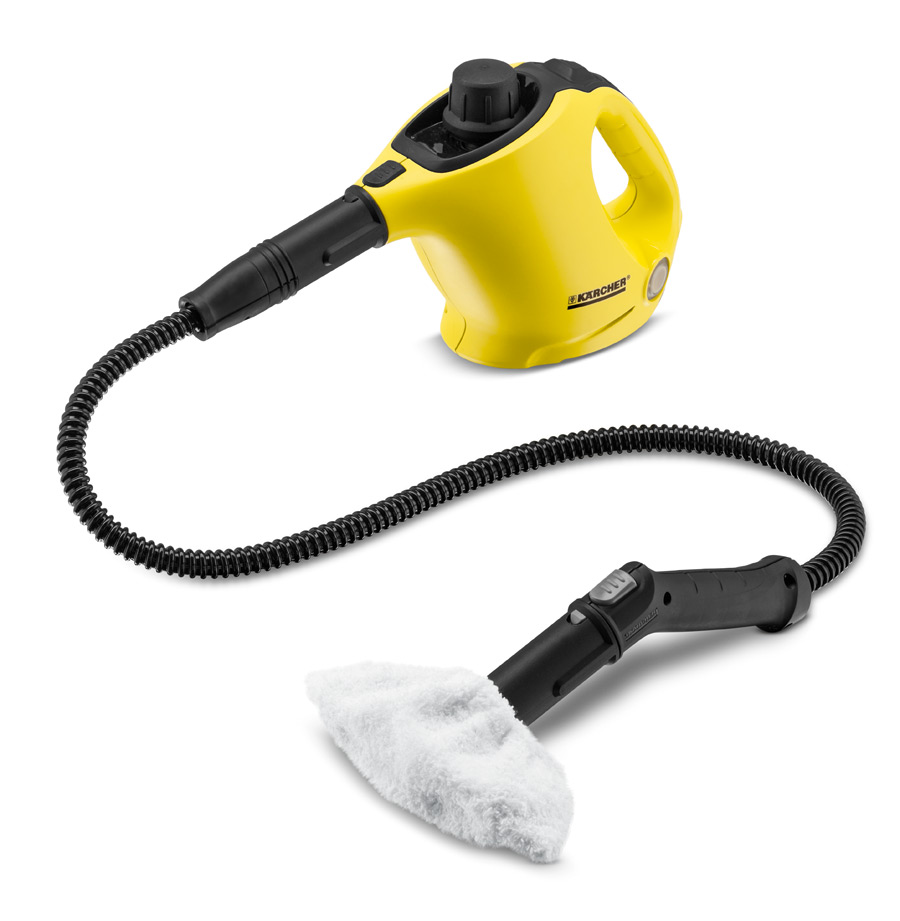 "Our regular routine at home generally involves wiping down surfaces with a Chux cloth and surface cleaner spray. In terms of hygiene, our home's surfaces are very clean! We usually wipe down food prep areas in the kitchen daily after cooking and rooms at least once a week. Although, we'll probably need to start cleaning the tops of our cupboards and fridge more regularly – the dust I discovered was terrifying!
I chose to take the Karcher steam cleaner home hoping to see how well steam works as a surface cleaner, in terms of releasing stubborn or dried-up stains.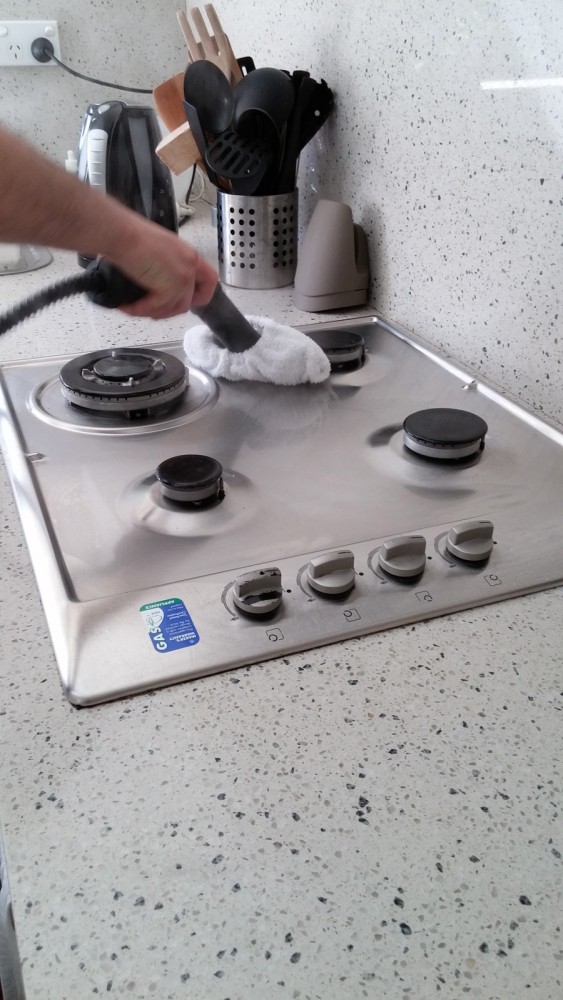 Cleaning dusty surfaces, it faired really well, and all particles were removed once wiped with the cloth attachment.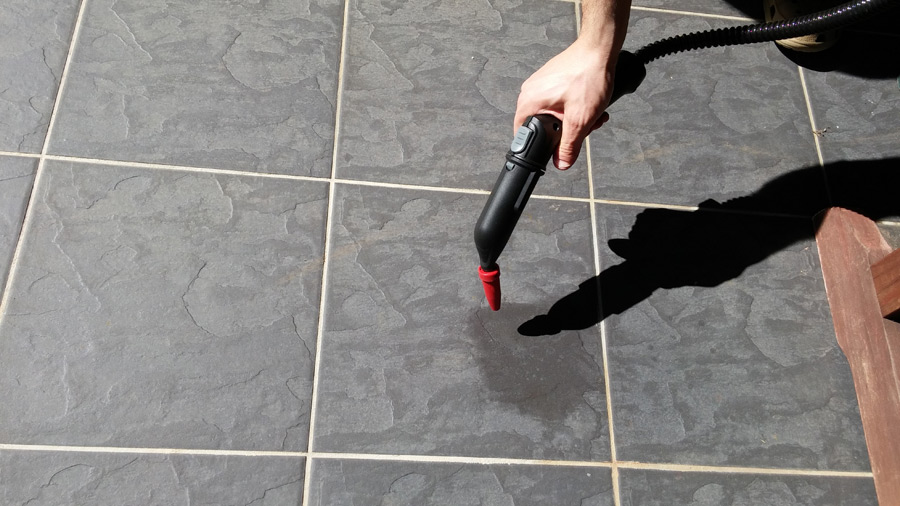 The child lock feature is excellent, if you have small kids. Also, using it was fairly easy: fill with water, wait three minutes and blast away.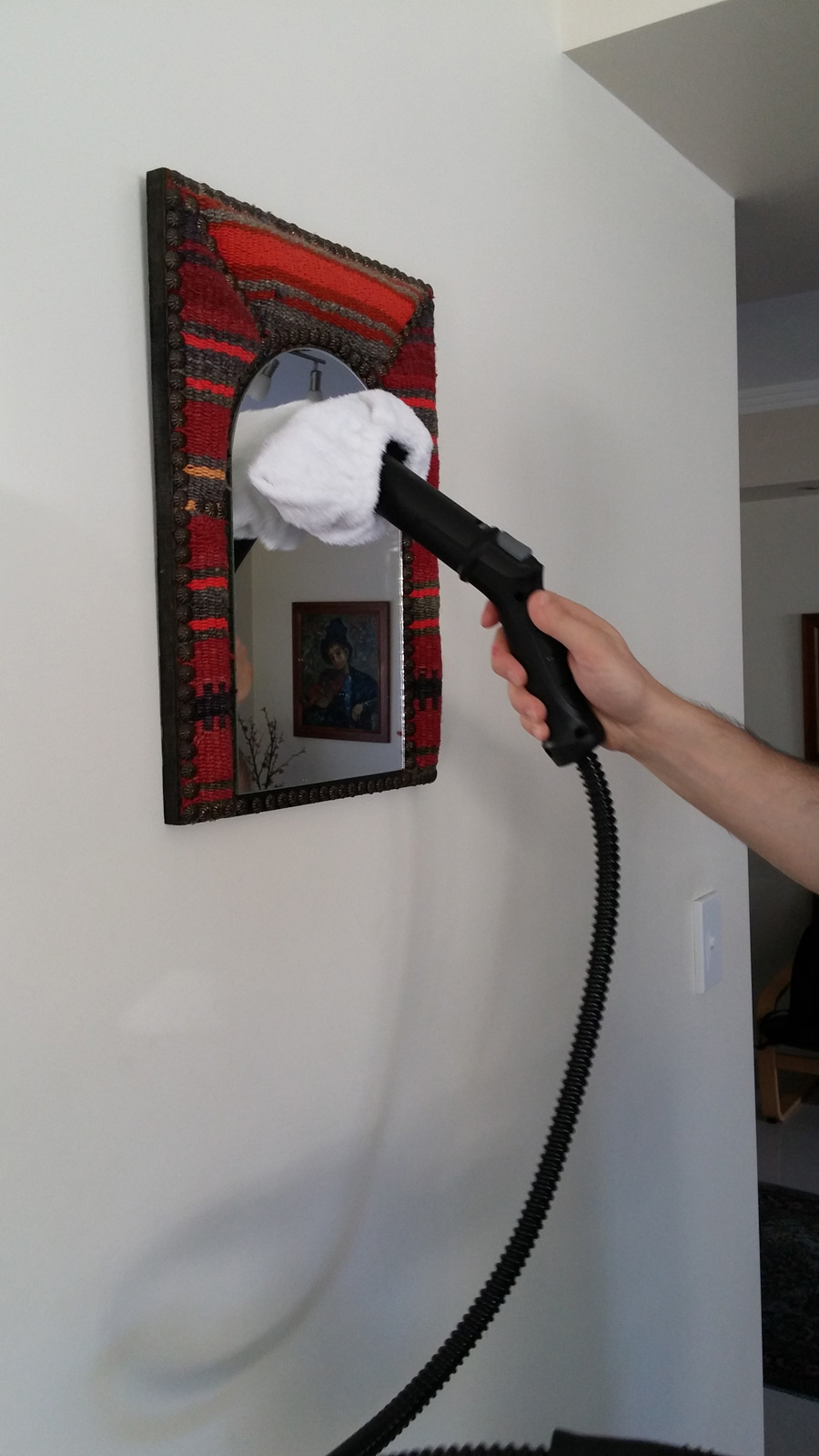 I would definitely recommend the Karcher SC 1 Premium Handheld Steam Cleaner to busy people who don't always get the time to tackle cleaning duties. Karcher's microscopic steam particles will make quick work of caked on grime and surface stains."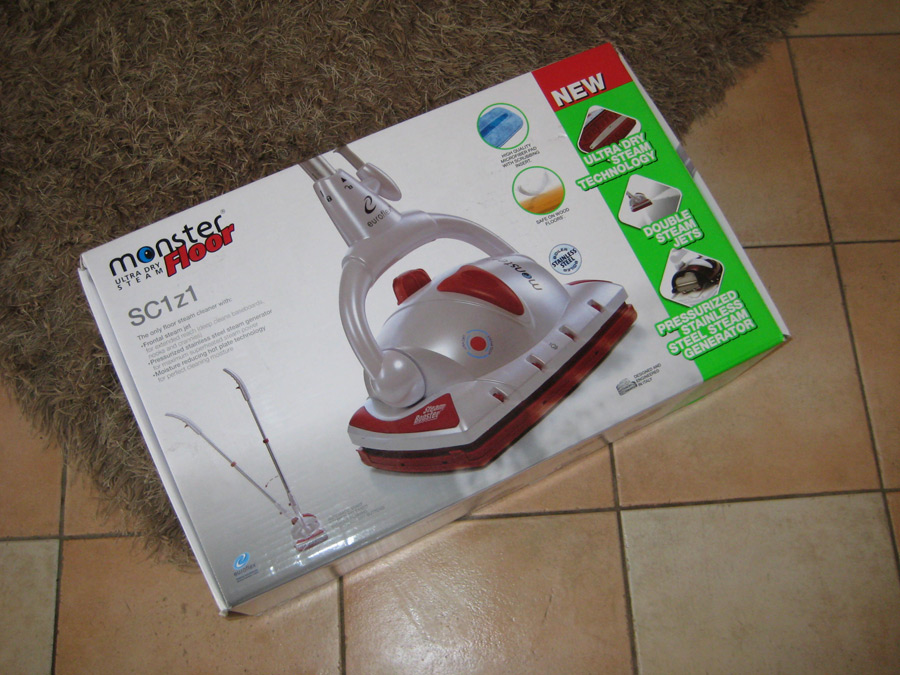 "My humble little abode sports tiles in the living, dining, kitchen and laundry areas downstairs, plus carpet in the bedrooms upstairs. I aim to clean my floors fortnightly, but despite my good intentions, this can sometimes blow out because, you know, life gets in the way. 
Despite the tiles being as old as the building (20 years) and the carpet about half that age, they're in reasonable nick. Admittedly, the colour choice of both leaves a little to be desired, but that's a conversation for another time.
Generally speaking, the floors at home are usually in a fairly clean state most of the time.  I make a conscious effort not to drag dirt and mud into the house, so my runners are off ASAP when I come through the front door, plus there's a strict dress code of "no shoes" for upstairs. Having said that, even though I live on my own, my townhouse isn't exactly "palatial", which means most rooms are used spaces and see a fair bit of foot traffic. 
Despite the modest footprint, cleaning my floors can be time-consuming because it's a multi-step process (sweep, mop, vacuum), so I was intrigued by the idea of one product that could be used the entire house. Also, in my mind, the idea of a steam clean conjures up images of a deep-down, hygienic wash.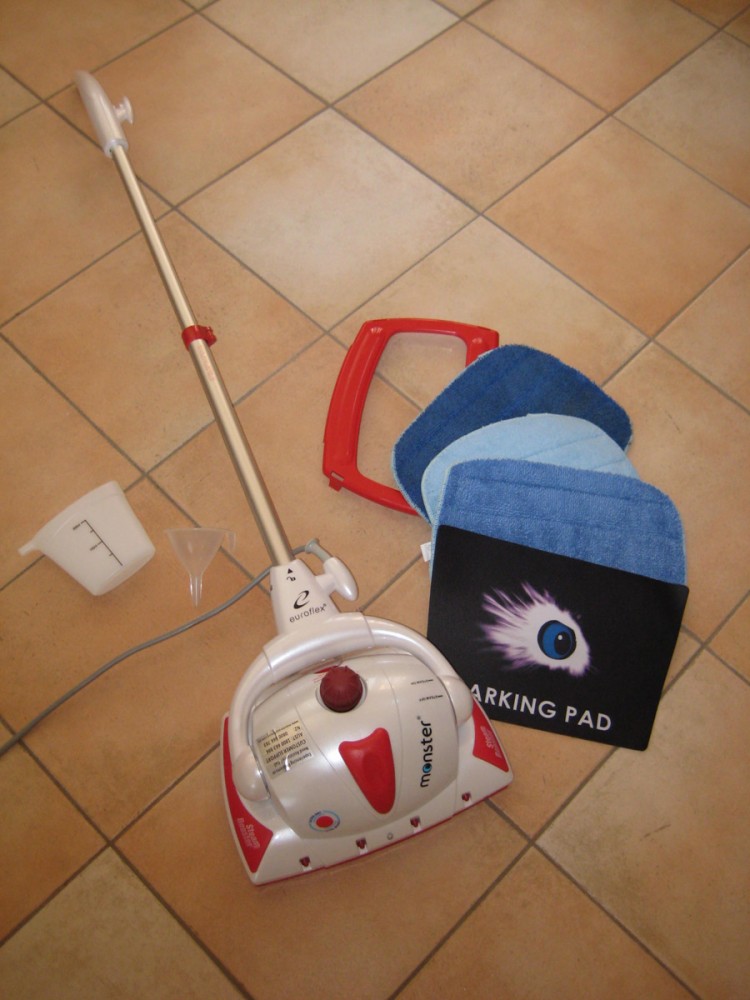 The Monster Ultra Dry Floor Stream Cleaner washes floor tiles, marble, laminate and floorboards, plus it also refreshes carpet. I love that it's quick, easy and fuss-free to set-up – it was ready to rock in no more than five minutes.
It leaves just a light layer of surface water, meaning you don't have to wait too long for tiles to dry before walking on them, unlike traditional mopping. 
After using the Monster steam cleaner on the tiles, I half-expected that the carpet would provide some resistance, but the monster was equally smooth across that too.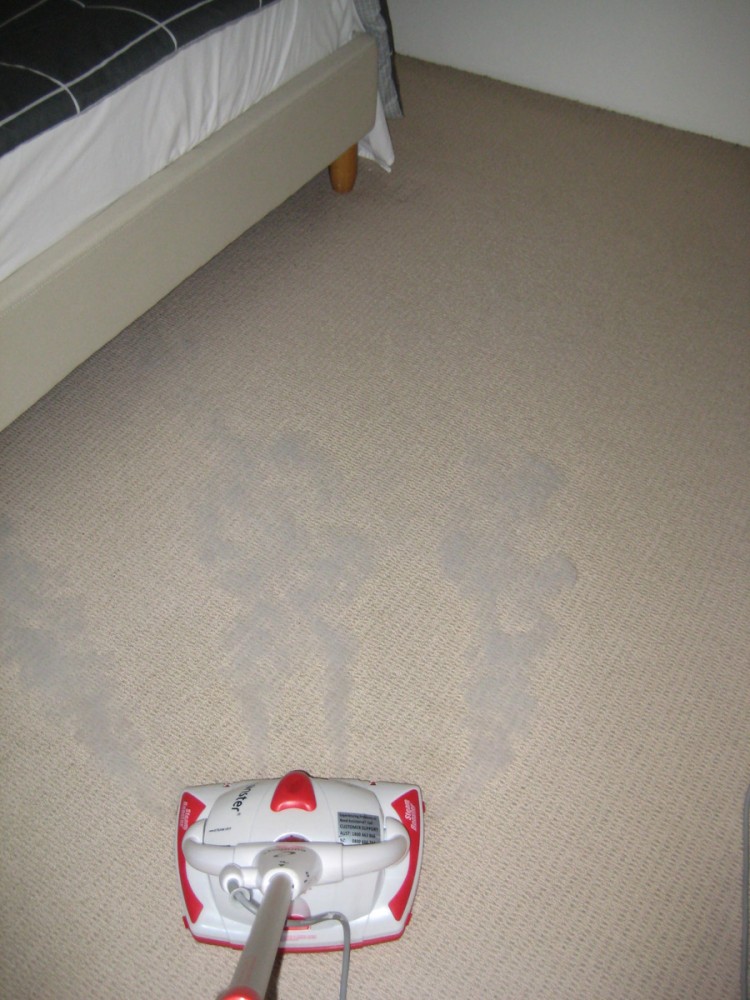 While the Monster didn't make certain deep-set stains disappear altogether, they were considerably lighter and I get the impression continued use will see a marked improvement. 
The tiles looked slick and the carpet fresh. You know that feeling of satisfaction after a job well done?  If only you could bottle that and sell it…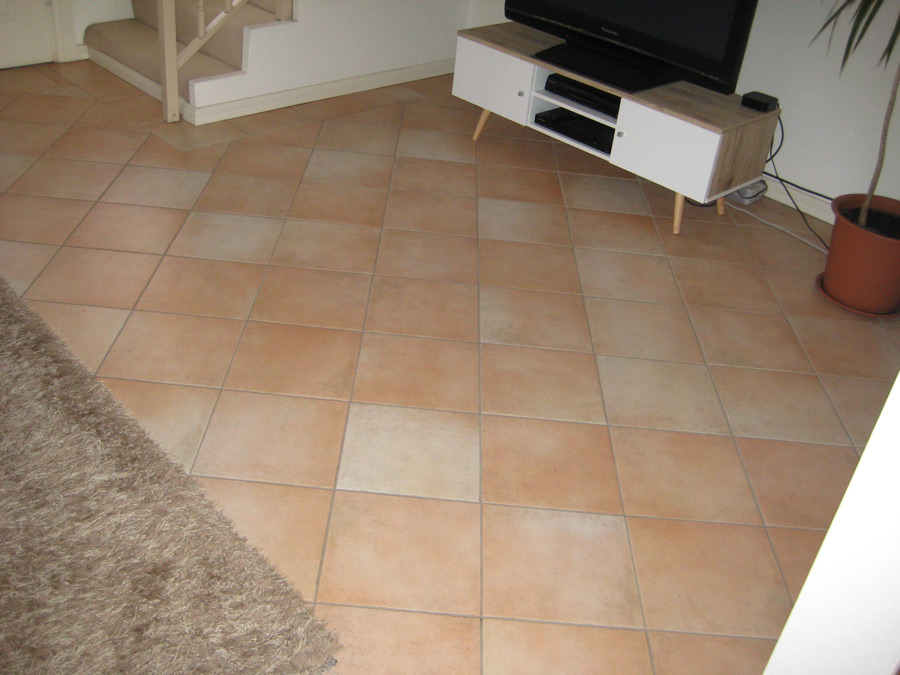 I'd recommend the Monster steam cleaner to family and friends, for sure! The simplicity of set-up and use, plus its versatility, would be the key selling point for mine. It's a product you can easily use on a weekly basis to keep floors clean." 
Looking to kick off the Lunar New Year with the best vacuum cleaner or steam cleaner for your home? Shop online or visit your local Harvey Norman store and talk to our friendly and knowledgeable team today about your cleaning needs.