For many years I've been using an old-fashioned barrel-style vacuum cleaner at home. Yes, it gets the job done, but there are a number of frustrations that make the job of cleaning more complicated than it should be. The constant plugging and unplugging as I reach the end of the cord length; the suction levels diminishing the more full the dust bag gets; the emptying of said dust bag – which feels like I'm just setting the dust free again!
Fortunately there is a much better way to do it, and I was lucky enough to get the chance to try out two of the latest innovative cleaning products from Samsung: the Jet Stick Vacuum with Soft Action Brush, and its partner in grime, the Jet Clean Station™ – both available now at Harvey Norman.
Anticipating the Samsung Jet Stick Vacuum & Jet Clean Station™
I was really looking forward to the mobility and flexibility that the Samsung Jet Stick cordless vacuum cleaner would offer, and the Samsung Clean Station™ certainly looked like it would provide a more hygienic way to keep the dust and debris out of my home.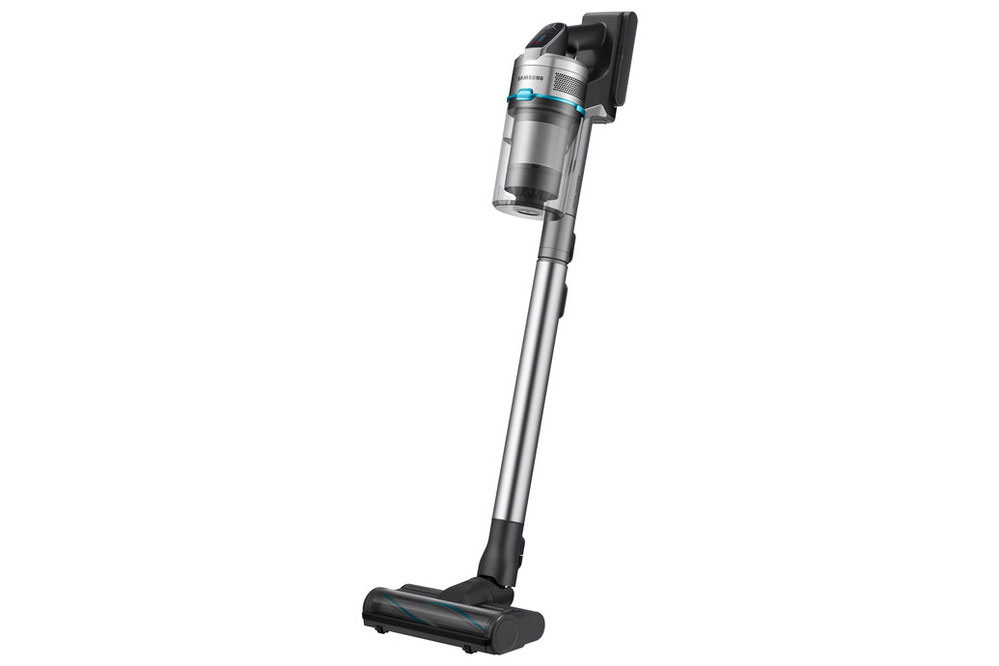 Taking the Samsung Jet Stick Vacuum home, it was very easy to set up the freestanding Z Stand to get the battery charging. I wanted to really test that battery length and give this new handstick vacuum a good workout. The hard floors in my home really leave no place for any dust or particles to hide, and the rug in my living room has a thick pile and tends to catch a lot of debris from everyday life. To keep things looking and feeling clean I need to give everything a really good vacuum at least once a week, and more often if I'm messy. It can be annoying to have to get my old vac out of the cupboard, so having the  Samsung Jet Stick cordless vacuum ready to go was very handy.
So, without any further ado, let's have a look at the specs on the Samsung Jet VS90 and see what it's all about.
The Nitty-Gritty Bitty of the Samsung Jet Stick Vacuum
If you're looking for powerful performance, than you're not going to be disappointed. The Samsung Jet Stick Vacuum uses Jet Cyclone technology with 9 cyclones and 27 air inlets to help optimise the air path and minimise the loss of suction¹. Powered by a Digital Inverter Motor, it can generate up to 200W of suction power² – more than enough to effectively capture dust, hair and dirt particles across multiple surfaces. So even if it's deeply embedded in your carpet or rug, the Samsung Jet Stick Vacuum will provide you with the suction you need to get it out.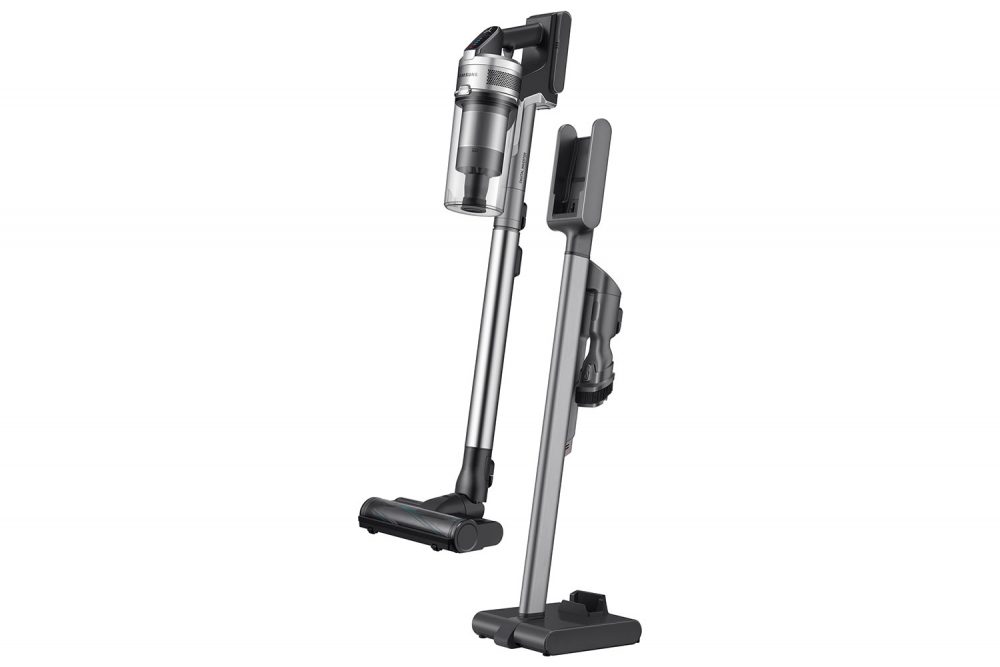 The suction can be easily controlled from the Samsung Jet Stick Vacuum's handle grip. Just press the + or – buttons to to choose from MIN, MID or MAX on the display, depending on the task at hand. The display will also let you know if there is a clog or the spinning brush gets stuck on something, which is very handy.
In terms of battery life, the Samsung Jet Stick Vacuum not only competes with the best models on the market, it may even have the edge on them. From a single charge (3.5 hours) of the powerful 21.9V lithium-ion battery you'll get up to 60 minutes³ of cleaning time – which I found was more than enough to clean my home corner to corner. But if you have more to clean than me, you can simply pop out the Samsung Jet Stick Vacuum's battery and switch to a spare (available separately) for another hour of cleaning. The freestanding Z Stand lets you charge two batteries at once, so you'll barely have to pause when cleaning – just switch it out and keep going.
Maintenance for the Samsung Jet Stick Vacuum is easy, with the dustbin and all its parts – including the multi-cyclone system – being fully washable. Once detached, you can rinse all those parts in water and have it ready to go again once dry.
As you'd expect, the Samsung Jet Stick Vacuum comes with a range of multi-surface tools for the various cleaning tasks you'll be doing. You've got a Turbo Action Brush that will get those dust particles that have settled deep into your carpets, a Mini-Motorised Tool that's ideal for bedding and pet hair, a Combination Tool for small surfaces, the Crevice Tool for narrow spots and corners, as well as a Flexible Tool and a Telescopic Wand for those hard-to-reach places.
And then for something a little bit different, there's the Soft Action Brush.
Samsung Jet Stick Vacuum Soft Action Brush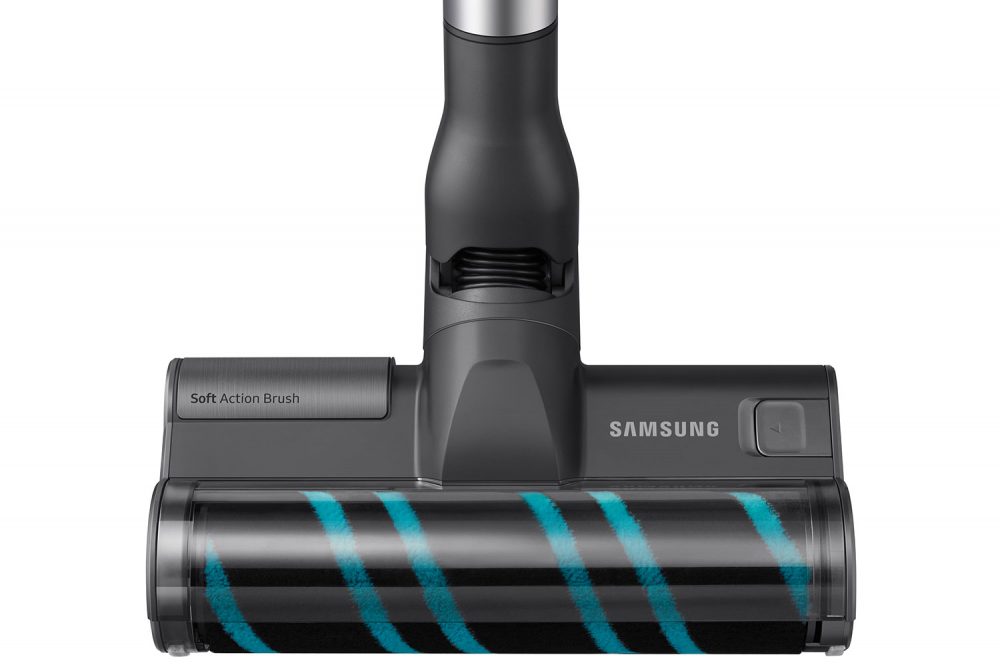 The Samsung Jet Stick Vacuum's Soft Action Brush has been designed to make it easy to pick up dust and hair (including from pets) on hard floors. A 180 degree swivel makes it easy to get into all your corners and crevices, and it's woven with anti-static silver threads that make it easier for dust to move from the brush straight into the dustbin. The detachable brush comes off with just one click, making it simple to remove any tangles from long hair or threads.
But the Samsung Jet Stick Vacuum wasn't the only innovative new product I took home to test – I also had the brand new Samsung Clean Station™.
Welcome to the Samsung Jet Clean Station™
So what on earth is the Samsung Jet Clean Station™? Your first thought might be that it just looks like another bin – I know that's what I was thinking. But it's much more innovative and interesting than that.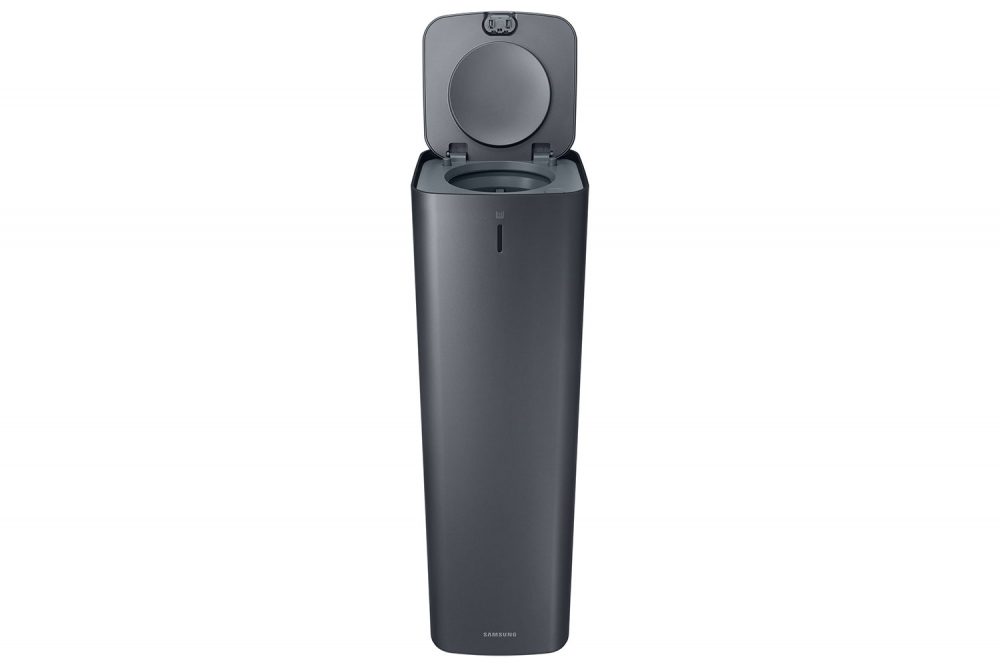 The Samsung Jet Clean Station™ exists to provide a way to hygienically remove dust from the Samsung Jet Stick Vacuum.  No more worry about getting your hands – or your home – dirty! All I had to do was simply detach the provided dustbin from the Samsung Jet Stick once full and insert it into the Samsung Clean Station™, which then automatically helps secure the vacuum dust from the bin without scattering it back into the air. Think of it as a vacuum cleaner for your vacuum cleaner.
The Samsung Jet Clean Station™ uses a 5-stage HEPA filtration system⁴ to trap up to 99.999% of dust and allergens⁵, drawing it down from the dustbin into a disposable dust bag that's designed to capture large dust particles, while also using a pre-motor filter to help trap the smaller particles. It also uses an Activated Carbon filter for deodorization plus a Noise Absorption filter to keep things quiet.
Beyond all those filters to help reduce allergens and keep your air clean, the Samsung Jet Clean Station™ also uses Air Pulse Technology that repeatedly opens and closes the inlet of the suction motor, creating air currents that help shake the dust off inside the dustbin – making sure it's clean before you use it again. This whole process takes just a matter of seconds, so it won't slow you down if you're mid-clean.
The dust bag in the Samsung Jet Clean Station™ has a 2L capacity, so you'll only need to replace that every 2-3 months.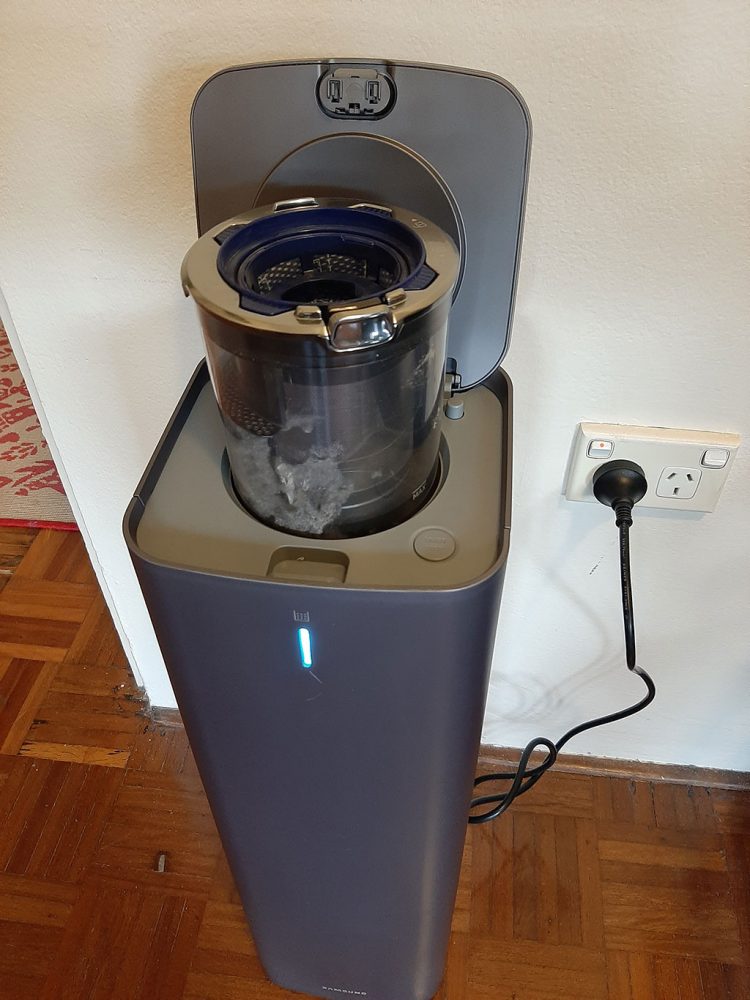 Cleaning All Over with the Samsung Jet Stick Vacuum & Jet Clean Station™
As I mentioned before, I really wanted to give the Samsung Jet Stick Vacuum a workout, so once the battery was charged I put on the Soft Action Brush and went over all my floors – living room, kitchen, hallway, bedrooms and bathroom. I kept the vac on the MID power setting, and I covered all of my floors quicker than I thought I would. The powerful suction of the Samsung Jet Stick Vacuum meant that I didn't spend time going over the same sections repeatedly, which I often found myself doing with my old vac, so I was very happy to save time while cleaning.
I also found the Samsung Jet Stick Vacuum to be very light to carry and manoeuvre around, which is super helpful when you're giving all your surfaces a good going-over. And speaking of which, it was while I was whizzing around that I realised I hadn't vacuumed under my bed for a while and it looked like there was quite a bit of dust built up. It was well past time to get the mattress out of the way and get everything out for a cleanup. I kicked the power up to MAX and gave the Turbo Action Brush and Mini-Motorised Tool a go – and boy did they guzzle up the dust.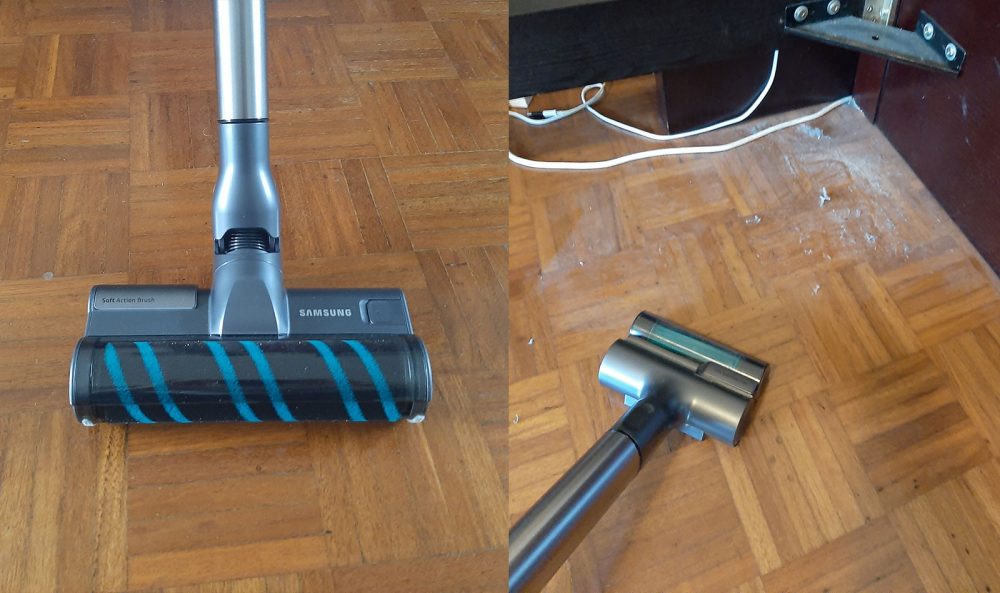 Even after clearing that forest of dust, the Samsung Jet Stick Vacuum still had battery power to spare – so off I went around the house the find new worlds to conquer.
Once done, I simply detached the dustbin and let the Samsung Clean Station™ take care of things for me. Between the cordless power of the Jet Stick Vacuum and the easy disposal of the Clean Station™, my place was feeling fresher than it had in a long while. If you're looking for a better way to clean your home, then this pair of products from Samsung might be just what you need.
Where To Buy The Samsung Jet Stick Vacuum & Jet Clean Station™
If you'd like to get your hands on the Samsung Jet Stick Vacuum and Clean Station™ to transform the way you clean, you can shop online or head in to your local Harvey Norman store where our friendly, expert staff will take you through everything you need to know.
¹Based on internal testing using the IEC62885-2. cl.5.9. compared with Samsung VS80N8014KR/EN.
²Suction tested based on IEC62885-2 Cl. 5.8, tested at the inlet of the non-accessorized tool, at the Max mode. Based on SLG (Schubert Leiter Geratesicherheit) tests. Tested based on IEC60335-1 Cl. 10. Based on internal tests.
³Stated run time applies to the minimum power level by using hand-held unit only.
⁴HEPA filtration System: High Efficiency Particulate Air filtration system.
⁵Tested based on IEC62885-2, Cl. 5.11, Max mode. Based on SLG (Schubert Leiter Geratesicherheit) tests. 0.3~10µm size is the particle size which is generally invisible to human eyes, such as pollen, mould.