It might sound a little weird, but I quite enjoy vacuum cleaning. It started back when it was one of the chores I had to do to earn my weekly pocket money. After a couple of minutes I'd find myself really getting into the task; methodically working my way around the house to ensure I didn't miss any spots, moving the chairs around so I could get underneath. It has a Zen-quality to it – where I can let my mind turn to other things while still getting work done. But don't get me wrong, I'd still be much happier if someone else did it for me. Or something else.
That's where the new Electrolux robotic vacuum cleaner available from Harvey Norman comes in.
In all honesty, I've never tried using a robotic vacuum cleaner before, so I was a bit excited to see what it could do.
Taking the Electrolux PUREi9 robotic vacuum cleaner home and unboxing it was quite fun – especially when its triangular shape was revealed. I've seen plenty of robotic vacs in catalogues and videos, and they all looked the same to me – round discs that you might mistake for a lid that fell off something. The PUREi9 was different though – it was sleek and triangular, like a sports car version of a robotic vacuum cleaner. And that triangular shape is quite important, which we'll get to shortly.
Normally I vacuum my home once a week (or more often if I really make a mess). I have parquet timber flooring in most rooms, with rugs in the lounge room and hallway. I usually use a standard-issue barrel vacuum cleaner (the kind that uses bags), and have to switch between the brush and flat heads when cleaning the different surface types. I have to use my big extension cord to achieve any kind of efficiency, and I still need to unplug when shifting to the other end of the house. The more I thought about it, the more I liked the idea of a robotic vacuum cleaner taking these duties off my hands for me.
So without further ado, let's jump into the Electrolux PUREi9 robotic vacuum cleaner.
Connected for Mobile Convenience
The first great feature of the Electrolux PUREi9 robotic vacuum cleaner is that I could control everything from my smartphone. All I had to do was download the free app* (available from the Apple App Store and Google Play Store) and then let it guide me through the process of connecting the Electrolux PUREi9 with my home Wi-Fi network. Just make sure you set up the charging home station as you won't be able to connect to the PUREi9 if it's powered-down.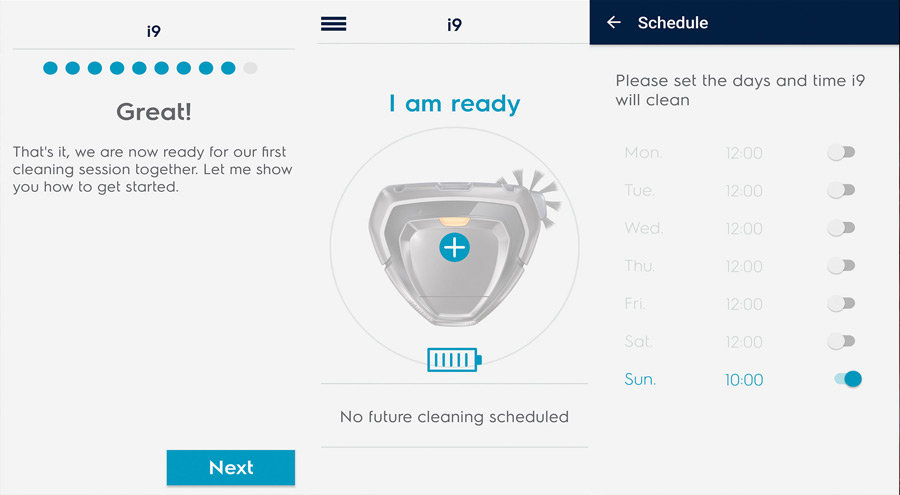 Once connected, setting a cleaning schedule is super easy, and because it's via your mobile you can change it up anytime. Since I was playing with it on a Saturday I figured I'd schedule a cleaning session for the next morning to test it out. When 10am arrived the PUREi9 lit up and came to life.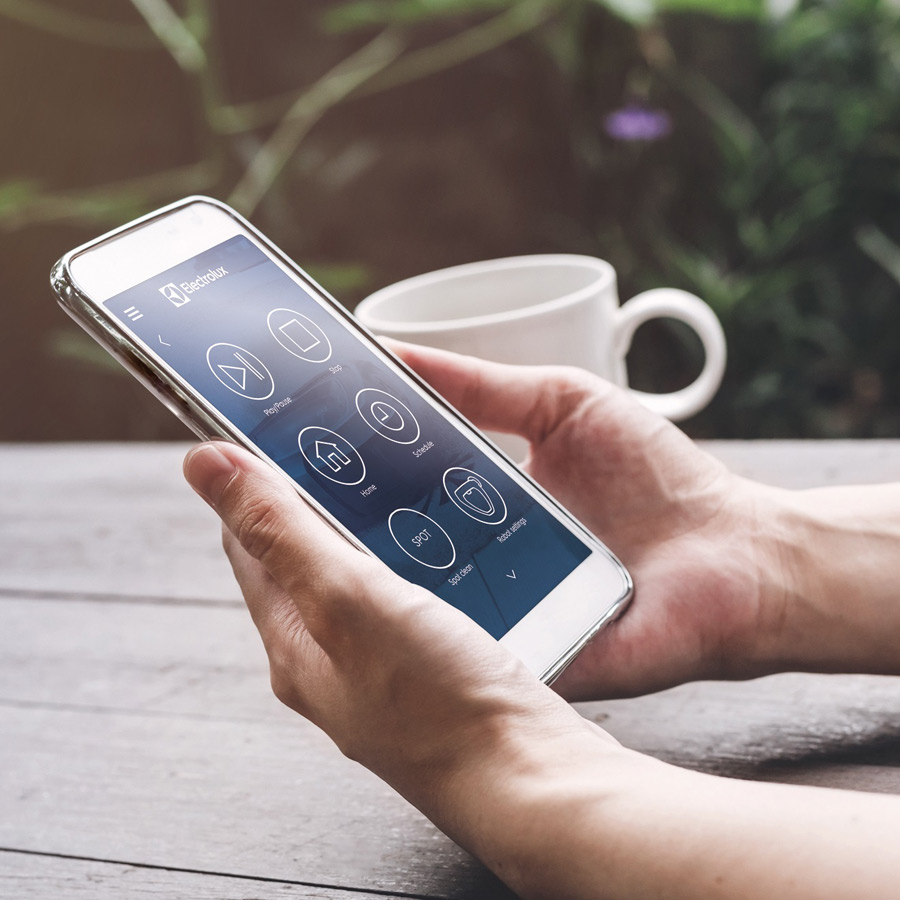 A Map for Success
The next great thing about the Electrolux PUREi9 robotic vacuum cleaner is its 3D Vision navigation system. There are three sensors on the front of the PUREi9 that triangulate to get an accurate 3D picture of the layout of your room and any obstacles that might be on your floor. This clever system means the PUREi9 can figure out what to do while doing it.
The PUREi9 starts by splitting a room into 2x2m squared sections so it can clean more effectively, then starts cleaning from the outside in – working its way into the centre of the section like a spiral.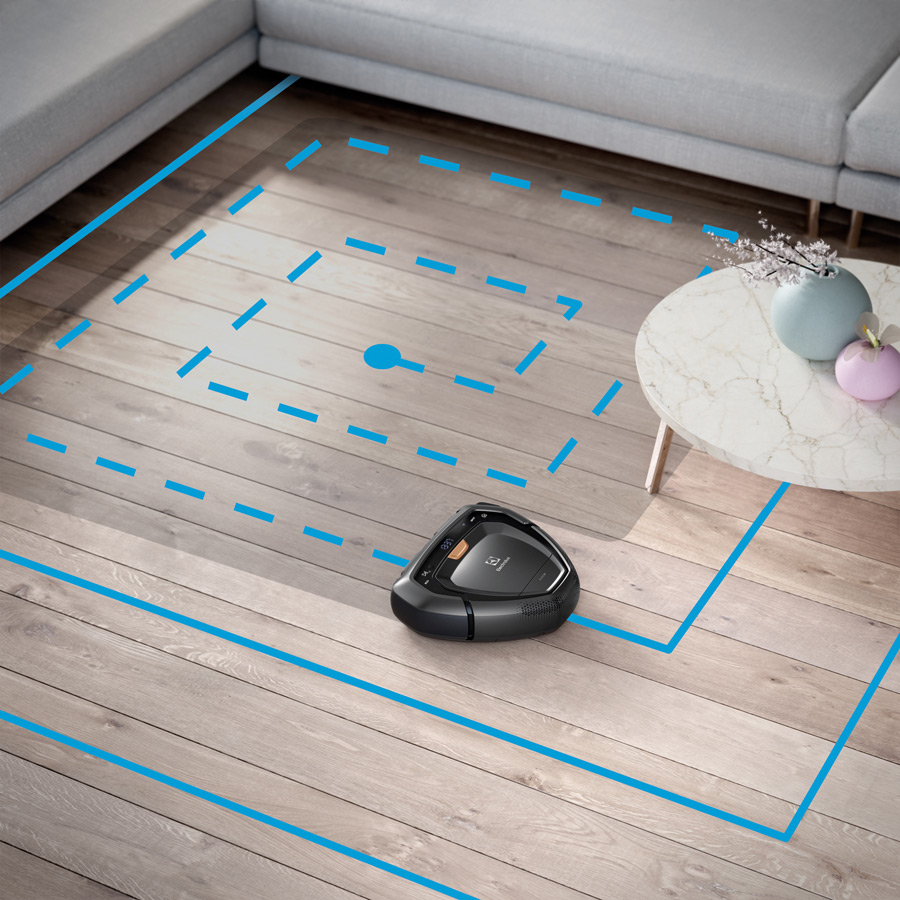 If you've got a large house and the PUREi9 finds itself low on charge while cleaning, it'll just head straight back to its charging dock, power back up, and then pick up straight back where it left off.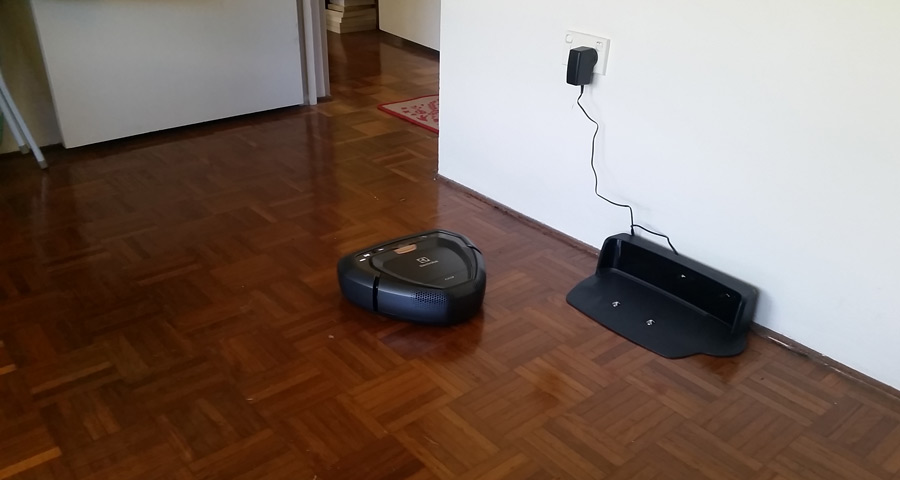 The Pyramid of Success
Here's where I get to the sporty triangular shape I mentioned earlier. The PUREi9 is truly a leader of the pack, as its Triangular Trinity Shape™ design combines with a circular side brush designed to clean up to 80% more space than circular robotic vacuum cleaner.
How does it do this? Well, it's rather simple once you remember that unless you live in a lighthouse your rooms are probably going to be rectangular or square in shape – and that means corners. A circle just can't get into a corner very well, but a triangle loves corners. They eat corners for breakfast!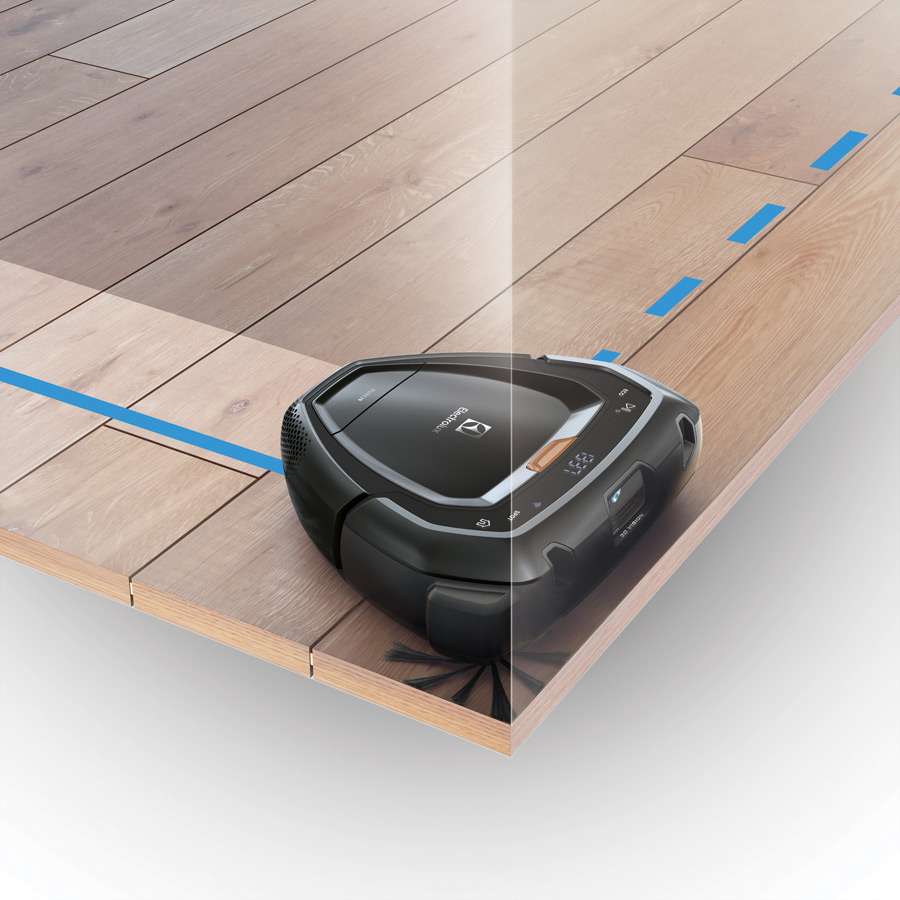 As it went about cleaning my home, the PUREi9 handled all nooks and crannies without any issues. In fact, I'd say it did a better job than I normally would do. I'd have to get out the nozzle attachments to compete with this performance.
Corners aren't the only thing this machine handles well – it went under tables, beneath cabinets and through the legs of my dining chairs without a scratch. For a few seconds I thought I might have to step in and help it out after it made a tight squeeze between the legs of one particular chair, but the PUREi9 just took a few moments to sort itself out and found its way back out, as you probably saw in the video I shared above.
Another great thing about the triangular shape is that you also get an extra-wide cleaning width, which means it takes less laps around the room to get the job done.
Climb Every Mountain!
This is the fun part! The feature that I think makes this the best robotic vacuum cleaner is the ClimbForceDrive™ system from Electrolux. This really turns the PUREi9 into the little engine that could! This advanced robotic vacuum cleaner can scale obstacles that are up to 2.2cm high. While that might not seem like a big number on the page, on the floor that's quite a height.
As seen in my little video towards the start of this blog, the PUREi9 climbed over the runner mat in my hallway with little effort – it didn't even blink and just powered over it. The next challenge was the jump over the metal strip that separates my timber flooring from the laminex in the kitchen. Yep, the PUREi9 climbed over that as if it does bouldering on the weekends. This little champion even had a go at the thick-pile rug in my lounge room; it gave it a few long looks, worked out an approach and then went for it.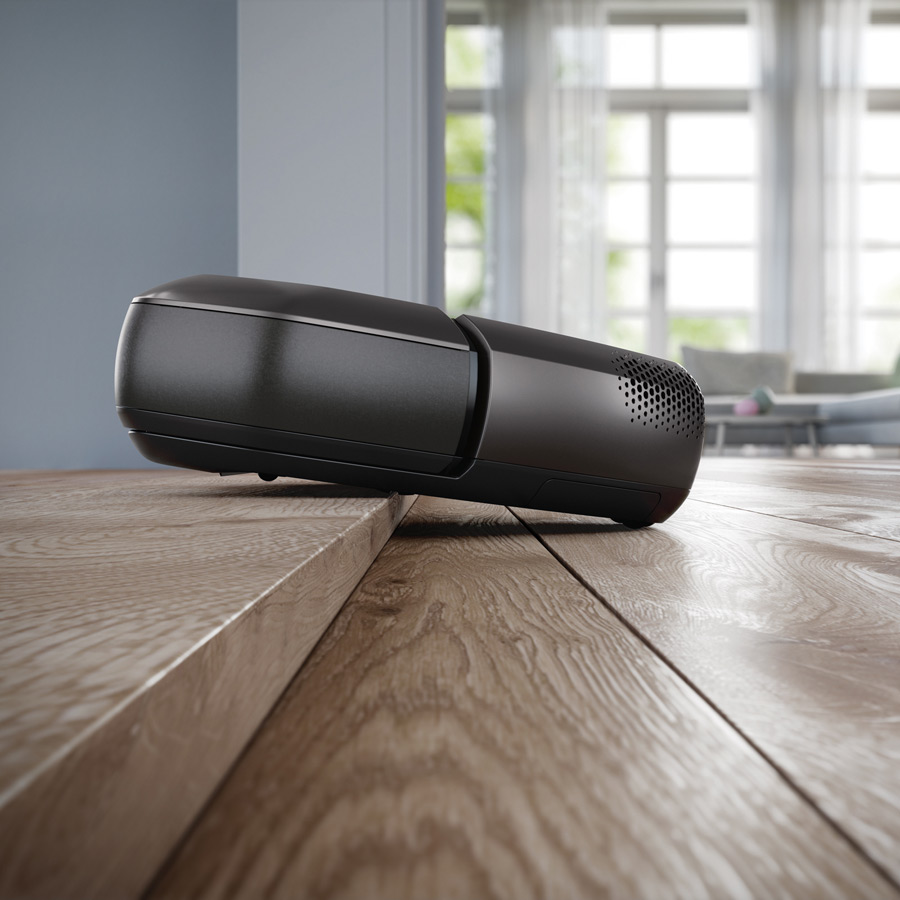 This robotic vacuum cleaner is highly unlikely to get stuck. It'll approach an obstacle, check the height, have a go if possible, and then move on to the rest of the room if it's too high to climb.
Power & Performance
So the big question is how well does it clean? When I first sent the PUREi9 on a trip around my home I thought the floors were relatively clean. Then a little voice told me that it was almost full.
What? Already! No way, I thought. I pushed the button and popped the hood to pull out the canister and lo and behold it was indeed almost full. As you can see below, my floor was much dirtier than I thought!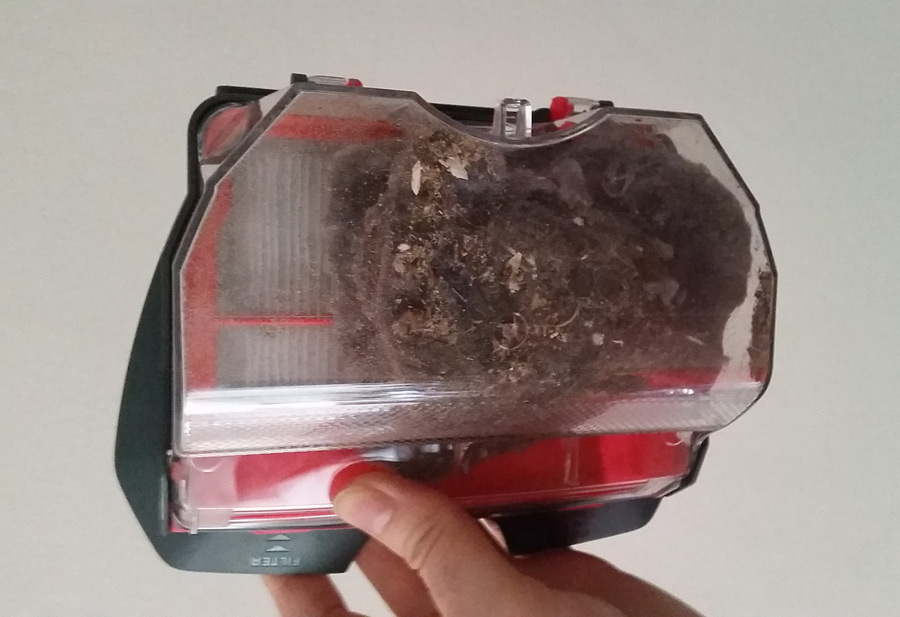 So I quickly emptied that mess into the bin, put the canister back in the PUREi9 and it then went on its merry way.
I'm certainly impressed with both the convenience and the performance of the Electrolux PUREi9 robotic vacuum cleaner, and would certainly recommend it to anyone looking to make the jump to a robotic.
If you'd like to get your hands on one for yourself, you can shop online or head down to your local Harvey Norman store where the expert staff will be happy to answer any questions you might have.
*Internet connection required. Data and usage charges may apply. Check your service provider for details.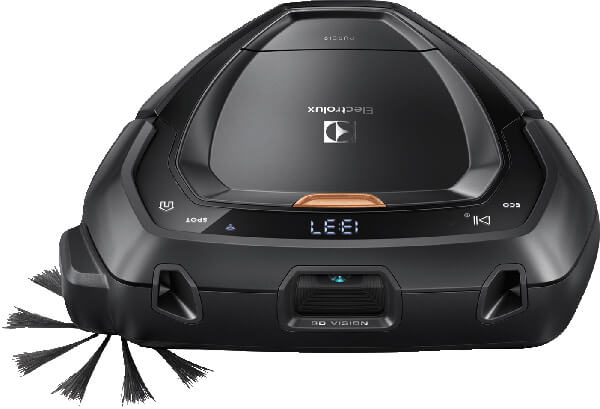 Electrolux PUREi9 Robotic Vacuum Cleaner