Dyson is a name synonymous with high-powered, versatile handstick vacuum cleaners. Their range of powerful handstick vacuums offer a lightweight design for ease of use, unrivalled suction and long-lasting battery life.
Now, their best has just gotten better. Say hello to the Dyson Cyclone V10 Absolute+ and Dyson Cyclone Animal, Dyson's best cordless vacuum cleaners yet.
If you're in the market for a new vacuum cleaner, then look no further than the innovative V10 series.
Both the Absolute+ and the Animal offer up to 60 minutes (wow!) of fade-free, powerful suction thanks to the incredibly powerful V10 motor.
Bulky, unwieldy vacuums are a thing of the past. The specially engineered V10 motor is, amazingly, the smallest and the most powerful motor ever seen in a stick vacuum – so you get an ergonomic, compact handstick vacuum with the power you'd expect to see in a much bigger package.
In addition, both the Cyclone Absolute+ and Cyclone Animal feature a 40% larger bin, so you're going to spend less time emptying it out and get the job done quicker.
Available at Harvey Norman, these super-charged Dyson handstick vacuums are the ultimate solution to any cleaning dilemma.
We all love Dyson, so there wasn't a shortage of volunteers who wanted to test out the Dyson Cyclone Absolute+.
The Rock, Paper, Scissors winner, Kathryn, got to take home the handstick vacuum. As the Trainer and Merchandiser for the Floorcare department, she certainly knows a thing or two about high-quality cleaning products.
So what did she think of the Dyson V10 Absolute+?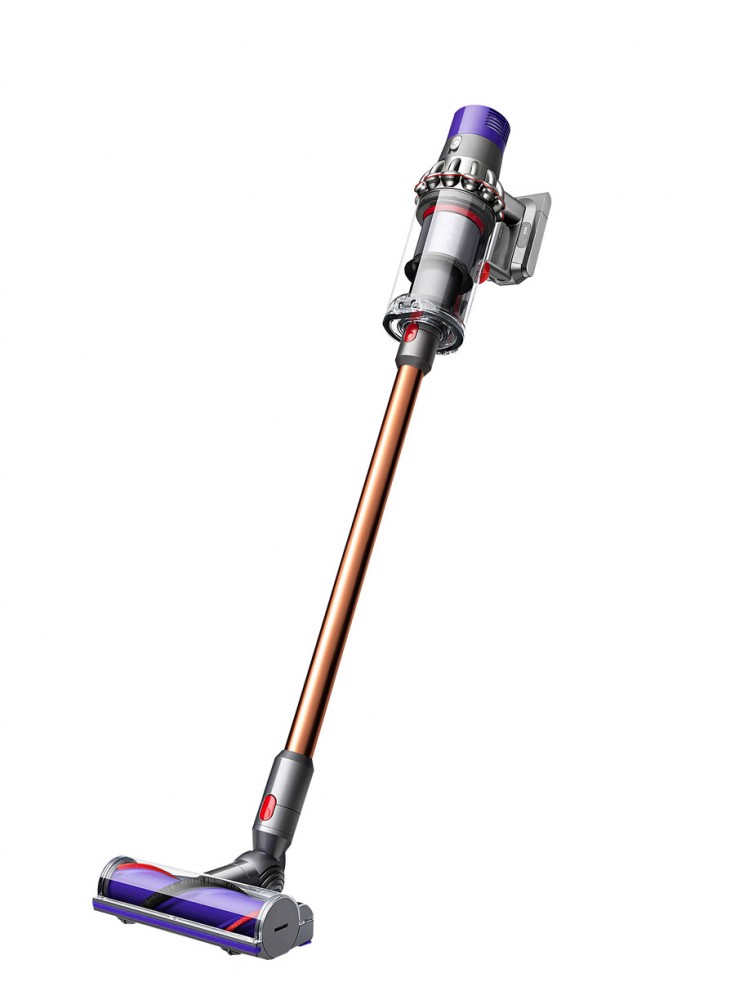 Kathryn's floors at home are a combination of wooden floorboards and tiles. She also has a friendly, fluffy black Labrador named Effie.
I asked if Effie lived inside, to which Kathryn joked, "She's too big to be an indoor dog and has a nice little house of her own, but her hair always manages to find its way into the house!"
Because of this, Kathryn usually keeps a pretty strict cleaning regime, vacuuming once every 4-5 days.
"I have white tiles, so dust and dog hair show up really easily," said Kathryn. "That's why I like to clean my house fairly frequently."
"I was really impressed by the power and performance of the Absolute+. I actually own a Dyson V6, and the difference is very noticeable."
In addition to giving the tiles, floorboards and skirting a thorough clean, Kathryn also tested the Absolute+ out on her furniture, Venetian blinds and the living room ceiling fan.
"It was easy to clean the blinds and the fan – which are obviously up high – because of the weight distribution of the the Dyson Absolute+.
"At first, I thought it might be a bit difficult because the V10 does look heavier than the V6, but using the flexi crevice tool and the extension hose made things incredibly easy."
Speaking from experience, I know that it can be really hard to vacuum those high-up places when you're trying to juggle an oversized, cumbersome vacuum cleaner in your hands. So it's good to know that Dyson has thought of absolutely everything with the V10 – from its lightweight design to its convenient, practical accessories.
"The Absolute+  came with so many accessories –  when I first opened the box I was looking around for different things in my home to use them all on!"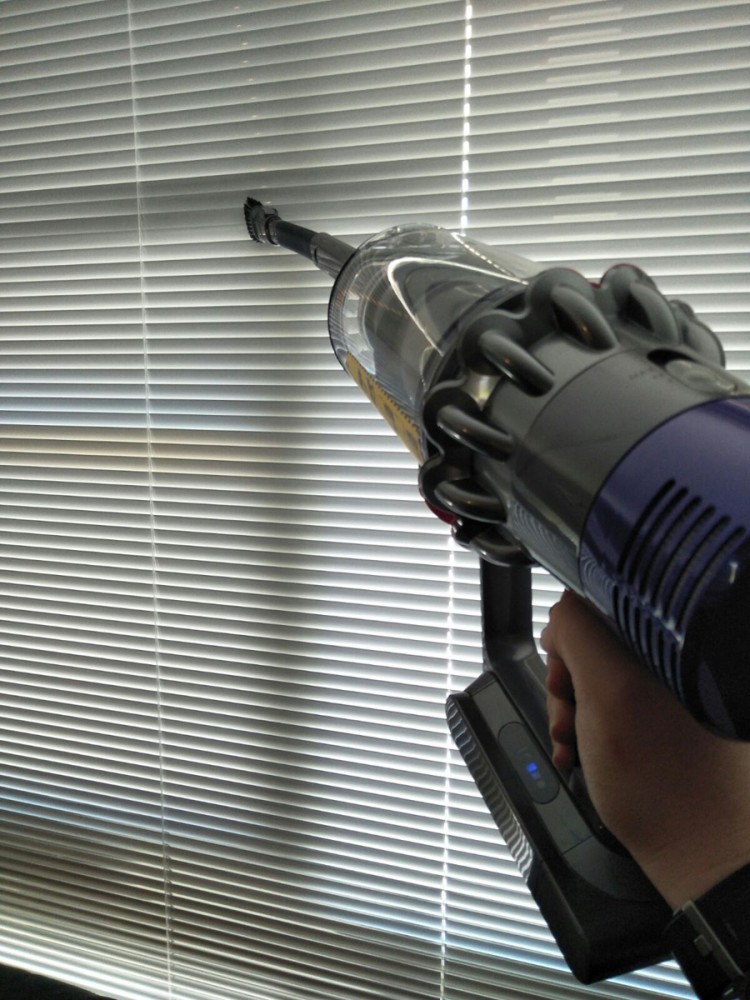 Along with the mini soft dusting brush, combination tool, flexi crevice tool and mini motorised head that Kathryn used, the Absolute+ also comes with a soft roller cleaner head for small and large debris, an extension hose and a crevice tool – so no matter what needs cleaning, you'll always be prepared with the right kind of vacuum attachments.
"I used the combination tool on the blinds, which can be used as a brush or as a hard tool depending on what surface you need to clean.
"Then I combined the extension hose with the soft dusting brush to clean the fan."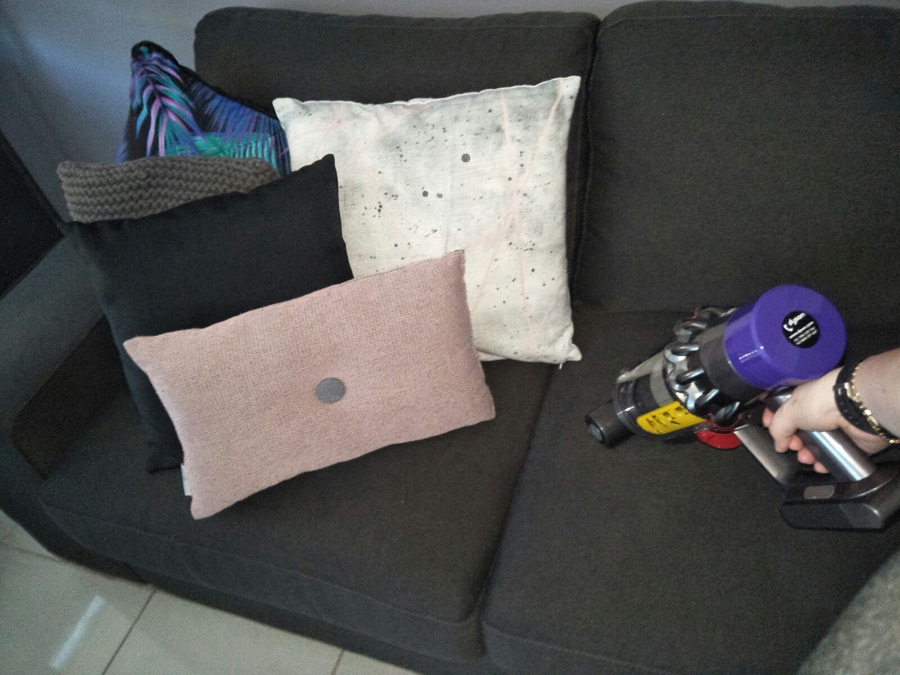 Kathryn was also happy with the large size of the new and improved vacuum bin.
"The larger bin makes a big difference. Especially because I have a dog, I notice that with my other vacuum cleaner I have to empty the bin before I've finished cleaning. That's not the case with the Absolute+.
 "I managed to clean the whole house using mainly the medium and low power settings, it did such a great job of cleaning my floors without even having to use the 'high' setting."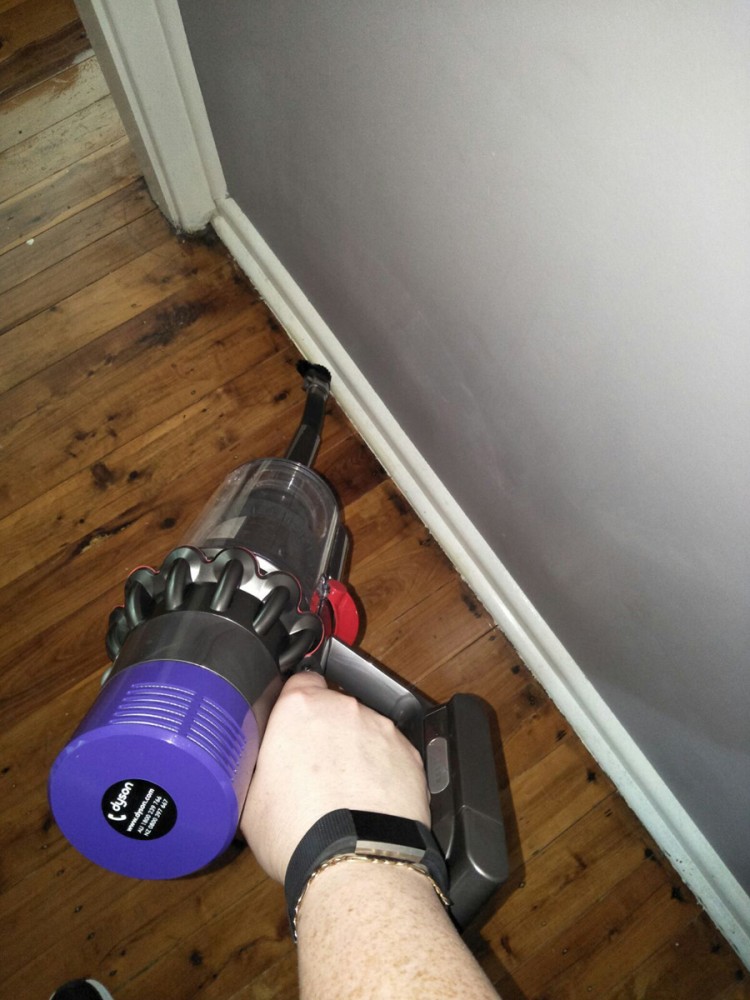 But what was Kathryn's favourite feature of the Dyson Absolute+?
"The rubber stopper at the back of the battery pack is something so minor, but so important!" enthused Kathryn.
"Handstick vacuum cleaners usually come with a docking station you can nail to the wall. However, being a renter, I can't do that. So in the past, I've had to dismantle my vacuum cleaner instead of being able to stand it upright in the dock to charge.
"This rubber stopper means that you can lean it up against the wall without damaging the wall itself. It's actually a really convenient new feature, especially for renters!"
So, the big question – who would you recommend the Dyson V10 Absolute+ to?
"Everyone!" answered Kathryn. "Whether you're time-poor or you like to clean every few days like I do, this is a great choice for all different lifestyles."
With so many attachments, in addition to a super-charged max power mode, the V10 is also a great choice for homes with carpets, not just tiles and floorboards. It's also a great choice for people with pets – as Kathryn demonstrated. The V10 Abolsute+ had no trouble at all dealing with her black lab's rogue hairs.
Is your home in need of a thorough clean? Visit your local Harvey Norman store and talk to our friendly staff about which Dyson model will best suit your lifestyle, and test out the Dyson V10 Absolute+ or Animal for yourself.
If you've already made up your mind, can shop online now.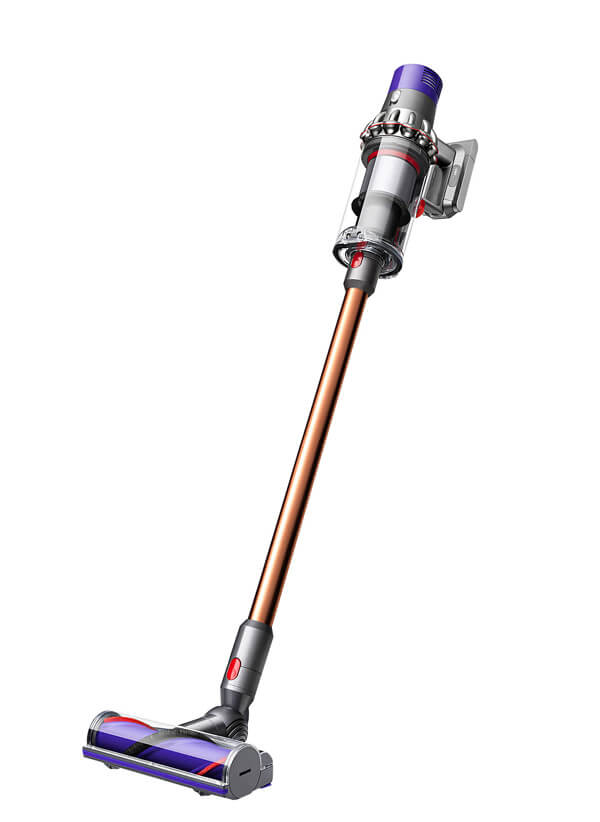 Dyson V10 Absolute Plus Vacuum Cleaner
More Dyson Home Solutions
After more great Dyson products for your home? Check out our review on the Dyson Pure Cool™ Purifying Tower Fan. Use it in tandem with the Dyson Cyclone V10 Absolute+ to take care of your home's floor and air quality!