Here's a question for you: How do you convince your workmates to bring in their ridiculously cute dogs, so that you can spend your entire workday playing with them? Simply tell your amigos that you're about to do a blog on Harvey Norman's Bissell BarkBath Portable Dog Bath Tool – one of the most exciting pet care innovations of the last few dog years!
If you thought I was ecstatic when I realised I was going to get to spend my Tuesday hanging out with not one, but four outrageously cool pups, you should have seen how gleefully my colleagues wagged their tails when they realised that their puppies were going to get a turn with the  BarkBath. This super-easy dog grooming tool, which attaches to most Bissell portable carpet cleaners, promises a thorough, quick and virtually mess-free way to clean your pooch.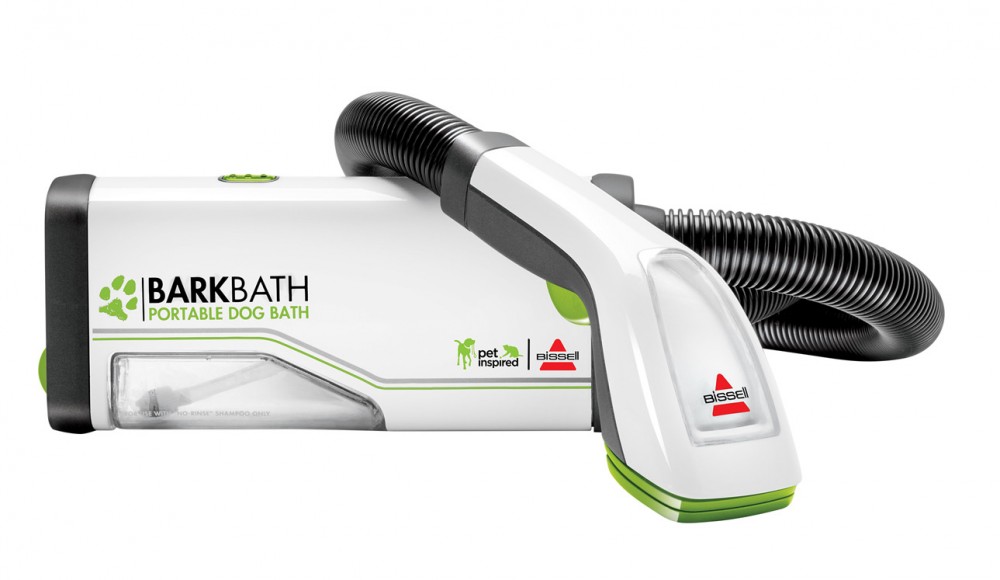 So, before we get to the part where I hung out with my dawgs, let's take a deeper look at the invention that got our furry friends here in the first place.
Bissell BarkBath – Dog Washing Made Easy
We all know what bathing the dog is usually like. First, you've got to convince your barking mate that it's a great idea to jump into the mouldy old bath tub. After you've spent a few minutes cajoling them in, you've then got to persuade them to not do the one thing that they really want to do – jumping straight out into your arms, sending lukewarm water, soap suds and dog hair flying all over you. "Woof woof", laughs your dog, "how do you like bath time now?!"
Those tremors of fear that doggy bathing time inspires are now being consigned to the dustbin of history – alongside video stores (and all their copies of Lassie) – thanks to the revolutionary BarkBath. This awesome portable dog bath truly does make puppy washing a thing of beauty. It's easy. It's quick. It's super efficient. It creates waaaaaaaayy less mess. Plus it's so much more economical than constantly taking your puppy to a professional dog groomer.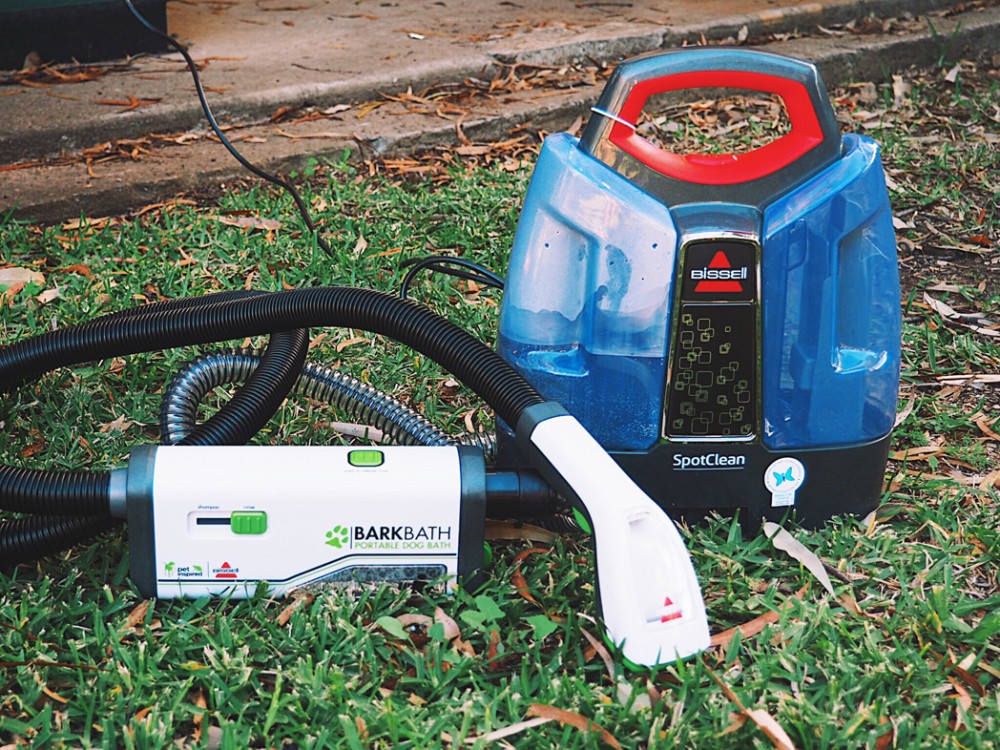 The BarkBath tool works in conjunction with most Bissell portable carpet cleaners – which in and of themselves are must-have pieces of technology for your home. Products such as the Bissell SpotClean Portable Stain Remover and Bissell SpotClean Cordless Professional Spot and Stain Cleaner offer a quick and easy way to not only clean unexpected messes, but to permanently remove more deeply ingrained stains. The fact that they also allow you to use the BarkBath is truly the icing on the cake.
To operate the BarkBath, all you have to do is fill up your Bissell portable carpet cleaner's water tank with warm water and fill up the BarkBath's shampoo tank with the included Bissell No-Rinse Dog Shampoo. Then, after plugging your Bissell portable carpet cleaner into a power point (if you've got a cordless Bissell portable carpet cleaner, you don't even have to worry about doing that) and connecting its flex-hose to the BarkBath, you're ready for bath time!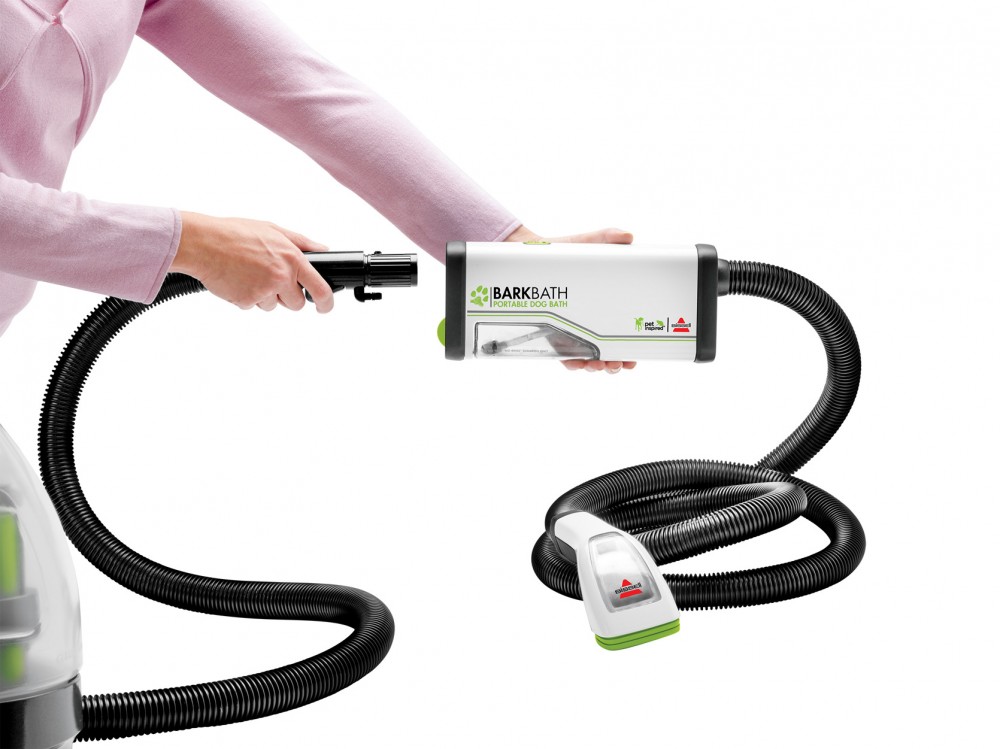 The BarkBath's patented nozzle allows you to give your dog a true, thorough clean, as it gets beneath your pup's fur, right down to its skin. By simply squeezing the BarkBath's trigger and switching between the 'rinse' and 'shampoo' settings, you're able to comprehensively clean your canine friend all over with either water or Bissell's No-Rinse Dog shampoo – or both!

Best of all, the BarkBath's soft suction gently vacuums away all the dirty water and odours as you wash. No more mess or strange wet-dog smells!
I should also emphasise the BarkBath's high portability (in fact, if you use it in conjunction with a cordless Bissell portable vacuum, there's no limit on where you can take it), as well as the fact that this is a means of cleaning that uses so much less water than a regular dog wash. Bissell states that with the BarkBath, 1.2L of water is sufficient to clean a 36kg dog, whereas if you were using a regular bath tub, you'd be looking at using anywhere up to 71L.
So, is there anything to think about before jumping straight into the BarkBath? Well, if your pup's anxious or sensitive to noise, then you might wonder how they'll react to being in the proximity of a carpet cleaner. Bissell has thought of this and provides a variety of proven methods and tips to relax your pup and get them acquainted with their new toy – they might soon even love the BarkBath as much as you do! These tips are available both within the included instruction manual as well as through videos from Bissell that are freely available online.
Well, I think that's just about enough barking from me – it's time for the puppies!
Ollie
Breed: Cavalier King Charles Spaniel.
Age: Six years.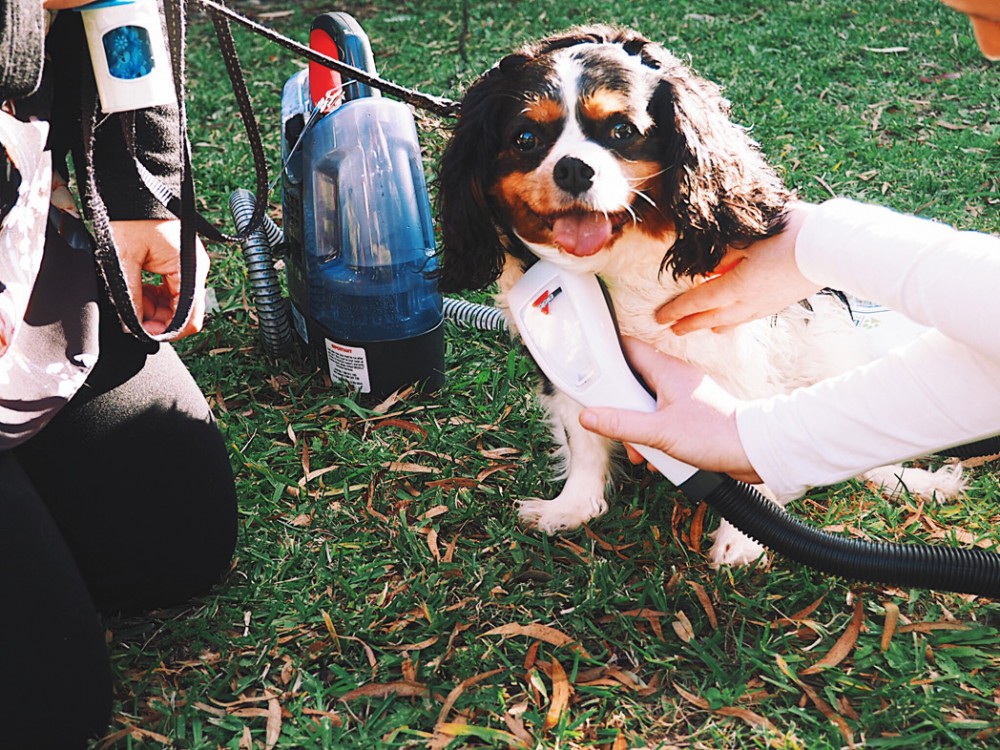 Aww, look at that adorable face – he looks like he'd sing the song of an angel.
Well, he doesn't! According to his owner, Helen, Ollie actually produces the snores of a monster. When he hits the hay each night, his honk-shooing is so loud that Helen and her partner have to sneak out of the room and go and hide in the furthest corner of the house. Luckily for me, when I met Ollie he wasn't asleep!
As I went about getting the BarkBath, the little guy ran around, clamouring for a wash.
Let me reiterate, from first-hand experience, that setting up the BarkBath is extremely easy. After filling up the shampoo tank, I simply attached it to our office's brilliant Bissell portable vacuum: the Bissell SpotClean Portable Stain Remover.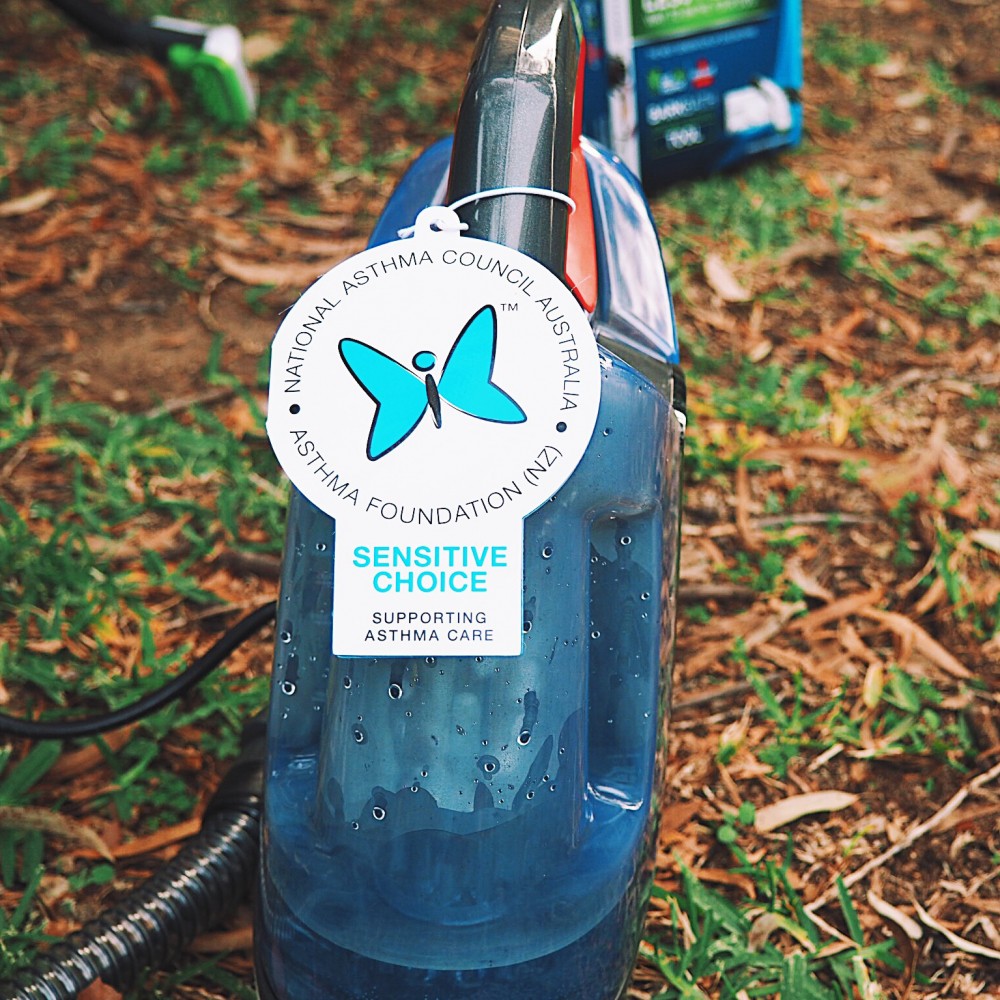 With the BarkBath set up, I passed it to Helen, as she brought little Ollie over. Helen switched on the SpotClean and BarkBath as Ollie sat there, cool as a cucumber. Helen massaged Ollie with the nozzle, as it comprehensively shampooed and rinsed him from the skin up, while also drying his fur by sucking away all the dirty water. Ollie completely lapped up all the attention, chilling out and showing off his shiny clean coat.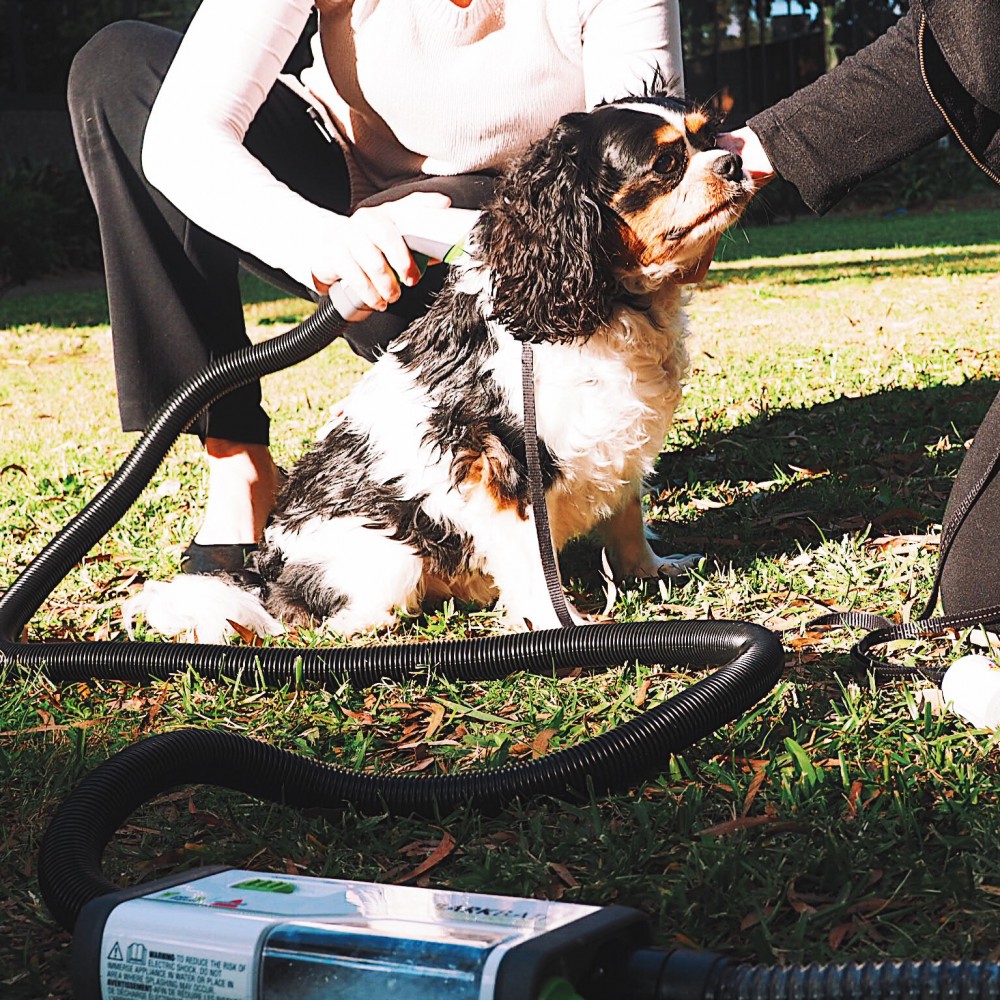 Sox
Breed: Staffie X Boxer.
Age: Two years.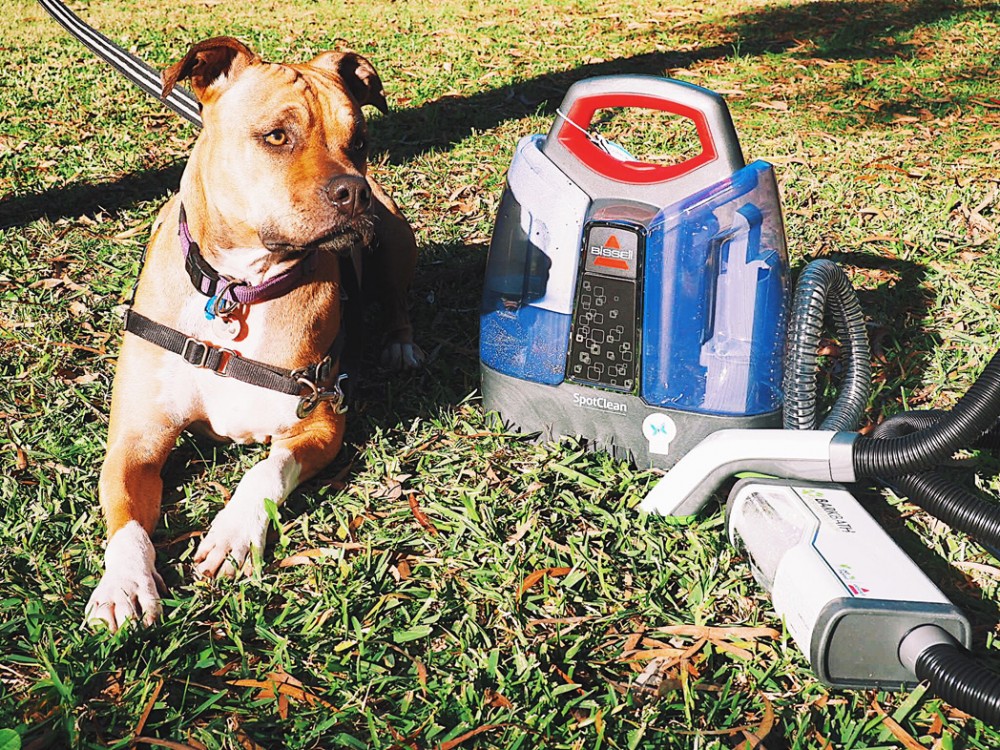 Why's she called Sox? Is it 'cause she loves spending her spare Pal Meaty Bites buying different pairs of socks on eBay each week? Nah – just look at her feet!
So, what's Sox's story? According to her ownerAbby, she's a bit of a part-time hero. "Every time my partner climbs up a ladder, a whimpering Sox comes running in to rescue him from the tyranny of heights."
When Sox isn't busy saving the day, she's actually a bit of a culinary master. "One time when Sox was alone in the kitchen, she thought it'd be a great idea to scale the bench and switch on the oven."
Super Hero. Amazing Chef. Anything else that Sox excels at? "She's really good at opening door handles. Although that once led to her getting in the lounge room and tearing apart the couch!"
Such a character! But how will she go with the BarkBath? Does she love water? "No!"
OK, so she's a little anxious. Therefore it probably comes as no surprise that the first time Abby turned on the Bissell SpotClean, Sox seemed a little concerned.
Not to worry! Abby followed some of Bissell's tips to relax Sox, including massaging her with the nozzle while it was switched off in order to get her used to the feel. She also took Sox a bit of a distance away while we switched the SpotClean on in order to get her used to the sound of it from afar. Eventually Sox was comfortable enough to allow Abby to make her beautiful with the BarkBath. Even Sox had to admire her splendidly fresh new look – in fact, I think she secretly cracked a smile.
So, what were Abby's final thoughts on the BarkBath? "I loved it, and I think Sox did too. I'm a big fan of just how economical it is. Given that Sox is 22kg, it usually costs me a bit to get her washed at our local pet groomer. That means that within four uses of the BarkBath, it'll have paid for itself and then some."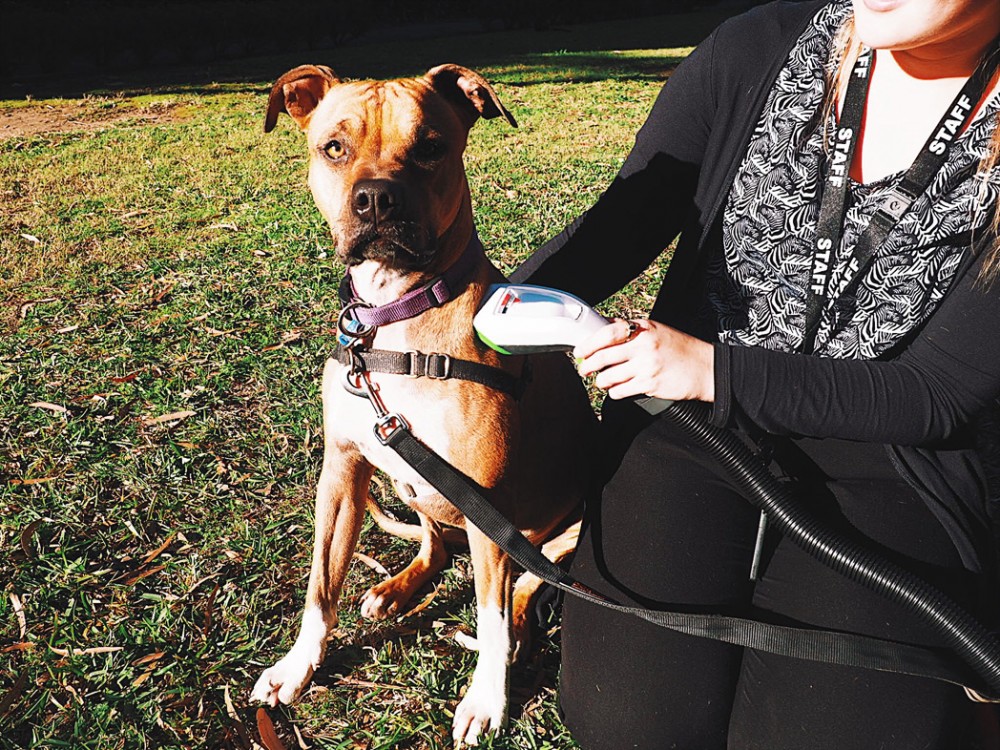 Chuck (a.k.a. 'The Nugget')
Breed: Miniature Daschund.
Age: 18 months.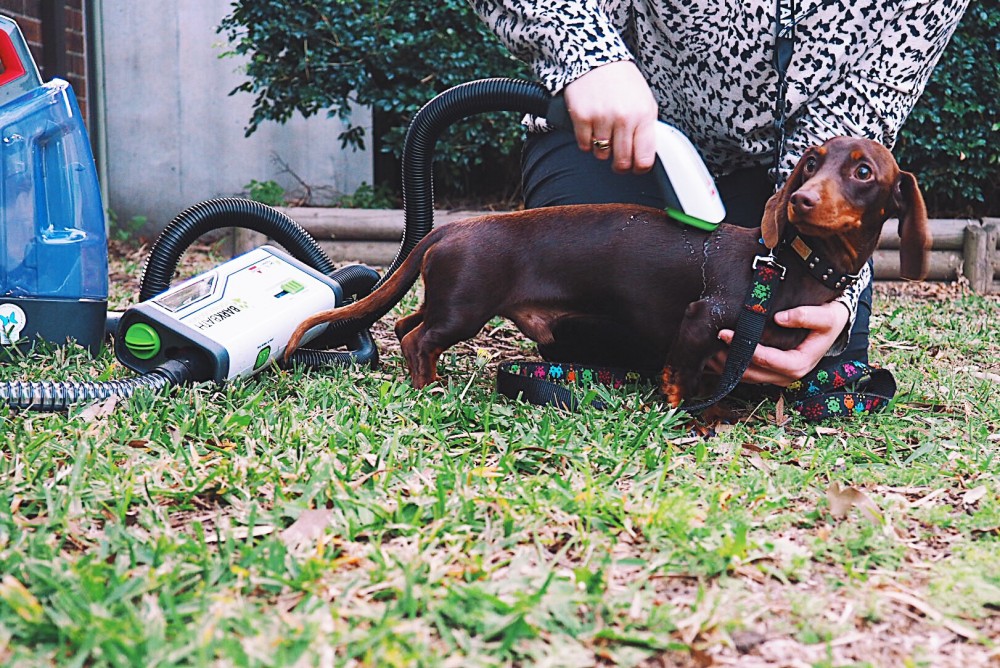 Look at his little sausage legs!
With that much cuteness, how could you resist giving him a million presents come Christmas time? His owner, Lani couldn't! "I bought him so many pressies! Although my partner thought I was going a bit overboard wrapping them and placing them under the tree. He didn't think Chuck seemed like the type that would want to wake up on Chrissy morning and unwrap pressies."
Turns out Chuck was the type that wanted to unwrap pressies. In fact, he was so excited after unwrapping his own gifts, that unbeknownst to Lani and her partner, Chuck decided to use his little sausage dog teeth to unwrap everyone else's gifts as well. That's how you do Christmas properly!
Anyway, after Lani successfully used the BarkBath to clean Chuck in record time, she now knows exactly what Chuck's getting for Chrissy this year. Might have to use some extra strong masking tape to make sure he doesn't get his paws on it too early!
Cadbury
Breed: Miniature Daschund.
Age: 13 months.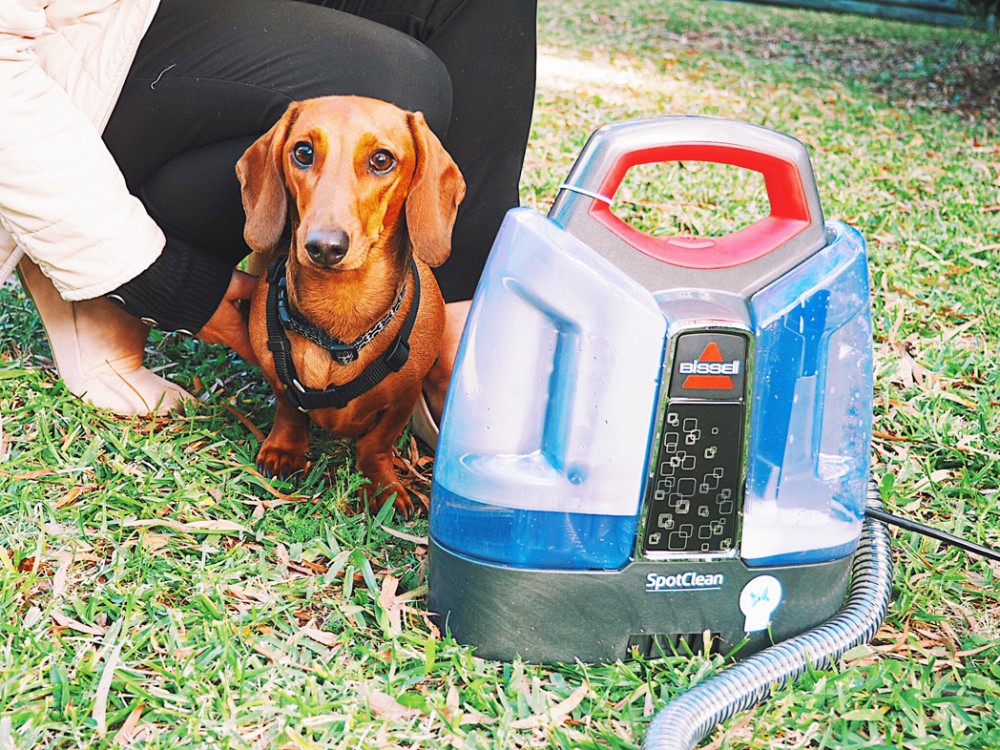 If you thought one Miniature Daschund was crazy cute, then two is just cray-cray! Our second crazy little sausage dog wanting a turn with the BarkBath is Cadbury. While our previous sausage, Chuck, ate the Christmas wrapping paper covering his toys, Cadbury instead just straight up ate all of his toys. Oh, and he also ate his living room carpet!
While it's not uncommon for people to give each other Cadburys as a gift, Sue certainly wasn't expecting this Cadbury when her daughter brought it home as a surprise. After getting over the shock, Sue fell in love – because, well, how could you not!
And on this day, after giving Cadbury a wonderful, mess-free clean with the BarkBath, I think Sue fell in love all over again. Cadbury looked as dashing as ever, and thanks to the BarkBath's gentle suction which removed the dirt and odours, he smelled just as good!
Jump in the BarkBath
With all our dogs having had their turn, their human friends all agreed that when it comes to dog grooming supplies and tools, the Bissell BarkBath really stands out as something unique and special. It's a comprehensive dog washing solution that's more efficient and far less messy than a traditional dog wash, and it's a more economically viable option over the long term when compared to the cost of taking your four legged friend to a professional groomer. The Bissell BarkBath definitely gets our big, wet, doggy lick of approval!
Want to make your pup's bath time easy and fun? Come in to your nearest Harvey Norman and check out the Bissell BarkBath – our friendly, knowledgeable staff are more than happy to show you all the ins-and-outs. Oh, and for any dogs who are reading this and wanting to get your paws on one, please ask for your human's approval first!