It's nearly here! After a decidedly topsy-turvy year, Christmas is edging closer, promising some much needed magic and joy. If you, like us here at Harvey's HQ, are looking forward to Christmas entertaining, then now is the time to ask yourself if your home is ready (or not!) to comfortably host all your Christmas guests.
Creating a stylish and comfortable environment in your home for entertaining can be time-consuming, and after the upheavals many of us have experienced over the past few months, your home may need some extra work before those guests can gather around the Christmas table. To make your preparations easier, we have put together a carefully-chosen selection of furniture and outdoor cooking appliances from Harvey Norman to cover every aspect of Christmas entertaining. From sofa beds for overnight guests to indoor and outdoor dining tables and BBQs, read on to discover everything you need to make Christmas memories you'll treasure forever.
Christmas Sofa Beds

Sofa beds are the ultimate space-saving solution when Christmas entertaining. After all, not everyone has a spare bedroom or kids who can be turfed out of their beds for the benefit of Granny or Uncle Joe. Sofa beds provide not only convenient sleeping quarters for overnight visitors, they also offer extra seating for every other aspect of the festivities from chatting over nibbles to catching a rerun of It's A Wonderful Life. What's not to love about sofa beds?!
Well, if you're of a certain generation, you may remember pull-out sofa beds from sleepovers or parties as cumbersome contraptions that were, quite frankly, uncomfortable. If this is your memory of sofa beds, then I'm here to tell you that the sofa beds of today really are the Christmas gift that keeps on giving. Combining the plush cushioning of a regular sofa with a dreamy sleep surface even Granny will approve of, our range of sofa beds deliver the best of both worlds in style and with surprising comfort.
'Concord' 2.5-Seater Fabric Double Sofa Bed

Designed to seamlessly harmonise with any contemporary living space, the Australian made 'Concord' 2.5-Seater Fabric Double Sofa Bed is a stylistically versatile choice. Holding its own as a modern-look sofa, no one will guess the clean, sophisticated form of the 'Concord' conceals a comfortable 4" double innerspring mattress! The compact design of the 2.5-Seater with double sofa bed not only looks the goods, it creates a streamlined profile that is sized perfectly for apartments or as an additional sofa in larger living rooms.
Depending on your needs, the 'Concord' is also available in a single or king single sofa bed, or a 3-seater queen size sofa bed with or without chaise. We have showcased the 'Concord' here in Stone, but you can choose from a wide selection of fabric colours in store to easily integrate this sofa bed into your home.
'Paris' Fabric Double Sofa Bed

If your living area is on the smaller side, why not add an extra function to your sofa bed by making it an Insta-worthy statement piece? For inspiration, we love the 'Paris' Fabric Double Sofa Bed. Undeniably captivating, effortlessly stylish holiday posts are only one click away with family and friends posed on the delightful 'Paris'!
This Australian made sofa bed flawlessly disguises its function within a classic Lawson design deserving centre stage in your living room all year round. The eye-catching floral design is available in a choice of fabric colours so you can match 'Paris' to your existing scheme, or treat your living space to a fresh new look in time for your Christmas entertaining. For overnight guests, a one-step mechanism transforms 'Paris' from a plump sofa to a cosy double bed with a 4" double innerspring mattress, with other sizes available in store.
'Tocoa' Double Click-Clack Sofa Bed

Click-clack sofa beds are a funky alternative to pull-out sofa beds. Smooth in looks and function, a few simple pushes instantly converts these snazzy sofas into a cushioned sleep surface. One of our favourites, the 'Tocoa' Double Click Clack Sofa Bed, epitomises the sleek combination of style and practicality these sofas deliver in Christmas sackfuls. Adjustable arms allow flexibility of use as a sofa, while a pillow top construction ensures maximum comfort when sitting, lounging or lying down.
Per the size of your space, the versatile 'Tocoa' can be called upon to fulfil multiple roles, with the very contemporary design suited to life as both a primary or supplementary seating solution. 'Tocoa' is available in sophisticated Black PU or Charcoal fabric for effortless integration in any modern space.
Indoor Christmas Dining
At the heart of any traditional Christmas celebration is the Christmas table. As the central hub for gathering, and showcasing your favourite Christmas dinner recipes, your Christmas table needs to be both accommodating and eye-catching. We have rounded up a selection of our favourite dining suites in a variety of styles so you can find the perfect dining set up for your space.
'Santorini' 7-Piece Rectangular Dining Suite

Combining uber-modern chrome detailing and a sleek gloss finish, the 'Santorini' 7-Piece Rectangular Dining Suite will uplift your Christmas dining experience to stylish new heights. Craft a dramatic focal point with the Black suite, or choose elegant neutrals White or Grey, depending on your existing décor.
If you require extra seating around the luxe glass tabletop, the 'Santorini' is also available in a 9-piece setting.
'Marlow' 7-Piece Timber Dining Suite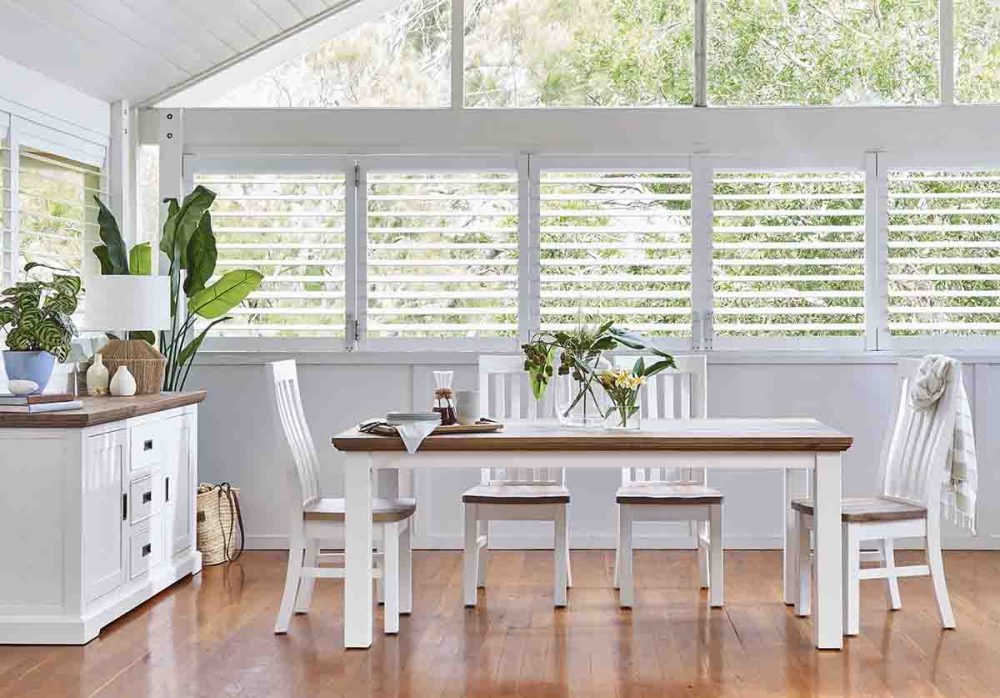 Add a touch of breezy coastal charm to your Christmas entertaining with the 'Marlow' 7-Piece Timber Dining Suite. Inspired by the ever-popular Hamptons style, the crisp white of the 'Marlow' evokes a fresh, natural ambience to counter the summer heat of an Aussie Christmas. The sturdy pine construction showcases a pine tabletop featuring luscious panels of weathered timber that will ensure your table decorations look their absolute best.
Opt for the 'Marlow' 9-piece setting to seat eight people in comfort.
'Timo' 9-Piece Timber Dining Suite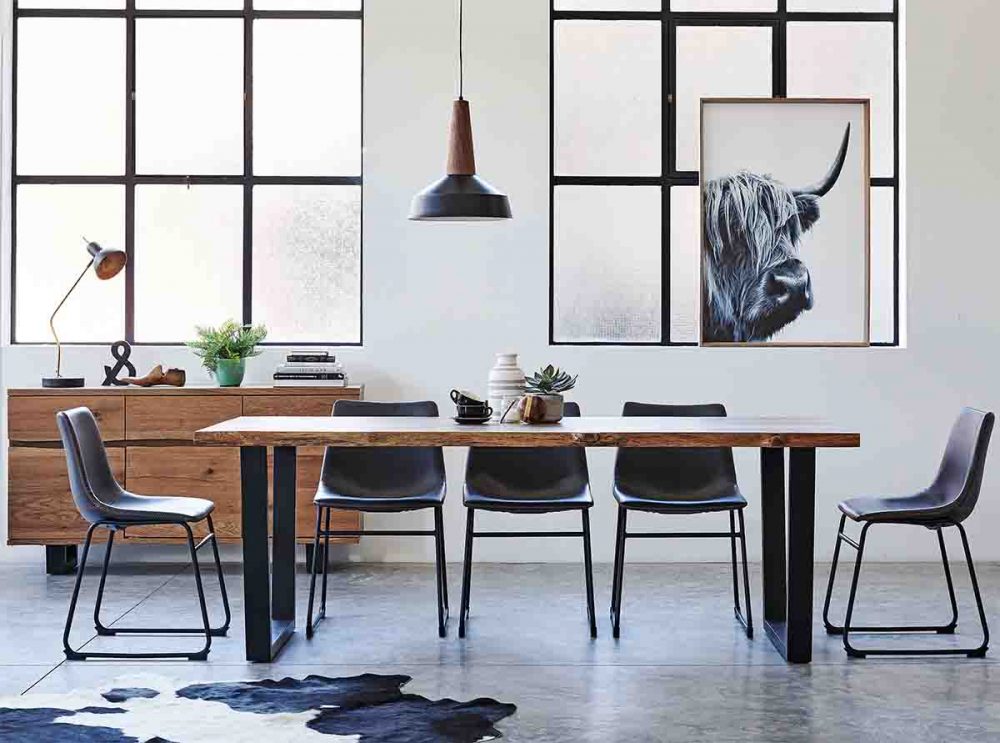 If you are seeking a new Christmas table that will seamlessly integrate into your home, the striking industrial design of the 'Timo' 9-Piece Timber Dining Suite is effortlessly adaptable to a variety of interior styles and spaces. Combining the organic warmth of a live-edge Oak tabletop with the contemporary edge of steel legs, the 'Timo' can be easily styled for casual or refined dining. The co-ordinating chairs, upholstered in Black PU, are available in your choice of White or Orange accent stitching.
'Timo' is also available as a 7-piece setting and in a selection of sizes.
Outdoor Christmas Dining
Celebrating an outdoor Christmas in Australia is practically an institution! The popularity of alfresco Christmas entertaining may seem wholly attributable to our agreeable summer weather but, as anyone who has hosted a family gathering knows, setting up your Christmas table outside is a convenient solution when indoor space is at a premium. Whether hosting a Christmas BBQ or enjoying your best Christmas dinner recipes from the kitchen oven, an outdoor dining setting provides more scope for seating all your guests in comfort.
To spark your imagination, we have chosen two outdoor dining settings that will help make your Christmas entertaining a breeze from our extensive outdoor furniture range.
'Bon' Outdoor 13-Piece Rectangular Extension Dining Setting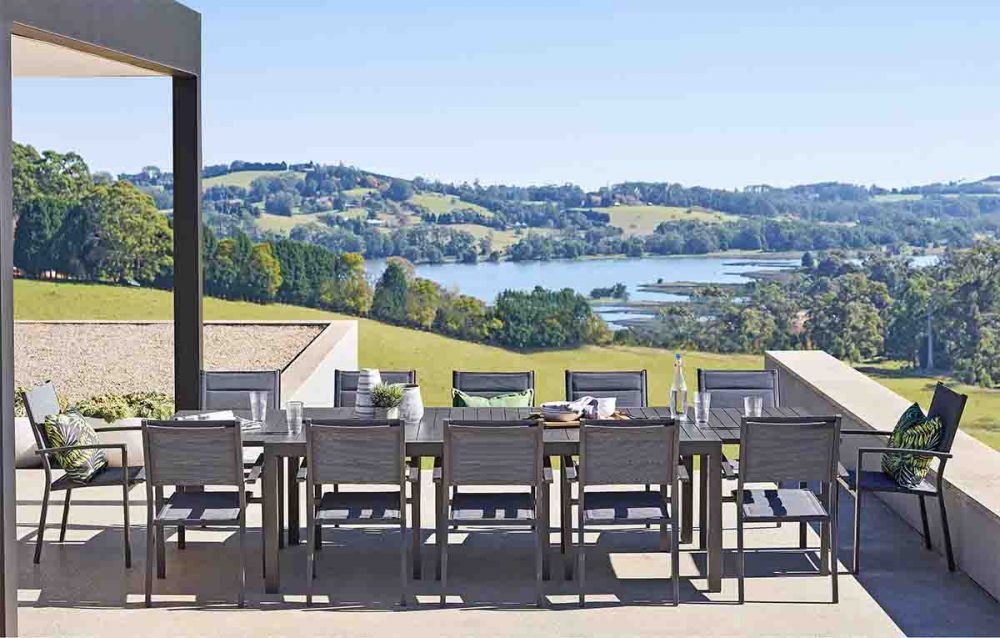 Extension dining tables are a win-win when crafting a successful alfresco dining area. Accommodating large gatherings (and plenty of plates of food!) when extended, these tables are doubly useful by saving space when returned to their smaller size.
The 'Bon' Outdoor 13-Piece Rectangular Extension Dining Setting delivers the convenience of an extension table with the generous amount of elbow room that comes from clean, open design. Adding to the capacious feel of this setting are the padded textilene sling dining chairs that boast comfort and space to easily manoeuvre while serving and eating. Featuring a stylish powder-coated finish, the durable aluminium frames of the 'Bon' are pictured here in Gunmetal but also available in White.
'Quebec' Outdoor 13-Piece Oval Dining Setting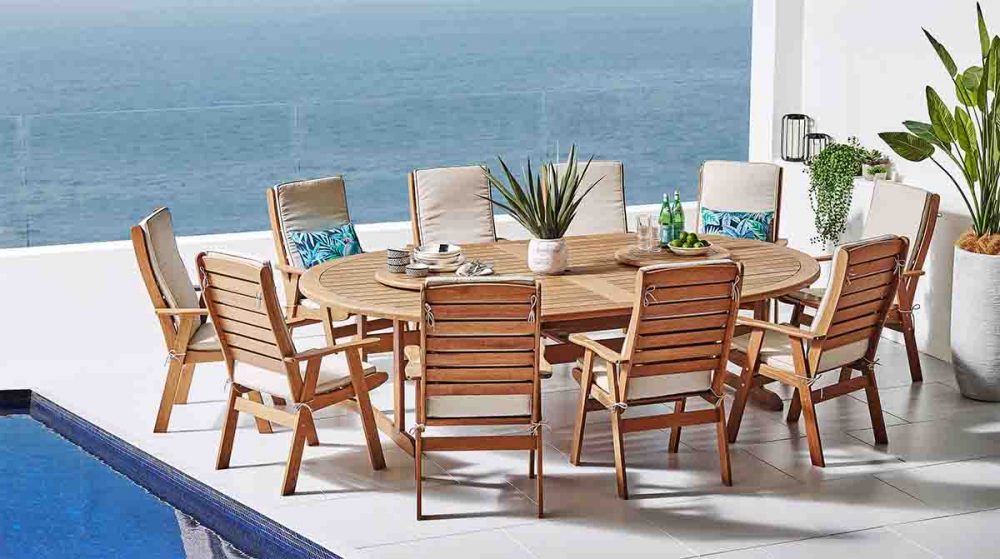 Oval dining tables are ideal for creating a more intimate feel within larger gatherings. We particularly love the 'Quebec' Outdoor 13-Piece Oval Dining Setting. An entertainer's delight, the 'Quebec' includes two lazy susans for maintaining a comfortable flow of service at your Christmas table. As your Christmas entertaining progresses, your guests will appreciate the luxury of supportive high-backed dining chairs, topped with foam-filled polyester cushions. Clearing away the Christmas plates will reveal the organic beauty of the Karri Gum timber tabletop that can quickly become a welcoming hub for a relaxed Christmas evening of drinks and nibbles.
Christmas BBQs & Outdoor Cooking
Just like sitting and serving outside, outdoor cooking is a tried and tested method for easily catering to large groups of guests with minimal fuss. Of course, a Christmas BBQ is always one of the most popular Christmas lunch ideas for Australia, no matter the amount of guests at the Christmas table! Whether you are planning to whip up your Christmas dinner recipes for many or a few, our range of outdoor cooking appliances offers a wide selection of sizes, features and cooking methods to suit every taste in any sized space.
Masterbuilt Gravity Fed Series 560 Digital Charcoal Grill and Smoker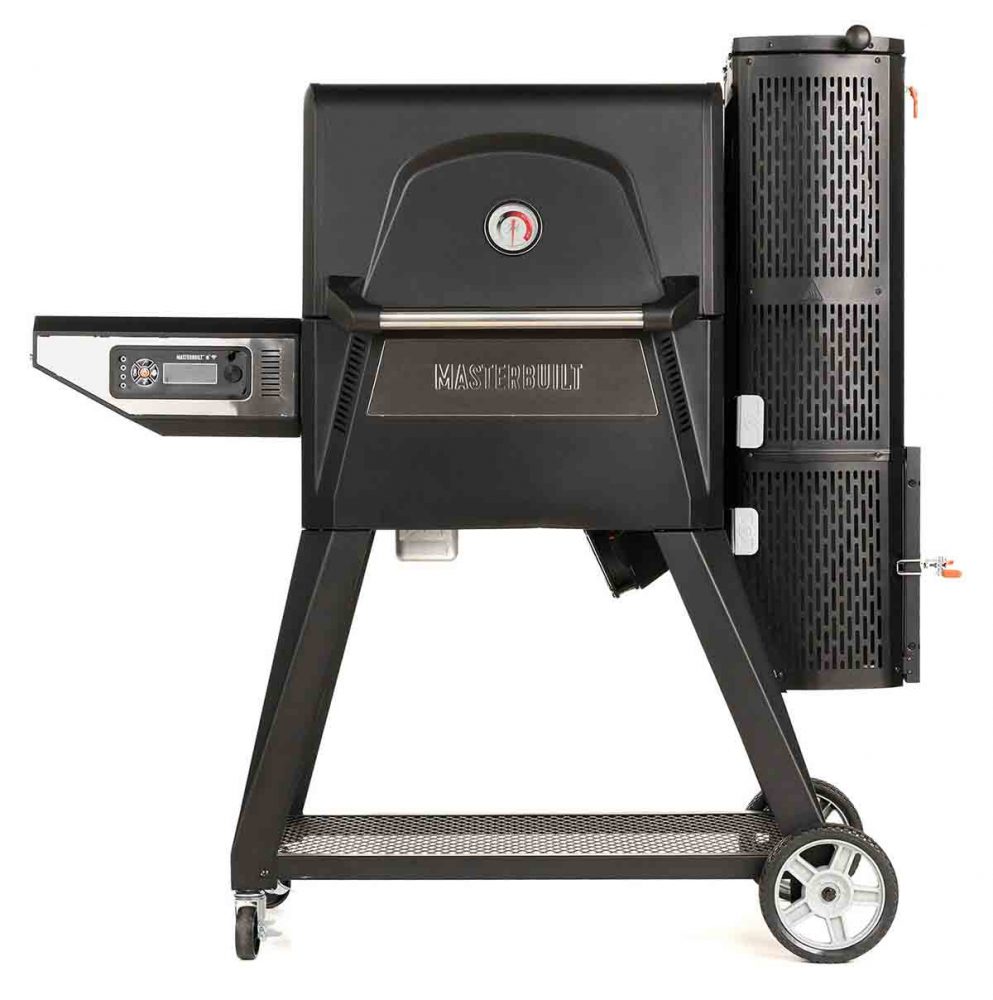 Reaching an impressive 107°C in 7 minutes or 187°C in 13 minutes, the Masterbuilt Gravity Fed Series 560 Digital Grill and Smoker is equipped to produce optimal results when cooking large amounts of food.
Controlling the cooking process from start to finish is easy with the digital control panel, or, if you need to step away for a moment, from your smart device using Wi-Fi or Bluetooth. DigitalFan™ technology ensures precise temperature control, while a built-in temperature gauge and meat probe thermometer allow you to adjust for perfect results every time. Two warming/smoking racks provide 3,600 total square cm of cooking space with reversible smoke and sear cast-iron grates for low and slow smoking or high heat searing.
Masport Woodfire Pizza Oven with Cover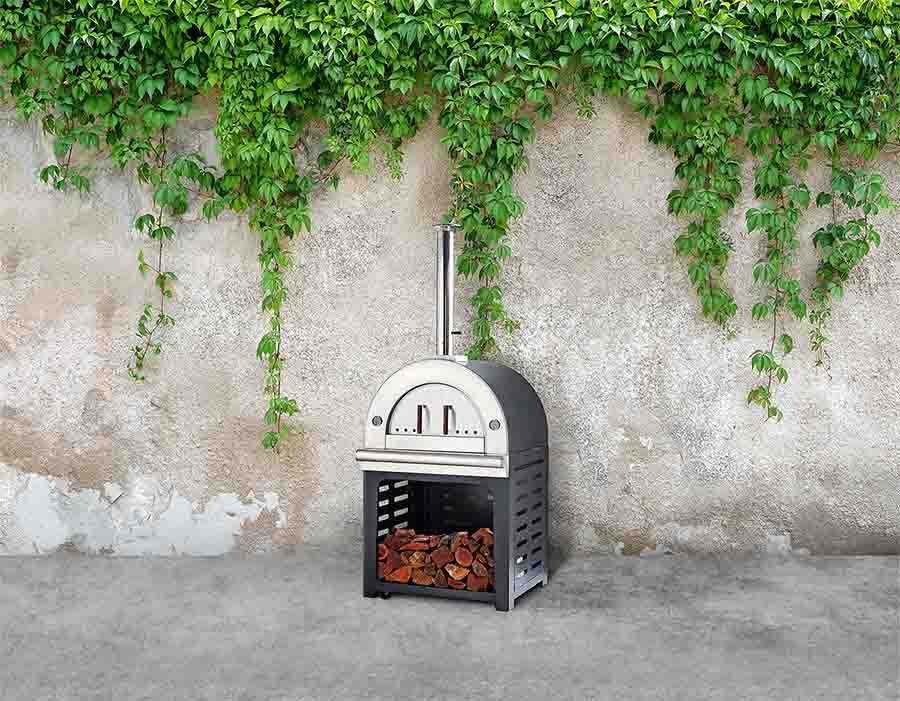 For a surprise alternative to the traditional Christmas BBQ, why not start a new Christmas pizza tradition? Or, if you are still craving your usual Christmas dinner recipes, you could accompany them with freshly baked artisanal bread straight from your own wood fire oven.
The Masport Woodfire Pizza Oven with Cover is a versatile and satisfying solution for baking and roasting with authentic wood fire flavour. Complete with a pizza stone, the Masport Woodfire Pizza Oven features two temperature gauges on each side so you can conveniently and accurately monitor the heat of the interior, while twin handles allow you to easily move food items in and out. Designed for durability, the stainless-steel construction with powder-coated finish protects against daily wear.
Gasmate Galaxy Black Hood Outdoor Kitchen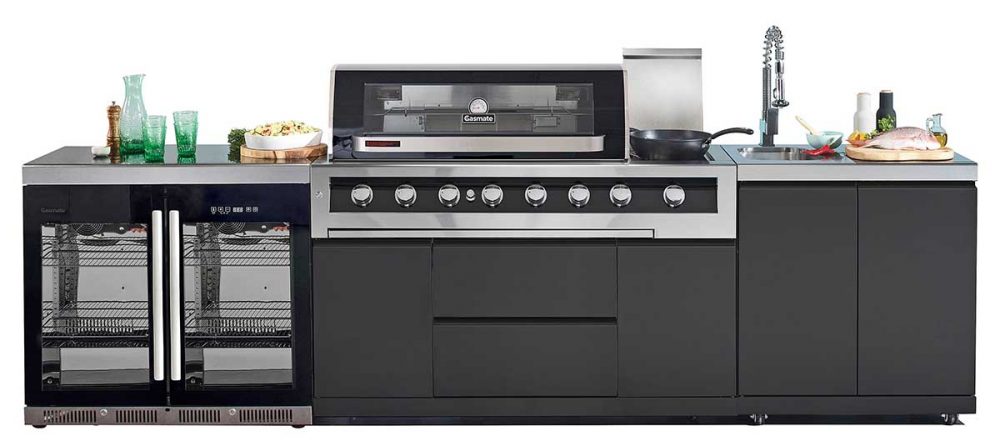 Outdoor kitchens are the last word when alfresco Christmas entertaining. Combining all the conveniences of your regular kitchen in one magnificent centrepiece, outdoor kitchens keep you in the centre of the action while fulfilling your duties as host.
One of the most versatile models, the Gasmate Galaxy Black Hood Outdoor Kitchen pictured is referred to as package number 2. However, it's also available in two other combinations so you can choose the features that are right for you. Ever-stylish Black Granite module tops give the Gasmate Galaxy Black Hood Outdoor Kitchen a sleek look while a sturdy stainless steel construction and powder-coated finish ensure it will continue to cater to your gatherings for many Christmases to come.
Christmas Entertaining At Your House!
Inspired to get a head start on your Christmas entertaining? Browse online or visit your local Harvey Norman for more ideas on how get to your home ready for Christmas guests, and to see our full range of furniture and outdoor cooking solutions. Our friendly, expert staff will be more than happy to help you.
Merry Christmas!