I recently moved house, and with that comes a lot of changes. Going from the outer west of Sydney to the inner west means I don't need to use my car as much and it takes me a lot less time to get to work (yet for some reason I still find myself waking up at the same time anyway).  But the main difference is the look and feel of the old house vs. the new. I used to have carpeted floors, and since that's what I grew up with, I knew from long experience how to best keep it clean in terms of vacuuming, spot cleaning and so on. My new place however? Hardwood parquetry flooring.
Brilliant, I thought. They look great and it's nice to try something different. Then the reality sank in – how do I look after this floor? The first step was to put those little felt pads on the bottom of all my furniture to prevent any scratches and scuffs, but after that I needed to think about everyday maintenance. I've never used a hardwood floor cleaner before–do I just vacuum it the same way I would carpet? How do I use a floor polisher? It's clear I needed some help in terms of routine cleaning duties and caring for my floor long term.
Fortuitously, the SEBO K3 Premium Domestic Barrel Vacuum Cleaner and SEBO UHS Polishing Head arrived at the office for reviewing. A domestic floor polisher falling into my lap just when I needed it? Call it a happy coincidence or intervention from the powers that be, but here was a perfect opportunity to learn about caring for the floor in my new place.
Start with a Premium Clean
Before getting to the tricky part of polishing (or what I thought would be the tricky part – more on that later), I had to make sure the floor was nice and clean. Enter the SEBO K3 Premium Domestic Barrel Vacuum Cleaner.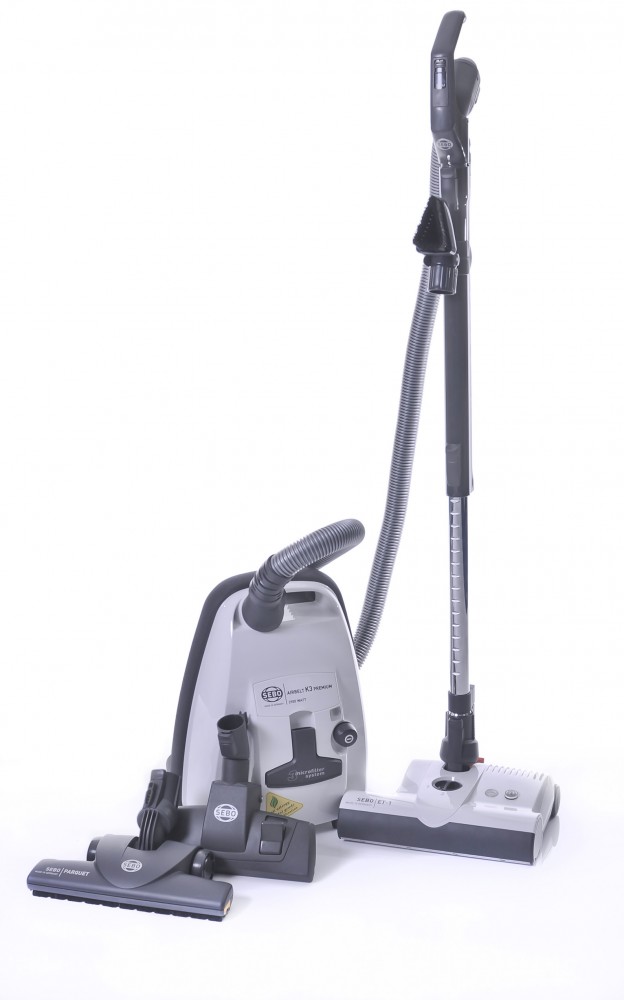 The SEBO K3 had everything I'd need to keep my floor clean, with lots of clever features.
Constructed from the highest quality materials, with a high performance 1900W motor and a cleaning range of 10.8 metres, this barrel vacuum cleaner is a thorough and efficient way to clean a house from top to bottom. The K3 comes with a triple micro filter, which is the perfect choice for anyone with allergies or asthma as this air-tight filtration system collects more than 99.9% of allergens and dust from the carpet and air. The K3 also includes a variety of attachments – covering everything from crevice and upholstery nozzles, to a dusting brush and combination floorheads.
Something that was really great for my new place was the Deluxe Parquet Brush. SEBO has developed this tough and durable parquet brush for optimal hard floor cleaning. It's got a 'flex' neck design so it's super manoeuvrable, and the natural bristles and soft wheels make it ideal for any type of hard flooring; delicate, uneven, or otherwise.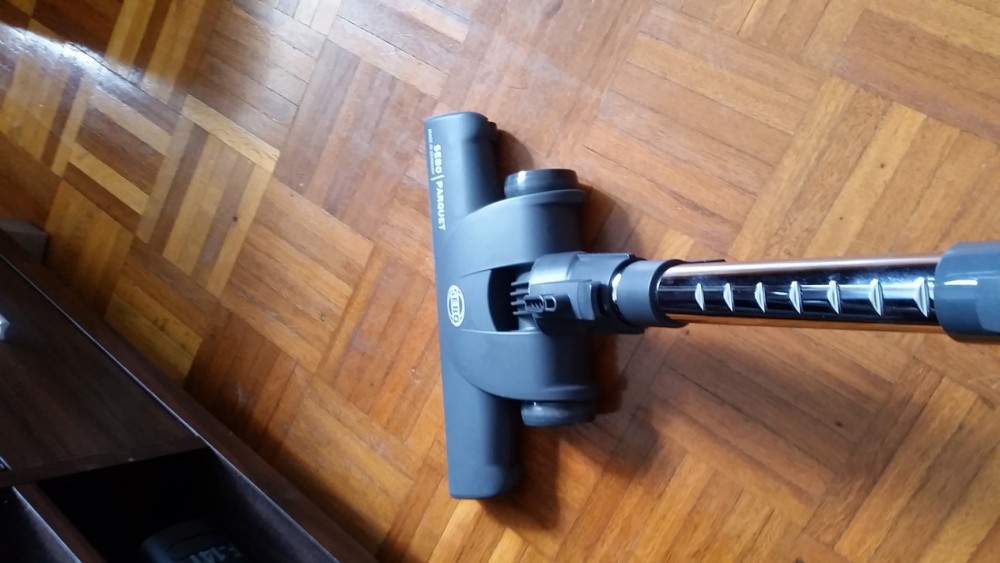 Another feature I thought was pretty cool was the Airbelt bumper guard. The K3 is fitted with this patented Airbelt shock absorber system to protect the walls and furniture in your home. Combined with multi-directional wheels, this makes the K3 much like a dodgem car – able to move in any direction and gently bump off your tables and chairs without any damage. This was great for me, as I didn't want to put any scratches on the new dining table and chairs that I'd just assembled the week before.
Preparing to Polish
After giving my rugs a clean with the height-adjustable powered brush head, then using the Deluxe Parquet Brush for the hardwood flooring, everything had a nice fresh feel to it. Time to give this floor polishing caper a try.
So I rolled up the rugs, moved a couple of lounges out of the way and gave myself a nice big section of floor to work with. The sun was shining, and after having read the instructions, this was going to be much easier and quicker than I had first thought. I wouldn't need to spend hours using liquid cleaners and big air buffers – I could get this done in half an hour.
Now, the experts will tell you that caring for the surface of a smooth floor is the basis for maintaining its appearance and longevity. Applying a coating to that floor, whether that be a wax or liquid polish finish, will make the floor much easier to maintain in terms of daily/weekly cleaning and also makes the floor more visually stunning. You'll know this effect if you've ever walked into a ballroom or basketball stadium. A freshly polished floor can be show-stopping!
A great thing about the SEBO system is that I don't need a separate appliance to polish the floor – the SEBO 9434AU UHS Polishing Head is designed to maintain floors without the need for chemicals or liquid solutions (making it hassle-free and eco-friendly), and it attaches to the end of the K3 vacuum cleaner to make things nice and simple. (It also works with the SEBO Felix Premium and DART models.)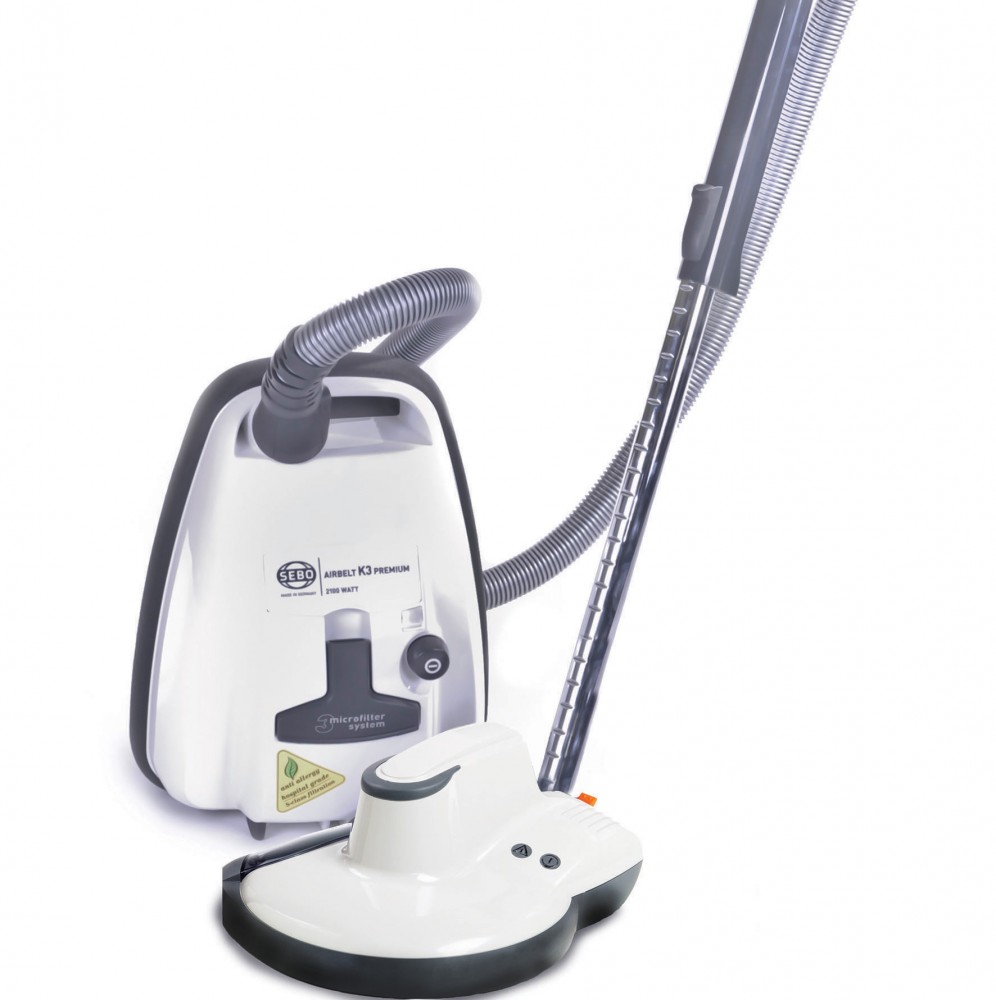 This polishing head can be used on wood, vinyl, laminate, marble, terrazzo and polished concrete, making it very versatile. Just like the K3 unit, the polishing head is also surrounded with a rubber bumper, meaning you can use it near walls and furniture without the worry of damaging anything should you get too zealous in your cleaning action.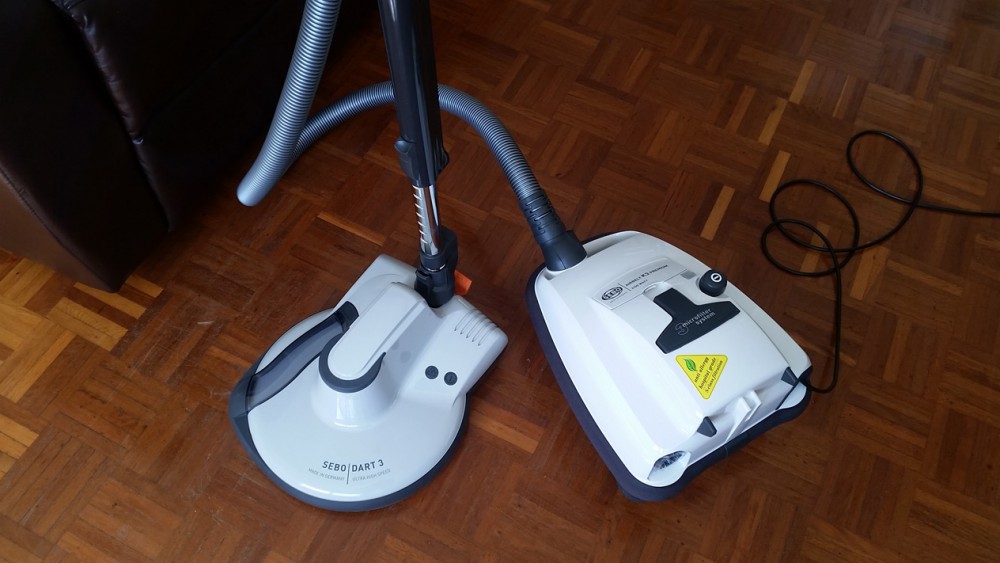 The SEBO UHS Polishing Head can use two different types of pads: standard type pads (such as the blue one below) which should be used with liquid floor maintainer, or diamond-impregnated pads (red, yellow and green) which do not require any chemicals and are used dry.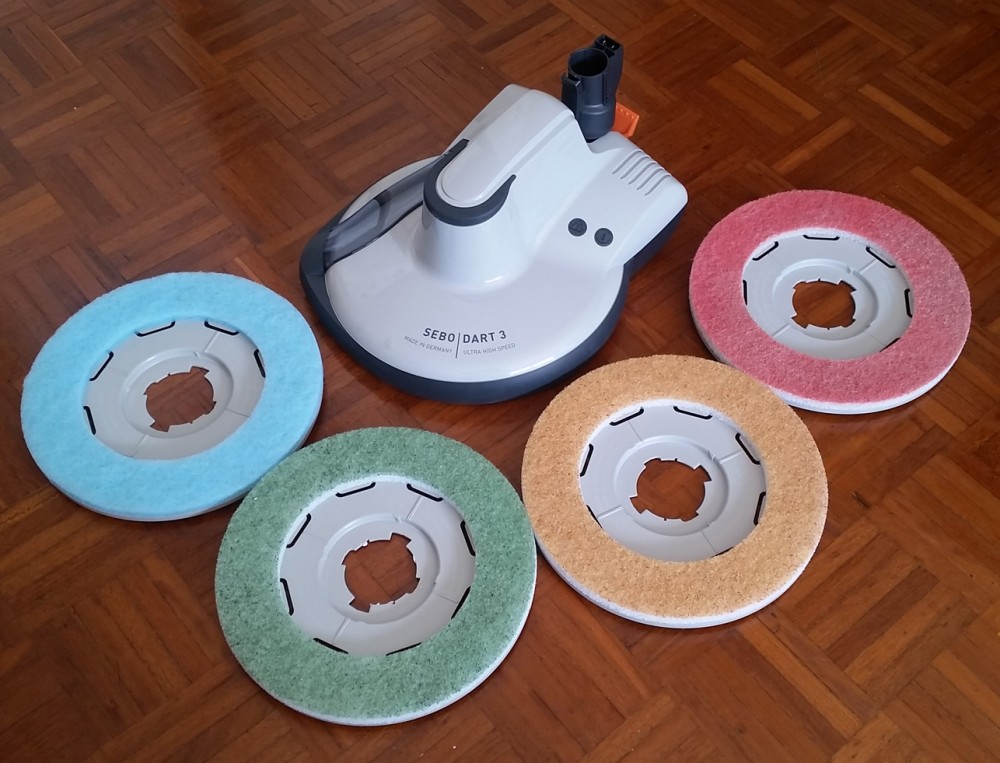 Why the different pads, you ask? Well, a different approach is required for soft-coated and hard-surfaced smooth floors. Floors with a soft coating (such as a wax finish) are easy to maintain and should be re-treated regularly. SEBO recommend using the blue floor pad in combination with a commercial floor maintainer/polish. The blue pad is recommended for daily maintenance to keep up a high-gloss finish.
If, like me, you have a floor with a hard-surfaced finish then you'll be using the red, yellow and green floor pads.  If it's been a while since the last time you polished the floor, or if the floor is looking a little worn and you'd like to restore a gloss finish, then you'll be starting with the red pad to really get to work, then move onto the yellow pad for another intermediate pass, before finishing with the green pad. The green pad is then what you'll be using in future to maintain your new high-gloss finish.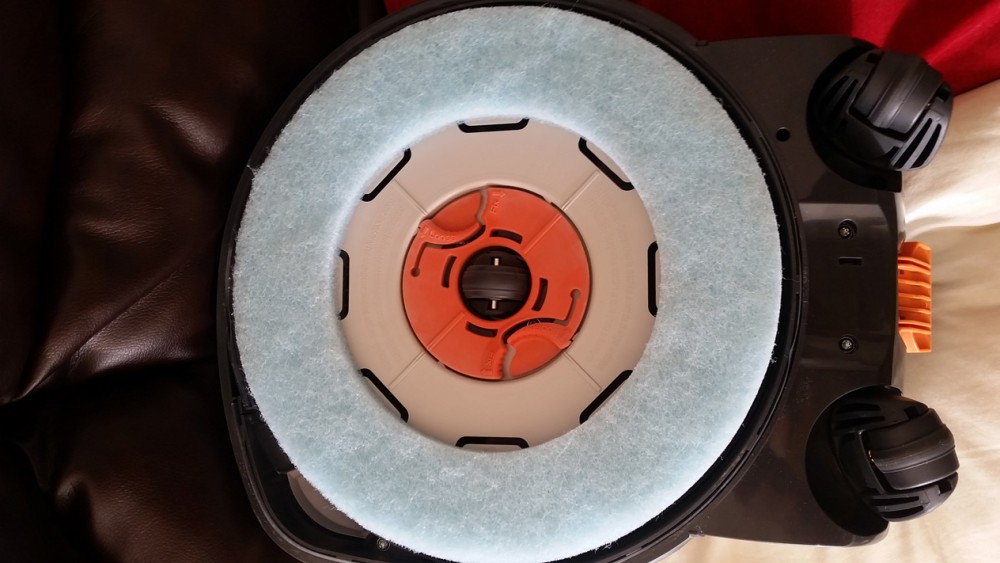 The pads were super easy to change. I just had to turn the UHS Polishing Head over (easier if disconnected from the telescopic tube, as I learnt), then choose the floor pad I was going to use. Once I picked a pad, I just lined it up with the grooves (it only fits one way, so even I couldn't mess this up) then pushed down on the pad with one hand while fitting the Quick-Release Disc with the other hand – turning clockwise until it clicked into place (as seen above). And like the name says, I simply had to turn the disc the other way and the cleaning pad was quickly released so I could switch it out.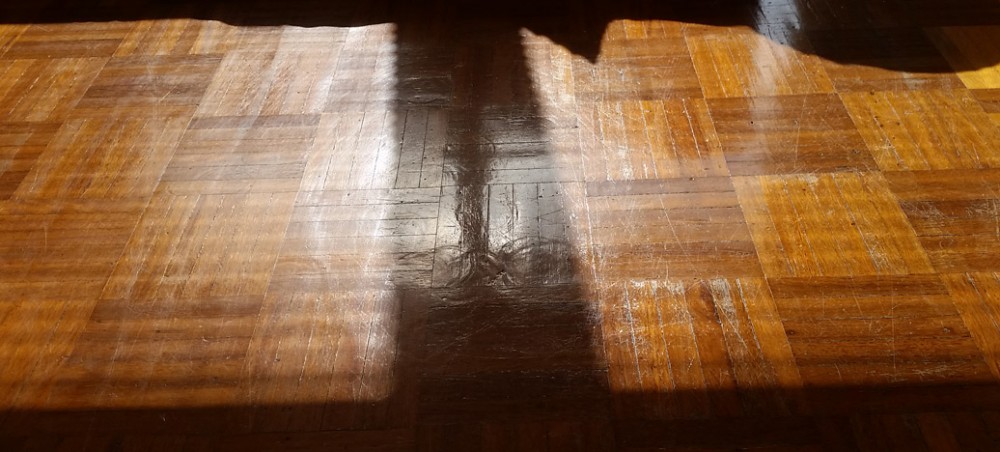 Polished to Perfection
Cleaning pad on, I was ready to polish. The SEBO K3 uses a soft-start system for a longer component life, which I found to be helpful as I was somewhat cautious about using the polishing head for the first time. I also used the power controls in the handle to modify the initial suction of the K3, increasing the power once I got rolling and got a feel for how the polisher worked.
The rotating design of the swivel neck allows the suction polisher to move in any direction. I mostly stuck with a 'straight lines / up and down' approach to keep track of where I had been, but you can swing from side to side and in any direction you like. The LED display on the machine will show a green light while operational, and show a red light if it has shut down for safety reasons (such as clogging).
As this was my first time polishing and the floor wasn't super shiny I went for the full treatment – first going over the floor with the red pad, then the yellow pad, and finishing up with the green one. It was a simple process, and was a lot quicker to do than I was expecting. My technique may not have been the best, but I was pleased with the result I had from my first attempt. The floor was certainly looking shinier, better reflecting the sunlight coming into the room. It also had a real glossy feel to it underfoot when compared to the unpolished parts of the floor, and was much smoother to then touch.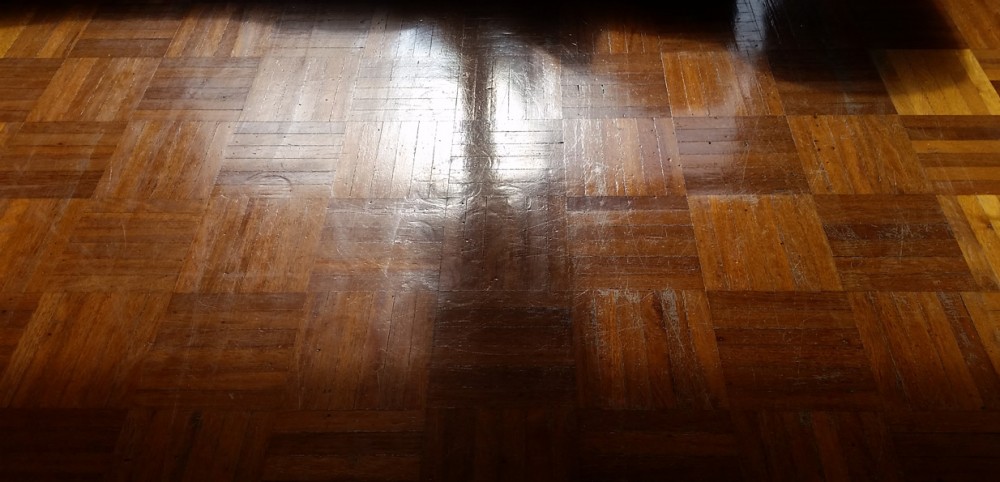 As this was my first go at polishing, I was rather conservative and hesitant in my actions, and with the sun shining in the window it made it a little hard to photograph the results effectively. With that in mind, here's another example of a hardwood floor that's been polished with a side-by-side comparison so you can really see the difference: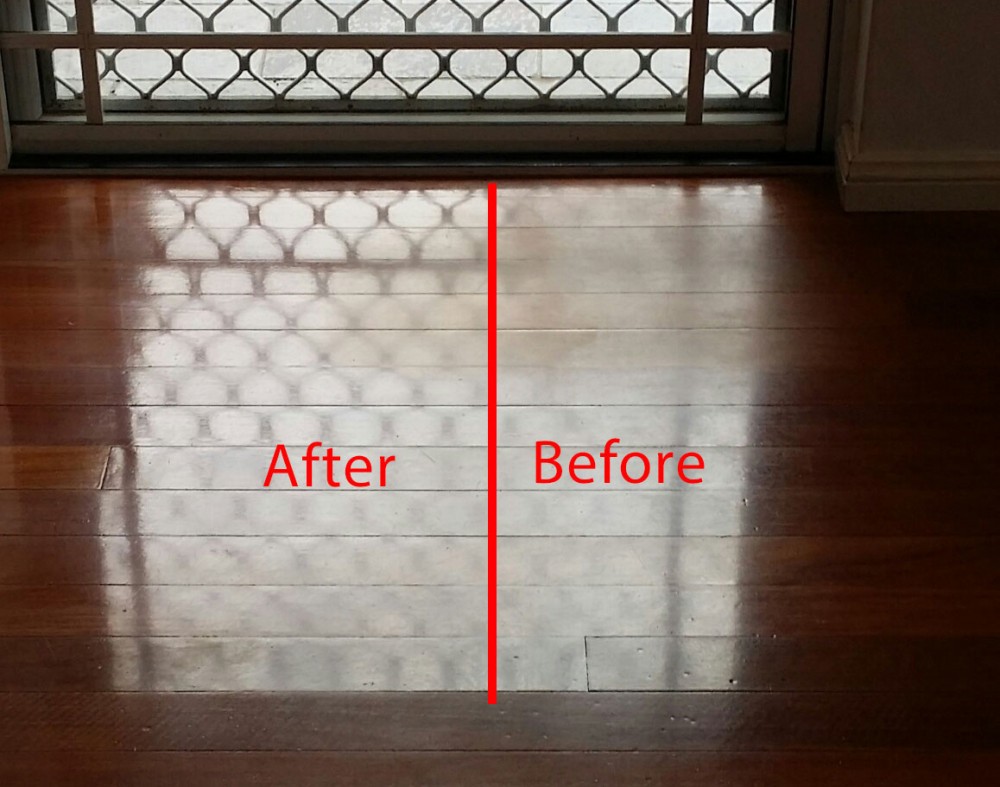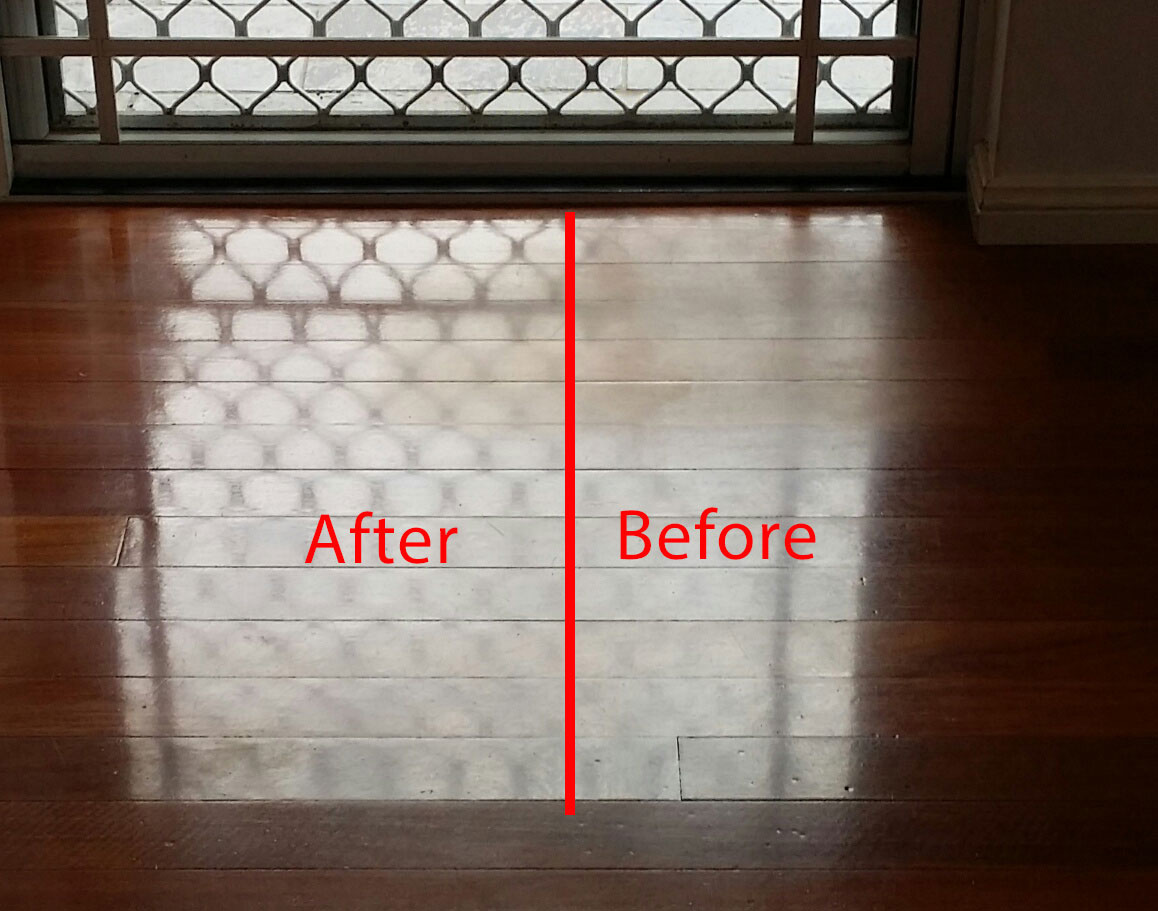 I was definitely pleased with the results I achieved, and having a floor polishing attachment that can be fitted onto a range of SEBO vacuum cleaners made it extremely convenient in terms of the amount of storage space it took up in my home.
If you'd like to see what this SEBO floor polisher can do to your floors, you can find these products online or you can head down to your local store where the friendly Harvey Norman home appliance team can help you out.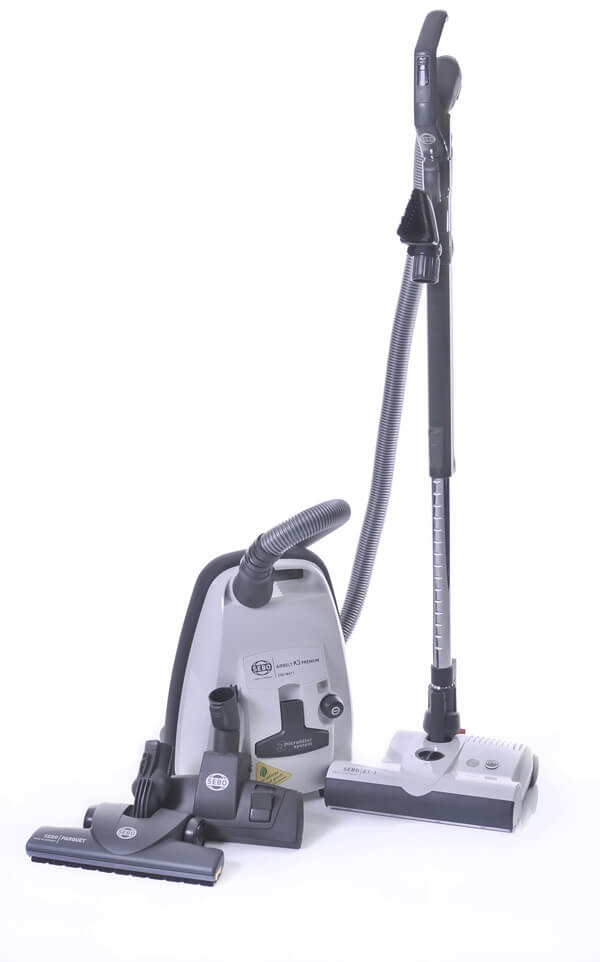 SEBO K3 Premium Domestic Barrel Vacuum Cleaner