The In Essence 360 Diffuser is an innovative new aroma diffuser.
I was thrilled that Harvey Norman recently gave me the opportunity to review this portable diffuser, because scent has the almost-magical ability to instantly transform the atmosphere. We can use the power of scent to uplift our space and create a calm, tranquil environment.
Scent also has the power to heal. Aromatherapy uses the aromatic properties of essential oils to promote well-being.
Designed to fulfil both these purposes using revolutionary technology – and housed in a sophisticated design – the In Essence 360 Diffuser certainly lived up to my expectations.
Here, we explore how it performed after a busy week working and relaxing at home! Plus, we look at the bespoke features of this portable diffuser.
Introducing the In Essence 360 Diffuser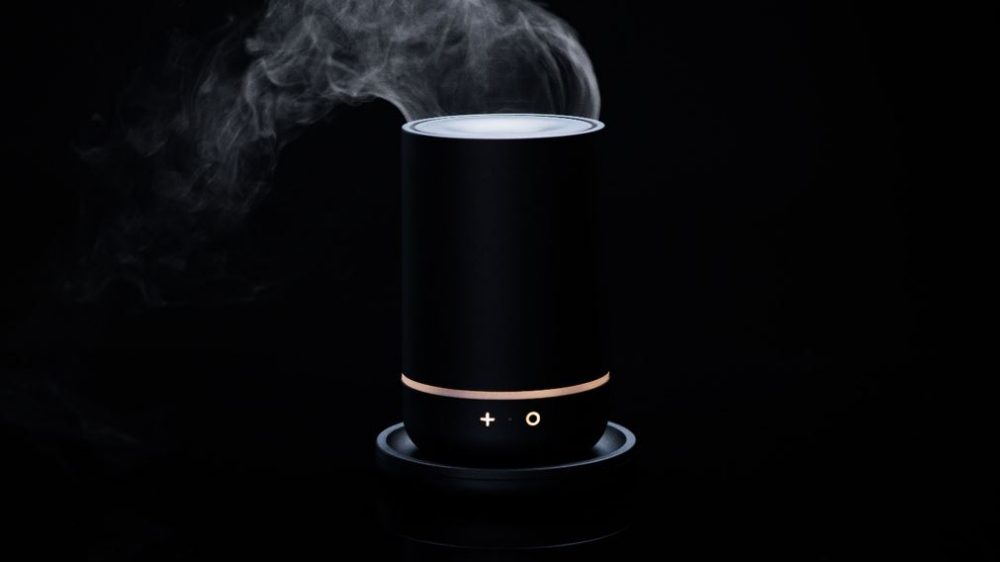 More than a simple diffuser, the portable In Essence 360 Diffuser creates a soothing aromatherapy experience anywhere in your home.
While efficiently releasing the aromatic powers of your favourite essential oils, the In Essence 360 Diffuser can fully set the mood with optional ambient lighting.
All this from a sleek, minimalist device designed to complement any décor!
At its heart, the In Essence 360 Diffuser rethinks essential oil diffusion by dispersing a gentle mist in a circular (360 degree) radius. This ensures your essential oils are dispensed evenly and accurately.
The mist itself is created by ultrasonic wave technology. This state-of-the-art technology works on the vibration of water rather than heat. That makes the mist diffuser safe to use in even the busiest rooms of your home.
Essentially, you can get down to the serious business of relaxing without having to worry about the naked flame or hot oil of a conventional burner being knocked over!
It also means you can keep your essential oils nearby, no matter what room you are in. As a fully portable diffuser, the In Essence 360 Diffuser features cordless operation, with up to four hours use when charged.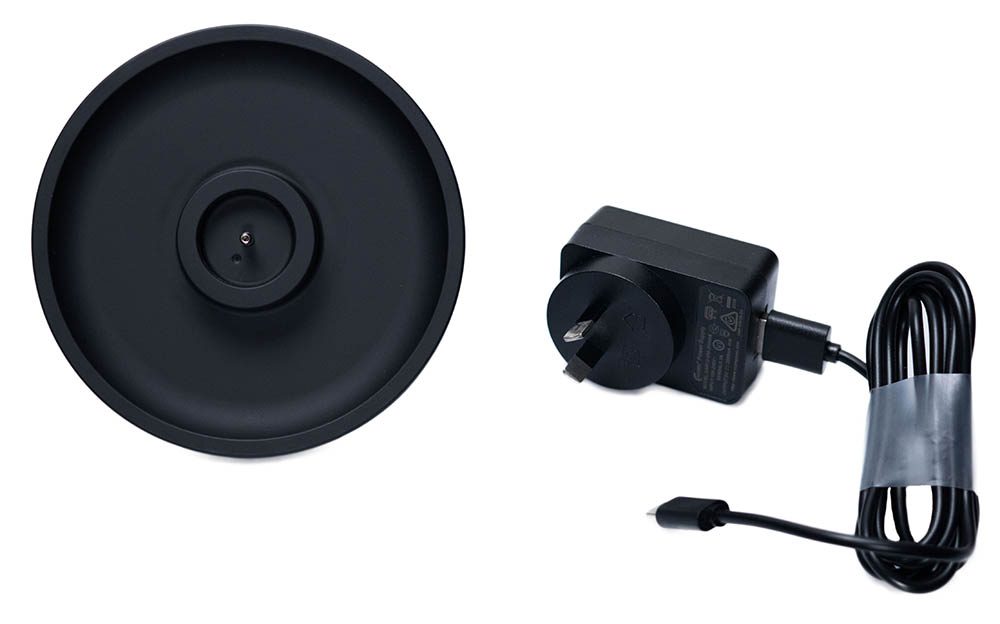 Plus, to beautifully reflect your style, you can choose from two seriously Insta-worthy colours for your In Essence 360 Diffuser. There's moody and luxurious Noir or light and bright Whisper. Both a perfect match for any contemporary space.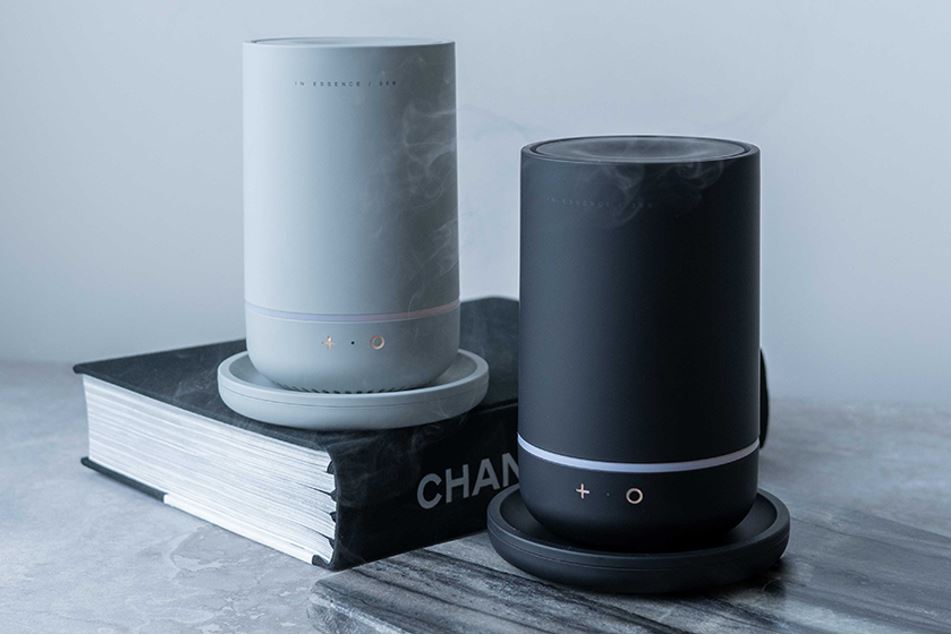 How to use an aroma diffuser
Setting up and using the In Essence 360 Diffuser is a simple affair. First, place the mist aroma diffuser on a flat surface. Then, all you need to do is remove the cover, add 100ml of cool tap water and 6-9 drops of In Essence Pure Essential Oils to the water tank, then replace the cover.
Pressing the button on the right activates the aromatic mist while pressing the left button turns on the ambient light.
You can use the In Essence 360 Diffuser while plugged in to power or cordlessly, depending on your needs.
Now that we know all the innovative features of this mist diffuser and how easy it is to use, it's time for a closer look in my In Essence Diffuser review. I was lucky enough to be able to put this mist diffuser through its paces in a variety of settings around my home.
Read on to discover if the In Essence 360 Diffuser hit the sweet spot or if it 'mist' the mark. (Spoiler alert: it didn't miss at all!)
In Essence Diffuser review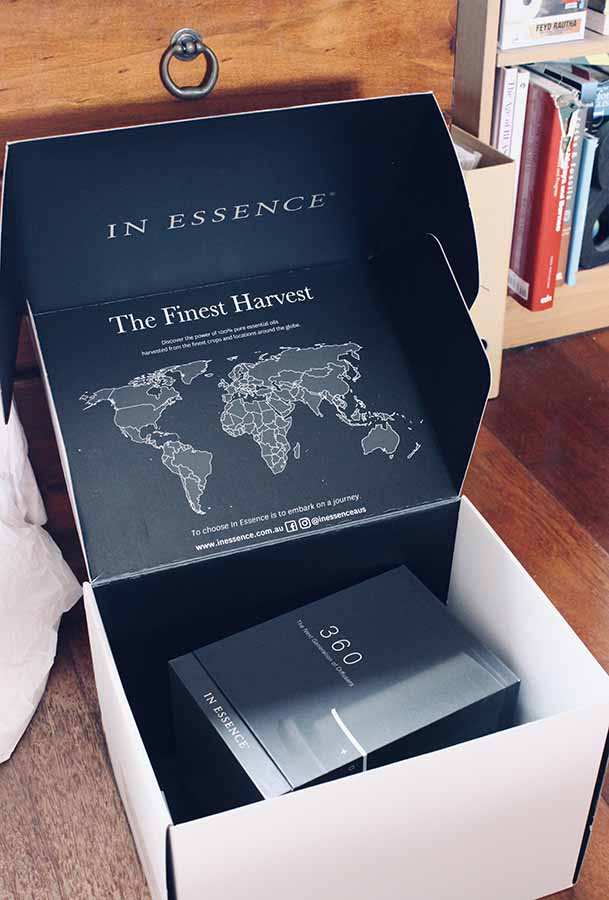 Beautifully presented in sleek, minimalist packaging, the In Essence 360 Diffuser is a pleasure from the moment you pick up the box.
As soon as I unboxed mine, I could feel the magic of this mist diffuser begin to stir. It started with the smooth, premium feel of the diffuser itself, which makes it a delight to hold.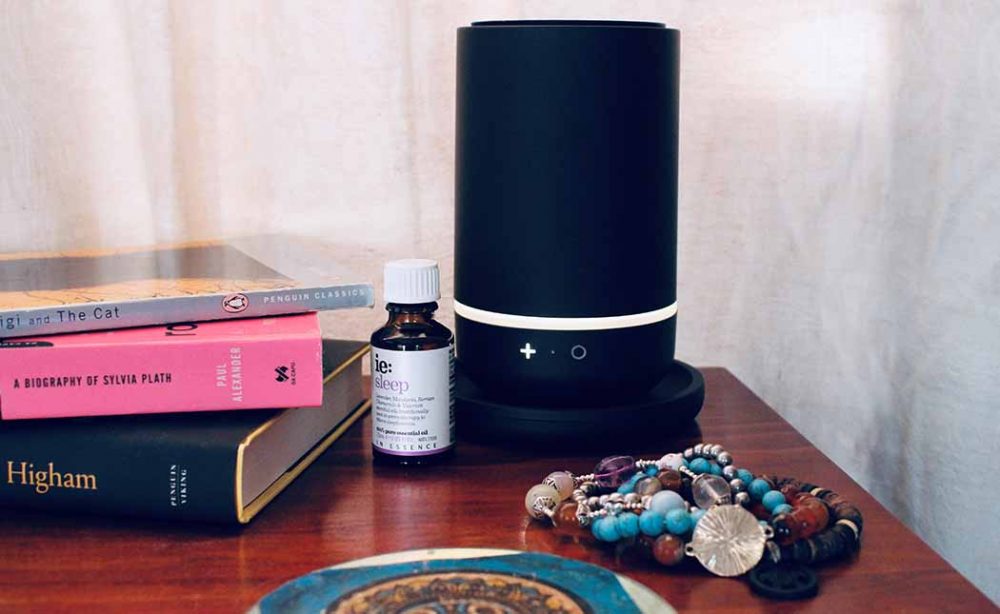 I set up the In Essence 360 Diffuser as per directions. Next, I placed it unobtrusively on the desk in my room. It was now ready to be my very pleasant companion throughout some very key at-home activities!
In Essence 360 Diffuser: At work (from home)
For my In Essence review, I was provided with In Essence Sleep Essential Oil, a super calming blend of Lavender, Mandarin, Roman Chamomile and Valerian.
Formulated to help relieve sleeplessness, this blend may also help soothe nervous tension, restlessness and mild anxiety.
As someone who gets very restless in my desk job, I thought the calming influence of this blend might be just the ticket to ease me through the day working from home.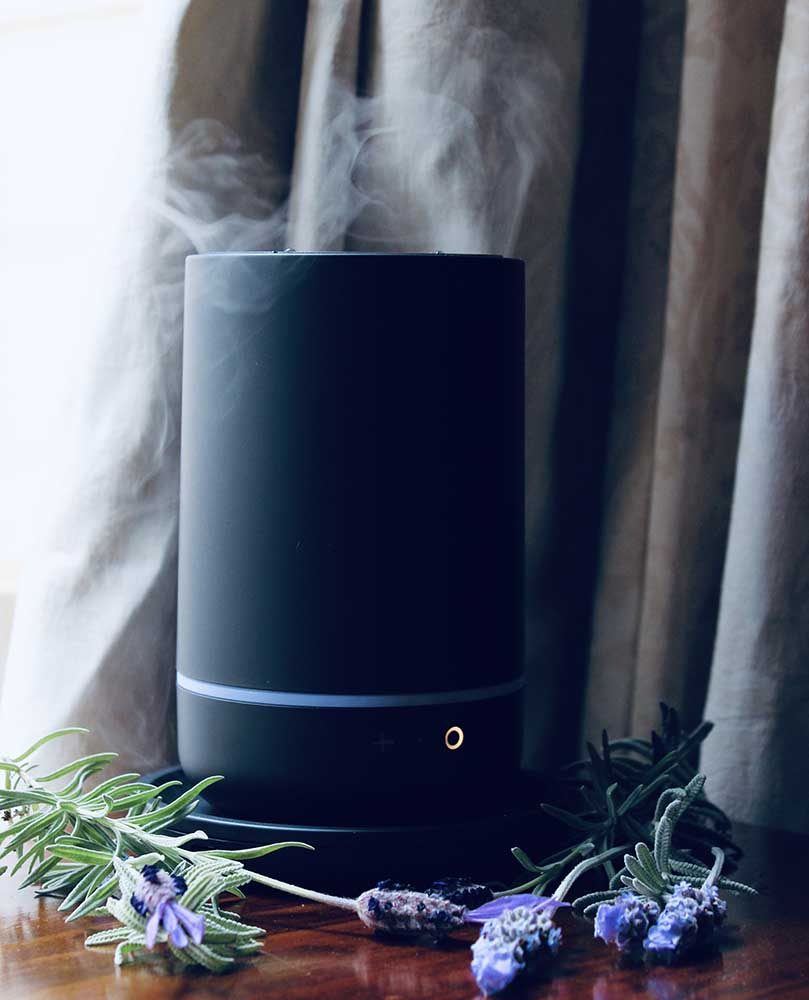 Turning on the In Essence 360 Diffuser at the start of my workday, the first thing I noticed were the luscious plumes of mist. As they wafted delicately in their circular formation, the scent of the lavender blend was undeniably heavenly.
The aroma of the oil was clear and strong without being in anyway overpowering. I could smell it as I worked at my desk, as well as from other areas in my room.
As the mist aroma diffuser continued dispersing the oil through the morning and into the afternoon, I did notice a definite mellow mood had descended on me. I was unquestionably relaxed, but also very focused as I didn't feel the urge to jump up every five minutes.
In fact, the In Essence 360 Diffuser and In Essence Sleep Blend were such a success that I have since been using it every day while I work. Turning on the mist diffuser has become as much a part of my morning routine as coffee!
In Essence 360 Diffuser: At me-time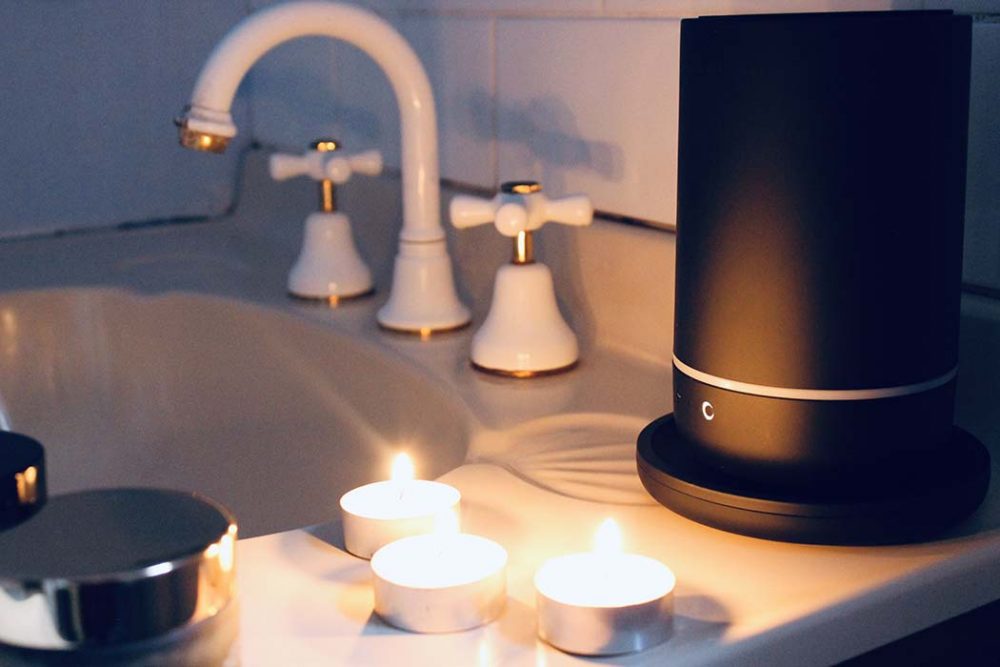 After a busy week at work, some downtime is in order. Whether you call this self-care or 'me-time' the point is the same – to switch off and relax.
As a parent of three who works full-time, I generally only squeeze in some of this glorious me-time on weekends. A hot bath, candles, some indulgences … you get the drift!
Given how much I enjoyed the mist aroma diffuser while working, I was very keen to test out my In Essence 360 Diffuser while soaking in the tub. All while also soaking in the silence that follows children's bedtimes.
As a portable diffuser, it was very easy to move the In Essence 360 Diffuser to the bathroom.
And I was so pleased that I did! Still using the In Essence Sleep Blend, my once-a-week self-care ritual was elevated to new heights by the potent addition of diffused essential oils.
I stepped out of that bath feeling more tranquil than I had in a very long time. There was now one more setting in which I was eager to experience the aromatherapy benefits of the In Essence 360 Diffuser. And that was at bedtime!
In Essence 360 Diffuser: At bedtime
Admittedly, I usually don't have much trouble falling asleep. There are some nights, however, that I find myself lying awake as the night edges towards morning.
Usually, those nights are on a Sunday when I have a lot on my mind. As sleeplessness is thus predictable, I chose a Sunday night to test the In Essence 360 Diffuser and In Essential Sleep Blend as a sleep aid.
I started early in the evening, well before my bedtime, by setting up the mist diffuser next to my bed. To create a soft and soothing atmosphere, I turned on the ambient light. As you can see from the image above, this proved quite difficult for me to photograph!
After a quiet evening reading on my bed and enjoying the lush scent, it was time to go to sleep. I knew that the In Essence 360 Diffuser safely shuts itself down after approximately 4 hours, so I felt confident letting it run as I turned off the ambient light and snuggled down for the night.
To be honest, I don't remember anything after that point as I fell asleep. The potent effect of the lavender blend – renowned for its sleep-assisting properties – and the gentle ritual of setting up and sitting with the In Essence 360 Diffuser effectively wound me down for slumber.
There is something to be said for the comforting smell of lavender. However, now that I've experienced the wonderful properties of the In Essence Sleep Blend, I am keen to try out their other combinations of essential oils, including Hayfever, Anxiety, and Immunity blends.
One thing's for certain – the In Essence 360 Diffusion will continue to remain my constant companion during work, rest and me-time!
Where to buy the In Essence 360 aroma diffuser in Australia
If you would like to experience the benefits of the In Essence 360 Diffuser for yourself, shop online or get in touch with your local Harvey Norman store. Our friendly, expert staff are happy to answer any questions you may have and to take you through the ins and outs of the various In Essence essential oil blends.