One of those oft-cited 'number one' cleaning tips is to vacuum before you wipe.
With the release of the Karcher FC7 Cordless Hard Floor Cleaner, we at Harvey's HQ are officially declaring that cleaning tip to be a relic of yesteryear.
The innovative Karcher FC7 cordless cleaner – available at Harvey Norman – feeds fresh water and a cleaning solution to four cleaning rollers as they pick up dirt and wipe the floor at the very same time. That means there's no need to vacuum!
And, as our Karcher FC7 Cordless Hard Floor Cleaner reviewer, Lyndall, found out, that also means sparkling floors in half the time.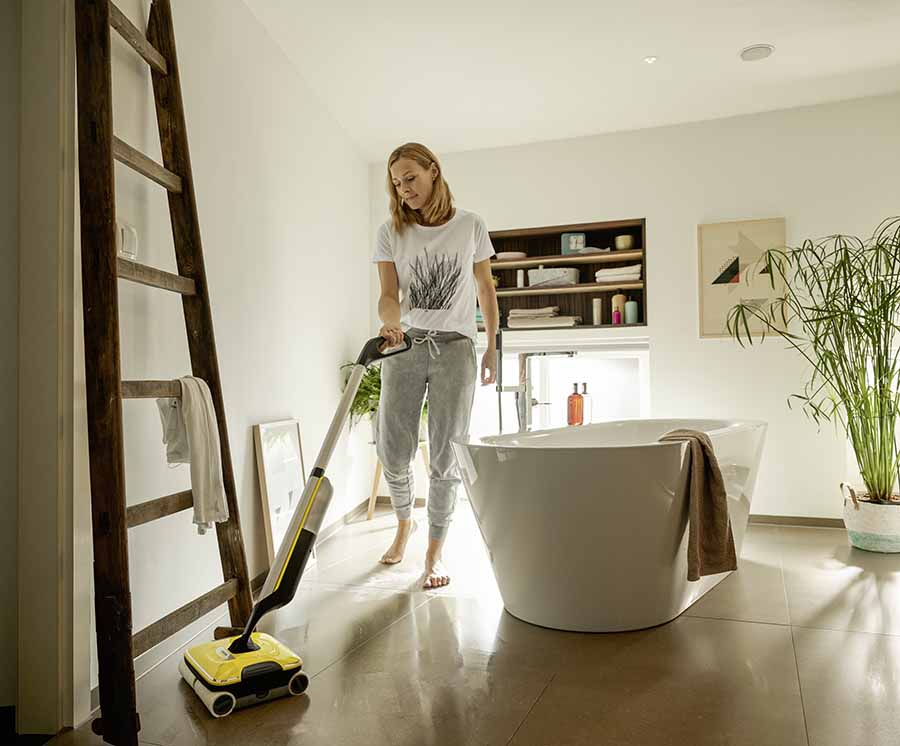 Karcher FC7 Cordless Hard Floor Cleaner Specs: What You Need To Know
Before we chat with Lyndall about her Karcher FC7 review, it's worth first looking at exactly what this hard floor cordless cleaner from Karcher is all about.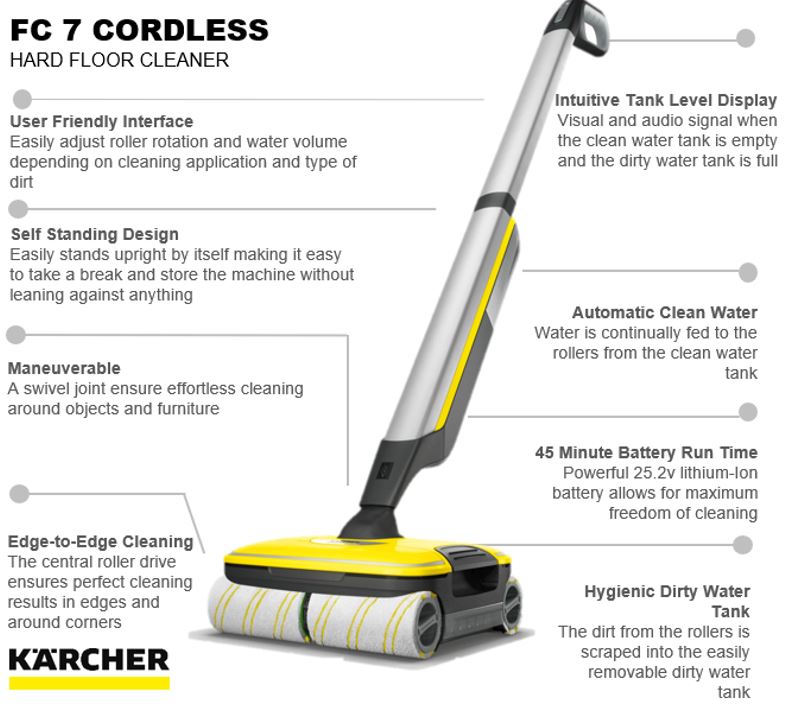 • With four counter-rotating cleaning rollers that move in a forwards and backwards direction, the Karcher FC7 Cordless Hard Floor Cleaner will pick up all the wet and dry dirt and debris that you'd expect to find on any hard floor in your home. That includes pet hair, food mess, and spilt beverages!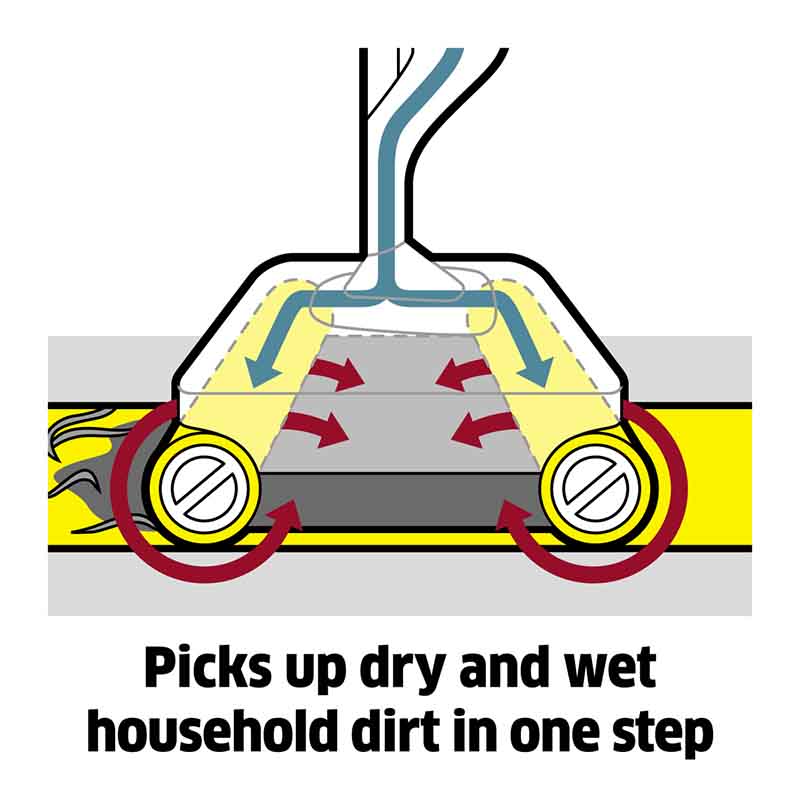 • The four counter-rotating rollers are constantly fed cleaning solution and fresh water from an automatic clean water dispenser. At the same time, the Karcher FC7 has a separate removable tank for dirty water, with debris picked up from the rollers hygienically filtered into it. This means dirt doesn't go back on the floor.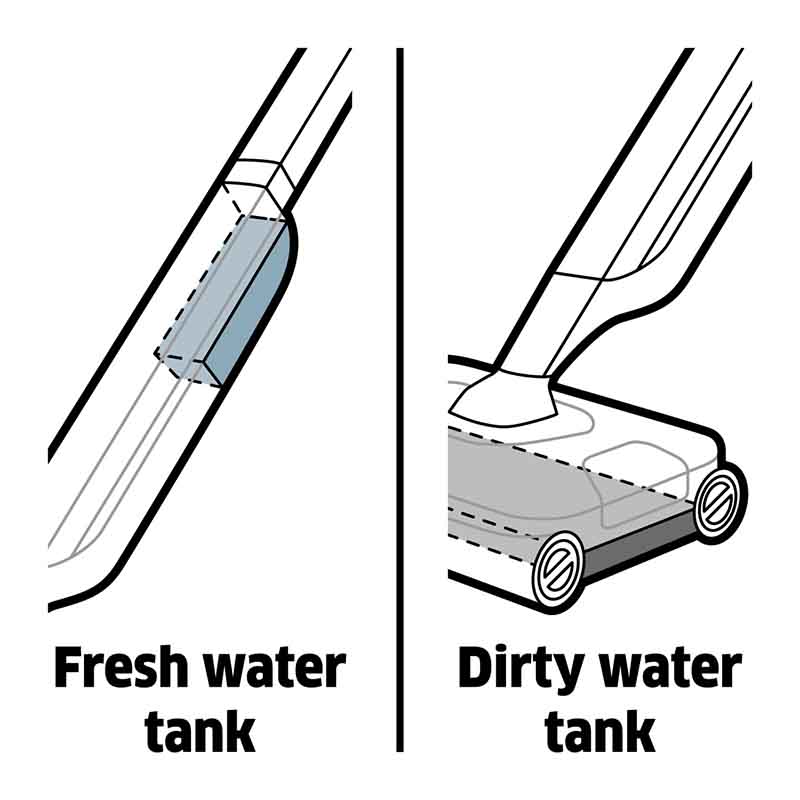 • The Karcher FC7 Cordless Hard Floor Cleaner features an intuitive user display and water level indicator, making it easy to operate and know when the clean water tank requires refilling. Meanwhile, when the dirty tank is full, the Karcher FC7 will automatically switch off.
• The Karcher FC7 cleans with a small amount of water and cleaning solution. However, when faced with a stubborn dirt stain, the Boost function can be used to temporarily increase water and roller speed.
• This cordless hard floor cleaner from Karcher offers a fast floor drying time of 1 – 2 minutes.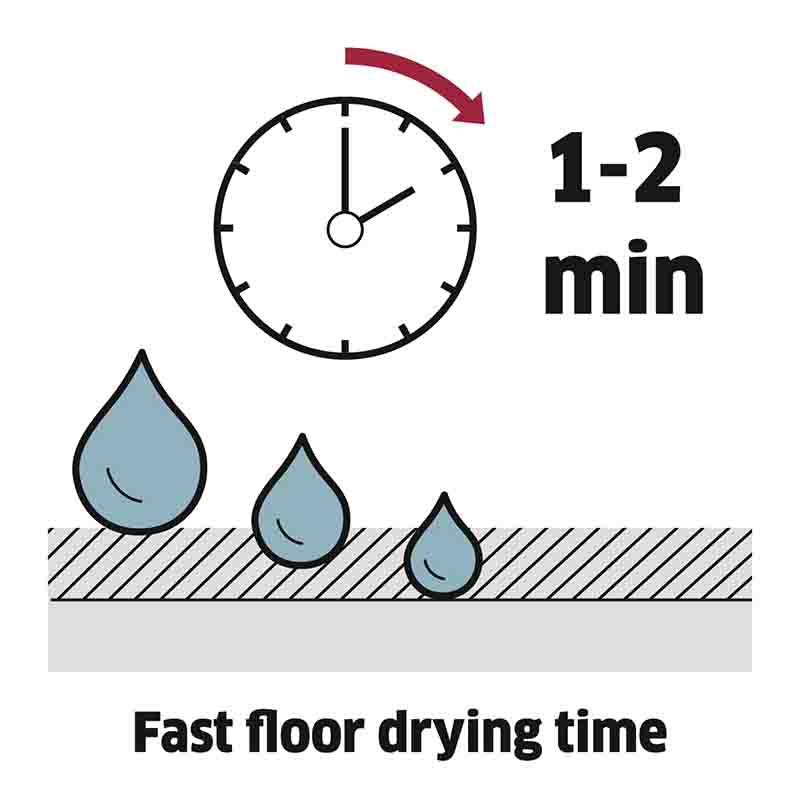 • The FC7 cordless cleaner also has a strong 45 minute run time. That allows you to clean all your hard floors on a single charge.
• The slim and lightweight Karcher FC7 features an easy-to-manoeuvre swivel joint. This allows for simple cleaning of corners and edges, and for easy access under furniture. It also has a self-standing design, so storage is never a problem!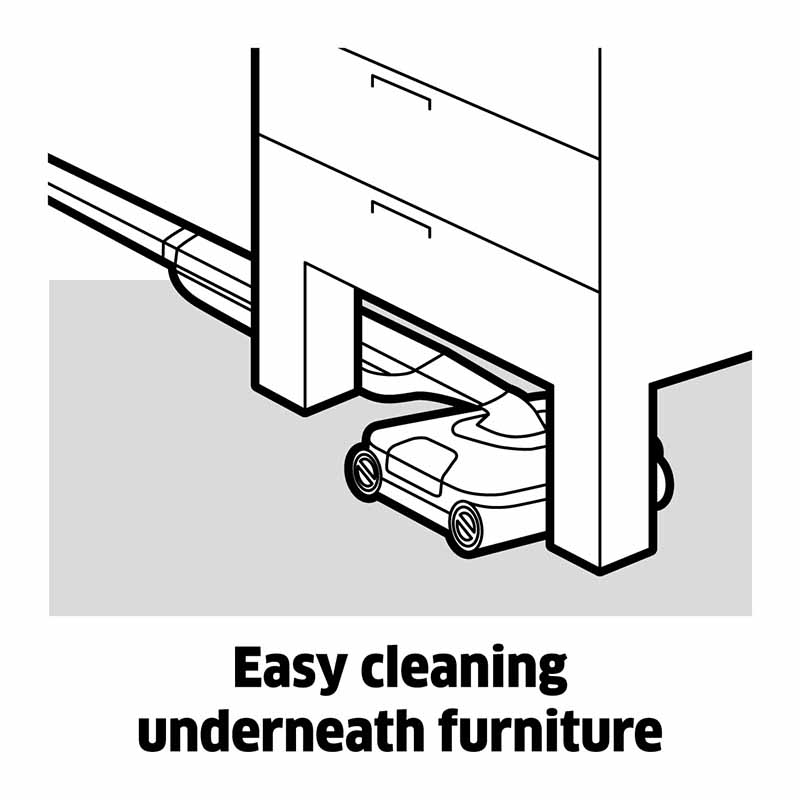 Lyndall's Karcher FC7 Cordless Hard Floor Cleaner Review
Fresh off of using the Karcher FC7 Cordless Hard Floor Cleaner, we sat down with our Karcher FC7 reviewer, Lyndall. As you'll see, the floors at Lyndall's house are all hardwood timber, making them the perfect Karcher FC7 road-test subject!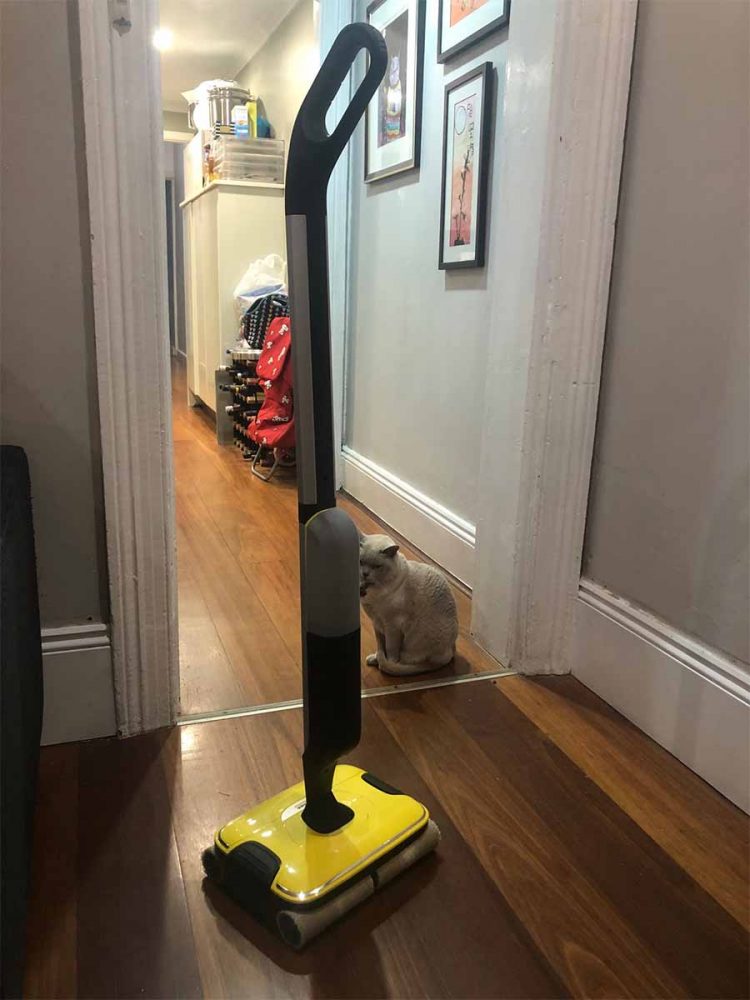 What were your initial thoughts when using the Karcher FC7 Cordless Hard Floor Cleaner?
Lyndall: The included Karcher FC7 instructions, as well as the design of the appliance, made it a cinch to set up, which was awesome. With no unnecessary pieces of equipment in the box – only super functional stuff – it was a quick step-by-step process.
Upon first use – and I must admit I was absolutely itching to test it out – I found the Karcher FC7 fantastic to operate. There was minimal noise and the machine glided across the floor which I personally think is a massive bonus for all age groups and mobility.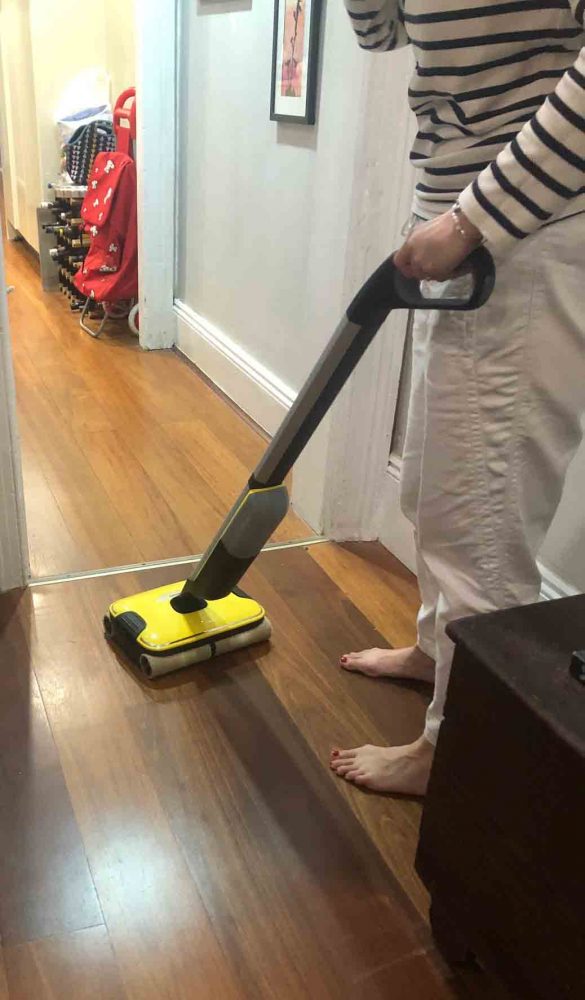 Can you tell us a bit more about how the Karcher FC7 Cordless Hard Floor Cleaner performed?
Honestly, I was surprised by how efficient the Karcher FC7 was. The Karcher machine not only picked up all the pet hair, crumbs and daily detritus, but the floor was left with a high shine. I had that squeaky feel underfoot afterwards!

Another thing I loved was how quickly the floors dried after using the Karcher FC7 Cordless Hard Floor Cleaner. Within two minutes we were able to walk confidently across the floors again. There were no uneven wet spots and I felt that the Karcher FC7 made the whole process a lot more hygienic that a standard mop would have done.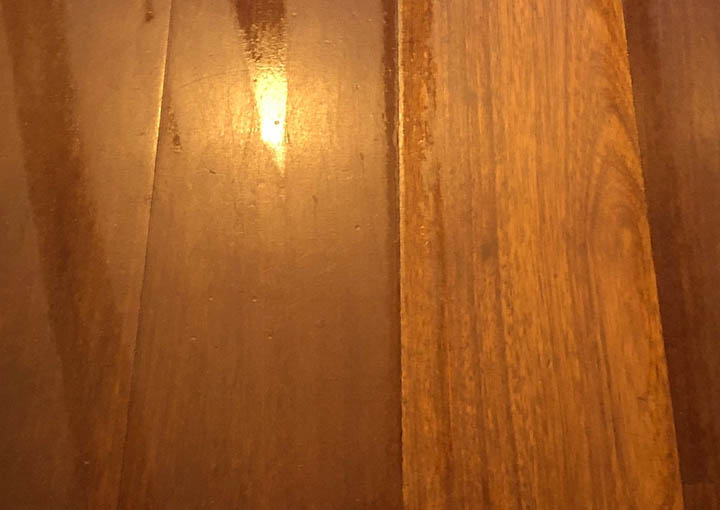 Talk to us about the Karcher FC7 vs. other floor cleaning appliances. What can the Karcher FC7 do that others can't?
A lot of all-in-one machines cannot be used to clean hard wood floors. And, given that my place is all wooden floors, I have always had to vacuum and then mop which takes a lot of time! The very fact that I can use the Karcher FC7 on wooden floors sets it apart for me.
Another thing I find with other floor cleaning appliances is that I need to buy extra products to make them function. Beyond the cleaning solution, there was nothing extra I needed to buy with the Karcher FC7 Cordless Hard Floor Cleaner.
Also, I should mention that the Karcher FC7 rollers are machine washable. That's something I've found to not always be the case with other cleaning appliances I've used.
What is your favourite feature of the Karcher FC7 Cordless Hard Floor Cleaner?
Again, it's got to be the fact that I don't need to vacuum my floors prior! Given that I've got a very busy household, it's so good to be able to cut down on cleaning time – just as it's great not to have to keep a multitude of cleaning products around the home now.
The Karcher FC7's mount tray was another feature I really appreciated. It's fantastic, acting as a storage tub for the pieces!
Another cool thing I noted was that the Karcher FC7 picked up leaves. Being able to pick up such big objects is a major plus! Also, I loved the Karcher stick's movement – it was not stiff at all and allowed the FC7 to move really smoothly.
Could you tell us a little more about the manoeuvrability? Was the Karcher FC7 Cordless Hard Floor Cleaner good for getting into hard to reach places?
Like I said, the Karcher FC7 is so simple to manoeuvre. It's one of the easiest cleaning products I have used. I usually use either a cloth mop or a spray mop. However, I find using a standard mop can be really difficult, especially if you have any joint issues.
This Karcher cleaning appliance really does make it straightforward to get underneath tight places. The Karcher FC7 is so good at this as the stick moves up and down freely.
Any final thoughts on the Karcher FC7 Cordless Hard Floor Cleaner?
The Karcher FC7 Cordless Hard Floor Cleaner was a pleasure to use. I actually managed to chat on the phone the entire time I was using it. There was no noise issues or the need to use two hands to move it around.
Finally, I should mention that the Karcher FC7's cleaning ability was so good that my husband even noted how clean the floor looked and felt!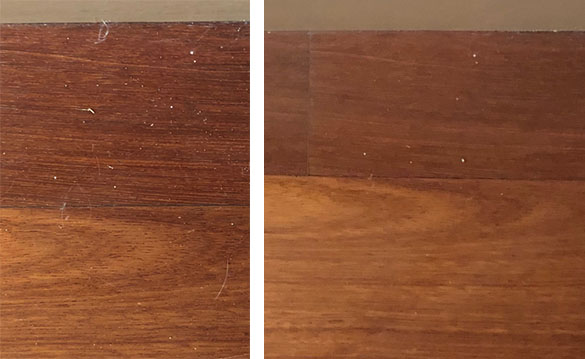 Where to buy the Karcher FC7 Cordless Hard Floor Cleaner
Want sparkling clean floors in less time? You can shop the Karcher FC7 online or at your local Harvey Norman store, where our friendly, expert staff can help you with the perfect hard floor cleaning solution for your home.